Interesting ancient coins, offered by Augustus Coins

If you want to buy ancient coins and you are in the US, you are beginning at the right page. My coins are inexpensive; all cost much less than $1000. If you want to learn more about ancient coins, visit my educational ancient-coin website (begun in 1997 and expanded very many times since then). If you like to learn from books, visit my page of ancient-coin literature. For more about me, see see here.


Contents: This is the main page with Roman coins and some of newest listings from other series too, at the top. For late Roman, Byzantine, or Greek coins, or books about them, use the links to the left.

Skip down to Republican, 1st C, 2nd C, or 3rd C
3rd C. more precisely: Septimius Severus, Caracalla, Elagablal, Severus Alexander,
Gordian III, Philip, Valerian, Gallienus, Gallo-Roman, Claudius II, Aurelian,
Probus, Tacitus, Carus and Family

Recent: 2022, Sept. 29: Most prices on the Byzantine page reduced, some substantially. Most Byzantine coins now rearranged to be by emperor, so look down to emperors of interest. Six new coins, mostly Justinian, added at the top of that page. One, rarer, is a Justin with cross-above-head. On this page a really old silver stater of Aspendos.
2022, Sept. 28: Dalmatius. The last commemorative, of Constantine (at the top of this page).
2022, Sept. 21: Three coins of Justinian on the Byzantine page.
2022, Sept. 18: Very rare (not in Sear) Maurice monogram pentanummia, on the Byzantine page. Trajan, his smallest denomination (top of this page).
2022, Sept. 15: Constantius radiate fraction. Licinius I (at the top of this page). Byzantine anonymous follis Class D on the Byzantine page.
2022, Sept. 9: Hadrian, his smallest denomination.
2022, Sept. 2: Anonymous follis, Class H. Scarcer type on the Byzantine page.
2022, Aug. 27, Constans II on the Byzantine page
2022, Aug. 23: Diobol of Mygdones or Krestones (Thraco-Macedonian tribes), Previously attributed to Aegae, Thrace.
2022, August 21: Kolophon Greek hemiobol (top of this page).
2022, August 19: A long run of Lanz catalogs as a large lot (on its own page).
2022, August 18: 2022, Constantine/SARMATIA DEVICTA from Lugdunum on the Constantinian page. Licinius radiate on the Tetrarchy page.
2022, August 14: Many sold coins removed, photos and all.
2022, August 9, Lovely silvered Probus.
2022, August 6: Licinus II, helmeted.
2022, August 2: Two types for Heraclius from Sicily (Syracuse) consisting of two-sdie counterstamps on older coins of Heraclius, on the Byzantine page.



wwestyc wwestypage

Prices are in brackets: [$xx].

To order, or simply to ask me questions, write me, Warren, at

.
(I am on Pacific time, so if you are in the east and write me at 8:00 am it is only 5:00 am where I am.)
My page of terms, which are essentially repeated here:

Terms of Sale. I prefer to sell to customers in the US. Please tell me if you are not in the US (I might not be able to ship it inexpensively. it changes shipping costs a lot).
After I confirm I still have the coin:
If you are in the US you can pay with Zelle (preferred) or PayPal to my e-mail address. (I also accept checks.) (Why I prefer Zelle.)
If you are outside the US, a VERY BIG CHANGE as of Jan. 21, 2021. Last time I mailed to an address outside the US the price jumped from the previous $3 to $17.25. Wow! The new Post Office software no longer allows me to mail an envelope as a letter if it has coins in it. See more here.

Shipping in the US is $2 for orders under $25, $3 up to $50, $4 up to $100, and an additional $2 for each hundred thereafter.
Shipping to other countries: See about new (Jan. 2021) very high shipping costs here.
All coins are guaranteed genuine.

Reminder: When you buy a coin you must add in the shipping cost. Don't think a coin offered at $20 elsewhere will cost you $20. It won't. Shipping could easily be $6 or more. In contrast, I charge only $2 for shipping a $20 coin in the US.

Purple means "SOLD" and no longer available
Newest first. After that, Roman coins before the 4th century are in chronological order below. Later Roman coins are on other pages linked in the sidebar.
(Greek, Byzantine, and other coins are on their own pages with links at the top left.)
---

Newest next. Skip the newest coins and go down to Roman coins in chronological order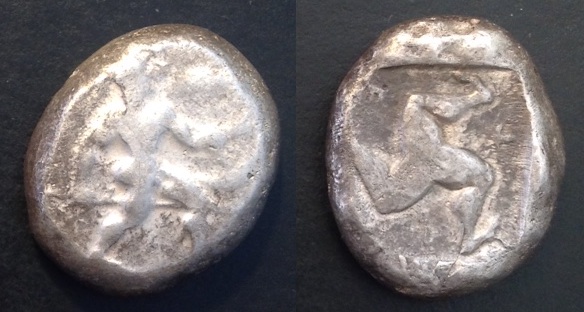 Greek stater. City of Aspendos in southern Asis Minor. Their very first coin type.
c. 465 - 430 BC. Old!
10.79 grams. 20-17 mm. Thick.
Hoplite striding right holding spear low
Triskeles (symbol of Aspendos, often see on the later "wrestlers and slinger" type)
Sear Greek 5381
A chunk of silver! [$79] It is remarkable to find a coin this heavy and this old for this little.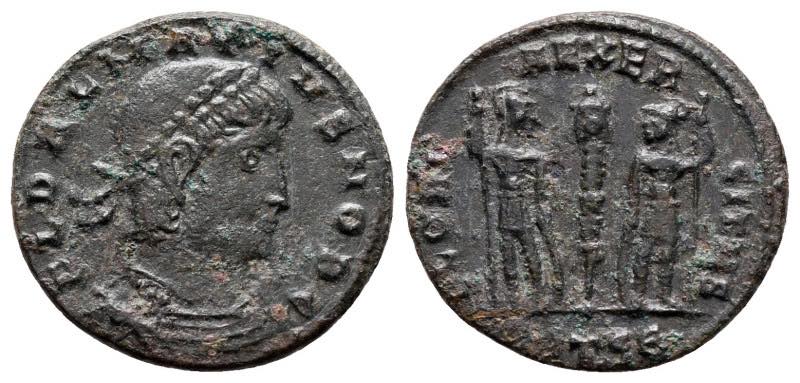 Dalmatius, 335-337
16 mm. 1.58 grams.
Spelled with an "A" on this coin. It is often spelled with an "E": Delmatius.
FL DALMATIVS NOB C
GLORIA EXERCITVS
SMTSE, Thessalonica.
RIC Thessalonica 227, "336-337" "r3" (but there are four other officina r3 to r5.)
Dalmatius was a victim of the 337 "summer massacre" of relatives of Constantine.
[$39 SOLD]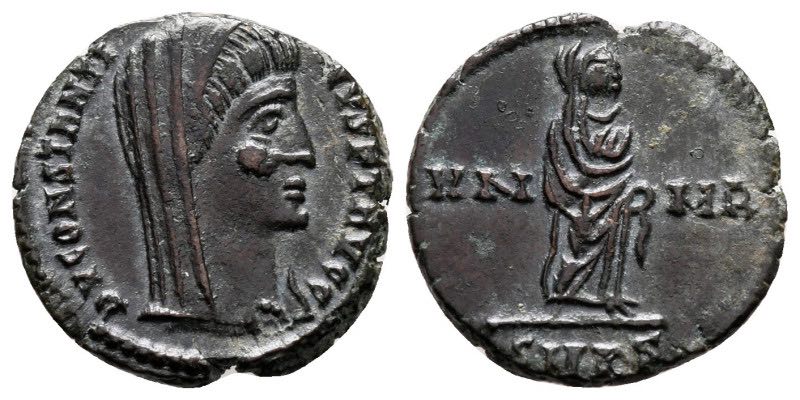 Constantine, commemorative
15.3 mm. 1.72 grams.
DV CONSTANTINVS PT AVGG
(Divus) (Pater[Father] of the emperors)
VN MR (venerandae memoriae = of venerable memory)
SMKS
RIC VIII Cyzicus 46 "347-348"
The last commemorative with the emperor "Divus."
Very high grade with a cud on the cheek, but great detail on the reverse veiled figure of Constantine.
[$35 SOLD]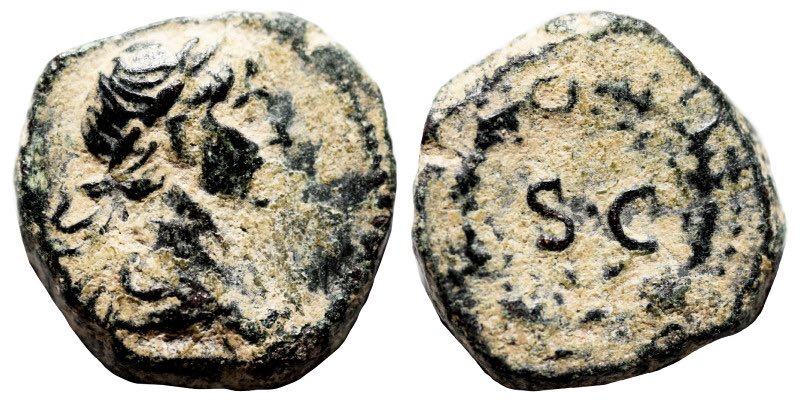 Trajan, 98-117
The smallest Roman denomination! Sometimes called an "uncia." It is much smaller than a quadrans.
Struck very near the end of his reign, c. 117.
11.2-10.5 mm. 1.10 grams. Tiny!
His bust right with no legend.
"SC" in wreath.
Sear II 3250, page 170 "Rome, 112-117"
RIC Trajan 443, probably 101-103 (unlikely, since there is a short-lived similar type of Hadrian)
BMC 1883. p. cvi "Very probably of Roman mintage--possibly Antioch."
The only other coin of a similar type is of Hadrian, distinguished only by its portrait of Hadrian.
Clearly recognizable bust of Trajan and clear "SC" in wreath. Tiny!Nice natural earthen cover. [$65]
It is beautiful and clear considering it is so small. PRC III 3681 Antioch "chalkous" "product of Rome." "Struck for circulation in Syria"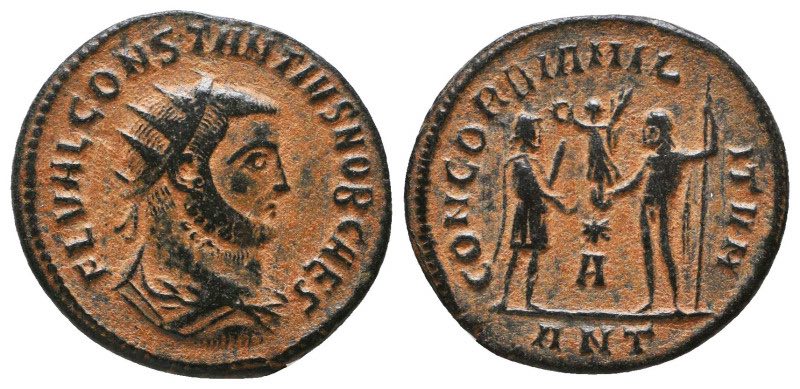 Constantius I, 293-305-306
20 mm. 3.38 grams.
CONCORDIA MILITVM
*
A
ANT
Antioch mint. Lovely surfaces and highlighting.
RIC Antioch 61a "c. 296"
[$39]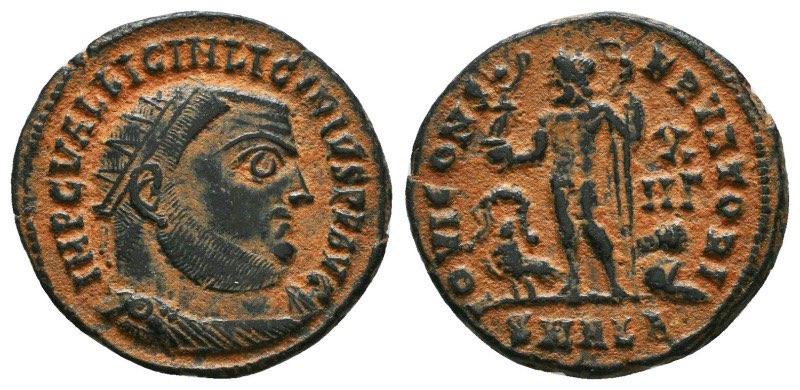 Licinius, 308-324
Radiate Fraction,
19 mm. 3.22 grams.
Alexandria, 321-324. IMP C VAL LICIN LICINIVS P F AVG Radiate, draped and cuirassed bust of Licinius I to right. Rev. IOVI CONSERVATORI AVGG / X / IIΓ / SMALA Jupiter standing front, head to left, holding Victory on globe in his right hand and long scepter in his left; at feet, eagle to left, holding wreath in beak; to right, captive seated right, his head turned back toward Jupiter.
RIC
Alexandria 28.
The X / IIΓ means 12 1/2, which is half of 25 and also 8 to 100, so it was probalbly an attemp to make a denomination the fit with the coins (whichever they were) valued at 100 (denarii?).
Gorgeous earthen highlighting. [$29]
The smallest Roman denomination! Sometimes called an "uncia." It is much smaller than a quadrans.
Struck very near the beginning of his reign, c. 117. (The only other coin of a similar type is of Trajan, which is distinguished only by its portrait of Trajan.)
10 mm. 1.32 grams. Tiny!
His bust right with no legend.
"SC" in wreath.
Sear II 3250, page 170 "Rome, 112-117"
RIC Hadrian 629b.
Sear II 3705 page 170
Tiny! Good surfaces. [$45 SOLD] PRC III 3681 Antioch "chalkous" "product of Rome." "Struck for circulation in Syria"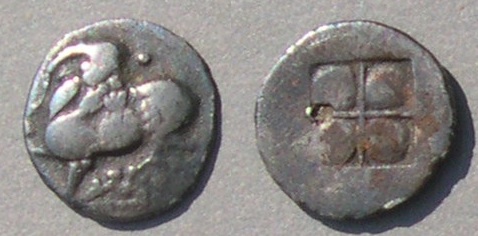 Mygdones or Krestones (Thraco-Macedonian tribes)
Previously attributed to Aegae, Thrace
before 490 BC
11 mm. 0.84 grams. Diobol.
Goat left, head back
four-part incuse square
New attribution: Hoover HGC 3.1 #368.
Older attributions: SNG ANS 7 Macedonia 1, plate 3, #65.
Kraay, Archaic and Classical, p. 141 [490]
Sear Greek 1293v (has the goat in the other direction)
ex. F. J. Rath list 1/19/1972, lot 290
and with my ticket. Nicely centered. [$85]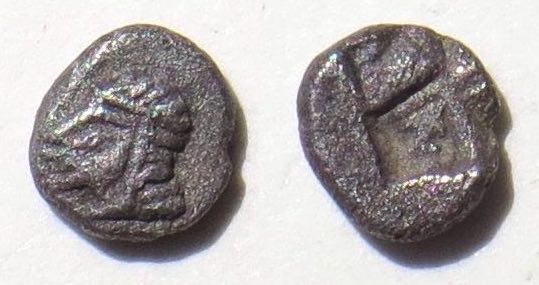 Tiny! 7-6 mm and only 0.38 grams.
Hemiobol.
Kolophon, Ionia
Late 6th C. B.C. OLD
Archaic head of Apollo left
Four-part incuse square.
Klein --, 339 is half the weight. SNG Kayhan 342
Sear Greek --. Rosen --, but 386 is half the weight (0.19 grams)
[$45] (Compare, as always, to vcoins price)
A small Greek fraction.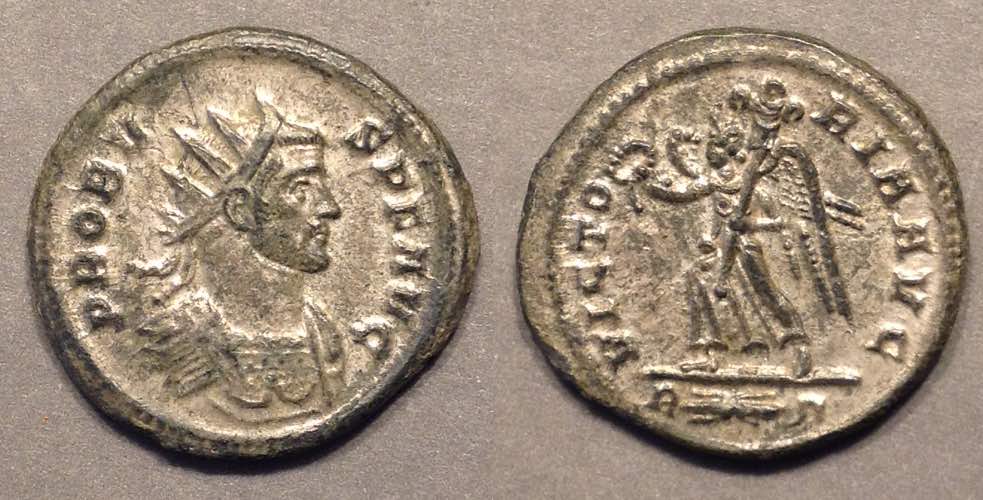 Probus, 276-282
Cuirassed, radiate bust right
VICTORIA AVG,
Victory advancing left with wreath and large trophy.
Tons of detail!
R<thunderbolt><symbol>
Rome mint
RIC paper Rome 213, page 40.
Reverse struck from a new die with good force. Lots of silvering and a gorgeous Victory and trophy! There is a lot to like about this coin! [$55 SOLD]


Byzantine.
Constans II, 641-668.
23-19 mm. 6.76 grams.
Constans II, 641-668.
ЄN TɣTo NIKA "In this [sign], conquer"
with reference to Constantine's vision at the Battle of the Milvian Bridge (in 312). The Greek equivalent of the Roman "HOC SIGNO VICTOR ERIS".
Normally much of the legend is obscure.
ANA NEO (either side of the M) for ANANEOSIS = "renewal" [Of good times, much like FEL TEMP REPARATIO is in the 4th century]
[$19]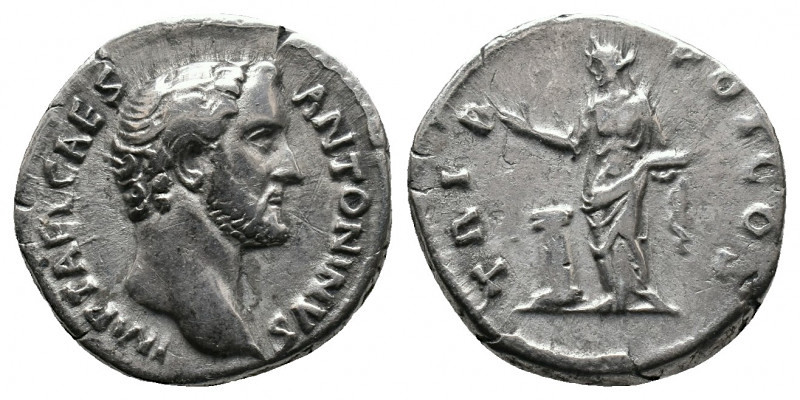 Antoninus Pius, 138-161
Denarius 18 mm. 3.09 grams.
without the title Augustus ("as Caesar")
Antonius Pius and Marcus Aurelius were designated heirs of Hadrian. When the senate declined to deify Hadrian, Antoninus Pius declined to take the title Augustus. The senate caved to the pressure.
IMP T AEL CAES ANTONINVS (His name included "Titus" and he used "Aelius," one of the names of Hadrian)
TRIB POT COS
Pietas standing by altar raising right hand
bare head right
RIC II.3 Hadrian 452a
Old RIC 2 (the Hadrian volume) Hadrian 445 "138, Feb. 25 - July 19)
Pietas has a component of caring for your parents and Antoninus Pius says, with this coin, that he expects Hadrian, his adoptive father, to be cared for by deification.
This coin is early in the first year as can be seen by TRIB POT without a number and not even "DES II" which is used near the end of the year to assert he is designated to be TRIB POT II next year. [$145]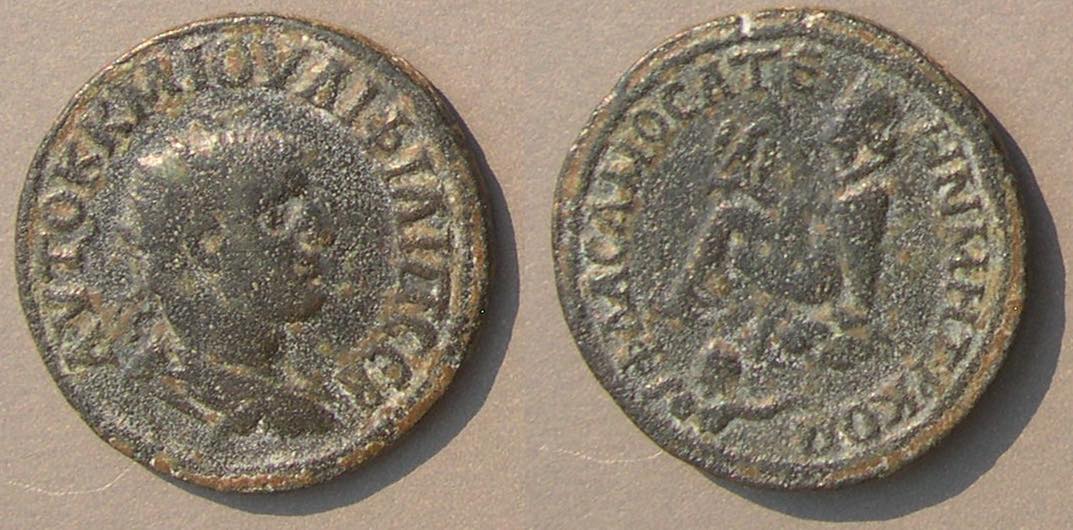 Philip II, 244-249, Samosata (on the Euphrates boundary between the Roman Empire and the Sasanian Empire.)
27 mm. 10.90 grams.
Philip II, radiate, right
Samosata, Metropolis of Commagene
City-goddess seated left on rocks holding ears of grain and eagle, with river god swimming below
Sear Greek Imperial 3953 variey. Butcher Coinage in Roman Syria Samosata 32 "a single obverse die is known for this denomination." This one is from the same die as his.
Very well-centered. Even, but not deep, strike. [$79, reduced to $69 SOLD]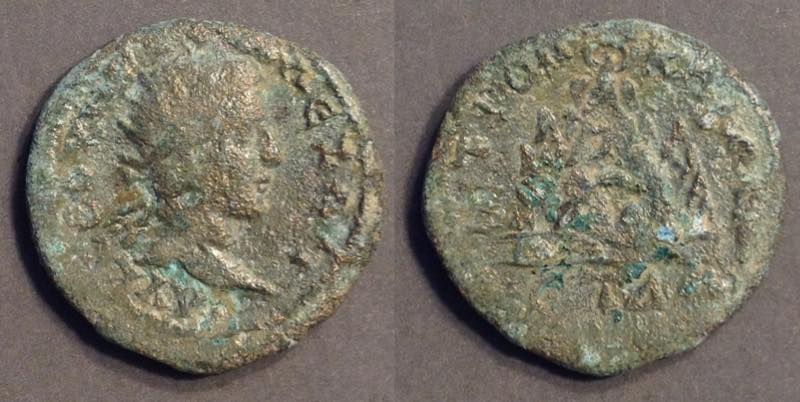 Cappadocia
Caeserea
Severus Alexander (222-235AD)
26 mm. 10.98 grams, dated (225/6AD)
laureate and draped bust right
Mount Argaeus on base, ETΔ in exergue
[$24, reduced to $21] (The one on vcoins is $119, a bit better)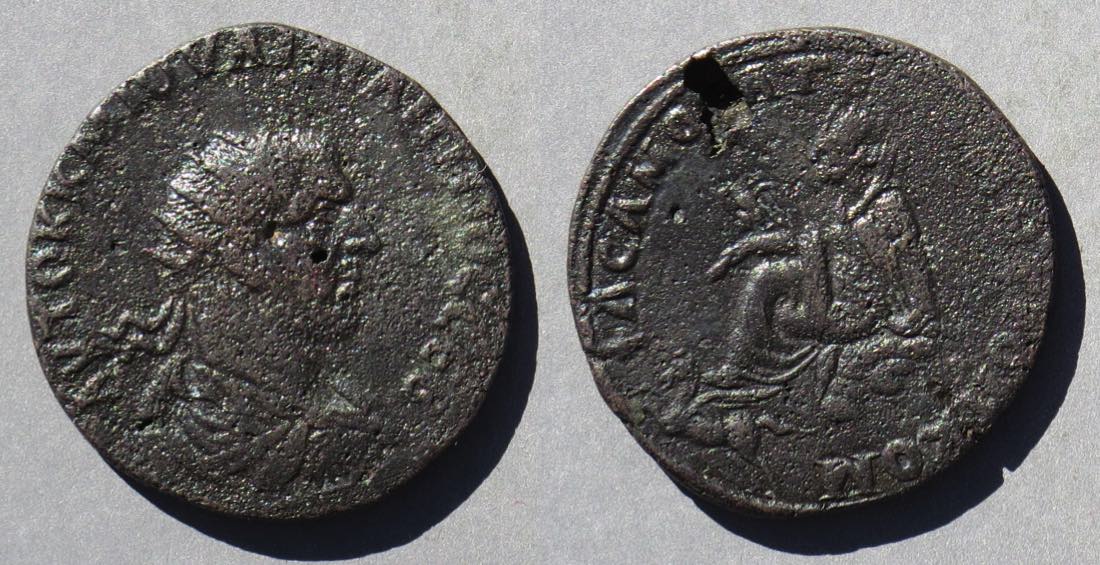 Philip I, 244-249
Sestertius-diameter
coin from the
Samosata mint on the Euphrates
31 mm
. 16.55 grams.
Radiate
bust right
City goddess seated left on rocks, holding out eagle, Pegasus leaping at her feet.
Butcher Coinage in Roman Syria, page 475, Philip 31 radiate
BMC
Syria, Commagene, Samosata 51 (laureate)
[$35, reduced to $32]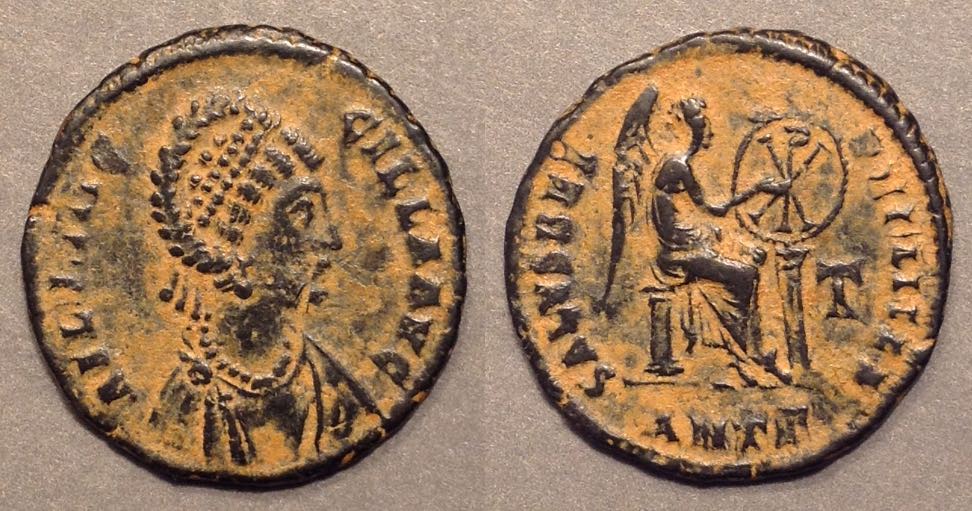 Aelia Flaccilla, wife of Theodosius (379-395)
22 mm. 4.72 grams.
SALVS REIPVBLICAE
Victory inscribing shield with Christian chi-rho. T to right, ANTΓ in exergue
RIC IX Antioch 61.2, page 291 "Rare"
Lovely light cover like is often seen on coins from Antioch.
Wonderful hairstyle details. Sear V 20616 "$325 in EF"
A beautiful coin! Super inscribed chi-rho. [$149, reduced to $129]

The seller, from Israel, wrote "Your coin has been blessed at the Church of the Holy Sepulcher in Jerusalem." I cannot personally confirm this, but I pass it on for what is worth.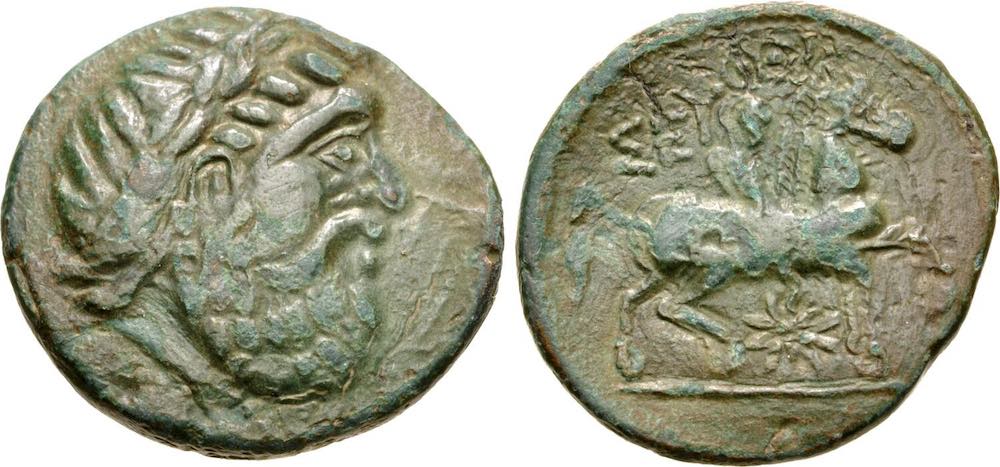 Kings of Thrace, Seuthes III, 18-20 mm. 5.38 grams. Circa 323-316 BC. Laureate head right / Horseman riding right, ΣEYΘOY above, star below. Peter p. 182; Topalov 116; Dimitrov group B; SNG Copenhagen 1073 "c. 316-313"; CNG e-auction 497, lot 90, this coin. SNG BM Black Sea 317-318 (the coin on offer is very much nicer than either).
One of the first portraits of any Greek king. Nice Green Patina. Reverse double struck. High quality for the type (much better than the BM specimens) What a portrait! [$99 SOLD] (With CNG ticket.)
See here for my web page on the type:
http://augustuscoins.com/ed/interesting/SeuthesIII.html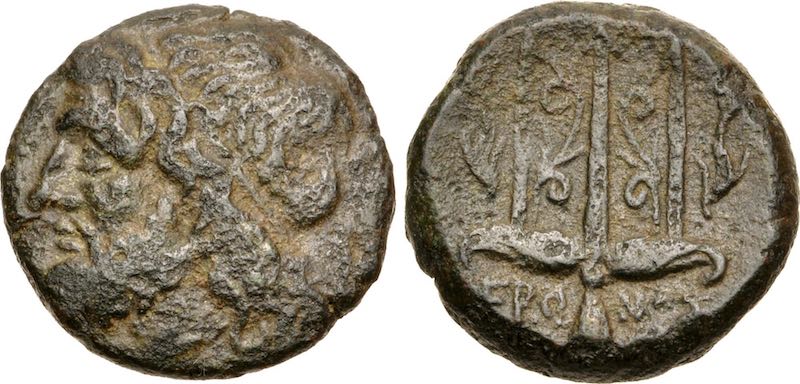 Syracuse, Sicily
King Heiron II, 275-215 BC
AE tetras. 18 mm. 6.17 grams.
Bearded head of Poseidon left
Ornamented trident, dolphins eithr side
Letters of his name either side of the shaft: IEPO-NOS
Ex CNG e-auction 499, lot 63.
SNG Cop 850.
[$59, with CNG ticket]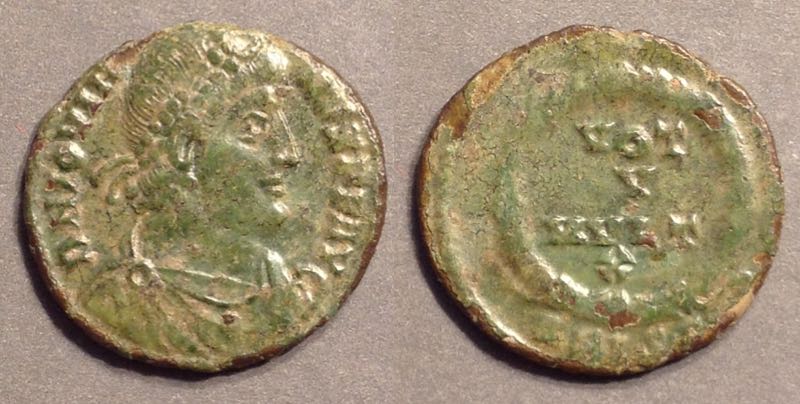 Jovian, 363-364
AE3. 19 mm.
DN IOVIANVS PF AVG
VOT/V/MVLT/X
BSISC in exergue
RIC VIII Siscia 426 "scarce"
Obverse with lovely even green patina and name fully on the flan. [$39, reduced to $31]
[Please compare to vcoins prices.]
---
Please compare prices with those on acsearch and vcoins and any other sites you use. I intend my prices to be below the prices for comparable coins anywhere else.
---
Links:
Caracalla, Elagablal, Severus Alexander, Gordian III, Philip, Valerian, Gallienus, Gallo-Roman, Claudius II, Aurelian, Probus, Tacitus, Carus and Family
---

Roman Republican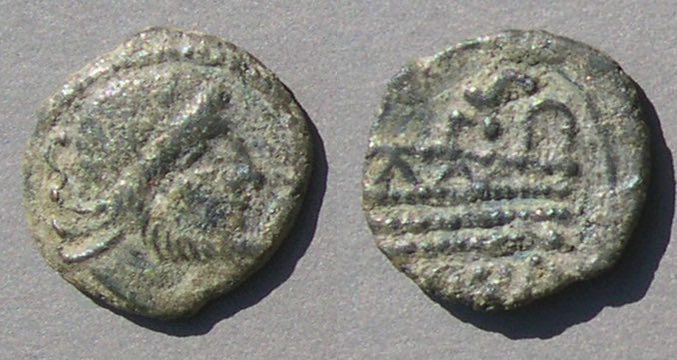 Roman Republican semis imitation from Spain
(which rarely had its own mint so locals issued imitations to supply the need for small change)
First century BC. c. 100-25 BC.
Small. 17-15 mm. 2.19 grams.
Head of Saturn right; S (mark of value) behind
Prow right; horizontal S (mark of value) above. Cf. Burgos R46.
cf CNG
https://cngcoins.com/Coin.aspx?CoinID=270492
for a very similar coin, not as nice, for $60 plus fees.
Crawford "Unoffical imitations and small change under the Roman Republic" AIIN 29 (1982) plate XI, 21. Also, plate II 19 (same dies!)
"Found almost always in the south of Spain, near Seville"
Better than the CNG piece. [$49]
This coin
cited in Rippolès and Witschonke, "The unofficial Roman Republican semisses struck in Spain" in
Studies in Ancient Coinage in Honor of Andrew Burnett
, 2015. #116h, not illustrated.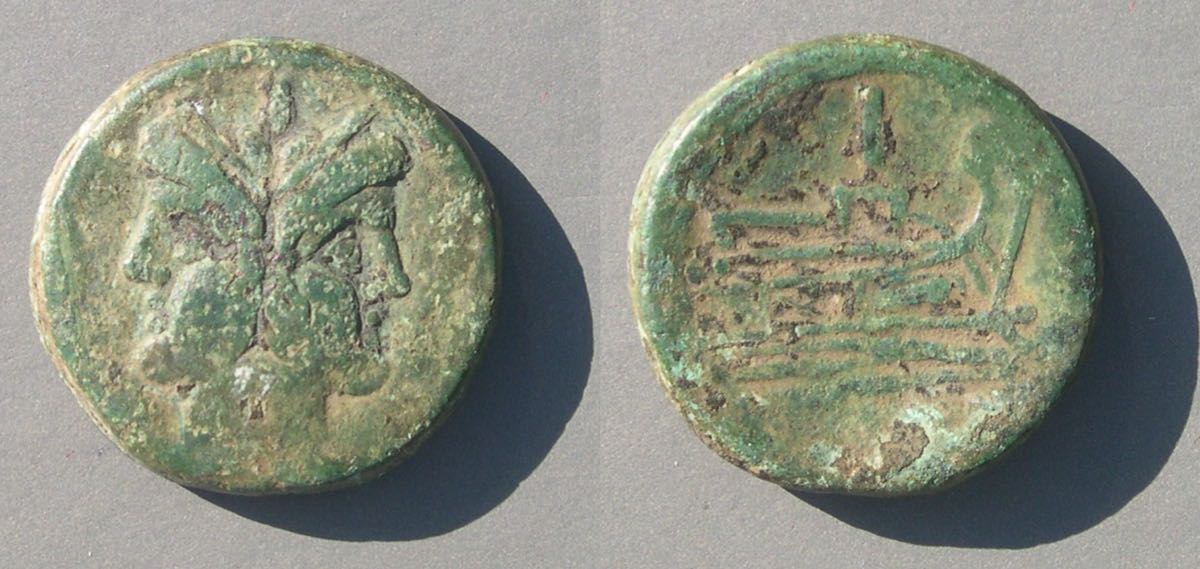 Roman Republican as
Massive 32 mm and 32.79 grams.
Struck (shortly) after 211 BC.
Janus/Prow, "I" above (for 1 as)
Crawford 56/2
Lovely green patina. [$195, reduced to $155]
---

***** I also have a page of numismatic literature (ancient-coin auction catalogs, books) for sale.
---
Augustus (27 BC - 14 AD)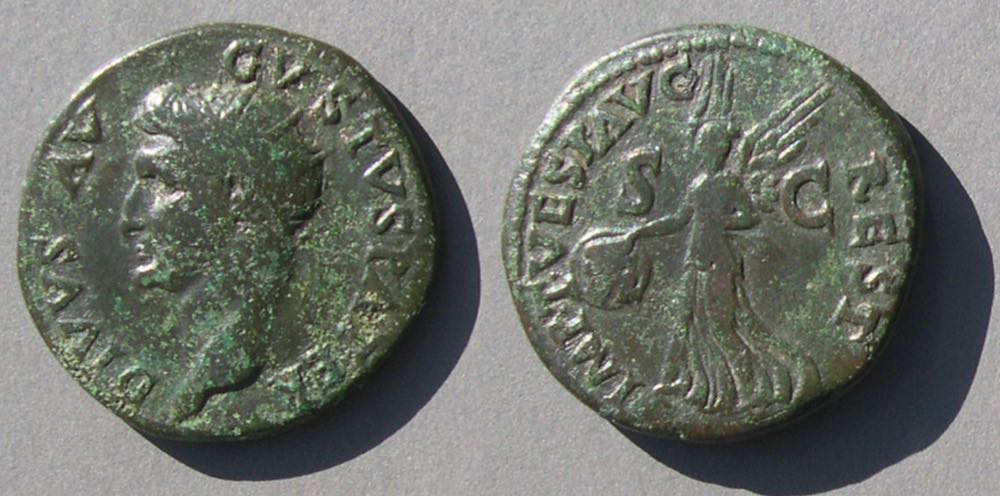 DIVVS AVGVSTVS
restored by Titus
27 mm. 12.36 grams.
DIVVS AVGVSTVS PATER
Radiate head left
Vicory left holding shield with SP/QR, SC high in fields
IMP T VESP AVG REST (restored)
BMC
Titus 265
RIC
II.1 Titus 446 dupondius, dated 80-81
ex Imperator Coins (Joe Mastrario) in 2006
ex Ancient Arts and Treasures (Winter Park, FL) before 2006, with their ticket
Hard dark green patina. [$245, reduced to $225]

Claudius, 41-54 AD.
Roman Alexandria.
26-25 mm.
Good portrait/eagle
[$69]
Nero (54-68)
[SOLD]

Vespasian (69-79)

[SOLD]
Titus (79-81)
[SOLD]

[SOLD]

---
Trajan (98-117)
[SOLD]
Hadrian (117-138)

Second Century Imitations: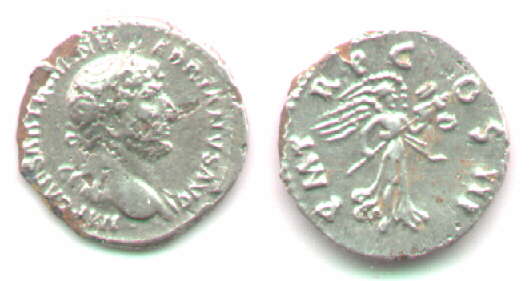 [$29]
19 mm fourré. (ancient imitation) 2.53 grams.
Hadrian, 117-138
IMP CAESAR TRAIAN HADRIANVS AVG
/PM TRP COS III, Victory right holding trophy forward
plated piece: 19 mm. 6:00. 2.53 grams
Remarkably nice reverse.
Prototype: RIC 101 "AD 119-122", BMC 212, plate 51.1. Hill 237 "AD 123"
Antoninus Pius (138-161)
[SOLD]
---

Third Century:

Septimius Severus
[sold]
Caracalla (196-198-217)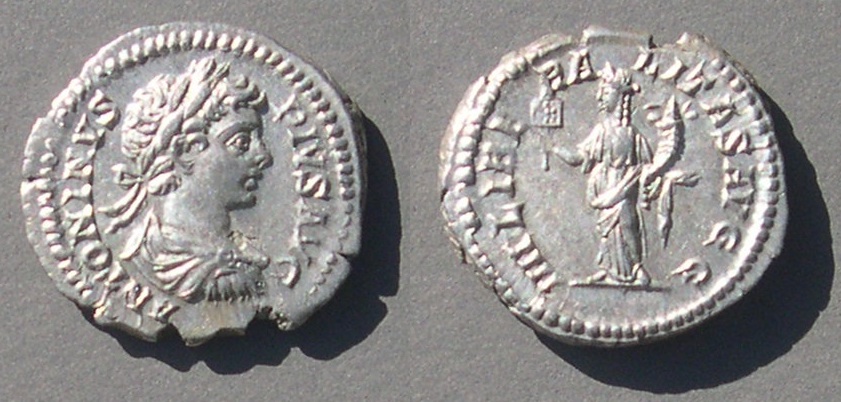 Caracalla, 196-198-217
Denarius. 20 mm. 3.34 grams.
Struck 204
IIII LIBERALITAS AVGG, fo the joint consulship of Caracall and Geta in 205, 250 denarii per man, probably 50 million total, according to Carlson in SAN VI.4
RIC Caracalla 135 "S".
Excellent metal. Super grade. Spectacular young portrait. [$149 SOLD]
Severus Alexander (222-235)
Maximinus Thrax (235-238)


---

Herennius Etruscus, 250-251 under Trajan Decius

[sold]
Trebonianus Gallus. A.D. 251-253

[SOLD]
---
---
[SOLD]
Central Empire, Claudius II (268-270) and later:
For a page of ancient imitations from the third century, see here.

---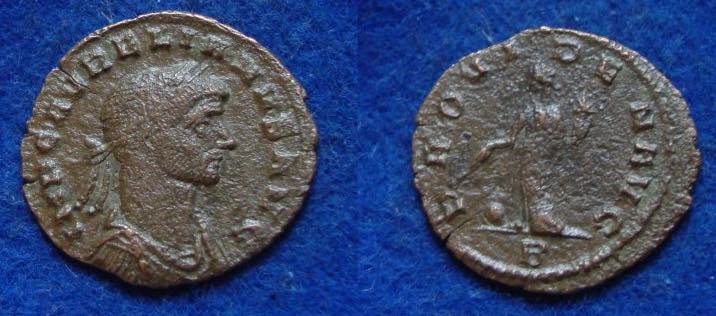 Aurelian usually comes as a radiate, either pre-reform or post reform. He also comes as a scarcer "denarius"--however almost always VICTORIA AVG. Far rarer, offered less than once a year, I think, is this PROVIDEN AVG denarius type.
18 mm. 1.36 grams.
As I write, none on vcoins and none at MA-Shops.
Roma had one, not better, in e-sale 27 for $143 including fees + shipping. CNG had one in 2010 for $185 + 12% + shipping. Elsen had one in 2011 for $207 + fees + shipping. These are all before the recent price rises.
IMP C AVRELIANVS AVG laureate bust right
PROVIDEN AVG
Providentia standing left holding wand over globe.
RIC 68 very rare type of an unusual denomination. You have seen his "Victory" reverse denarius, but likely not this type. A real rarity! [$125]
[sold]
[sold]
---
---
Go to, on this page, Republican, 1st C, 2nd C, or 3rd C
Caracalla, Elagablal, Severus Alexander, Gordian III, Philip, Valerian, Gallienus, Gallo-Roman, Claudius II, Aurelian, Probus, Tacitus, Carus and Family
---

Continue on another page with:
Roman: Diocletian through Licinius (the tetrarchy) or
with Constantinian coins,
Return to the top of this page.

To order, or simply to ask me questions, write me, Warren, at


.

---