This page has coins of AD 306-364, coins of
Constantine and his relatives, and Vetranio, Magnentius, Decentius, and Jovian.

TERMS: Prices are in brackets: [$xx]. I accept PayPal and Zelle (which I prefer in the US--here is why) and checks and cash. Postage in the US is $2 for orders up to $25, $3 for orders up to $50, $4 for orders up to $100, and an additional $2 for each hundred thereafter. Usually an additional $3 to other countries. From other countries I prefer TransferWise. Here is why: http://augustuscoins.com/TW.html . More-detailed terms of sale are here.
After I confirm by e-mail that I still have the coin, you can pay by logging into your account and sending PayPal or Zelle payment to my e-mail address.
To order, or to ask any questions, e-mail me, Warren, at:


Purple marks items that have sold and are no longer available.
Skip down the page to: Constantine, Commemoratives, Crispus, Delmatius,
Constantine II, Constans, Constantius II, Vetranio, Magnentius, Gallus, Julian II, Jovian.

---
2023, July 21: A very rare Constantius II.
2023, June 20: Cripsus and Constantine II, at the top.
2023, June 8: Constantine, at the top.



Skip past the newest and jump down to Constantinian in chronological order.

Newest: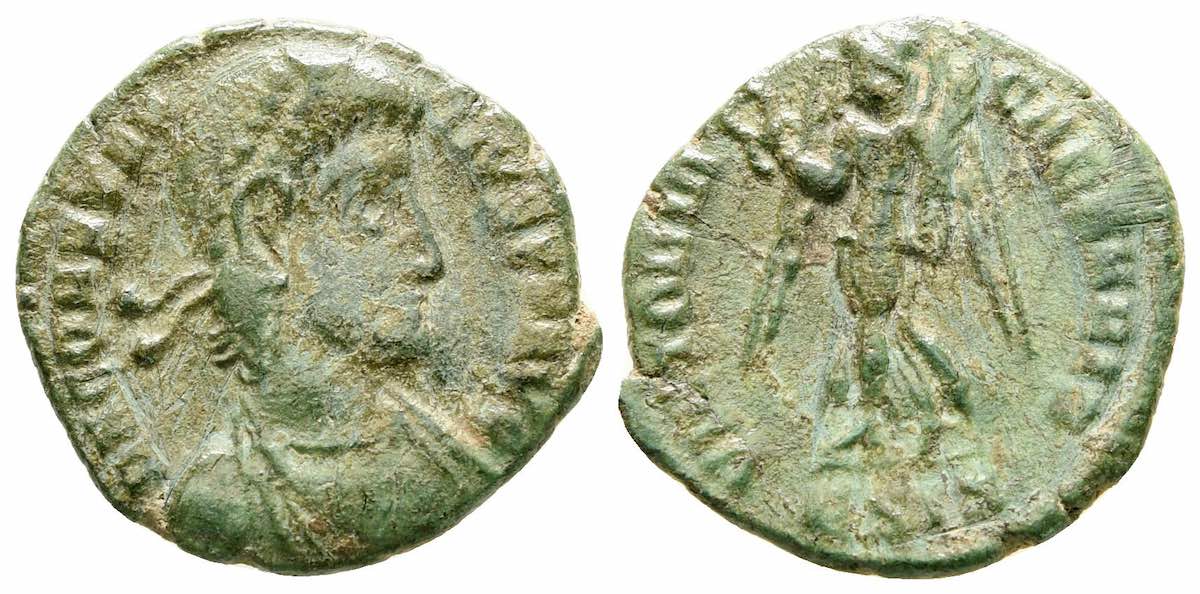 Constantius II
Struck 25 Dec. 350 - August 351 (i.e. After Vetranio retired)
at Siscia
18.4-17 mm.
VICTORIA CAESARIS, Victory walking left holding wreath and palm.
(CAESARIS more properly belongs to Gallus. There is similar type with AVGVSTORVM, which is proper for Constantius II)
RIC VIII Siscia 315 "R", only this issue only this mint, making it very rare.
Sear V 18239, no photo.
Rare and seldom offered. For the collector who wants all the types of Constantinus II, this coin is special. Even green patina. [$47 SOLD]
Here is a better one, but it hammered at $420 + 20%, close to $500.
https://www.acsearch.info/search.html?id=1325294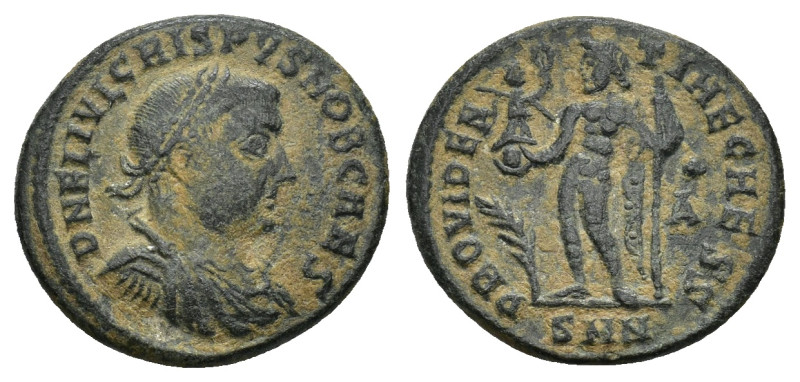 Crispus, 317-326
PROVIDENTIAE CAESS
SMN (Nicomedia)
Jupiter holding Victory on globe, palm branch in field left, Dot over A in right.
DN FL IVL CRISPVS NOB CAES
[$18]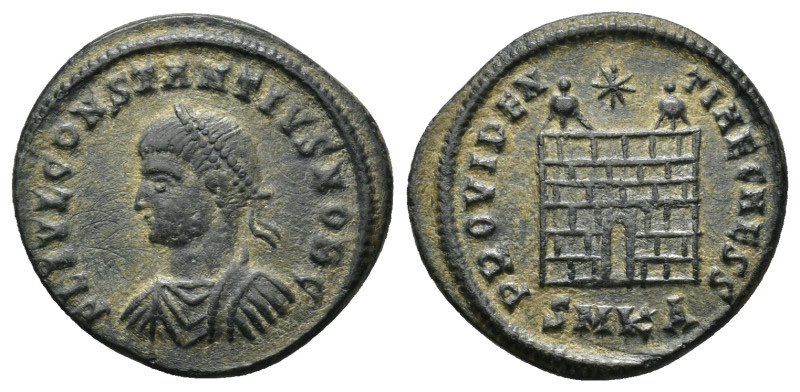 Constantius II, 317-337-340
As Caesar at Cyzicus
PROVIDENTIAE CAESS
SMKA
FL IVL CONSTANTINVS NOB C
Very nice surfaces. A very nice coin! [$23 SOLD]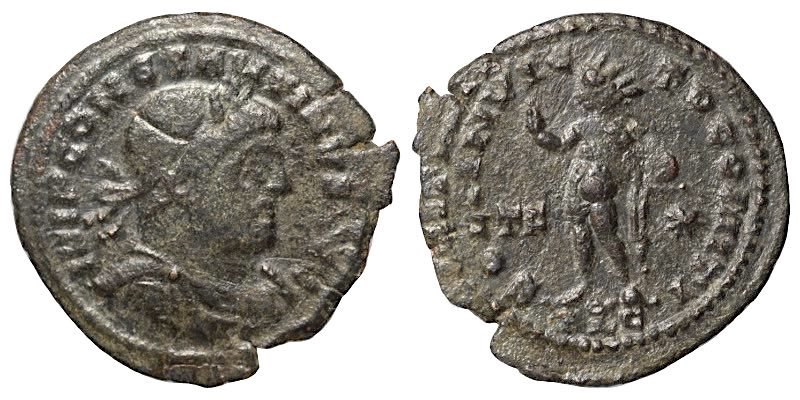 Constantine, 307-337
22 mm.
SOLI INVICTO COMITI
Lugdunum
with the rare field marks
TF *
PLG
RIC VII Lugdunum (Lyons) 33 "r3"
This field mark was used with Licinius, so we know that date of the issue was when he was on good terms with Licinius, after their first civil war.
Ding on the back of his head.
[$17 SOLD]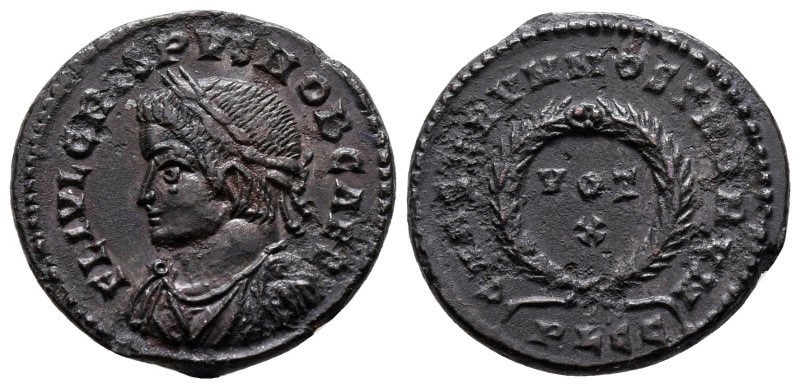 Crispus 317-326
Executed by his father in 326.
19 mm.
FL IVL CRISPVS NOB CAES
Bust left
VOT X
CAESARVM NOSTRORVM
PLGC Lugdunum mint
RIC VII Lyons 220 "r3"
Nice portrait, left. [$27]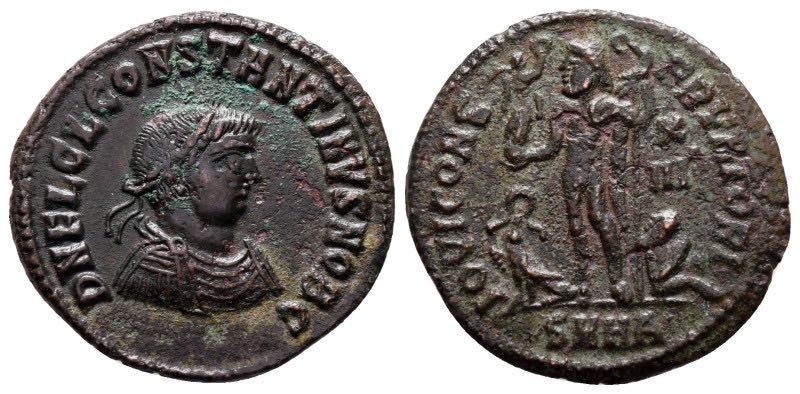 Constantine II as Caesar, 317-337
20 mm.
IOVI CONSERVATORI
XIIΓ for 12 1/2 (the denomination)
He looks like a boy, which he was.

[$23]
Constantine, 307-337
19 mm.
Constantine cuirassed in dramatic helmet right
BEATA TRANQVILLITAS
PTR
Trier mint.
VO/TIS/XX in base holding globe.

Nice helmet [$26]


Constantine, 307-337
18 mm. Small.
VICTORIAE LAETAE PRINC PERP
ASIS
Siscia mint
Two Victories holding shield with VOT/PR
over cippus.
Well-centered with full legend.

[$24]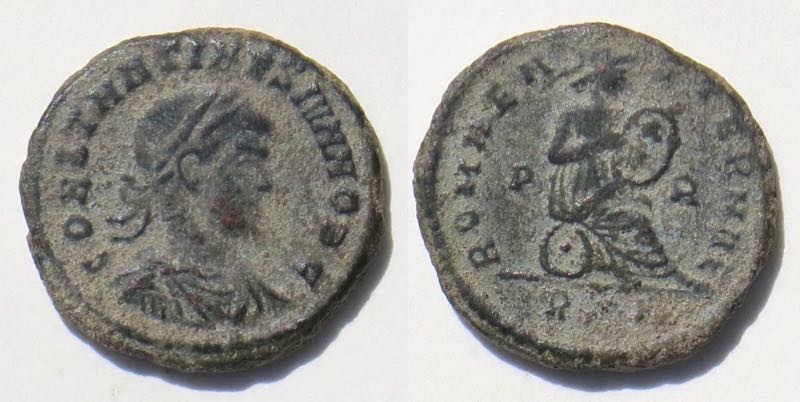 Constantine II, 317-337-340
19-18 mm. 3.63 grams.
ROMAE A-ETERNAE
Roma seated on shield right, inscribing X/V on shield.
Vows for 15 years>
P R in field
Rome mint
RIC VII Rome 156 p. 315 "318-319"
Light earthen cover. [$26]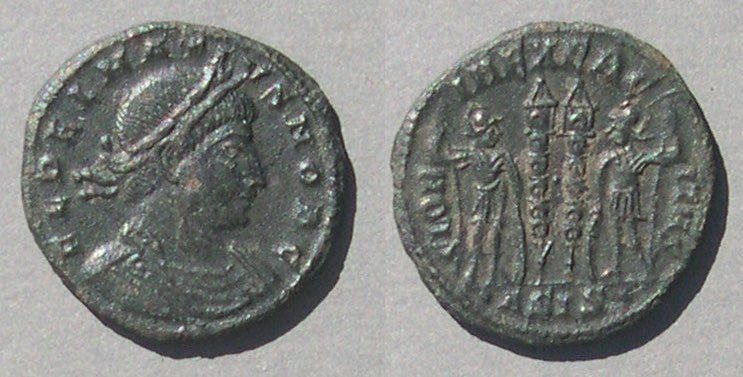 Delmativs, Caesar 335-337
This coin struck 18 Sept. - end of 335
with two standards
between two soldiers (One standard took over in 336 and was smaller)
18 mm. 2.42 grams.
Large for a Delmatius. They are usually with one standard.
FL DELMATIVS NOB C
GLORIA EXERCITVS (glory of the army)
•ASIS• for Siscia
RIC Siscia 239 (was R5 long ago but more have appeared since then)
Sear IV 16878 no photo.

[$69] Nice grade. Well-centered. Full flan. Compare with vcoins prices for other two-standard examples. (None are under $100 as I write, and they are not better.)
ex Andy Burnett at the Cumberland Coin Fair, London, March 2, 1996. Ex Esty collection.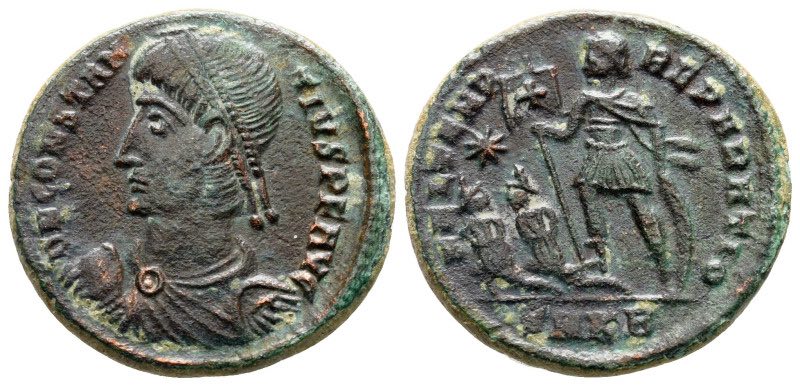 Constantius II, 337-361
FEL TEMP REPARATIO
21 mm. 4.51 grams
"Emperor and two captives"
Emperor holding standard with bold cross.
✳
SMKB
Cyzicus mint.
RIC VIII Cyzicus 84 page 496
[$26 SOLD]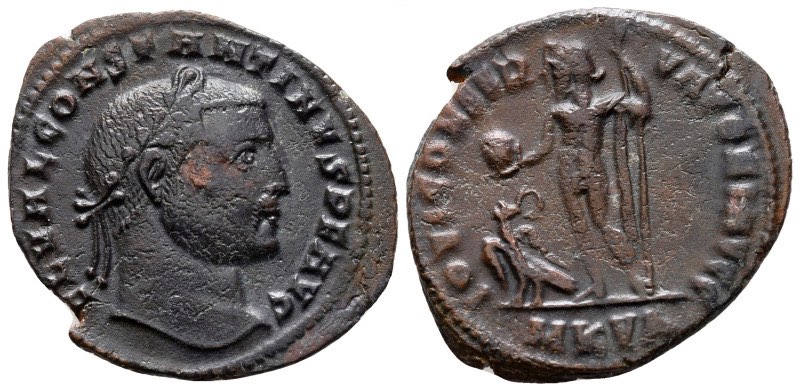 Constantine, 307-337
26.6-23.1 mm. Larger than an AE3.
Eastern mint portrait.
FL VAL CONSTANTINVS PF AVG
IOVI CONSERVATORI AVGG
Jupiter standing left holding globe and scepter
eagle at feet left.
MKVΔ Cyzicus
Not the later, smaller, type, rather the earlier, larger one.
RIC VII Cyzicus 78 "May 311-May 313" [$23]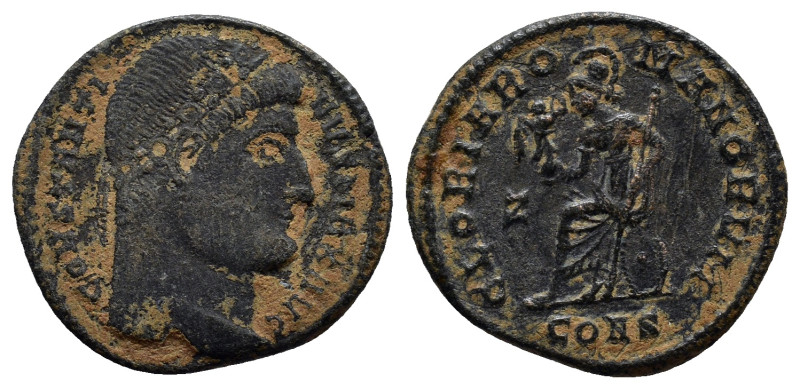 Constantine I (307/310-337).
17mm, 2.6 g.
Constantinople, 327-8.
Pearl-and-rosette diademed head r.
GLORIA ROMANORVM
(This type only at Constantinople)
Roma seated left on shield, holding Victory on globe and sceptre;
Z//CONS.
Lots of detail, however, obverse encrusted. [$10]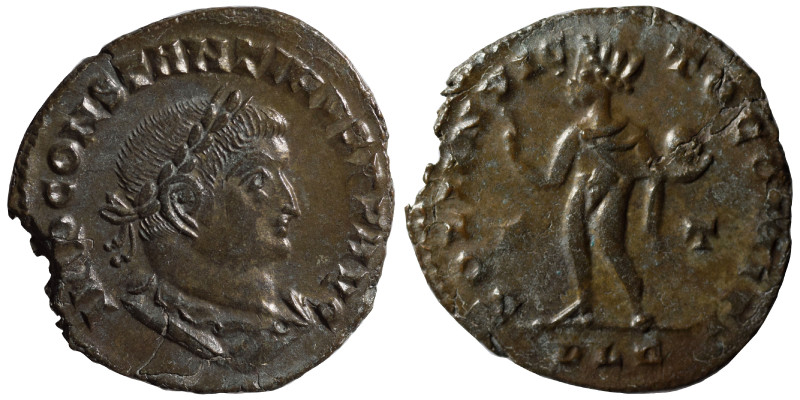 Constantine, 307-337
23 mm. 3.34 grams.
SOLI INVICTO COMITI
PLG
RIC VI Lugdundum (Lyons) 307 Struck "c. 309-310"
Excellent portrait with little wear [$22]
Constantius Gallus, 15 March 351 - Winter 354
24 mm (large AE2) 4.30 grams.
FEL TEMP REPARATIO
Galley. Emperor stanidng left on galley (The "ship of state") steered by Victory, holding Victory on gloe crowing him. III in left fiels. Star in right field.
ΓSIS
RIC VIII Siscia 329.
Black. Slightly glossy. High grade.
On vcoins as I write I get 100 hits from a search for "Constantius Gallus" and none are of this galley type (Soldier spearing fallen horseman dominates). MA-Shops, with 116 hits, had none of this type.
CNG had this one, not quite as nice, that hammered at $100 (so, $120 plus shipping) in 2015:
https://www.acsearch.info/search.html?id=3317849
Look at the old chi-rho on the standard! [$95, reduced to $89 SOLD]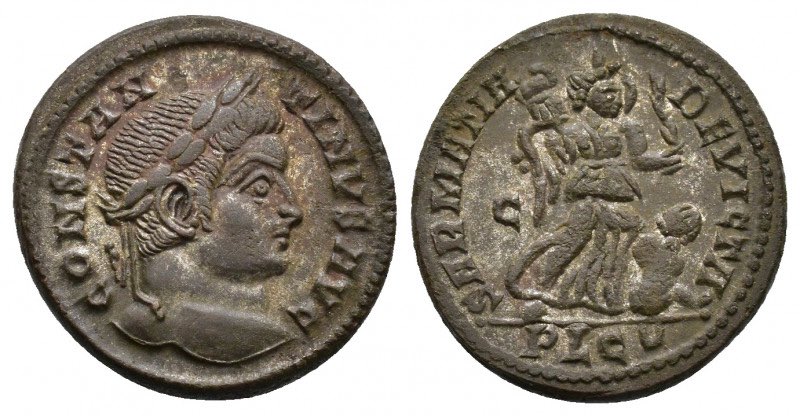 Constantine, 307-337
SARMATIA DEVICTA, Victory advancing right, holding trophy on right arm, branch in left hand, spurning captive on ground
MintMark: C/-//PLG(crescent).
Lugdunum, not Sirmium (most are from Sirmiun)
RIC VII Lugdunum 214. AE 3.63g
Really nice portrait. Traces of silvering. You can even see the eye of Victory! [$44 SOLD]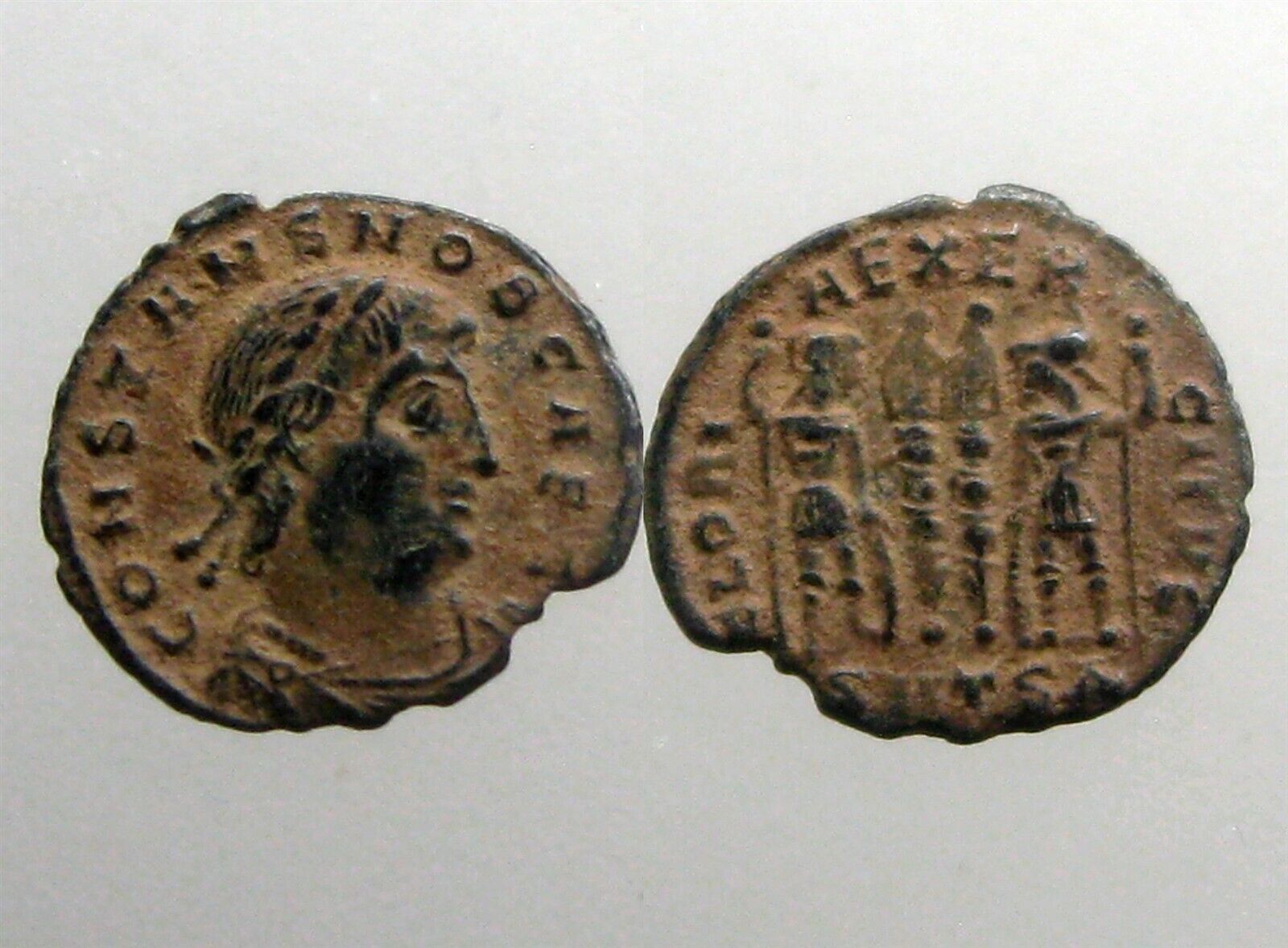 Constans, son of Constantine.
19-17 mm. 1.77 grams. Slightly larger than many GE coins.
CONSTANS NOB CAES
GLORIA EXERCITVS with two standards. (Most of his have only one standard because he didn't become Caesar until 333 and the very common type soon switched from two standards to one.
SMTSΔ
RIC Thessalonica 225 "336-7"
Lovely earthen cover. [$19]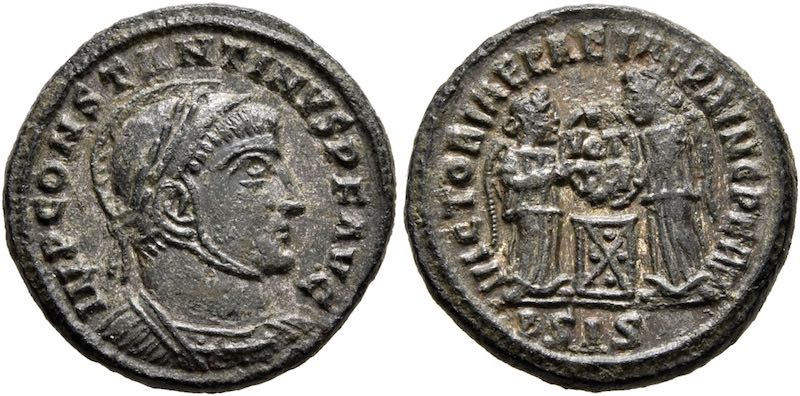 Constantine
18 mm. 3.15 grams.
Bust in close-fitting helmet with low crest, right.
VICTORIAE LAETAE PRINC PERP
around two Victories holding a shield inscribed VOT/PR over table
BSIS in exergue.
RIC Siscia 53. Struck "318-9" [$39]
Constantine, 306-307-337.
Rare 17-15 mm fraction. 2.14 grams.
Rare denomination!
Struck as Caesar Summer 307.
For some unclear reason Trier struck low-denomination coins hardly struck elsewhere.
FL VAL CONSTANTINVS N C
VO/TIS/X
Zschucke 7.13b, plate p. 48.
RIC VI Trier 750 "R" page 214.
Failmezger 218 "R"
ex Gert Boersema on vcoins, April 7, 2008, at $243.
Not your usual Constantine, on the contray, this is a rare, smaller, denomination [$275]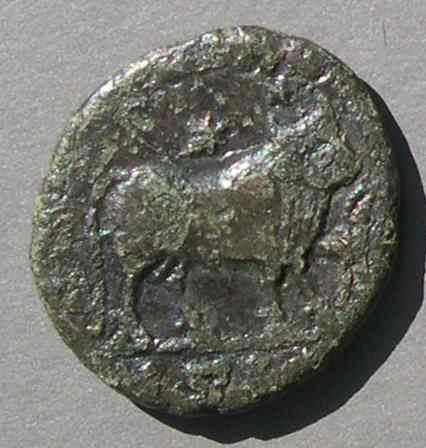 Julian II
An ancient imitation of the famous "bull" type.
Much smaller than the originals.
AE23-20. 5.62 grams. Bastien ANSMN 30 (1985) type of #50.
Imitations of this type are "relatively rare" according to Bastien. [$22]
---
Chronological order begins here!

Constantine, Commemoratives, Crispus, Delmatius, Constantine II, Constans, Constantius II, Vetranio, Magnentius, Gallus, Julian II, Jovian.

Constantine (306-307-337) and Family
If you want to know about early Christian symbolism on ancient coins, there are good websites, my own among them:
http://augustuscoins.com/ed/Christian/ChristianSymbols.html
and Victor Clark has another:
http://www.constantinethegreatcoins.com/symbols/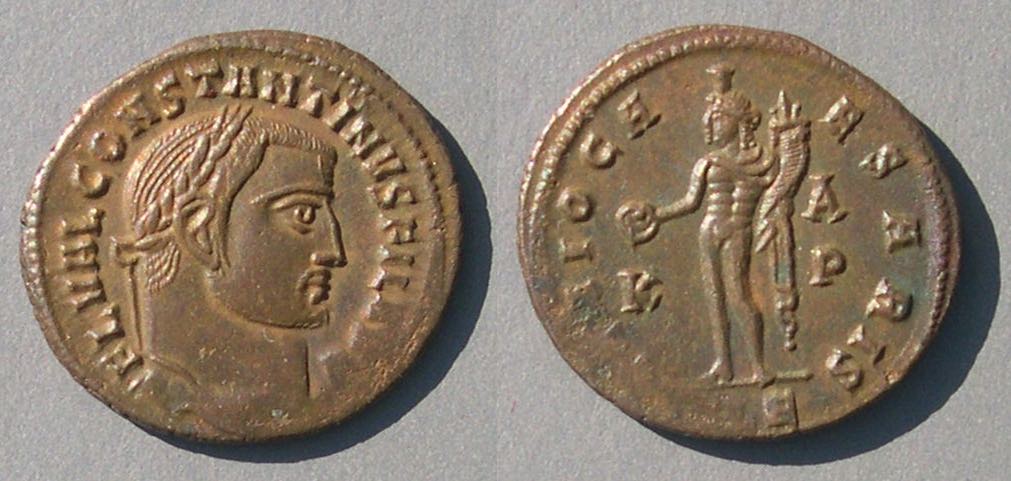 Constantine as FIL AVG
FL VAL CONSTANTIUS FIL AVG
GENIO CAESARIS
RIC Alexandria 100b.
ex Numismatic Art and Ancient Coins, auction 3, July 30, 1982, lot 168.
Read the story of FIL AVG types here: http://augustuscoins.com/ed/FILAVGG/
A lovely rust-colored follis of Alexandria.
Wonderful surfaces and excellent portrait.
Look at the abs on Genius! Seldom offered. An outstanding coin with lovely color!
[$349]
Compare with this one at $2800! https://www.acsearch.info/search.html?id=4064125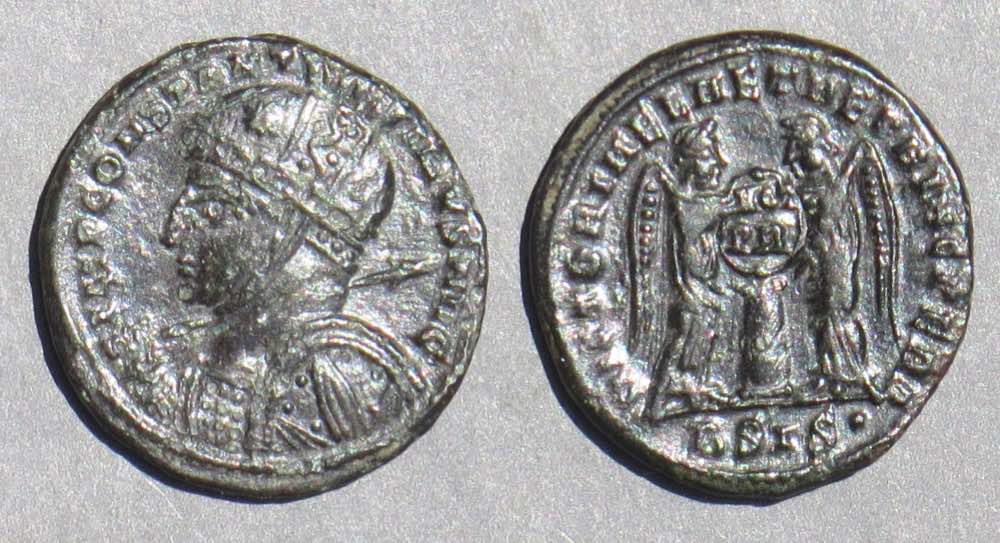 Constantine, 307-337
19 mm.
Glossy Black.
VICTORIAE LAETAE PRINC PERP
Two Victories hold shield with "VOT PR" on it.
RIC Siscia 61
Decorated helmet.
Decorated shield, which is unusual. [$69, reduced to $55 SOLD]
Constantine, 307-337
VOT XX
MVLT
XXX
TSA

Thessalonica mint (type from this mint only) [$25, reduced to $21]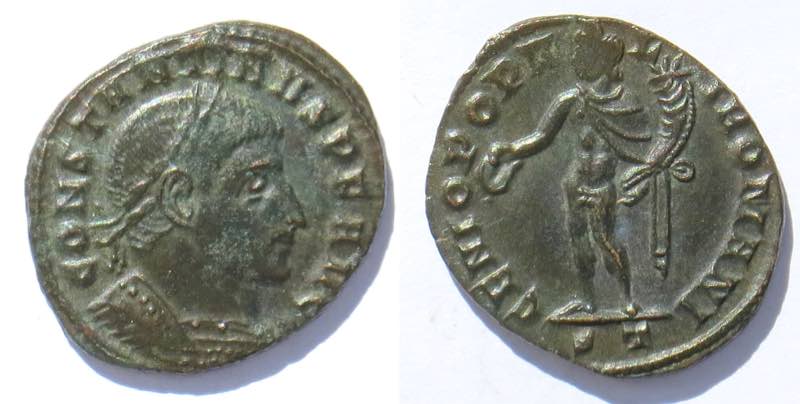 Constantine 307-337
22-19 mm.
GENIO POPVLI ROMANI
(A type revived after the Battle of the Milvian Bridge)
This reverse is very common on earlier folles of Diocletian and his colleagues, however, it is no longer common under Constantine. Note that this one is distinctly smaller than the earlier folles with this reverse.
RIC
Ticinum 117, page 297, plate 4. Scarce
I like the GENIO POPVLI ROMANI varieties and this one is remarkably late. Ticinum and Rome were the only mints to issue GPR after the Battle and before the death of Maximinus II in 313. The mints that had already been under Constantine had already moved on to using the shorter GENIO POP ROM legend. This mint had been under Maxentius.
[$85]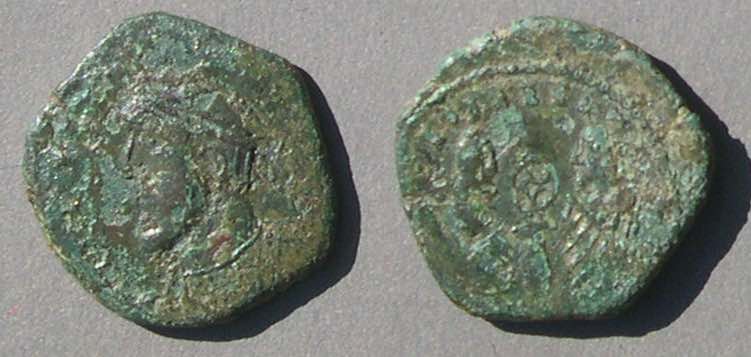 Ancient imitation (probably from the Danube region)
18 mm.
"Two Victories" reverse of Constantine
Bust left (which is unusual in this series)
[$12]
ex Vecchi in London, 1996. (no ticket)
Commemoratives (AD 330-340)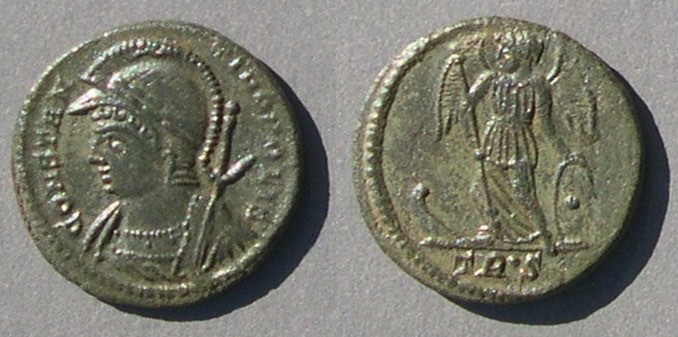 CONSTANTINOPOLIS
17 mm.
TR•S
RIC Trier 543, page 217 "332-3"
Sear IV 16445
High grade. Lovely even olive green patina. You can even see the face of Victory.
Wonderful! [$65]
ex Mike Vopser at the Paddington Coin Fair in London in Spring 1996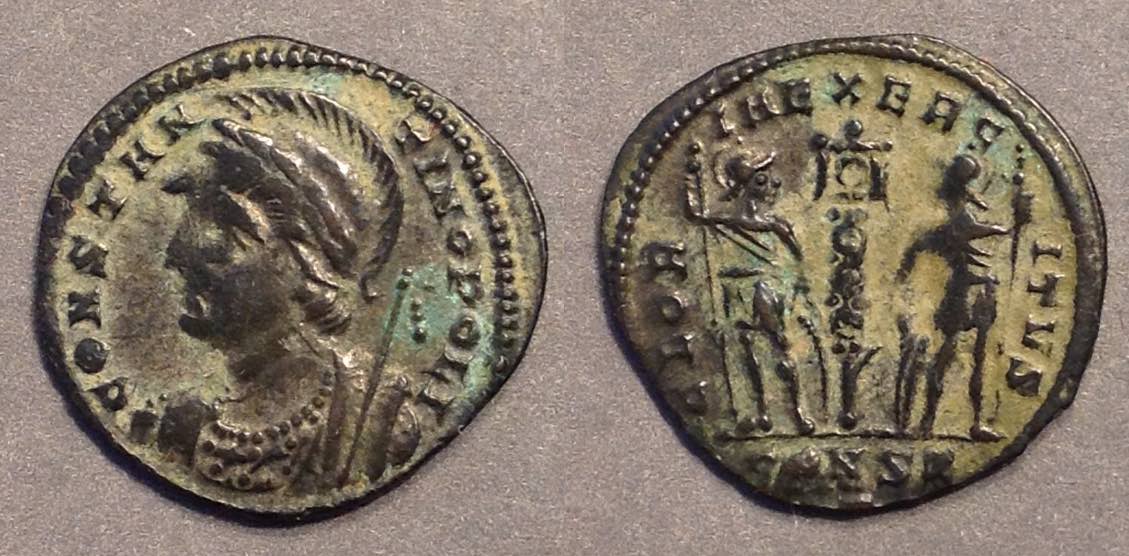 CONSTANTINOPOLIS
17-16 mm. 1. 35 grams.
GLORIA EXERCITVS
CONSZ
Two soldiers and one standard
RIC VII Constantinople 144, page 589 "r3" "336-7"
Sear IV 16484
Unusual reverse
[$65 SOLD]
ex Wolf at the Chicago ANA August 15, 2013. No ticket.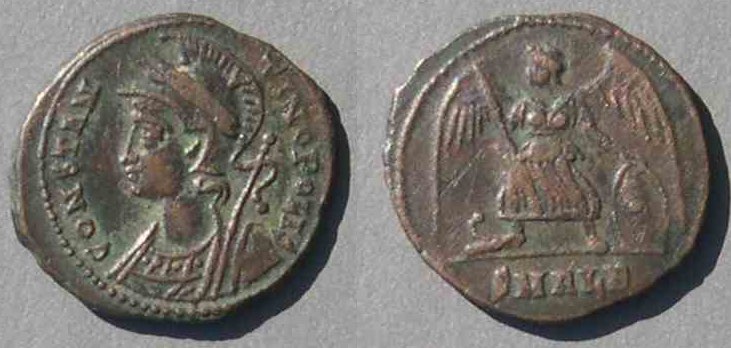 CONSTANTINOPOLIS
18 mm. 2.17 grams.
Victory with here right foot on prow
SMALB
RIC Alexandria 64 or 71 "337-337"
Sear IV 16481, page 502
Remarkably wide-spread wings. [$39 SOLD]
ex. Vecchi Feb. 26, 1996, private sale in London (no ticket)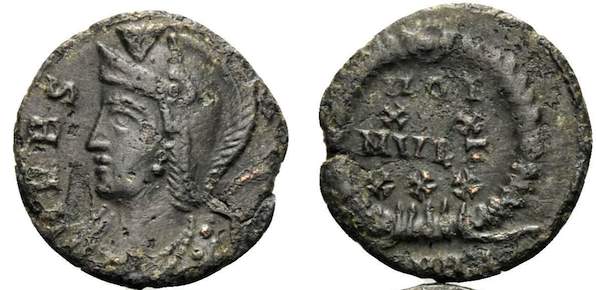 VRBS ROMA
VOT XX MVLT XX
13.6 mm. 1.38 grams. Small.
The very common VRBS ROMA reverse combined in 347-8, long after the usual revrse was discontinued, with the unusual
VOT XX MVLT XXX reverse at Heraclea
RIC VIII Heraclea 49 "347-8"
Sear V 17545
The type is almost never nice. This example of the type is a bit better than the "55 euro, reserved" example on vcoins as I write. [$45]
---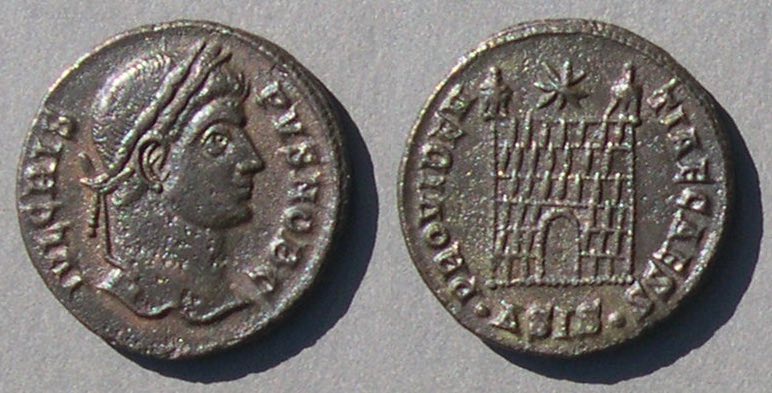 Crispus, 317-326
PROVIDENTIAE CAESS, campgate
RIC Siscia 201
Bold strike, all letters bold, head bold, campgate nice.
[$45, reduced to $39 SOLD]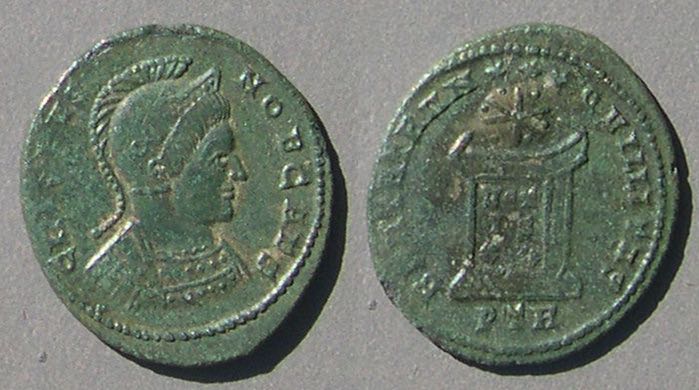 Crispus, 317-324
BEATA TRANQVILLITAS
Altar and globe
mint mark PTR
RIC Trier 309 "r5"
Lovely even green patina. Wonderful crest on the helmet. [$45, reduced to $37]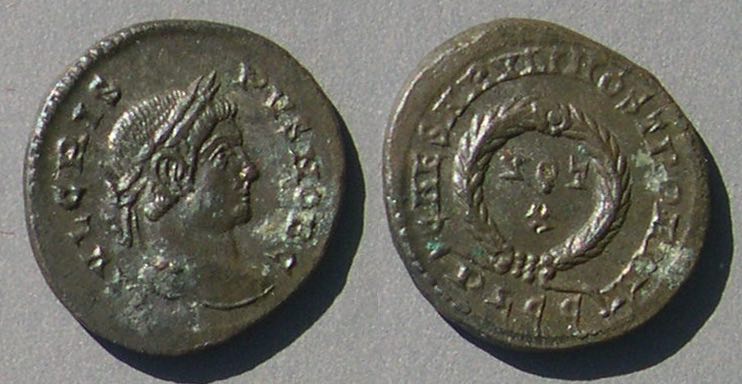 Crispus, 317-326
VOT X in wreath
RIC Lyons 215, struck 323
Very glossy dark green patina.
High grade. Excellent portrait. [$29, reduced to $25 SOLD]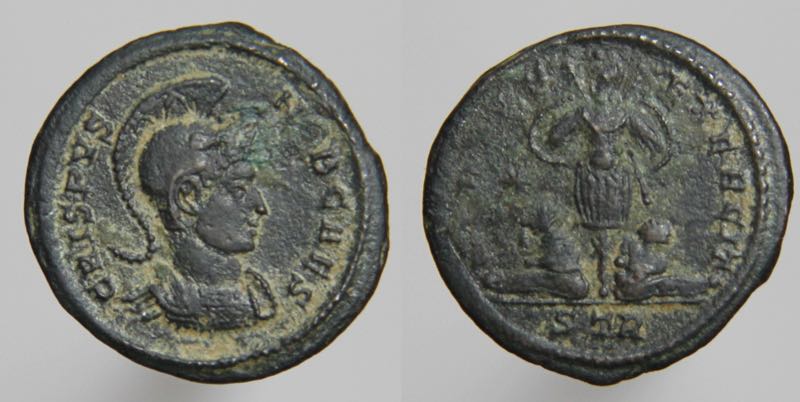 Crispus, 317-326
VIRTVS EXERCIT. with trophy
STR RIC Trier 251 "r4"
The trophy varieties are all rare.
[$23 SOLD]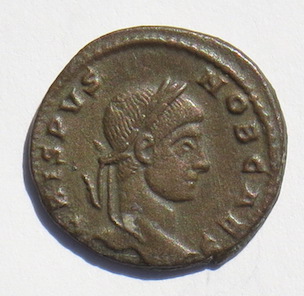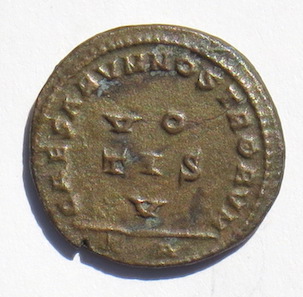 [$115, reduced to $85] Crispus, 317-326, struck 320-321 [RIC]
VO/TIS/V CAESARVM NOSTRORVM PA
Unusual type with long spelling of VOTIS and no wreath.
As I write this there are 464 coins that come up with a "Crispus" search on vcoins, and none have this VOTIS type (not just variety--none of the type!) RIC VII Arles 220 "r3" from one officina only (2 mints--there are three "r5" varieties at Lyons)
Helena
[sold]
one on the main page
---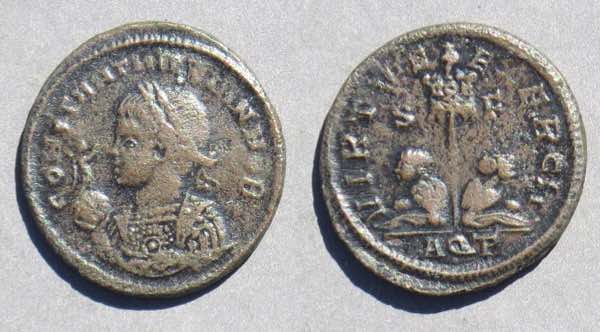 Constantine II
VIRTVS EXERCIT
VOT X on standard
Aquileia mint
Con II holding Victory on globe left [$29, reduced to $25 SOLD]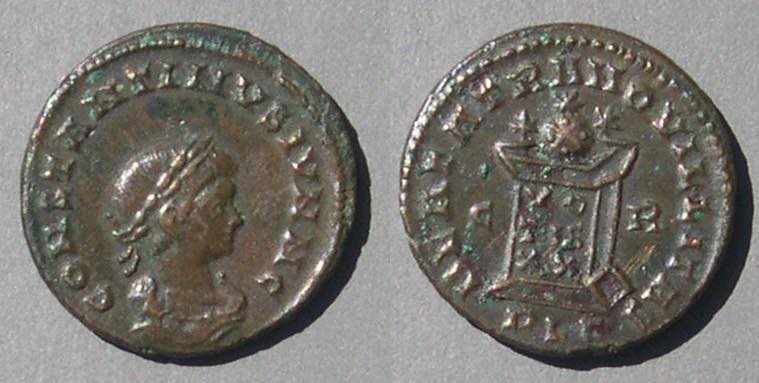 [$29] Constantine II, 317-337-340. as Caesar
19 mm. 3.04 grams.
BEATA TRANQVILLITAS
globe on altar
RIC Lugdunum 148 = 188 (r5, r3) pages 132-3.
VO/TIS/XX
Nice surfaces and bold strike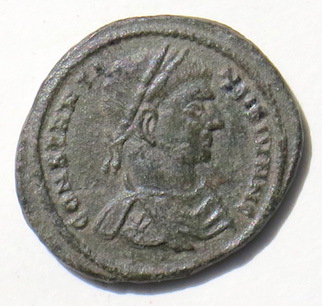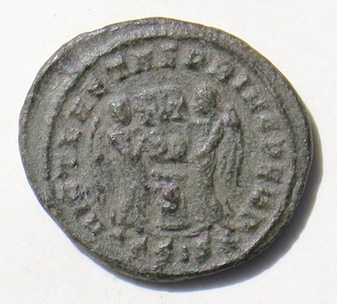 [$49, reduced to $35] Constantine II, 317-337-340.
Struck 319-320. RIC VII Siscia 99v (unlisted for Gamma), page 436.
VICT LAETAE PRINCE PERP, two Victories
Interesting portrait. Unlisted officina.
---

Constans (Caesar 333-337. Augustus 337-350)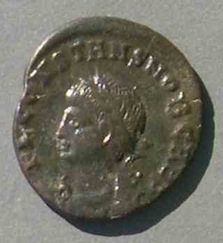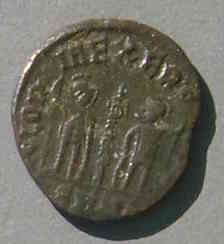 [$12, reduced to $8] Constans, 333-337-350, struck 336-337.
15 mm. SMNA of Nikomedia. GLORIA EXERCITVS. Overall very common, this variety is "r1" in RIC. RIC Nicomedia 202.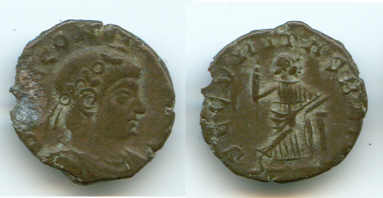 [$49, reduced to $35] Constans. 337-350 AD. AE4.
Scarce SECVRITAS REIP.
A rare type in good grade, not ever found full flan.
RIC VIII p. 249f.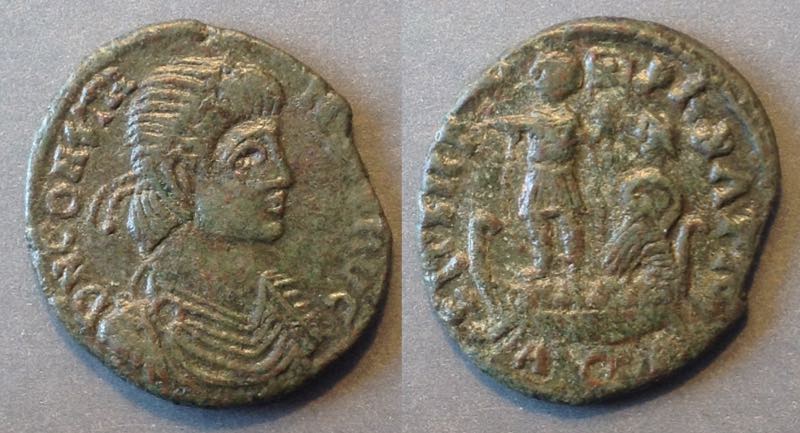 Constans. Full-size ancient imitation. AE23-20. 4.95 grams.
DN CONSTA-NS PF AVG, legible letters on obverse
/illegible letter-like forms, possibly resembling "AQP" in exergue (for Aquileia mint)
Sear 3973 prototype. RIC Aquileia 99. "348- 19 Jan. 350". Page 323. Lovely hard green patina. Seldom offered.
[$85] Have you seen any full-sized FTR imitations before?
---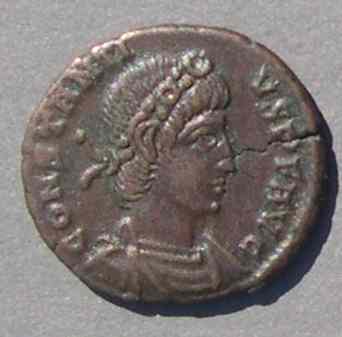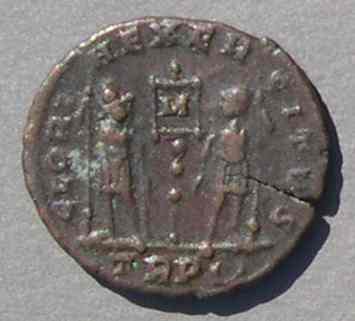 [$23. A nice example.] Constantius II, 324-337-361.
"M" on standard. An unusual variety for having the M.
AE15. GLORIA EXERCITVS, Trier mint.
RIC 108. ex Baldwin's in London, 1988.
---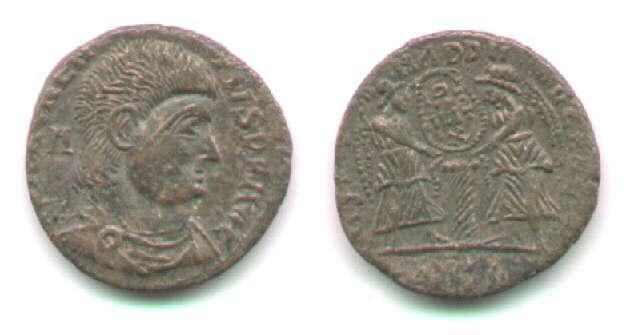 Magnentius, 350-353
Large ancient imitation
21 mm. 3.78 grams.
VOT V MVLT X on shiled held by two Victories
VICTORIA DD NN AVG ET CAE intended around
Prototype possibly RIC Lyon 122, page 186
Legend nicely garbled, but close. Good portrait.
Bastien notes a good fraction of Magnentius coins are actually imitations.
ex Baldwin's in London, May 17, 1988. [$37]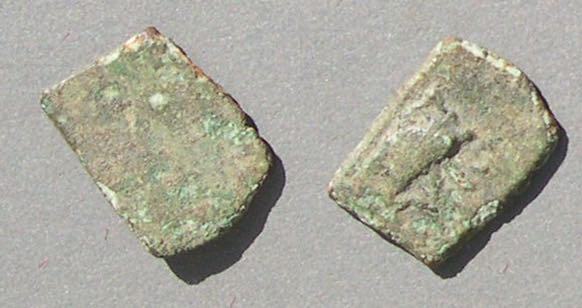 A curiosity! 12 x 9 mm piece cut out of a Magnentius chi-rho type. All that remains is the end of the X.
Bought as part of a large group of ancient imitations (although this is not an imitation, rather a piece cut down) from Italo Vecchi Jan. 29, 1996 in London.
0.71 grams. In the 5th century when AE4's were the only size AE, larger coins from earlier were cut down to match the weights of the current coins. Go to local coin shows in England and you will see very many small imitations and cut-down pieces about this size. I picked through bags and found some interesting pieces. [$13. You would need to look at thousands of coins, as I did, to find a cut-down chi-rho of Magnentius like this.]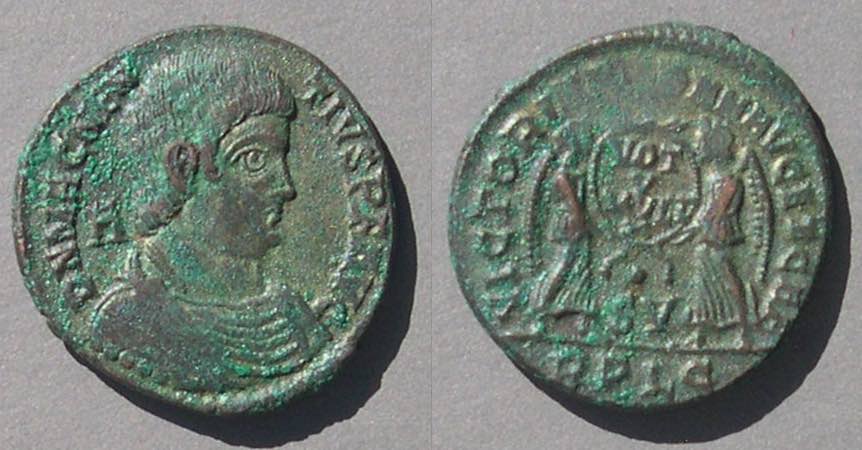 [$57] Magnentius, 350-353
22-21 mm.
VICTORIAE DD NN AVG ET CAE
Two victories with shied inscribed
VOT V MVLT X
SV below, RPLG in exergue.
RIC Lyons = Lugdunum 130 page 187.
Failmezger 440.
Not quite as green as the picture, and the green is stable and has been since I bought it in 1994.
A very attractive example.
---
---
Vetranio (AD 350, March 25-Dec. 25, less than one year)


---
Constantius Gallus (AD 351-353)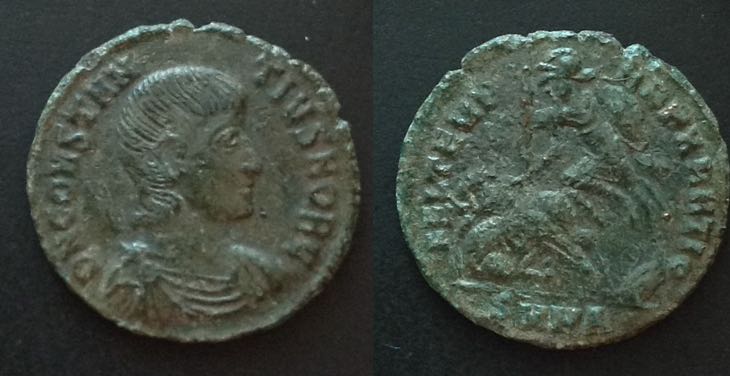 Constantius Gallus, 351-354
19 mm. 2.21 grams.

Soldier-spearing-fallen-horseman

RIC VIII Nicomedia 97

Lovely even green patina. [$19]
Rare Constantius Gallus, 351-354
18 mm. 1.84 grams.
GLORIA ROMANORVM
Emperor standing left holding standard and spear
A type initiated by Vetranio and continued for Constantius II and Gallus.
Over 90% of Gallus coins are Soldier-spearing-fallen-horseman and only 1/3 of 1% are this rare type.
RIC VIII Siscia 356.
Rare type [$35, reduced to $29 SOLD]
---

Jovian (AD 363-364)


Jovian, 363-364
VOT V in wreath
Bust left
Nice surfaces
mintmark CONSP (Constantinople)
[$23, reduced to $21]
---
Return to the top of this page.

Next Page: Roman of Valentinian and later (364-491 AD)