This page has ancient Greek coins for sale
(including "Oriental Greek": Persis, Parthian, Sasanian, etc.)
Skip down to silver or AE. If you want $5000 or $1000 coins, shop somewhere else.

Detailed terms of sale are here. What you want to know is: I guarantee my coins are genuine. I take PayPal and checks. Prices are in square brackets [$xx].
Postage in the US is $2 for orders up to $25, $3 for orders up to $50, $4 for orders up to $100, and an additional $1 for each hundred thereafter. $3 more to other countries (When you order, let me know if you are not in the US). Coins are guaranteed genuine.
To order, or simply ask me a question, write me at



What's new? March 24: Seleucid King Alexander II, at the top.
March 20: Parion with Gorgon head
2018, March 4: Cilician staters (at the top).
2018: Late Feb.: Two Greek coins from the Black Sea area at the top of this page.
Feb. 2, Laodiceia AE at the top. Sold coins removed. Coins regrouped as High Quality, Greek silver, Greek AE, Jewish, or Oriental Greek.
Newest first. Then High Quality. Then Greek silver, Greek AE, Jewish, Oriental Greek.

Newest: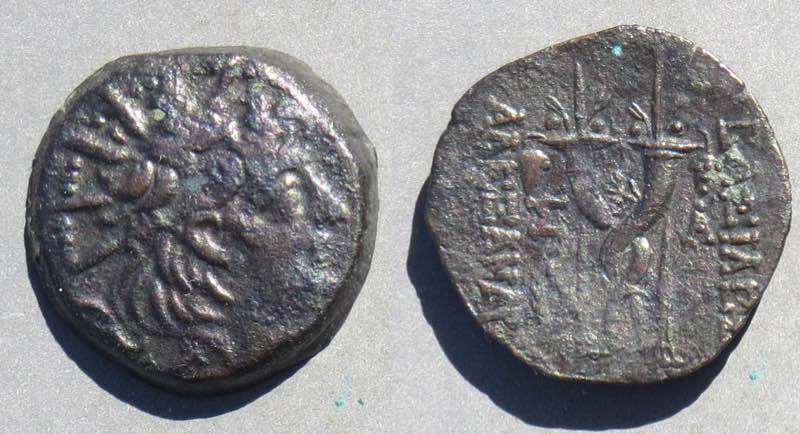 Seleucid King
Alexander II, Zebinus
128-123 BC
His radiate head right
Crossed cornucopiae (usually they are parallel)
and therefore not in Sear or Hoover (Seleucid Kings)
20 mm. 7.05 grams.
SNG Spaer Seleucid 2310
This one is nicer than his and better than the only example on MA-Shops which is $75. [$38]

Here is a beautiful Greek silver in good metal: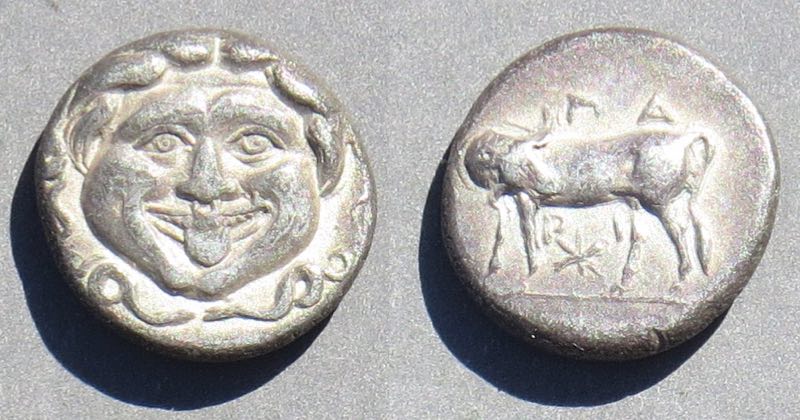 Silver. 13-12 mm. Mysia, Parion. 2.29 grams.
Gorgon/Medusa head facing, tongue protruding [see the snakes below?]
Cow standing left, head turned back. ΠA above P beneath
Struck c. 350-300 BC.
Sear Greek II 3922
With old ticket from (a dealer? I don't know of him) Richard Storch
Please compare to the upcoming Gemini piece estimated at $300.
The centering is great, which is very important on a symmetric facing head. Good style. High grade. Nice tongue! [$149 SOLD+$5 in the US, $3 more abroad.]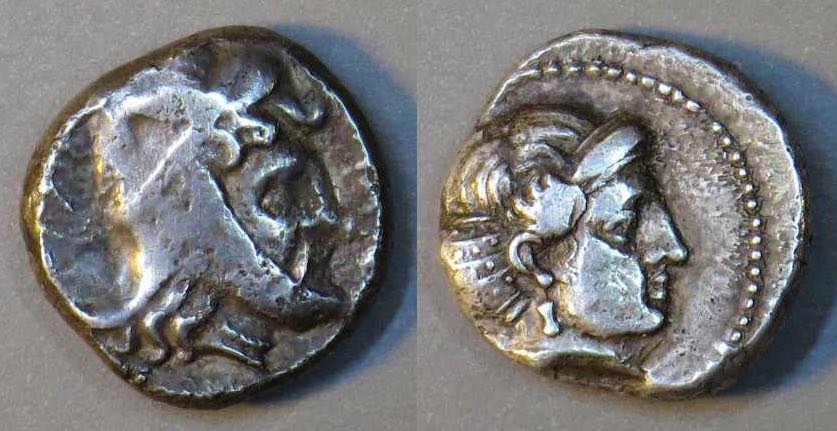 Cilicia, city of Mallos. 385-333 BC. [according to Levante]
21-20 mm. Thick. 10.44 grams.
Head of Persian satrap wearing Persian headdress.
Head of Aphrodite right, hair bound in ampyx and sphendone with earring and necklace.

Sear Greek --. SNG Levante 150 is similar but with less elaborate hair.
SNF France 2 (Cilicia) 394. Von Aulock 5717. [$475 SOLD]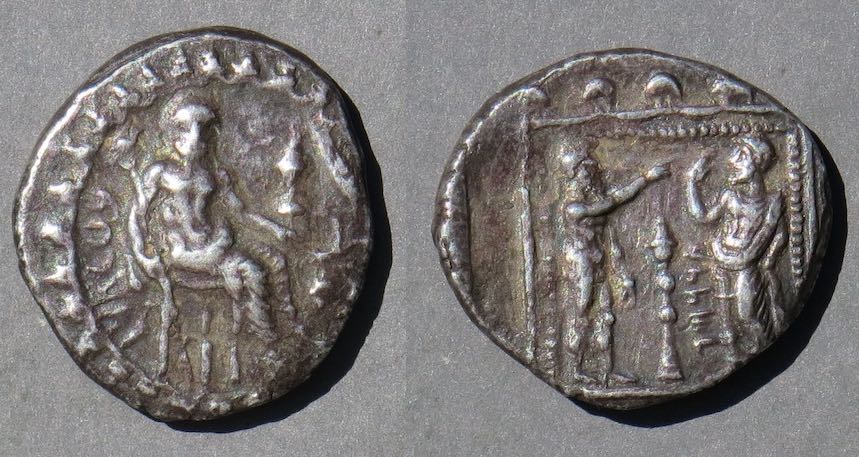 Cilicia, city of Tarsos.
24-22 mm. 9.86 grams.
Usually attributed to satrap Datames (378-362 BC). Other pronunciations of the letters that name him have been suggested, including "Tadnmu", but it is the same satrap either way.
Ba'al of Tarsos seated holding eagle-tipped scepter over shoulder and grain ear and bunch of grapes in left. "Ba'al Tarz" in those letters down the left.
The sky god Ana naked standing right with his hand toward Datames standing left with his right hand raised in a gesture of veneration, legend between (the name, perhaps pronounced "Tadnmu")
Sear Greek 5646v. Levante 84. [$345]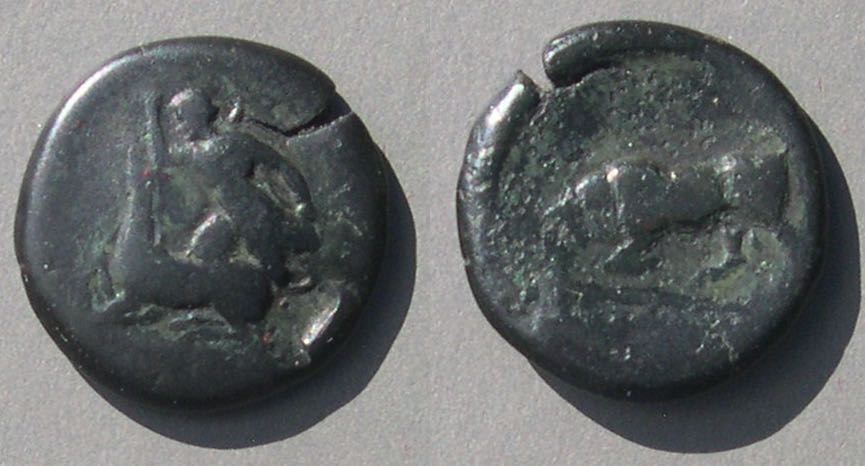 Cherson (city in Crimea, formerly in Ukraine)
21 mm.
Artemi kneeling left on prostrate stag which she spears
Bull butting left, club and quiver below.
Sear Greek 1668. Stancomb 474. Anokhin 77. Rare. [$49]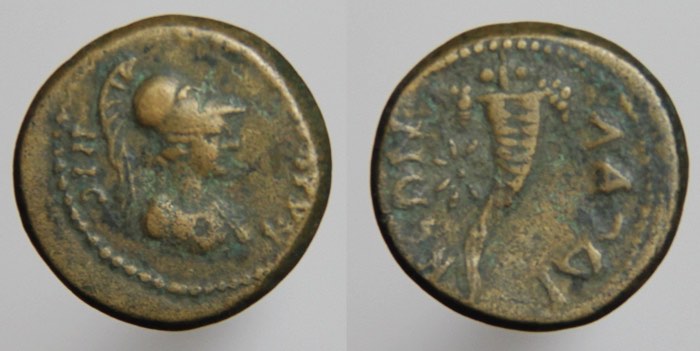 Laodiceia
Phrygia?
16 mm.
Helmeted bust right
Obverse legend might read: KA... NIC
upright cornucopia
ΛAOΔI KEΩN
[$23]
You figure out the details. I'm sure it can be done.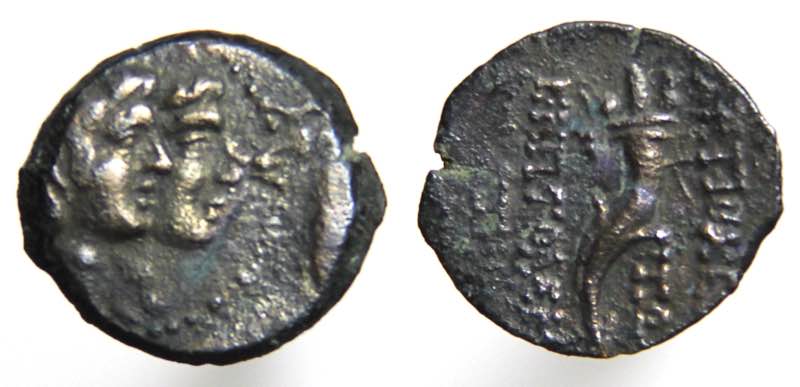 AE16 of Akko (Ake)-Ptolemais
Jugate busts of the Dioscuri right
Cornucopia with ANTIOXEN/TΩN down right
and ΠTOΛEMAIΔI
Kadman 16ff, this one better and the best I found. [$45] Remarkably low-priced for the best.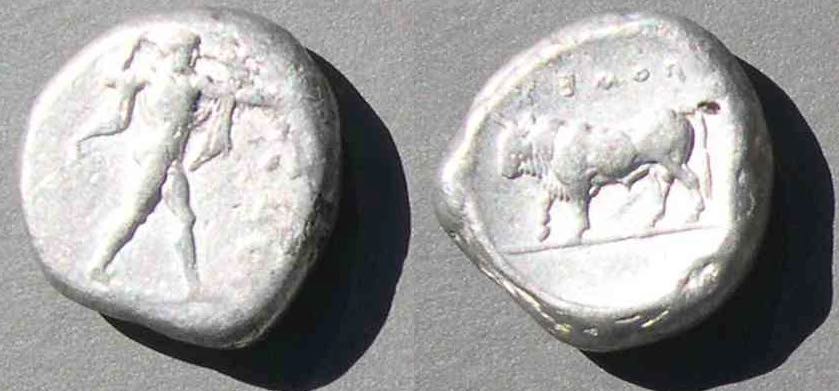 Poseidonia, Lucania, Italy
Stater. 18-17 mm. Thick! 7.90 grams.
Ex. Berk list 46 lot 235 (Dec. 10, 1986) buy at $275 (in 1986!)
Poseidon (of course!) striding right with trident
Bull standing left, ΠΟΣΕ... retrograde above
HN Italy cf. 1114
SNG Cop I Italy 1278ff
SNG Fitzwilliam I 543
Sear Greek 424 [$325]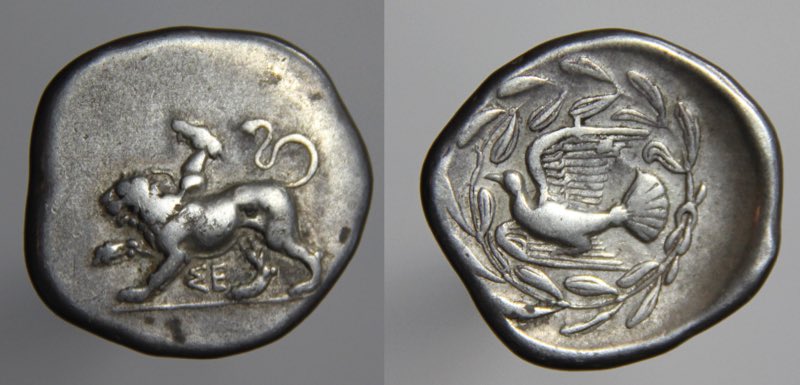 [$495 + $9 shipping in the US] Greek stater from Sikyon in the Peloponnessos, only 30 miles west of Corinth.
26-25 mm. 11.93 grams.
Chimera (mythical creature--lion with goat's head projecting from the back and tail ending in a snake's head) ΣE below
Dove flying left, wreath
c.431-400 BC.
ex Ex-Matrisciano Collection, California
Apparently bought from Malter between 1965 and 1980. It has a nearly old-style Malter ticket with "17" on it, but think it was bought in the store because I didn't find it in Malter catalogs. An impressive large coin with good toning. Very attractive. [$495 + $9 shipping in the US] Please compare prices elsewhere.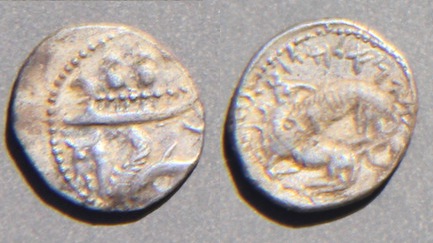 [$129] (This is better than any on vcoins as I write. The only one on vcoins which is almost as nice as this one is $195)
Byblos, Phoenicia.
AR12-11 mm. 0.80 grams.
Galley with hoplites left over hippocamp
Lion attacking bull, remarkably strong lettering above.
King Ainel, before c. 333 BC.
Sear 6014 and much better than their photo of the similar 6010.
Obv off-center. High grade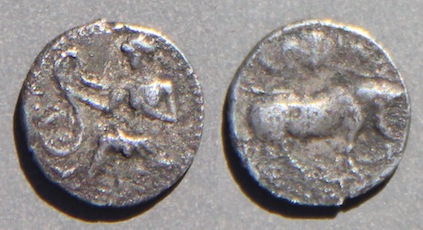 [$125]
Selinous, Sicily
Litra. 11-10 mm. 0.74 grams.
Nymph on rock, touching serpent
man-faced bull right
Hoover Sicily 1229
ex Heritage Sept 3002 Long Beach auction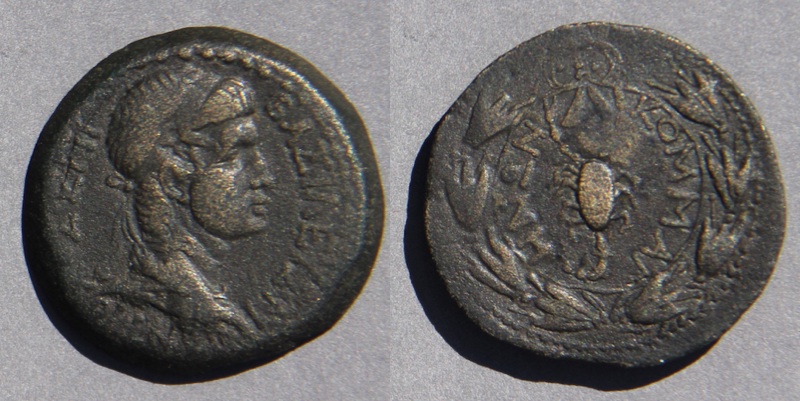 [$95]
Antiochus IV, Epiphanes, King of Commagene, 38-72 AD.
29 mm.
His bust right
Scorpion in wreath
BMC 7. Sear Greek Imperial 5507.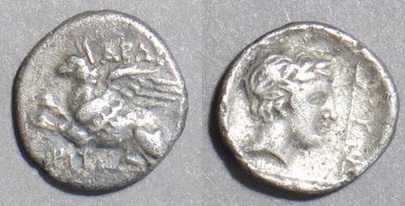 [$149] Thrace. Abdera. Tetraobol. 15-14 mm. 2.41 grams.
Griffin left
Head of Apollo right
SNG Oxford 3503
SNG Copenhagen 359 "c. 400-352 BC"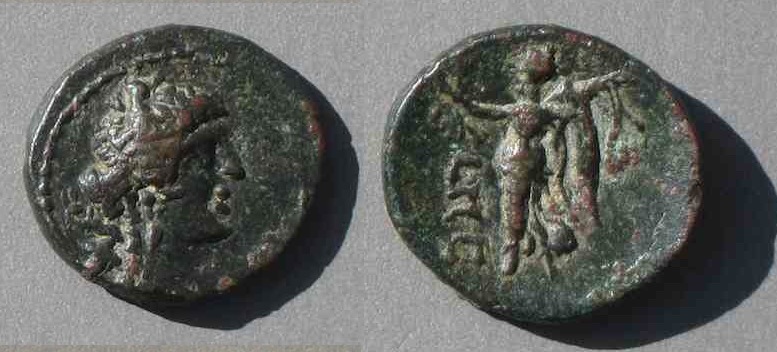 [$125] Chalcis, Coele-Syria. 85-40 BC. AE19-17. Female head right/Victory advancing left, date LΠC. SGI --, SNG Danish. Syria plate 2 has (only) two coins of this place, but not this type. Lindgren III 1222. This coin has no problems. Very rare place and remarkably nice grade. [$125, super quality and very rare]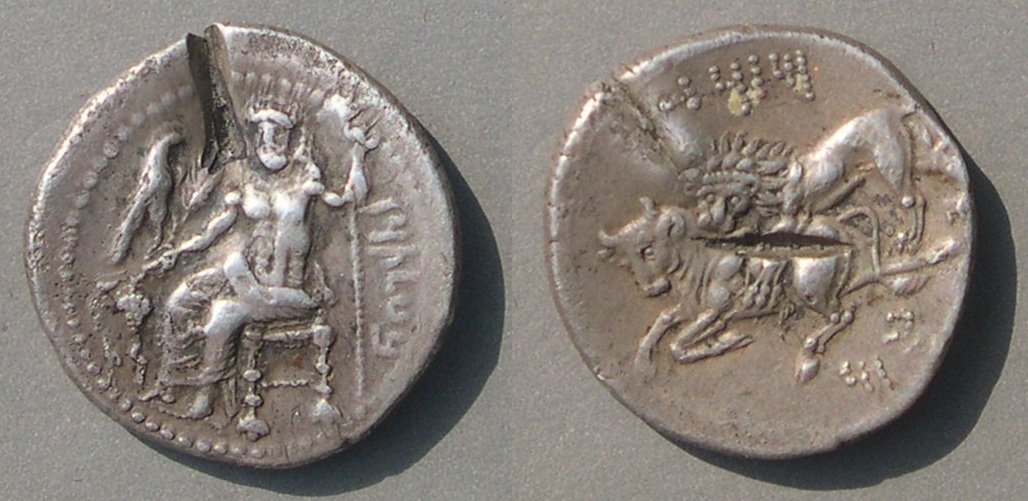 The famous Baal/lion-attacking-bull stater of Tarsos, 361-334 BC (i.e. just before Alexander the Great conquered the region). Two test cuts that, remarkably, miss anything key. Sear Greek 5650. 25 mm. 10.94 grams. [Good details. $249, reduced to $225]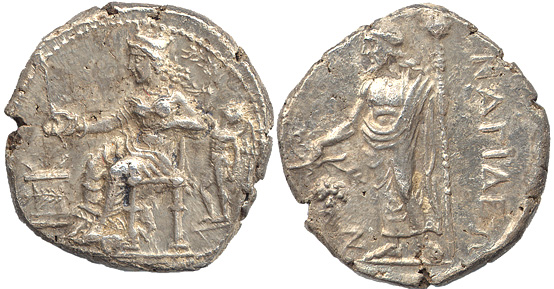 A gorgeous stater of Nagidos in Cilicia. 24 mm. 9.96 grams. 380-360 BC.
Aphrodite seated left in diaphonous dress, Eros behind crowning her with wreath
Dionysos standing left, holding cluster of grapes and thyrsos.
Excellent condition. SNG France 2, 21. Sear Greek --, cf. 5579.
Marvelous drapery (the best on any ancient coin type?). A real beauty. [$495]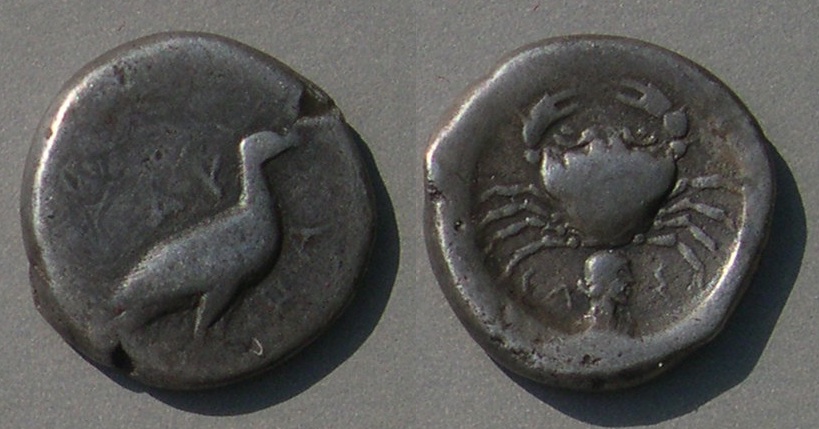 [$395] Akragas (Agrigentum) didrachm
before 413 BC
20 mm. eagle standing right
crab, small human head below, CA Σ
SNG Copenhagen I Sicily 37 (with the head)
Sear Greek 709A variety
With old ANACS photo certificate of authenticity, issued 02-01-85 ("510-472 BC") [$395]
Old. Nice toning. Well-centered.
ex CCE 12-84 lot 1. Ticket included.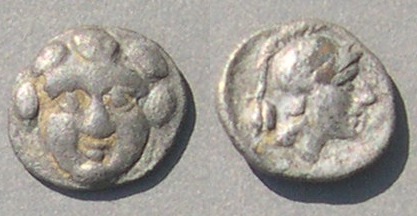 [$65] Selge,, Pisidia. Greek silver fraction.
AR10. 0.67 grams. Obol.
Gorgonion facing/Athena helmeted right
Sear Greek 5473v. SNG Copenhagen Pisidia 246. Nicely centered. [$65]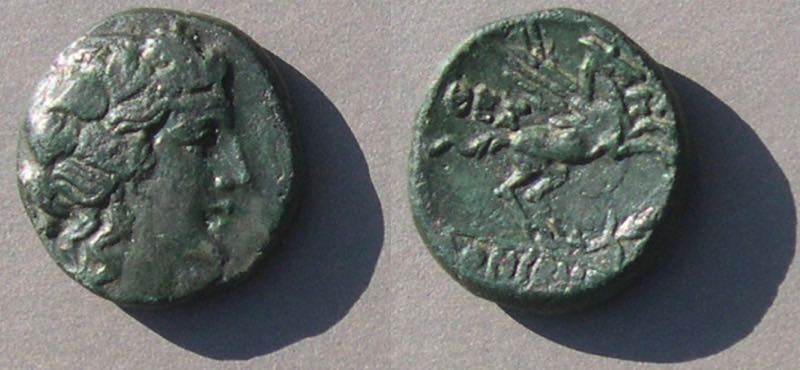 [$95] Thessalonica, Macedonia
Struck 187-31 BC [Lindgren]
18 mm. 7.25 grams.
head of Dionysos right, crowned with vine leaves
Pegasos rearing right, ΘEΣ to left
ear of grain below
[ΣA]ΛONIKHΣ below
Lindgren, Europe 1151 (slightly worse than this one)
High grade. Very pleasing patina. A really nice Greek AE. [$95]
---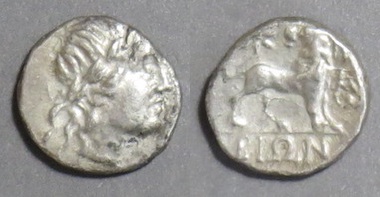 [$125] Ionia, Miletos. Tetraobol. 14 mm. 2.365 grams.
Apollo head right, laureate
Lion standing right, looking back
Sear Greek Coins 4513 "75 pounds" (in 1979)
(Compare to the $695 one on vcoins.)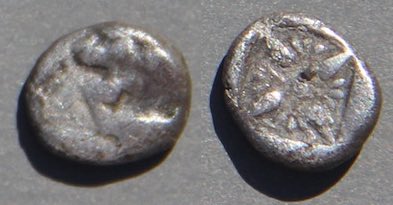 9-8 mm. 1.02 grams.
Lion's head left/stellate pattern
Miletos, Ionia, c.550-500 BC. [$24]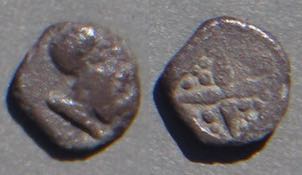 Ionia, uncertain city
7 mm. 0.36 grams. (Hemiobol)
Helmeted head of Athena right/star of four rays with dots in between
cf.https://www.vcoins.com/en/stores/ae...mint_circa_350bc_hemiobol/547339/Default.aspx

See also Gorny & Mosch 176 lot 1246.
[$19]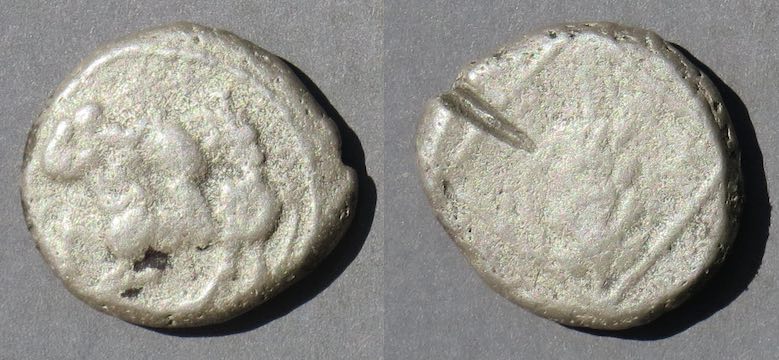 [$95] Cilicia, Tarsos, stater. 20-19 mm. 9.16 grams.
c. 425-400 BC. SNG Levante 54v. Numismatic Chronicle "The Celenderis Hoard" by Kraay. Tarsos #1
A very early type is very worn condition.
Bull standing left with lion attacking his hind quarters
ear of grain upright in diamond "TRZ" to right (illegible).
von Aulock 5907. As far as I know, none of these are nice, although some are nicer than this one. [$95] (That's a very low price for a very rare type of stater.)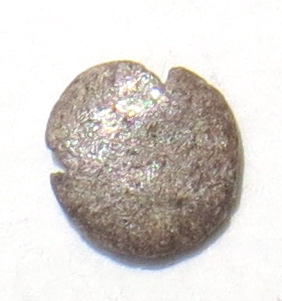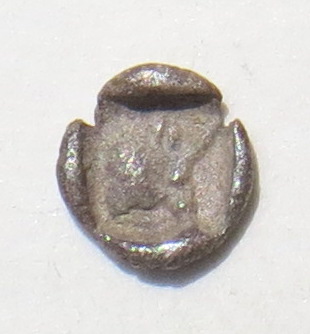 [$17] Tiny Greek fraction. 6 mm. 0.15 grams.
Obverse without design. Reverse with bull's head right.
Uncertain city, probably in Ionia.
This might be the smallest coin in your collection. [$25, reduced to $17 SOLD]
[$55]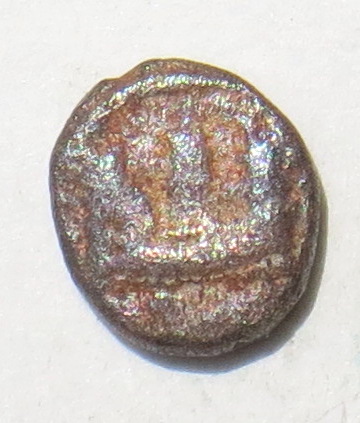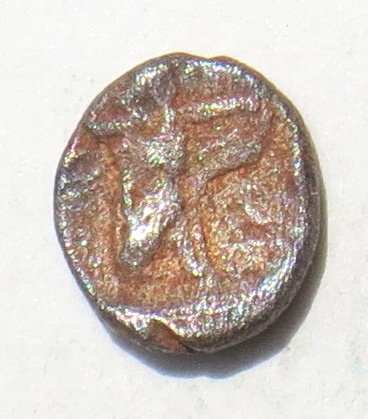 Phoenicia, Sidon. C. 400-384 BC [BM] "c.425-410/7 BC" [Hoover]
City wall with three towers
King standing right pulling bow
Small. AR9-8. 0.72 grams. 1/16 shekel.
Nice rust toning. Well-centered.
BMC Phoenicia, Sidon 15. Hoover 230v. "[$65, reduced to $55]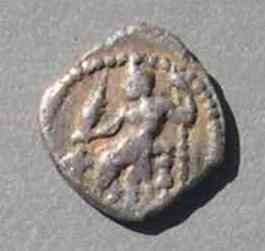 [$49] Tarsos, Cilicia
361-333 BC (Just before Alexander the Great swept through)
AR10. Obol. 0.56 grams.
Baal seated left (the prototype for Zeus seated left on coins of Alexander)
/forepart of wolf right, crescent above and behind (for canine lovers)
nice coin. [$69, reduced to $49]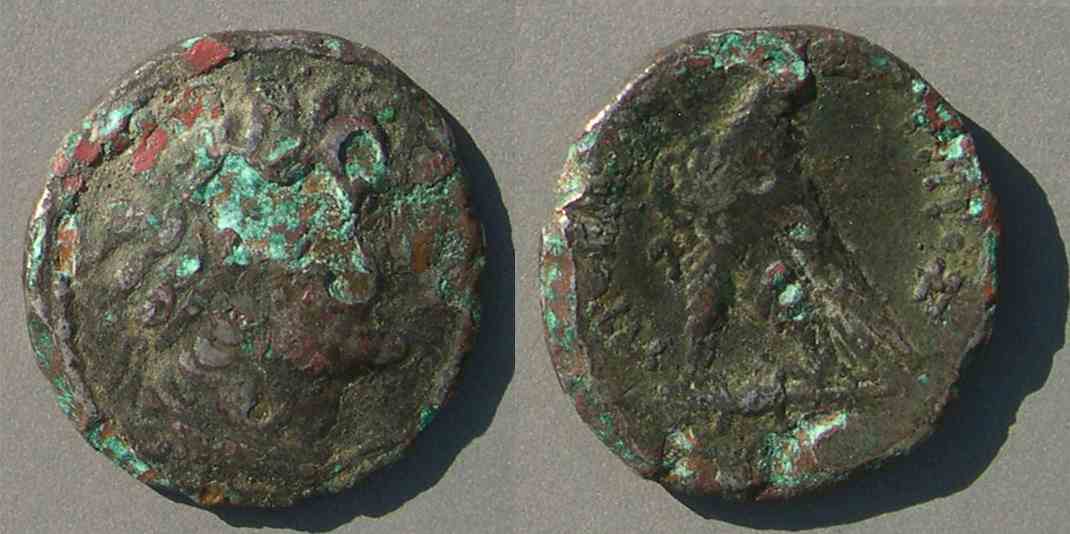 [$13] Ancient
fourree
of Ptolemy IV (or III), c.221-204 BC.
27 mm
. 11.52 grams. Much corrosion.
Sear 7836 (or 7807). Bought in Israel in 1972. Terrible conditon, but very hard to find as a type. It appears to have been made with the foil method in which silver foil was wrapped around a copper flan and then struck. Look at the end of the wrap from 10:00 - 1:00 slightly overlapping. The green is not active in my climate-- it is unchanged since 1972. [$27, reduced to $13]
---

Greek AE (followed by Parthian, etc.)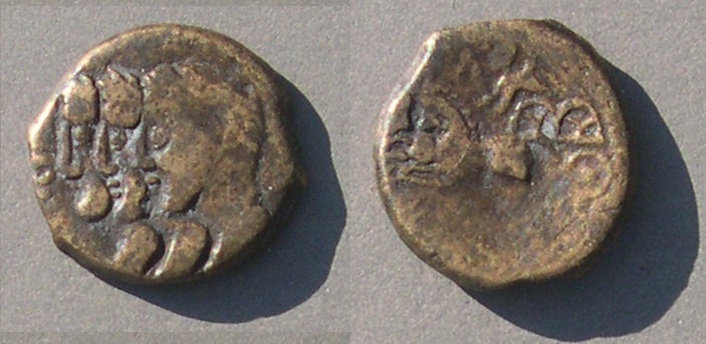 [$89, reduced from $125] Gaul. Remi.
Three jugate heads left! /Nike driving biga left.
15 mm.
Allen plate II 53. Struck before 52 BC (Time of Julius Caesar) but in circulation until the end of the century.
De la Tour XXXII 8040
Sear Greek 137, Weber 52 [$125] Please (always) compare prices to your favorite site elsewhere.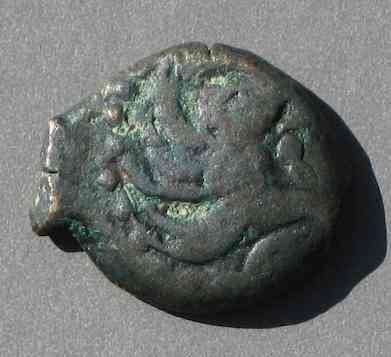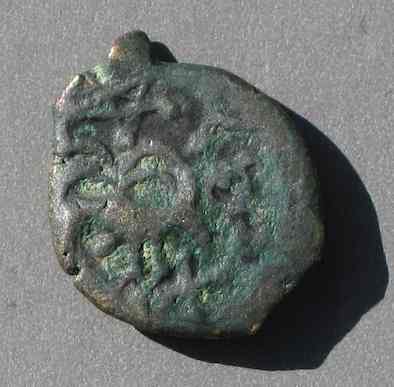 [$35] Gallic. Senones (located just south of Paris)
Very barbarius head right (upswept hair visible at left and puckered lips at right)/ horned animal, 5-pointed star above
De La Tour XXX 7545. AE15-18. [$65, reduced to $35 SOLD]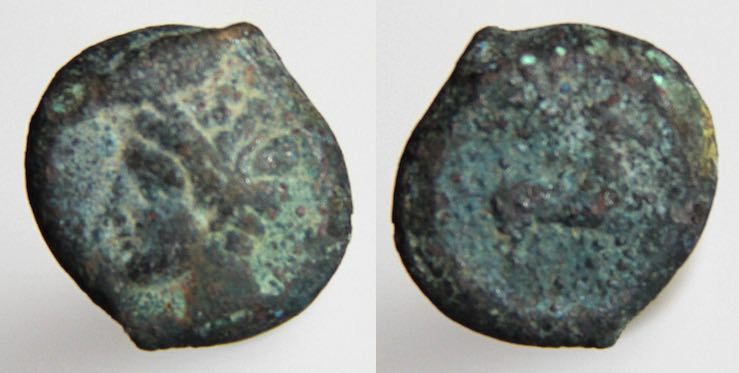 Carthage. Chunky AE17-16. 7.23 grams.
Tanit head left
Horse right
SNG Copenhagen Carthage 97. Sicily mint, late 4th - early 3rd c. BC
It has the distinctive flan of Sicily with projections on either side (1:00 and 7:00).
Rough surface just like the image. [$25]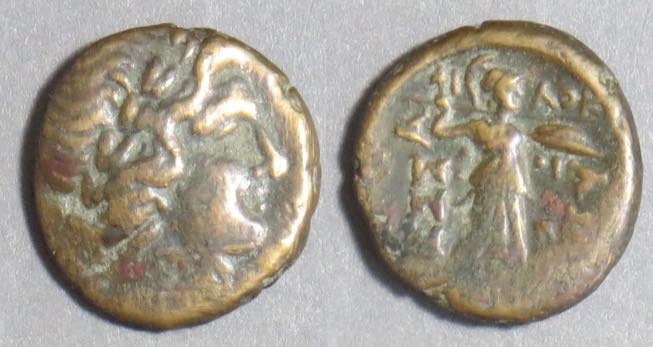 Thessalian Confederacy (League) AE19.
Head of Apollo right
Athena right. ΘEΣΣAΛΩN
Hoover "Northern and Central Greece" 225 "late second - early first centuries BC"
BNC 60. [$29 SOLD]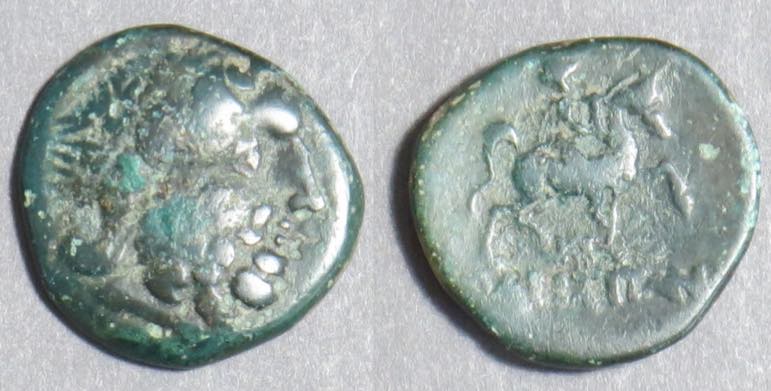 Thrace, Odessos, Zeus (or The Great God)/Horseman OΔHSITWN
20 mm.
3rd C. BC Sear Greek 1679 [$35]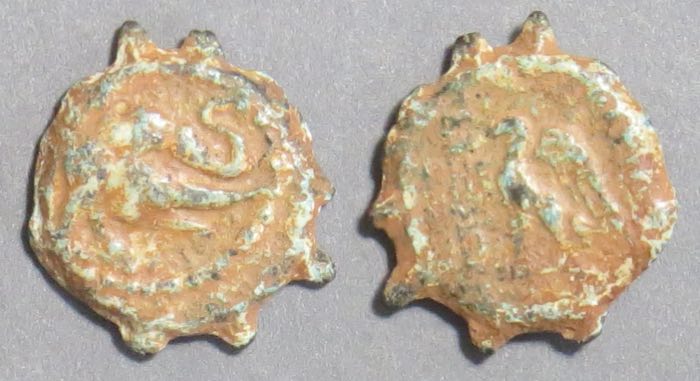 [$38, reduced from $45] Lovely patina.
Seleucid King Alexander II Zabinas BCE 128-122
Hoover 1178 (R2!)
SC 2243
16 mm. "bottlecap"
Elephant head right/eagle standing left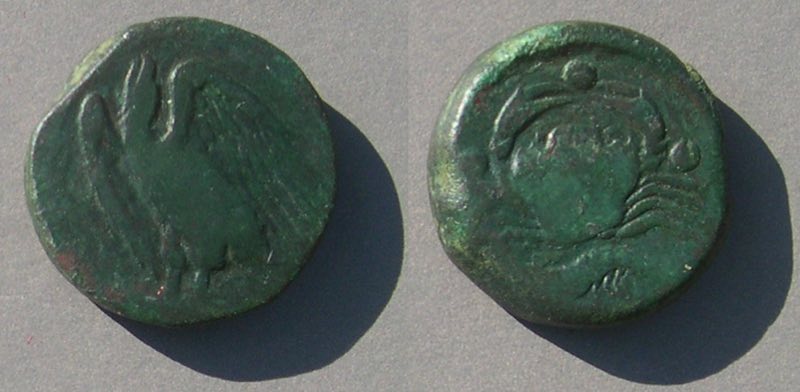 [$125] Akragas, before 406 BC
Thick 21 mm. 11.97 grams.
Screaming eagle on thunderbolt
crab with three dots around (a trias)
McClean 2069. Weber --, SNG Copenhagen I Sicily --, supplement --,
Fitzwilliam --, SNG ANS Part 3 Sicily I -- (cf. 1034 for eagle right on hare)
BMC -- (#101 is the design with 5 pellets), 102 has eagle on hare
Sear Greek 1023 has eagle right on hare.
Pozzi --, GCMFA Boston --, Morecom --, Wheaton --
Nice heavy green patina. Scarce or rare variety. Good design [$125]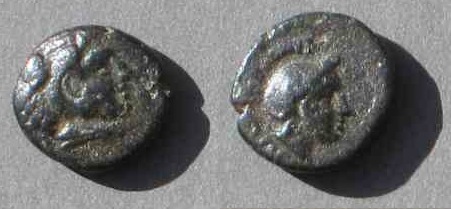 [$39] Pergamon, Mysia. c. 310-284 BC. AE9. head of young Heracles rt./helmeted Athena right. ΠEP below. SG 3958. SNG Danish 323 (this one is better) [Very nice surfaces. High quality for AE, $39]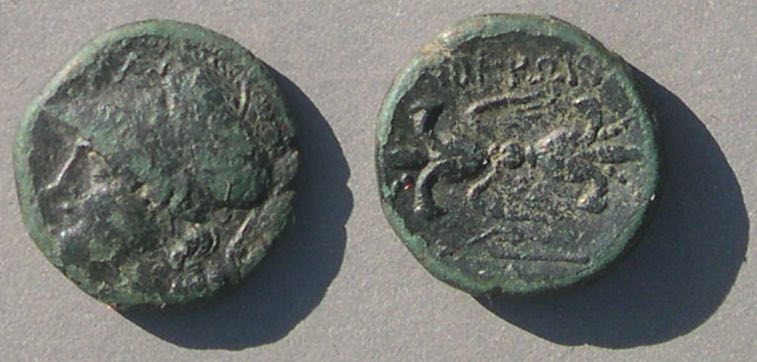 [$69] Lokri-Epizephyrii, Bruttium, c. 300-268 BC
a colony of Corinth
17 mm.
Athena helmeted left
thunderbolt
ΛOKPΩN
filleted thyrsus (Staff of Dionysos or his followers)
Sear Greek --, SNG Copenhagen I Italy 1174
none on vcoins as I write.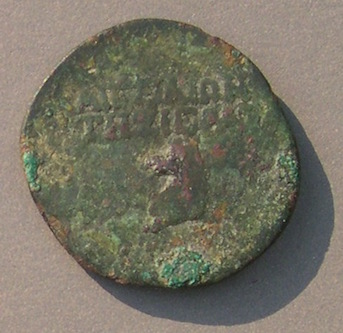 [$25] Aigeai, Cilicia. 22 mm. 6.41 grams.
date uncertain post 164 BC to imperial times
Two countermarks. helmet, Helios (upside down in this orientation, radiate crown evident)
turretted head of Tyche right
legend across, horse's head left AIGEAION THSIEPAS
SNG Cilicia 2291. BMC Cilicia Aegeae 2. [$35, reduced to $25]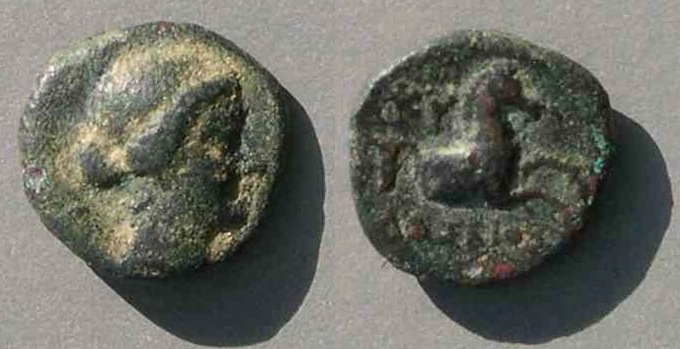 [$25] Kyme, Aeolis. c. 250 BC [according to BMC] AE15. 3.29 grams. BNC Aeolis, Cyme 57. Kyme (Amazon) right/horse forepart right. [$35, reduced to $25]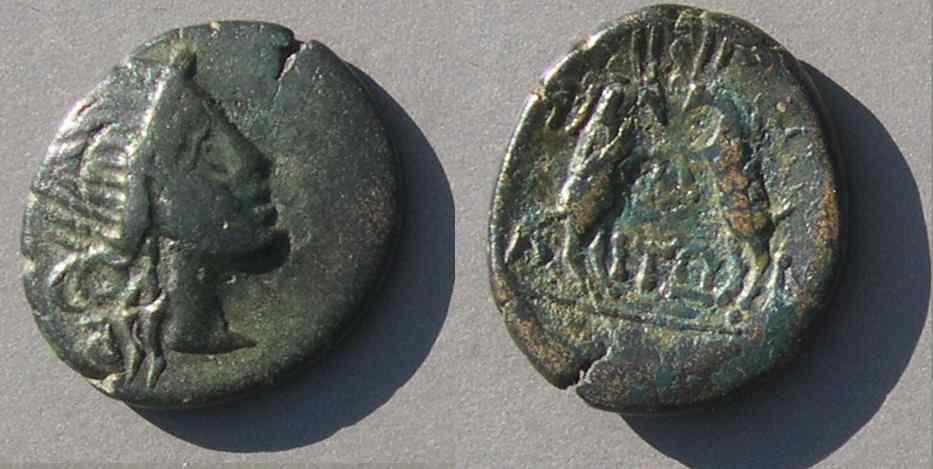 [$49] Amphipolis, Macedonia
AE23-20
Struck 187-31 BC [SNG Danish, volume II, Macedonia 62] or 168-149 BC and later [Sear 1394] Two standing goats! A cool animal type.
Lindgren European 934 nice grade, good detail [$75, reduced to $49 SOLD]
---
Jewish: Coins of the Roman Procurators of Judaea. "Biblical" coins of the jews.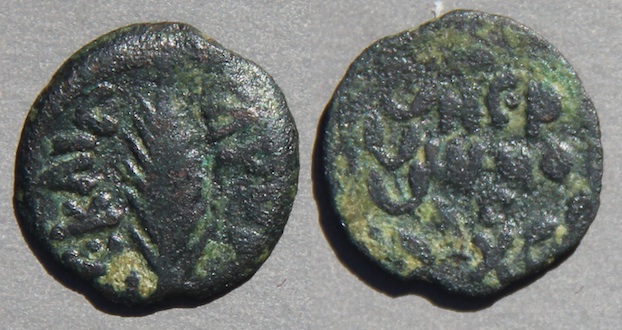 Procius Festus, Roman Procurator of Judaea under Nero, AD 59-62
Palm branch, KAIC-AP 0
"Nero" in Greek
NEP/WNO/C
Hendin 4th edition 653
All there. [$19]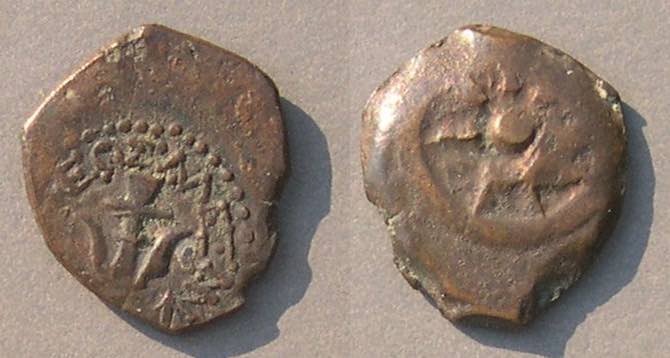 Alexander Jannaeus 103-76 BC. 17-15 mm. Large for the type.
Anchor/star
Hendin 4th edition 469 [$18 SOLD]
Valerius Gratus, Prutah AD 15-26
Hendin 4th ed. 646
16 mm.
[$29]
Pontius Pilate, AD 26-36, under Tiberius
An important biblical type.
15-14 mm.
Simpulum/three ears of grain
[$59 SOLD, with Pegasi ticket at $150]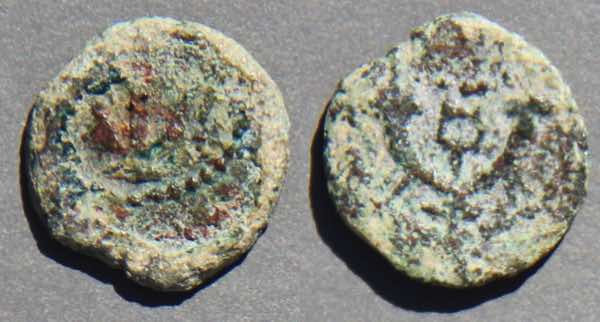 King Herod, 40 BC - AD 4.
Anchor/crossed cornucopiae
Small. 13 mm. [$25]
Antonius Felix, "That fox", procurator under Nero
crossed palm branches/legend in wreath
Hendin 4th ed. 651
[$19]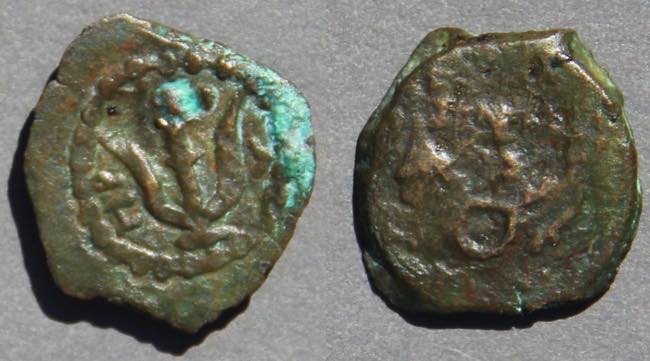 Herod Archelaus, 4 BC - AD 6
anchor/legend in wreath
old stable green corrosion, factored into the price
Hendin 4th ed. 500
Mathew 2:22
[$15]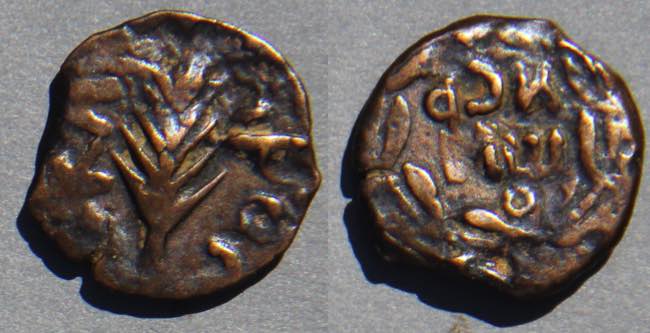 Porcius Festus, AD 59-62
Under Nero
palm branch/legend in wreath
"Nero" in Greek, retrograde (backwards)
Hendin 4th ed. 653 [$19]
---

Oriental Greek

Persis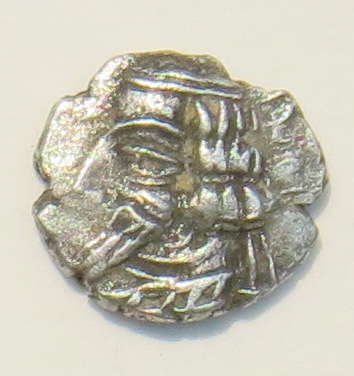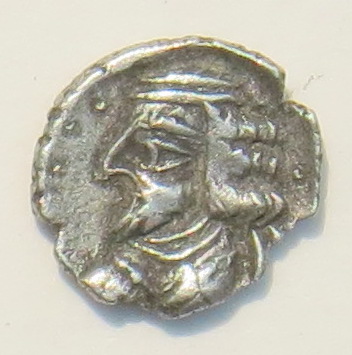 [$42] Persis. Obol. 0.43 grams.
Small coin. 9-8 mm. Two heads!
Pakor I. First half of first century BC.
A two-headed coin. Cute! [$49, reduced to $42]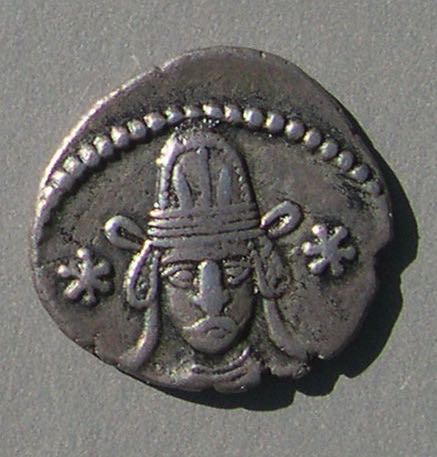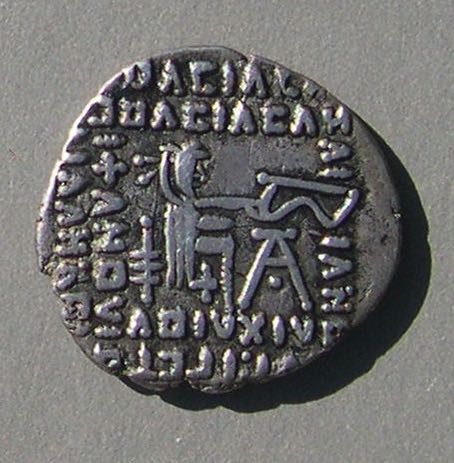 [$145] Parthian. Vonones II. 51 AD.
If you want to know what a Parthian warrior looked like, see this coin.
3.46 grams. Shore 368 [$165, reduced to $145]
---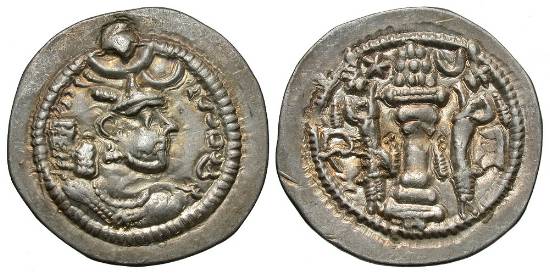 [$65] Sasanian Kingdom. Peroz I. A.D. 457/9-484. AR drachm (27 mm, 3.87 g, 3 h). AW (Ohrmazd-Ardaxsir). Crowned bust of Peroz I right, crescent on forehead / Fire altar with attendants and ribbon, star and crescent flanking flames. Göbl III/1. Lightly toned. Bold strike. [$65]
---
Next page: Byzantine coins. Return to the top for links to other pages.