This page has ancient Greek coins for sale
(including "Oriental Greek": Persis, Parthian, Sasanian, etc.)
Skip down to silver or AE.

Detailed terms of sale are here. What you want to know is: I guarantee my coins are genuine. I take PayPal and checks. Zelle is even better in the US and TransferWise from elsewhere (ask me by e-mail to send you a TransferWise invite and I can get a reward). Prices are in square brackets [$xx].
Postage in the US is $2 for orders up to $25, $3 for orders up to $50, $4 for orders up to $100, and an additional $1 for each hundred thereafter. $3 more to other countries (When you order, let me know if you are not in the US). Coins are guaranteed genuine.
To order, or simply ask me a question, write me at



What's new? August 11: Thasos satyr and nymph stater, at the top.
August 2: Almost all prices reduced. Take a look at all of them again!
May 7: Nice dated AE of Arados. [sold]
May 2: Stater of Nagidos, at the top.


Newest first. Then High Quality. Then Greek silver, Greek AE, Jewish, Oriental Greek.

Newest:


Thracian Islands, Thasos, c. 550-463 BC.
Stater. 22-20 mm. 8.21 grams.
Nked satyr with erection carrying struggling nymph who raises her right hand in protest
quadripartite incuse square

Sear Greek 1746. SNG Copenhagen 1008 "C. 550-463 BC"

Nice centering, surfaces, and erection [$369]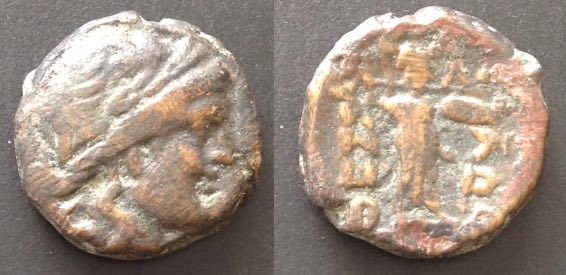 Thessalian League (Confederacy)
Late second - early first century B.C.
18 mm.
Head of Apollo rt.
Athena standing right with spear and shield
Hoover 225

[$24]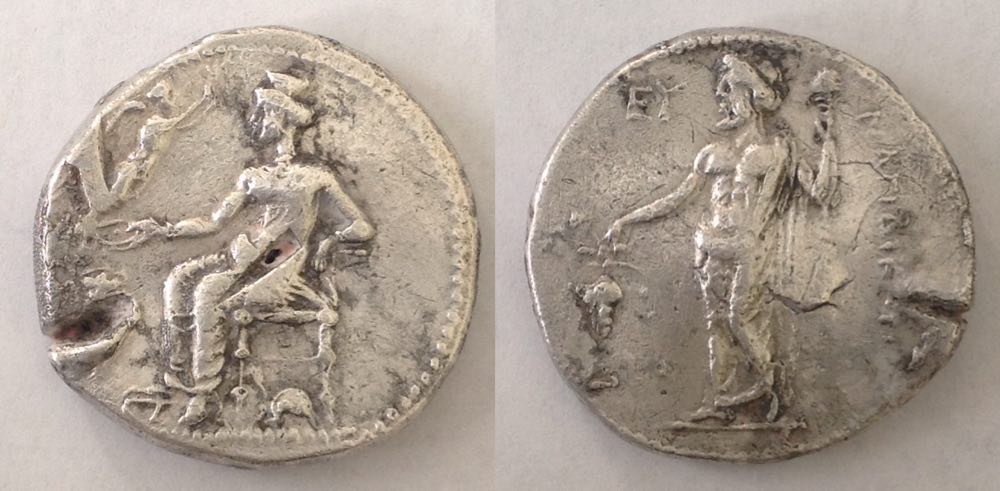 Stater of Nagidos in Cilicia. 23 mm. 9.93 grams. 356-333 BC.
Aphrodite seated left in diaphanous dress, Eros behind crowning her with wreath
Dionysos standing left, holding cluster of grapes and thyrsos.
Two test cuts. SNG Levante 13 "c. 360-333 BC." SNG France 2, 28. Sear Greek 5579.
[$165, reduced to $145 SOLD]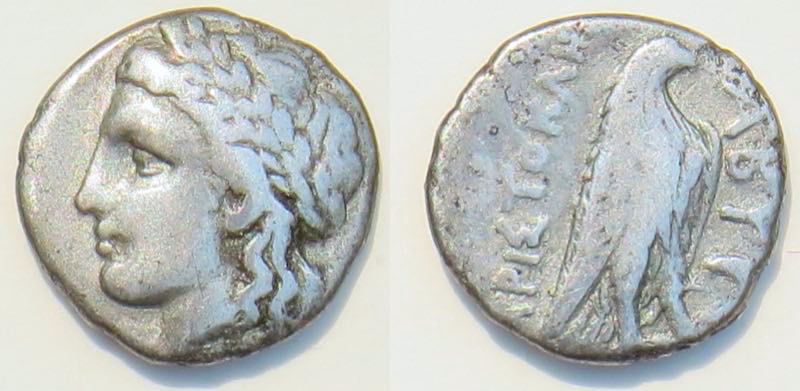 Troas, Abydos
early 4th C. - 335 BC
[i.e. before Alexander the Great]
14 mm. tetraobol. 2.42 grams.
Head of Apollo left in laurel wreath
eagle standing right,
APIΣTORKΩN up back ABY upwards in front
BMC Troas Abydus 25. Sear Greek 4012 v. [$95, reduced to $85]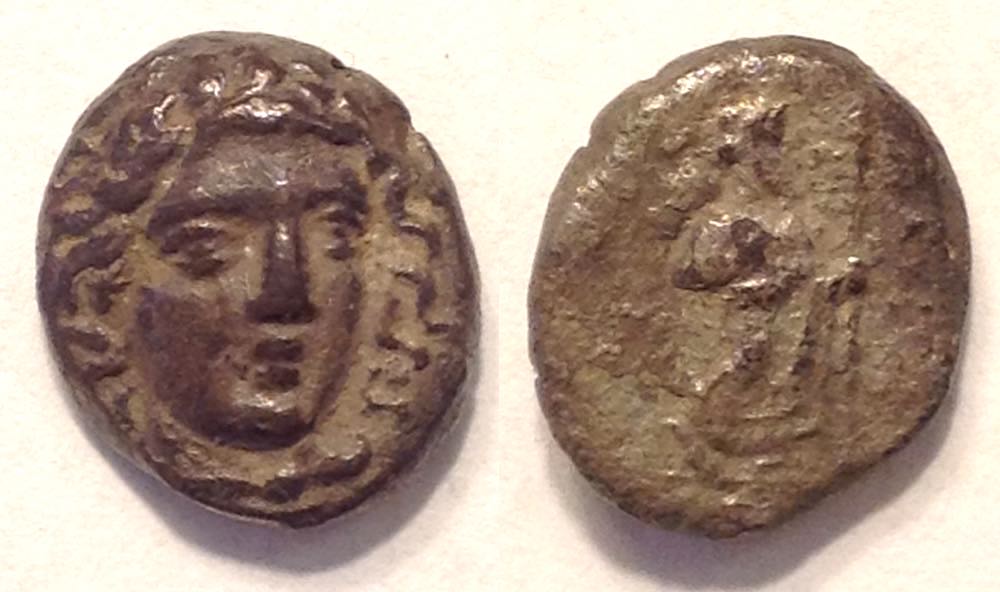 Satrap of Caria. Hidrieus, 351-344 BC.
12-10 mm. Small coin. 1.71 grams. Hemidrachm.
Mint: Halikarnassos
Apollo head 3/4 facing right
Zeus Labraundos standing right holding labrys (double ax) and spear, to right, downwards letters spellng the satrap's name: IΔPIEΩΣ (barely visible)

Sear Greek 4961 SNG von Aulock 2369 (This bust is better than von Aulock's). Very nice facing bust. [$135, reduced to $115]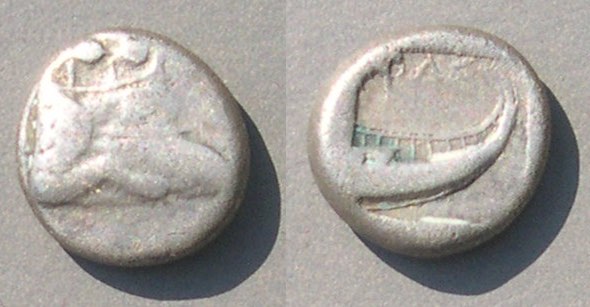 Lycia, Phaselis. mid 5th C. BC.
13 mm. 3.40 grams.
Prow of galley right, resembling the forepart of a boar.
slender stern of a galley ΦAΣ above (for Phaselis)
all within incuse square
Sear Greek 5330. SNG von Aulock 4995. "5th C."
BMC -- but type resebbles #3, plate 16.7 "before c. 466 BC"
Ships! [$159, reduced to $119]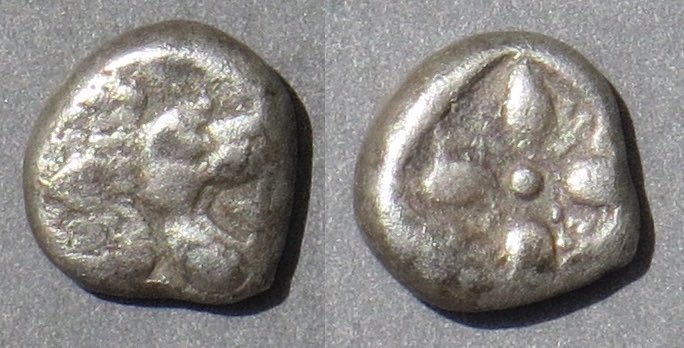 Ionia, Miletos
late 6th - early 5th C. BC
9-8 mm. Small. 1.21 grams.
Lion's head right, roaring.
Stellate pattern.
SNG Turkey I 464. Sear Greek 3552
[$25, reduced to $19]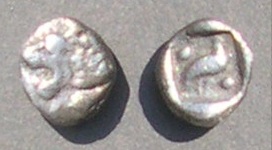 Caria, Mylasa or other city.
c. 420-390 BC.
Only 6 mm! 0.21 grams. Tiny!
roaring lion's head left
Bird standing right, dots.
Sear Greek --, cf. city of 4908
Turkey I cf, 944 (but lion's head right). Klein --.
Very rare and in nice condition, especially well-centered for such a tiny coin. [$55, reduced to $45 SOLD]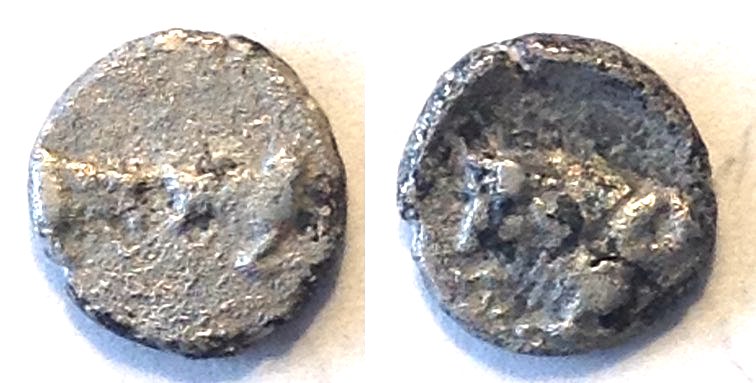 Caria, uncertain city before 440 BC [Keckman]
confronted foreparts of two bulls
bull forepart left
7 mm. 0.28 grams. Small!
SNG Finland Keckman Karia I 914.
SNG Turkey I 968 "Milesian standard tetartemorion"
Sera Greek -- (might fit after 4949)
Three bulls on one coin! [$45, reduced to $35]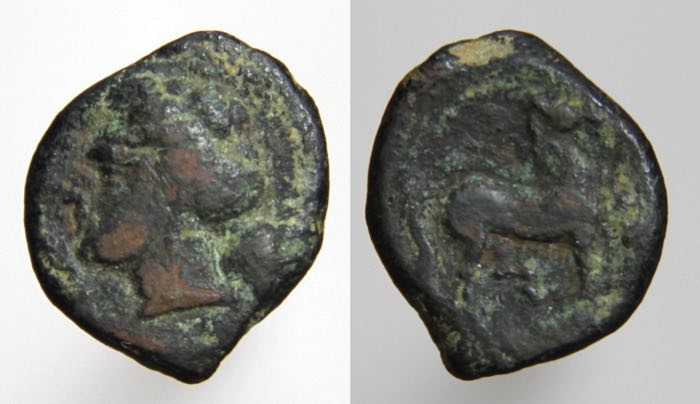 Carthage, 17-15 mm.
Tanit head left/horse standing right (head not turned back).
[$29, reduced to $25]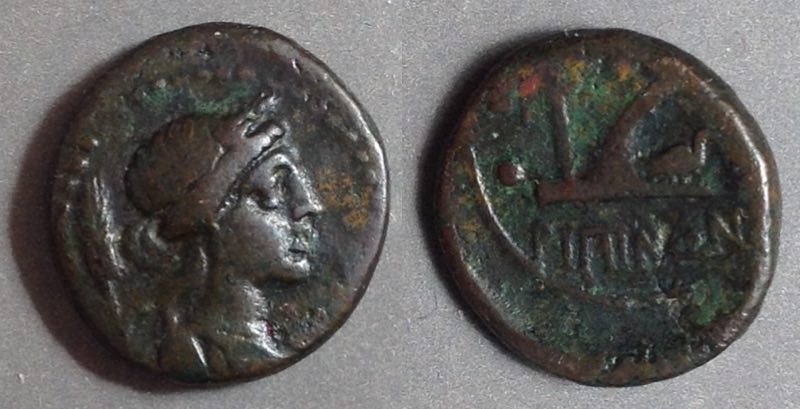 Sicily, Kentoipai (Centuripas)
"After c. 241 BC" according to Head in HN.
16 mm. 3.68 grams
Demeter rt, ear of grain behind
Plow right [KENTO] illegible
PIΠINΩN below
An ancient plow! How many ancient coins show a tool? [$37, reduced to $32]
Ex Lepczyk auction 41, lot 29 (Oct. 1981) with ticket.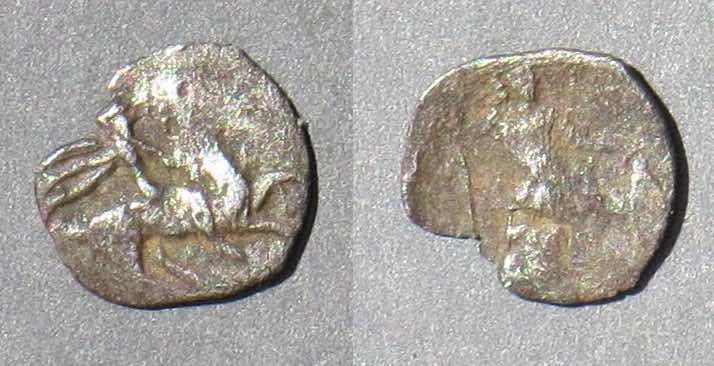 Cilicia,
9-8 mm. 0.18 grams. Very small.
Horseman right with cape flying behind
Athena standing right, vertical scepter in left, left arm resting on shield.
SNG Levante 256 is this type but 0.36 grams. "Possibly 4th C. B.C."
Rare [$59, reduced to $29, reduced to $25]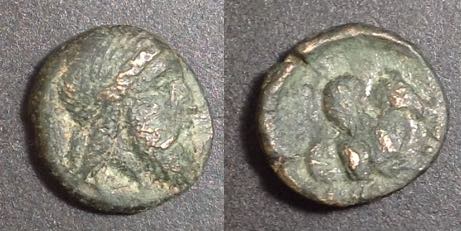 Mysia, Lampsakos
AE. 12-11 mm
c. 362 BC
Portrait of Satrap Orontas head right
forepart of Pegasus right
One of the earliest portrait coins, well before Alexander the Great.
SNG France --, Sear Greek 3900 (no photo), SNG Copenhagen IV Mysia 199 "c. 362 BC"
L&K --, L III --, von Aulock I 1821 (the one on offer is as good)
Very likely would be the earliest portrait coin in your collection [$75, reduced to $65]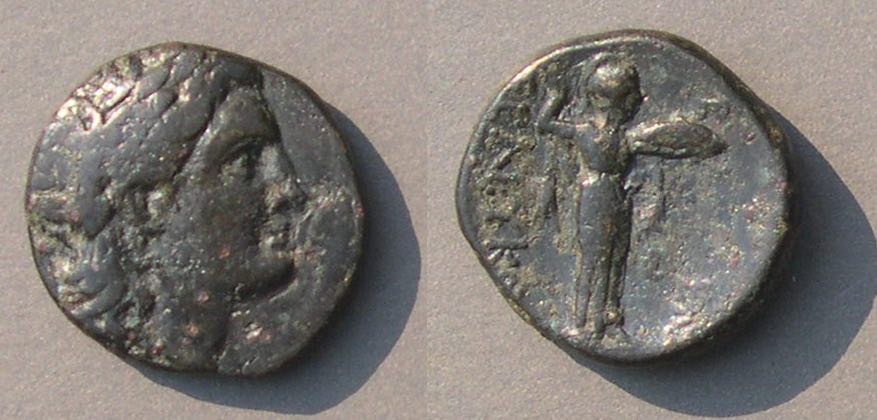 Seleukos I, 312-280 BC.
19 mm. 6.34 grams.
BMC 59
Sear Greek 6849
Apollo head right
Athena right, king's name down behind
nice black. Compare to vcoins. [$33, reduced to $29, reduced to $25 SOLD]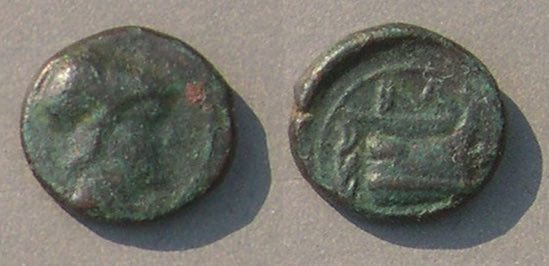 Demetrius Poliorketes, 306-283 BC.
AE12-11. 1.61 grams.
His bust right in Corinthian helmet
prow of ship right, above BA
Sear Greek 6775v.
SNG Copenhagen Macedonia 1192 struck at Tarsus 298-295
[$25, reduced to $22]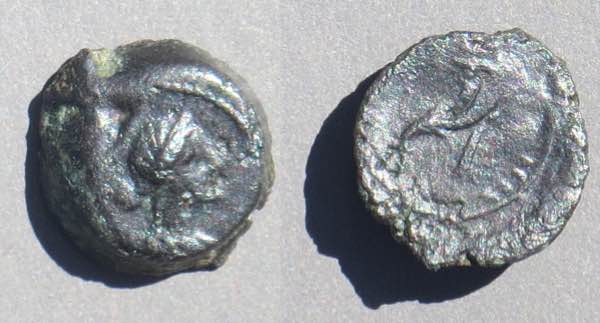 Arsinoe III, wife of Ptolemy IV, Paphos mint, Cyprus
222-205/4C.
Small. 12 mm. 2.05 grams.
bust right
double cornucopia
Svronos 1160
Matt Kreutzer, "The Coinage System of Cleopatra VII and Augustus in Cyprus," argues it may be the famous Cleopatra, but I have not heard that this attribution has been accepted.
[$25, reduced to $22]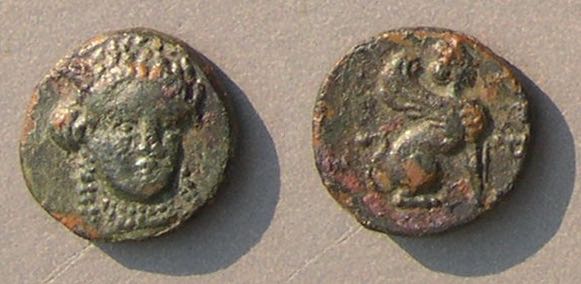 Troas. Gergis. 4th C. -241 BC [SNG Copenhagen 338]
Small. 12 mm.
Laureate head of Sibyl Herophile 3/4 facing right
winged Sphinx right, ΓEP downwards before
Sear Greek 4099 variety (AE 12, not 17)
Gorgeous for such a small bronze coin. Nicely centered. High quality. [$95, reduced to $85]
Compare on vcoins. The only one comparable is 235€.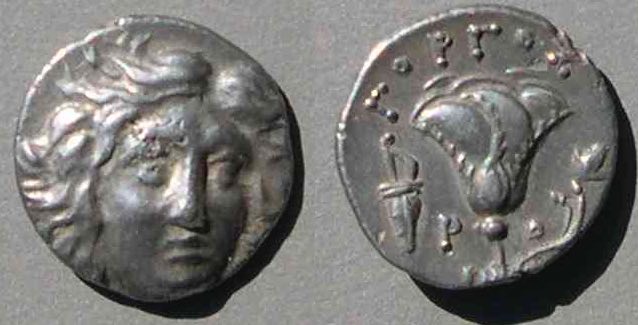 Rhodes, Caria. c.310-189 BC or later.
14.5 mm. 2.61 grams. Drachm.
nearly facing head of Helios
Rose, bowcase with bow, bud to right
ΓOPΓOΣ
P O
Sear Greek 5052
SNG Copenhagen V Caria 783 (w. bowcase)
BMC Caria, Rhodes 166.
Rhodes is mentioned in Acts 21:1.
[$155, reduced to $135]





A rarity. Very few coins of this king are ever offered: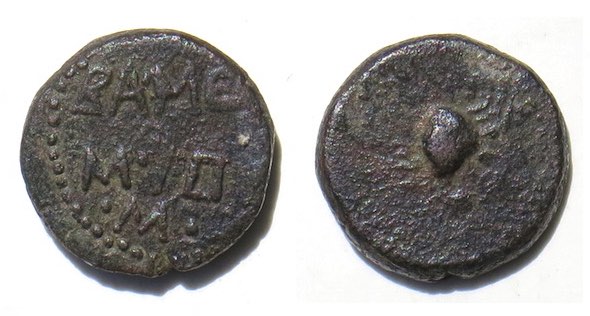 King Mithrades III of Commagene
20 BC - 12 AD (contemporary of Augustus)
18 mm. 6.94 grams.
crab (probably astrological)
BAME
M•TOY
•M•
(BAsileus)ME(glon)
M(ithradates)TOY
M(ithradates)
Alram 249 page 84.
(Sullivan, on Commagne, gives this to Mithradates II, not III)
BMC -- but has discussion under Galatia of the Kingdom and its concern about astrology
MunzZentrum 73 (1992 April 22) had one, lot 1044 "sehr selten". F. Imhof-Blumer ZfN 1874, page 332. If you want one of each Greek king, here is one of the most obscure Kings and you won't find a portrait piece! (or, any piece at all except this one) [$245]
---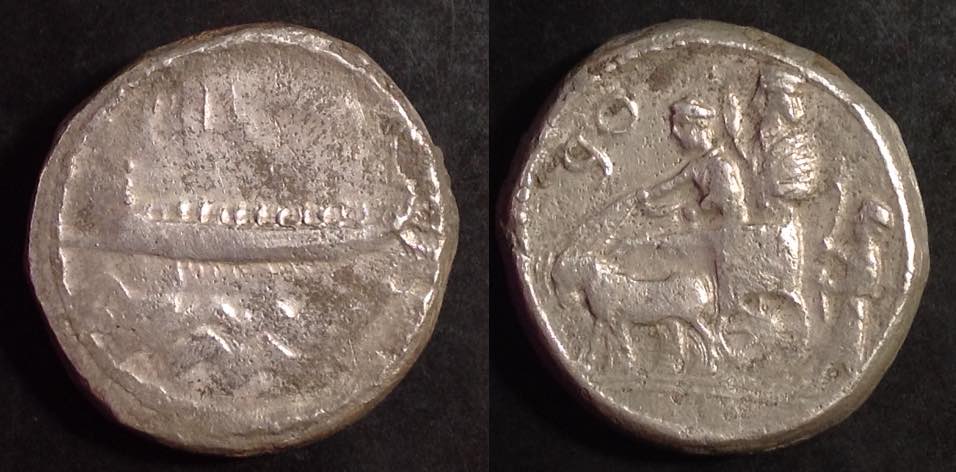 PHOENICIA, Sidon. `Abd`aštart (Straton) II.
Circa 342-333 BC.
25 mm and thick (5 mm!). 12:00 die axis. 25.21 grams.
ex Empire Coins, with ticket, list 68 (September 1993) lot 11.
Sear Greek 5937. [$725, reduced to $695 + $12 shipping in the US]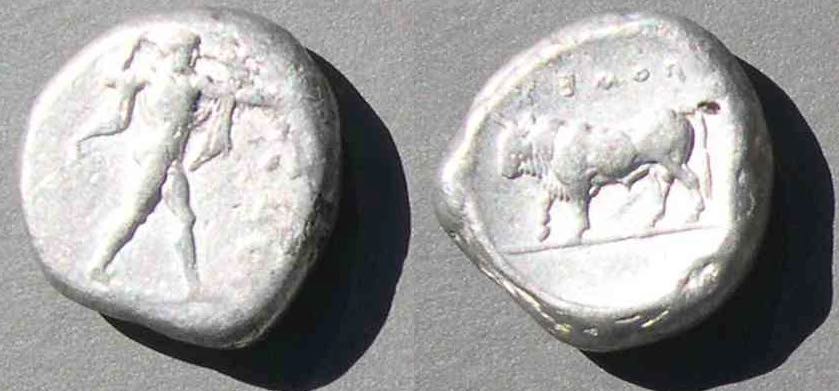 Poseidonia, Lucania, Italy
Stater. 18-17 mm. Thick! 7.90 grams.
Ex. Berk list 46 lot 235 (Dec. 10, 1986) buy at $275 (in 1986!)
Poseidon (of course!) striding right with trident
Bull standing left, ΠΟΣΕ... retrograde above
HN Italy cf. 1114
SNG Cop I Italy 1278ff
SNG Fitzwilliam I 543
Sear Greek 424 [$295, reduced to $275 + $7 shipping in the US]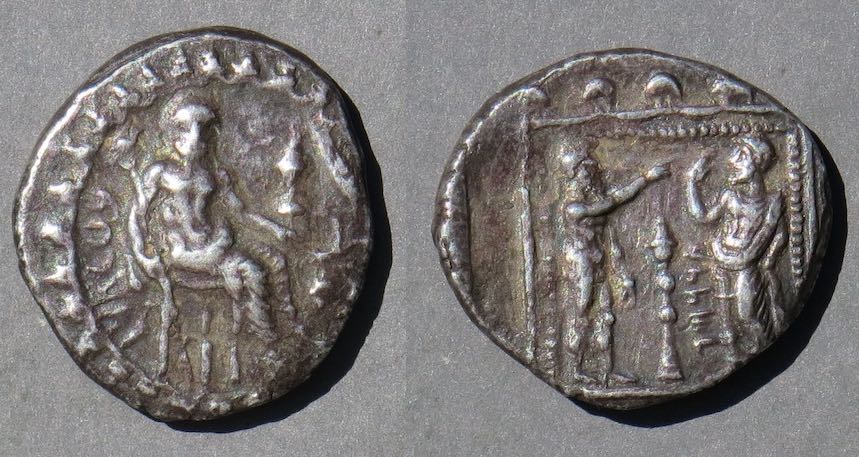 Cilicia, city of Tarsos.
24-22 mm. 9.86 grams.
Usually attributed to satrap Datames (378-362 BC). Other pronunciations of the letters that name him have been suggested, including "Tadnmu", but it is the same satrap either way.
Ba'al of Tarsos seated holding eagle-tipped scepter over shoulder and grain ear and bunch of grapes in left. "Ba'al Tarz" in those letters down the left.
The sky god Ana naked standing right with his hand toward Datames standing left with his right hand raised in a gesture of veneration, legend between (the name, perhaps pronounced "Tadnmu"). Not overcleaned as many are.
Sear Greek 5646v. Levante 84. [$295, reduced to $265]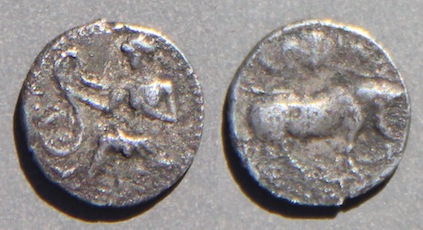 [$95, reduced to $79]
Selinous, Sicily
Litra. 11-10 mm. 0.74 grams.
Nymph on rock, touching serpent
man-faced bull right
Hoover Sicily 1229
ex Heritage Sept 3002 Long Beach auction.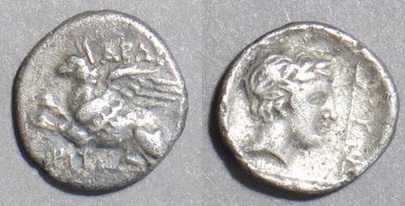 [$149, reduced to $115, reduced to $95 SOLD] Thrace. Abdera. Tetraobol. 15-14 mm. 2.41 grams.
Griffin left
Head of Apollo right
SNG Oxford 3503
SNG Copenhagen 359 "c. 400-352 BC"
---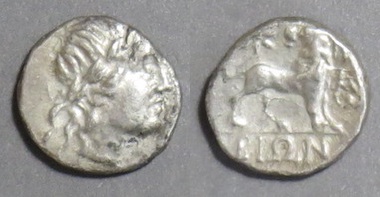 [$85, reduced to $75] Ionia, Miletos. Tetraobol. 14 mm. 2.365 grams.
Apollo head right, laureate
Lion standing right, looking back
Sear Greek Coins 4513 "75 pounds" (in 1979)
(Compare to the $695 one on vcoins.)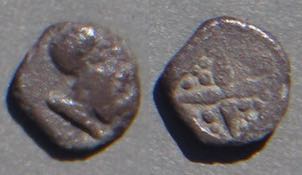 Ionia, uncertain city
7 mm. 0.36 grams. (Hemiobol)
Helmeted head of Athena right/star of four rays with dots in between
cf.https://www.vcoins.com/en/stores/ae...mint_circa_350bc_hemiobol/547339/Default.aspx

See also Gorny & Mosch 176 lot 1246.
[$13, reduced to $11]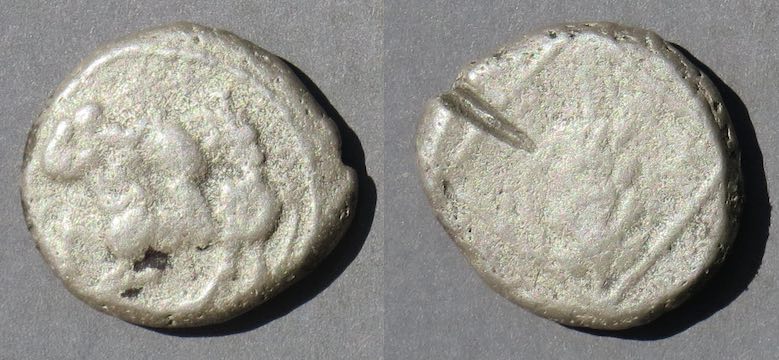 [$65, reduced to $55. Very rare.] Cilicia, Tarsos, stater. 20-19 mm. 9.16 grams.
c. 425-400 BC. SNG Levante 54v. Numismatic Chronicle "The Celenderis Hoard" by Kraay. Tarsos #1
A very early type in very worn condition.
Bull standing left with lion right attacking his hind quarters
ear of grain upright in diamond "TRZ" to right (illegible).
von Aulock 5907. As far as I know, none of these are nice, although some are nicer than this one. (That's a low price for a very rare type of stater.)
[$55, reduced to $45]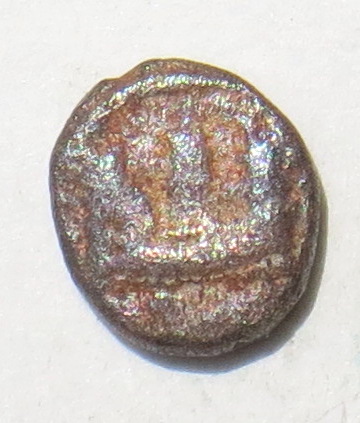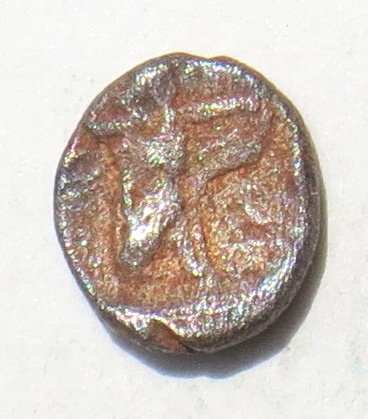 Phoenicia, Sidon. C. 400-384 BC [BM] "c.425-410/7 BC" [Hoover]
City wall with three towers
King standing right pulling bow
Small. AR9-8. 0.72 grams. 1/16 shekel.
Nice rust toning. Well-centered.
BMC Phoenicia, Sidon 15. Hoover 230v.
---

Greek AE (followed by Parthian, etc.)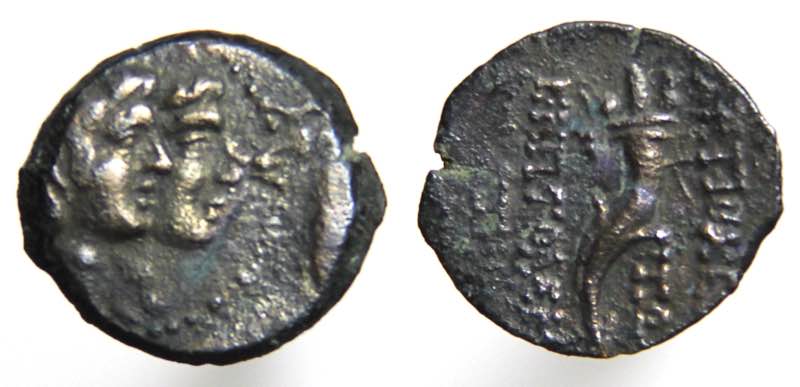 AE16 of Akko (Ake)-Ptolemais
Jugate busts of the Dioscuri right
Cornucopia with ANTIOXEN/TΩN down right
and ΠTOΛEMAIΔI
Kadman 16ff, this one better and the best I found.
[$39, reduced to $35 SOLD] Remarkably low-priced for the best.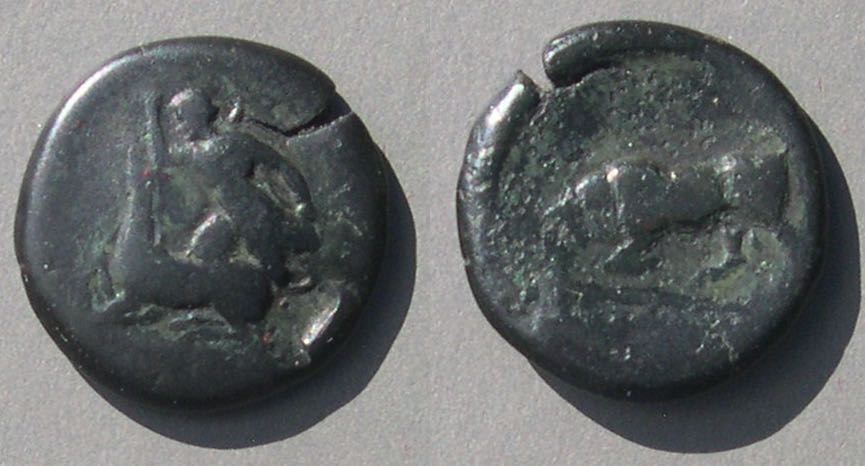 Cherson (city in Crimea, formerly in Ukraine)
Late 4th - first half of 3rd C. B.C.
21 mm.
Artemis kneeling left on prostrate stag which she spears
Bull butting left, club and quiver below.
Sear Greek 1668. Stancomb 474. Anokhin 77. Rare. [$49, reduced to $42]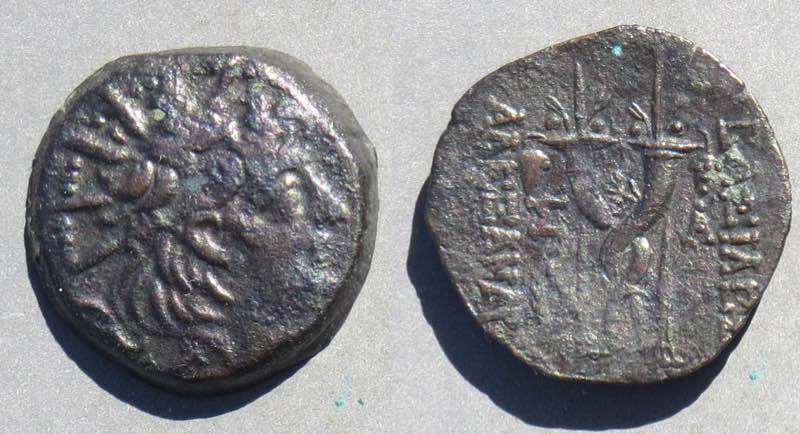 Seleucid King
Alexander II, Zebinus
128-123 BC
His radiate head right
Crossed cornucopiae (usually they are parallel)
and therefore not in Sear or Hoover (Seleucid Kings)
20 mm. 7.05 grams.
SNG Spaer Seleucid 2310
This one is nicer than his and better than the only example on MA-Shops which is $75 as I write. [$38, reduced to $33]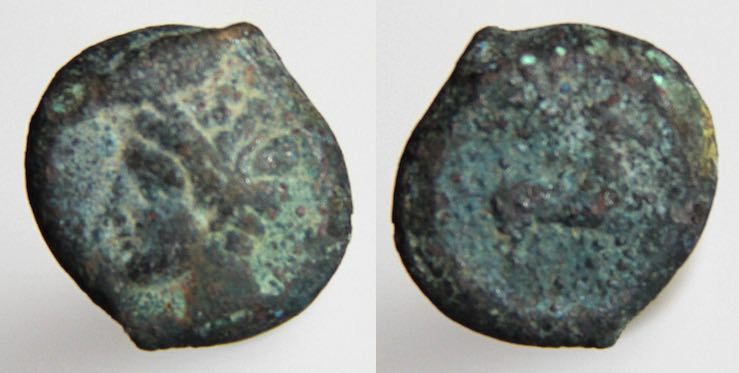 Carthage. Chunky AE17-16. 7.23 grams.
Tanit head left
Horse right
SNG Copenhagen Carthage 97. Sicily mint, late 4th - early 3rd c. BC
It has the distinctive flan of Sicily with projections on either side (1:00 and 7:00).
Rough surface just like the image. Not large, but hefty in hand. [$25]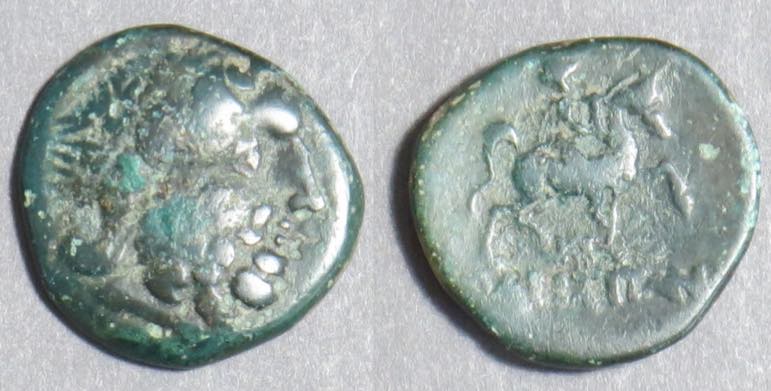 Thrace, Odessos, Zeus (or The Great God)/Horseman OΔHSITWN
20 mm.
3rd C. BC Sear Greek 1679 [$35, reduced to $29]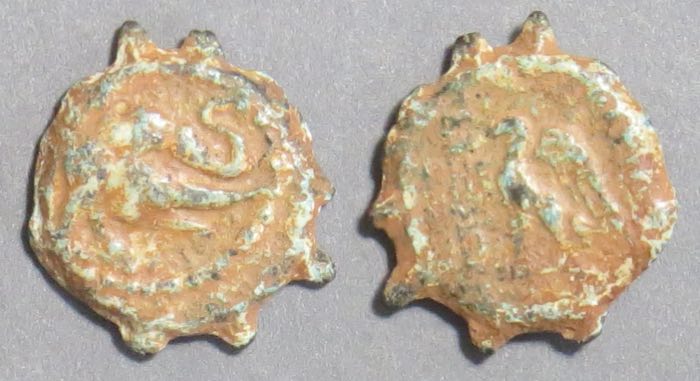 [$35] Lovely patina.
Seleucid King Alexander II Zabinas BCE 128-122
Hoover 1178 (R2!)
SC 2243
16 mm. "bottlecap"
Elephant head right/eagle standing left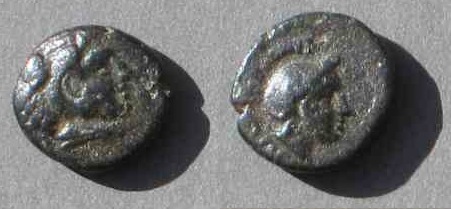 [$35 SOLD] Pergamon, Mysia. c. 310-284 BC. AE9. head of young Heracles rt./helmeted Athena right. ΠEP below. SG 3958. SNG Danish 323 (this one is better) [Very nice surfaces. High quality for AE, $35 SOLD]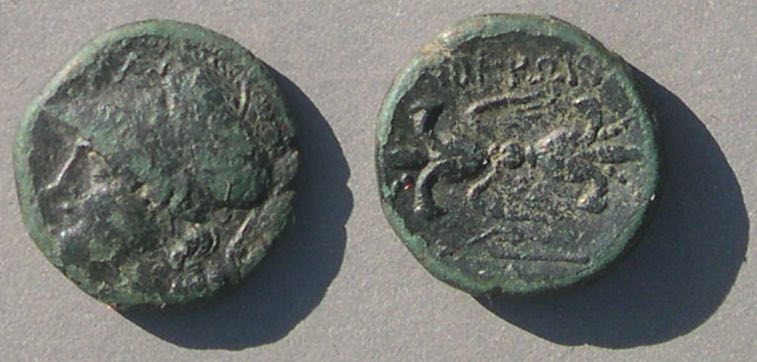 [$59, reduced to $47] Lokri-Epizephyrii, Bruttium, c. 300-268 BC
a colony of Corinth
17 mm.
Athena helmeted left
thunderbolt
ΛOKPΩN
filleted thyrsus (Staff of Dionysos or his followers)
Sear Greek --, SNG Copenhagen I Italy 1174
none on vcoins as I write.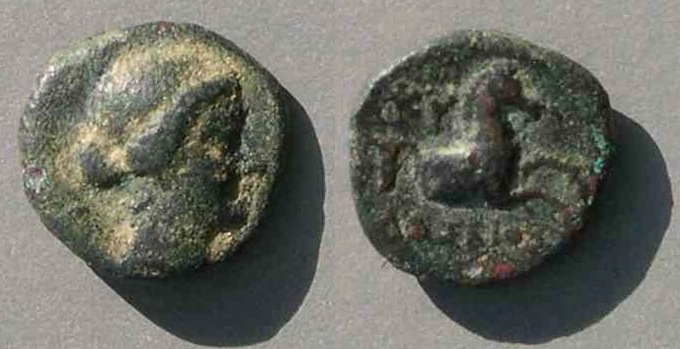 [$25] Kyme, Aeolis. c. 250 BC [according to BMC] AE15. 3.29 grams. BNC Aeolis, Cyme 57. Kyme (Amazon) right/horse forepart right. [$25]
---
Jewish: Coins of the Roman Procurators of Judaea. "Biblical" coins of the jews.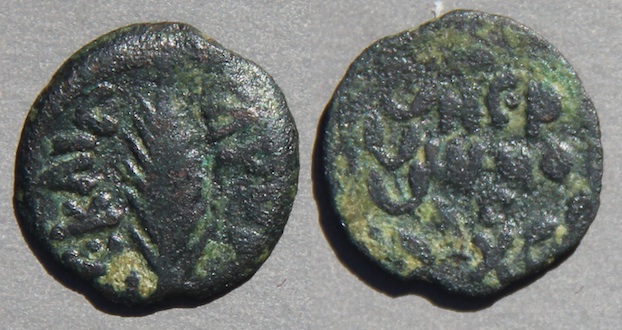 Procius Festus, Roman Procurator of Judaea under Nero, AD 59-62
Palm branch, KAIC-AP 0
"Nero" in Greek
NEP/WNO/C
Hendin 4th edition 653
All there. [$19, reduced to $17]
Valerius Gratus, Prutah AD 15-26
Hendin 4th ed. 646
16 mm.
[$29, reduced to $24]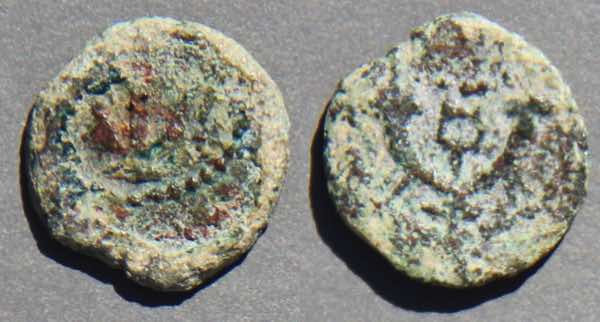 King Herod, 40 BC - AD 4.
Anchor/crossed cornucopiae
Small. 13 mm. [$25, reduced to $19, reduced to $15]
Antonius Felix, "That fox", procurator under Nero
crossed palm branches/legend in wreath
Hendin 4th ed. 651
[$19, reduced to $15]
---
[sold]
[sold]
---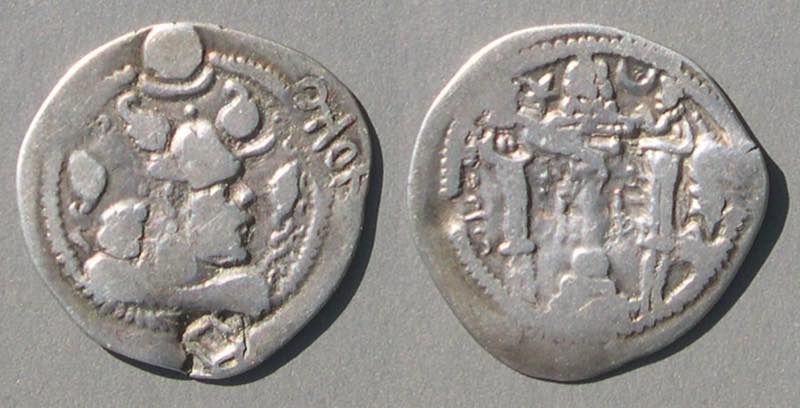 Hephthelite Huns
25 mm. 2.65 grams.
c. late 5th - early 6th century
Mitchner ACW 1451-1452 have different contermarks
Markov said the countermarks are the "Chaganian tamgha" and a Baktrian word "choko" or "chono". See the Asia coin website under Peroz.
Cites Gobl Hunnen 283 variety.
[$79]
(The Peroz prototype is above.)
---
Next page: Byzantine coins. Return to the top for links to other pages.