This page has ancient Greek coins for sale
(including "Oriental Greek": Parthian, Sasanian, etc.)

Detailed terms of sale are here. What you want to know is: I take PayPal and checks. Prices are in square brackets [$xx].
Postage in the US is $2 for orders up to $25, $3 for orders up to $50, $4 for orders up to $100, and an additional $1 for each hundred thereafter. $3 more to other countries (When you order, let me know if you are not in the US). Coins are guaranteed genuine.
To order, or simply ask me a question, write me at



What's new? Sept. 15: Sasanian and Parthian coins at the top.
Sept. 14: Miletos tetraobol at the top. Abdera tetraobol. Selecucid elephant's head AE.
Sept. 4: staters of Cilica (Tarsos, Nagidos) at the top.
Sept. 2, Greek silver fractions at the top. Also, the position of the prices is now right next to the photo at its top right, which should make it easier to see the price and immediately note which coins are especially good deals.
August 25, Greek coins at the top.
Previously: Greek AE at the top. Many prices reduced. Parthian facing bust.

Newest: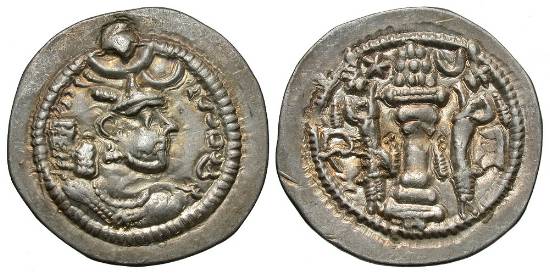 [$65] Sasanian Kingdom. Peroz I. A.D. 457/9-484. AR drachm (27 mm, 3.87 g, 3 h). AW (Ohrmazd-Ardaxsir). Crowned bust of Peroz I right, crescent on forehead / Fire altar with attendants and ribbon, star and crescent flanking flames. Göbl III/1. Lightly toned. Good very fine [$65]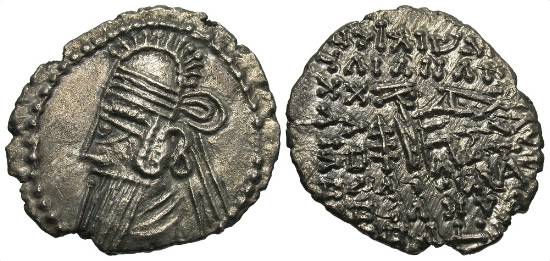 [$65] Parthian Kingdom. Vologases IV. Ca. A.D. 147-191. AR drachm (21 mm, 2.86 g, 12 h). Ekbatana. Diademed bust of Vologases IV left, wearing tiara with earflaps and decorated with hooks / Archer seated right on throne, holding bow; below bow, monogram. Sellwood 84.132; Shore 434. Toned. Light porosity. Extremely fine. Ex Triskeles 19, 274 (buyer never paid). [$65]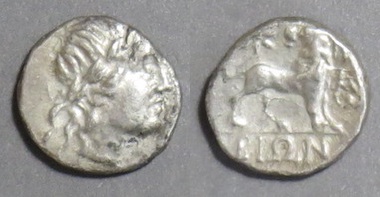 [$125] Ionia, Miletos. Tetraobol. 14 mm. 2.365 grams.
Apollo head right, laureate
Lion standing righ, looking back
Sear Greek Coins 4513 "75 pounds" (in 1979)
(Compare to the $695 one on vcoins.)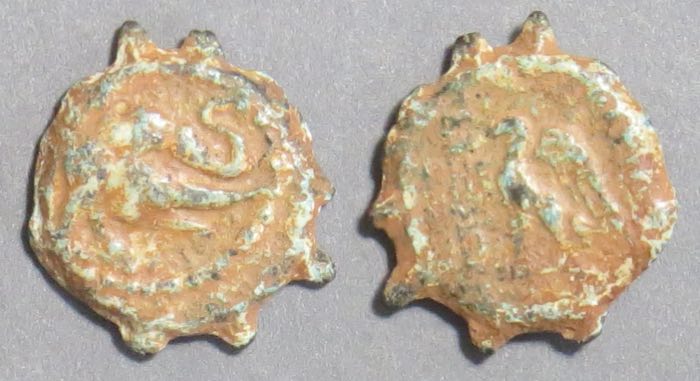 [$45] Lovely patina.
Seleucid King Alexander II Zabinas BCE 128-122
Hoover 1178 (R2!)
SC 2243
16 mm. "bottlecap"
Elephant head right/eagle standing left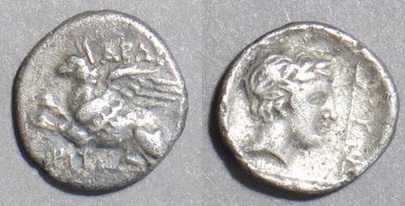 [$149] Thrace. Abdera. Tetraobol. 15-14 mm. 2.41 grams.
Griffin left
Head of Apollo right
SNG Oxford 3503
SNG Copenhagen 359 "c. 400-352 BC"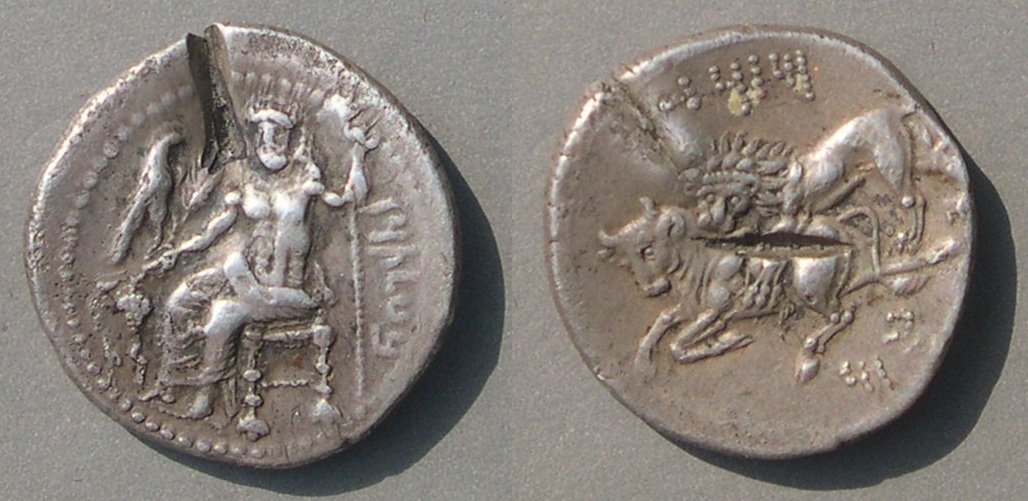 The famous Baal/lion-attacking-bull stater of Tarsos, 361-334 BC (i.e. just before Alexander the Great conquered the region). Two test cuts that, remarkably, miss anything key. Sear Greek 5650. 25 mm. 10.94 grams. [$249]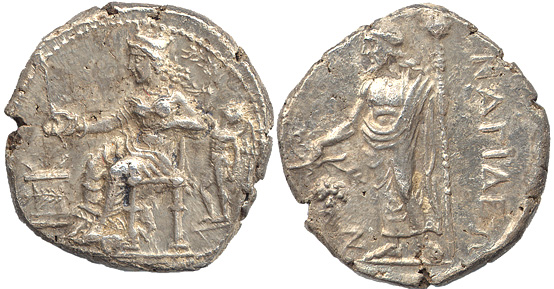 A gorgeous stater of Nagidos in Cilicia. 24 mm. 9.96 grams. 380-360 BC.
Aphrodite seated left, Eros behind crowning here with wreath
Dionysos standing left, holding cluster of grapes and thyrsos.
Excellent condition. SNG France 2, 21. Sear Greek --, cf. 5579.
Marvelous drapery (the best on any ancient coin type?). A real beauty. [$500]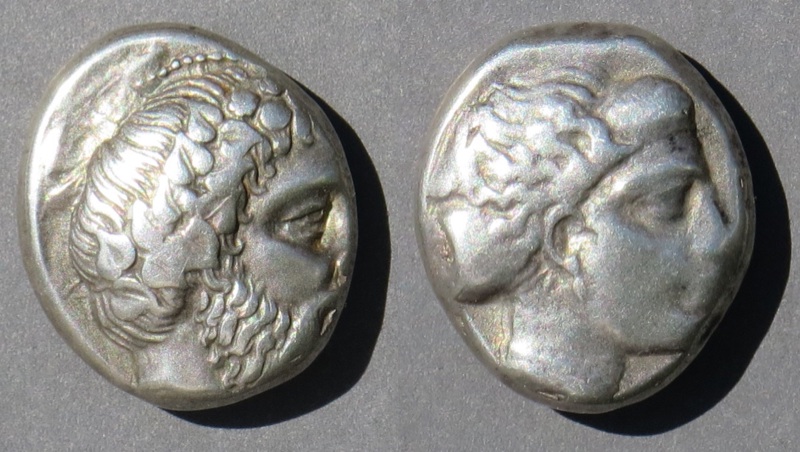 [$135 SOLD] Cilicia, Nagidos, stater. c. 400-380 BC. 20-17 mm. 10.18 grams.
bearded head of Dionysos with ivy wreath
head of Aphrodite right
Sear Greek 5580. As I write, none are on vcoins or MA-Shops, and I don't think any have been for a long time. Nice metal. Thick (6 mm max!) Rare.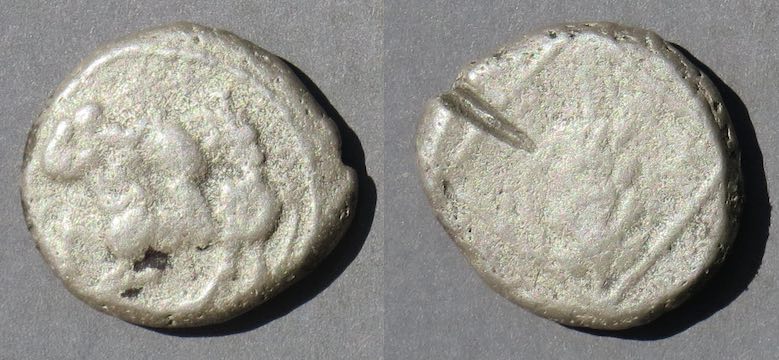 [$95] Cilicia, Tarsos, stater. 20-19 mm. 9.16 grams.
c. 425-400 BC. SNG Levante 54v. Numismatic Chronicle "The Celenderis Hoard" by Kraay. Tarsos #1
A very early type is very worn condition.
Bull standing left with lion attacking his hind quarters
ear of grain upright in diamond "TRZ" to right (illegible).
von Aulock 5907. As far as I know, none of these are nice, although some are nicer than this one. [$95] (That's a very low price for a very rare type of stater.)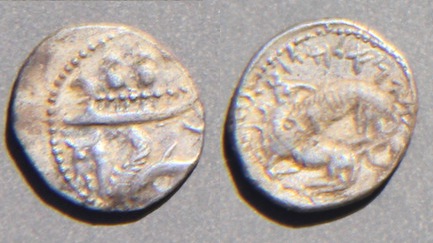 [$129] (This is better than any on vcoins as I write. The only one on vcoins which is almost as nice as this one is $195)
Byblos, Phoenicia.
AR12-11 mm. 0.80 grams.
Galley with hoplites left over hippocamp
Lion attacking bull, remarkably strong lettering above.
King Ainel, before c. 333 BC.
Sear 6014 and much better than their photo of the similar 6010.
Obv off-center. High grade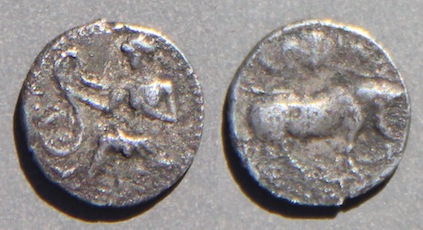 [$125]
Selinous, Sicily
Litra. 11-10 mm. 0.74 grams.
Nymph on rock, touching serpent
man-faced bull right
Hoover Sicily 1229
ex Heritage Sept 3002 Long Beach auction

Persian siglos, 4th C. BC. 15 mm. This one is a very early counterfeit--a fourree, with silver plated over base metal, as you can see flaked off on the body of the king striding right.
I find it interesting that criminals were inventive and at work so soon after coins were invented. [$29 SOLD]
It is hard to find an ancient counterfeit so early.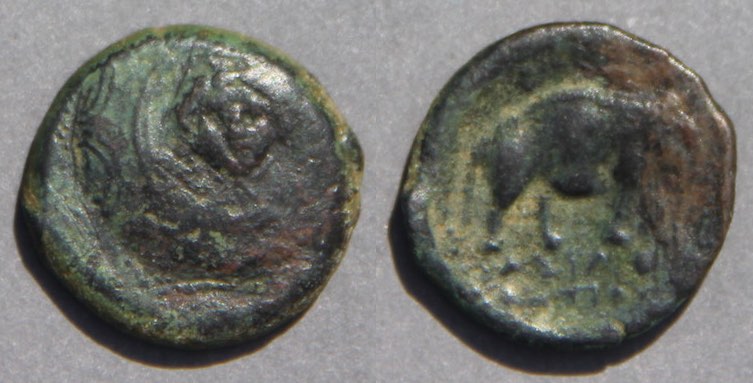 Antiochus III, Megas. Seleucid King, 222-187 BC.
18 mm. 5.60 grams.
Facing head on Macedonian shield
elephant right
Sear Greek --
Hoover Syria Royal 490
[$27 SOLD]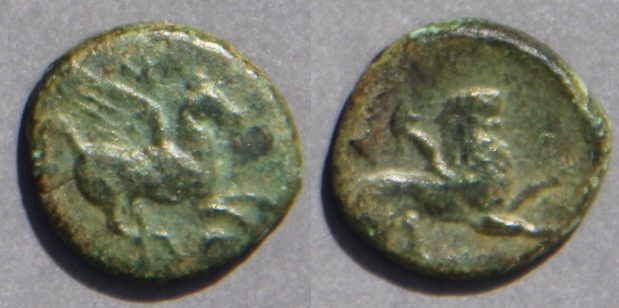 Arnania, Leucas. Pegasos r/chimera r
16 mm.
Hoover (northern and Central Greece) 865v with chimera right, not left.
Lovely green patina. [$35 SOLD]
No AE at all from Leucas (Leukos) on vcoins as I write.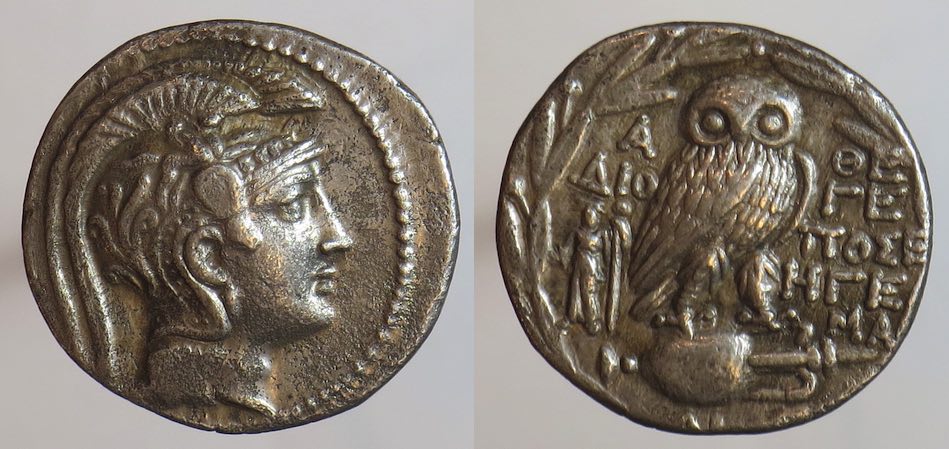 [$549] Athens, New Style 129/8 BC [Hoover] tetradrachm, large at 30-28 mm.
New style head of Athena right in triple-crested helmet
owl standing, facing, on horizontal amphora.
AΘE
ΔIO-ΓE
Standing figure ΠOΣEI
HΓE
MA
Thompson 417, page 163, plate 43
Hoover 1602, page 473, magistrate of 129/8
Well-centered [$549] (Please compare with prices elsewhere.)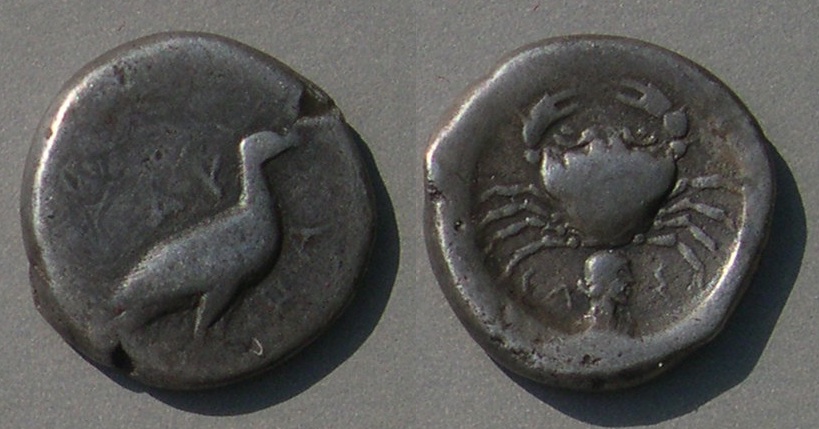 [$395] Akragas (Agrigentum) didracm
before 413 BC
20 mm. eagle standing right
crab, small human head belwo, CA Σ
SNG Copenhagen I Sicily 37 (with the head)
Sear Greek 709A variety
With old ANACS photo certificate of authenticity, issued 02-01-85 ("510-472 BC") [$395]
Old. Nice toning. Well-centered.
ex CCE 12-84 lot 1. Ticket included.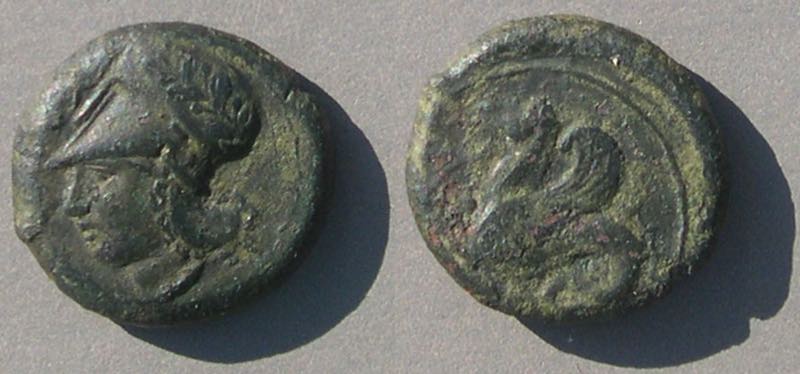 Syracuse, time of Timolean from Corinth
344-336 BC
19-18 mm.
Helmeted head of Athena left
hippocamp left with curled wing.
ex Quarles 5/85.
Sear Greek 1193v
SNG Copenhagen I Sicily 721
[$33 SOLD]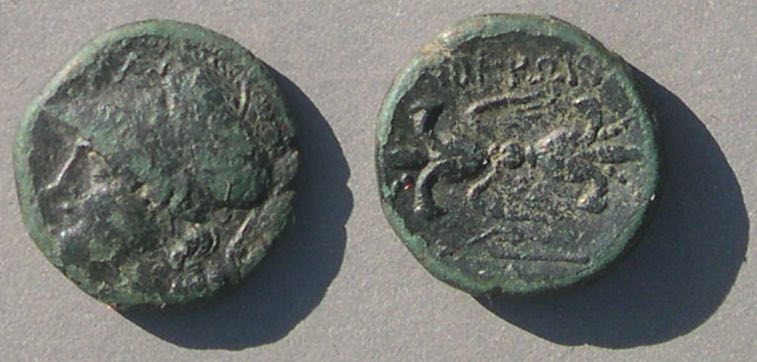 [$69] Lokri-Epizephyrii, Bruttium, c. 300-268 BC
a colony of Corinth
17 mm.
Athena helmeted left
thunderbolt
ΛOKPΩN
filleted thyrsus (Staff of Dionysos or his followers)
Sear Greek --, SNG Copenhagen I Italy 1174
none on vcoins as I write.
[$69]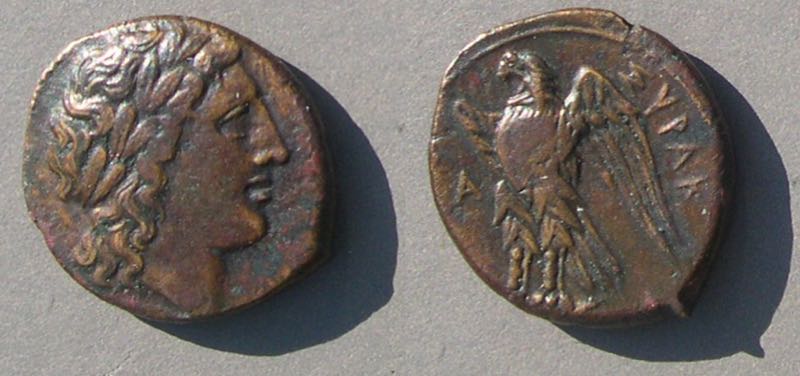 Syracuse, 287-278 BC
Time of Hiketas
21-19 mm. 6.69 grams.
head right
Eagle left, ΣYPAK
for Syracuse
Sear Greek 1212variety
SNG ANS 5. 1206 plate 37
Calciati 2.168 [$165 SOLD]
Lovely!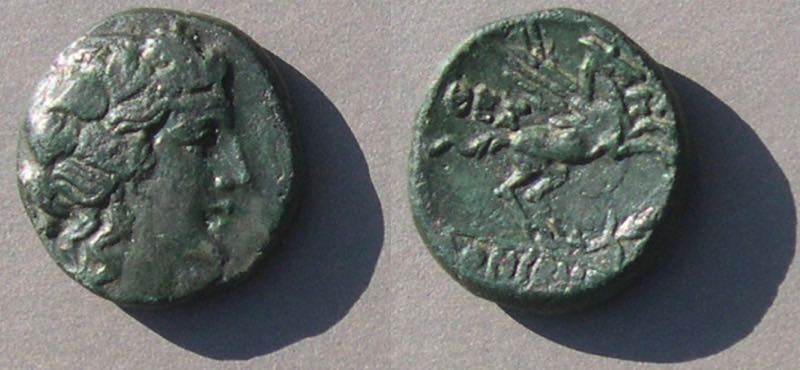 [$95] Thessalonica, Macedonia
Struck 187-31 BC [Lindgren]
18 mm. 7.25 grams.
head of Dionysos right, crowned with vine leaves
Pegasos rearing right, ΘEΣ to left
ear of grain below
[ΣA]ΛONIKHΣ below
Lindgren, Europe 1151 (slightly worse than this one)
High grade. Very pleasing patina. A eally nice Greek AE. [$95]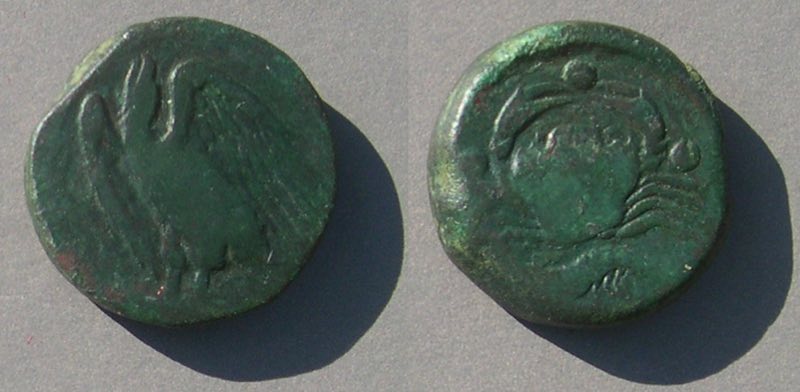 [$125] Akragas, before 406 BC
Thick 21 mm. 11.97 grams.
Screaming eagle on thunderbolt
crab with three dots around (a trias)
McClean 2069. Weber --, SNG Copenhagen I Sicily --, supplement --,
Fitzwilliam --, SNG ANS Part 3 Sicily I -- (cf. 1034 for eagle right on hare)
BMC -- (#101 is the design with 5 pellets), 102 has eagle on hare
Sear Greek 1023 has eagle right on hare.
Pozzi --, GCMFA Boston --, Morecom --, Wheaton --
Nice green color. Scarce or rare variety. Good design [$125]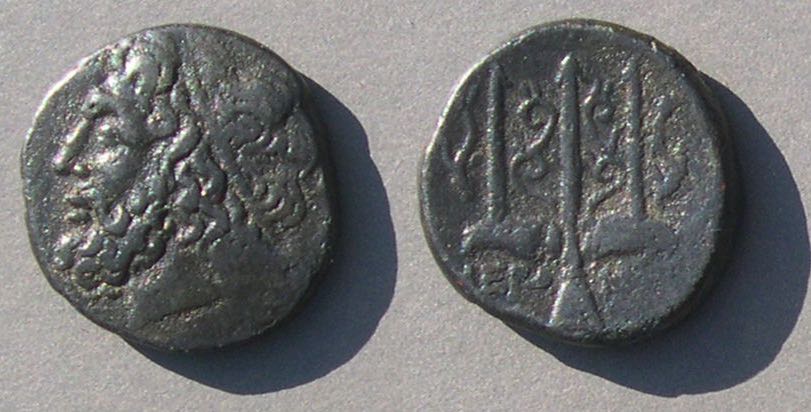 Syracuse, Hieron II, 274-216 BC,
probably struck 264-241 BC
19 mm. 5.87 grams.
head of Poseidon left
ornamental trident hea with scroll decoration between prongs, dolphins to left and right, circling inwards.
IEPΩ-NOΣ (Hieron) across field
Sear Greek 1223. SNG Copenhagen 844
Beautiful portrait of Poseidon with curly beard and well-centered trident [$49 SOLD]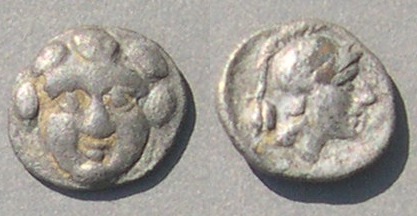 [$59] Selge,, Pisidia. Greek silver fraction.
AR10. 0.67 grams. Obol.
Gorgonion facing/Athena helmeted right
Sear Greek 5473v. SNG Copenhagen Pisidia 246. Nicely centered. [$59]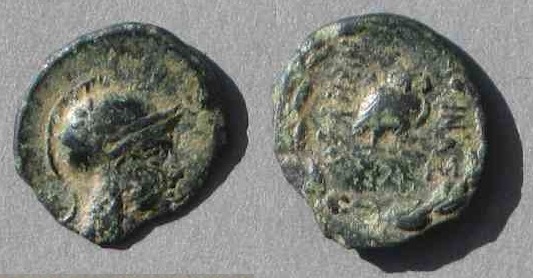 Pergamon, Mysia. civic issue 133 BC - time of Augustus. 13 mm. Head of Athena right in crested helmet/owl with closed wings in olive wreath. AΘHNAΣ NIKH Φ PY [$19 SOLD]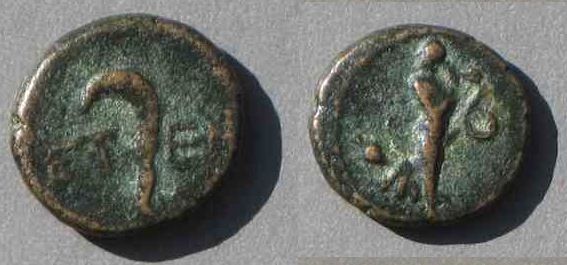 [$25] Pisidia, Etenna. 14-13 mm.crooked knife. Female with snake. Sear Greek 5458 variety. SNG Cop VI 146 Var. [$25]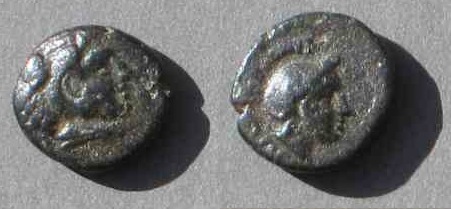 [$39] Pergamon, Mysia. c. 310-284 BC. AE9. head of young Heracles rt./helmeted Athena right. ΠEP below. SG 3958. SNG Danish 323 (this one is better) [Very nice surfaces. High quality for AE, $39]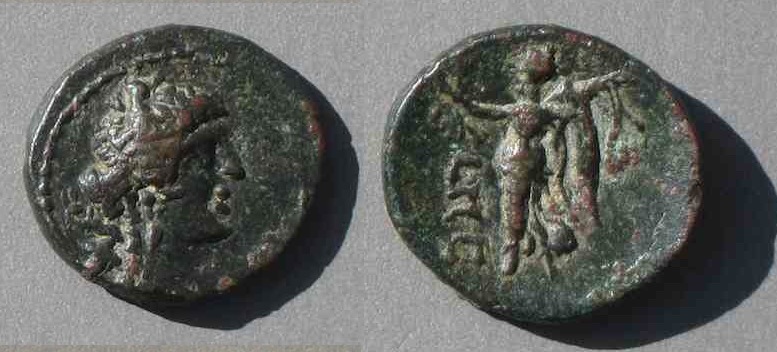 [$125] Chalcis, Coele-Syria. 85-40 BC. AE19-17. Female head right/Victory advancing left, date LΠC. SGI --, SNG Danish. Syria plate 2 has (only) two coins of this place, but not this type. Lindgren III 1222. This coin has no problems. Very rare place and remarkably nice grade. [$125, super quality and very rare]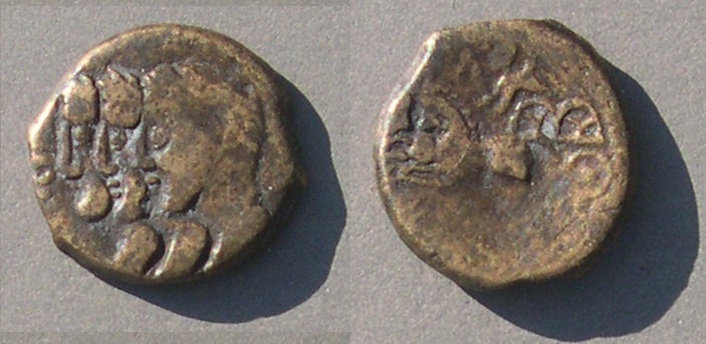 [$125] Gaul. Remi.
Three jugate heads left! /Nike driving biga left.
15 mm.
Allen plate II 53. Struck before 52 BC (Time of Julius Caesar) but in circulation until the end of the century.
De la Tour XXXII 8040
Sear Greek 137, Weber 52 [$125] Please (always) compare prices to your favorite site elsewhere.
---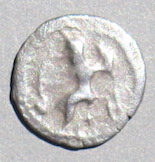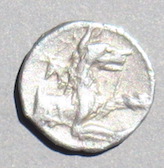 [$45] Cilicia, Tarsos
3/4 obol. 10 mm. Silver.
Seated Baal/forepart of wolf right (or, call it a dog if you love dogs)
Sear 5660 Very nice animal coin with a nice wolf. [$45]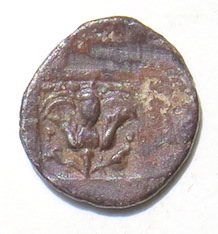 [$44] Rhodos (Rhodes) hemidrachm. 14-13 mm. 1.32 grams.
Radiate head of Heliso almost facing/P - O either side of Rose.
Sear Greek 5065. Klein 553v. [$44]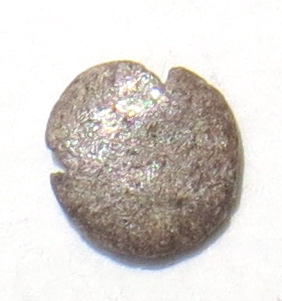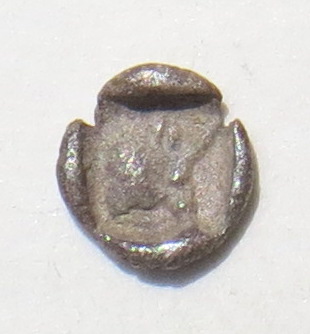 [$17] Tiny Greek fraction. 6 mm. 0.15 grams.
Obverse without design. Reverse with bull's head right.
Uncertain city, probably in Ionia.
This might be the smallest coin in your collection. [$25, reduced to $17]
[$55]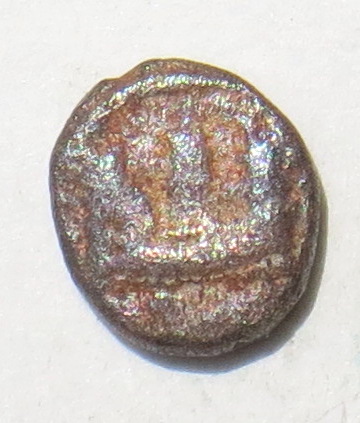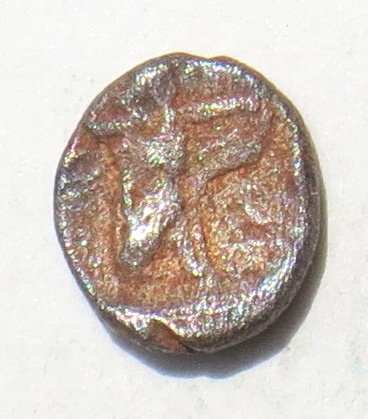 Phoenicia, Sidon. C. 400-384 BC [BM] "c.425-410/7 BC" [Hoover]
City wall with three towers
King standing right pulling bow
Small. AR9-8. 0.72 grams. 1/16 shekel.
Nice rust toning. Well-centered.
BMC Phoenicia, Sidon 15. Hoover 230v. "[$65, reduced to $55]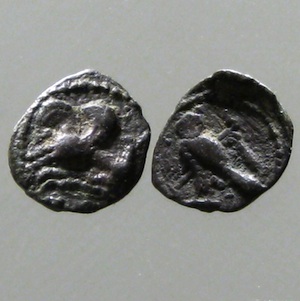 Tyre, 1/16 shekel. 10 mm. 0.47 grams.
hippocamp left over waves/owl with crook and flail behind
Sear Greek 5916. BMC Tyre 43, page 233
SNG Danish 302 [$55, reduced to $39 SOLD]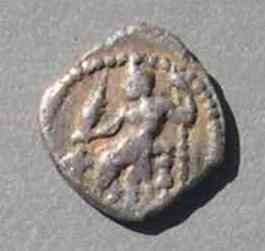 [$49] Tarsos, Cilicia
361-333 BC (Just before Alexander the Great swept through)
AR10. Obol. 0.56 grams.
Baal seated left (the prototype for Zeus seated left on coins of Alexander)
/forepart of wolf right, crescent above and behind (for canine lovers)
nice coin. [$69, reduced to $49]
---

Greek AE (followed by Parthian, etc.)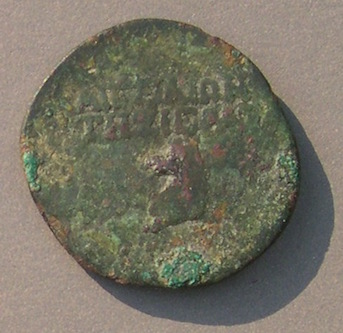 [$25] Aigeai, Cilicia. 22 mm. 6.41 grams.
date uncertain post 164 BC to imperial times
Two countermarks. helmet, Helios (upside down in this orientation)
turretted head of Tyche right
legend across, horse's head left AIGEAION THSIEPAS
SNG Cilicia 2291. BMC Cilicia Aegeae 2. [$35, reduced to $25]

____________________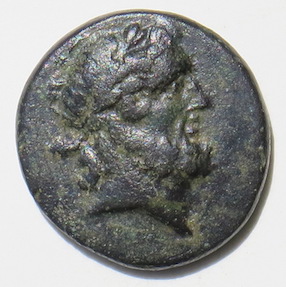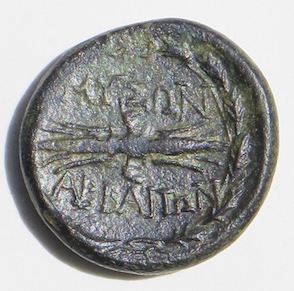 [$43] Abbaitis, Phrygia, 190-133 BC.
21 mm. 7.57 grams.
Possibly struck at Ancyra in Abbaitis.
Head of Zeus rt.
Thunderbolt, MY Σ Ω N above
ABBAIT Ω N below.
Sear Greek 5096. SNG Cop VI 3. BMC Phrygia 1
Ex Berk in 2005. Nice black surface. [$65, reduced to $43]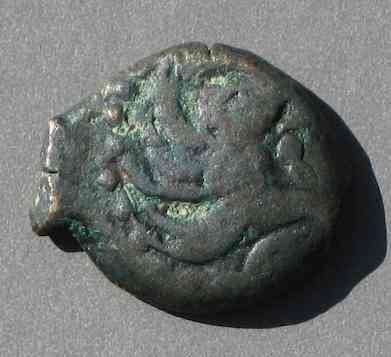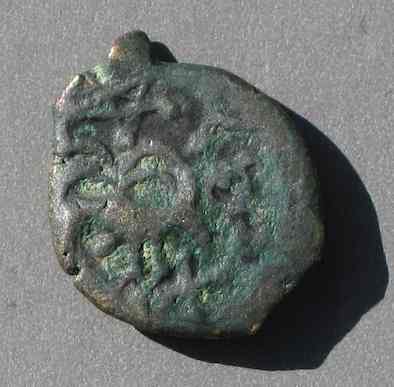 [$35] Gallic. Senones (located just south of Paris)
Very barbarius head right (upswept hair visible at left and puckered lips at right)/ horned animal, 5-pointed star above
De La Tour XXX 7545. AE15-18. [$65, reduced to $35]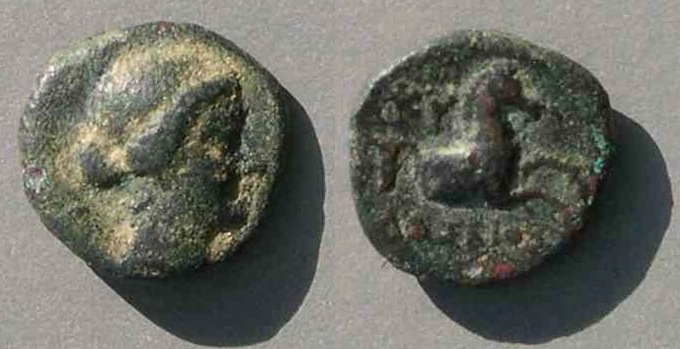 [$25] Kyme, Aeolis. c. 250 BC [according to BMC] AE15. 3.29 grams. BNC Aeolis, Cyme 57. Kyme (Amazon) right/horse forepart right. [$35, reduced to $25]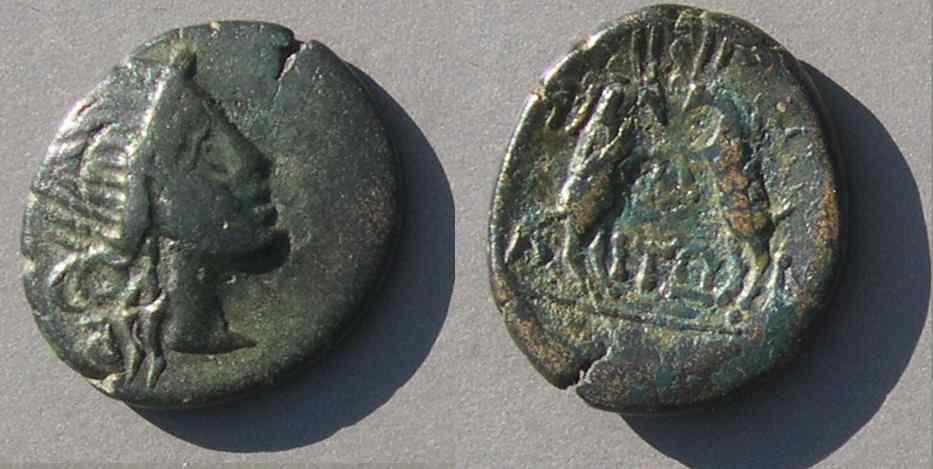 [$49] Amphipolis, Macedonia
AE23-20
Struck 187-31 BC [SNG Danish, volume II, Macedonia 62] or 168-149 BC and later [Sear 1394] Two standing goats! A cool animal type.
Lindgren European 934 nice grade, good detail [$75, reduced to $49]
---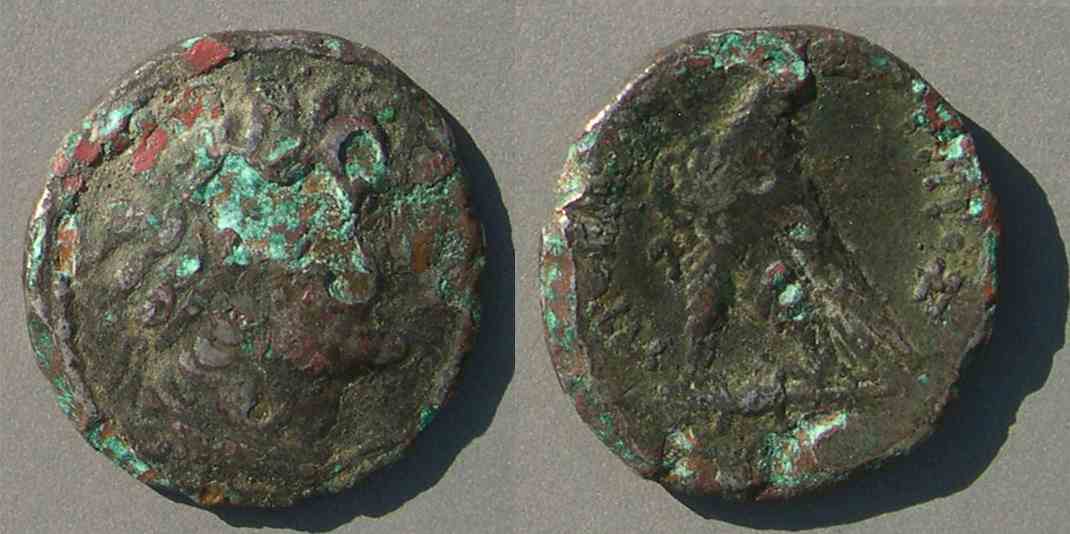 [$13] Ancient fourree of Ptolemy IV (or III), c.221-204 BC. 27 mm. 11.52 grams. Much corrosion.
Sear 7836 (or 7807). Bought in Israel in 1972. Terrible conditon, but very hard to find as a type. It appears to have been made with the foil method in which silver foil was wrapped around a copper flan and then struck. Look at the end of the wrap from 10:00 - 1:00 slightly overlapping. The green is not active in my climate-- it is unchanged since 1972. [$27, reduced to $13]
---

Oriental Greek

Persis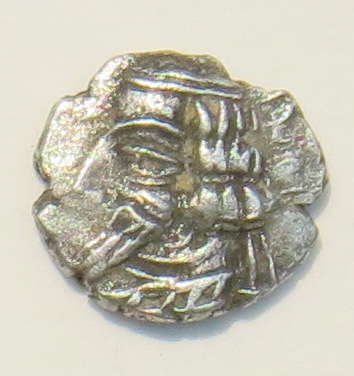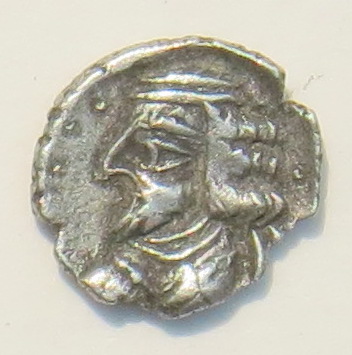 [$42] Persis. Obol. 0.43 grams.
Small coin. 9-8 mm. Two heads!
Pakor I. First half of first century BC.
A two-headed coin. Cute! [$49, reduced to $42]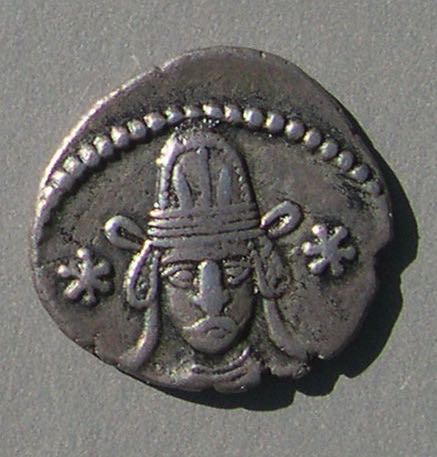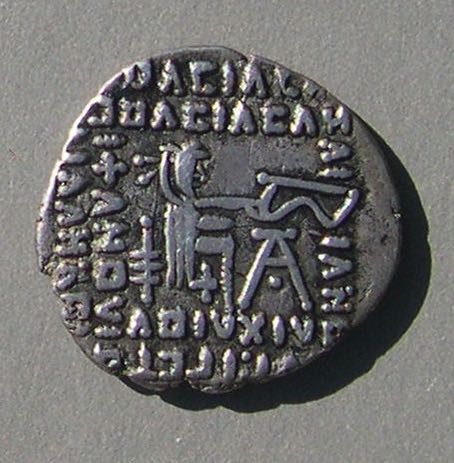 [$145] Parthian. Vonones II. 51 AD.
If you want to know what a Parthian warrior looked like, see this coin.
3.46 grams. Shore 368 [$165, reduced to $145]


[$27] Phraates IV, 38 - 2 BC. star and crescent before, eagle with wreath behind
drachm [$33, reduced to $27]
---
Sasanian and related types:
[all sold]
---
Next page: Byzantine coins.