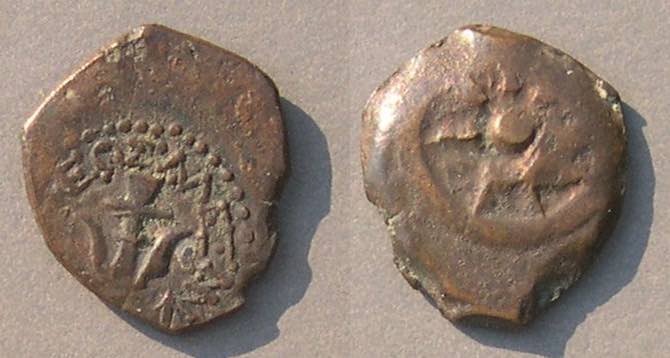 Alexander Jannaeus 103-76 BC. 17-15 mm. Large for the type.
Anchor/star
Hendin 4th edition 469 [$18]
Aksumite (Axumite) anonymous c. 340-425 AD. 13 mm (most are 12 mm, but this one has a better flan). 1.26 grams. The Christian cross on the reverse makes it one of the earliest Christian types. The centering is remarkably good. [$59 SOLD] Please compare prices and quality with elsewhere.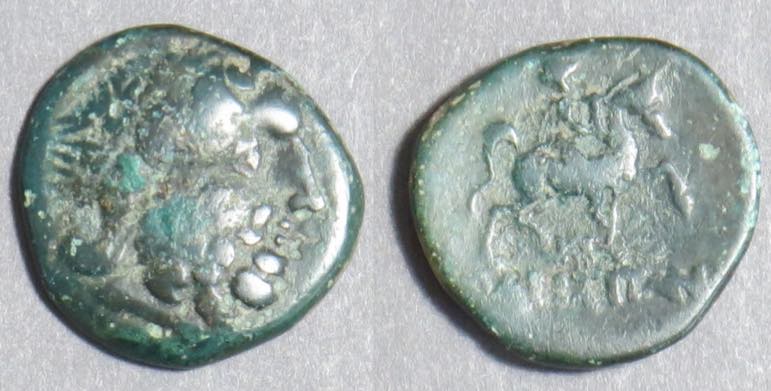 Thrace, Odessos, Zeus (or The Great God)/Horseman OΔHSITWN
20 mm.
3rd C. BC Sear Greek 1679 [$35]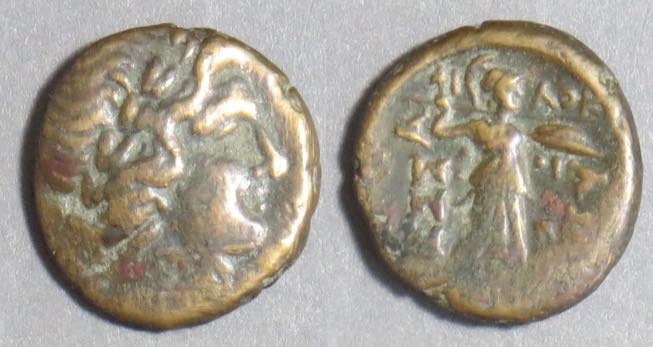 Thessalian Confederacy (League) 19 mm.
Head of Apollo right
Athena right. ΘEΣΣAΛΩN
Hoover "Northern and Central Greece" 225 "late second - early first centuries BC"
BNC 60. [$29]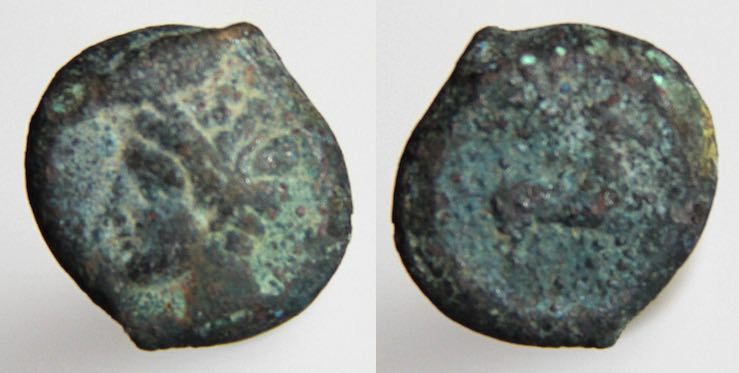 Carthage. Chunky AE17-16. 7.23 grams.
Tanit head left
Horse right
SNG Copenhagen Carthage 97. Sicily mint, late 4th - early 3rd c. BC
It has the distinctive flan of Sicily with projections on either side (1:00 and 7:00).
[$25]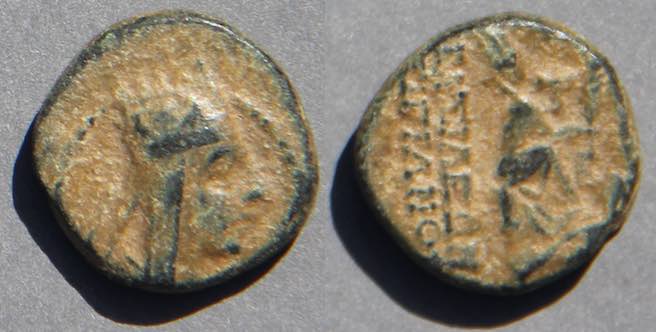 Tigranes II, The Great, 95-56 BC
18-17 mm. two chalcoi
His bust right
Tyche seated right, lines of Greek down the fields
Sear Greek 7208, but smaller.
Armenian Coins and their Values 50
This one is nicer than the plate coin.
[lovely earthen cover, $33 SOLD]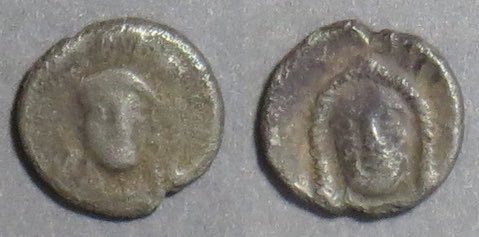 Cilicia. Tarsos? or Posidion
0.89 grams. 10 mm. obol
helmeted bust of Athena facing slightly right
facing female head
Sear Greek --. Celator Jan. 2003 p.36-37, John Mixler "An unrecorded Cilician coin type." Shore, Celator May 2005 has one legible with "Posidion" abbreviated.
rare. [$39]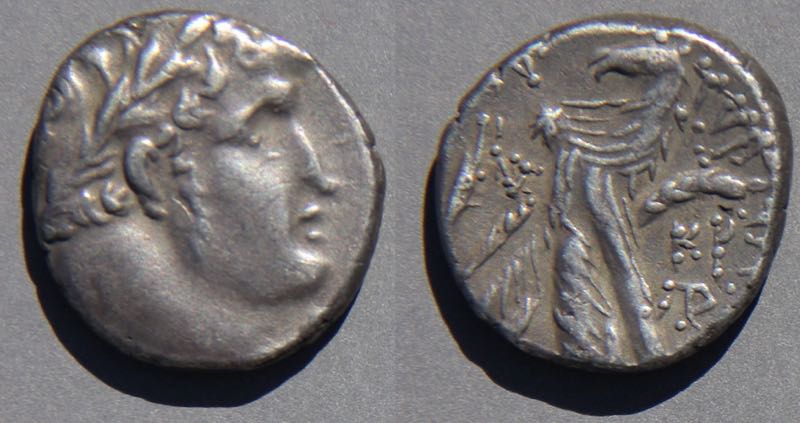 SOLD Shekel of Tyre. Possibly struck in the 20s AD.
24-22 mm. 13.82 grams.
Shekels of Tyre were dated using an era beginning in 126 BC. Prior to c. 18 BC they were struck at Tyre and have larger flans and legible dates in the left field. After that, the quality of the engraving decreases and the flans become less broad--thicker and with smaller diameter.
Meshorer thought the type was discontinued at Tyre and restarted at Jerusalem. Hendin accepted the argument, but not everyone did. The transfer, if there was one, coincides with the introduction of "KP" in the right field, which this coin has. Hendin 919 "generally cruder style". The dates of these go from 18 BC to 69/70 AD, with a gap in the 20s.
SOLD Brooks Levy (Proceedings of the 13th International Numismatic Congress) argued that the crude ones (like this one) without clear dates were not at the end of the series but in the gap in the 20s. This one is much like his #6, but with different control symbols. (I have many reference works but did not find this set of control symbols.) If this one has a date, it might be
PN or PNΓ (garbled letters in the left field) which would be 150 or 24/4 or 27/8 AD.
Maybe you know more about this than I do, in which case I would be happy if you wrote and told me.
This coin shows little wear and is better than most of the so-called "crude" issue coins. If Books Levy is right, this coin was minted at a time such that it was likely to be circulating at the time of Christ's ministry and Judas's betrayal. [$975, reduced to $775 SOLD + $12 shipping] If you care about the date of your shekel, this one might have one of the better dates, not so far from the events as the higher-quality bigger but much earlier shekels.

Ptolemy II Philadelphos (283-246 BC). AR tetradrachm (27mm, 13.81g) Alexandria mint. Diademed head of Ptolemy I r., wearing aegis / Eagle standing l. on thunderbolt; to l., monogram above Galatian shield; Banker's marks on obverse. Svoronos 591; SNG Copenhagen 112
An excellent portrait of Ptolemy I on this coin of Ptolemy II. The banker's marks add character without damaging the details. Nice tone. Overall, a very nice coin [$275, reduced to $255 SOLD + $6 shipping]
[Good metal. Why are so many Ptolemy II pieces offered above $600 or even above $1000 when they are not better than this one?]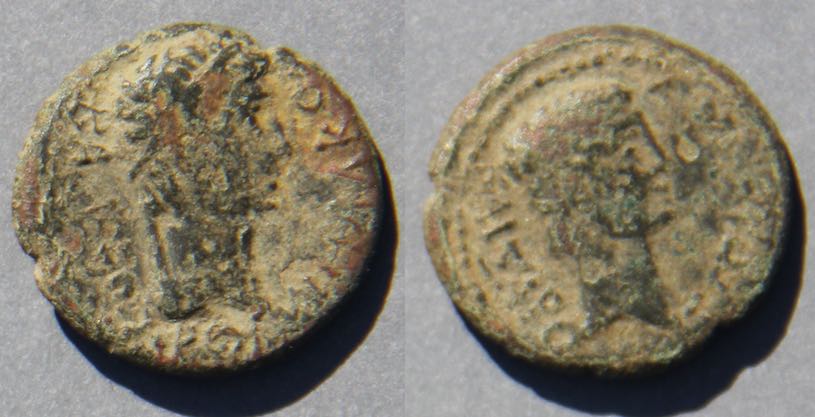 Thracian King: Rhoemetalkes I (11 BC - 12 AD) under Augustus
19-18 mm.
KAIΣAROΣ ΣEBASTON
SNG Cop 1193
Cf. Sear GI 5395 (larger)
Two-headed coin. [$29]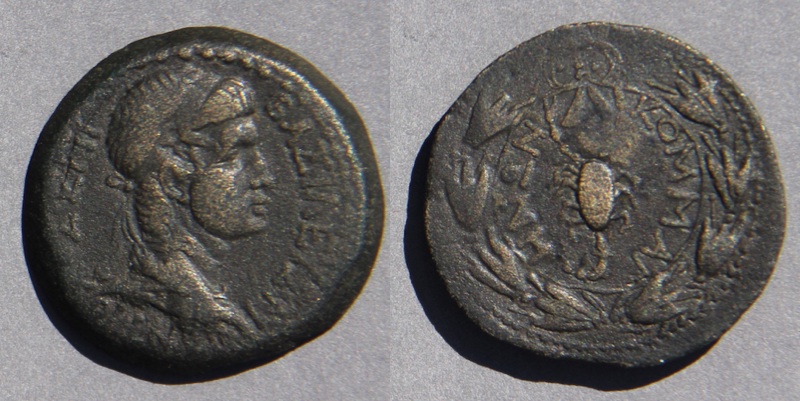 [$95]
Antiochus IV, Epiphanes, King of Commagene, 38-72 AD.
29 mm.
His bust right
Scorpion in wreath
BMC 7. Sear Greek Imperial 5507.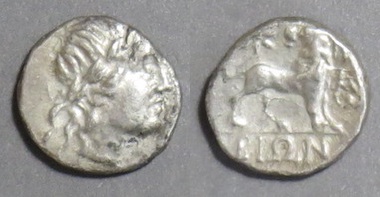 [$125] Ionia, Miletos. Tetraobol. 14 mm. 2.365 grams.
Apollo head right, laureate
Lion standing right, looking back
Sear Greek Coins 4513 "75 pounds" (in 1979)
(Compare to the $695 one on vcoins.)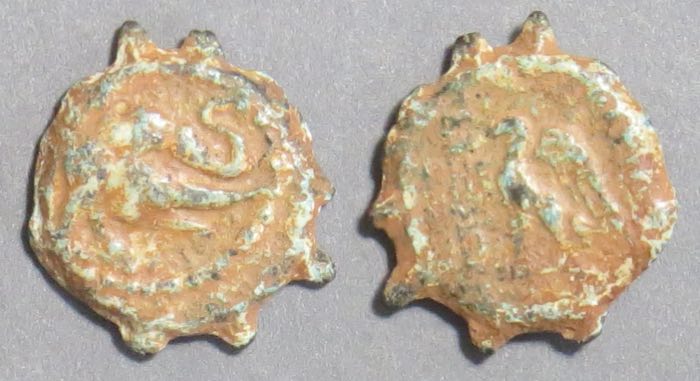 [$38, reduced from $45] Lovely patina.
Seleucid King Alexander II Zabinas BCE 128-122
Hoover 1178 (R2!)
SC 2243
16 mm. "bottlecap"
Elephant head right/eagle standing left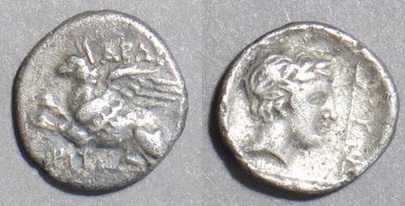 [$149] Thrace. Abdera. Tetraobol. 15-14 mm. 2.41 grams.
Griffin left
Head of Apollo right
SNG Oxford 3503
SNG Copenhagen 359 "c. 400-352 BC"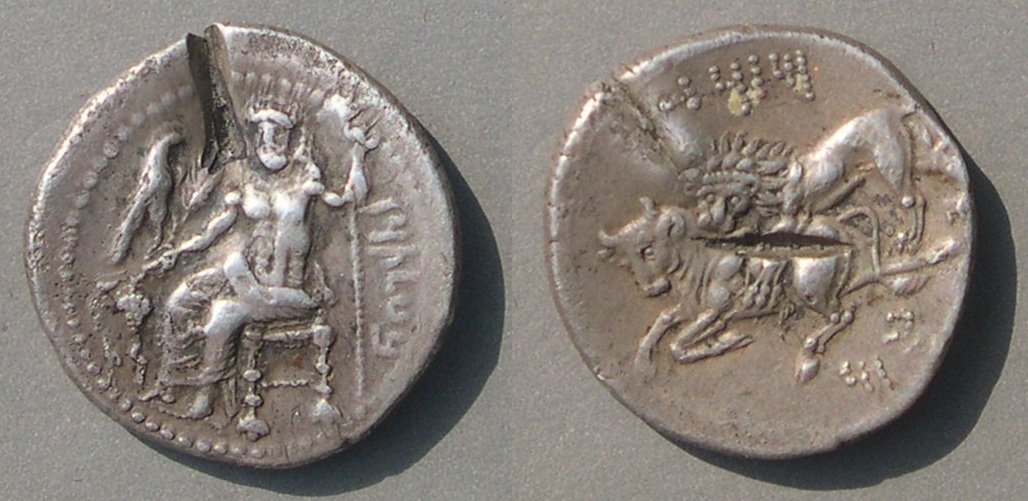 The famous Baal/lion-attacking-bull stater of Tarsos, 361-334 BC (i.e. just before Alexander the Great conquered the region). Two test cuts that, remarkably, miss anything key. Sear Greek 5650. 25 mm. 10.94 grams. [Good details. $249, reduced to $225]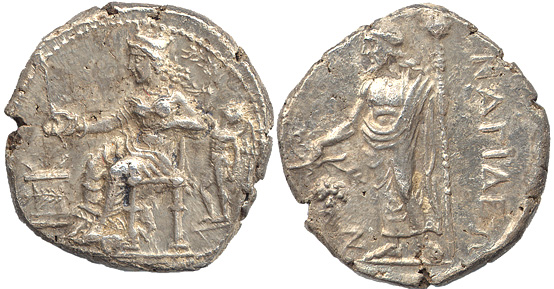 A gorgeous stater of Nagidos in Cilicia. 24 mm. 9.96 grams. 380-360 BC.
Aphrodite seated left in diaphonous dress, Eros behind crowning her with wreath
Dionysos standing left, holding cluster of grapes and thyrsos.
Excellent condition. SNG France 2, 21. Sear Greek --, cf. 5579.
Marvelous drapery (the best on any ancient coin type?). A real beauty. [$495]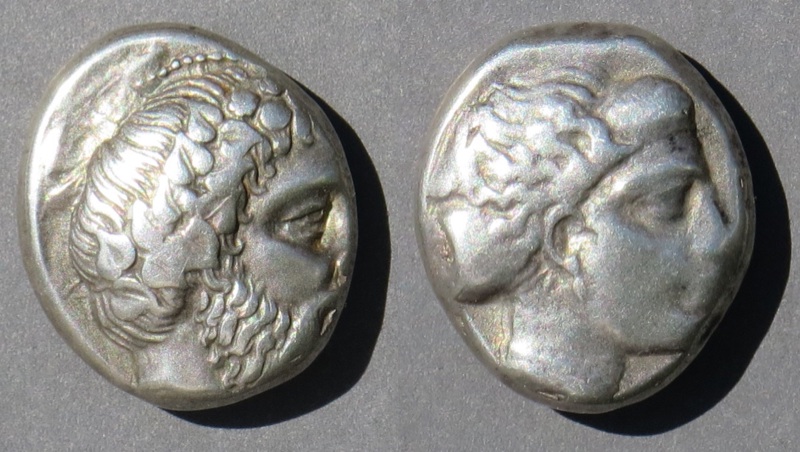 [$135 SOLD] Cilicia, Nagidos, stater. c. 400-380 BC. 20-17 mm. 10.18 grams.
bearded head of Dionysos with ivy wreath
head of Aphrodite right
Sear Greek 5580. As I write, none are on vcoins or MA-Shops, and I don't think any have been for a long time. Nice metal. Thick (6 mm max!) Rare.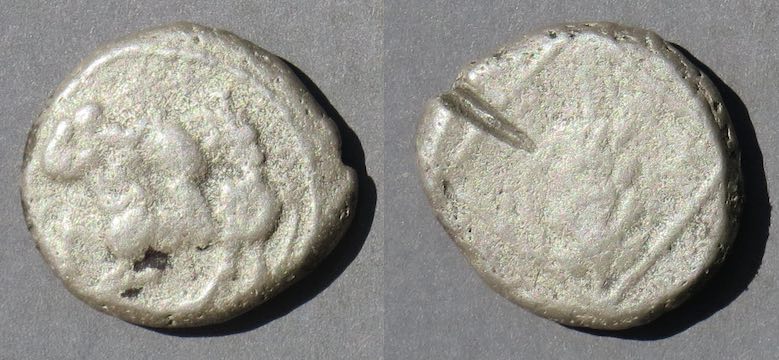 [$95] Cilicia, Tarsos, stater. 20-19 mm. 9.16 grams.
c. 425-400 BC. SNG Levante 54v. Numismatic Chronicle "The Celenderis Hoard" by Kraay. Tarsos #1
A very early type is very worn condition.
Bull standing left with lion attacking his hind quarters
ear of grain upright in diamond "TRZ" to right (illegible).
von Aulock 5907. As far as I know, none of these are nice, although some are nicer than this one. [$95] (That's a very low price for a very rare type of stater.)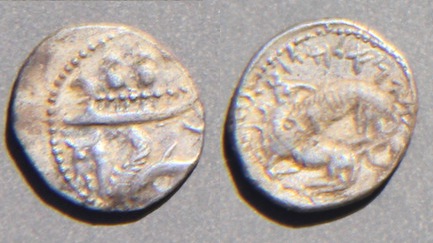 [$129] (This is better than any on vcoins as I write. The only one on vcoins which is almost as nice as this one is $195)
Byblos, Phoenicia.
AR12-11 mm. 0.80 grams.
Galley with hoplites left over hippocamp
Lion attacking bull, remarkably strong lettering above.
King Ainel, before c. 333 BC.
Sear 6014 and much better than their photo of the similar 6010.
Obv off-center. High grade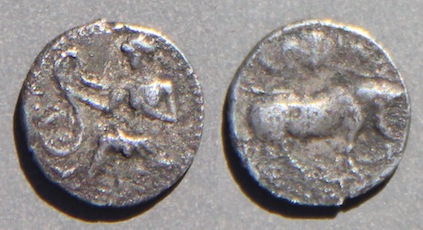 [$125]
Selinous, Sicily
Litra. 11-10 mm. 0.74 grams.
Nymph on rock, touching serpent
man-faced bull right
Hoover Sicily 1229
ex Heritage Sept 3002 Long Beach auction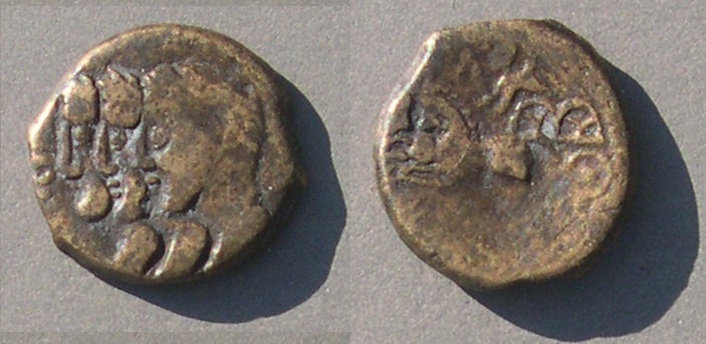 [$$89, reduced from $125] Gaul. Remi.
Three jugate heads left! /Nike driving biga left.
15 mm.
Allen plate II 53. Struck before 52 BC (Time of Julius Caesar) but in circulation until the end of the century.
De la Tour XXXII 8040
Sear Greek 137, Weber 52 [$125] Please (always) compare prices to your favorite site elsewhere.
---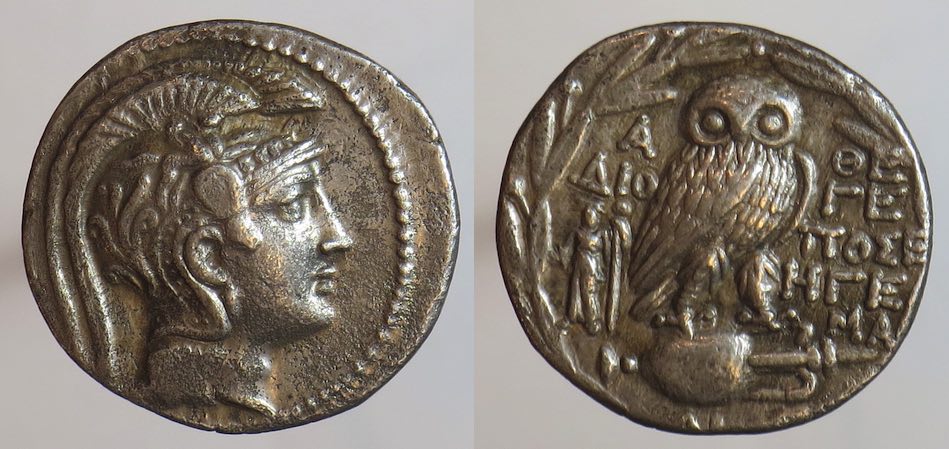 [$549 SOLD] Athens, New Style 129/8 BC [Hoover] tetradrachm, large at 30-28 mm.
New style head of Athena right in triple-crested helmet
owl standing, facing, on horizontal amphora.
AΘE
ΔIO-ΓE
Standing figure ΠOΣEI
HΓE
MA
Thompson 417, page 163, plate 43
Hoover 1602, page 473, magistrate of 129/8
Well-centered [$549 SOLD] (Please compare with prices elsewhere.)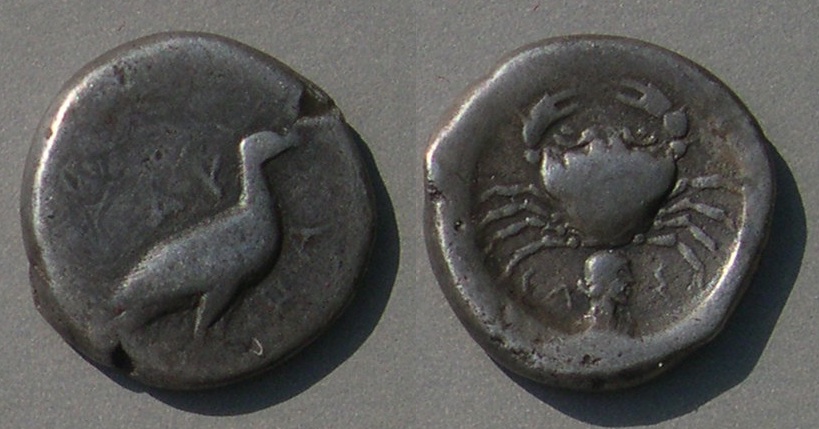 [$395] Akragas (Agrigentum) didrachm
before 413 BC
20 mm. eagle standing right
crab, small human head below, CA Σ
SNG Copenhagen I Sicily 37 (with the head)
Sear Greek 709A variety
With old ANACS photo certificate of authenticity, issued 02-01-85 ("510-472 BC") [$395]
Old. Nice toning. Well-centered.
ex CCE 12-84 lot 1. Ticket included.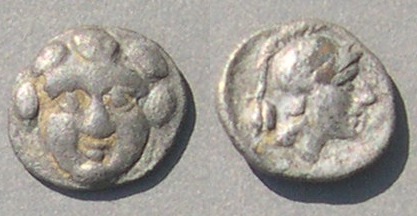 [$59] Selge,, Pisidia. Greek silver fraction.
AR10. 0.67 grams. Obol.
Gorgonion facing/Athena helmeted right
Sear Greek 5473v. SNG Copenhagen Pisidia 246. Nicely centered. [$59]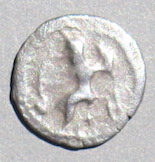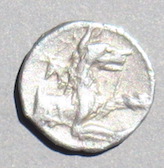 [$45] Cilicia, Tarsos
3/4 obol. 10 mm. Silver.
Seated Baal/forepart of wolf right (or, call it a dog if you love dogs)
Sear 5660 Very nice animal coin with a nice wolf. [$45 SOLD]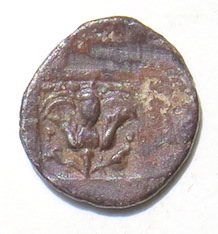 [$44] Rhodos (Rhodes) hemidrachm. 14-13 mm. 1.32 grams.
Radiate head of Heliso almost facing/P - O either side of Rose.
Sear Greek 5065. Klein 553v. [$44]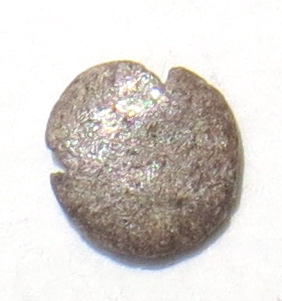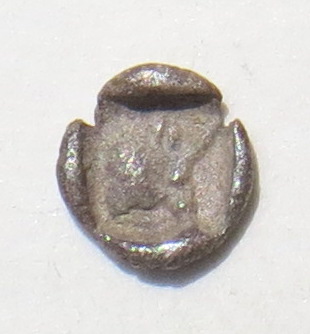 [$17] Tiny Greek fraction. 6 mm. 0.15 grams.
Obverse without design. Reverse with bull's head right.
Uncertain city, probably in Ionia.
This might be the smallest coin in your collection. [$25, reduced to $17]
[$55]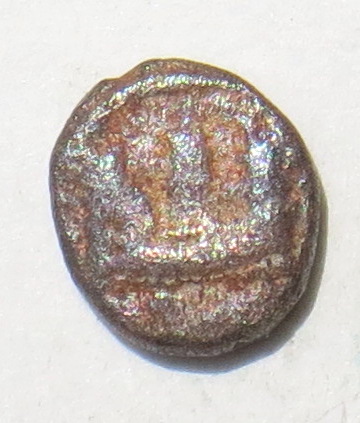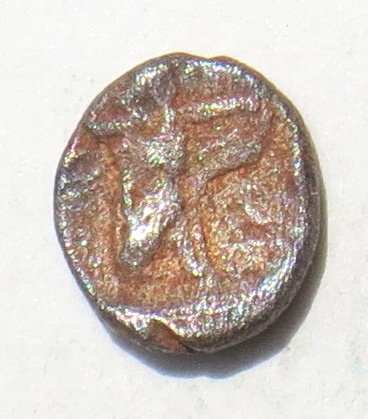 Phoenicia, Sidon. C. 400-384 BC [BM] "c.425-410/7 BC" [Hoover]
City wall with three towers
King standing right pulling bow
Small. AR9-8. 0.72 grams. 1/16 shekel.
Nice rust toning. Well-centered.
BMC Phoenicia, Sidon 15. Hoover 230v. "[$65, reduced to $55]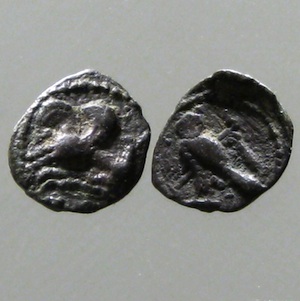 Tyre, 1/16 shekel. 10 mm. 0.47 grams.
hippocamp left over waves/owl with crook and flail behind
Sear Greek 5916. BMC Tyre 43, page 233
SNG Danish 302 [$55, reduced to $39 SOLD]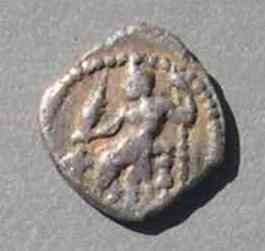 [$49] Tarsos, Cilicia
361-333 BC (Just before Alexander the Great swept through)
AR10. Obol. 0.56 grams.
Baal seated left (the prototype for Zeus seated left on coins of Alexander)
/forepart of wolf right, crescent above and behind (for canine lovers)
nice coin. [$69, reduced to $49]
---

Greek AE (followed by Parthian, etc.)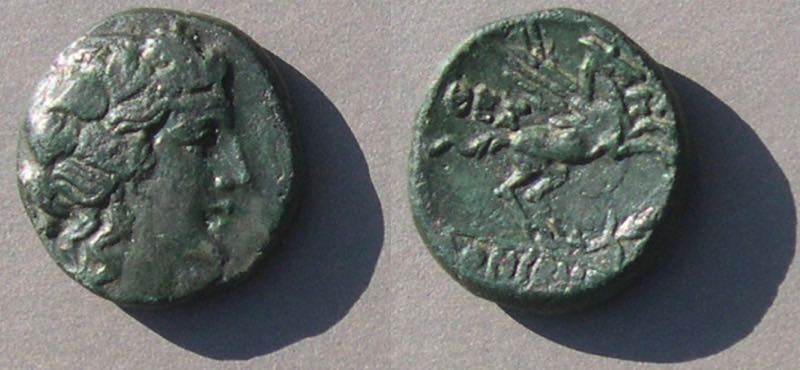 [$95] Thessalonica, Macedonia
Struck 187-31 BC [Lindgren]
18 mm. 7.25 grams.
head of Dionysos right, crowned with vine leaves
Pegasos rearing right, ΘEΣ to left
ear of grain below
[ΣA]ΛONIKHΣ below
Lindgren, Europe 1151 (slightly worse than this one)
High grade. Very pleasing patina. A really nice Greek AE. [$95]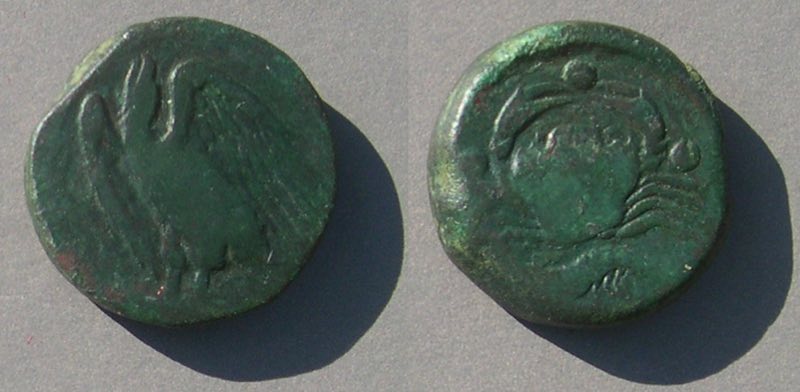 [$125] Akragas, before 406 BC
Thick 21 mm. 11.97 grams.
Screaming eagle on thunderbolt
crab with three dots around (a trias)
McClean 2069. Weber --, SNG Copenhagen I Sicily --, supplement --,
Fitzwilliam --, SNG ANS Part 3 Sicily I -- (cf. 1034 for eagle right on hare)
BMC -- (#101 is the design with 5 pellets), 102 has eagle on hare
Sear Greek 1023 has eagle right on hare.
Pozzi --, GCMFA Boston --, Morecom --, Wheaton --
Nice green color. Scarce or rare variety. Good design [$125]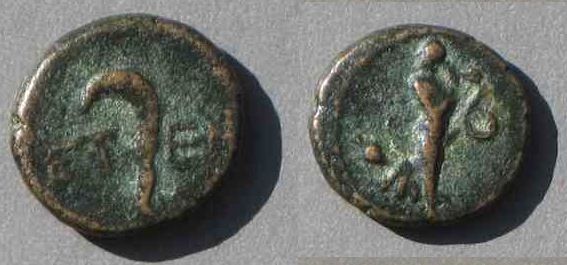 [$25 SOLD] Pisidia, Etenna. 14-13 mm.crooked knife. Female with snake. Sear Greek 5458 variety. SNG Cop VI 146 Var.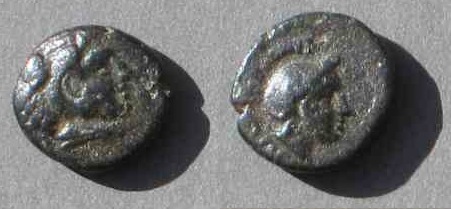 [$39] Pergamon, Mysia. c. 310-284 BC. AE9. head of young Heracles rt./helmeted Athena right. ΠEP below. SG 3958. SNG Danish 323 (this one is better) [Very nice surfaces. High quality for AE, $39]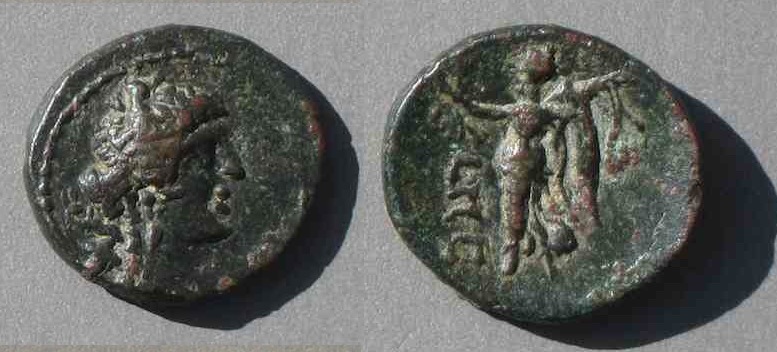 [$125] Chalcis, Coele-Syria. 85-40 BC. AE19-17. Female head right/Victory advancing left, date LΠC. SGI --, SNG Danish. Syria plate 2 has (only) two coins of this place, but not this type. Lindgren III 1222. This coin has no problems. Very rare place and remarkably nice grade. [$125, super quality and very rare]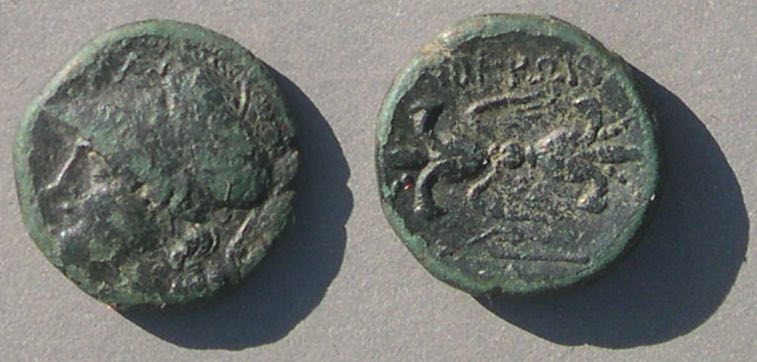 [$69] Lokri-Epizephyrii, Bruttium, c. 300-268 BC
a colony of Corinth
17 mm.
Athena helmeted left
thunderbolt
ΛOKPΩN
filleted thyrsus (Staff of Dionysos or his followers)
Sear Greek --, SNG Copenhagen I Italy 1174
none on vcoins as I write.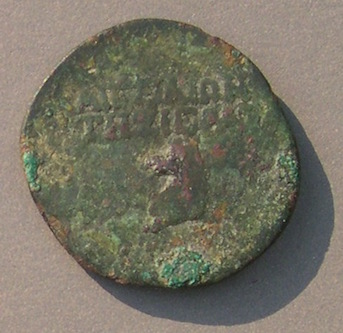 [$25] Aigeai, Cilicia. 22 mm. 6.41 grams.
date uncertain post 164 BC to imperial times
Two countermarks. helmet, Helios (upside down in this orientation, radiate crown evident)
turretted head of Tyche right
legend across, horse's head left AIGEAION THSIEPAS
SNG Cilicia 2291. BMC Cilicia Aegeae 2. [$35, reduced to $25]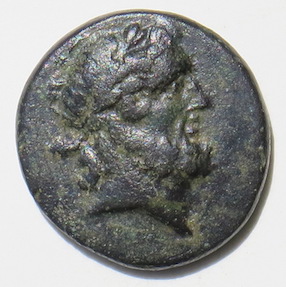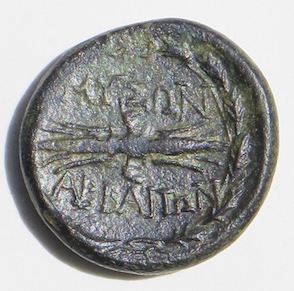 [$43] Abbaitis, Phrygia, 190-133 BC.
21 mm. 7.57 grams.
Possibly struck at Ancyra in Abbaitis.
Head of Zeus rt.
Thunderbolt, MY Σ Ω N above
ABBAIT Ω N below.
Sear Greek 5096. SNG Cop VI 3. BMC Phrygia 1
Ex Berk in 2005. Nice black surface. [$65, reduced to $43 SOLD]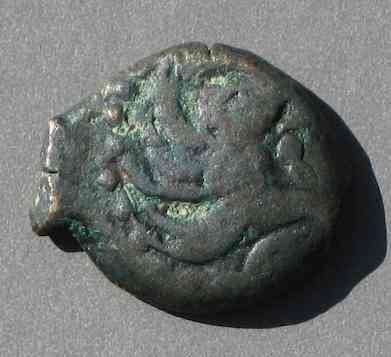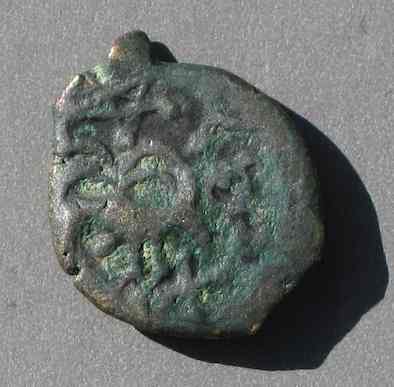 [$35] Gallic. Senones (located just south of Paris)
Very barbarius head right (upswept hair visible at left and puckered lips at right)/ horned animal, 5-pointed star above
De La Tour XXX 7545. AE15-18. [$65, reduced to $35]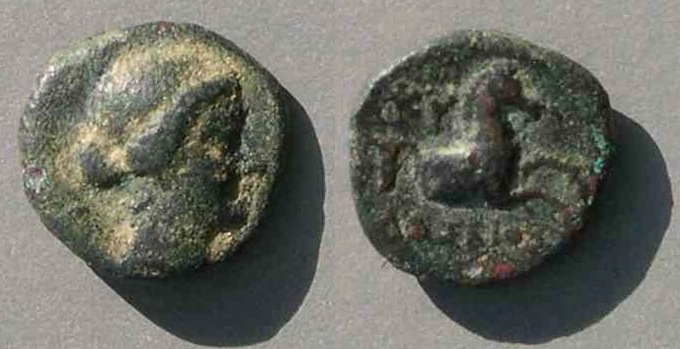 [$25] Kyme, Aeolis. c. 250 BC [according to BMC] AE15. 3.29 grams. BNC Aeolis, Cyme 57. Kyme (Amazon) right/horse forepart right. [$35, reduced to $25]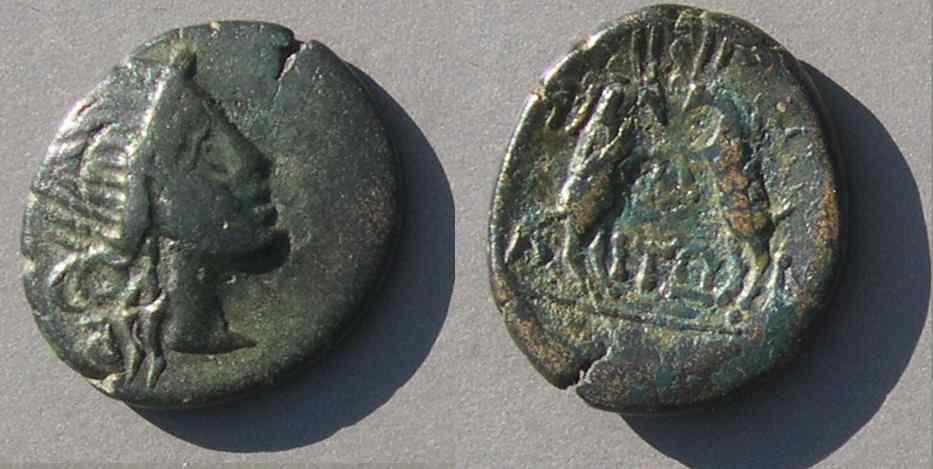 [$49] Amphipolis, Macedonia
AE23-20
Struck 187-31 BC [SNG Danish, volume II, Macedonia 62] or 168-149 BC and later [Sear 1394] Two standing goats! A cool animal type.
Lindgren European 934 nice grade, good detail [$75, reduced to $49]
---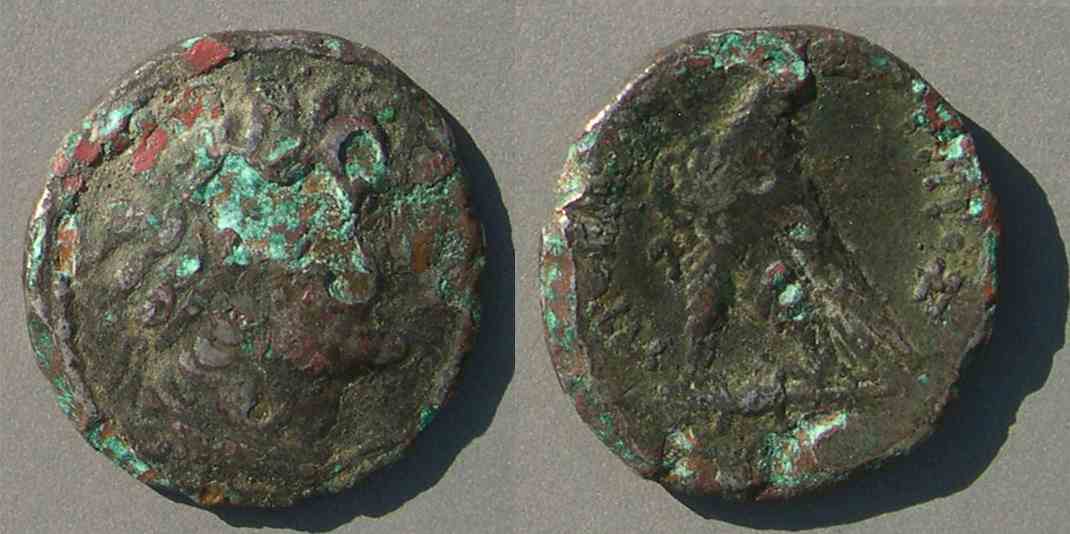 [$13] Ancient fourree of Ptolemy IV (or III), c.221-204 BC. 27 mm. 11.52 grams. Much corrosion.
Sear 7836 (or 7807). Bought in Israel in 1972. Terrible conditon, but very hard to find as a type. It appears to have been made with the foil method in which silver foil was wrapped around a copper flan and then struck. Look at the end of the wrap from 10:00 - 1:00 slightly overlapping. The green is not active in my climate-- it is unchanged since 1972. [$27, reduced to $13]
---

Oriental Greek

Persis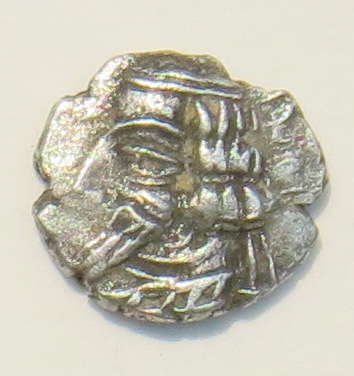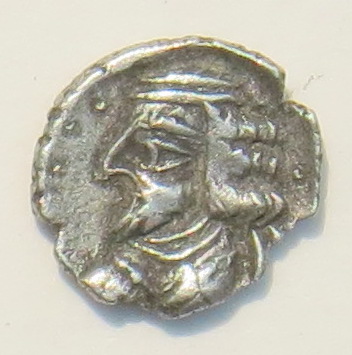 [$42] Persis. Obol. 0.43 grams.
Small coin. 9-8 mm. Two heads!
Pakor I. First half of first century BC.
A two-headed coin. Cute! [$49, reduced to $42]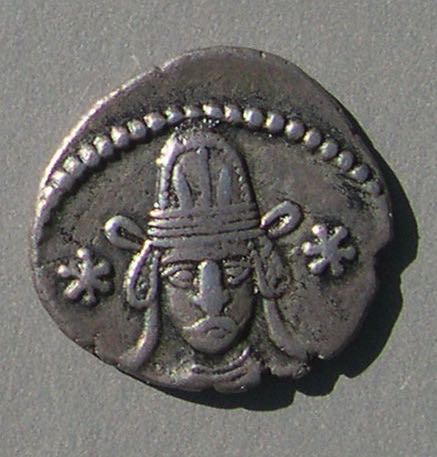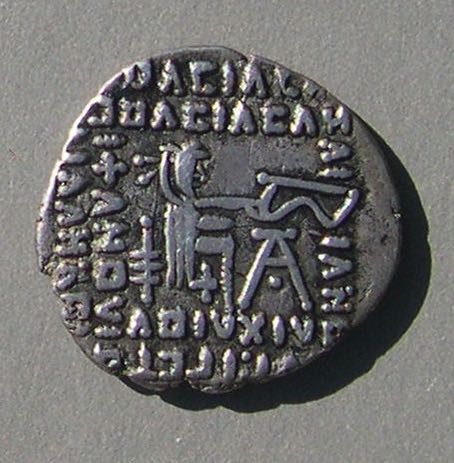 [$145] Parthian. Vonones II. 51 AD.
If you want to know what a Parthian warrior looked like, see this coin.
3.46 grams. Shore 368 [$165, reduced to $145]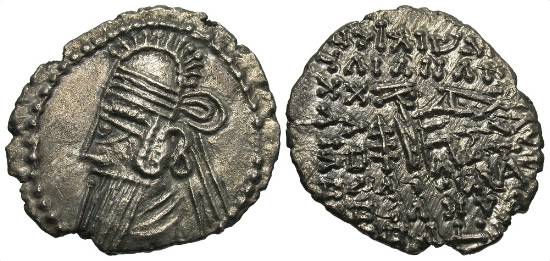 [$65] Parthian Kingdom. Vologases IV. Ca. A.D. 147-191. AR drachm (21 mm, 2.86 g, 12 h). Ekbatana. Diademed bust of Vologases IV left, wearing tiara with earflaps and decorated with hooks / Archer seated right on throne, holding bow; below bow, monogram. Sellwood 84.132; Shore 434. Toned. Light porosity. Extremely fine. Ex Triskeles 19, 274. [$65 SOLD]
---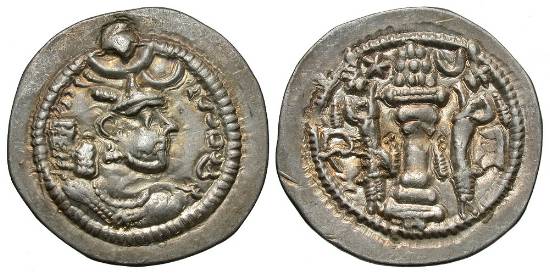 [$65] Sasanian Kingdom. Peroz I. A.D. 457/9-484. AR drachm (27 mm, 3.87 g, 3 h). AW (Ohrmazd-Ardaxsir). Crowned bust of Peroz I right, crescent on forehead / Fire altar with attendants and ribbon, star and crescent flanking flames. Göbl III/1. Lightly toned. Good very fine [$65]
---
Next page: Byzantine coins.