This page: Byzantine, Medieval, and Arabic coins for sale (and a very few "world" coins)
Go to: Newest, Byzantine in chronological order, Vandal,
Arabic, and Medieval (including Armenian).
Byzantine coins from the Cherson mint.
Late Byzantine.
World coins.

TERMS: Prices are in brackets: [$xx]. I accept PayPal. Postage in the US is $2 for orders up to $25, 3 for orders up to $50, $4 for orders up to $100, and an additional $1 for each hundred thereafter. Usually an additional $3 to other countries--ask.) More-detailed terms of sale are here.
After we have agreed by e-mail that you have gotten the coin, you can pay by logging into your account and sending PayPal payment to my e-mail address.
To order, or to ask any questions, e-mail me, Warren, at:


Purple marks items that have sold and are no longer available.

Most are in chronological order (except sometimes at the very top). Skip down to
Anastasius, Justin, Justinian, Justin II, Maurice, Heraclius, Constans II, Constantine IV, late Byzantine (anonymous and later)

Most recent:
May 18: Three new coins at the top including an excellent Carthage piece of Justin II. Prices reduced on most other coins on this page. [Almost all are far below starting prices on eBay offerings (most Byzantine coins are greatly overpriced on eBay)]
May 7: Two at the top including a nice Justinian from Theopolis.
March 25: tiny Vandal piece, at the tip.
March 24: 1/3 siliqua near the top. Some prices reduced. Many sold coins removed. Many lower-value coins moved to the "inexpensive"page. (This should make this "Byzantine" page more fun to browse because the average coin on it will be more interesting.)

Some special coins: A great rarity: Maurice "H" from Cherson with countermark of Heraclius and high grade "Δ" from Cherson, an electrum Theodore I of Nicaea, a 30-nummia of Heraclius.
Newest: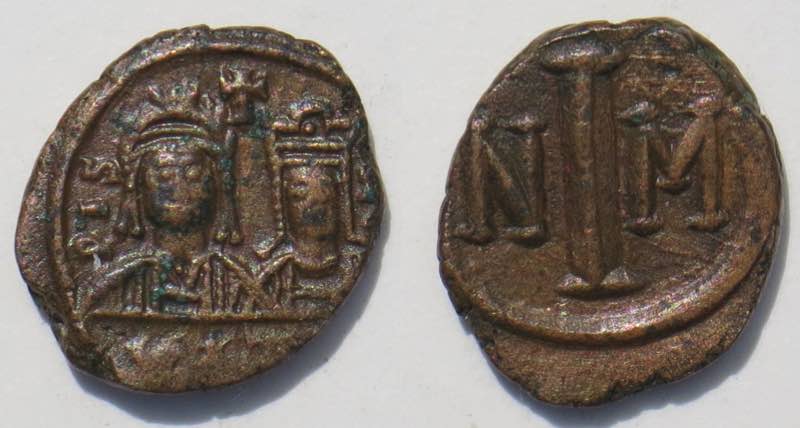 Justin II and Sophia
19-16 mm. 4.25 grams.
Fcing busts
VITA belwo
N I M
Sturck at Carthage
Sear 400
DO 200 (the one on offer is better on both sides except for clarity of "VITA")
[$79]

Justin II
5-nummia
31-11 mm. 1.80 grams.
monogram/E+
Sear 364
[$8]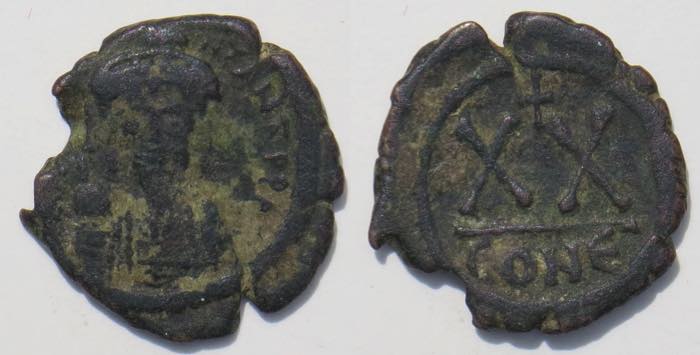 Tiberius II, 578-582
20 mm. 6.05 grams.
Sear 434 with officina in Sear but not in DOC.
[$23] Compare to the ones over $80 on vcoins.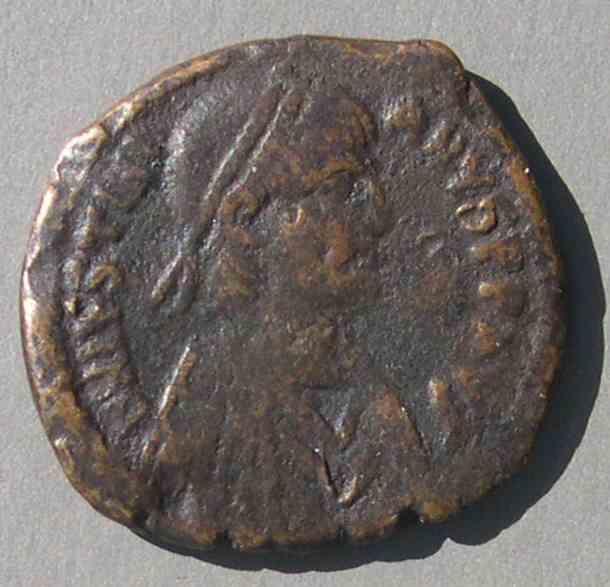 Justinian 527-565
[$35]
Sear 216
40-nummia.
32-30 mm. 14.12 grams.
Profile bust.
+THEUP [weak]
after the name changed from Antioch to Theopolis
(city of God) because of major earthquakes.
Struck 529-531 [Hahn]
(That is, this profile bust was discontinued in year 13,
which began the facing bust series at Antioch).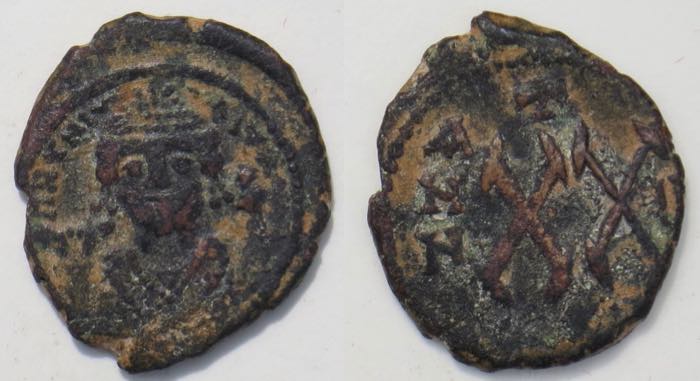 Maurice, 582-602
20-nummia
Sear 534. DO 178
ANNO XX U
Year U = 5, struck 586/7.
Good bust with mappa and eagle-tipped scepter [$19]

10 mm. Bust left, nose near the edge of the flan. (more visible onthe coin itself) I I I behind.
Cross is crude wreath.
Some think these are Vandal. This one was found in a group with coins certainly from Carthage,
so the Vandal attribution has that to recommend it.
[$18 SOLD]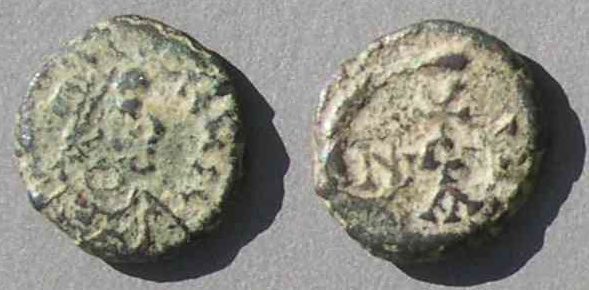 Justinian at Antioch. Pentanummia
13 mm. 1.98 grams
Monogram on reverse
Sear 245
Nice earthen cover.
MIBE 163. Compare on vcoins. [$35]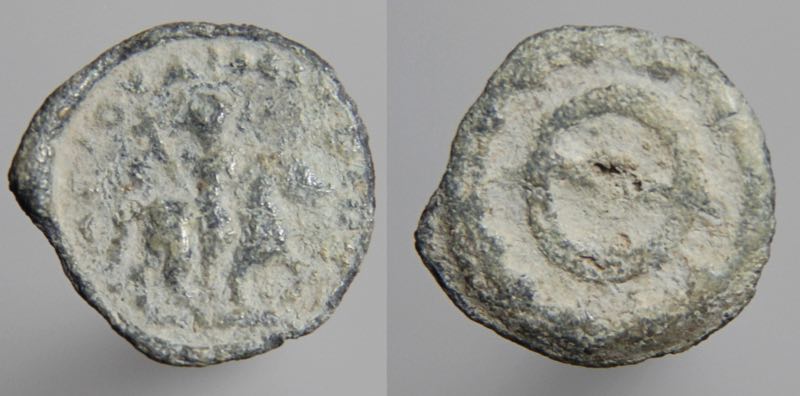 I don't know what this is.
Lead. 20 mm. 4.58 grams.
horseman right with long cross
line through a circle? A phi?
Some letters (Greek?) on the horseman side.
A nice puzzle. [$25, reduced to $21]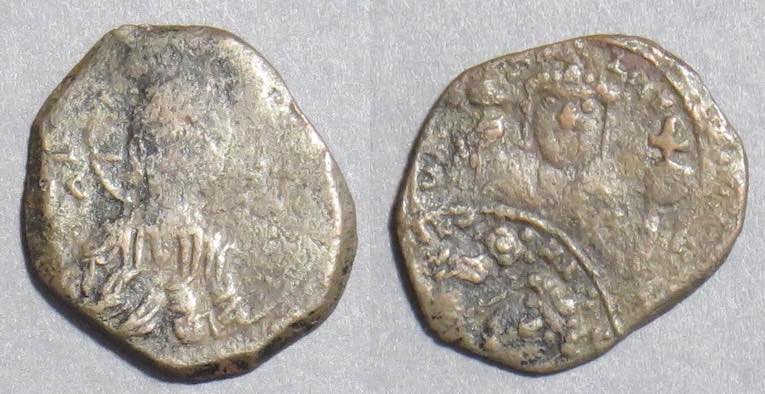 Alexius I, tetarteron, 1081-1118
20-17 mm.
Bust of Christ facing
Emperor struck twice, once very off-center with head tilted at 6:00.
Holding labarum and globus criciger.
Sear Byzantine 1920
An interesting example of a minting process error. [$25, reduced to $21 SOLD]

<-- [See the second head?]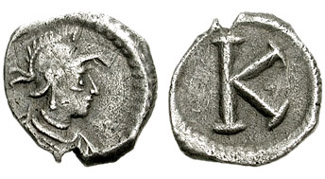 [$149] After 330 AD. AR Third-Siliqua (14mm, 1.20 gm). Constantinople mint. Helmeted and draped bust of Constantinopolis right / Large K. Bendall 8c; Kent pl. 13, 28.
Simon Bendall, in "Anonymous Silver Coinage of the 4th to 6th Centuries AD," RN 2002, provides a numismatic and historiographic basis for dating this anonymous siliqua to the decades after 530 AD.
ex CNG e82 lot 231 in 2004, with ticket.
---

By emperor, in chronological order:

Anastasisus, 491-518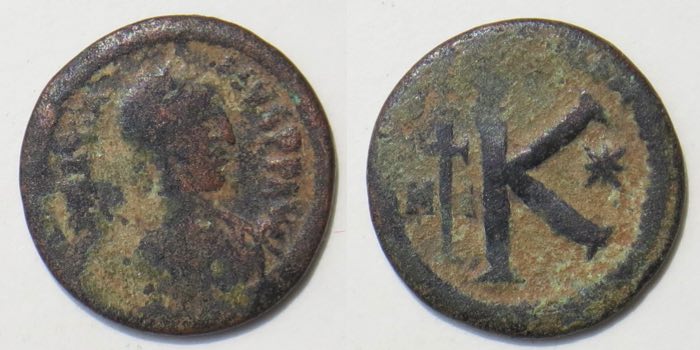 Anastasius, 491-518
19 mm. "small module"
half-follis,
cross, NI across, K, *
Sear 41 from Nicomedia.
[$29, reduced to $25]
vcoins has no coins at all of Anastasius from Nicomedia.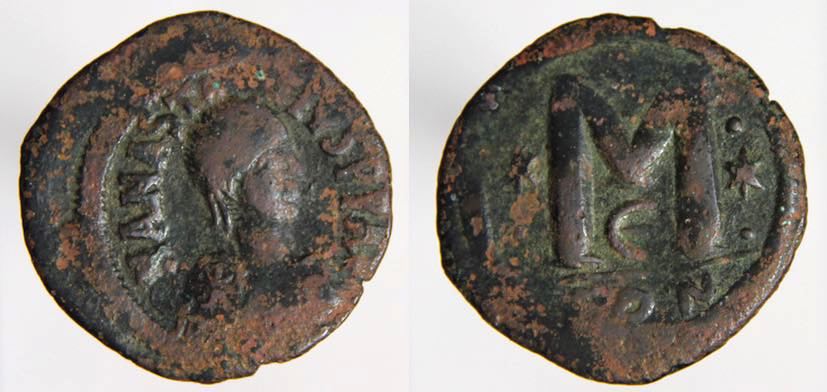 Anastasius, 491-518
Large reformed follis.
To right of the M is • * •
which is unusual.
Sear 21. Big, nice coin, with unusual • * • [$35, reduced to $29]
compare to this recent eBay coin:
https://www.ebay.com/itm/LANZ-BYZANTINE-EMPIRE-ANASTASIUS-FOLLIS-STAR-PELLET-CONSTANTINOPLE-AE-TEG2092/302494194338?hash=item466e0f1aa2:g:Kv0AAOSw8UZZ6OMm
---
[see the "inexpensive" page]
Justin I and Justinian, Joint Reign: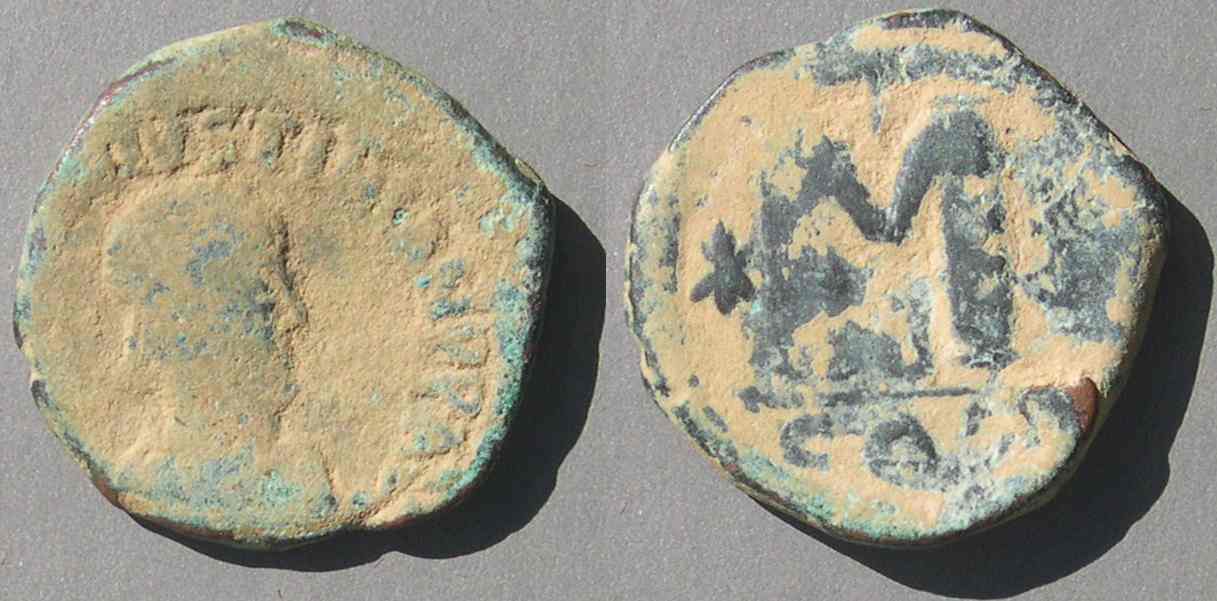 Justin I and Justinian, their short joint reign. Rare. Sear 125.
Too bad all the letters of "JVSTIN" are missing, but the spacing of the rest makes it clear the type had them. [$69, reduced to $45, reduced to $37]
Could be cleaned of dirt, but I don't clean coins.]
[Be careful. Some coins attributed to "Justin and Justinian" are actually just Justinian alone and reading the legend would tell the seller that.]
---

Justinian, 527-565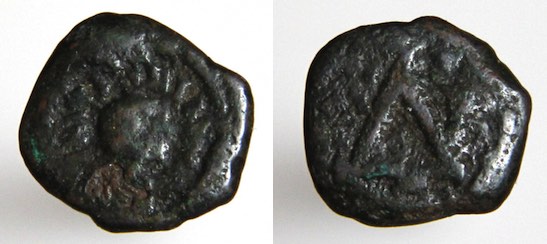 [$129] Justinian, 527-565.
Rare denomination: 4-nummia, Delta. Large Δ
14-12 mm.
Delta. A and P either side.
Sear 194-5.
This one is better than the one which sold Nov. 14, 2017 here:
http://www.vauctions.com/APViewItem.asp?ID=38393
for over $350.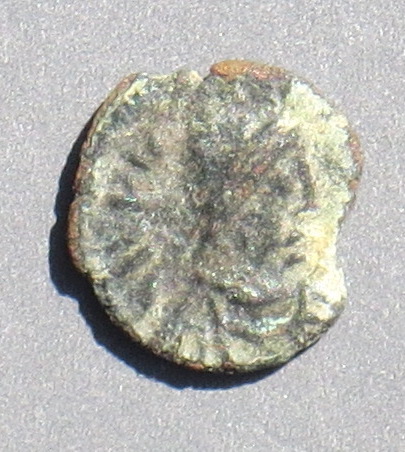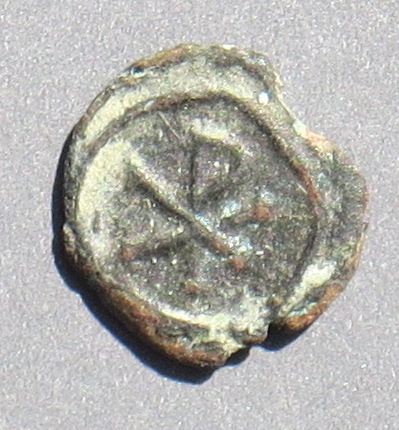 [$19] Justinian, 527-565, at Carthage.
Sear 283, no photo.
Tiny coin. 9 mm. 0.39 grams. Good head. Good chi-rho. [$29, reduced to $19]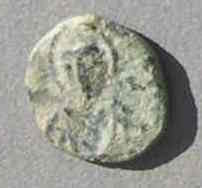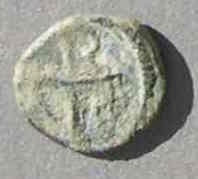 [$33] Justinian 1-nummis, small 0.36 grams. AE nummis.
Sear 342. Close to the end of this denomination.
Rare, Carthage mint according to Hahn
Please compare on vcoins [$59, reduced to $49, reduced to $33]
Note that the obverse has nose and eye detail and is well-centered.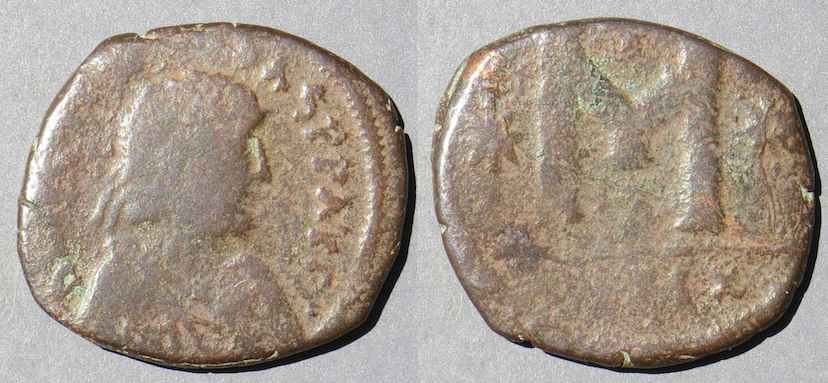 Byzantine empire. Justinian (527-565). Struck the first year only. Mintmark ANTIX, at Antioch before the earthquake of 528.
Sear 213. Scarce mintmark and very expensive in higher grade. [$37, a rare mintmark for Justinian, reduced to $33]
For the story of this mint period, see my page: http://esty.ancients.info/interesting/Justinian.html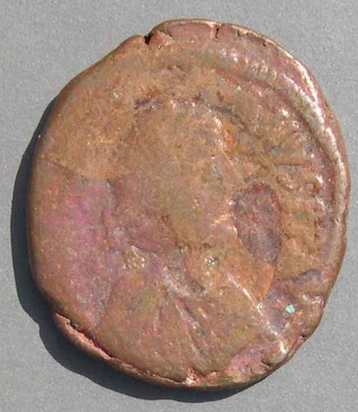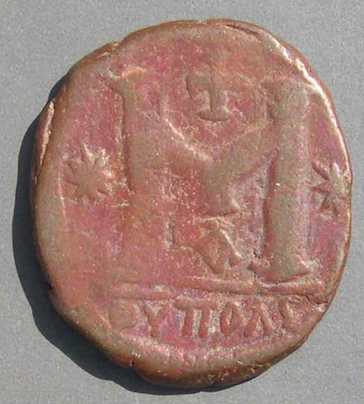 Justinian, 40 nummia, Antioch as Theoupolis. Mint mark spelled out in Greek. Sear Byz 217 [$35, reduced to $25]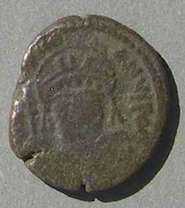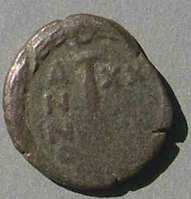 Justinian at Ravenna. Rare mint. Sear 326. 10-nummia. 16 mm. 3.20 grams. Struck year 20-28. DO 347-349. Sear 326. [$21, reduced to $15]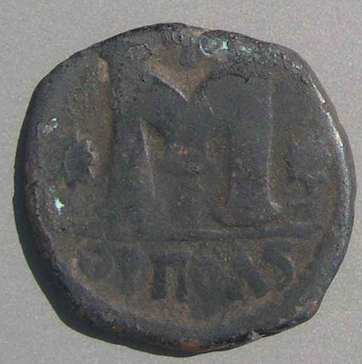 Justinian I, 527-565 AD. Neat Greek mintmark for Theopolis = Antioch. Sear Byz 217 [$19, reduced to $12]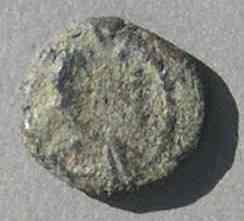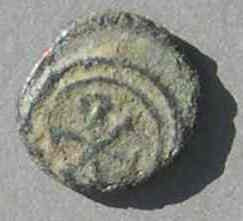 [$29] Justinian 1-nummis, small, 0.94 grams. 10 mm.
Sear 283.
Facing bust
Rare, Carthage mint. Chi-rho in double circle.
Not any on vcoins as I write this [$55, reduced to $33, reduced to $21]

[$9] Justinian, 527-565. 16-nummia denomination only at Thessalonica: AISP
Sear 178. 23 mm. [$18, reduced to $9]
Vandal

, time of Justinian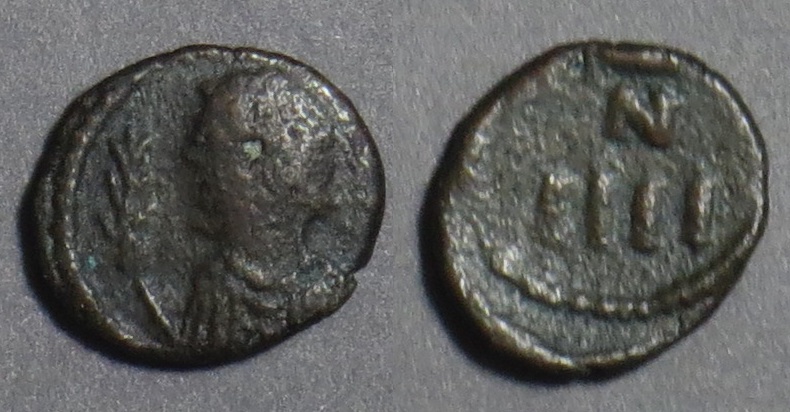 Vandal
. Municipal of Carthage
N (with bar above)/IIII
Bust left, holding palm branch
AE11-10.
MEC 51.
[$69] Compares favorably to the $170 coins on vcoins.
---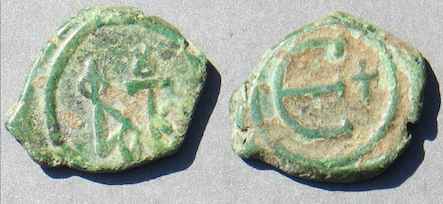 Justin II, 565-578. 18-14 mm.
Sear 385. Lovely green patina. Excellent for type [$29, reduced to $15]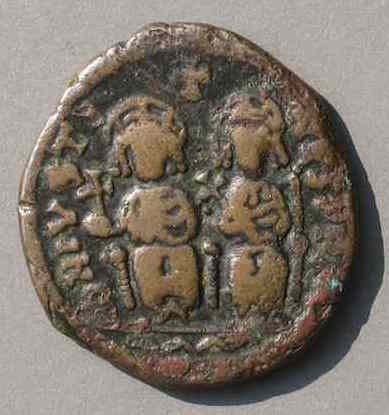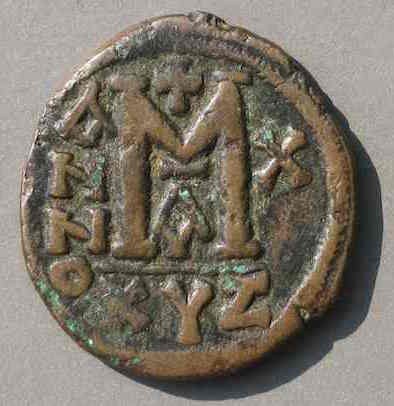 Justin II and Sophia, 565-578. Sear 372. Cyzicus, year 10. Very nice surfaces. Bold KYZ mintmark. Very pleasing.
Bold [$45, reduced to $39]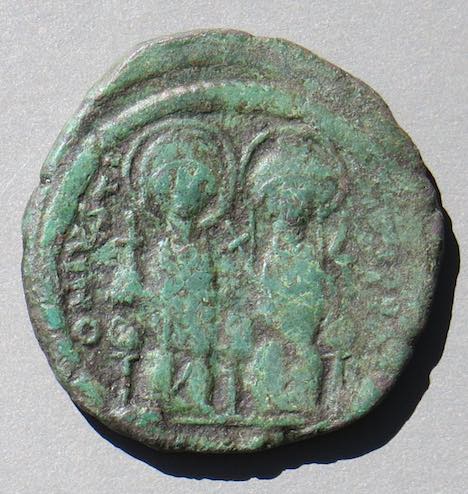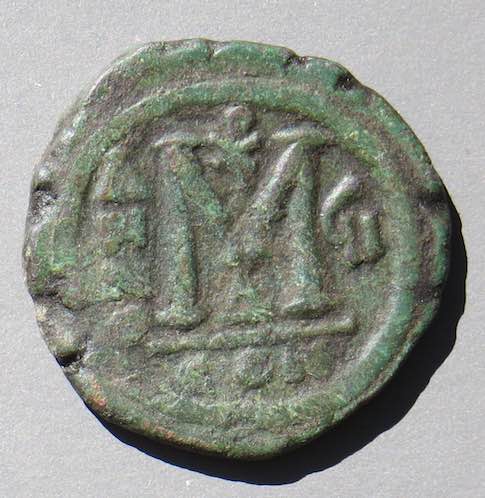 Justin II and Sophia, 565-578.
Year 7, CONstantinople.
Sear 360. Nice surfaces with green patina.
[$19, reduced to $17]
---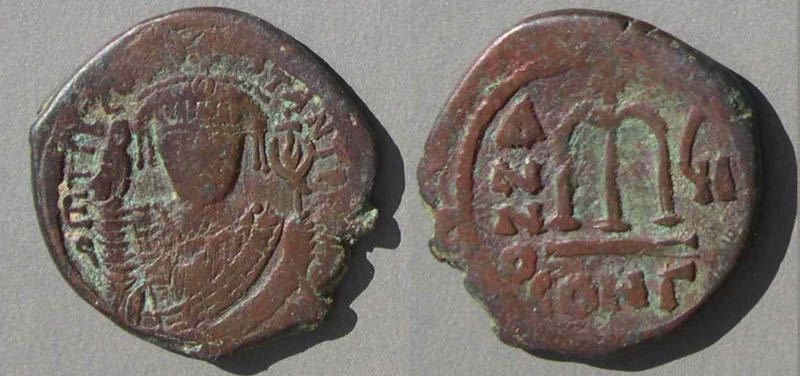 Tiberius II, 578-582
29 mm.
Struck year 7
at Constantinople
Tiberius holding mappa and eagle-tipped scepter.
Sear 430. DO 13c, plate LXI
ex S&S Feb. 1983, list 44, lot 227.
[$33, reduced to $21]
---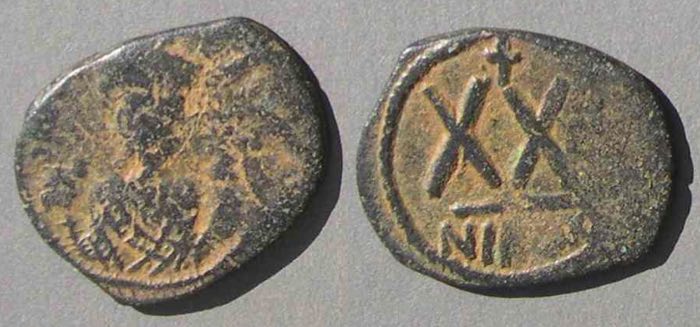 Phocas, 602-610
XX nummia, struck at Nicomedia
Sear 663 [$19, reduced to $9]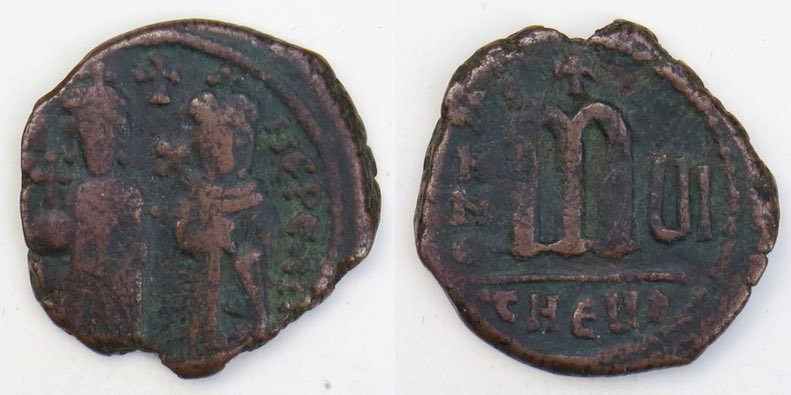 Phocas (602-610) and Leontia
THEUP' for Theopolis = Antioch.
25 mm. 10.17 grams.
Sear Byzantine 671. DO 88.1 page 188.
[$27, reduced to $21] Compare on vcoins.
---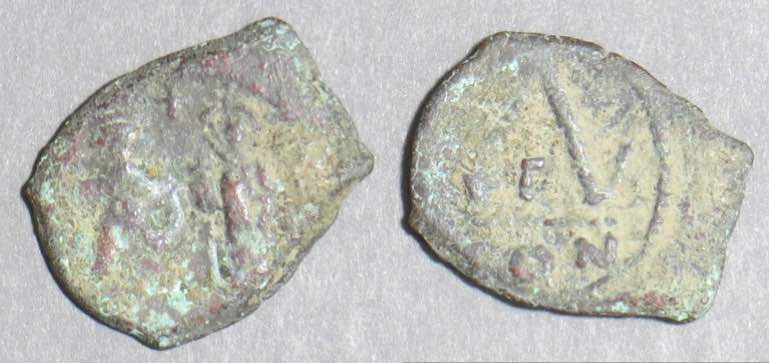 Rare denomination.
Heraclius, rare 30-nummia denomination (a big Λ for "30") CON mint
Two standing figures facing, reverse with Gamma officina
Sear Byzantine 812 [$29, reduced to $22]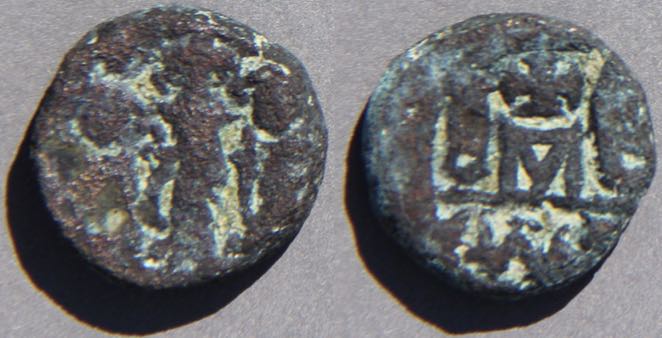 Heraclius, 610-641
Alexandria mint
Three figures standing
I B either side of M with + above
Sear Byzantine 861
Rough surface. [All $50 or more on vcoins. This one $17]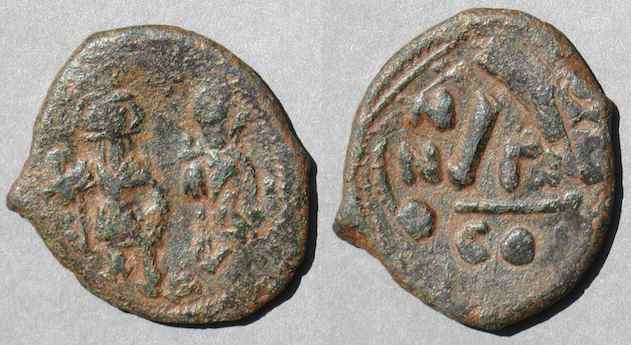 Rare denomination.

[$45] Heraclius (610-641) 30-nummia. 30!
26-23 mm. 7.35 grams.
The unusual 30-nummia with a big Lambda for 30. Sear 812. Dumbarton Oaks has three photos, all comparable coins. [$69, reduced to $45] You may prefer a nicer one, but look around and you will see this is nice for type!
Please compare prices elsewhere!
---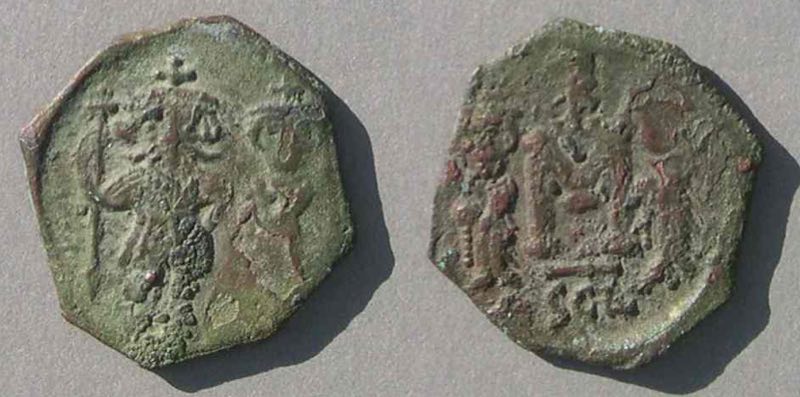 [$25] Constans II, 641-668
Struck in Sicily (Syracuse)
M with figures either side, monogram above
SCL below. Sear 1110
Cute figure of Constans II with his very large mustache. [$25]
---
---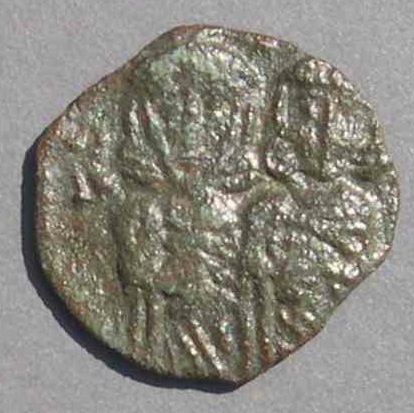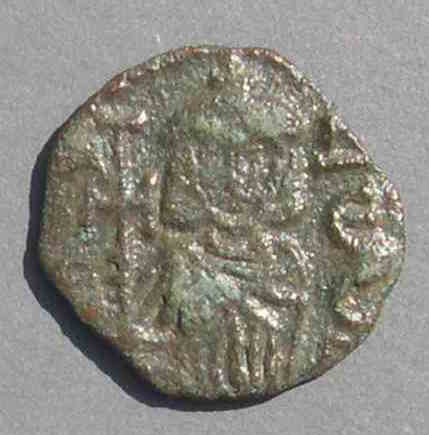 [$14] Constantine V and Leo IV 771-775, /Leo III Sear Byz 1569 [$29, reduced to $24, reduced to $14]
---

Leo V, 813-820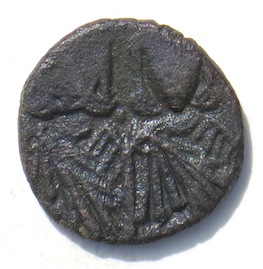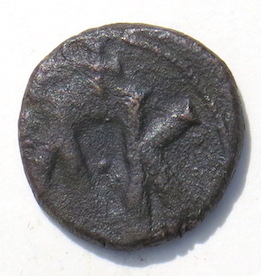 [$13] Leo V, 813-820
20 mm. 5.40 grams.
Sear 1635. Lambda for Leo and K for Constantine.
[$22, reduced to $19, reduced to $13]
---

Michael II, 820-829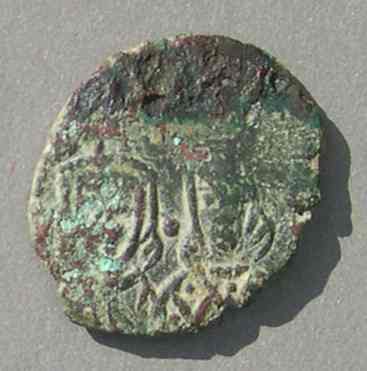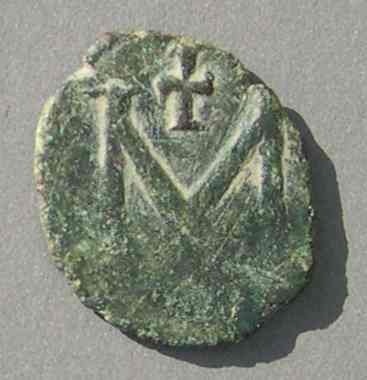 [$15] Michael II, the Amorian. 820-829.
AE 18-15. 2.37 grams.
Two busts facing, M with cross above, theta below
Sear 1652. DO 21, page 404, plate XXI [$29, reduced to $21, Reduced to $15]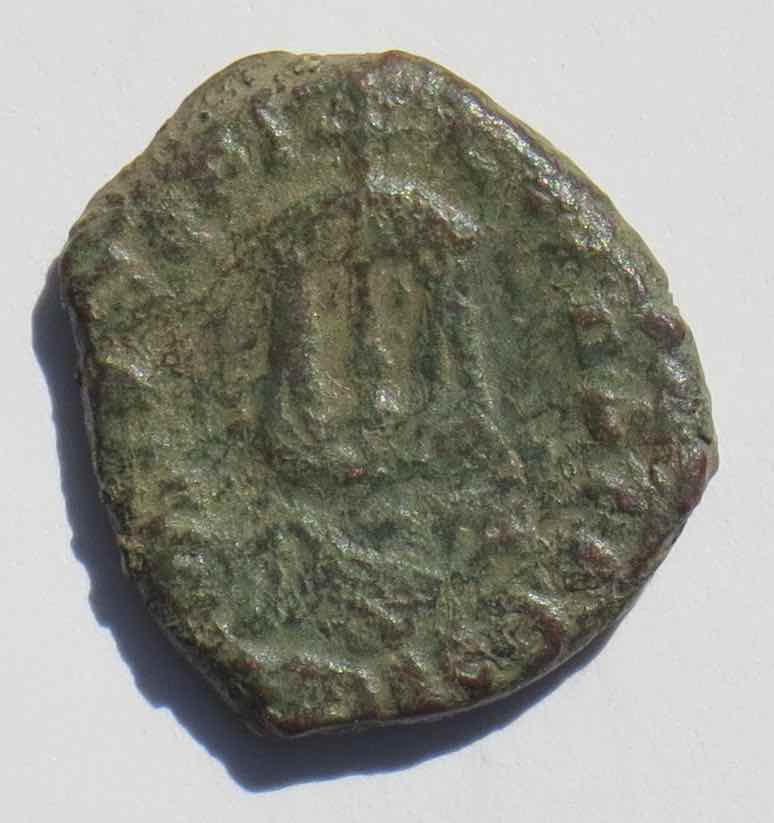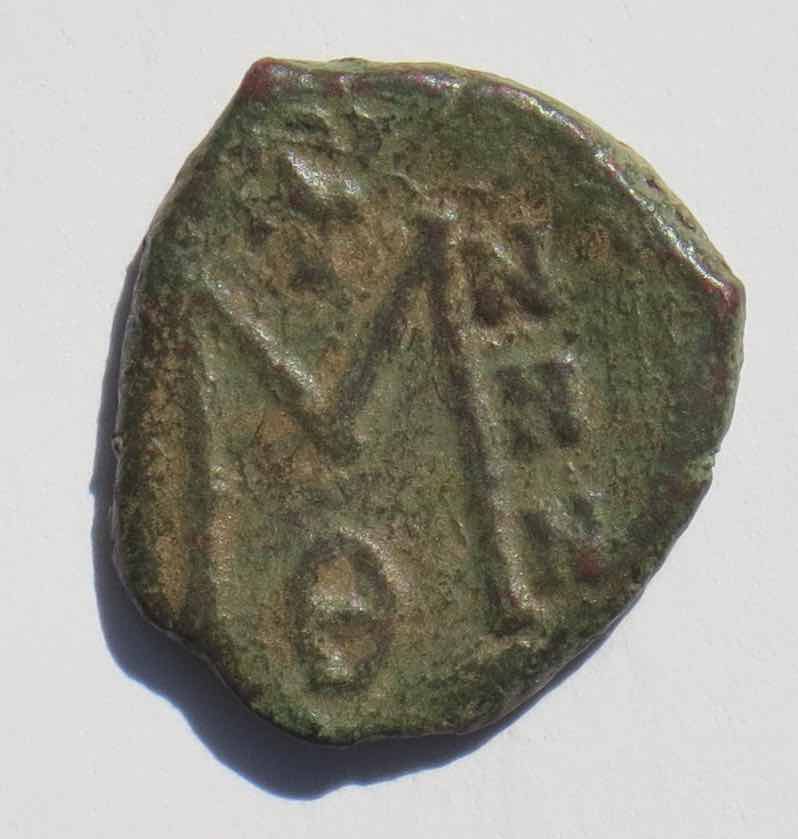 [$16] Theophilus 829-842
Sear 1681.
Note that this type comes in various sizes. This one is 21 mm by 18 mm, larger than some and smaller than some. Nice surfaces. [$25, reduced to $19, reduced to $16]. Cute! Good surfaces.
---

Byzantine Mint of Cherson, was in Ukraine, now annexed by Russia.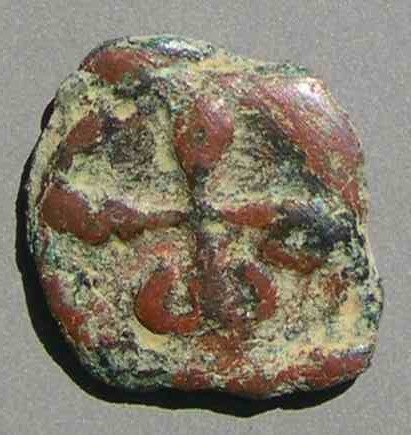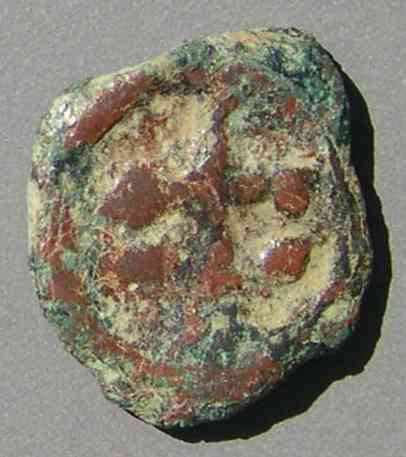 Romanus I, 920-944.
Mint of Cherson, in the Crimea. Cast. Untouched nice reddish and earthen patina.
AE18. 2.29 grams.
Sear Byz 1775
Monogram of Romanus. Esty type 28. [$37] Nothing like it below $88 elsewhere as I write.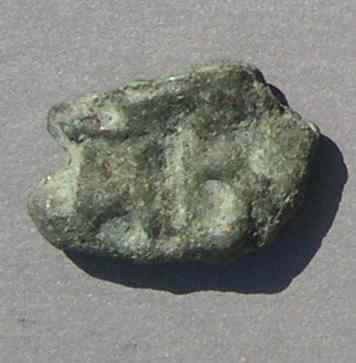 Michael III, the Drunkard. 842-867 AD.
AE15-10, a small coin.
MB / ΠX (Polis Cherson) Cherson mint.
Sear Byzantine 1699 (no photo), Berk 903. DO III.I 15
Esty type E7. Scarce.
Michael III is a tough emperor to get. None in AE on vcoins or MA-Shops as I write. [$35, reduced to $23]
---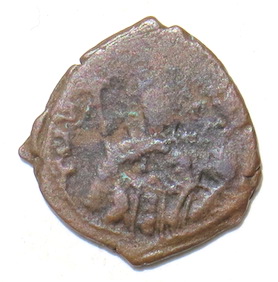 Alexius I, 1081-1118
20-19 mm. 2.75 grams.
bust facing/jeweled cross, C Phi M Delta in angles
Sear 1931. DO 40 Thessalonica. [$18, reduced to $14]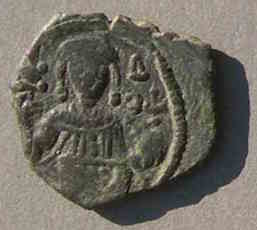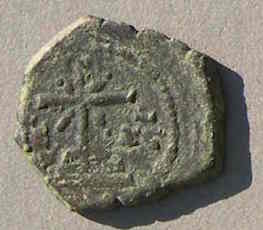 Manuel I, 1143-1180
17 mm. half-tetarteron
Half length figure of Manuel facing, Cross on steps, IC XC
Sear 1982. DO Manuel I 25.
Better than most. [$12, reduced to $10]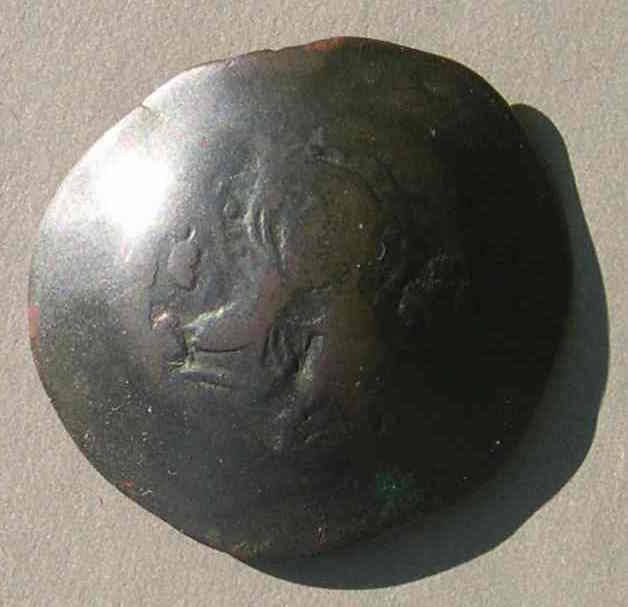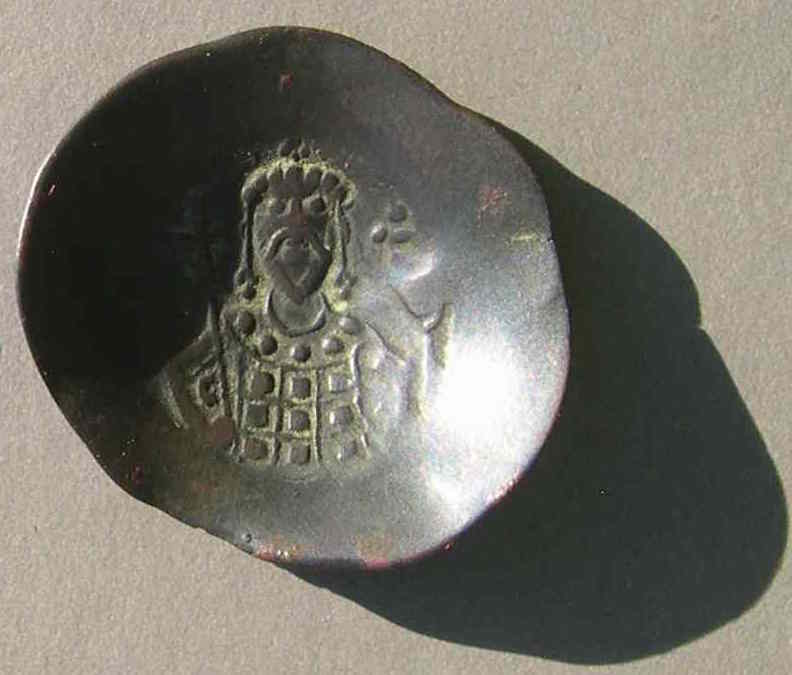 John II, 1118-1143
30-28 mm.
Sear 1944. Even black with nice imperial portrait. [$25, reduced to $13]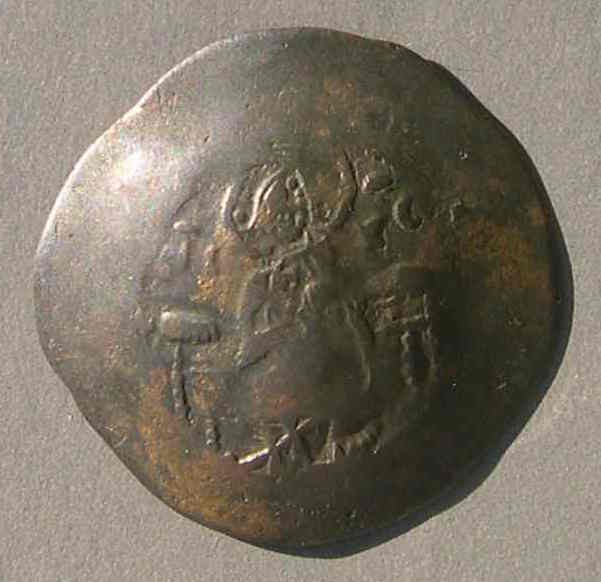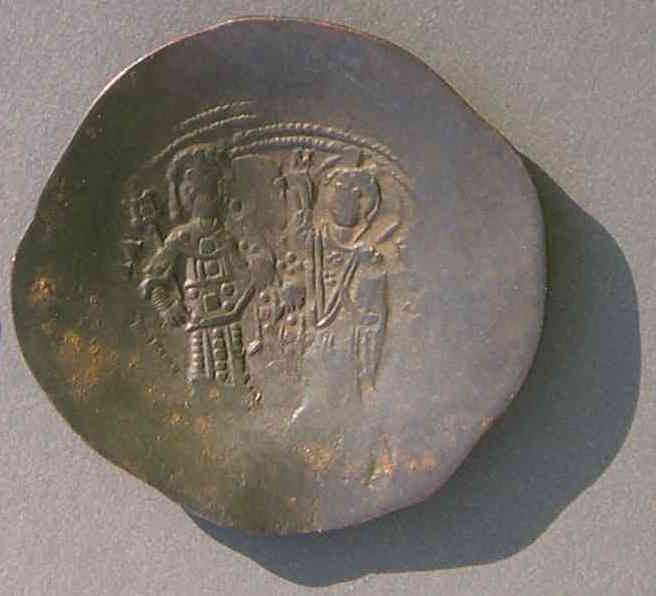 Manuel I, 1143-1180
30-29 mm.
Sear 1966 [$18, reduced to $11]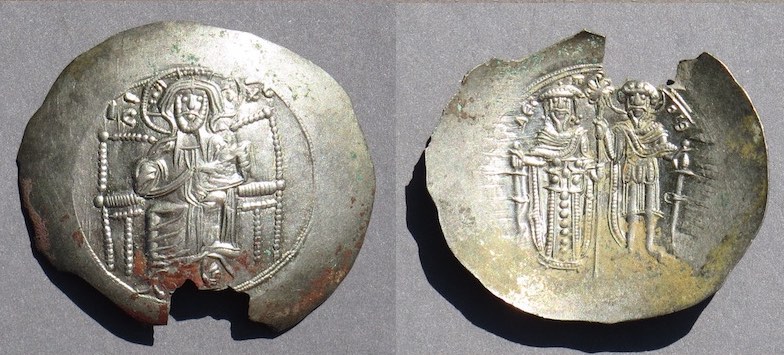 [$245 + $8 (I will ship it well-packed!), reduced to $225+$8] Theodore I, Empire of Nicaea (in Sear's Byzantine Coins as 2064)
Electrum 35-30 mm. Chipped. 3.65 grams.
Christ seated facing
Emperor on left and St. Theodore on the right.
Sear 2064. DO IV.II Theodore I 2.
I bought it already chipped. Apparently someone in the past was not careful with it. The picture reproduces the color well on my screen. It is electrum, but pale like silver. Christ seated/Full-length figure of emperor on left an St. Theodore on the right. A gorgeous strike. Fortunately the chip does not affect any of the design. [There is nothing remotely like it on vcoins and the one on MA-Shops as I write is very badly flan-cracked (Theirs is about to break in half) and even so it is priced over $700. Get this bargain coin! [$245 + $8 (I will ship it well-packed!)]
---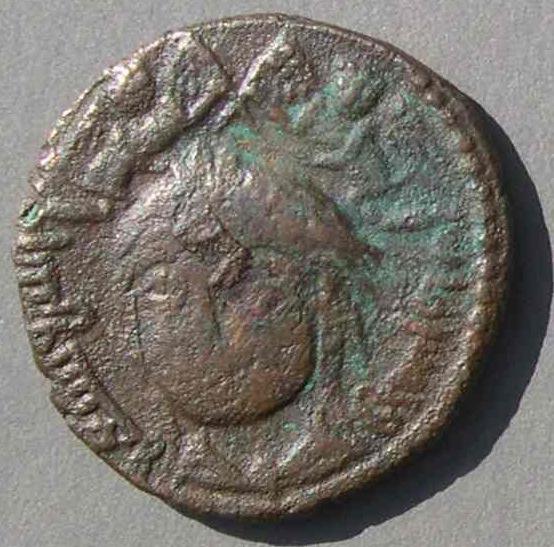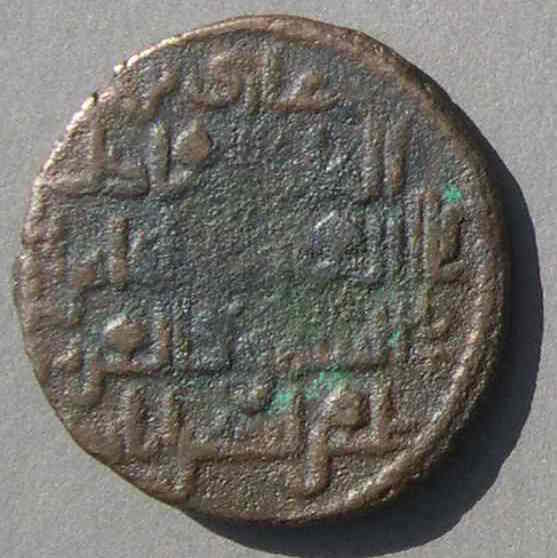 Turkoman Figural bronze. Foes of the Crusaders
Left: Zangids. Qutb-al-Din Mawdud, 544-564 AH 1149-1169 AD. S/S 59. Bought in Israel in 1972. 29 mm. [$35, reduced to $23, reduced to $21]
---


Arab-Byzantine all sold
---
The next few are Armenian medieval coins, attributed according to ACM = Armenian Coins and their Values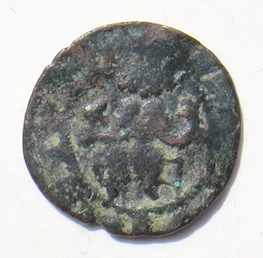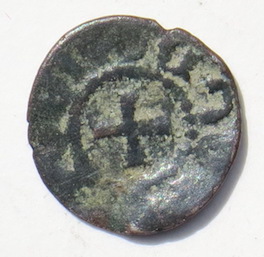 Armenia, Oshin (?) 1308-1320
ACV 448-9
15 mm. AE Pogh. [$8, reduced to $3]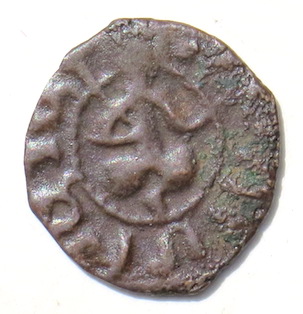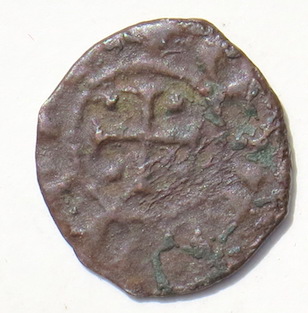 Hetoum II, 1289-1306
ACV 404
20-19 mm. AE. [$14, reduced to $6]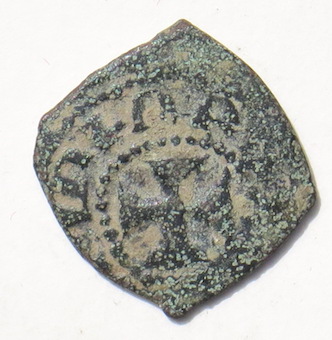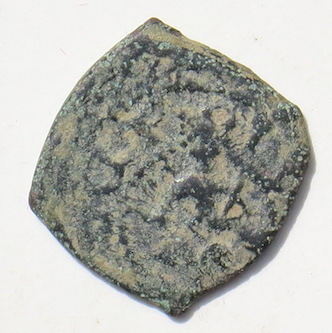 Levon III, 1301-3107
ACV 433v
AE 21. Kardez. [$14, reduced to $5]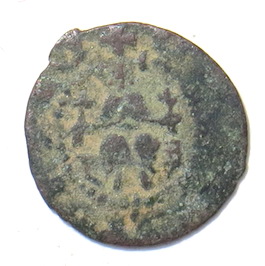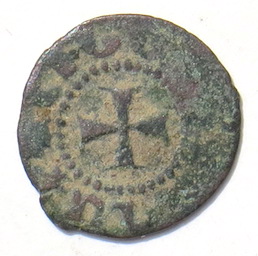 Levon IV, 1320-3142, AE pogh. 17 mm
ACV 462
King seated facing/cross [$19, reduced to $16, reduced to $12] Please compare to the $55 examples on vcoins.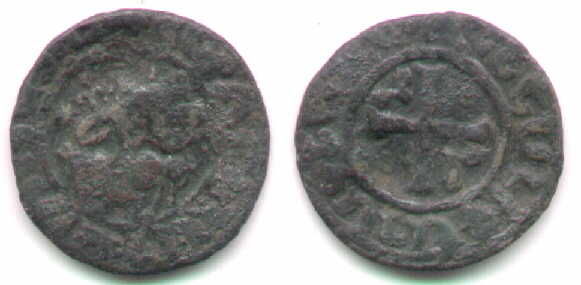 Armenian. AE28. Hetom I, Plant 104c. Seated king/cross with Vs in quadrants.
Rare. LARGE. 28 mm. Not in Armenian Coins and Their Values. (A minor variety) Cf. 351-8 because of the Vs in the quadrants. [$15, reduced to $9 (for an unlisted variety!)]
---


England
all sold

---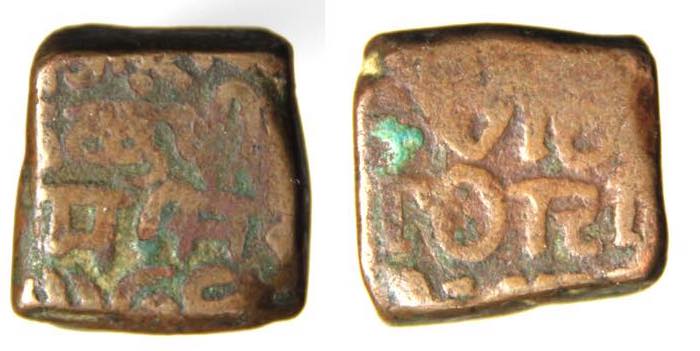 Bundi, Indian Princely State, 1 Paisa, 1872 (not ancient)
VICTORI
17-16 mm and very thick at 6 mm. 17.42 grams.
Odd-shaped coin! [$10 + $3 shipping in the US--it is too thick for a normal envelope]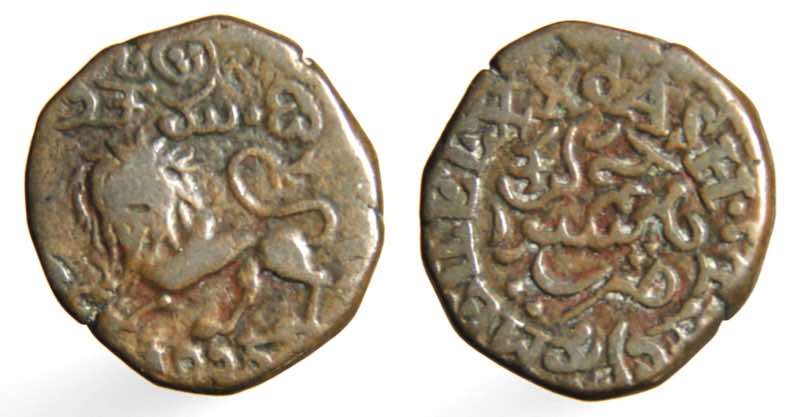 Mysore, Indian State, 1835 (not ancient), 20 cash
20 mm. 8.78 grams.
Lion left. That's pretty neat!
KM 193.2
[$13 SOLD]
Mexico!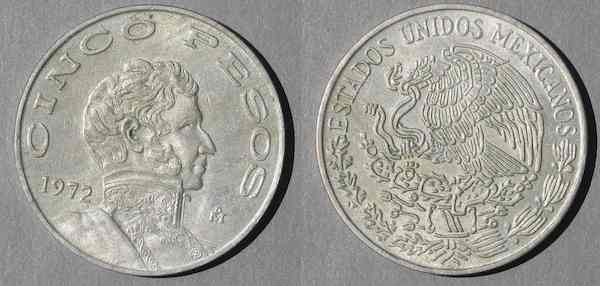 Mexico. 1972. 5 pesos. KM 472 [$3]
---
Want to buy or sell ancient coins? Join the ACM, a free email list!
For Info, click