This page: Byzantine, Medieval, and Arabic coins for sale (and a very few "world" coins)
Go to: Newest, Byzantine in chronological order, Anonymous folles, Vandal and Ostrogothic,
Arabic Turkoman bronze, and Medieval (including Armenian).
Byzantine coins from the Cherson mint.
Late Byzantine.
World coins.

TERMS: Prices are in brackets: [$xx]. I accept PayPal. Postage in the US is $2 for orders up to $25, 3 for orders up to $50, $4 for orders up to $100, and an additional $1 for each hundred thereafter. Usually an additional $3 to other countries--ask.) More-detailed terms of sale are here.
After we have agreed by e-mail that you have gotten the coin, you can pay by logging into your account and sending PayPal payment to my e-mail address.
To order, or to ask any questions, e-mail me, Warren, at:


Purple marks items that have sold and are no longer available.

Most are in chronological order (Exceptions are the new ones at the top). Skip down to
Anastasius, Justin, Justinian, Justin II, Maurice, Heraclius, Constans II, Constantine IV, late Byzantine (anonymous and later)

Most recent: July 13: Romanus I at the top.
July 1: Five new coins at the top. Many sold coins removed entirely. Almost all prices reduced, even though they were low already.
June 11: Ten at the top.
May 30: Four Byzantine, Constantine IV through Theophilus, at the top.
May 28: Five new, at the top. Heraclius and Constans II.
May 26: Heraclius from Syracuse, at the top. Some prices revised.
May 8. Anonymous follis Class F, which is scarce.
May 7, 2019. Numerous AE at the top.



Some special coins: an electrum Theodore I of Nicaea, 30-nummia of Heraclius, Justinian II, Tiberius III.

Newest: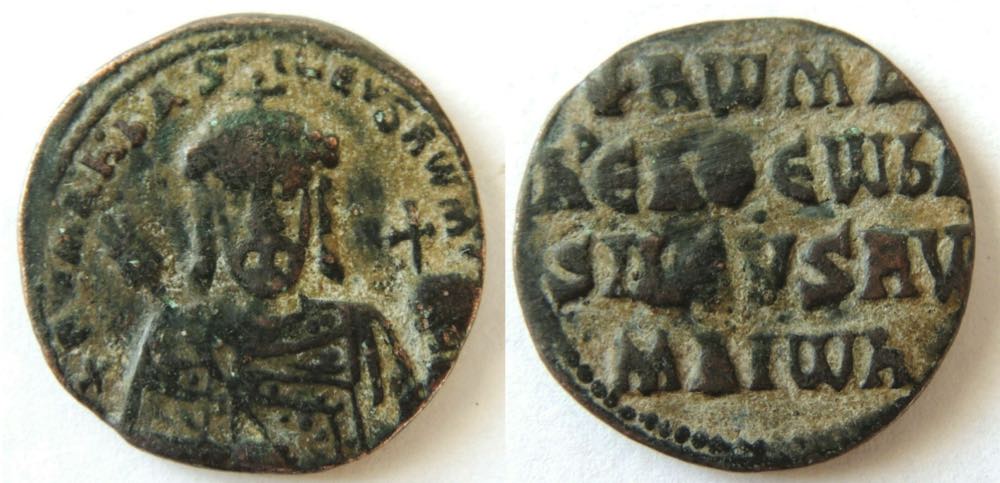 Romanus I, 920-944 (in the middle of the reign of Constantine VII)
Fully legible obverse legend
Fully legible reverse legend
Remarkably nice
[$39] Sear 1760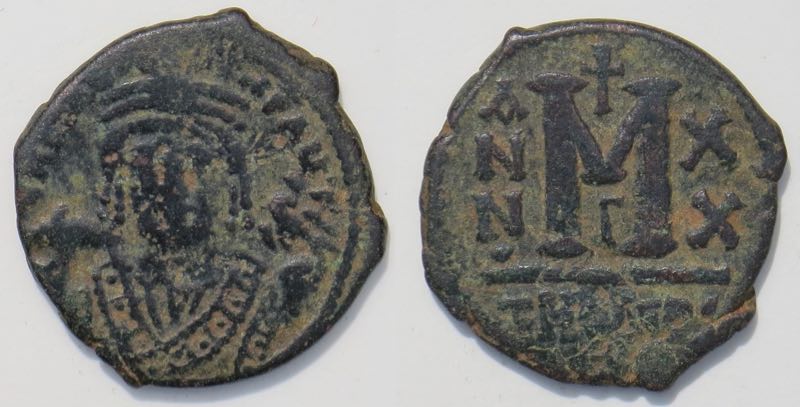 Maurice, 582-602
Sear 533, year 20

[$19]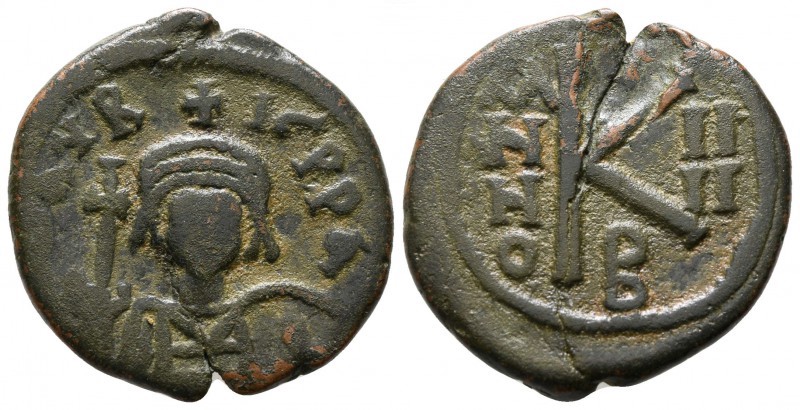 Maurice, 582-602
21-20 mm.
Sear 497 year 4
[$24]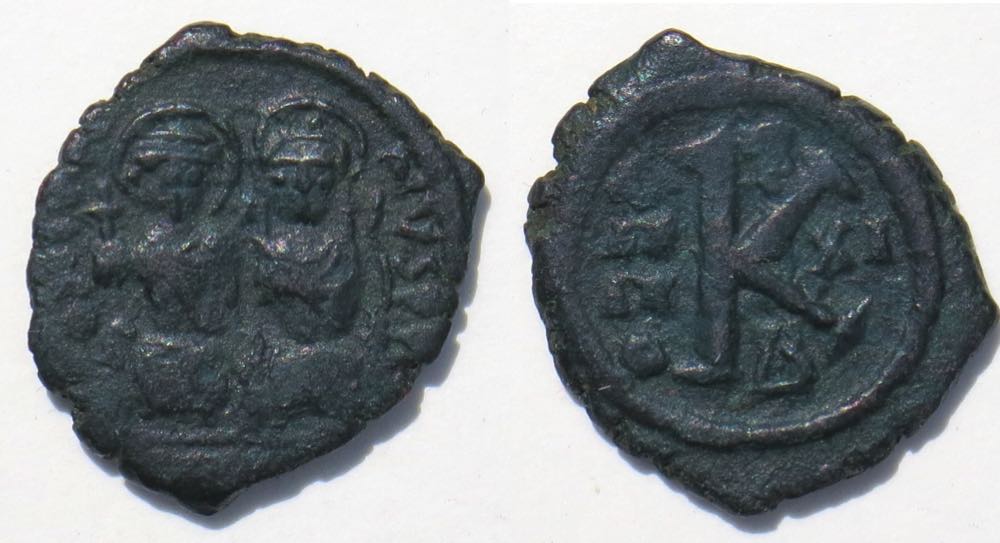 Justin II and Sophia, 565-578
23-21 mm.
Sear 361, year 11.
[$19]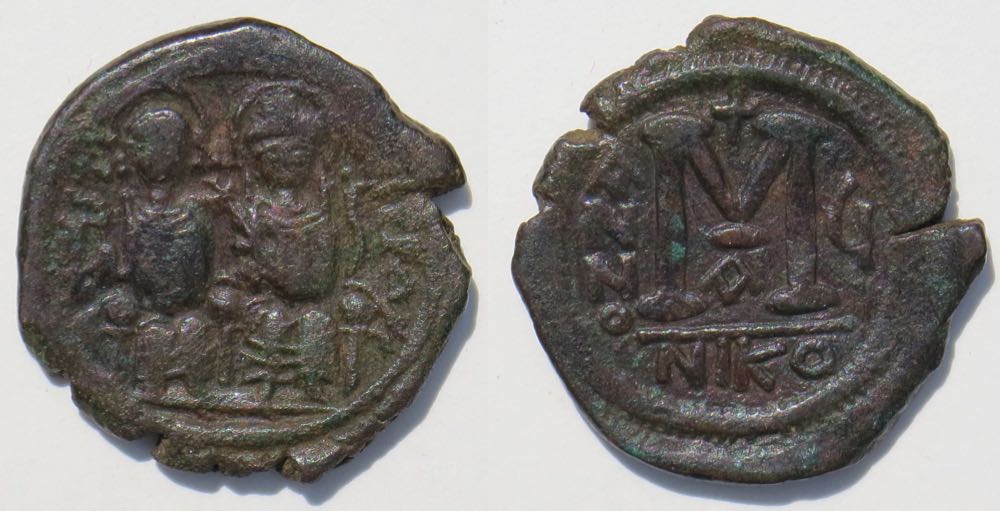 Justin II and Sophia, 565-578
Nicomedia
Large. 31 mm.
Sear 369, year 6
Very nice condition [$25]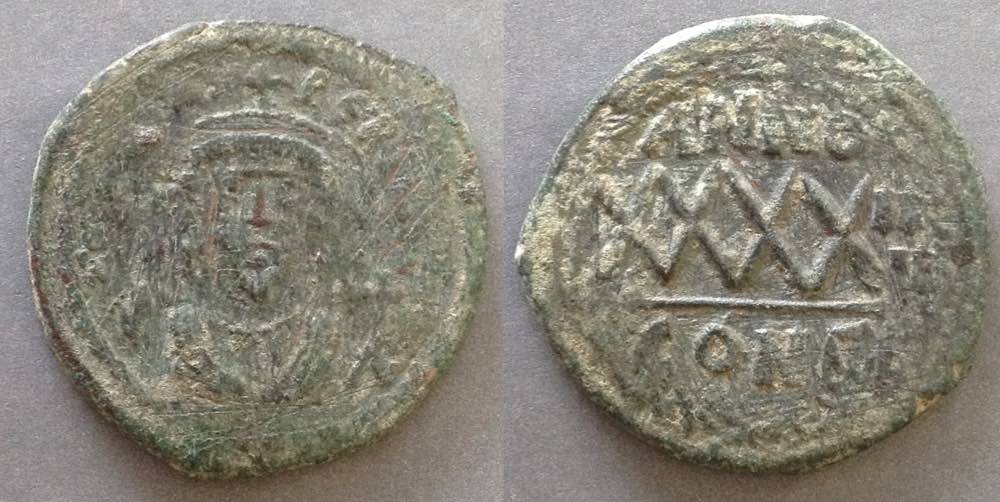 Phocas, 602-210
ANNO horizontal above
XXXX (40-nummia)
Sear 640, year 4
[$37]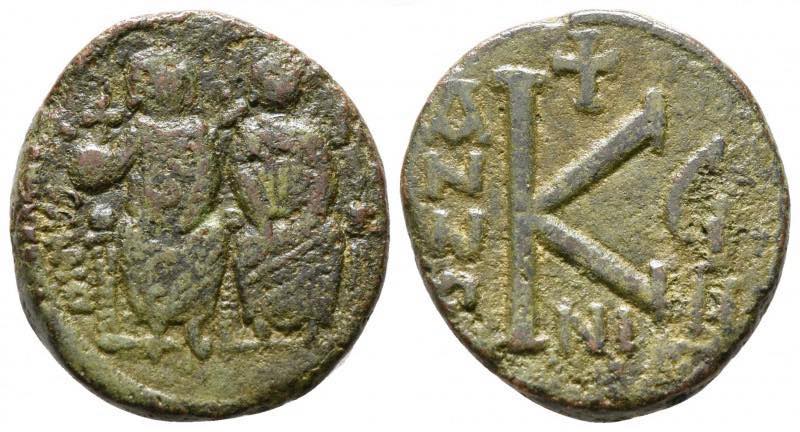 Justin II and Sophia, 565-578
Half-follis
19-18 mm. 5.05 grams.

Nicomedia mint.
Sear 370 [$21]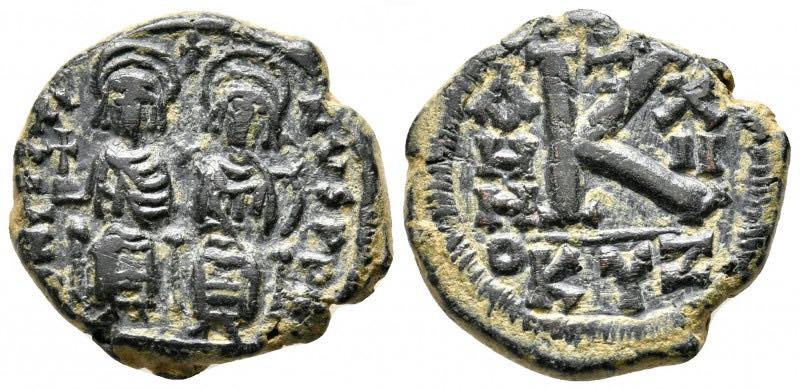 Justin II and Sophia, 565-578
Half-follis
Cyzicus mint, year 12
21-20 mm. 6.69 grams. Thick.

Sear 373
Good details and surfaces. [$29]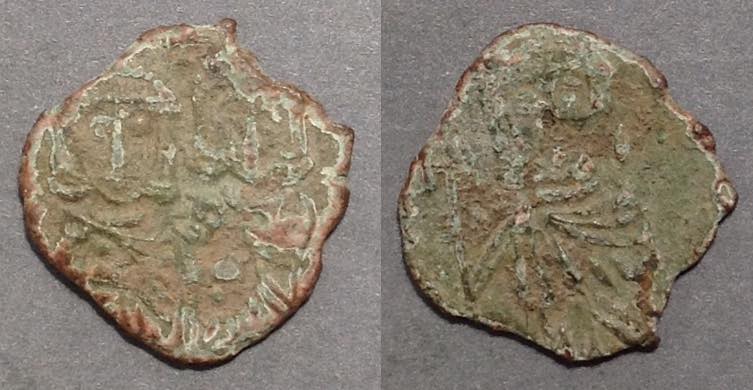 Constantine V and Leo IV 741-755
17-16 mm.

Sear 1569, Syracuse mint. [$19]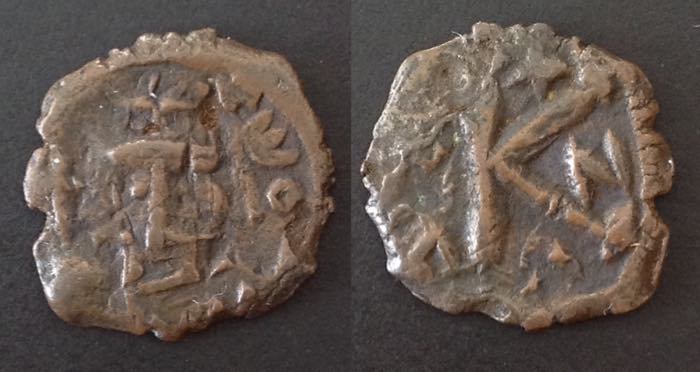 Uncertain emperor, Constans II ? (641-668)
20-18 mm.
2.28 grams.

Possibly Sear 1020. [$5 SOLD]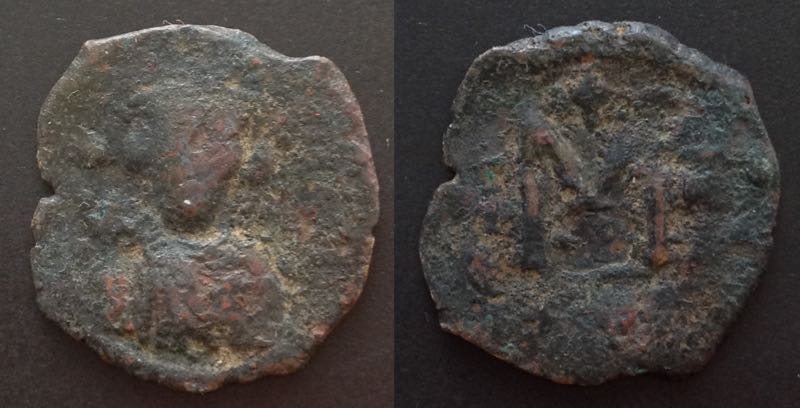 Constantine IV, 668-685
24-22 mm.
Facing bust
Large M

Sear 1207 [$17, reduced to $13]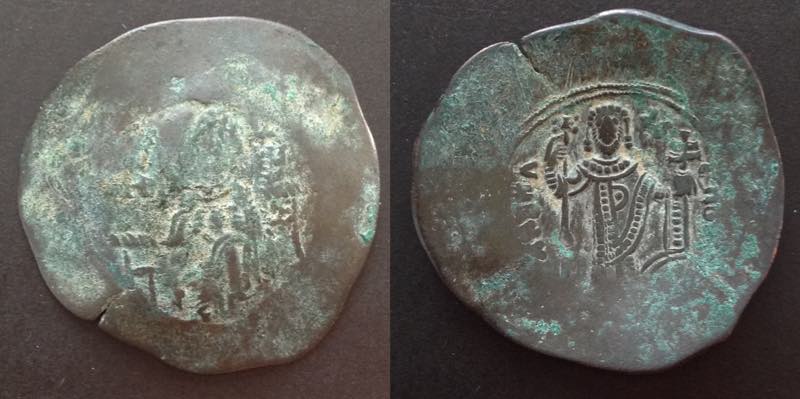 Manuel I, 1143-1180
trachy
Virgin Mary
emperor standing
His name up the left side

Sear 1964

[$14]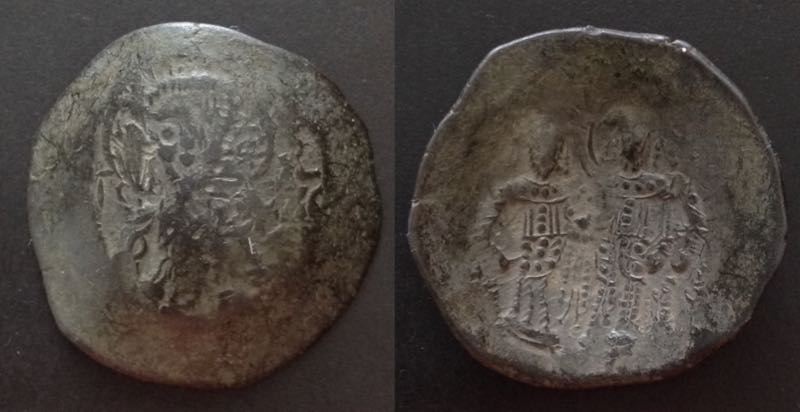 Alexius III, 1195-1203
Christ facing
Alexius and St. Constantine

Sear 2012 Nice surfaces [$17]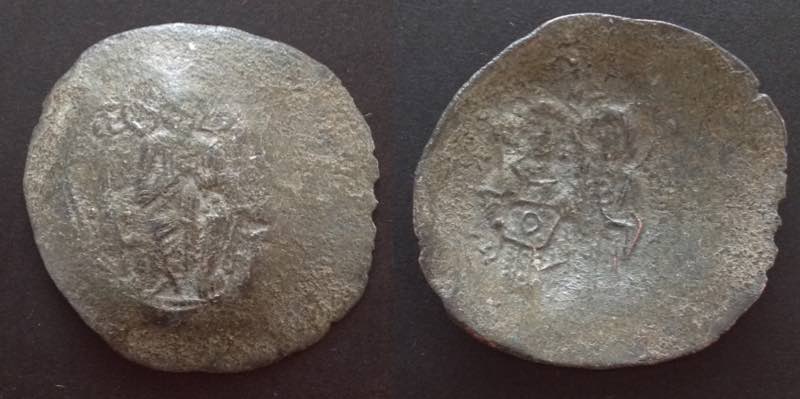 Manuel I, 1143-1180
Christ seated
Virgin crowning emperor

DO 13
Sear 1966
Old surfaces, not cleaned. [$9, but shipping $3 because it is cup-shaped, thick, and needs special packing]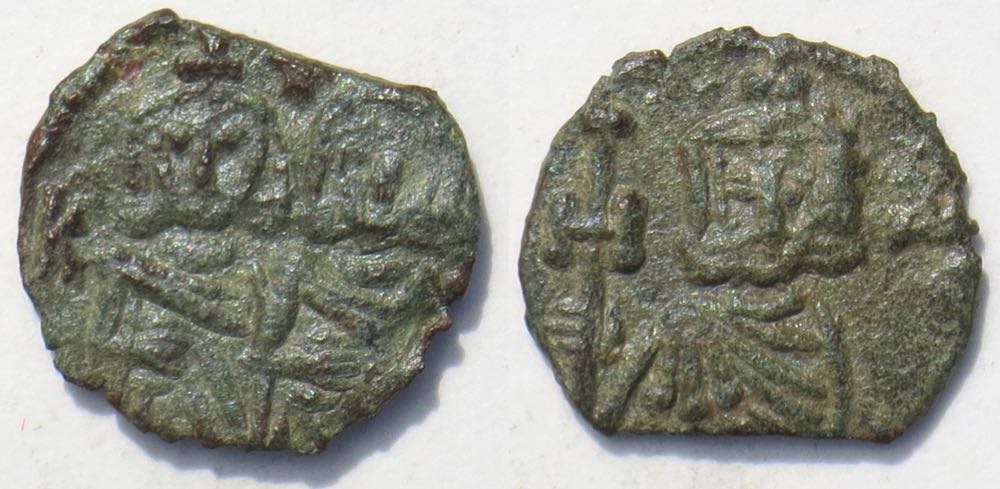 [$29] Constantine V and Leo IV
741-775
17 mm. 1.89 grams.
Sear 1569
Lovely green patina. All three heads on the flan.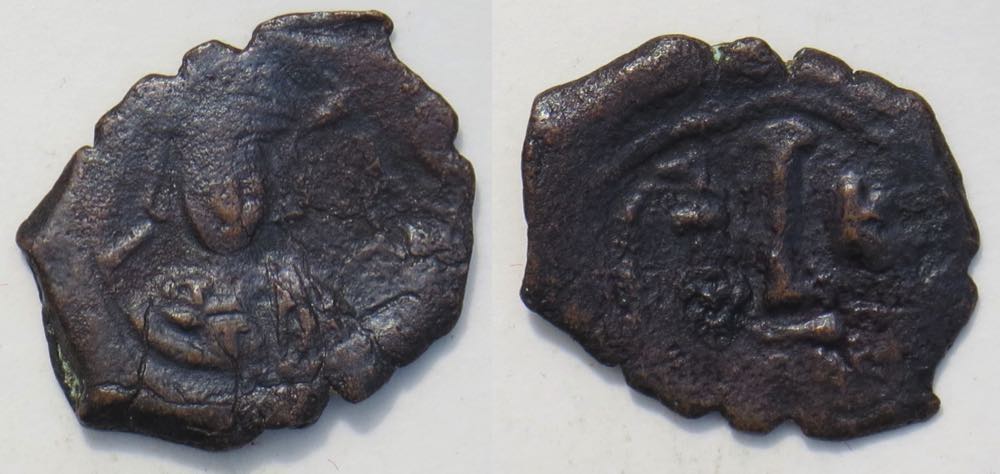 [$39] Constantine IV, 668-685
24-19 mm. 3.37 grams.
Decanummia. K to right of I, CON below.
Sear 1183, no photo. DO 2.2 39, plate XXXIV
None on vcoins as I write.
The ticket that comes with it says "Bomar 10-84, lot 85."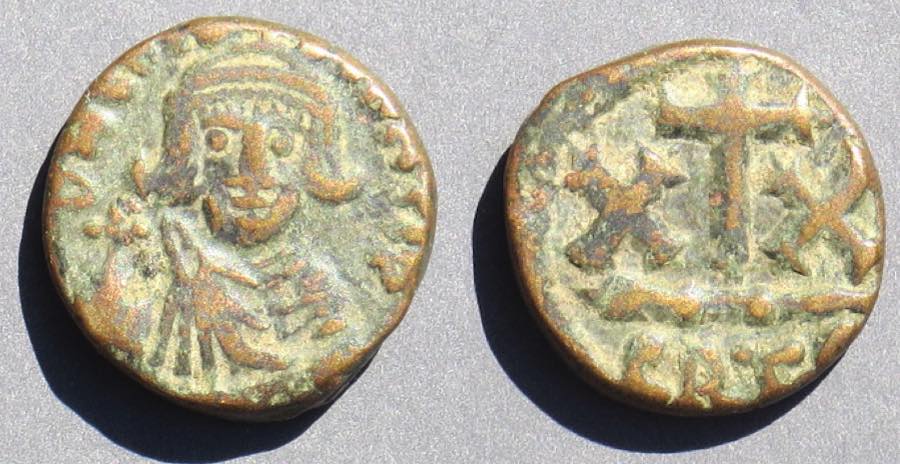 Constans II, 641-668
17 mm. 5.13 grams
X X across cross
CRTS in exergue
Carthage mint!
Sear 1057 page 217. Please look at Sear's photo.

[$25 SOLD] Nice portrait.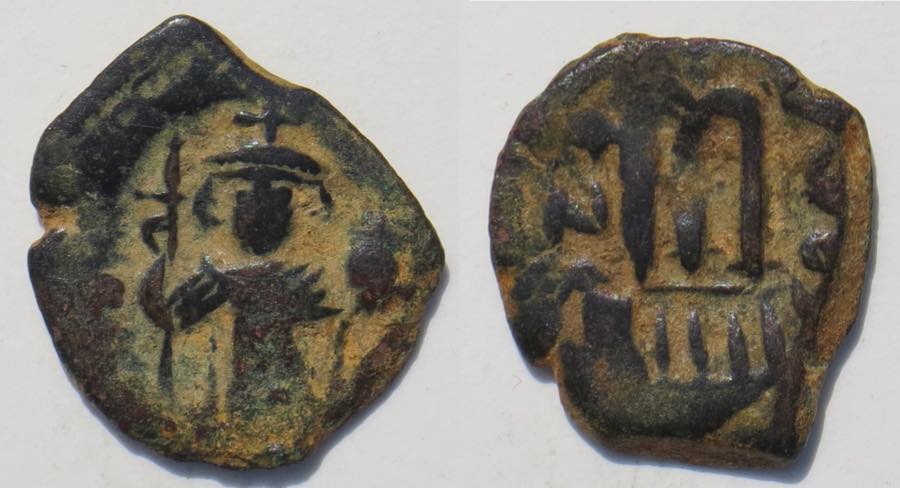 Constans II, 641-668
23-19 mm. Arab imitation (see the exergue for Arabic style lettering)
Main type is Sear 1000

[$12, reduced to $9]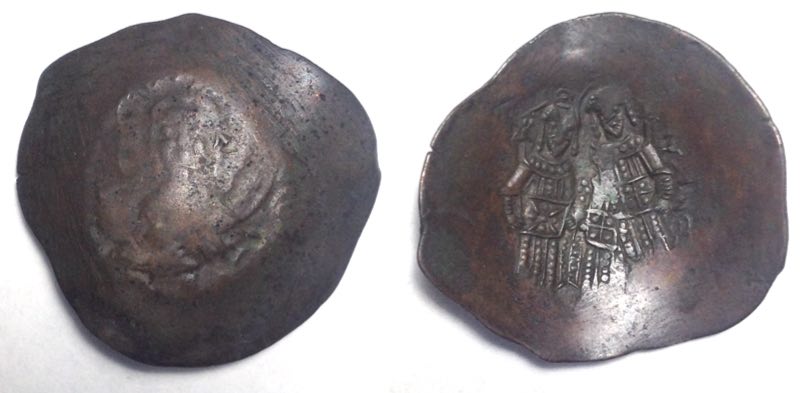 Late Byzantine trachy
"cup-shaped" 27-25 mm.
Alexius III,
Dumbarton Oaks 3, volume 4.2 plate XXIII
Sear 2012
The second reverse strike is tilted with respect to the first one. The two figures should be parallel, not leaning toward one another. You can see the lower part of the right figure twice, with the lower part parallel as it should be but the whole figure is also to the right and up a bit for the second strike. [$11 + $4 shipping, it is too thick to send in a regular envelope. Consider combining it with other coins and shipping might not go up.]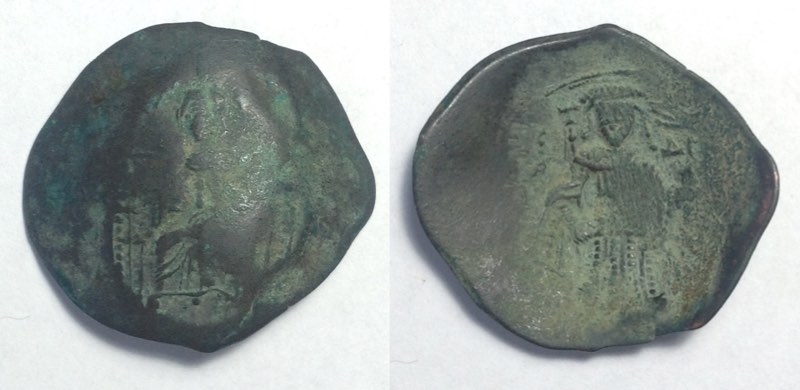 Isaac II, 1185-1195
Trachy. (cup-shaped) 26.23 mm.
Hendy 23.1
These are hard to identify, but I think I got this one. I have Hendy and this one matches Isaac II.
Sear 2003.
[$9, reduced to $8]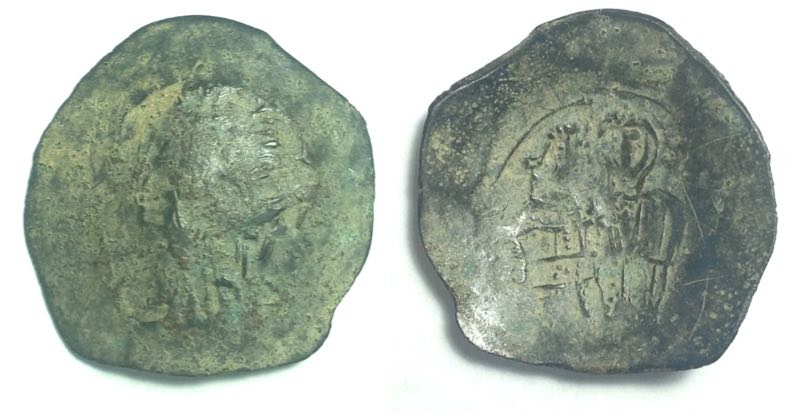 Bulgarian Imitative of Manuel I (1195-1215), type A
c. 1195-1200
D.O. 4.2 plate XXVI.1, page 435
[$5 + $4 shipping because it is cup-shaped and too thick for a letter. You can add in something else and not increase the shipping cost.]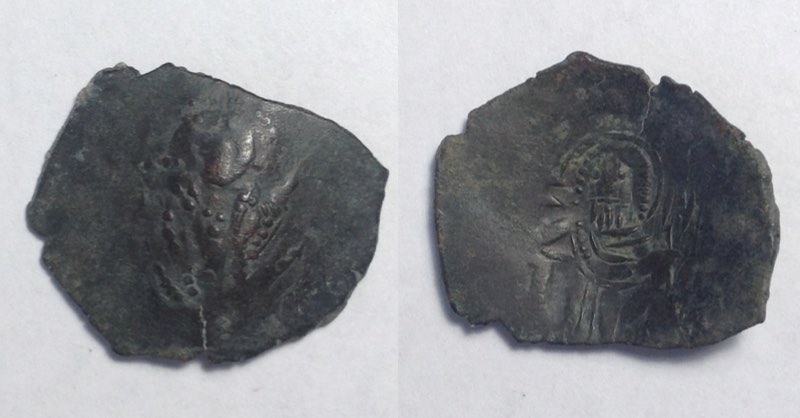 Latin imitative from the time when the crusaders of the 4th crusade controled Constantinople. 1204-1261.
23-19 mm. Shallow cup-shaped trachy.
Nimbate figure of Christ/standing figure.
[$19, reduced to $16] Good for type. It is in the Byzantine coin books, but is a crusader issue.
Sear 2046.

Anastasis, 491-518.
Nummis. Tiny at 11-10 mm. These we so bad they had a coin reform (actually, two) to bring in the big "M" pieces.
His head right/his monogram.
Sear 13. Ragged flan (they needed the coin reform!) [$15, reduced to $13]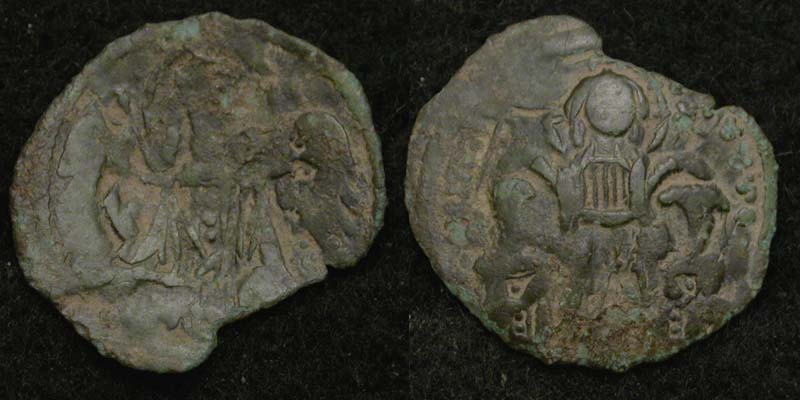 Byzantine. Andronicus II and Michael IX, 1295-1320.
Cup-shaped, but not a deep cup.
20-19 mm. 2.00 grams.
Half length figures of emperor and co-emperor Michael IX on either side Christ who crowns them
Sear Byzantine 2435. (40 pounds in Fine.)
Bust of winged archangel Michael.
Three figures! [$29]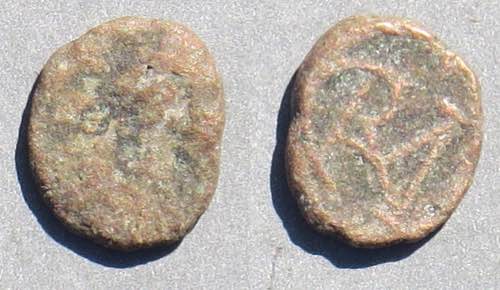 Vandal, King Gelimer (his monogram on the reverse) AD 530-534
Rare. 9-7 mm. Tiny!
Wroth 4, page 16, plate 2.21
Lousy, but they usually are and this monogram is clear enough. [$29, reduced to $25]
(As I write, none on vcoins under $396!)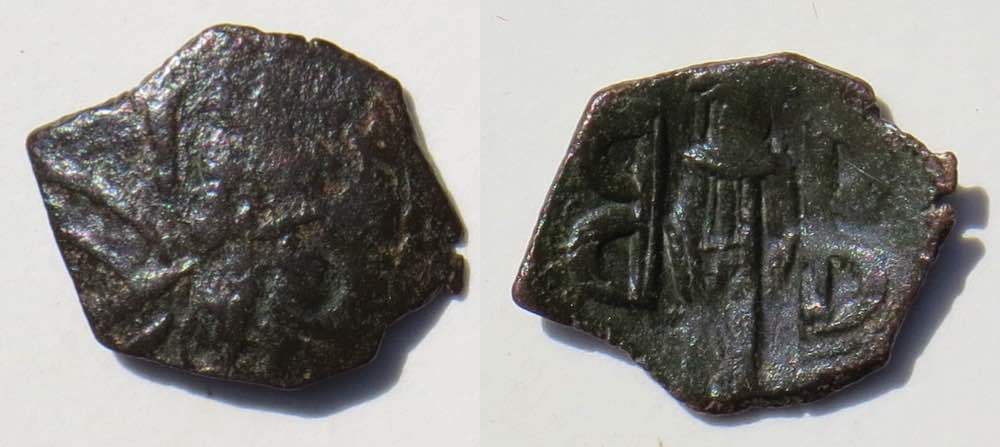 Andronicus II, 1282-1328.
19-14 mm. Small. Clipped. 1.14 grams.
Struck at Thessalonica "class EE"
large six-pointed star
full-length figure of emperor, B to right, reversed B to left
(a Paleologid symbol)
Grierson 1454. Sear 2393.
LPC page 224 #32.
[$22, reduced to $19]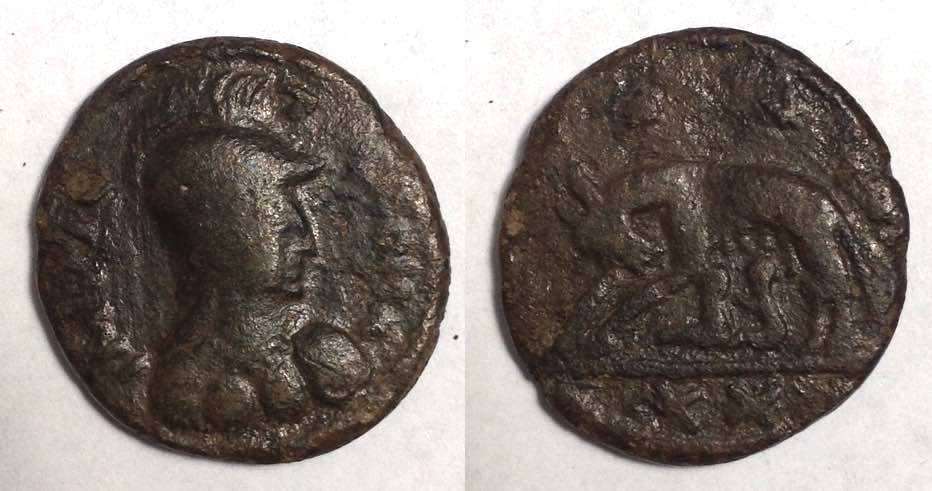 Ostrogoths
, Athaleric, 516-534.
Grandson of Theodoric.
23 mm. 7.03 grams.
IMVIC-TA ROMA
Helmeted head of Roma right
Wolf and twins, two stars above, XX below.
Metlich 84a. MEC I 97. Demo 55 "Ravenna" mint
This type rarely comes at all nice.
On this coin the left twin is facing to the left.
On vcoins one example, much worse, is $175 and one, very crowded and worse, is $265. One, with a large hole through it, is $395 and also has the left twin facing left. (I thought it was supposed to be facing right.) Some smoothing and tooling. I'm sorry, but if you want this Ostrogothic type you will have to settle for one with problems. [$119, reduced to $95]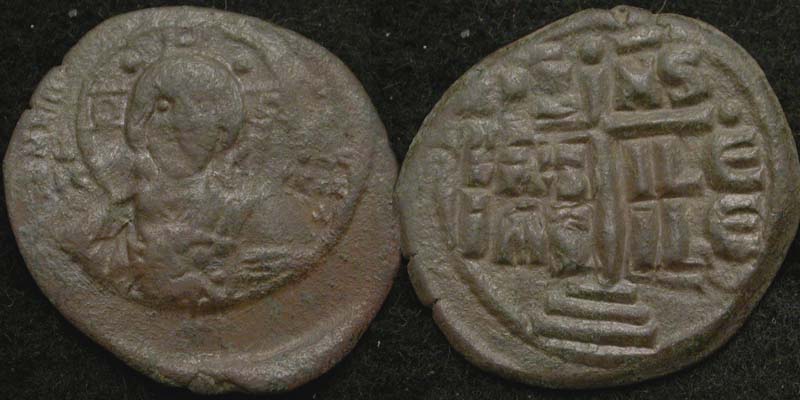 anonymous follis, Class B
Attributed to
Sear: Romanus III, 1028-1034
Grierson in DOC: Michael IV,
1034-1041
29-26 mm. The big flan shows the outside edge of the obverse die 4:00-6:00, 4 mm outside the circle. That is rarely seen on coins.
Sear 1823.
[$27, reduced to $25]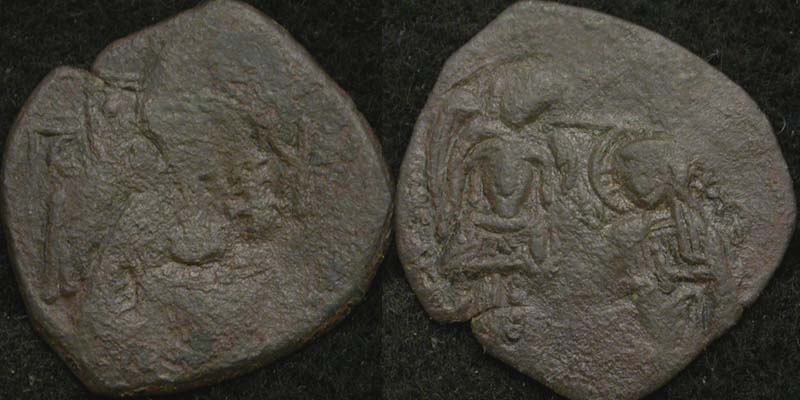 Michael VIII, 1259-1282. Very late!
25-21 mm.
Bust of Christ
Three figures. Michael VIII kneeling before seated Christ,
supported by St, Michael.
Sear 2259. [$25, reduced to $19]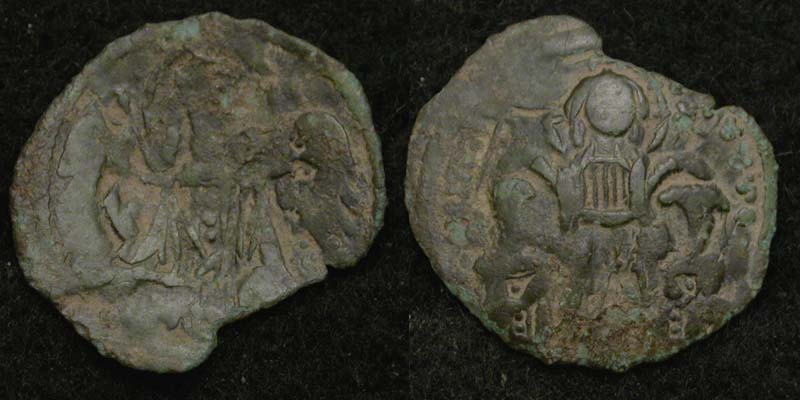 Andronicus II, 1282-1328. Late!
20 mm (not large) Slightly cup-shaped, but not far from flat.
DO Class IX, 677
Bendall 168. Lianta 793
Andronicus II and Michael VIII on either side of Christ who crowns them.
Sear 2435
Three figures on one side! [$35, reduced to $29]

---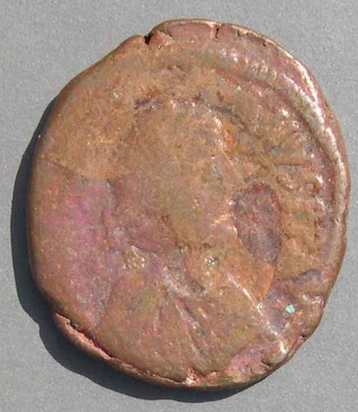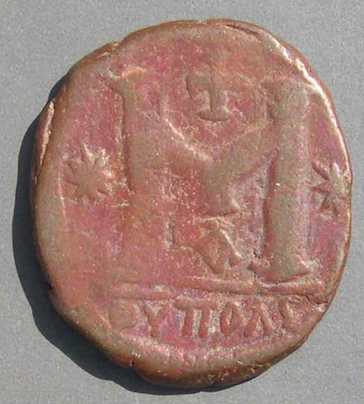 Justinian, 40 nummia, Antioch as Theoupolis. Mint mark spelled out in Greek.
Sear Byz 217 [$35, reduced to $25] Look at the mintmark!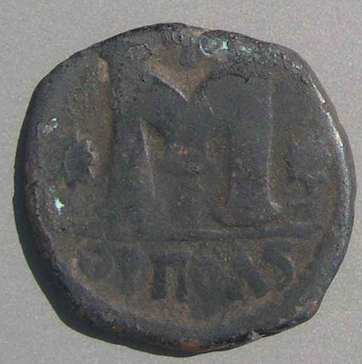 Justinian I, 527-565 AD. Neat Greek mintmark for Theopolis = Antioch. Sear Byz 217 [$19, reduced to $10]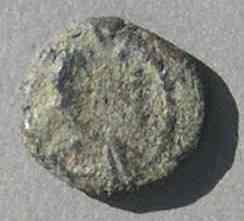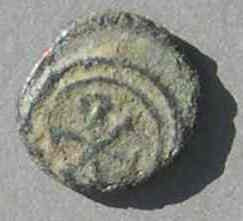 Justinian 1-nummis, small, 0.94 grams. 10 mm.
Sear 283.
Facing bust
Rare, Carthage mint. Chi-rho in double circle.
Not any on vcoins as I write this [$55, reduced to $33, reduced to $25]
---
Justin II
5-nummia
31-11 mm. 1.80 grams.
monogram/E+
Sear 364
[$8, reduced to $4]
---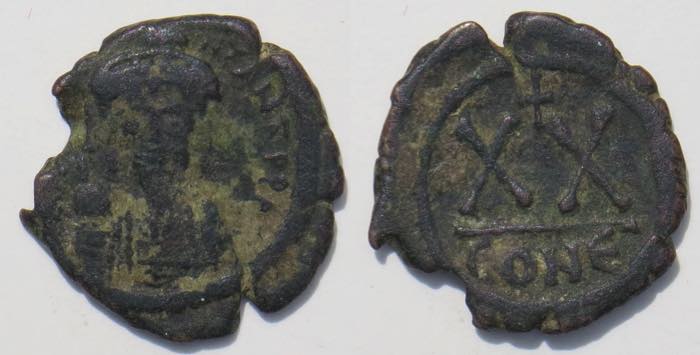 Tiberius II, 578-582
20 mm. 6.05 grams.
Sear 434 with officina in Sear but not in DOC.
[$23, reduced to $19 SOLD] Compare to the ones over $80 on vcoins.
---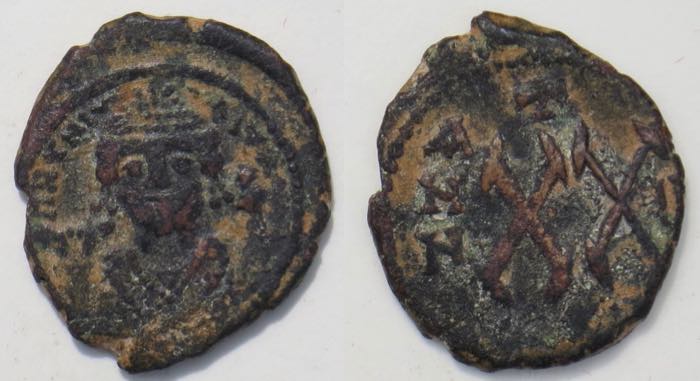 Maurice, 582-602
20-nummia
Sear 534. DO 178
ANNO XX U
Year U = 5, struck 586/7.
Good bust with mappa and eagle-tipped scepter [$19, reduced to $16]
[all sold]
---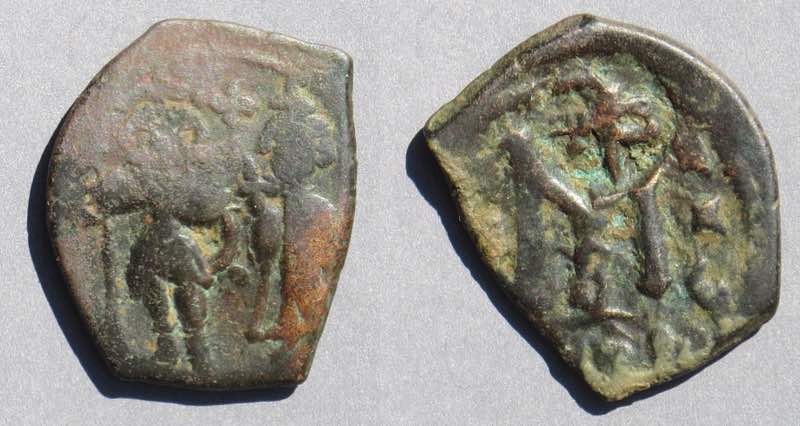 Heraclius with countermark, 610-641
26-21 mm.
Sear 810 with Heraclius and son
/M and year XXV (?)
Countermark, probably from Syria, at the top of the M.
[$27, reduced to $2]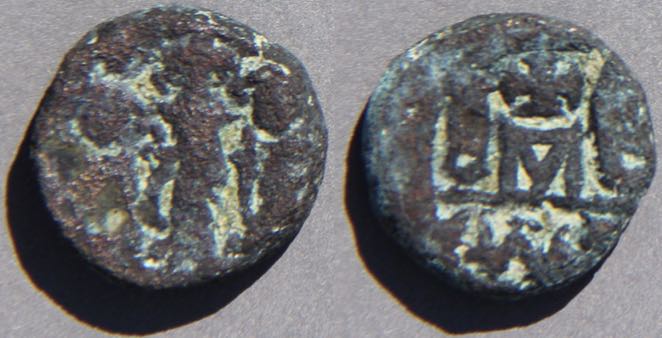 Heraclius, 610-641
Alexandria mint
Three figures standing
I B either side of M with + above
Sear Byzantine 861
Rough surface. [All $50 or more on vcoins. This one $17]
---
---
[none at this time]
Justinian II, first reign, 685-695

[sold]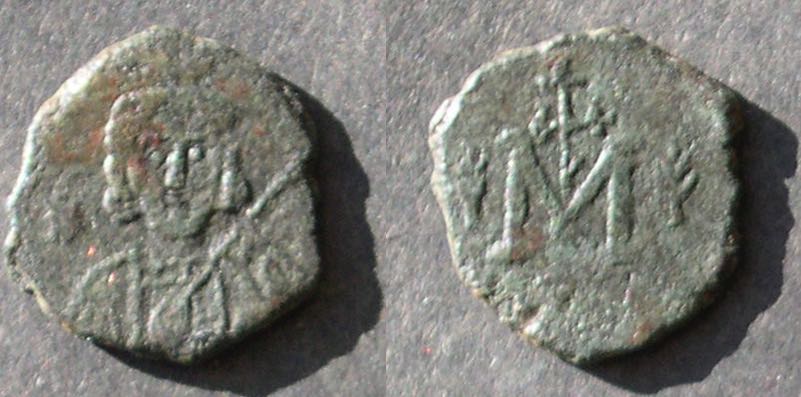 Tiberius III Apimar 698-705
Small. 20-19 mm.
Sear 1395
ex CNG with ticket [$135 SOLD]
Rare. None on vcoins as I write.
---
[sold]
---

Leo V, 813-820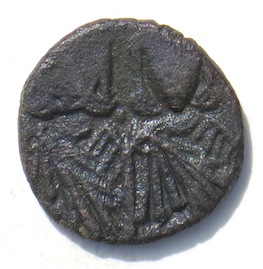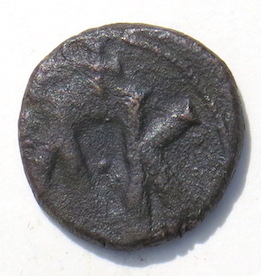 [$13] Leo V, 813-820
20 mm. 5.40 grams.
Sear 1635. Lambda for Leo and K for Constantine.
[$22, reduced to $17]
---
Michael II, 820-829
Small. 18 mm.
Sear 1652. Please compare to the Sear plate coin. This one is better!
[$45]
[sold]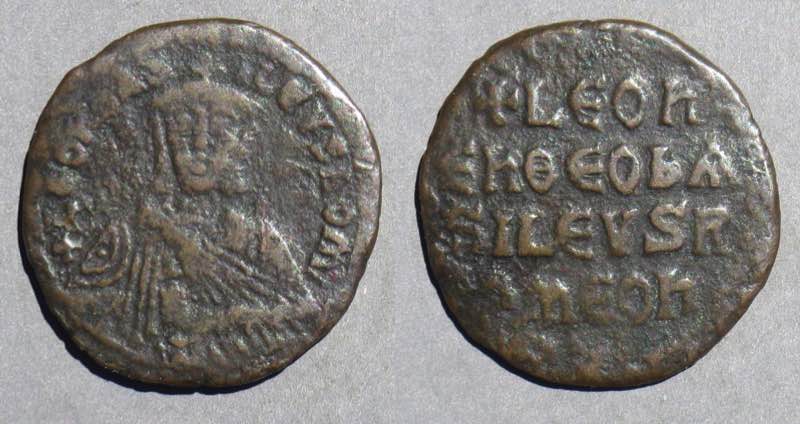 Leo VI, The Wise. 886-912
Sear 1729
All there. [$25, reduced to $22 SOLD]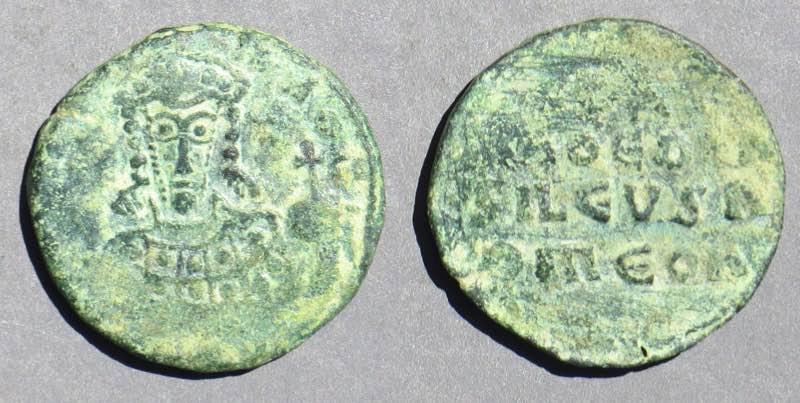 Constantine VII, 913-959
25 mm.
Sear 1761
Good portrait detail. Nice color. [$25, reduced to $22 SOLD]
---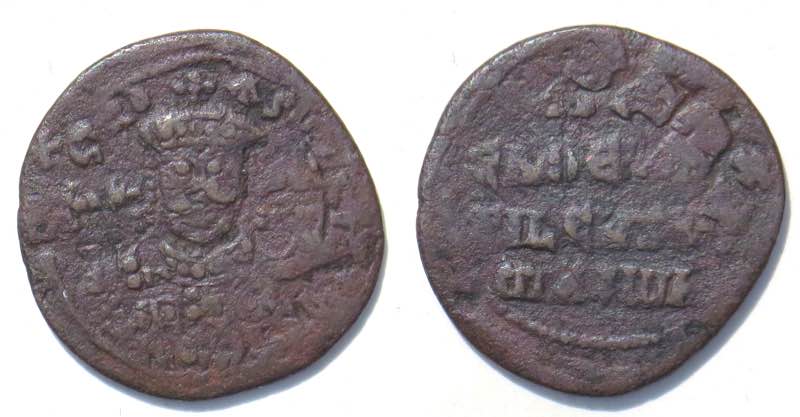 Nicephorus II, Phocas 963-969
Overstruck, possibly on Sear 1760 of Romanus I
Sear 1783
There is a lot of the undertype to read, and yet the
main type has details such as the eyes.
[$24, reduced to $22 SOLD]
---

Byzantine Mint of Cherson, was in Ukraine, now annexed by Russia.
[All sold]
---
Late Byzantine
Anonymous Folles (Anonymous Bronze)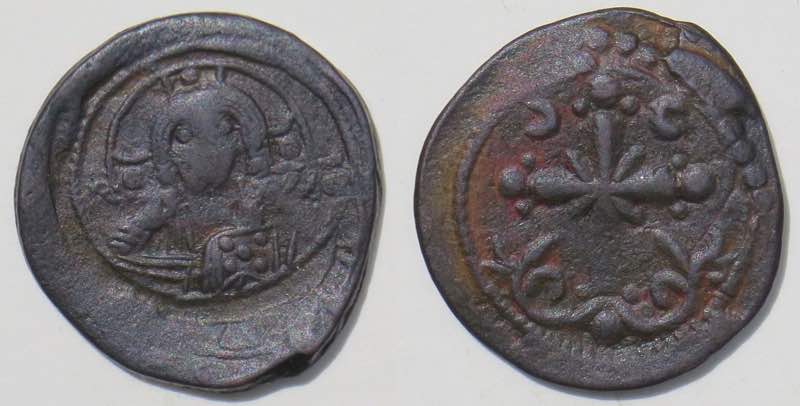 Nicephorus III, 1071-1081
25 mm.
Anonymous bronze Class I
Sear 1889 [$35, reduced to $25]
Alexius I, 1081-1118
19-16 mm.
bust facing
cross with letters in quadrants.
One Byzantine collector told me this was a modern fake. I looked at it and don't agree. The cross is crude and the lettering different. I think it was made in Byzantine times.
Sear 1931 [$19, reduced to $9 SOLD]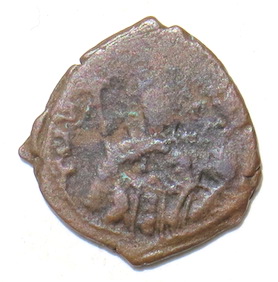 Alexius I, 1081-1118
20-19 mm. 2.75 grams.
bust facing/jeweled cross, C Phi M Delta in angles
Sear 1931. DO 40 Thessalonica. [$25, reduced to $19]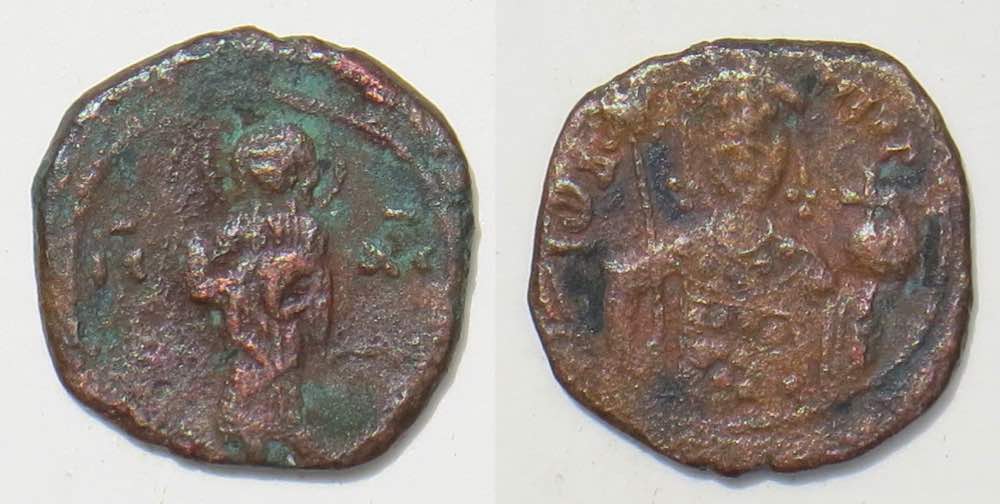 John II, 1118-1143
16 mm. Half tetarteron
full-length Christ
half-length figure of John II
Sear 1954 [$17] Compare to vcoins!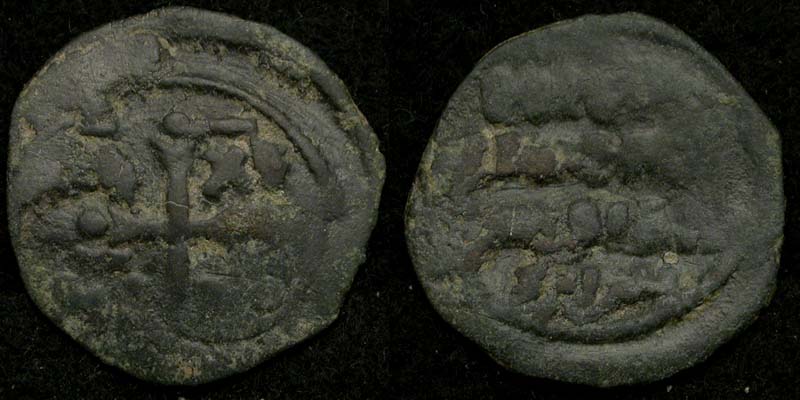 Alexius I. 1081-1118
Pre-reform before 1092
Follis. 26 mm.
Sear 1911. Scarce. [$29, reduced to $25]
Michael VIII, Palaeologus, 1261-1282
Struck at Constantinople
23-21 mm. 1.39 grams
St. Demetrius standng
emperor blessed by Virgin
Sear 2265, page 442. "30 pounds in F, 60 in VF"
Grierson 1344, plate 84.
PCPC 26.1 is Sear's plate coin.
None on vcoins. Very good for type. [$39]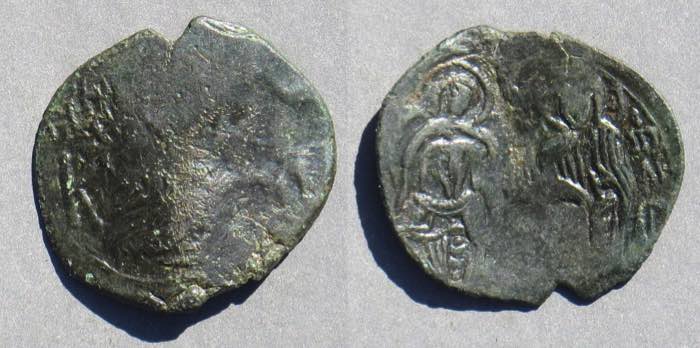 Michael VIII, 1258-1282
24-22 mm. 1.82 grams.
Christ enthroned, large "K" to left
Three figures on the reverse:
Michael kneeling right before Christ in halo, supported by St Michael behind in halo.
Sear 2259 glossy black patina, None for sale on vcoins. [$29, reduced to $27]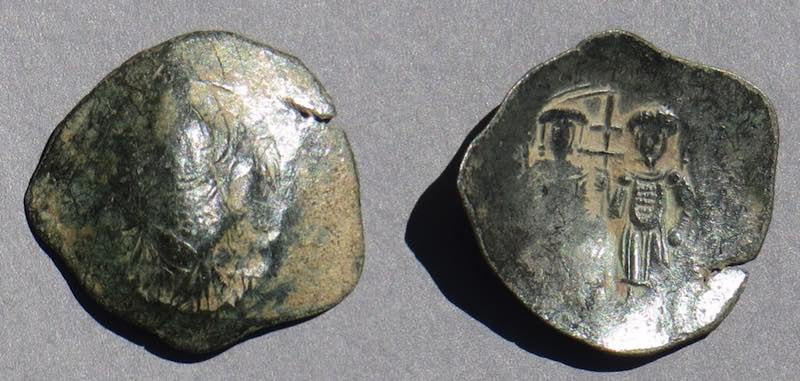 Theodore I, Empire of Nicaea
1208-1222
22-17 mm. Small.
Sear 2061. Scarce.
As I write this, the only example on vcoins is not better but $125. Here [$35, reduced to $29].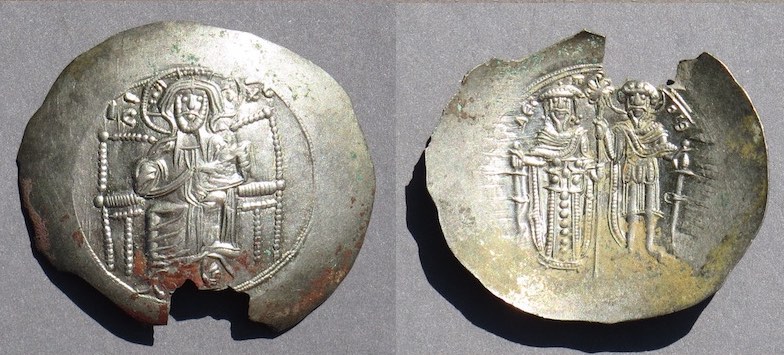 [$245+$8] Theodore I, Empire of Nicaea 1208-1222
(in Sear's Byzantine Coins as 2064)
Electrum 35-30 mm. Chipped. 3.65 grams.
Christ seated facing
Emperor on left and St. Theodore on the right.
Sear 2064. DO IV.II Theodore I 2.
I bought it already chipped. The picture reproduces the color well on my screen. It is electrum, but pale. Christ seated/Full-length figure of emperor on left an St. Theodore on the right. A gorgeous strike. Fortunately the chip does not affect any of the design. [There is nothing remotely like it on vcoins and the one on MA-Shops as I write is very badly flan-cracked (Theirs is about to break in half) and even so it is priced over $700. Get this bargain coin! [$245 + $8 (I will ship it well-packed!)]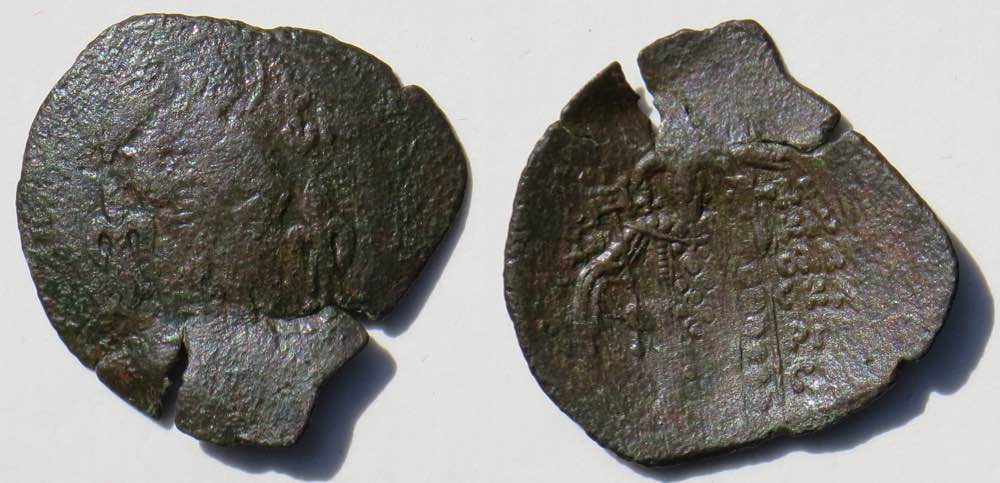 Theodore II, Empire of Nicaea, 1254-1258
29-27 mm. Large
St. Tryphon, fleur-de-lis-like stybol, , either side
Emperor standing with labarum-headed scepter and globus cruciger, cloak spead very wide.
Sear 2142. "38 pounds in F, 85 in VF"
DO IV.II plate XXXVI, (10b)
No coins of Theodore II at all on vcoins as I write. Rare
Look at the DO plate coin (not in their collection, which is what the parentheses around the ID number mean) to see this is good "for type" [$59, reduced to $45]
---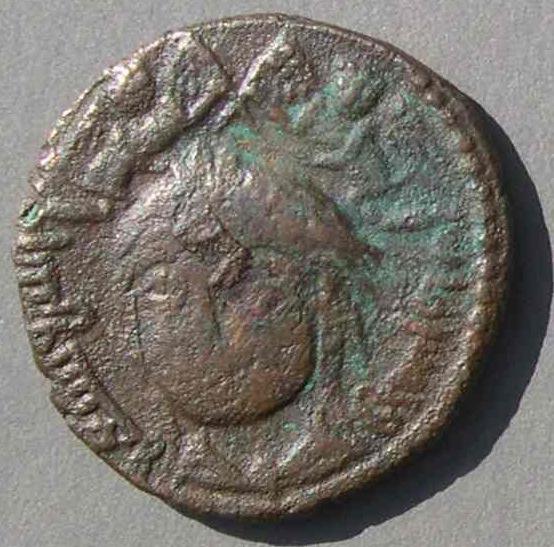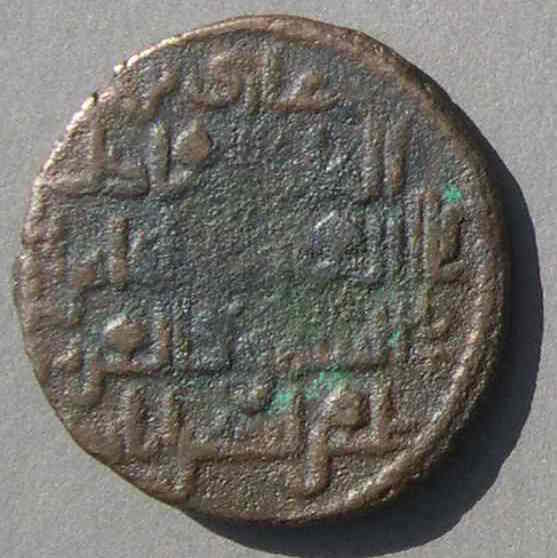 Turkoman Figural bronze. Foes of the Crusaders
Left: Zangids. Qutb-al-Din Mawdud, 544-564 AH 1149-1169 AD. S/S 59. Bought in Israel in 1972. 29 mm. [$35, reduced to $23, reduced to $19 SOLD]
---


Arab-Byzantine all sold
---
The next few are Armenian medieval coins, attributed according to ACM = Armenian Coins and their Values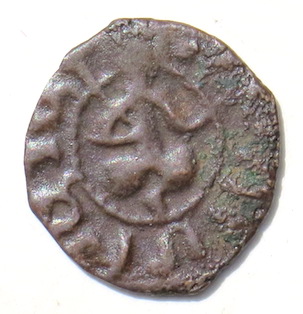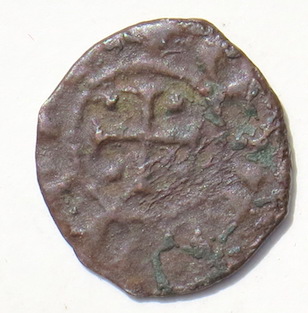 Hetoum II, 1289-1306
ACV 404
20-19 mm. AE. [$14, reduced to $7]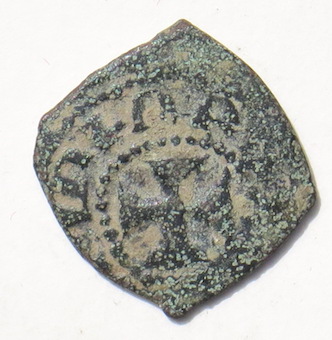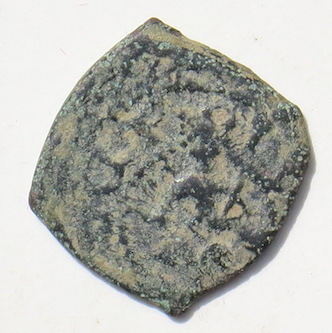 Levon III, 1301-3107
ACV 433v
AE 21. Kardez. [$14, reduced to $5]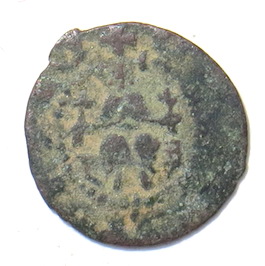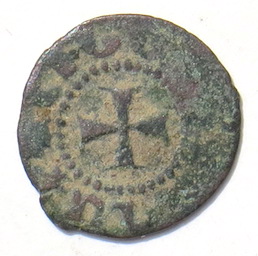 Levon IV, 1320-3142, AE pogh. 17 mm
ACV 462
King seated facing/cross [$19, reduced to $16, reduced to $9] Please compare to the $55 examples on vcoins.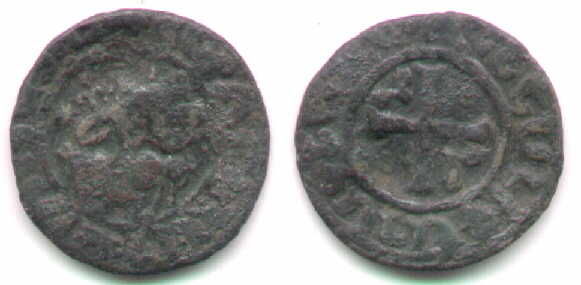 Armenian. AE28. Hetom I, Plant 104c. Seated king/cross with Vs in quadrants.
Rare. LARGE. 28 mm. Not in Armenian Coins and Their Values. (A minor variety) Cf. 351-8 because of the Vs in the quadrants. [$15, reduced to $8 (for an unlisted variety!)]
---


England
all sold

---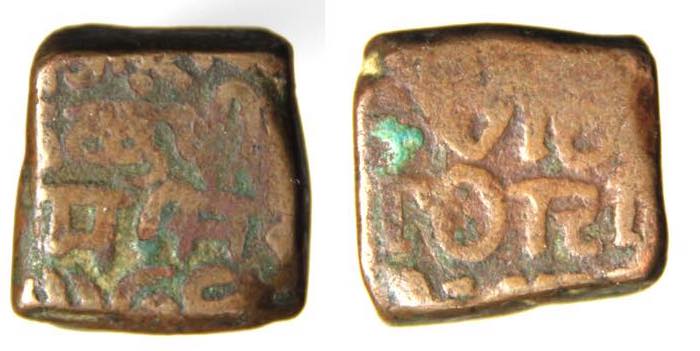 Bundi, Indian Princely State, 1 Paisa, 1872 (not ancient)
VICTORI
17-16 mm and very thick at 6 mm. 17.42 grams.
Odd-shaped coin! [$9 + $4 shipping in the US--it is too thick for a normal envelope]

Mexico!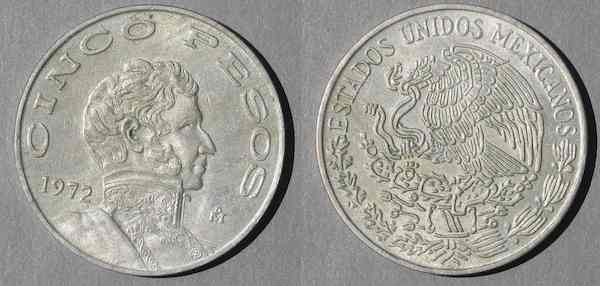 Mexico. 1972. 5 pesos. KM 472 [$3]
---
Want to buy or sell ancient coins? Join the ACM, a free email list!
For Info, click