Inexpensive ancient coins: $5-$15
Little description. Low price.
Shipping in the US: $2 for any number of coins from this page only.
Go to the main page with better coins.

To order, or just to ask a question, write me at:

Added: 2018, March 23: Many sold coins removed. A few prices lowered.
March 14: Fourteen coins at the top.
March 4: at the top. (Note: Some coins on the "Valentinian and later" page are also in this price range.)
Feb. 2-4: eight at the top.
Jan. 25: seven at the top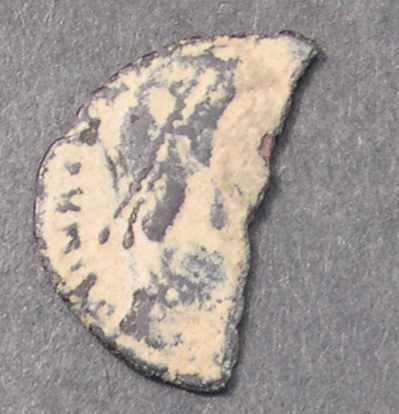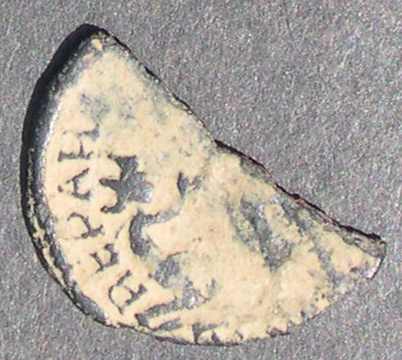 Valentinian II. A halved coin found in Spain. The mintmark seems to be TCON for Arelate. This piece is 27x13 mm, 6:00, and 1.84 grams.
Presumably it was halved to make smaller change.
Earthen cover. [$12]
What do you do when you want to buy something not worth as much as your coin? Cut it in half!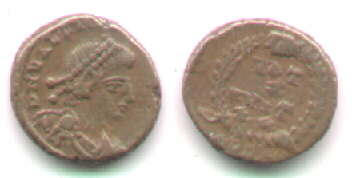 Valentinian II
12 mm. 1.67 grams
VOT X MVLT XX
ALEB
RIC Alexandria 13b
mm: ALEB
[$9]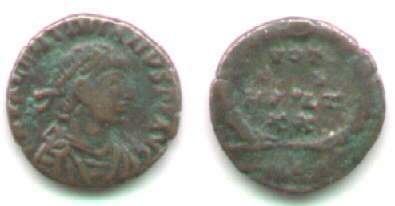 Valentinian II
14 mm. 1.67 grams
RIC IX Rome 51c "scarce"
VOT XV MVLT XX
SMR
[$12]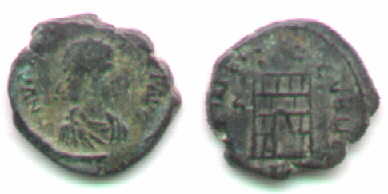 Valentinian II, 375-392
13 mm. 6:00. 1.40 grams.
RIC Thessalonica 62a3
[$15]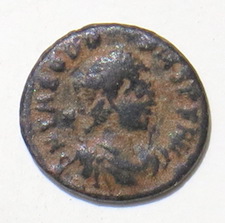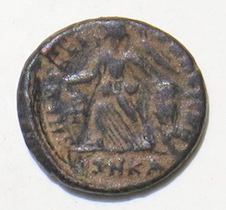 Theodosius I, AE4. 13 mm.
SALVS REIPVBLICE
at Cyzicus. SMKA
Most don't have a legible mintmark. [$14, reduced to $9 SOLD]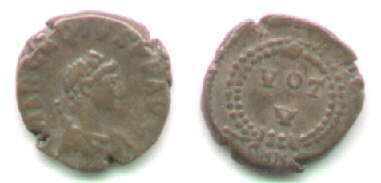 [$12] Arcadius.
VOT V in wreath
RIC Nicomedia 37c
[$17, reduced to $12]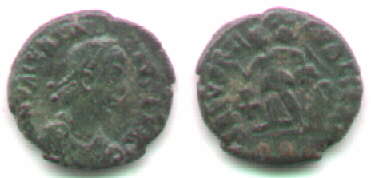 Valentinian II, 375-392
13 mm. 12:00. 1.39 grams
RIC Aquileia 58a
mm: AQ[--] weak
cross-rho in field left
The coin is sharper and bettter than the photo. If you almost like the coin in the photo, you will like the coin.
[$15] It is not worth my while to try to take a better photo.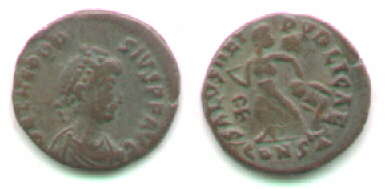 Theodosius, 379-395
AE4. SALVS REIPVBLICAE
Victory left drags capitive.
388-403 [RIC] 386-403 [DO, p. 113]
13 mm. 6:00. 1.08 grams
RIC Constantinople 86b
mm: cross-rho in left field
CONSA excellent detail including full bold mintmark. Unusual for that.
[$16, reduced to $12 SOLD]
ex. London Coin Galleries (a Los Angeles firm!) 1990.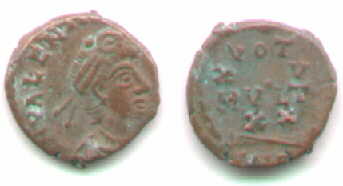 Valentinian II,
11 mm.
VOT XV MVLT XX
(vows dates for Gratian which are scarce for Valentinian II. Only one on vcoins as I write, at $45)
Rome mint [$12]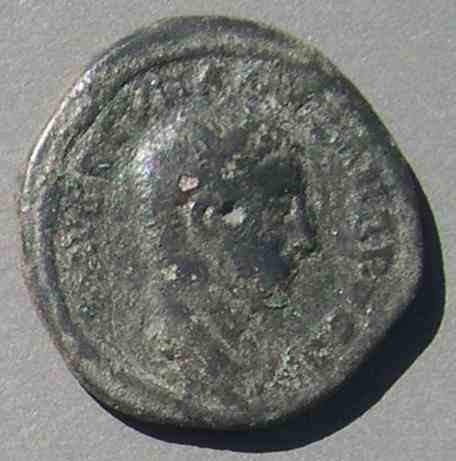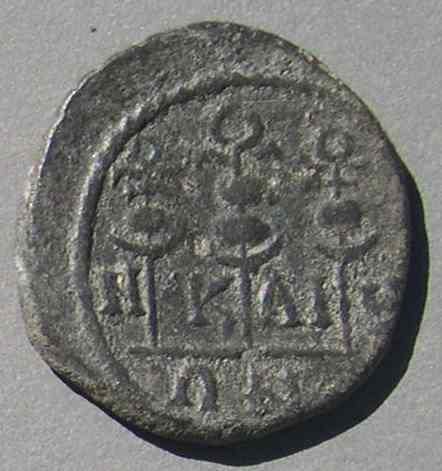 Severus Alexander, 222-235 AD
Roman Provincial coin from Nicaea, Bithynia (in modern Turkey)
AE 22. 12:00. 4.09 grams.
three standards [$19, reduced to $12]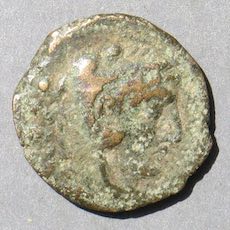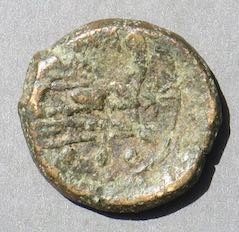 [$29, reduced to $17, reduced to $15] anonymous quadrans with star. 19 mm. 169-158 BC.
Crawford 196/4
Hercules head right, three dots.
Prow right, three dots below, star to right.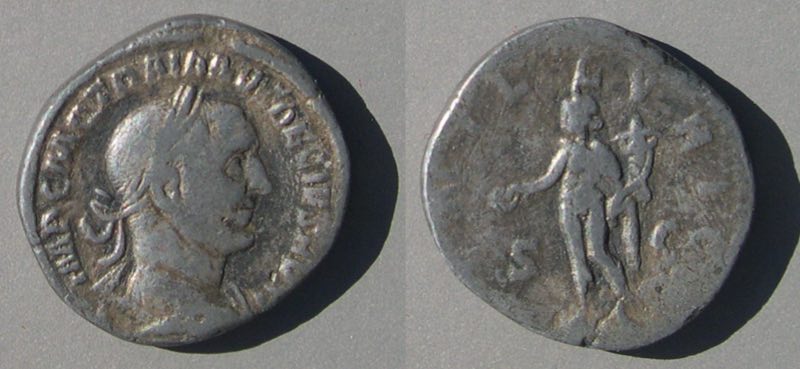 LEAD copy of a sestertius of
Trajan Decius
28-26 mm. 23.00 grams.
GEN ILLVRICI prototype
Genius of Illuricum standing
Sear 3.9403 prototype.
RIC 116a.
This one is puzzling. Why would someone make a fake in lead?
It is quite thick and the edges look filed, so it was cast. If you buy it, you can stew about it. [$29, reduced to $15]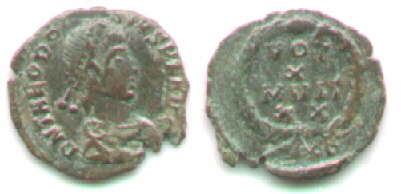 Theodosius I
15 mm. 0.88 grams
RIC Cyzicus 21cB
mm: SMKB
Glossier surface than shows in the photo. Nice! [$14]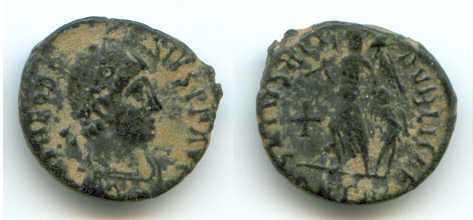 Theodosius, 379-395
12 mm. 12:00. 1.16 grams.
RIC Antioch 67b3
mm: cross in field left
ANTB [$8 SOLD]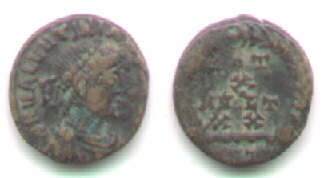 Valentinian II
12-11 mm. 1.05 grams
RIC Antioch 57b
mm: ANTΔ (?)
[$7]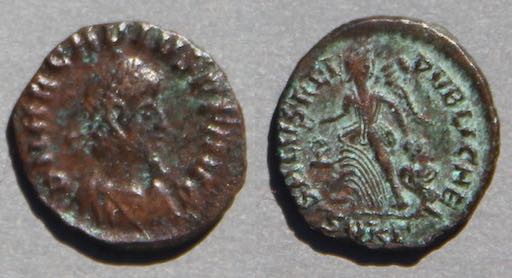 Arcadius AE4
13 mm.
SALVS REIPVBLICAE
SMKΓ
This coin is better on the obverse than the photo.
[$14]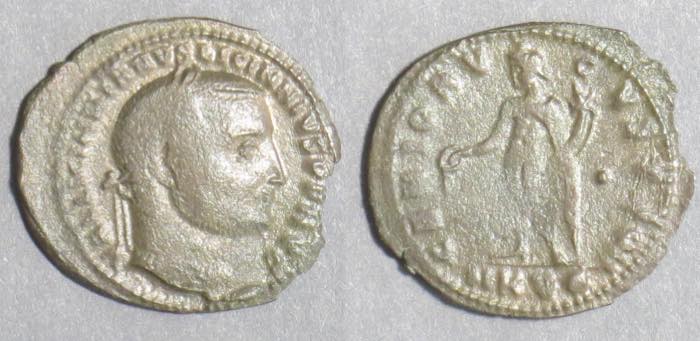 Licinius I, 308-324
24-22 mm. (Larger than an AE3)
GENIO AVGVSTI
MKVE Cyzicus mint
[$10]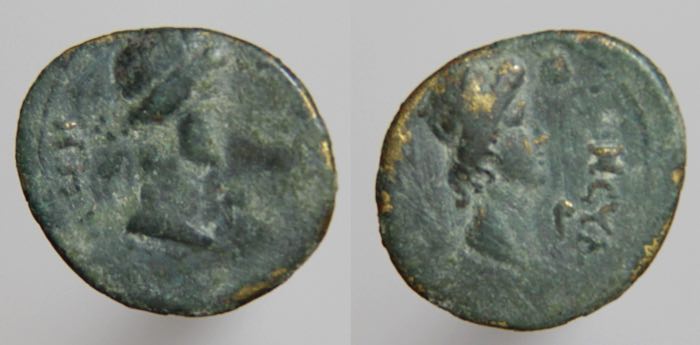 Mysia, Pergamon
9-17 mm.
Roma head
Head of the Senate
BMC 2051
[$10]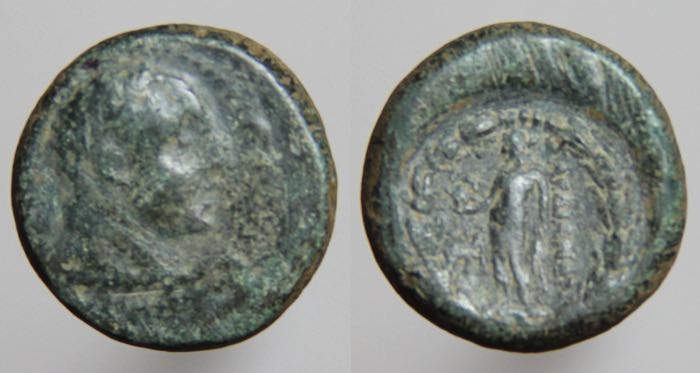 Lydia, Sardis
2nd-1st C. BC
16 mm. Thick
head right
Apollo standing left
clear legend to the right of Apollo: ΣAPΔIANΩN
Sear Greek 4734
[$15]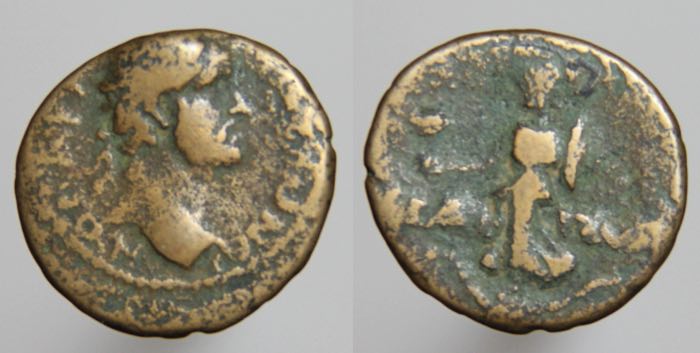 Antoninus Pius, 141-160
17 mm.
uncertain mint--you figure it out.
[$9]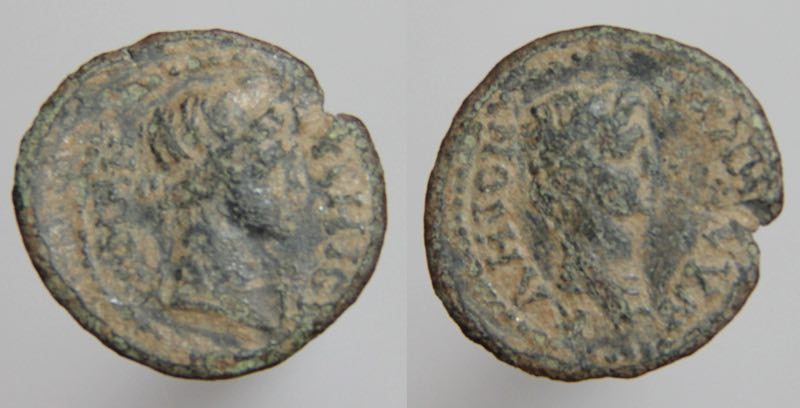 Uncertain. The envelope says
Mysia, Pergamon
19 mm.
Roma bust right
Senate bust right
Resembles, but not the same as, Sear Greek Imperial 4910
Nice light earthen highlights
This can be identified, however, I didn't do it for
[$12]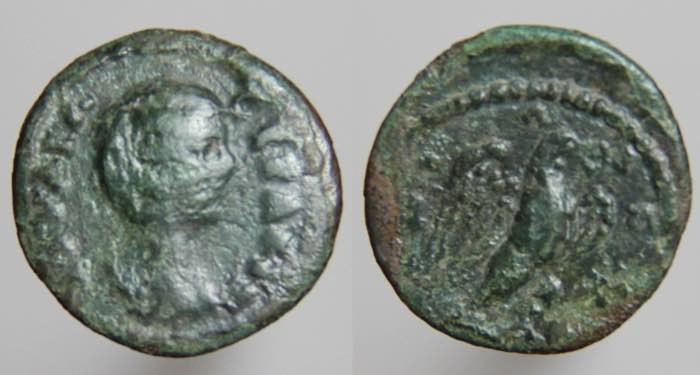 Julia Domna?
Biste right
/Eagle
18 mm.
[$6]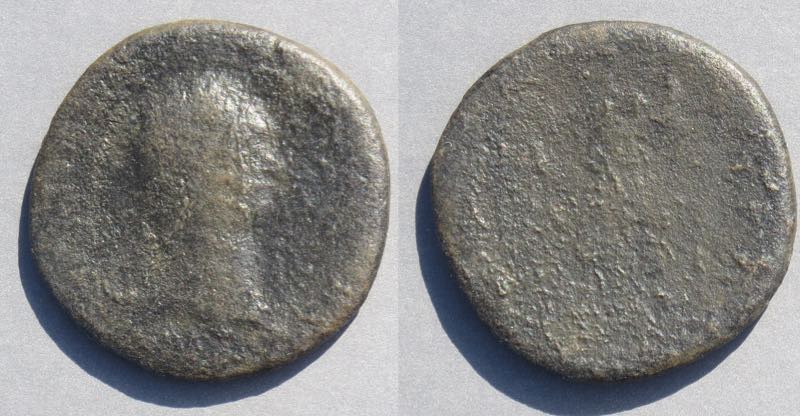 Massive Domitian (AD 81-96) sestertius, worn nearly flat. Could make a "pocket piece". 33 mm. 19.30 grams.
[$9, reduced to $7]

Licinius II, 317-324
18 mm.
IOVI CONSERVATORI CAESS
Jupiter, Victory on globe, small captive left
Antioch mint
[$11 SOLD]
Galerius (293-305-311), radiate
The green is not nearly that green on the coin itself

CONCORDIA MILITVM from Alexandria
[$6 SOLD]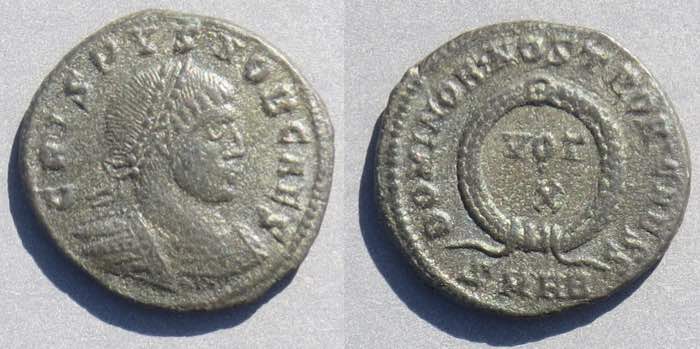 Crispus (317-326), son of Constantine
VOT X
SMHB Heraclea mint
[$14 SOLD]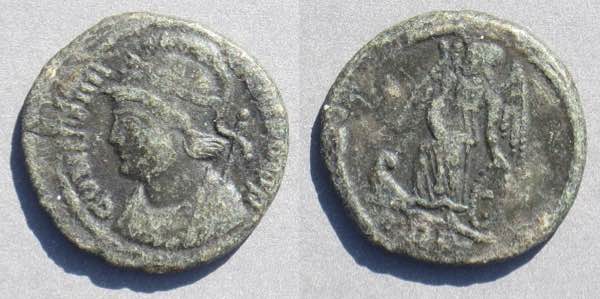 CONSTANTINOPOLIS commemorative of 330-340
Her helmeted bust left
Victory on prow
TRP for Trier
[$7]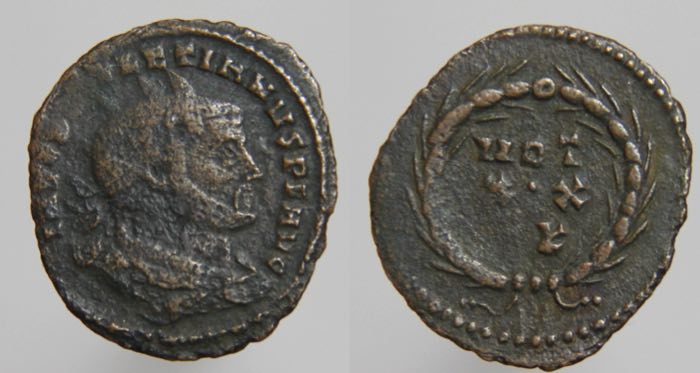 Diocletian, 284-305
VOT XX FK
Post-reform radiate
struck at Carthage
Vows for twenty years reign fulfilled, 303 AD
[$10]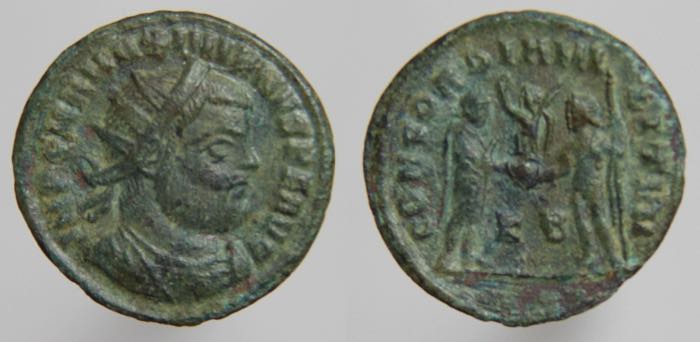 Maximian, 286-305
post-reform radiate
21 mm.
CONCORDIA MILITVM
[$15]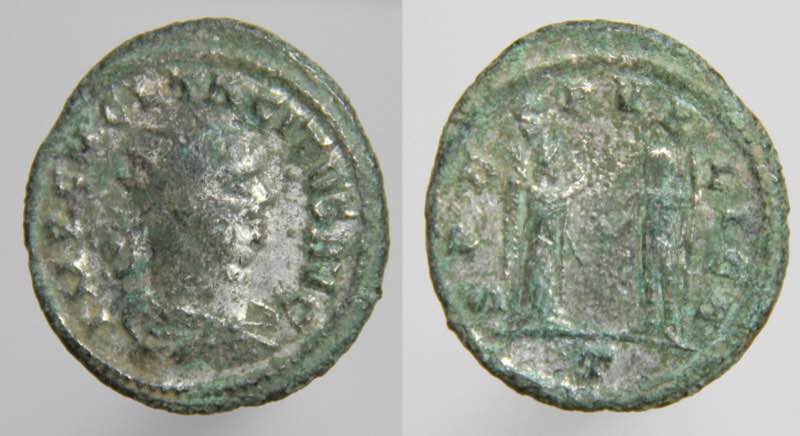 Tacitus, 275-276
SPES PVBLICA
23-21 mm. Much irregular silvering
[$14, reduced to $12]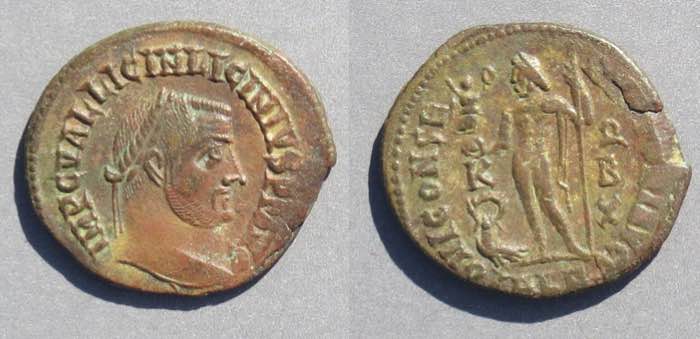 Licinius, 308-324
IOVI CONSERVATORI AVGG
Alexandria mint
Many control marks!
A very nice coin! [$15]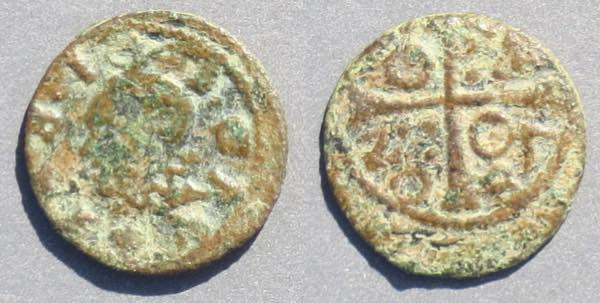 Medieval Spain. 13 mm. Thin.
Old ticket says "1500's
Castille & Leon" I don't know thee coins, so I hope you do! [$5]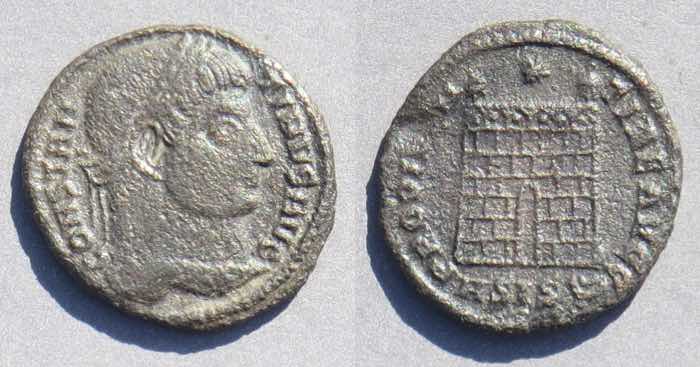 Constantine. 18 mm.
Campgate. [$8 SOLD]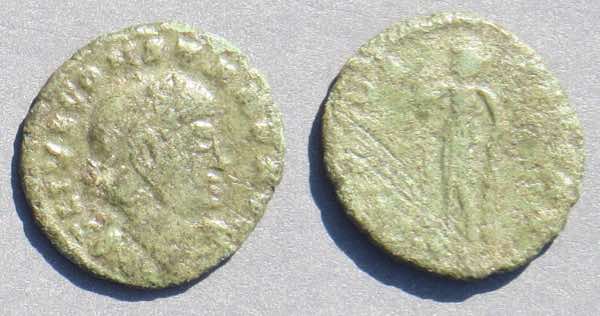 Constans. 337-350
scarcer reverse
VIRTVS AVGG NN
soldier standing. [$8, reduced to $6]
Claudius II, 268-270
21-20 mm.
PROVIDENTIA AVG
[$5]
---
Pair #1 of photos. $5, your choice.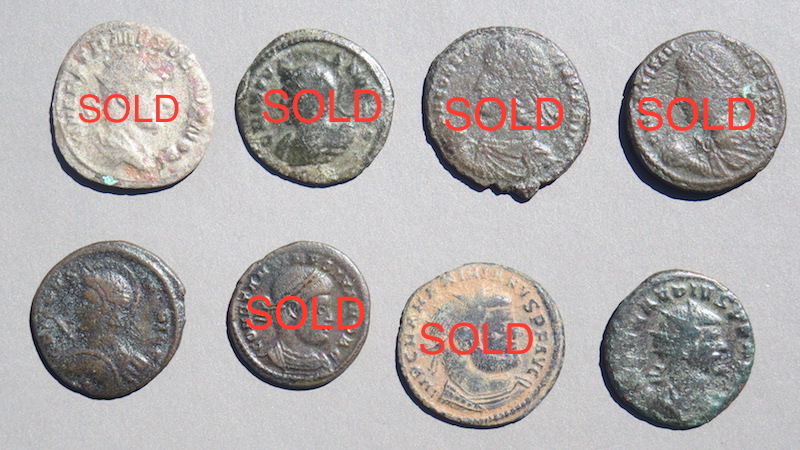 top left sold, top second from left sold, bottom row, third from left sold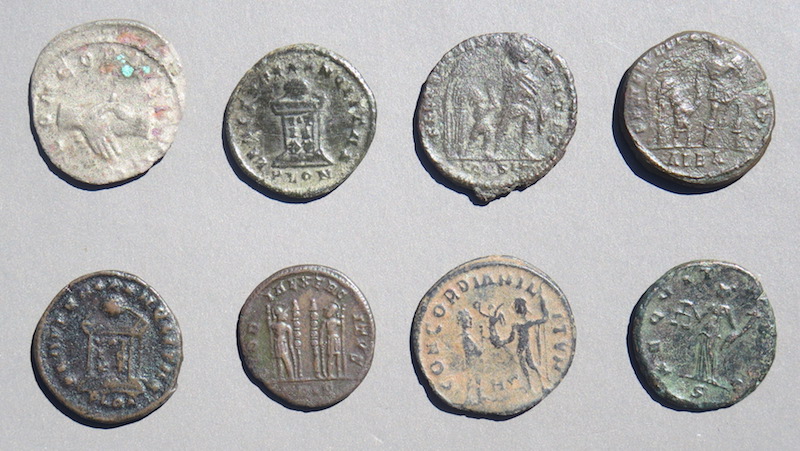 ---
Pair #2 of photos: $5 your choice.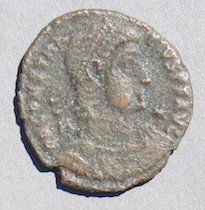 ALL SOLD except top row, third coin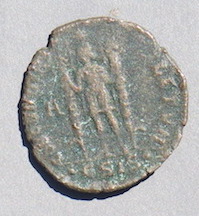 ---
Pair #3 of photos: Lower left, $14 SOLD. Upper right, $15. The rest, $8 to pick.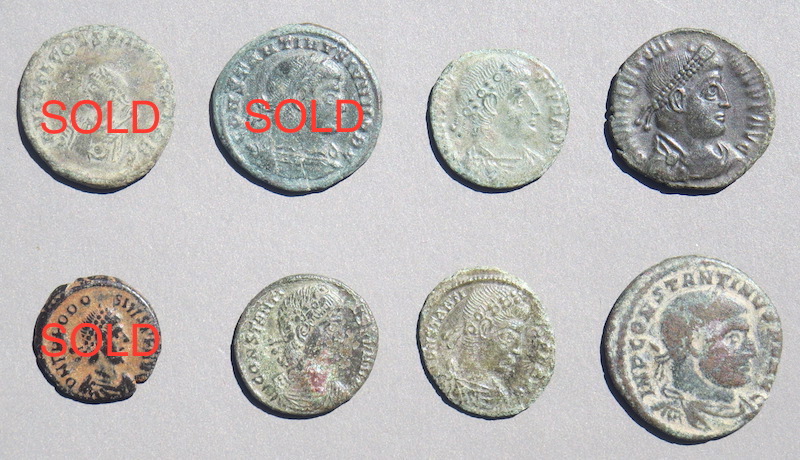 Botttom left SOLD.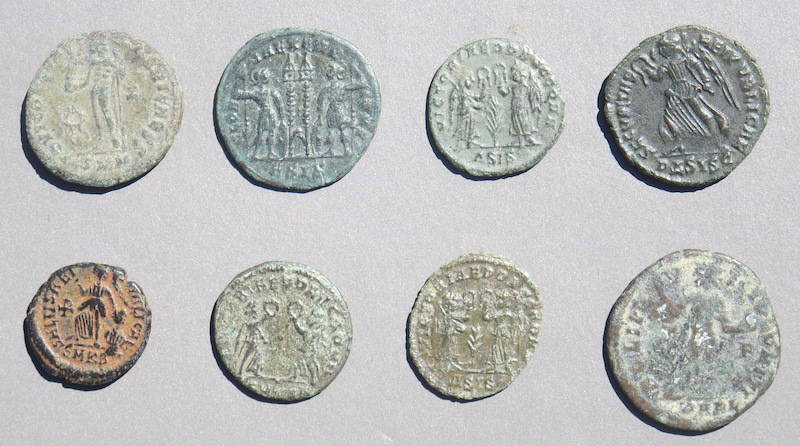 ---
Pair #4 of photos: $5 to pick.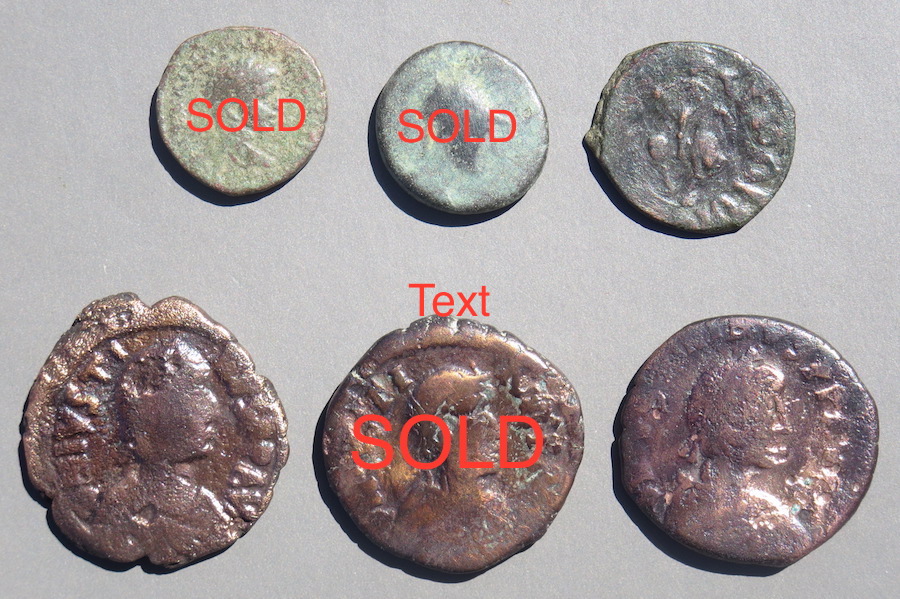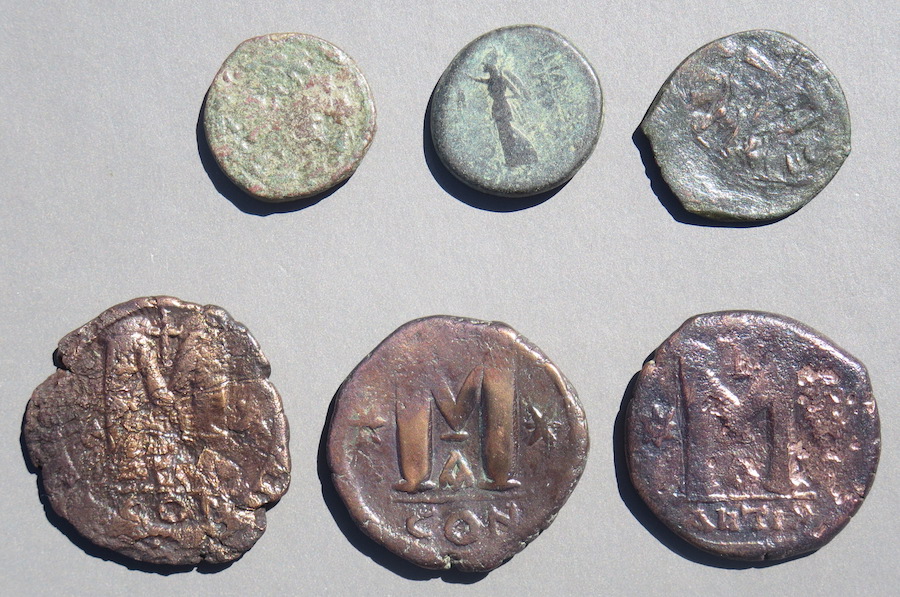 ---
Pair #5 of photos: Upper coin is a Claudius sestertius badly corroded and cleaned, $5.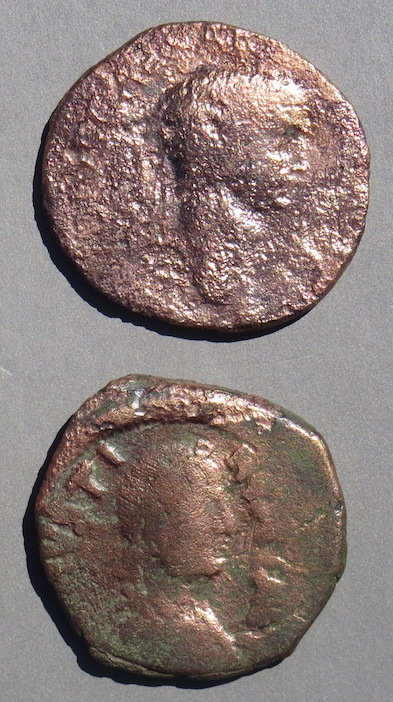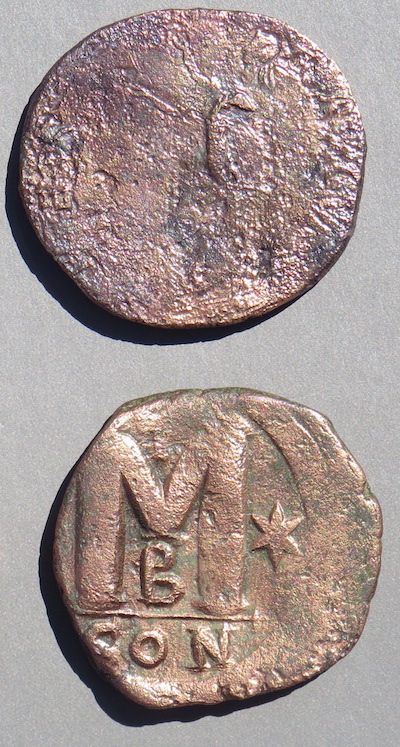 Claudius sestertius [$5 SOLD]
Byzantine Justin (AD 518-527) $4
Large 31 mm.
---
Go to the main page with better coins and with (inexpensive) cost of shipping.