Interesting ancient coins, offered by Augustus Coins

If you want to buy ancient coins and you are in the US, you are beginning at the right page. My coins are inexpensive; all cost much less than $1000. If you want to learn more about ancient coins, visit my educational ancient-coin website (begun in 1997 and expanded very many times since then). If you like to learn from books, visit my page of ancient-coin literature. For more about me, see see here.


Contents: This is the main page with Roman coins and some of newest listings from other series too, at the top. For late Roman, Byzantine, or Greek coins, or books about them, use the links to the left.

Skip down to Republican, 1st C, 2nd C, or 3rd C
3rd C. more precisely: Septimius Severus, Caracalla, Elagablal, Severus Alexander,
Gordian III, Philip, Valerian, Gallienus, Gallo-Roman, Claudius II, Aurelian,
Probus, Tacitus, Carus and Family

Recent: 2023, June 8: Every coin on this page had its price reduced today. Most coins on the Tetrarachy page had their prices reduced today. Constantine on the Constantinian page.
2023, June 4: Crusader of Tancred, two late Byzantine tetartera on the Byzantine page.
2023, June 2: Very nice M. CATO Republican denarius (top of this page). Very nice Class F anonymous follis on the Byzantine page.
2023, May 25: First Crusade: Tancred of Antioch (top of this page).




wwestyc wwestypage

Prices are in brackets: [$xx].

To order, or simply to ask me questions, write me, Warren, at

.
(I am on Pacific time, so if you are in the east and write me at 8:00 am it is only 5:00 am where I am.)
My page of terms, which are essentially repeated here:

Terms of Sale. I prefer to sell to customers in the US. Please tell me if you are not in the US (I might not be able to ship it inexpensively. It changes shipping costs a lot).
After I confirm I still have the coin:
If you are in the US you can pay with Zelle (preferred) or PayPal to my e-mail address. (I also accept checks.) (Why I prefer Zelle.)
If you are outside the US, a VERY BIG CHANGE as of Jan. 21, 2021. Last time I mailed to an address outside the US the price jumped from the previous $3 to $17.25. Wow! The new Post Office software no longer allows me to mail an envelope as a letter if it has coins in it. See more here.

Shipping in the US is $2 for orders under $25, $3 up to $50, $4 up to $100, and an additional $2 for each hundred thereafter.
Shipping to other countries: See about new (Jan. 2021) very high shipping costs here.
All coins are guaranteed genuine.

Reminder: When you buy a coin you must add in the shipping cost. Don't think a coin offered at $20 elsewhere will cost you $20. It won't. Shipping could easily be $6 or more. In contrast, I charge only $2 for shipping a $20 coin in the US.

Purple means "SOLD" and no longer available
Newest first. After that, Roman coins before the 4th century are in chronological order below. Later Roman coins are on other pages linked in the sidebar.
(Greek, Byzantine, and other coins are on their own pages with links at the top left.)
---

Newest next. Skip the newest coins and go down to Roman coins in chronological order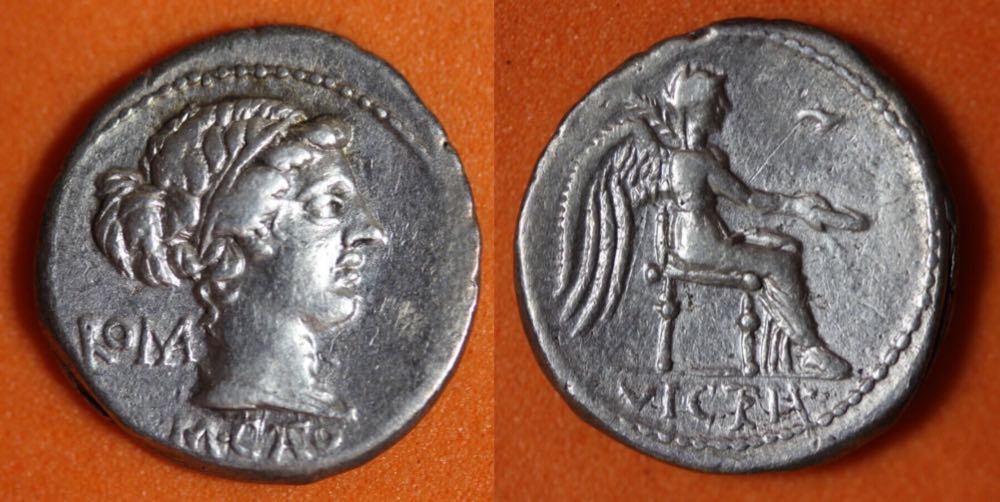 Roman Republican denarius
18.7-18.0 mm. 3.82 grams.
M. CATO
89 BC
Diademed female bust right
ROM M CATO (AT ligate)
Victory seated right, plam over shoulder
VICTRIX (TR ligate)
Crawford 343/1b
Sear I 246
Nice centering (all the obverse legend is on and VICTRIX is all on, too) and good surfaces. [$225, reduced to $185 SOLD]

Do you want a better one? Here's one that went for $3,300 plus fees, in spite of the "MCATO" not being fully on the flan!
https://www.acsearch.info/search.html?id=10963258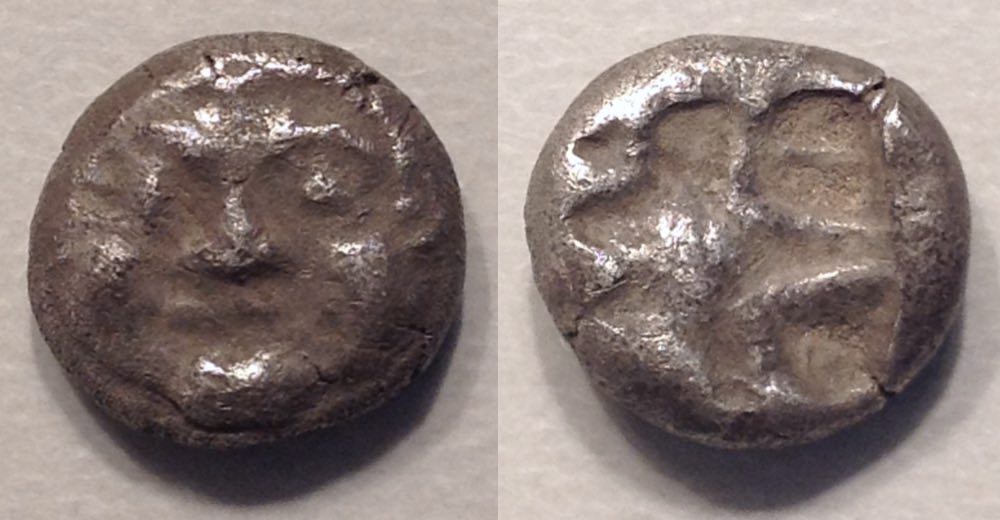 Greek silver drachm. (some say 3/4 drachm, but I doubt it)
Old! 5th C. BC
Mysia, Parion
12 mm. 3.32 grams. Chunky shape.
Facing Gorgornion, sticking tougue out
incuse pattern.
Sear Greek 3917.
BMC Mysia Parium (also spelled Parion) 1 "c. 500-400 BC"
SNG von Aulock Mysia 1318 "5th C. BC"
SNG Paris 5, Mysie plate 70, 1343 "5th C. BC"
Klein 276
Ex Gorny and Mosch auction 156, large lot 2611 (part of 40 pieces hammering at 1000 euros).
Ex Esty collection, 2008. I like it for the dumpy shape. It is obviously a chunk of silver marked to be valid for exchange.
[$43, reduced to $39 (+$3 shipping in the US)]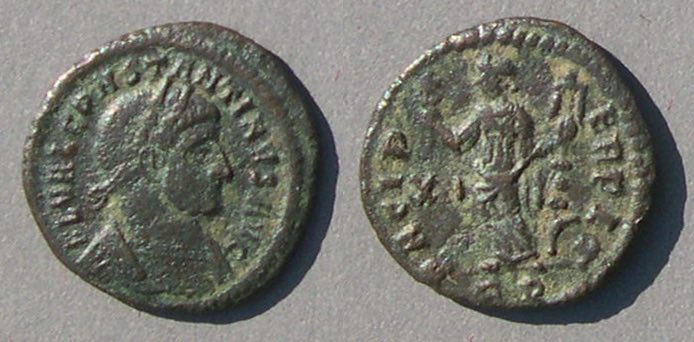 Constantine, 307-337
17-16 mm. "half follis"
Struck late 312-early 313
PACI PERPET
Pax standing holding branch and standard
RP in exergue
XII in field left RIC VI Rome 356. Only at Rome, page 391.
[$125, reduced to $95]
Rare. Please compare to prices elsewhere.
ex Esty collection.
ex Aegis-Argos Feb. 11, 1983.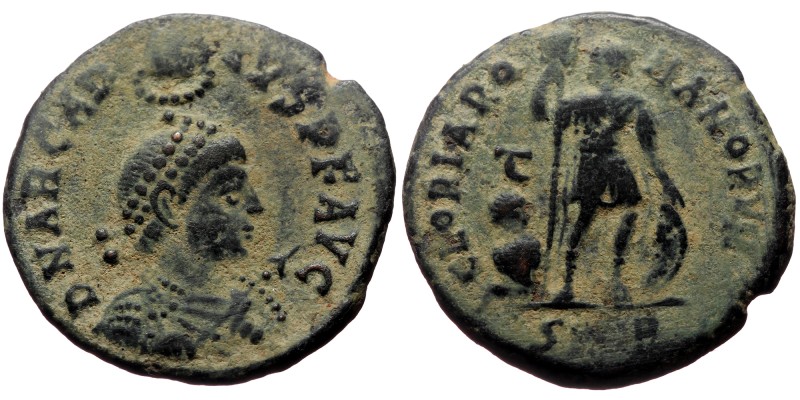 Arcadius (383-408). AE.
4.65 g. 22mm.
Cyzicus
Obv: D N ARCADIVS P F AVG. Bust of Arcadius, pearl-diademed, draped and cuirassed, right, holding spear and shield in front; above, hand of God holding wreath.
Rev: GLORIA ROMANORVM SMKB (I think)
Emperor, head left, standing facing, holding standard in right hand and resting left on shield; to left, captive seated left, head turned right.
Ref: RIC Cyzcius 15 "scarce" 19 Jan. 383 - 25 Aug. 383. (At Cyzicus it was a short issue.)
Nice earthen cover and clear hand-of-God. [$37, reduced to $35] Please compare to comparable coins on vcoins which are at least $65.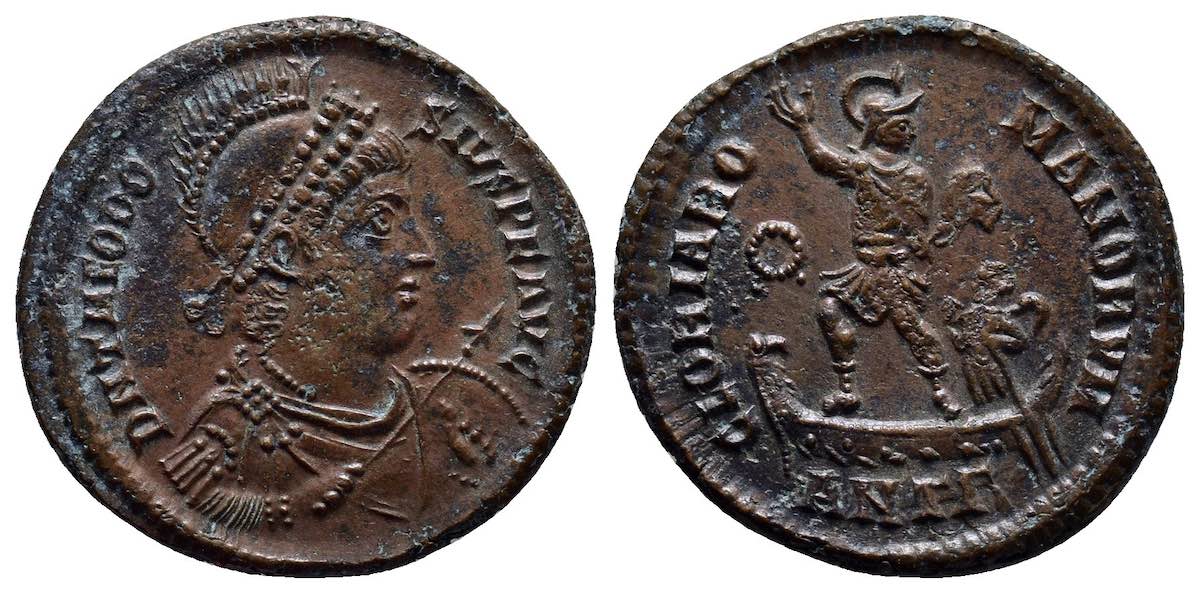 Theodosius, 379-395
AE2. 23.6-22.5 mm. 5.00 grams.
GLORIA ROMANORVM
Theodosius in crested helmet right, with spear and shield. Galley with emperor, steered by Victoy
ANTΓ
RIC
IX Antioch 40(d)Γ
Look at the details! His right arm. The broach at his right shoulder. The pearls in the diadem. The spear. Wow!
Sear 20484 at $150 in EF and this one is EF. [$87, reduced to $79]

Compare to this one which sold for $220 plus fees:
https://cngcoins.com/Coin.aspx?CoinID=311260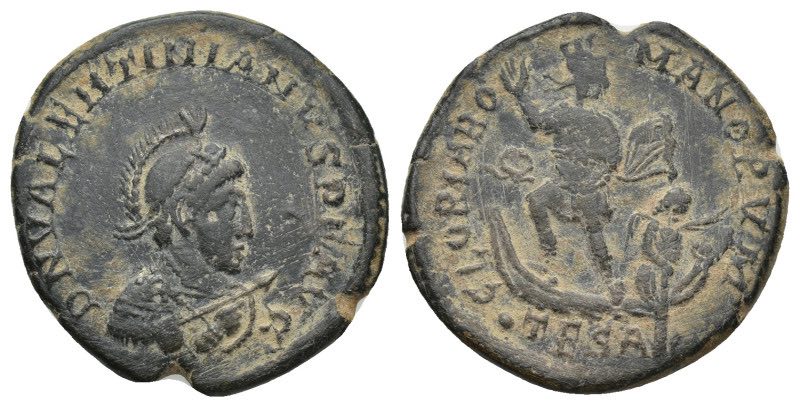 Valentinian II, 367-379
AE2. 22 mm. 4.61 grams
GLORIA ROMANORVM
Emperor in galley (the "ship of state") which is being steered by Victory
Thessaloncia mint.
Emperor helmeted with crest and holding spear forward, raising right hand in greeting. Nice light earthen highlights.
[$23, reduced to $21] [As usual, please compare with vcoins prices.]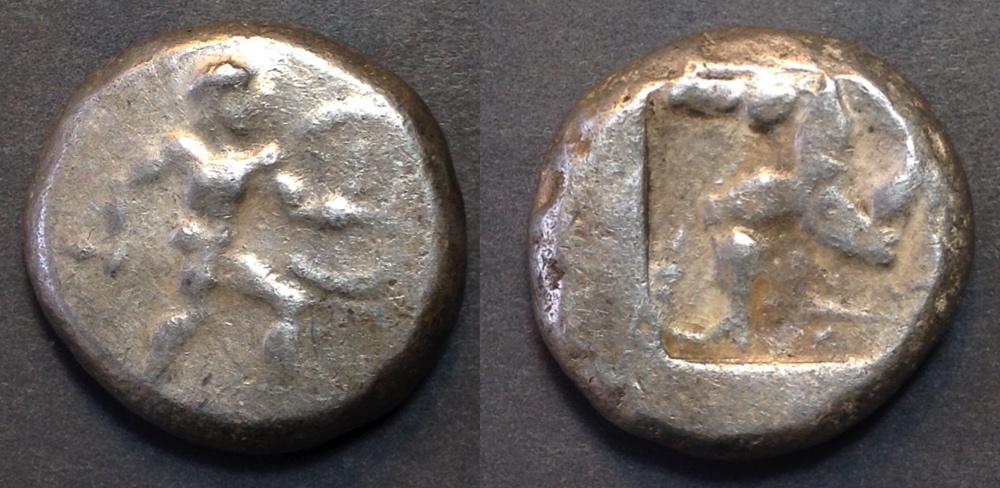 c. 465-430 B.C. The very
first issue
of Aspendos (Aspendus, Pamphylia, Turkey)
Silver stater. 19-18 mm. 10.69 grams.
Thick archaic flan.
Hoplite warrior with spear and shield right
Triskeles of three human legs running
left
.
Triskeles (symbol of Aspendos, often seen on the later "wrestlers and slinger" type)
Sear Greek 5381
[$135, reduced to $99, reduced to $87]
Old! Thick. A chunk of silver! It is remarkable to find a coin this heavy and this old for this little.
Books! Coinage and Finances in the Reign of Domitian: A.D. 81-96 (BAR International) Paperback, 1983. Beautifully hardbound in heavy red cloth covers. Somebody did a nice job having it covered. The original cardcover book and its cover is all there after a flyleaf. Title in black on the spine. Unmarked and seems nearly new. [ $119+$5 shipping.]
(For other books and catalogs, see http://augustuscoins.com/numislit.html ]

Book. The large two-volume book by Estiot on coins of Aurelian and Florian, "Monnaies de l'Empire Romain, D' Aureline a Florien, 270-276", with 456 pages in French (most lists, tables, and coin IDs, easy to read), plus 100 page plates and 16 pages of color enlargements and many tables. This copy is excellent.
None on Amazon. AddAll at $199 or $220 but shipped from Europe.
Here, a very good copy at $180, reduced to $165, including shipping in the US only.

Book. Massive. Greek coins. SNG France 6.1 "Italie, Étrurie - Calabre" Paris 2003. 141 page plates of excellent photographs (better than older SNGs). Nearly new [$79 shipping in the US included] 12" x 8 1/2" by 1 1/2". Heavy glossy paper.
---
Please compare prices with those on acsearch and vcoins and any other sites you use. I intend my prices to be below the prices for comparable coins anywhere else.
---
Links:
Caracalla, Elagablal, Severus Alexander, Gordian III, Philip, Valerian, Gallienus, Gallo-Roman, Claudius II, Aurelian, Probus, Tacitus, Carus and Family
---

Roman Republican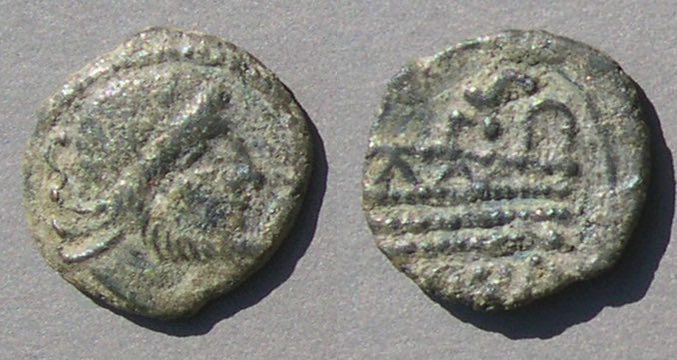 Roman Republican
semis imitation from Spain
(which rarely had its own mint so locals issued imitations to supply the need for small change)
First century BC. c. 100-25 BC.
Small. 17-15 mm. 2.19 grams.
Head of Saturn right; S (mark of value) behind
Prow right; horizontal S (mark of value) above. Cf. Burgos R46.
cf CNG
https://cngcoins.com/Coin.aspx?CoinID=270492
for a very similar coin, not as nice, for $60 plus fees.
Crawford "Unoffical imitations and small change under the Roman Republic" AIIN 29 (1982) plate XI, 21. Also, plate II 19 (same dies!)
"Found almost always in the south of Spain, near Seville"
Better than the CNG piece. [$49, reduced to $47]
This coin
cited in Rippolès and Witschonke, "The unofficial Roman Republican semisses struck in Spain" in
Studies in Ancient Coinage in Honor of Andrew Burnett
, 2015. #116h, not illustrated.
---

***** I also have a page of numismatic literature (ancient-coin auction catalogs, books) for sale.
---
[SOLD]

Vespasian (69-79)

[SOLD]
Titus (79-81)
[SOLD]

[SOLD]

---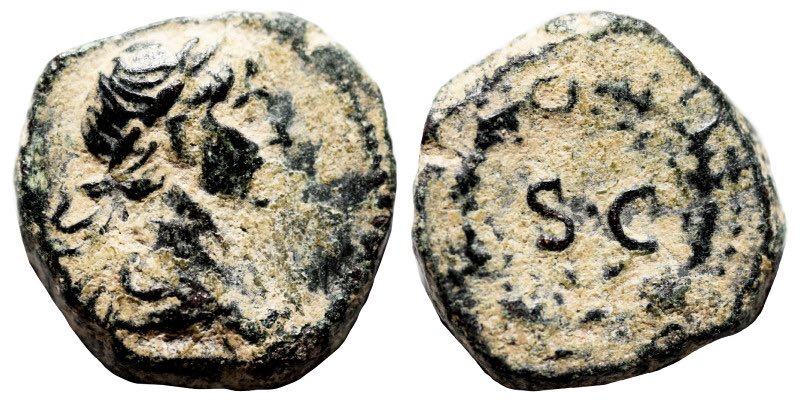 Trajan, 98-117
The smallest Roman denomination! Sometimes called an "uncia." It is much smaller than a quadrans.
Struck very near the end of his reign, c. 117.
11.2-10.5 mm. 1.10 grams.
Tiny!
His bust right with no legend.
"SC" in wreath.
Sear II 3250, page 170 "Rome, 112-117"
RIC
Trajan 443, probably 101-103 (unlikely, since there is a short-lived similar type of Hadrian)
BMC
1883. p. cvi "Very probably of Roman mintage--possibly Antioch."
The only other coin of a similar type is of Hadrian, distinguished only by its portrait of Hadrian.
Clearly recognizable bust of Trajan and clear "SC" in wreath. Tiny! Nice natural earthen cover. [$63, reduced to $53]
It is beautiful and clear considering it is so small.
PRC
III 3681 Antioch "chalkous" "product of Rome." "Struck for circulation in Syria".
Hadrian (117-138)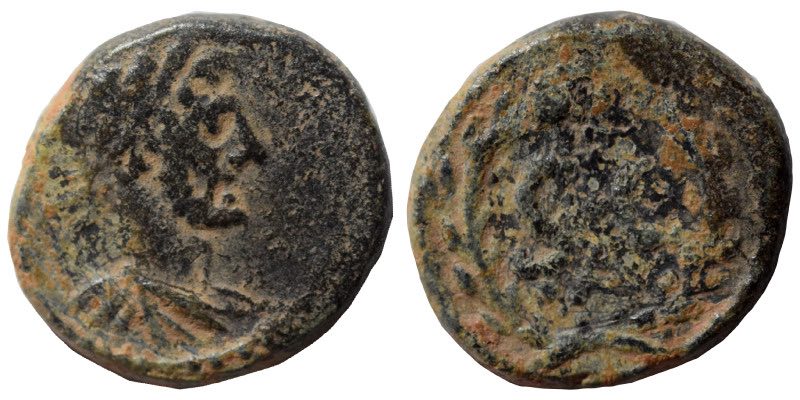 Hadrian, 117-138. Struck c. 117. The smallest Roman denomination! Sometimes called an "uncia." It is much smaller than a quadrans.
Struck very near the beginning of his reign, c. 117. (The only other coin of a similar type is of Trajan, which is distinguished only by its portrait of Trajan. See the next coin.)
10.5-9.5 mm. 1.15 grams. Tiny!
His bust right with no legend.
"SC" in wreath.
Sear II 3250, page 170 "Rome, 112-117"
RIC Hadrian 629b.
Sear II 3705 page 170
Tiny! Good portrait for the small size. [$39, reduced to $33] PRC III 3681 Antioch "chalkous" "product of Rome." "Struck for circulation in Syria". It seems these of Hadrian are poorly made compared to those of Trajan. This one is nice "for type."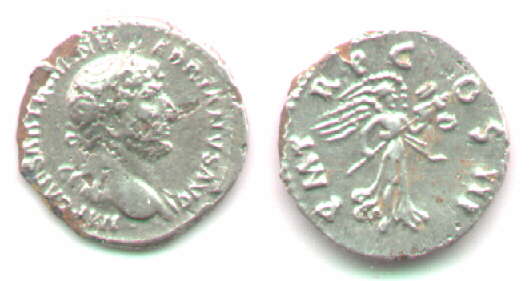 19 mm fourré. (ancient imitation) 2.53 grams.
Hadrian, 117-138
IMP CAESAR TRAIAN HADRIANVS AVG
/PM TRP COS III, Victory right holding trophy forward
plated piece: 19 mm. 6:00. 2.53 grams
Remarkably nice reverse.
Prototype: RIC 101 "AD 119-122", BMC 212, plate 51.1. Hill 237 "AD 123"
[$29, reduced to $27]
ex Esty collection of ancient imitations (old photo taken with a scanner back in the day).
Antoninus Pius (138-161)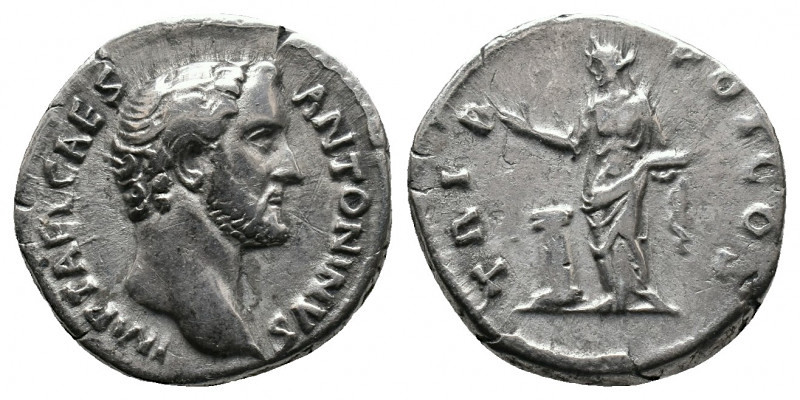 Antoninus Pius, 138-161
Denarius 18 mm. 3.09 grams.
without the title Augustus ("as Caesar")
Antonius Pius and Marcus Aurelius were designated heirs of Hadrian. When the senate declined to deify Hadrian, Antoninus Pius declined to take the title Augustus. The senate caved to the pressure.
IMP T AEL CAES ANTONINVS (His name included "Titus" and he used "Aelius," one of the names of Hadrian)
TRIB POT COS
Pietas standing by altar raising right hand
bare head right
RIC II.3 Hadrian 452a
Old RIC 2 (the Hadrian volume) Hadrian 445 "138, Feb. 25 - July 19)
Pietas has a component of caring for your parents and Antoninus Pius says, with this coin, that he expects Hadrian, his adoptive father, to be cared for by deification.
This coin is early in the first year as can be seen by TRIB POT without a number and not even "DES II" which is used near the end of the year to assert he is designated to be TRIB POT II next year. [$145, reduced to $125]


Diva Faustina I (died 141 AD).
AE As (26mm, 11.41 g),
Roma (Rome).
DIVA FAVSTINA AVGVSTA, draped bust right.
AETERNITAS / S - C,
Providentia standing left, holding long sceptre and globe.

[$39, reduced to $35] Much larger than a denarius. Orichalcum.

[SOLD]
---

Third Century:

Septimius Severus
[sold]
Caracalla (196-198-217)
Severus Alexander (222-235)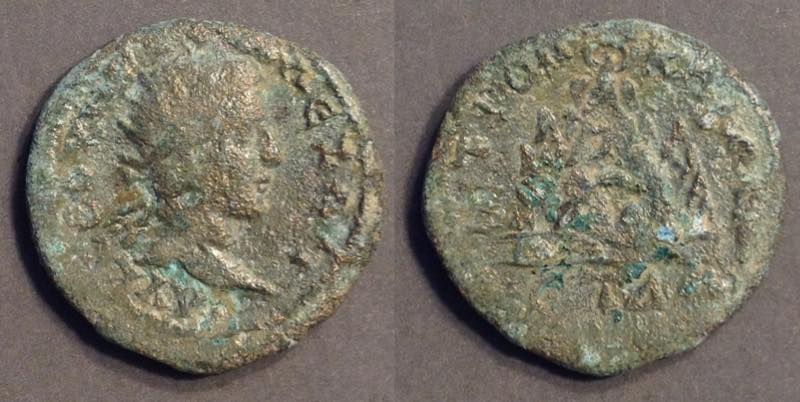 Cappadocia
Caesarea
Severus Alexander (222-235AD)
26 mm. 10.98 grams, dated (225/6AD)
laureate and draped bust right
Mount Argaeus on base, ETΔ in exergue
[$24, reduced to $17] (The only one on vcoins as I write is $119, a bit better)
Maximinus Thrax (235-238)

[SOLD]

Philip, 244-249.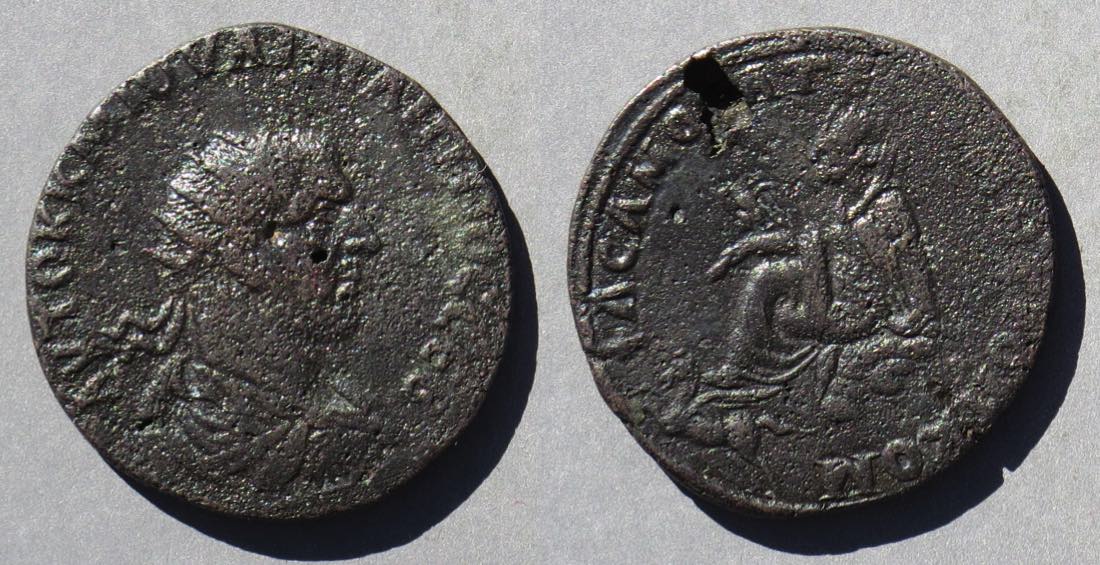 Philip I, 244-249
Sestertius-diameter coin from the
Samosata mint on the Euphrates
31 mm. 16.55 grams.
Radiate bust right
City goddess seated left on rocks, holding out eagle, Pegasus leaping at her feet.
Butcher Coinage in Roman Syria, page 475, Philip 31 radiate
BMC Syria, Commagene, Samosata 51 (laureate)
[$35, reduced to $29 SOLD]

Philip II, 244-249
Roman Provincial from Nisibis
an outpost in upper Mesopotamia that features many times in the history books as the Romans and Sasanians battle over it.
25-24 mm. 9.26 grams.
AYTOK KMIOYΛI ΦIΛIΠΠOC CEB
IOΛ CEΠKOΛΩ NECIBI MHT
Sear Greek Imperial 4157
BMC Mesopotamia Nesibi 23
Lindgren and Kovacs 2604
[$45, reduced to $39 SOLD]
---

Herennius Etruscus, 250-251 under Trajan Decius

[sold]
Trebonianus Gallus. A.D. 251-253

[SOLD]
---
---
[SOLD]
o
[SOLD]
Central Empire, Claudius II (268-270) and later:
Claudius II, Gothicus, 268-270
20.7-19.2 mm. 3.13 grams.
IMP CLAVDIVS P F AVG. Radiate and cuirassed bust right.
With his nickname in the reverse legend!
VICTORIAE
GOTHIC
Trophy with two captives
One of his best types for having "GOTHIC" in the legend.
[$27, reduced to $24]
For a page of ancient imitations from the third century, see here.

---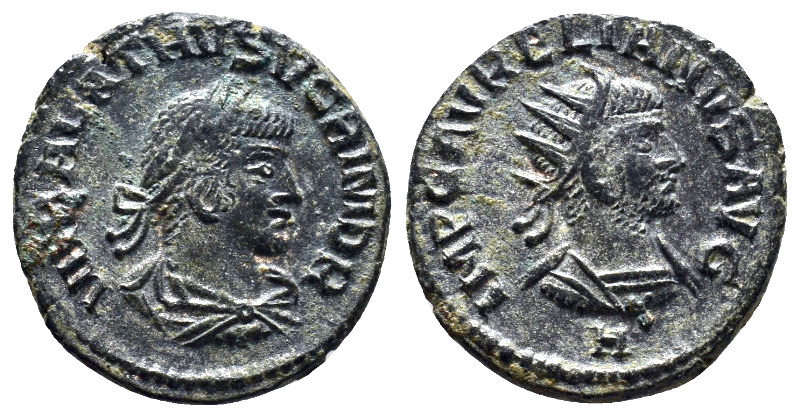 Vabalathus and Aurelian.
A.D. 270-2742;
Augustus 270-275.
Antoninianus. 19mm, 3.5 g.
Antioch mint, Struck A.D. 270-272.
VABALATHVS V C R IM D R, laureate, draped and cuirassed bust of Vabalathus right, seen from behind
IMP C AVRELIANVS AVG, radiate and cuirassed bust of Aurelian right // H.
[$45, reduced to $39]

[sold]
[sold]
---
---
Go to, on this page, Republican, 1st C, 2nd C, or 3rd C
Caracalla, Elagablal, Severus Alexander, Gordian III, Philip, Valerian, Gallienus, Gallo-Roman, Claudius II, Aurelian, Probus, Tacitus, Carus and Family
---

Continue on another page with:
Roman: Diocletian through Licinius (the tetrarchy) or
with Constantinian coins,
Return to the top of this page.

To order, or simply to ask me questions, write me, Warren, at


.

---