Interesting ancient coins, offered by Augustus Coins.

If you want to buy ancient coins, you are beginning at the right page. If you want to learn more about them, visit my educational ancient-coin website (begun in 1997 and expanded very many times since then). If you like to learn from books, visit my page of ancient-coin literature. For more about me, see see here.

Contents: This is the main page with Roman coins and some of newest listings from other series too, at the top. For late Roman, Byzantine, or Greek coins, or books about them, use the links to the left.

Skip down to Republican, 1st C, 2nd C, or 3rd C
3rd C. more precisely: Septimius Severus, Caracalla, Elagablal, Severus Alexander,
Gordian III, Philip, Valerian, Gallienus, Gallo-Roman, Claudius II, Aurelian,
Probus, Tacitus, Carus and Family

Recent: 2020, Nov. 26: Tiberius "Tribute Penny" authenticated and graded by NGC (at the top).
2020, Nov. 19: Five coins of Persis, at the top of the Greek page. Reduced most prices on the numismatic literature page. Take a look at some well-illustared books and catalogs.
Nov. 14: A possibly unique variety of the now-common first stater type of Aspendos on the Greek page. A quarter-follis on the inexpensive page.
Nov. 11: Another dozen, at the top, added since the eleven yesterday. Also, two at the top of the inexpensive page.
Nov. 10: Eleven new additions (at the top)
Nov. 1: Augustus/Rhometalkes (client King of Thrace), Byzantine very large AE37-35 of Tiberius II, outstanding Byzantine Cherson anonymous Delta denomination from the time of Maurice. Limes-Falshung dupondius (very rare as a dupondius) on the "ancient imitations" page.
2020, Oct. 11 and 10: Arab-Sasanian of Tabaristan, Hephthalite quarter-drachm, eight Sasanian kings (Edit: some sold), top of this page.

Books. If you would like some literature to read, make me an offer. I think my prices are the lowest on the market, but I'd like to sell some of these to someone who would like to look at them. That might be you! Make me a (low) offer. I might well accept!


wwestyc wwestypage

Prices are in brackets: [$xx].

To order, or simply to ask me questions, write me, Warren, at

.
(I am on Pacific time, so if you are in the east and write me at 8:00 am it is only 5:00 am where I am.)
My page of terms, which are essentially repeated here:

Terms of Sale. When you write me, please tell me if you are not in the US (it changes shipping costs).
After I confirm I still have the coin,
from the US you can pay with Zelle (preferred) or PayPal to my e-mail address. (I also accept checks.) (Why I prefer Zelle.)
from abroad, you may pay with Transferwise (preferred) or PayPal to my e-mail address. (Why I prefer TransferWise.)

Shipping in the US is $2 for orders under $25, $3 up to $50, $4 up to $100, and an additional $2 for each hundred thereafter.
Shipping to other countries: Shipping is an additional $3 for orders under $200 and payment must be with TransferWise or PayPal. (Thick coins change an "envelope" into a "small parcel" which costs significantly more in postage. I can mail about three denarius-sized coins as an "envelope," but not large Byzantine bronze or sestertii.) When you order, please tell me which country you live in and I will get back to you about shipping before you confirm your order.
More detailed terms are here. All coins are guaranteed genuine.

Reminder: When you buy a coin you must add in the shipping cost. Don't think a coin offered at $20 elsewhere will cost you $20. It won't. Shipping could easily be $6 or more. In contrast, I charge only $2 for shipping a $20 coin (in the US).

Purple means "SOLD" and no longer available
Newest first (down to the second horizontal line.)
After that, Roman coins before the 4th century are in chronological order below. Later Roman coins are on other pages linked in the sidebar.
(Greek, Byzantine, and other coins are on their own pages with links at the top left.)
---

Newest next. Skip the newest coins and go down to Roman coins in chronological order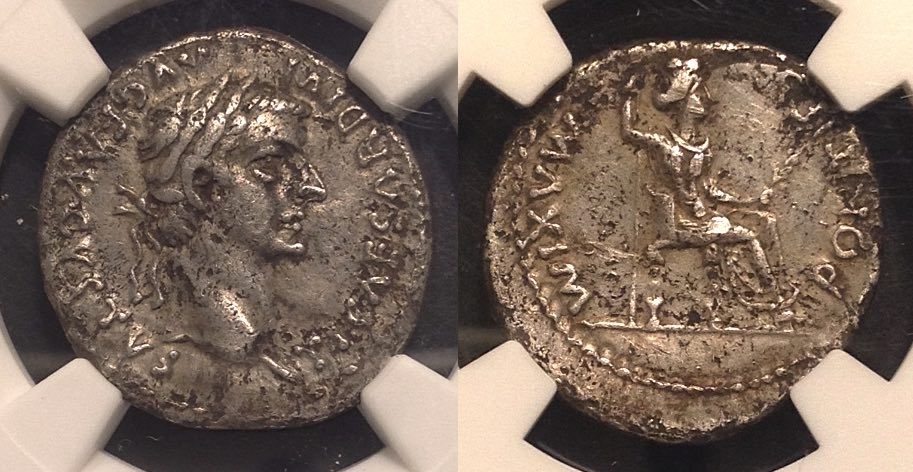 Tiberius, 14-37
The famous so-called "Tribute Penny"
"XF" according to NGC
The surface shows corrosion on the upper and right part of the rim on the reverse
Nice portrait of Tiberius.
The relief is a tiny bit higher (better) in real life than I captured in the photo.
It is almost Christmas. If any Roman emperor is most-closely associated with Christ, it is Constantine or Tiberius.
NGC slabbed as XF. [$449 + $10 shipping]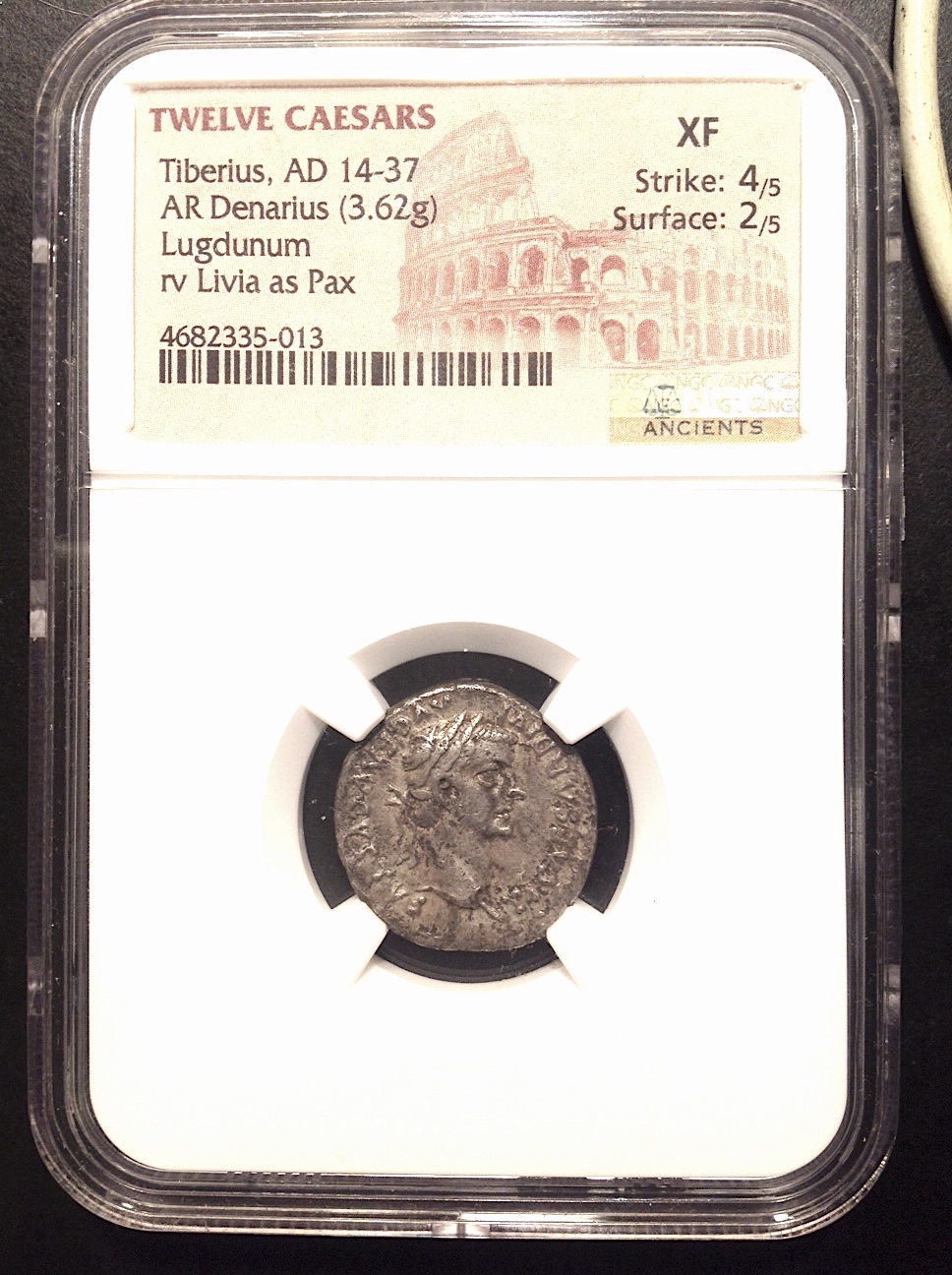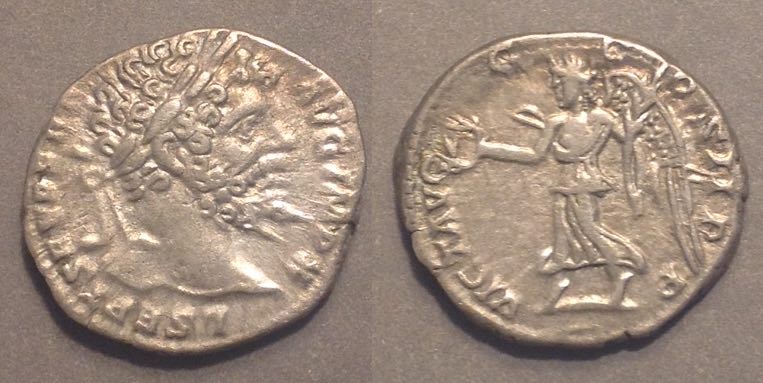 Septimius Severus, 193-211
Denarius. 18-16 mm.
VICT AVGG COS II PP
Victoring advancing left with wreath and palm
L SEPT SEV PERT AVG IMP X
Dated by "IMP X" to 198
Sear Roman Coins 6370
Eastern mint of Laodicea. [$33]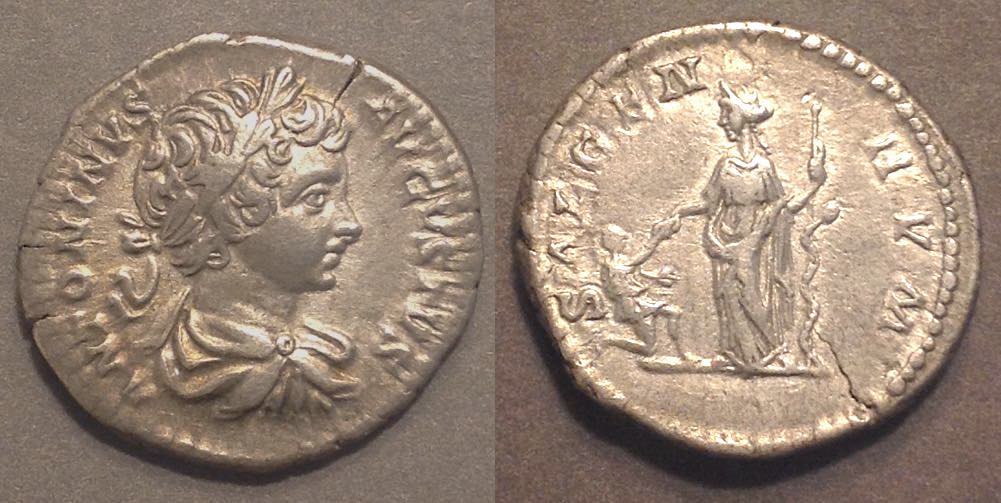 Caracalla, 196-217
Denarius. 19 mm. 3.53 grams.
Struck 201 during his joint reign with Severus
Young portrait.
SAL GEN HVM
Salus restoring the human race.
Salus raising a kneeling figure
RIC 42b. "Scarce" This type is only for Caracalla. BMC 169.
ex Empire coins, list 25 number 185 in Feb. 1985 at $60 + shipping.
Excellent youthful portrait. A really nice example of a scarce coin of a type unique to Caracalla [$125 SOLD]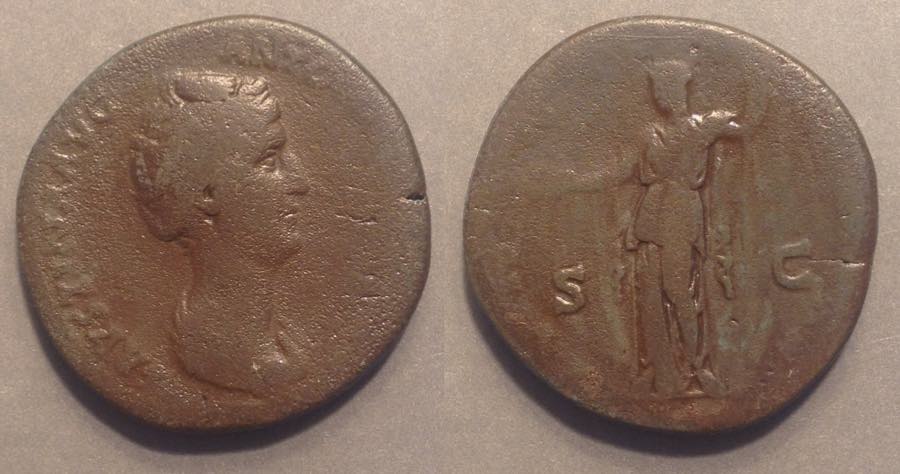 Faustina Sr., wife of Antoninus Pius
Sestertius. 32 mm. Large and thick.
Her bust right.
FAVSTINA AVG ANTON
IVONI REGINA (lettering weak)
This would make a great "pocket piece". It is already very worn, so a bit more wear carrying it around won't matter for years and yet it is clear what it is. Good for showing to acquaintances who know nothing about ancient coins.
[$27]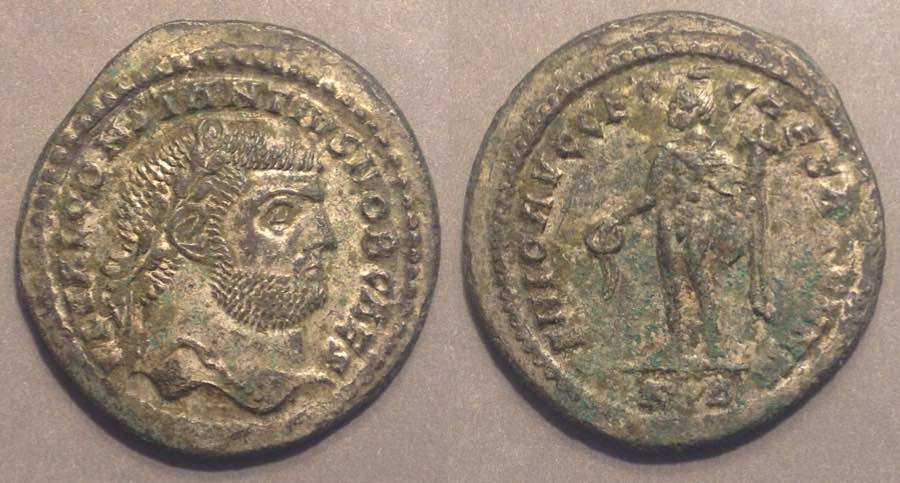 Constantius as Caesar, 293-305
Follis. Large 29 mm.
GENIO AVGG ET CAESARVM NN
RIC VI Cyicus 11a Struck "c. 297-9"
KB in exergue
This GENIO legend is only from the Cyzicus mint.
Bold portrait. Some surface-silvering as shown.
A big portrait coin of a scarcer reverse type with sharp beard details. [$39]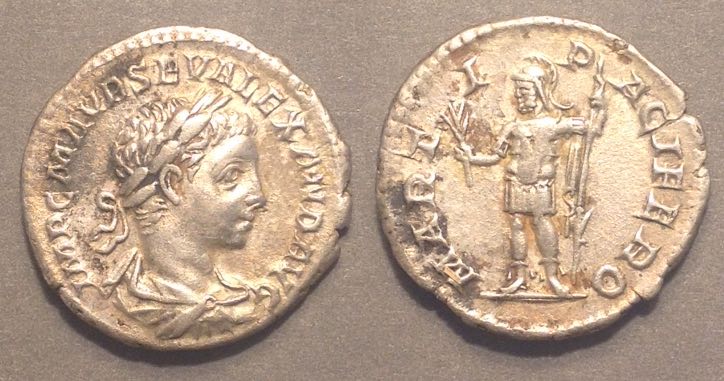 Severus Alexander, 222-235
Struck late 222 in his first year.
Denarius. 18 mm. 2.66 grams.
MARTI PACIFERO
Mars holding branch and reversed (point down) spear.
Mars brings and ensures peace.
He was a young man when he came to the throne and this portrait shows it well.
Nice young portrait. Well-centered and well-struck. You can see the beard on Mars. Interesting version of Mars (It reminds me of President Regan's "Peacemaker" nuclear missiles.)
[$85]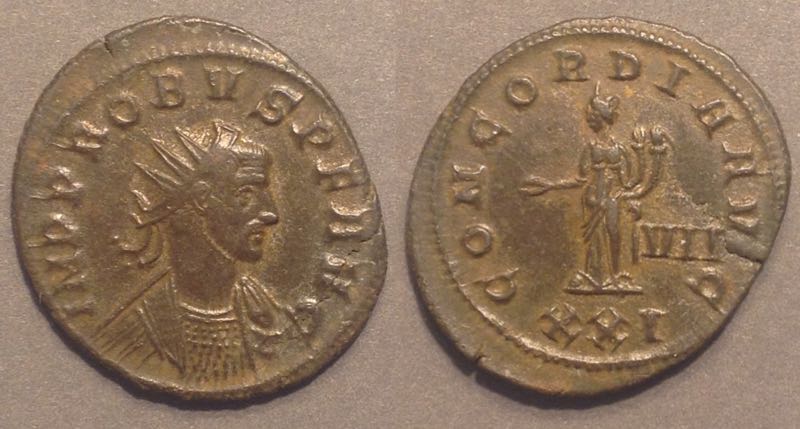 Probus, 276-282
CONCORDIA AVG
XXI in exergue and VII in the right field
RIC Siscia 661
Sear Roman Coins 11966
[$45]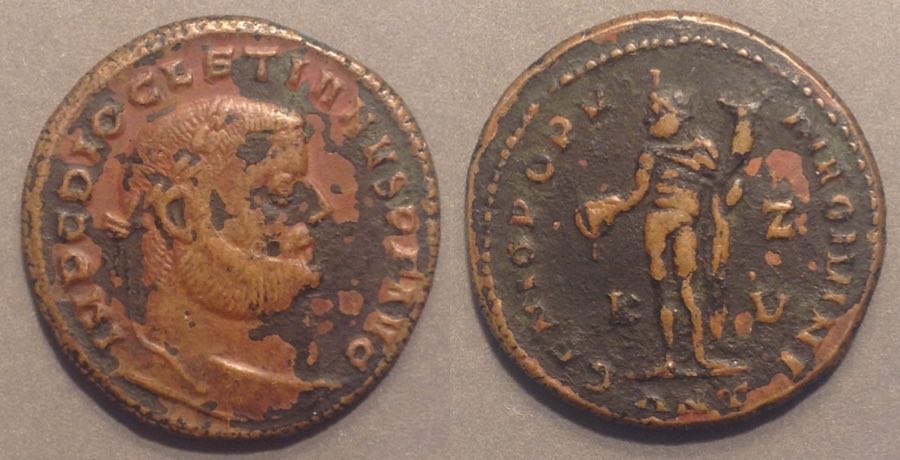 Diocletian, 284-305
Follis. 27 mm.
GENIO POPVLI ROMANI
Field marks:
Z
K V
ANT in exergue.
There is speculation that K means 20 and V means 5 (Z is the officina number).
20 denarii? 5 to an Argenteus of 100 denarii?
Antioch mint.
[$24 SOLD]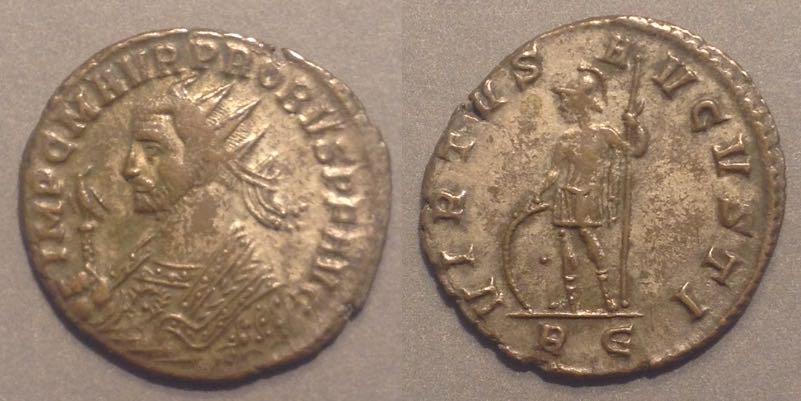 Probus, 276-282
Antoninianus. 21-20 mm.
Probus in consular robes left, hlding eagle-tipped scepter.
VIRTVS AVGVSTI
RIC
234
Sear
Roman Coins
12063
Struck 277-8 (The robes indicate it was a year he was Consul)
Beautiful detail in the robes. [$75]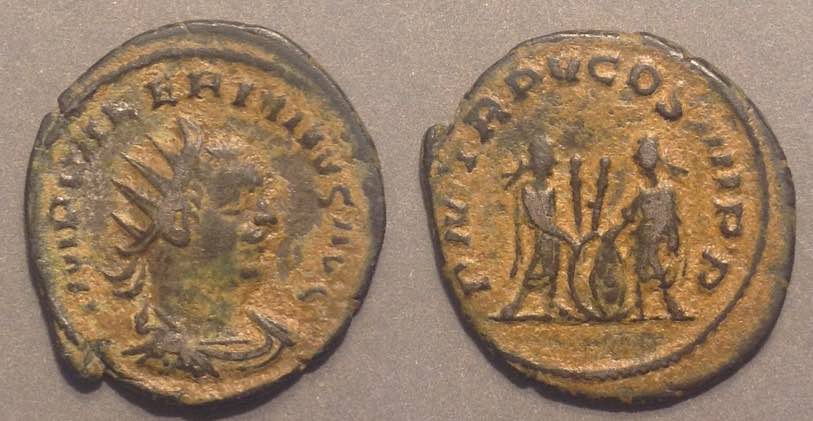 Valerian, 253-260
Antoninianus. 22-21 mm.
PM TRP V COS III PP
Two emperors (Valerian and his son Gallienus)
Explicitly dated to 257 AD by "TRP V".
[$25]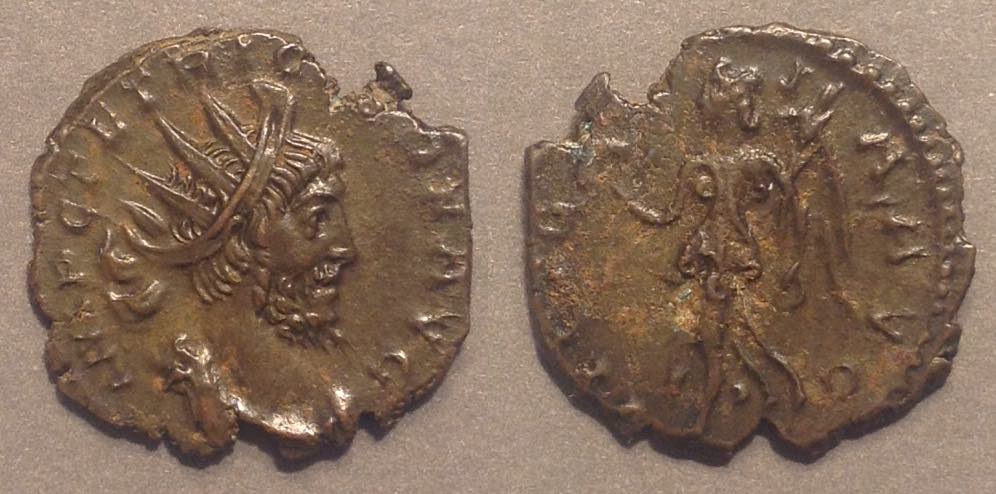 Tetricus I, 270-273
Gallo-Roman Empire
19-18 mm.
VICTORIA AVG
Sear Roman Coins 11255
RIC 141c
Excellent portrait piece! Look at that face! [$35 SOLD]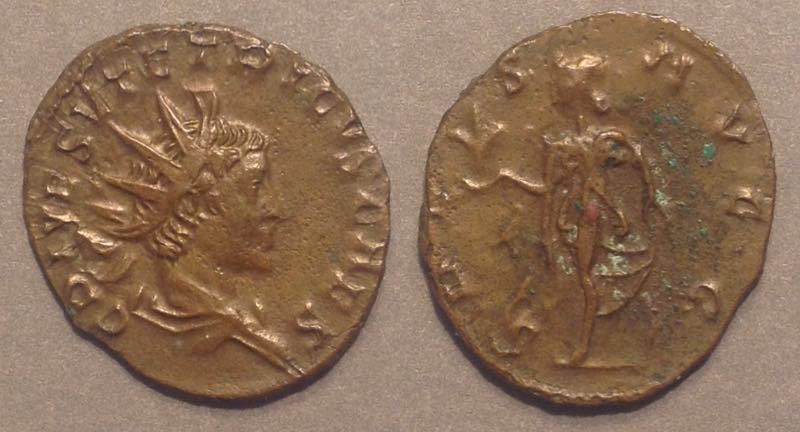 Tetricus II, 270-273
Gallo-Roman Empire.
20-18 mm.
SPES AVGG
RIC 270
Sear Roman Coins 11292
[$29]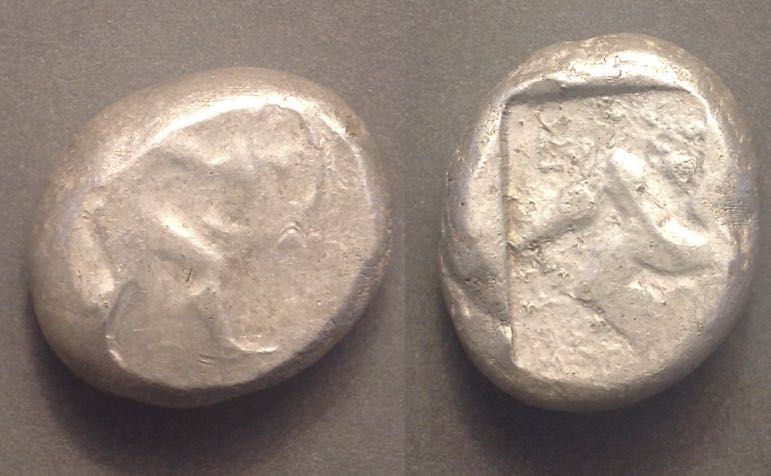 c. 465-430 B.C. The very first issue of Aspendos (Aspendus, Pamphylia, Turkey)
Silver stater. 19-16 mm. 10.82 grams.
Very thick (5 mm) archaic flan.
Hoplite warrior with spear and shield right
Triskeles of three human legs running right.
SNG France 3, #1 (the very first type of Aspendos) c. 465-430 BC.
Sear Greek 5381. A hefty chuck of archaic silver. I find it amazing that you can buy an archaic silver stater from well before 400 BC for only [$65].


Galerius as Augustus, 3-5-310-313
GENIO AVGVSTI CMH monogram
Nicomedia mint.
Less green than the photo. Nice obverse legend [$25]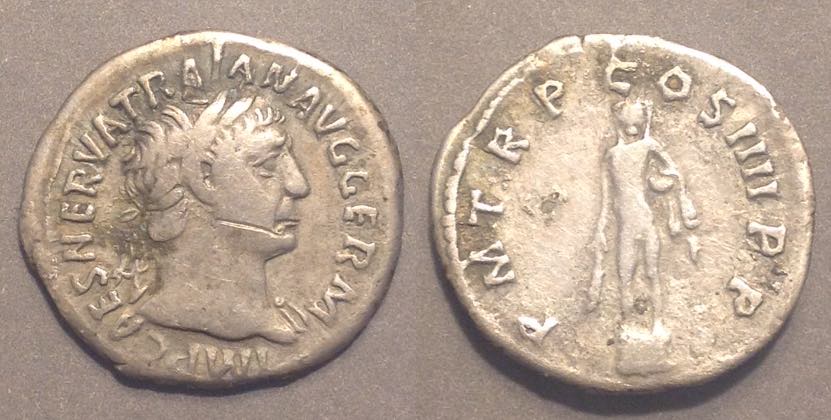 Trajan, 98-117
Denarius
PM TRP COS IIII PP
Early style portrait with scratch on cheek
[$29 SOLD]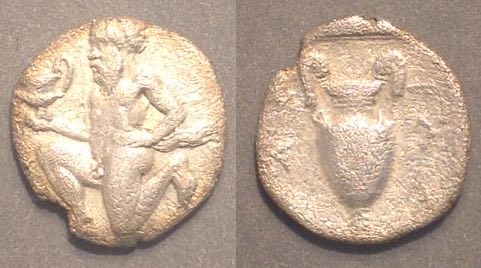 Thasos. Thrace.
c. 400 BC.
11 mm. Obol. 0.82 grams.
Satyr kneeling left holding vase
Vase on reverse.
Naked with penis showing.
[$49]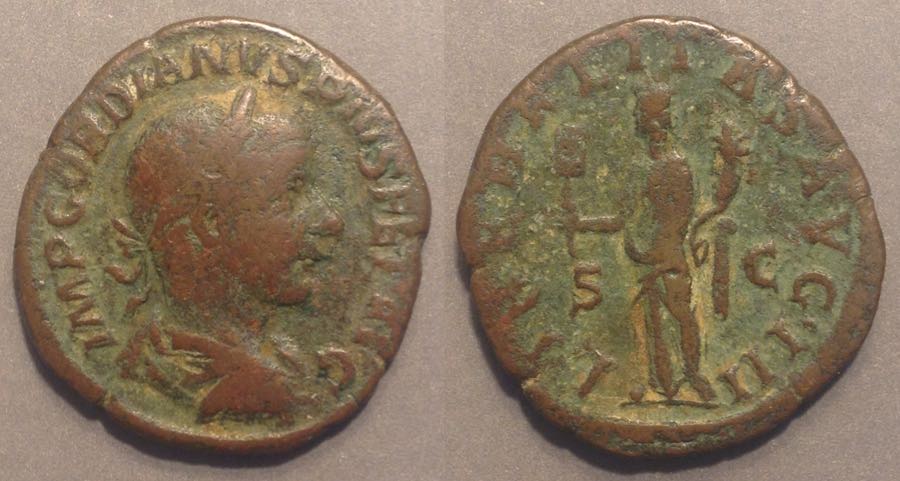 Gordian III, 238-244
sestertius
Large at 31-30 mm.
Interesting type of the donatives
LIBERALITAS AVG III
for the third time he gave money to the soliders and populace
[$35]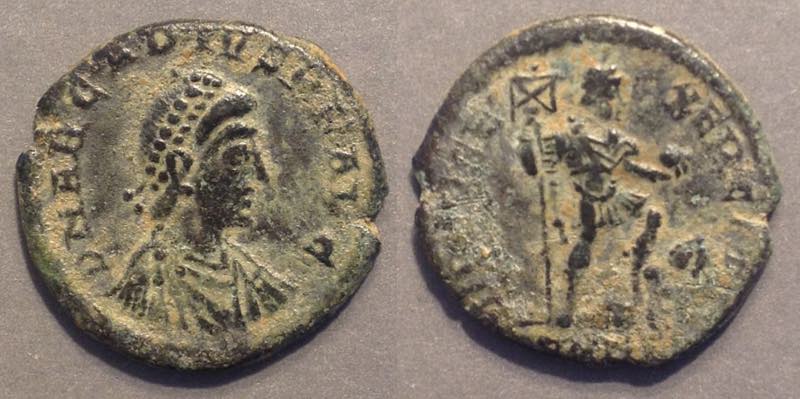 Arcadius
AE2. 22 mm.
VIRTVS EXERCITVS
Antioch mint.
Good portrait detail. [$19]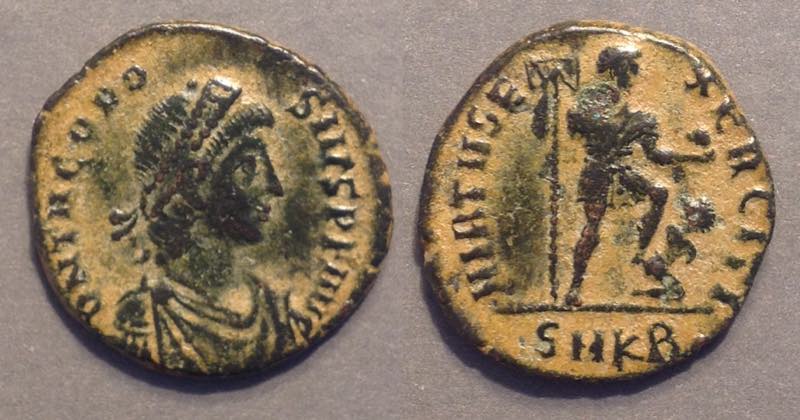 Theodosius
AE2. 22 mm.
VIRTVS EXERCITVS
(a companion piece to the one above)
Cyicus mint.
Lovely natural "black and tan" patina. [$25]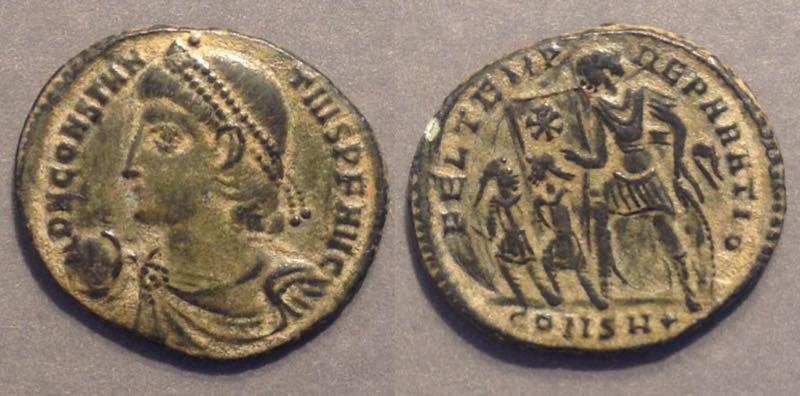 Constantius II as Augustus
22-20 mm.
FEL TEMP REPARATIO
Emperor and two captives, bold chi-rho on standard.
Lovely natural earthen cover and a great early Christian chi-rho.
Constantinople mint. [$22 SOLD]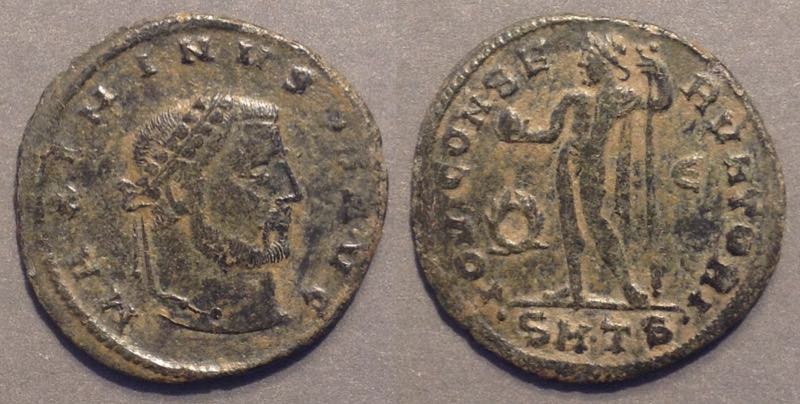 Maximinus II, 305-310-313.
24 mm.
IOVI CONSERVATORI
Thessaloncia mint
[$15]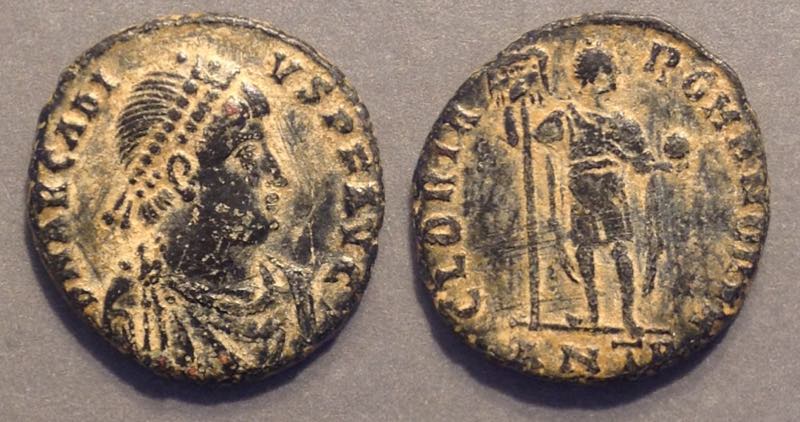 Arcadius
AE2. 20 mm.
GLORIA ROMANORVM
Antioch mint.
Natural light cover with some cleaning marks. [$16]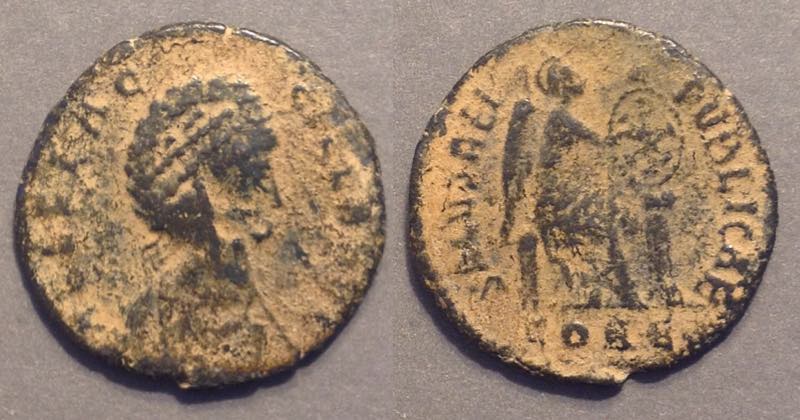 Aelia Flaccilla, wife of Theodosius
AE2 (not the AE4 of the same design)
SALVS REIPVBLIACE
Victory inscribing chi-rho on shield on column
Constantinople mint.
Natural light cover. Condition as seen. [$15 SOLD]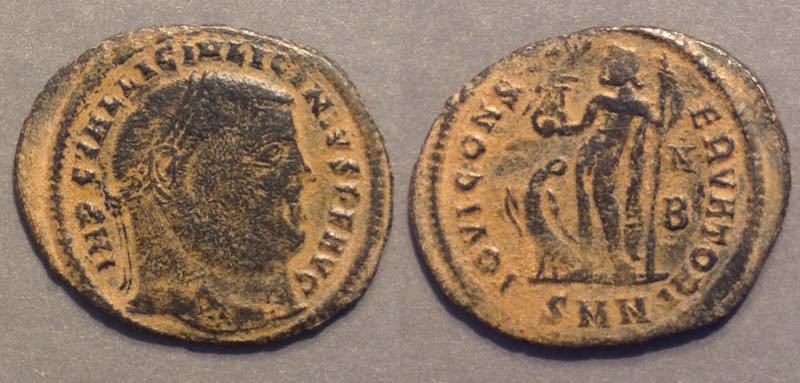 Licinius I, 308-324
24-20 mm. (Larger than many of this reverse type.)
IOVI CONSERVATORI
Nicomedia mint
Nice natural tan cover [$15]
---
Please compare prices with those on acserach and vcoins and any other sites you use. I intend my prices to be below the prices for comparable coins anywhere else. I do not expect you can find one as good or better for less at any other fixed-price site.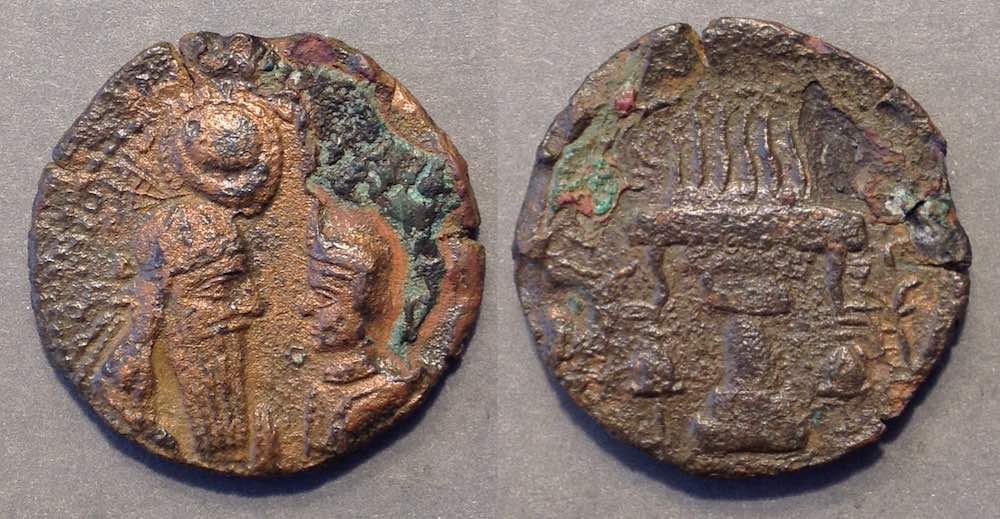 Sasanian King Ardashir I (224-241), AE 8 chalkoi.
AE 27 mm. 9.40 grams
Ardashir facing his son Shapur I
Fire altar
Göbl, VII/220 "unit". Mitchner ACW, 807-808; Sellwood 11. Very rare.
Two on vcoins as I write, each much less nice, at $295 and $345. A third in terrible shape with no facial details at all, at $125. Better than any acsearch example for details, especially the portraits, and with lots of corrosion which other examples also have.
This one. Rare. [$185] The New York Sale "Sunrise" example in F without corrosion was estimated at $1000.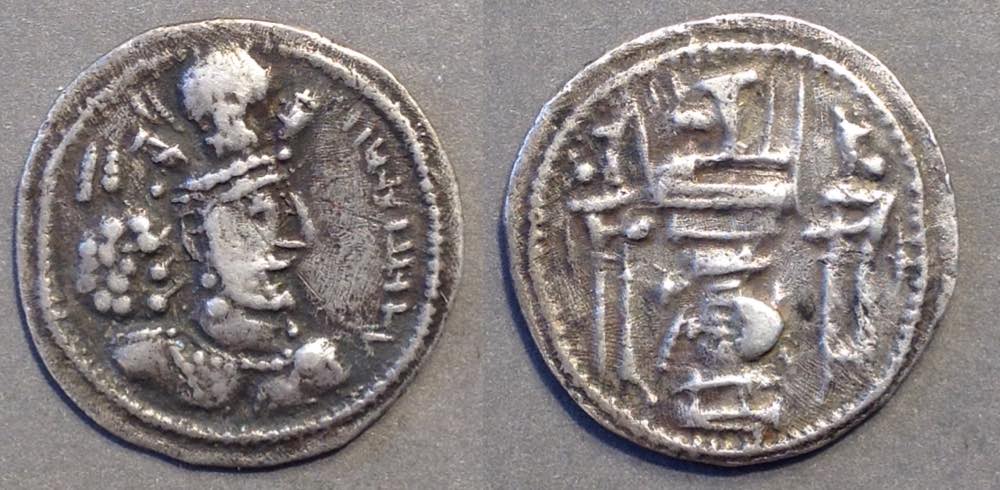 Sasanian King Shapur II, 309-379
(Julian II died during a battle against him)
22 mm. The smaller size. 3.69 grams. Drachm.
Bust right.
Fire altar and two attendants.
Sellwood 28. Gobl 14.
[$75]
Sasanian King Peroz = Firuz. 459-484
27 mm. 4.13 grams.
Third crown, 467-484
Mint WH = VH = Veh Ardashir = Seleucia
Sellwood 49, page 127. Gobl 51.
Boldly struck with fewer weak spots than most. Nicely centered.
A very nice example. [$59]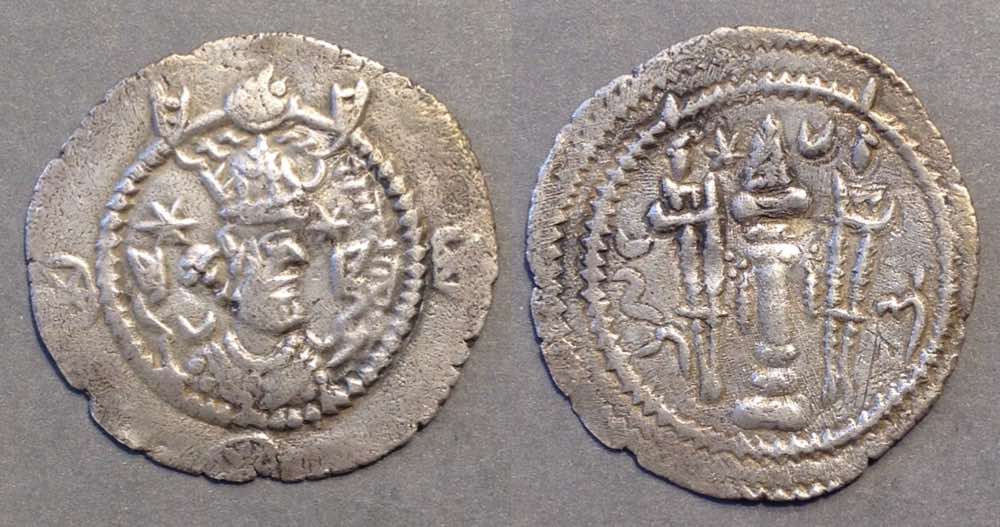 Sasanian King Khavad I, 488-496 and 498-531
Second reign.
27 mm. 3.57 grams.
double border on reverse
Mint mint be Ray (Sellwood 52)
The date mint be "4" but see Sellwood page 38ff.
Gobl 189-190
Peus auction catalog 363 (Gobl collection) type of #5311
Types with a double border are unusual. [$85]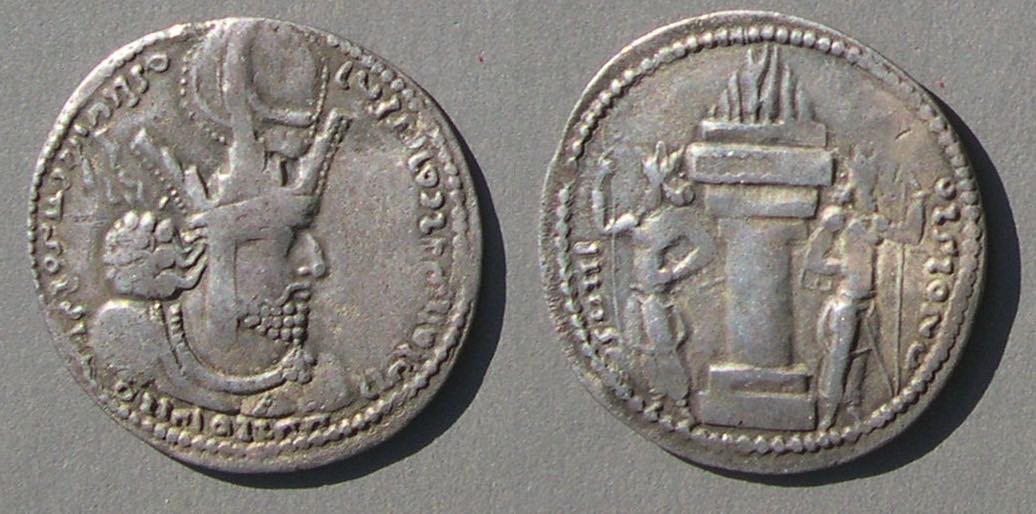 Sasanian King
Shapur I
, 240-270
The king who captured Valerian I.
Drachm,
full size
at 26-25 mm and 4.18 grams.
(Do not confuse this type with the much smaller 21 mm hemidrachm.)
Sellwood 12. Gobl 23 plate 2 "241-272."
Bought from a man who bought it from Malter, with the Malter ticket, but ticket not dated.
A broad and thin coin of a historically important ruler.
[$245, reduced to $225] Look at all that lettering around! Well-centered. A very attractive coin.
Hephthalite. 1/4 drachm. Some call it a half, but it is both lighter and baser than their drachms.
"c. 460-560/576" according to Mitchner
ACW
page 232
AE16. 1.82 grams. (Not super thin.)
Napki Malik type.
Bust right/a few dots and lines
Rare. [$25]
Mitchner 1495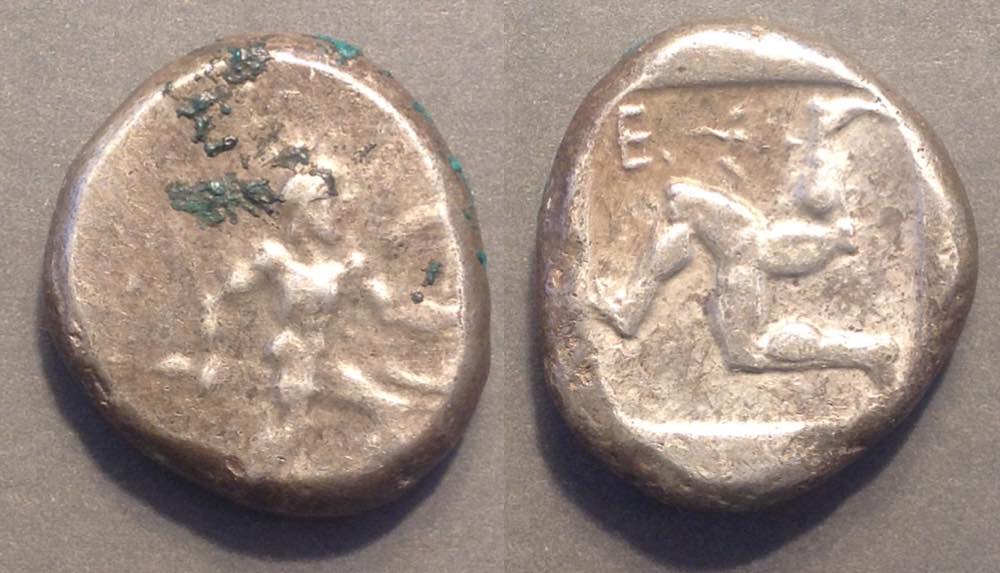 Aspendos, c. 465-430 BC.
A stater, silver, 10.74 grams. 21-19 mm. As thick as a stack of three US cents.
Ancient Greek Silver ​​​selected from a hoard of the formerly-rare first-issue of the city of Aspendos on the south-central coast of modern Turkey. Struck 465-430 BC.
Obverse: Hoplite warrior right with spear and shield
Reverse: triskeles, the symbol of the city which has three human legs around a central point running left.
EΣ abbreviating "Espendos" in Pamphylian above.
Sear Greek Coins and Their Values 5381 at 750 pounds in VF.
A remarkable piece of very early ancient money.
The encrustation on the obverse is very hard. I would not attempt to remove it. Thus, the price is much lower. The type is there anyway and many collectors don't mind a bit of encrustation. That's how it came out of the ground! Chunky. Archaic. Old. Neat type! [$95]
For more pieces, see the Greek page.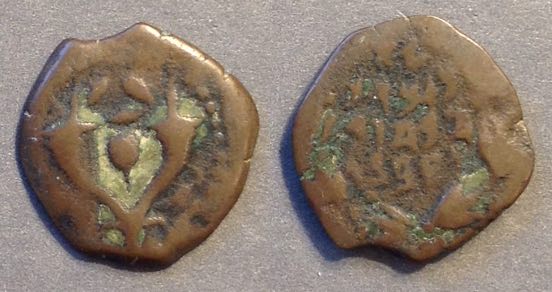 Jewish
Hashmonean
Alexander Jannaeus
103-76 BC
crossed cornucopiae
Hebrew legend in wreath.
13 mm.
[$19 SOLD]
---
Links:
Caracalla, Elagablal, Severus Alexander, Gordian III, Philip, Valerian, Gallienus, Gallo-Roman, Claudius II, Aurelian, Probus, Tacitus, Carus and Family
---

Roman Republican
core of a fourree denarius, with all the silver plate gone.
Prototype, L. Torquatus, 113-112 BC
18-17 mm. 2.54 grams
Roma
horseman charging left with big circular shield
Sear 172. Crawford 295/1.
Unusual. Ex Baldwin's in London, March 9, 1988 (no ticket)
[$16, reduced to $14]
---

***** I also have a page of numismatic literature (ancient-coin auction catalogs, books) for sale.
---
Roman Imperial Silver and AE

Early Imperial Fourree
A fourree with an especially remarkable reverse. The original would be a very expensive coin, and finding an imitation of it is extremely unusual and the imitation may well be unique of its type.
Search vcoins under "fouree" and "fourree" to see what dull reverse types are offered for. You will probably never see this good type again.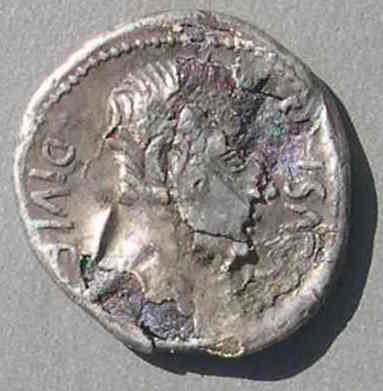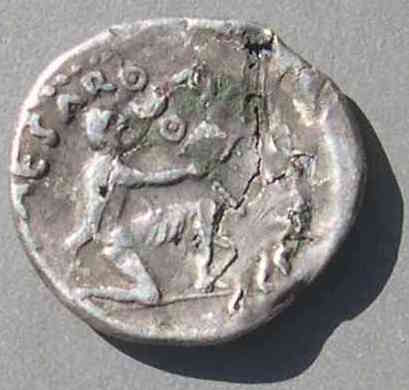 Fourree (counterfeit plated with silver in ancient times) Augustus/receiving standards back from the Parthians "Signus Receptus" CAESAR AVGVSTVS SIGN RECE hybrid.
This reverse does not normally have a portrait obverse. BMC 71 plate 3.1 for obverse legend and portrait. BMC plates 1.7-9, 2.2, 2.11-12 for obverse. Reverse of RIC 288, plate 5.
[$59, extremely rare (unique?) and hisorical type as an ancient counterfeit]
Augustus (27 BC - 14 AD)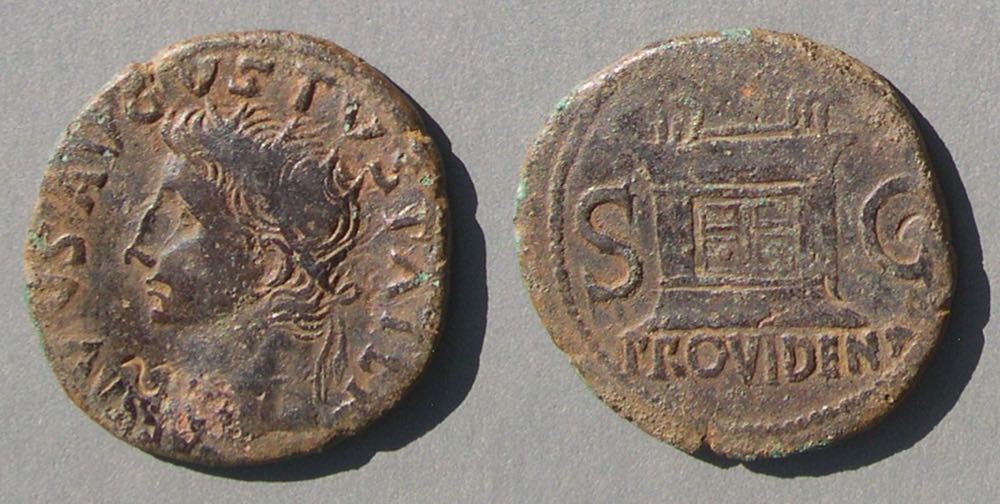 Augustus, DIVVS, struck under Tiberius, c. 22/3 - 30 AD.
29 mm. 8.59 grams. (A little light.)
Small backwards S incuse mark at 7:00 on the obverse.
DIVVS AVGVSTVS PATER (PATER = father)
PROVIDENT below altar with paneled door, above flames(?)
RIC Tiberius 81. BMC Tiberius 147.
Overstruck on a coin with something like "AESA" close together at 7:00 on the obverse.
Could this be a very well done ancient imitation? If so, it is much better than the 13 illustrated in Banti and Simonetti.
I like the surfaces. Nice. [$125]
ex Vecchi [London] auction 12, lot 1092 (June 5, 1998)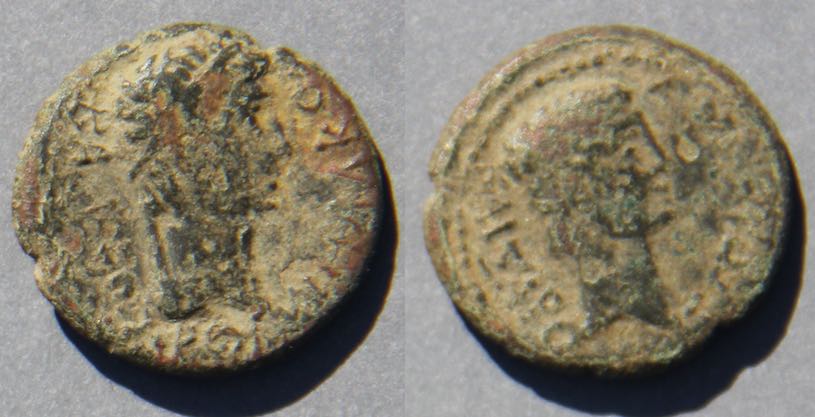 Augustus/Rhometalkes (Client King of Thrace)
11 BC - AD 12
19 mm.
SNG Copenhagen Thrace 1193
A two-headed coin.
Sear Greek Imperial 5395 variety (different diameter)
[$25 SOLD]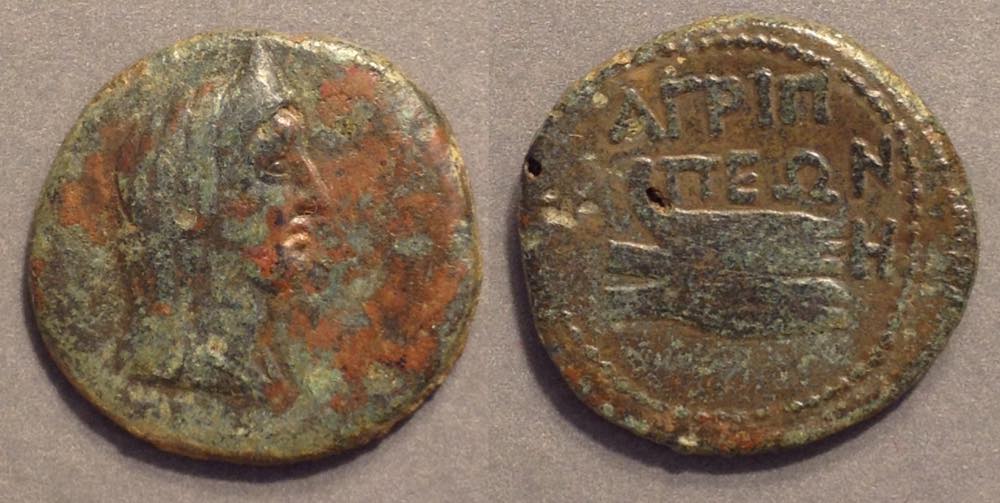 North Black Sea area
Phanagoria in the name of Agrippia, 14-12 BC
Honorific name for the city adopted 14-12 BC because Agrippa under Augustus intervened in support of Polemo I.
late 1st C. BC.
21 mm. 5.79 grams.
Veiled female head right (Aphrodite Aptura, according to MacDonald)
AΓPIΠ-ΠEΩN
prow left
H (H indicates value 8)
MacDonald 275/1 (is slightly worse). RPC I 1935 (is equal quality).
[$95]
Not an imperial portrait, but issued in the time of Augustus.
Tiberius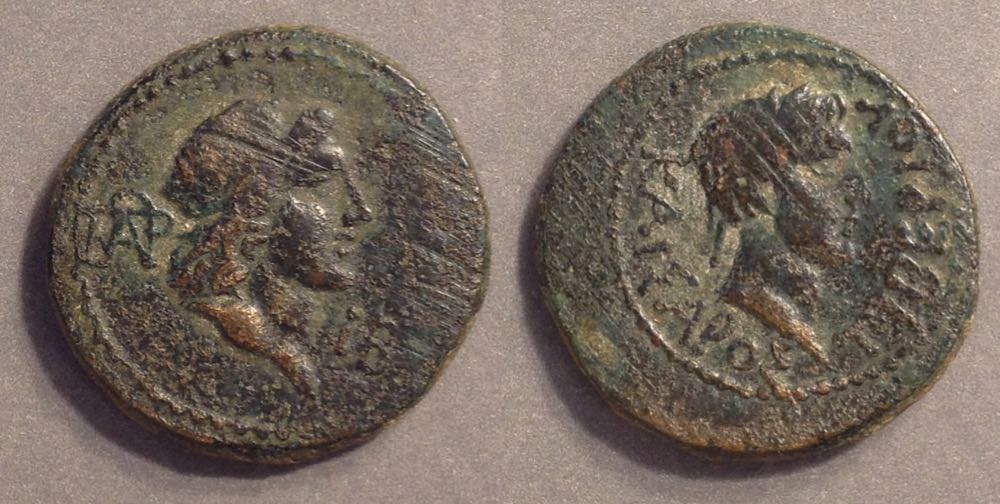 Kingdom of the Bosporus
(Northern Black Sea area)
Aspurgus/Tiberius c. 35-37 AD
Aspurgus right
Bust of Tiberius right, TIBEPIΩY KAΣIAPOΣ legible
22 mm. 9.75 grams.
MacDonald Bosporus 300
[$169]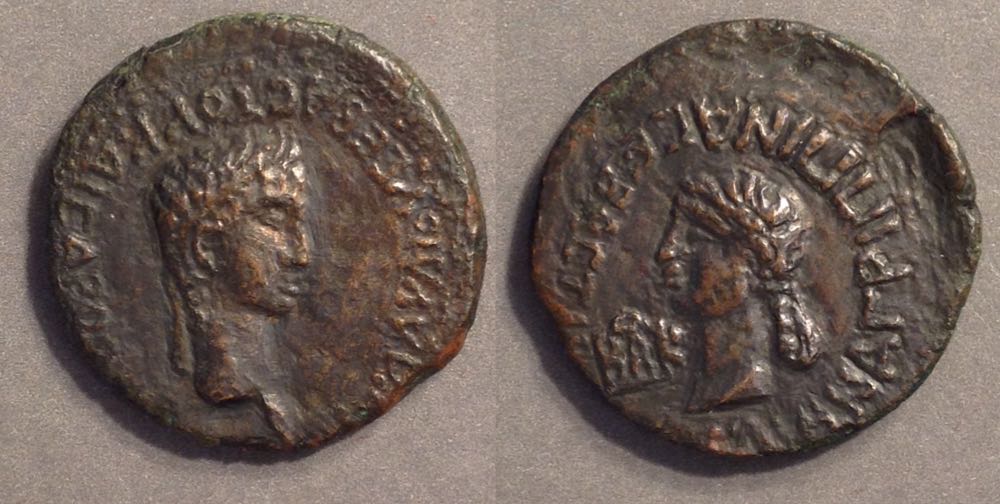 Kingdom of the Bosporus
(Northern Black Sea area)
Under Kotys I, 45-63 AD.
22 mm. 5.96 grams.
TI KLAVΔIOY CEBACTOY KAICAPOC
Βust of
Claudius
right
IOVIAN AΓPIΠΠIAN CEBCTHN
Bust of
Agrippina II
left, monogram before neck
MacDonald 327 (photo has shorter obv. legend variety, quality about the same)
Anokhin 349 (worse)
Stancomb 970 (worse)
Smoothed and tooled. (Look on acsearch and you will see almost all are smoothed and tooled) There are not any on vcoins.
Rare and two imperial portraits. [$149]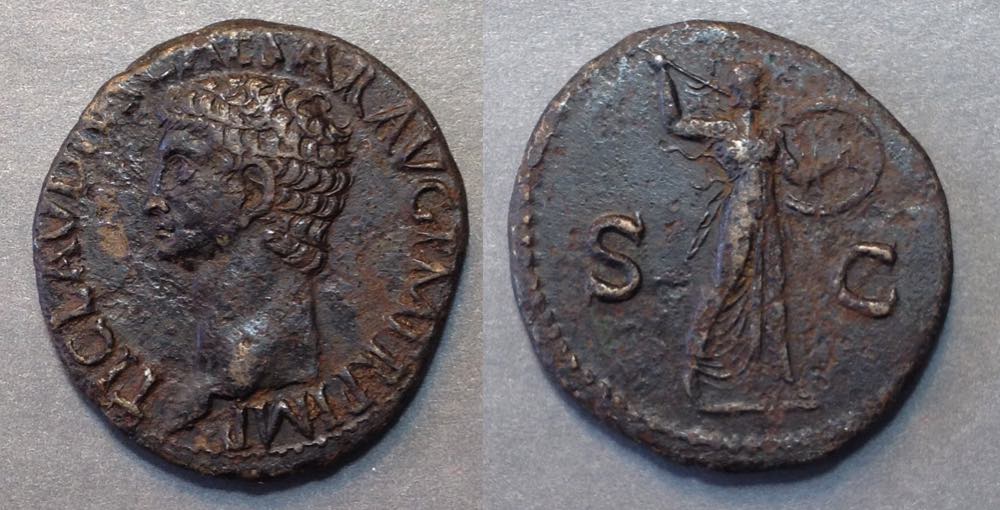 Claudius, 41-54
One of the twelve Caesars
27-25 mm. 9.77 grams.
Struck 41-50
TI CLAVDIVS CAESAR AVG PM TRP IMP
head left
Minerva brandishing spear and shield right
Lots of drapery details.
Excellent portrait (look at it closely) in high grade with hair details and no tooling. (Many Roman AE with hair details that look this sharp are actually tooled, but this one is not.) A special coin. [$345, reduced to $265]
RIC 100. BMC 149.
Bought in December 1975 from "Hyland" (by the man I bought it from) with a ticket (included) that says it is from the "1884 Croston Hoard."

Claudius, 41-54 AD.
Roman Alexandria.
26-25 mm.
Good portrait/eagle
[$95, reduced to $69]

Nero (54-68)
[SOLD]
[SOLD]
Titus (79-81)
[SOLD]
Three excellent Domitian imitations are next.
Three
unlisted
Domitian denarii: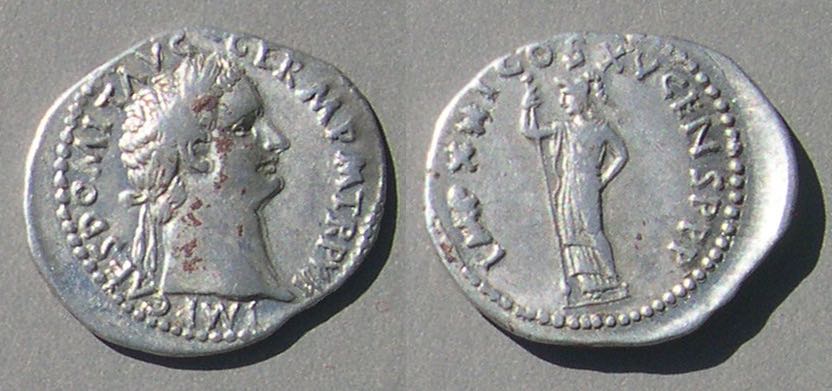 Domitian, 81-96.
22-18 mm. 2.61 grams. Light weight.
IMP CAE DOMIT AVG GERM PM TRP VII
IMP XXI COS XV CENS P PP
Minerva standing left
BMC reverse of 168, plate 65.2, page 333 "AD 90", but the normal obverse ends TRP VIIII not VII, which is from AD 88.
TRP VII is on obverses of 87 and 88, e.g. RIC 521, but IMP XXI COS XV does not appear there until Sept. 90, page 315, e.g. 692

Extremely rare. Possibly an ancient imitation, but awfully nice for an imitation. [$149, reduced to $129].
ex CNG 61 lot 1774 (part)
Domitian, 81-96.
18 mm. 3.28 grams.
IMP CAES DOMITIAN AVG GERM V
IMP SV COS XIIII CENS ...
Minerva fighting right, owl at feet.

BMC -- for this obverse legend. IMP XV COS XIIII is "second issue" AD 88, page 326, types 129 only, but not with this obverse.
RIC II.1 cf. 592 page 305 for the reverse, but this obverse legend is shorter.

Extremely rare. Possibly an ancient imitation, but awfully nice for an imitation. [$149, reduced to $129].
ex CNG 61 lot 1774 (part)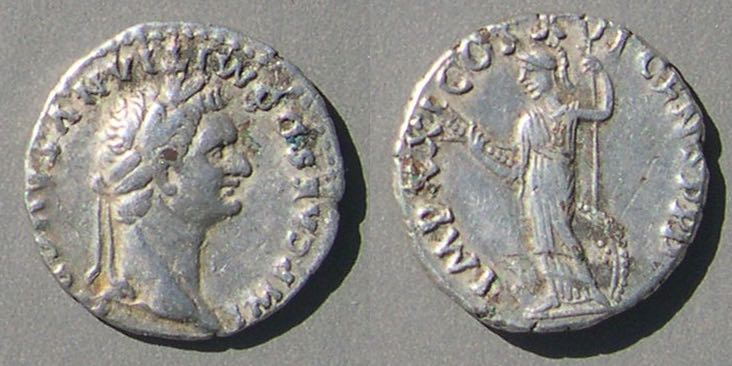 Domitian, 81-96
18 mm. 3.10 grams.
IMP CAES DOMITIAN AVG PM counterclockwise
IMP XX COS XVI CENS PPP
Minerva standing left with thunderbolt in right and spear in left with shield below.
Cf. BMC 181, page 335, plate 65.9 which has this reverse, but obverse clockwise. The reveres is of 90-91. RIC II.1 Domitian --, reverse as 726 but obverse legend lacks their ending "TRP XI" and reads outwards, a legend of 91, 14 Sept. to 31 Dec.
Extremely rare. Possibly an ancient imitation, but awfully nice for an imitation. [$149, reduced to $129]
ex CNG 61 lot 1774 (part)
Links: Caracalla, Elagablal, Severus Alexander, Gordian III, Philip, Valerian, Gallienus, Gallo-Roman, Claudius II, Aurelian, Probus, Tacitus, Carus and Family
---
Trajan (98-117)
Trajan, 98-117
Small. 15 mm. 3.21 grams. (Thick)
Hercules right, with legend of Trajan
IMP CAES TRAIANO AVG GERM
boar right
SC below.
RIC 702 "S" page 294
Glossy patina. Excellent boar with curly tail [$35, reduced to $29 SOLD]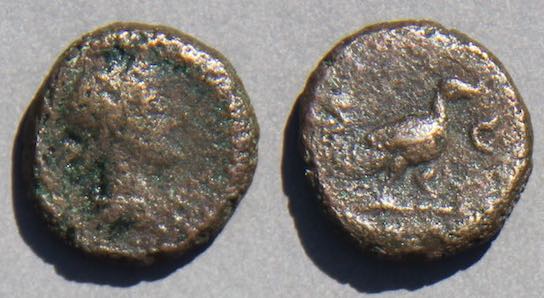 Quadrans
. Anonymous. early 2nd century AD
13 mm (small). 3.07 grams.
Bust of Venus right
Dove standing right, S C
Sear I 2924
[$19, reduced to $16]
---
Hadrian (117-138)
Antoninus Pius (138-161)
[SOLD]
Faustina II, Diva
as. 28 - 26 mm.
crescent moon and stars.
SC below
RIC III 1714, struck after 176
Nicer than many (compare to vcoins) but notice the pit on the forehead.
[$89, reduced to $55]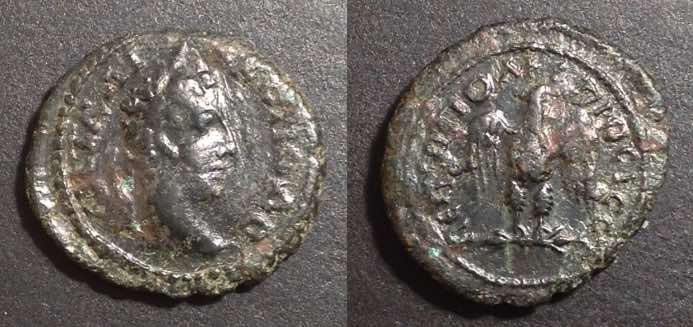 Commodus, 180-193
19-18 mm.
Roman provincial from Nikopolis ad Istrum.
eagle, wings half spread
Moushmov 895
Glossy dark patina [$33, reduced to $21 SOLD]
---

Third Century:

Septimius Severus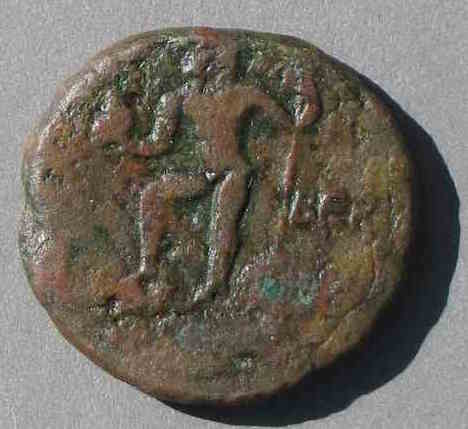 [$59, reduced to $39] Septimius Severus (on right) and Caracalla (on left) at Beruit (Berytus). Two heads!
AE23-22, 8.16 grams. SGI city and obverse of 2301, different reverse.
Poseidon (Neptune) holds dolphin and trident. BER to right.
L&K 2264. BMC Berytus 130. SNG Copenhagen Phoenicia 107. [$59, reduced to $39]
ex Joel Malter XXXIV lot 587 Decemeber 1986 with ticket.
Julia Domna


The three graces
on a coin of Julia Domna from Marcianopolis
Moesia Inferior
24 mm.
Mouchmov 418. BMC --
ex Atlantis in 2004
The three graces, nude, dancing together, the left one holds a wreath, the right one tips a jug.
MAPKIANOΠOΛEITΩN
[$125 SOLD]
There is a 2004 book, "The Three Graces and their Numismatic Mythology" by Mark A. Staal. all about all the coins with this theme. The book is 181 pages including 17 B&W page plates and 10 color page plates (as well as other photographs) with many examples and a complete list of types and lots of cataloging of the cities and rulers that issued it.
Geta
[sold]
---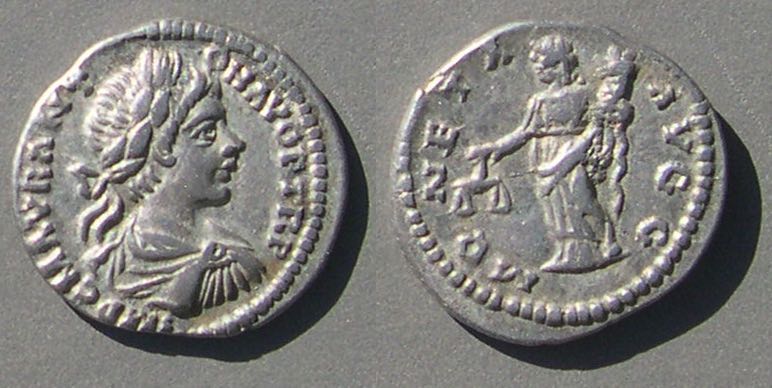 Caracalla, 196-198-217
19 mm. 2.78 grams.
Mint at Ladoicea ad Mare
MONETA AVGG
Struck 198 as Augustus
RIC Caracalla 337d "Scarce"
Uncommon mint. Neat type. [$95, reduced to $79]


Macrinus, 217-218
[sold]

Links: Caracalla, Elagablal, Severus Alexander, Gordian III, Philip, Valerian, Gallienus, Gallo-Roman, Claudius II, Aurelian, Probus, Tacitus, Carus and Family
---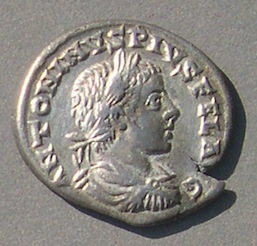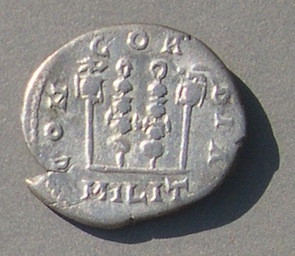 Elagabalus, 218-222.
CONCORDIA MILIT, two standards and two eagles.
18-16 mm.
Sear 7505. RIC IV-2 187. Antioch mint, A.D. 218-219. High grade portrait and interesting military connection with four standards.
[$85, reduced to $69 SOLD]
---

Severus Alexander (222-235)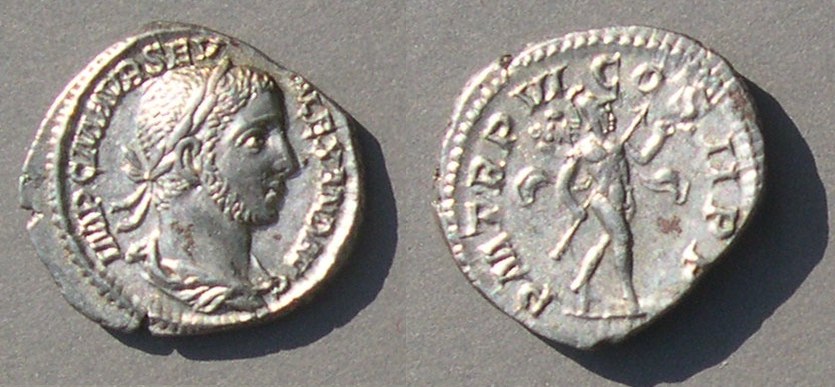 Severus Alexander, 222-235
Denarius. 20-18 mm.
Mars walking right
PM TRP VI COS II PP
Dated to 227 by the TRP number.
Gorgeous Very high grade. [$89, reduced to $79 SOLD]

---
---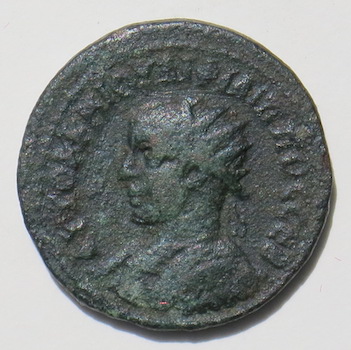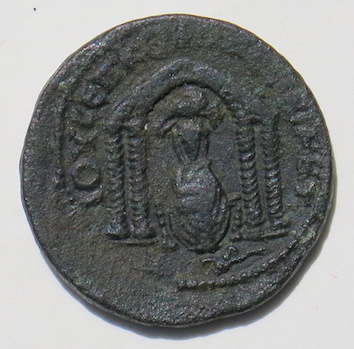 Philip II. 244-249.
25 mm. 10.40 grams.
AVTOK K M IOVΛI ΦIΛIΠΠOC CЄB
(Autokrater Caesar Marcus Julius Philippus Sebastos)
The same legend is used by both Philip I and II.
Philip I is bearded and Philip II, a child, was not. However, they can be hard to distinguish if the beard is unclear, so Nisibis did it by having Philip face right and Philip II face left.
Sear GI 4157. BMC Mesopotamia Nesibi [sic] 21, attributed there to Philip I, with a footnote "Some of these may be of Philip Junior, especially nos. 21-4 on which the face appears to be beardless."
ex CCE Sept. 1981 lot 159.

The city is mentioned in Acts 7:2. Nice dark green patina. [$65, reduced to $45]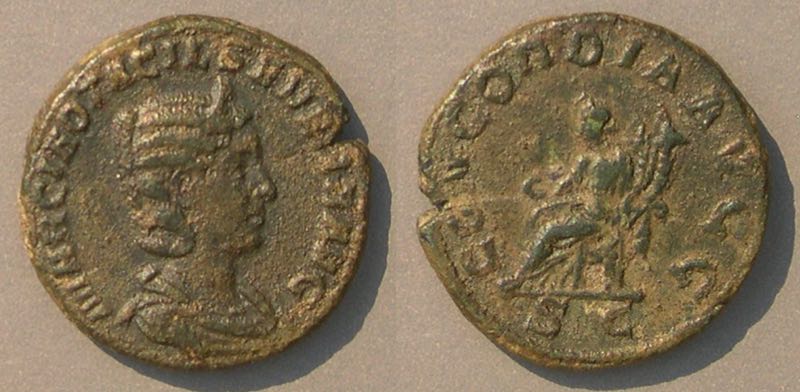 Rare
middle bronze
of
Otacilia Severa
, wife of Philip I (244-249)
25-24 mm.
as
. 9.55 grams.
Denarii and sestertii of her are common--asses are not.
MARCIA OTACIL SEVERA AVG
CONCORDIA AVGG
SC in exergue.
Sear III 9172. RIC 203b.
A clear, well-centered, example of an unusual denomination. [$129, reduced to $99]
---
[sold]
Herennius Etruscus, 250-251 under Trajan Decius

[sold]
Trebonianus Gallus. A.D. 251-253

[SOLD]
---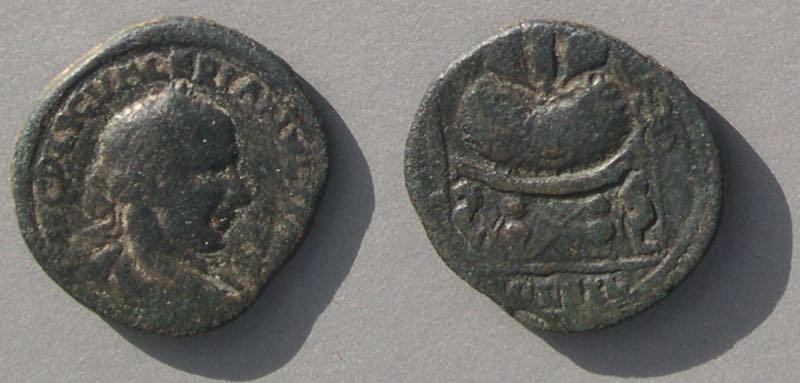 [Rare. $65, reduced to $45] Valerian (253-260)
Struck at Heliopolis, Coele-Syria
25-23 mm, thick, 11.70 grams.
agnostic urn on table with ornamental legs
COL HEL
Sear Greek Imperial --
L&K --, Lindgren III 1283variety (legend), Weber --, McClean 9440 variety, BMC Syria --
SNG Copenhagen Syria -- (439 has urn with no table, SNG Righetti --
[$65, reduced to $43] Ex Colosseum Coin Exchange, list of April 1988, lot 106, with ticket.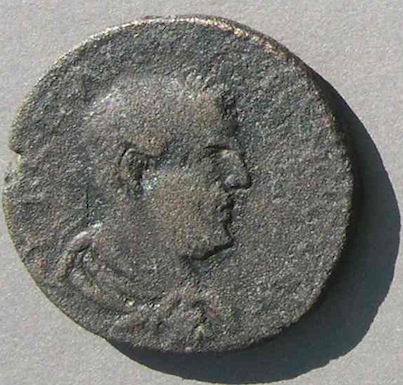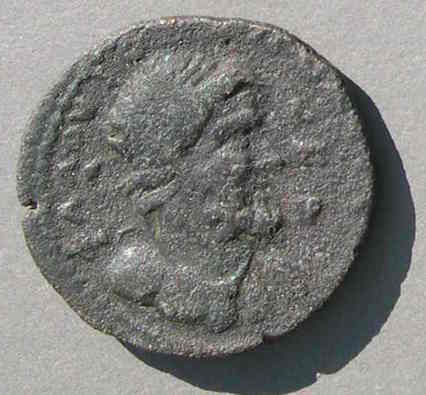 Rare
Valerian at
Flaviopolis, Cilicia
. 253-260 AD.
AE27-26
. 11.99 grams. bust right/bust of Zeus right (not the usual Serapis w. slightly larger flan). Sear GI --, SNG France --, SNG Cop--, SNG von Aulock --, Lindgren & Kovacs --, L III --, SNG Righetti 1558, very similar. Note how
few collections have this type
.
Rare
[$35, reduced to $29] (This reverse type is sometimes on Maximinus I.)
---
[$95, reduced to $69] Gallienus, 30 mm.
Struck at Side in Pamphylia
E countermark over the original "IA" at the neck.
E = 5 assaria. Howgego Countermark 805
Sear Greek Imperial --,
von Aulock -- cf, plate 158, volume II for Valerian
L&K 1174 for obverse
SNG Copenhagen VI Pamphlia -- Supplement 523
Weber III --, SNG Righetti 1309 variety
ex Cederlind at $100, his #345 (list date uncertain, maybe 1990s?)
[$75, reduced to $65]
[sold]
Central Empire, Claudius II (268-270) and later: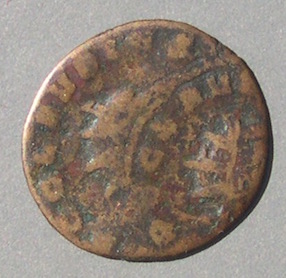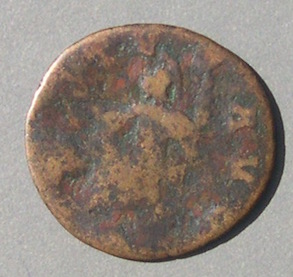 Claudius II, 268-270.
Double strike minting oddity.
19 mm. 1.95 grams.
VIRTVS AVG
One strike 50% off-center.
A clear example of the striking process
.
Sear 11383. [$25]
For a page of ancient imitations from the third century, see here.

---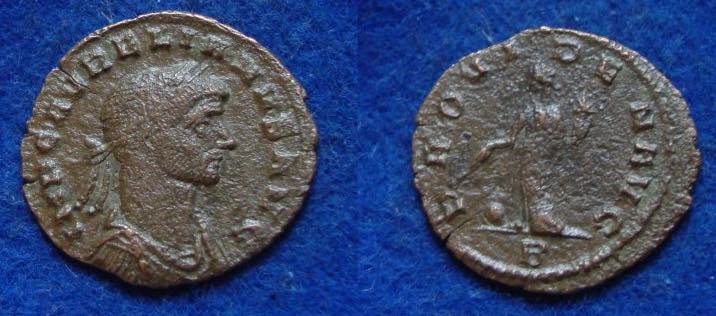 Aurelian usually comes as a radiate, either pre-reform or post reform. He also comes as a scarcer "denarius"--however almost always VICTORIA AVG. Far rarer, offered less than once a year, I think, is this PROVIDEN AVG denarius type.
None on vcoins. None at MA-Shops.
Roma had one, not better, in e-sale 27 for $143 including fees + shipping. CNG had one in 2010 for $185 + 12% + shipping. Elsen had one in 2011 for $207 + fees + shipping.
IMP C AVRELIANVS AVG laureate bust right
PROVIDEN AVG
Providentia standing left holding wand over globe.
RIC 68 very rare type of an unusual denomination. You have seen his "Victory" reverse denarius, but likely not this type [$85]
[sold]
[sold]
---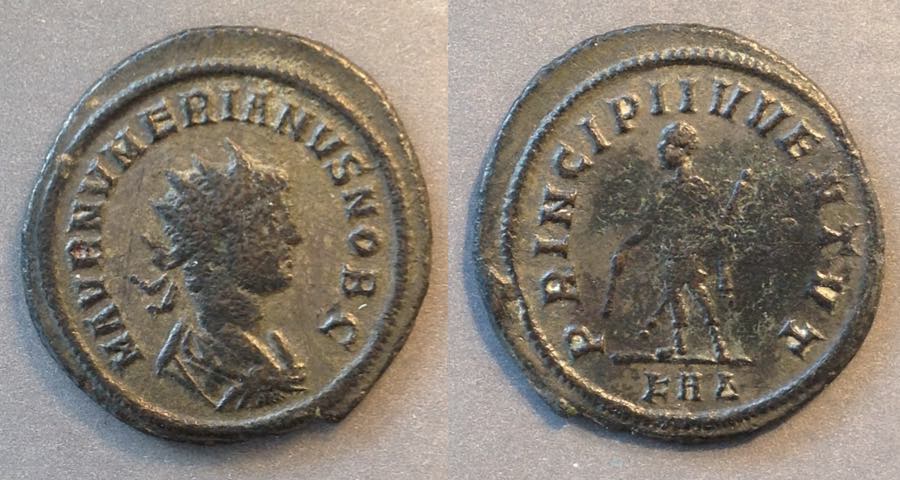 Numerian, 283-284.
22-21 mm.
M AVR NVMERIANVS NOB C
PRINCIPI IVVENTVT
Weak strike in the middle, therefore only [$25 SOLD]
RIC 361.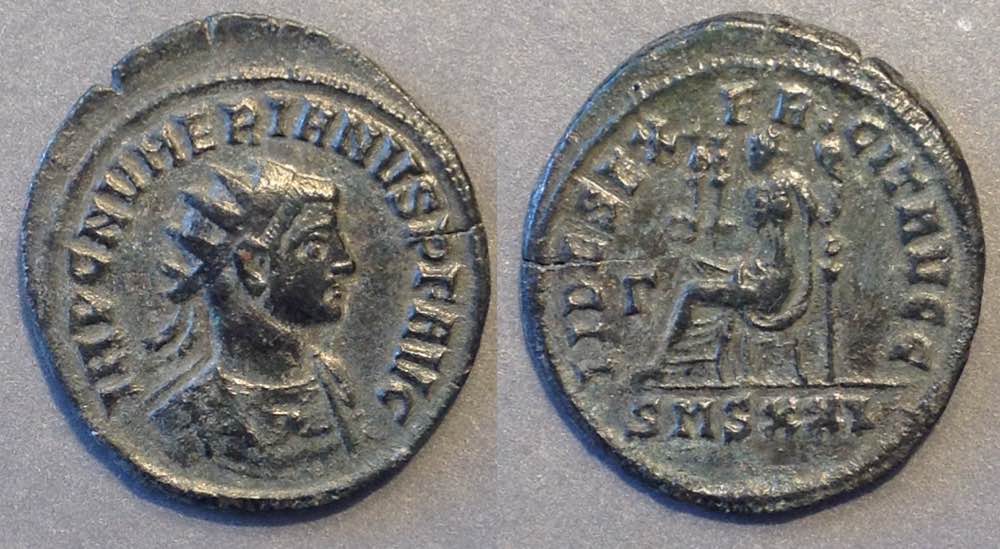 Numerian, 283-4 as Augustus.
22-21 mm. 3.83 grams.
IMP C NVMERIANVS PF AVG
FIDES EXERCIT AVGG
Fides seated left holding standards
SMSXXI in exergue
RIC
V.II Siscia 460
Attractive. Lovely patina. Good portrait. Long mintmark. [$79]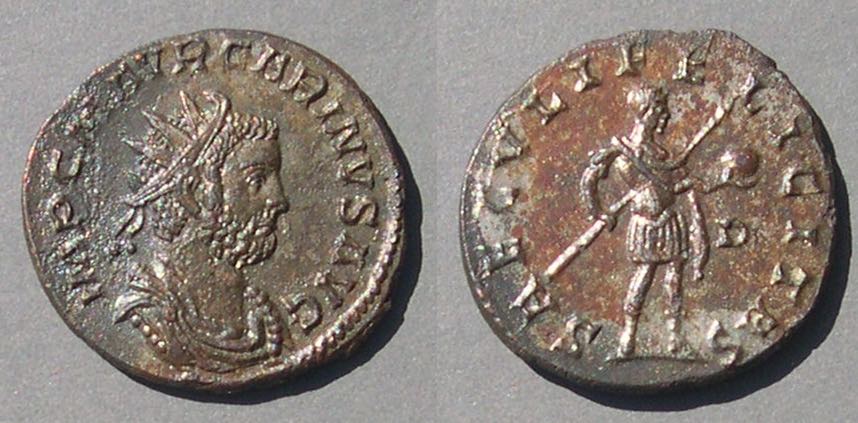 Carinus, 282-285, as Augustus
21 mm.
SAECVLI FELICITAS
RIC V.II 214 page 166.
Excellent portrait detail. [$69, reduced to $55 SOLD]
---
Go to, on this page, Republican, 1st C, 2nd C, or 3rd C
Caracalla, Elagablal, Severus Alexander, Gordian III, Philip, Valerian, Gallienus, Gallo-Roman, Claudius II, Aurelian, Probus, Tacitus, Carus and Family
---

Continue on another page with:
Roman: Diocletian through Licinius (the tetrarchy) or
with Constantinian coins,
Return to the top of this page.

To order, or simply to ask me questions, write me, Warren, at


.

---