Interesting ancient coins, offered by Augustus Coins.

If you want to buy ancient coins, you are beginning at the right page. If you want to learn more about them, visit my educational ancient-coin website (begun in 1997 and expanded very many times since then). If you like to learn from books, visit my page of ancient-coin literature. For more about me, see see here.

Contents: This is the main page with Roman coins and some of newest listings from other series too, at the top. For late Roman, Byzantine, or Greek coins, or books about them, use the links to the left.

Skip down to Republican, 1st C, 2nd C, or 3rd C
3rd C. more precisely: Septimius Severus, Caracalla, Elagablal, Severus Alexander,
Gordian III, Philip, Valerian, Gallienus, Gallo-Roman, Claudius II, Aurelian,
Probus, Tacitus, Carus and Family

Recent: August 28: Unusual Galerius follis, at the top of this page.
Many SNG's for sale on the literature page.
August 25: Seven Roman Republican, at the top.
August 23: Most prices on the Greek page reduced. Take a second look.



wwestyc wwestypage

Prices are in brackets: [$xx].

To order, or simply to ask me questions, write me, Warren, at


When you write me, please tell me if you are not in the US (it changes shipping costs).
After I confirm I still have the coin, you can pay with Zelle (preferred in the US) or PayPal to my e-mail address or Transferwise (preferred from abroad) and I also accept checks. (I am on Pacific time, so if you are in the east and write me at 8:00 am it is only 5:00 am where I am.)

Shipping in the US is $2 for orders under $25, $3 up to $50, $4 up to $100, and an additional $2 for each hundred thereafter.
Shipping to other countries: Shipping is an additional $3 for orders under $200 and payment must be with TransferWise or PayPal. (Thick coins change an "envelope" into a "small parcel" which costs significantly more in postage. I can mail about three denarius-sized coins as an "envelope", but not large Byzantine bronze or sestertii.) When you order, please tell me which country you live in and I will get back to you about shipping before you confirm your order.
More detailed terms are here. All coins are guaranteed genuine.

Purple means "SOLD" and no longer available
Newest first (down to the second horizontal line.) After that, Roman coins before the 4th century are in chronological order below and other coins are on the appropriate pages--with links at the top left).
---


Newest. Skip the newest coins and coins of the Republic to go down to those of the empire.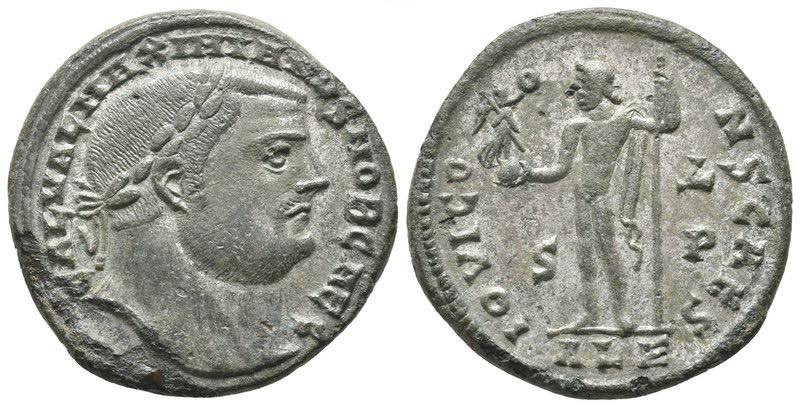 Galerius, 293-305 as Caesar
26 mm. 8.33 grams.
Struck 304-5 [RIC]
IOVI CONS CAES
Alexandria mint -- the only mint to issue this reverse type.
RIC VI Alexandria 43. Sear IV 12772.
[$95 SOLD] Please compare with elsewhere, like vcoins.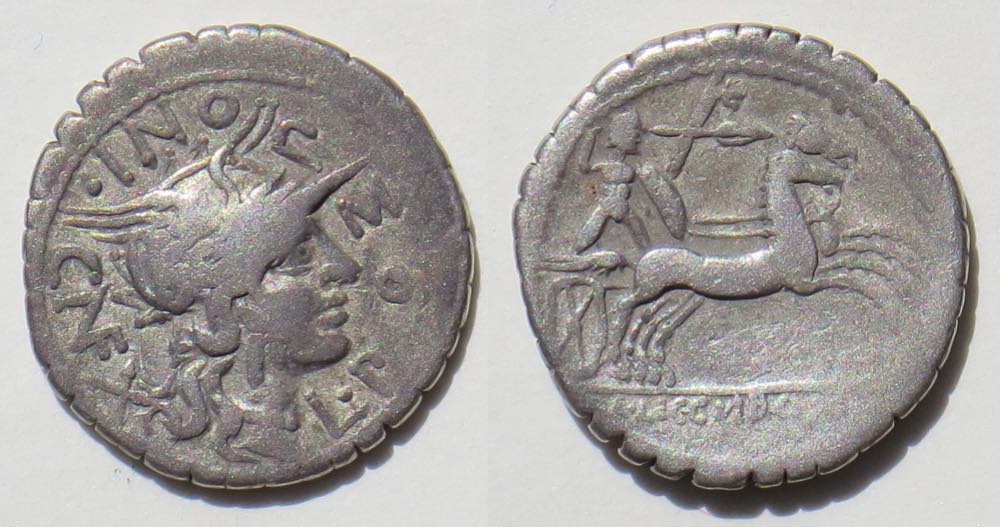 Roman Republican denarius
L. Pomponius, 118 BC
Roma
naked bearded warrior in biga right, carnyx and reigns in left
Struck at Narbo, commemorating its foundation. One of the very first Republican types to reference a current event, since it was founded c. 120 BC.
19 mm. 3.85 grams. Serrated.
Crawford 282/4. Sear 158
Well-centered. Gallic reference. [$120]
core of a fourree denarius, with all the silver plate gone.
Prototype, L. Torquatus, 113-112 BC
18-17 mm. 2.54 grams
Roma
horseman charging left with big circular shield
Sear 172. Crawford 295/1.
Unusual. Ex Baldwin's in London, March 9, 1988 (no ticket) [$20]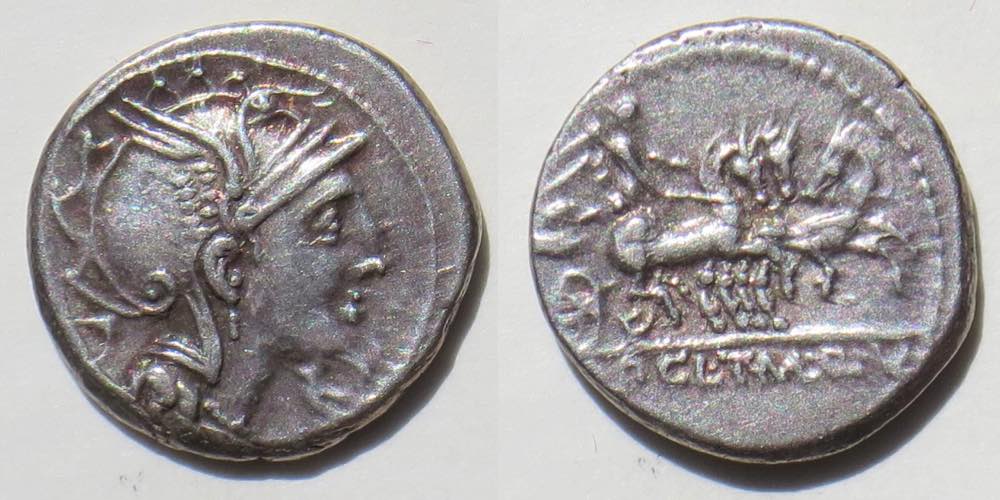 Roman Republican denarius
Appius Claudis Pulcher with
T. Manlius Mancinus and Q. Urbinus, 111 or 110 BC.
18 mm. 3.96 grams.
Roma
Victory in triga (three-horse chariot) right
Names below
Sear 176. Crawford 299/1a.
ex Schulman Auction, (March 1975, I think), lot 403, with ticket [$120 SOLD]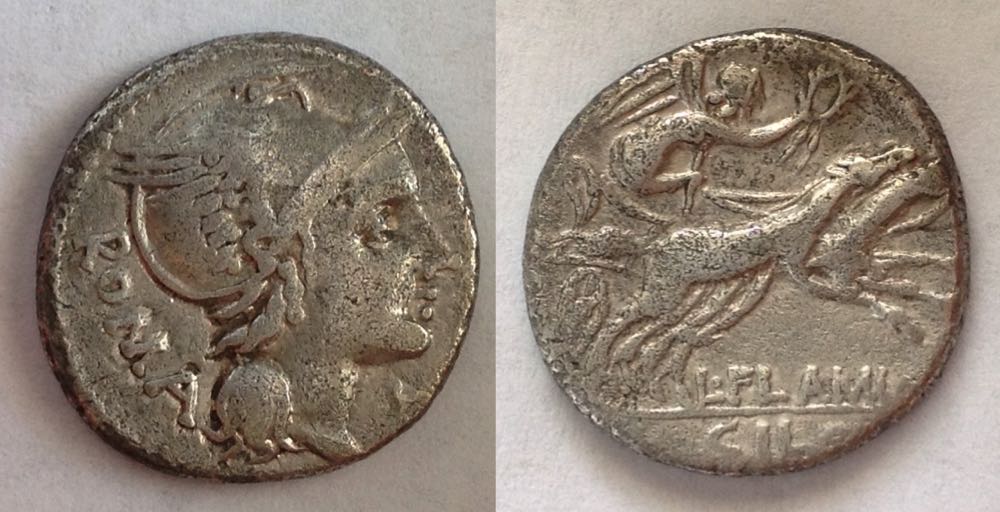 Roman Republican denarius
L. Flaminius Clio
109/108 BC
18 mm. 3.44 grams,
Roma
Victory in biga right
Crawford 302/1. Sear 179
[$65]

Roman Republican denarius
C. Coelius Caldus, 104 BC.
Roma head left
Victory in biga left
Control makr F above.
COIL CALD below
Crawford 318/1. Sear 196.
Nicely centered [$65]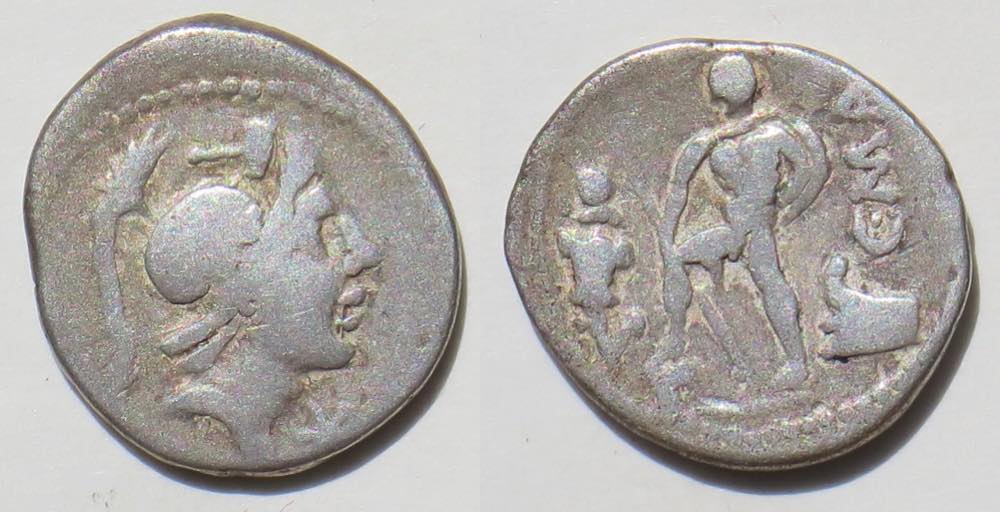 Roman Republican denarius
C. Publicus Malleolus, 96 BC.
19-17 mm. 3.67 grams.
Helmeted head of Mars right, hammer above
naked warrior left, trophy to left, prow to right
(The hammer is a pun on the moneyer's last name)
Crawford 335/3b. Sear 216.
well centered. [$55 SOLD]
Roman Republican denarius
C. Fabius C.f. Hadrianus, 102 BC
21-20 mm. (large) 3.75 grams.
veiled head of Cybele right, wearing turetted crown
Victory in biga right, heron in front
name in exergue
ex Harlan J. Berk with ticket [$55]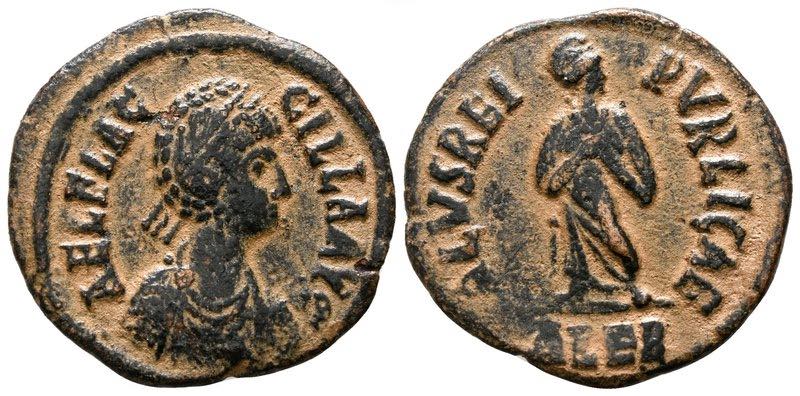 Aelia Flaccilla, wife of Theodosius.
Large AE2. 23 mm. 3.77 grams.
Struck 383-388 at Alexandria
SALVS REIPVBLIACE
Empress standing with arms together across her breast
ALEB in exergue
Lovely light "black-and-tan" patina [$55]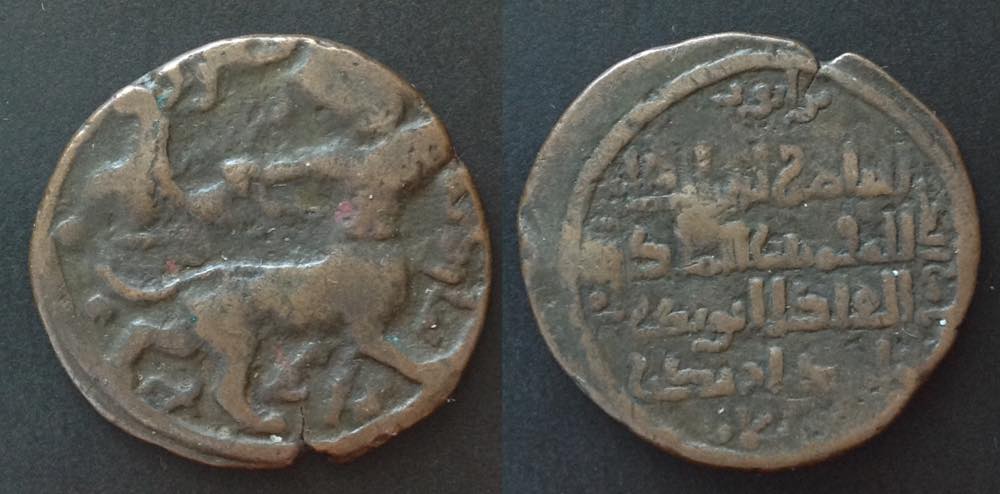 Turkoman Figural Bronze
Sagittarius
28-25 mm. 7.75 grams.
Artuqids of Mardin (Mardin is a city in eastern Turkey very close to the border with Syria)
Nasir al-din Artuq-Arslan, as vassal of the Ayyubid al-'Abil Abu Bakr AH 592-615 with Caliph al-Nasir AH 575-622.
Centaur-archer running right, human trunk turned 3/4 to rear stretching bow with arrow aimed at the wide-open jaws of a dragon(?) emerging from the centaur's tail.
This represents the zodiac "day house" of Sagittarius.
The reverse has a 4-line legend with four short lines in the quadrants.
[$59]
Most Arabic coins do not have figural types, but around 1200 AD there are close to 100 types that do. This collecting category of "figural bronze" was struck by various groups who were foes of the crusaders and enemies of the Byzantine empire. The coin below was stuck while the Ayyubids were involved in civil wars between the successors of Saladin. The legends identify the date and the issuer and whom he was vassal to and who he regarded as Caliph, so they can be used to help plot the changing power structures in various cities. Only a few years later the crusaders of the Fourth Crusade would conquer Constantinople.
Spengler/Sayles 38. Wilkes 1212v (his has centaur left). Sayles thinks many Turkoman coin types have astrological references. He illustrates artifacts with the whole zodiac which have precisely this representation (including the dragon tail) of Sagittarius, so this one is certainly Sagittarius.


Rare Constantius Gallus, 351-354
18 mm. 1.84 grams.
GLORIA ROMANORVM
Emperor standing left holding standard and spear
A type initiated by Vetranio and continued for Constantius II and Gallus.
Over 90% of Gallus coins are Soldier-spearing-fallen-horseman and only 1/3 of 1% are this rare type.
RIC VIII Siscia 356.
Rare [$35]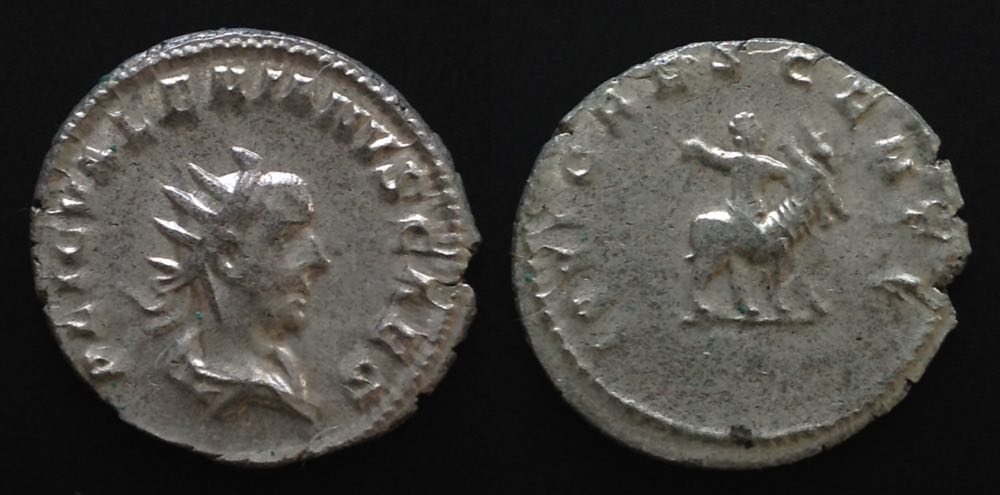 Valerian II, 21-20 mm. 3.18 grams.
P LIC VALERIANVS CAES
IOVI CRESCENTI
Child Zeus on goat right
Thus Jupiter with a goat and the legend "The growing Jupiter" therefore are an appropriate type for an imperial successor.
Sear III 1073. RIC 13 "253-5, Rome"
Good metal for the era [$39]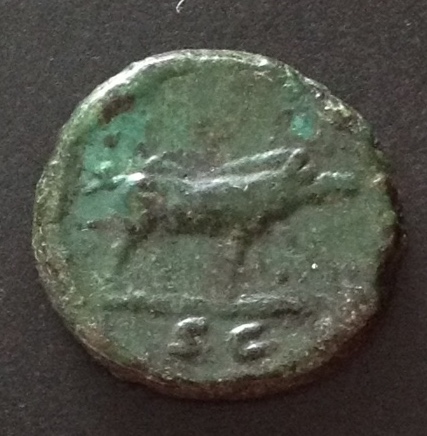 Trajan, 98-117
15 mm. 3.21 grams. (Thick)
Hercules right, with legend of Trajan
IMP CAES TRAIANO AVG GERM
boar right
SC below.
RIC 702 "S" page 294
Glossy patina. Excellent boar with curly tail [$39]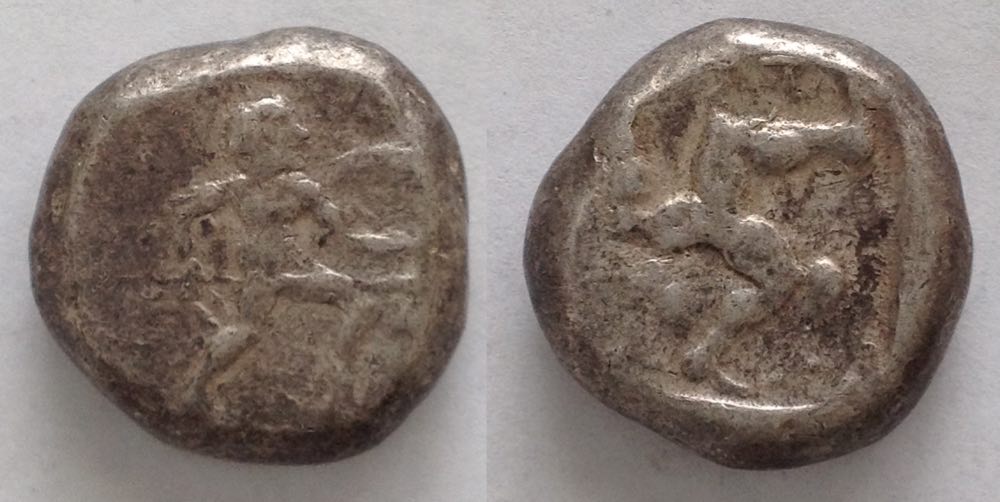 Pamphlyia, Aspendos
465-430 BC
(Later the city has the well-known Slinger and wrestlers type)
Thick silver 21-20 mm. 10.94 grams.

Hoplite warrior right holding spear horizontal and shield in left
Triskeles (three human legs running)
lion standing left behind lower leg
all in incuse square

A very old, dumpy, thick (5 mm thick), archaic coin! Impressive in hand. [$98 SOLD]
It is, to me, amazing that a heavy and thick stater of the 5th century BC can be had for under $100! Why doesn't every collector collect these fascinating ancient coins!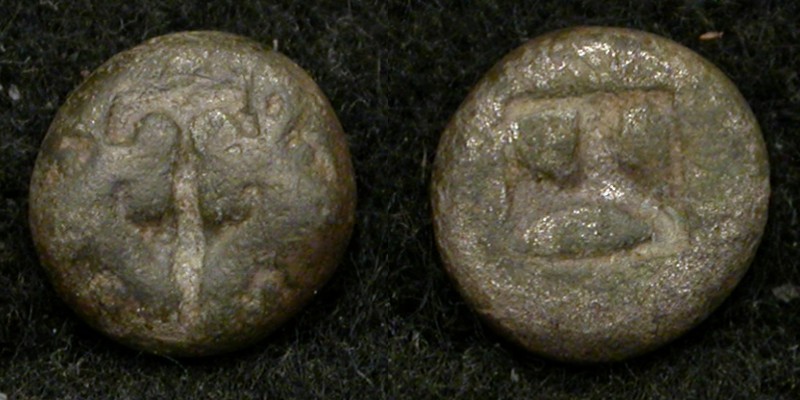 Lesbos, c. 550-480 BC
Tiny 8 mm. 1.09 grams
Confronted boar's heads making together, a facing panther's head
Small irregular incuse square
Sear Greek 3488 ["tenth? stater]
Hoover Islands 6 #1069 [$27] ["1/12 stater"]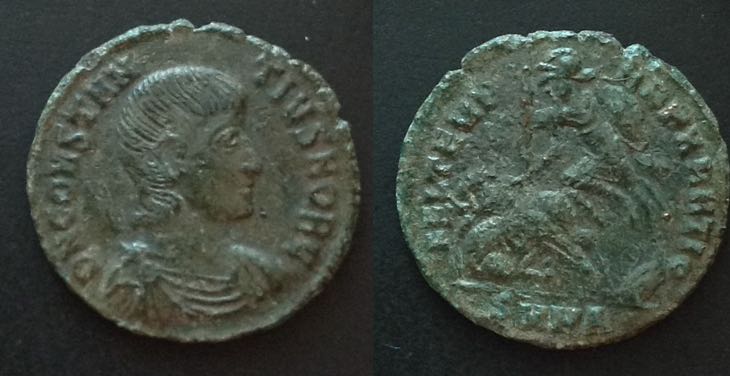 Constantius Gallus, 351-354
19 mm. 2.21 grams.

Soldier-spearing-fallen-horseman

RIC VIII Nicomedia 97

Lovely even green patina. [$19]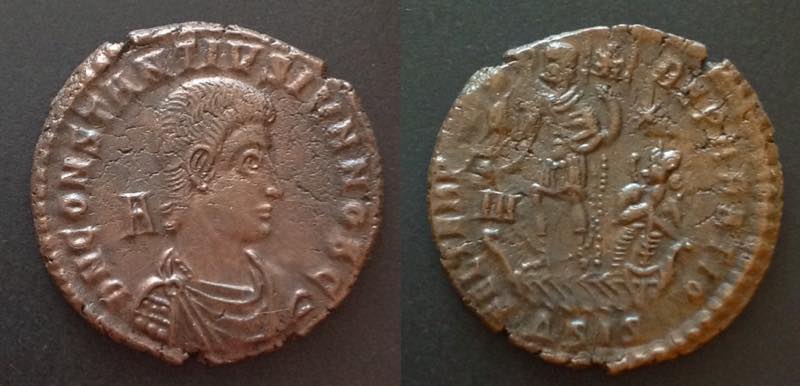 Constantius Gallus, 351-354
23 mm.

The "galley" type is only 2% of all Gallus coins.
Emperor on galley steered by Victory, holding standard with chi-rho

RIC Sicia 329
ex CNG Review XIX.2 isue 1994.2
lot SP-146 with ticket
Scarce [$59]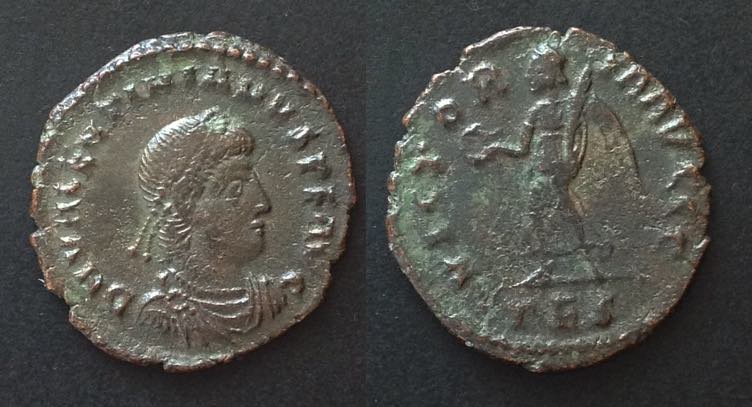 Valentinian II, 375-392
AE3. (not the much smaller AE4) VICTORIA AVGGG
Victory advancing left holding wreath and palm


18 mm. 10:30. 2.15 grams.
TES
RIC Thessalonica 41, page 182, "R" struck 378-383

This type is rare. None on vcoins as I write. I have a web site on late Roman AE and have watched for this for over 30 years. [$139 SOLD]
Severus II, 305-306-307
28 mm. Large. 10.37 grams.
SEVERVS NOBILISSIMVS C
GENIO POPVLI ROMANI
London mint

RIC London 60 p. 128 :"May 305 to Autumn 307"
If you like London mint coins, you know Severus II is the hardest one to find. Also, how often do you see "NOBILISSIMVS" spelled out? Could be stronger, but then it would be $500. Instead, this one is

even black and rare for [$125]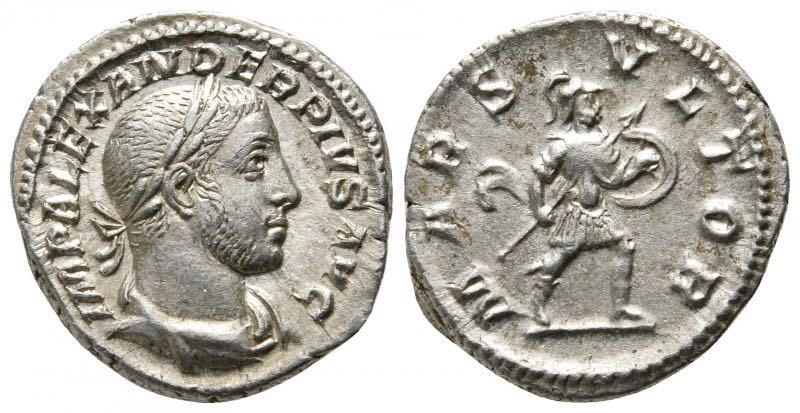 Severus Alexander, 222-235
Denarius
MARS VLTOR
Sear III 7816
Full flan. Good surfaces. Lots of detail. Nice portrait. [$75]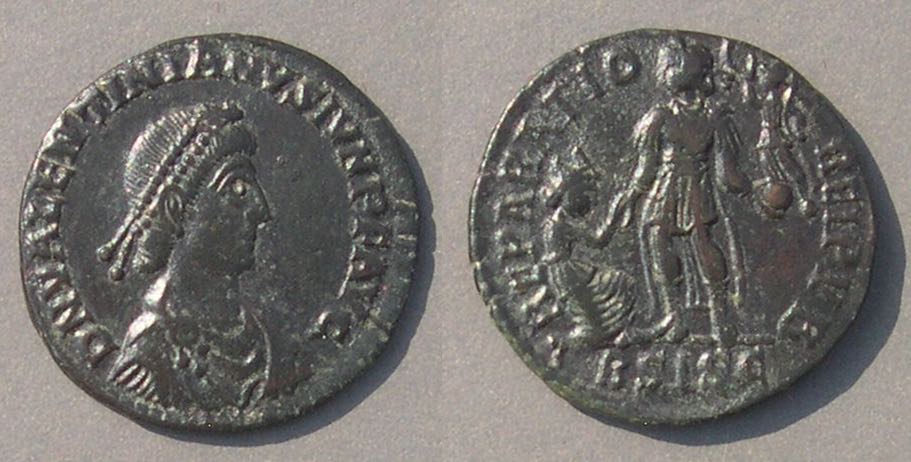 Valentinian II, 375-392
AE2. 23 mm. The largest denomination of the era.
REPARATIO REIPVB. emperor raising kneeling turreted female, holding globe in left with Victory crowning him.
Ex CNG in 1993 with their ticket for $135. It is very high quality for the type and period.
RIC IX Siscia 26b2.
Remarkable detail. [$90 -- compare to the price in 1993!]
For more coins of the era, see my page on them.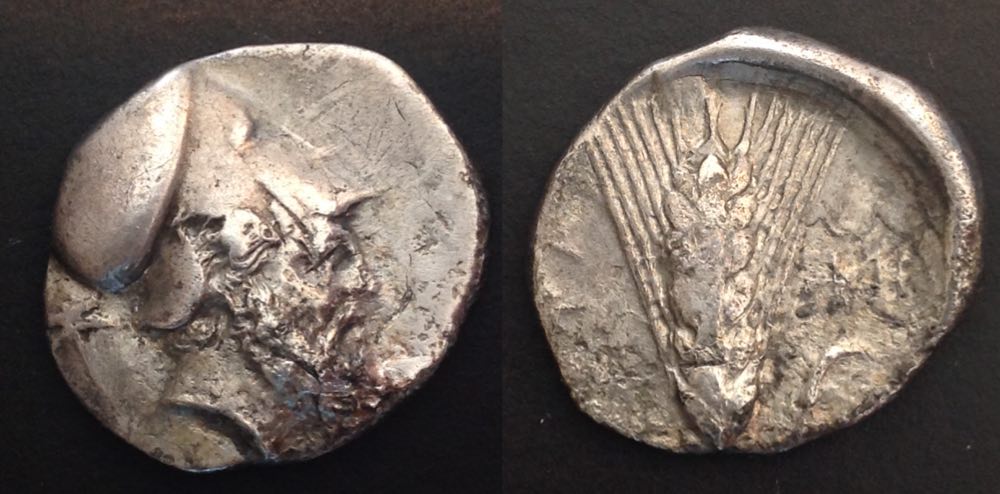 Lucania, Metapontion (Metapontum) c. 340-330 BC.
Silver. 23-20 mm. 7.34 grams.
Head of founder Leukippos right, helmeted
(Some of this type actually have his name down behind the helmet, but this one does not.)
ear of grain upright. META up the left.
HN Italy 1555, plate 28.
Sear Greek I --, it would be after 415, page 47.
You can pay 1750 euros for a better one on vcoins. [$195]

See the Greek page for more Greek coins.
---
Links:
Caracalla, Elagablal, Severus Alexander, Gordian III, Philip, Valerian, Gallienus, Gallo-Roman, Claudius II, Aurelian, Probus, Tacitus, Carus and Family
---

Roman Republican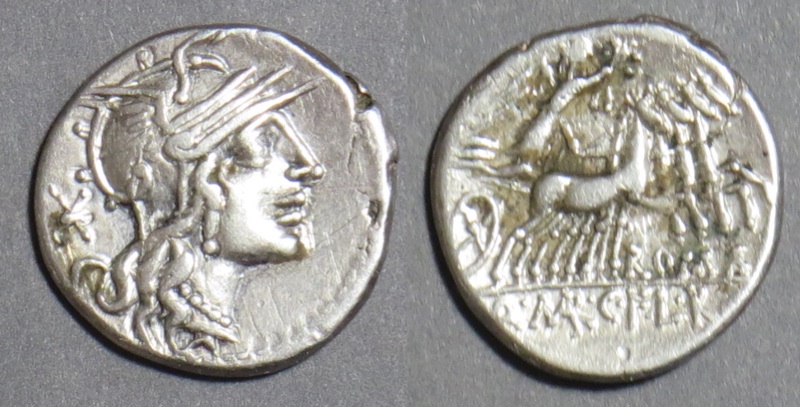 Roman Republican. 118 or 117 BC
Denarius. 20-19 mm. 3.82 grams.
Q. MAR C.F.L.R.
Q Marcius, C Fabius, L Roscius
Helmeted head of Roma right
Victory driving quadriga right, holding wreath
ROMA below
Q MAR C F L R below.
Crawford 283/1a. Sear I 159. [$95 SOLD]
Please compare to vcoins prices.
Roman Republican
Ti. Veturius, 137 BC
oath-taking scene. Two warriors face each other, each holds a spear in l. and sword in r.
touches pig held by a figure kneeing between them
Crawford 234/1. Sear I 111
Nice toning. Reverse figures fully on the flan. Pig clear. [$119]
Roman Republican AE
[sold]
---

***** I also have a page of numismatic literature (ancient-coin auction catalogs, books) for sale.
Skip to Republican, 1st C, 2nd C, or 3rd C
(Links: Caracalla, Elagablal, Severus Alexander, Gordian III, Philip, Valerian, Gallienus, Gallo-Roman, Claudius II, Tacitus)
---
Roman Imperial Silver and AE

Early Imperial Fourrees
Fourrees with especially remarkable reverses. The original would be a very expensive coin, and finding an imitation of it is extremely unusual and the imitation may well be unique of its type.
Search vcoins under "fouree" and "fourree" to see what dull reverse types are offered for. You will probably never see these good types again.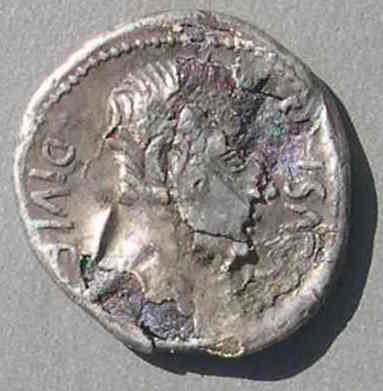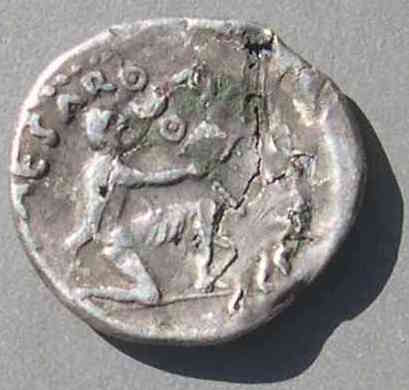 [$69, reduced to $59] Augustus/receiving standards back from the Parthians "Signus Receptus" CAESAR AVGVSTVS SIGN RECE hybrid.
This reverse does not normally have a portrait obverse. BMC 71 plate 3.1 for obverse legend and portrait. BMC plates 1.7-9, 2.2, 2.11-12 for obverse. Reverse of RIC 288, plate 5. [$59]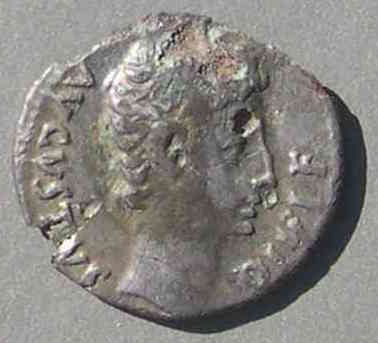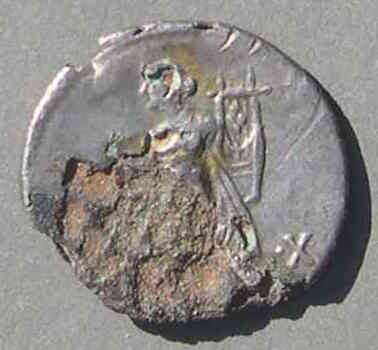 [$59, now $49] Augustus, prototype of 15-13 BC commemorating Actium. IMP X ACT in exergue.
The Actian Apollo standing left holding plectrum and lyre.
Sear 1611, RIC 171a. [$49]
Augustus (27 BC - 14 AD)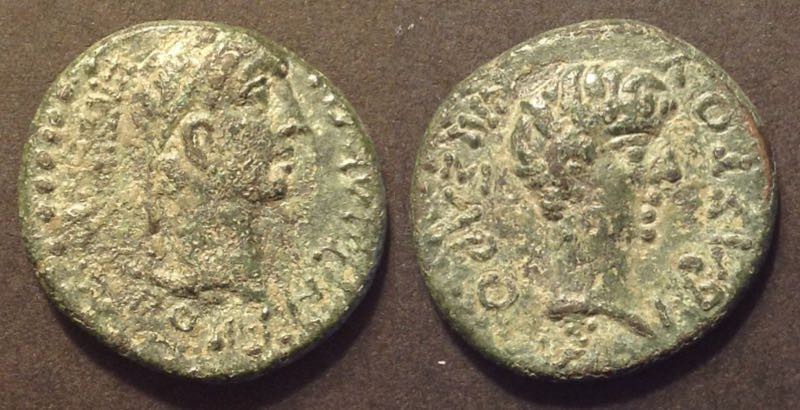 Augustus/Rhoematalkes, c. 11 BC = AD 12.
19 mm. 4.10 grams.
RPC 1718. SGI -- but 5395 is thic type as 25 mm.
Stancomb 908, plate 42.
ex CNG mbs 34 lot 580 (part)
[$39]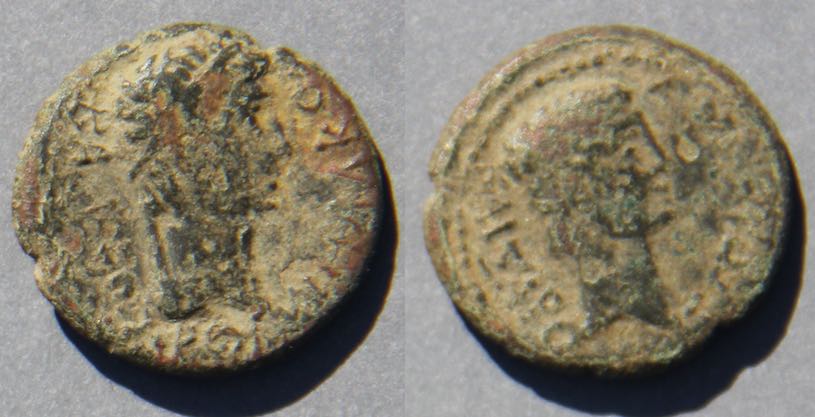 Augustus/Rhometalkes
11 BC - AD 12
19 mm.
SNG Copenhagen Thrace 1193
A two-headed coin.
Sear Greek Imperial 5395 variety (different diameter)
[$25]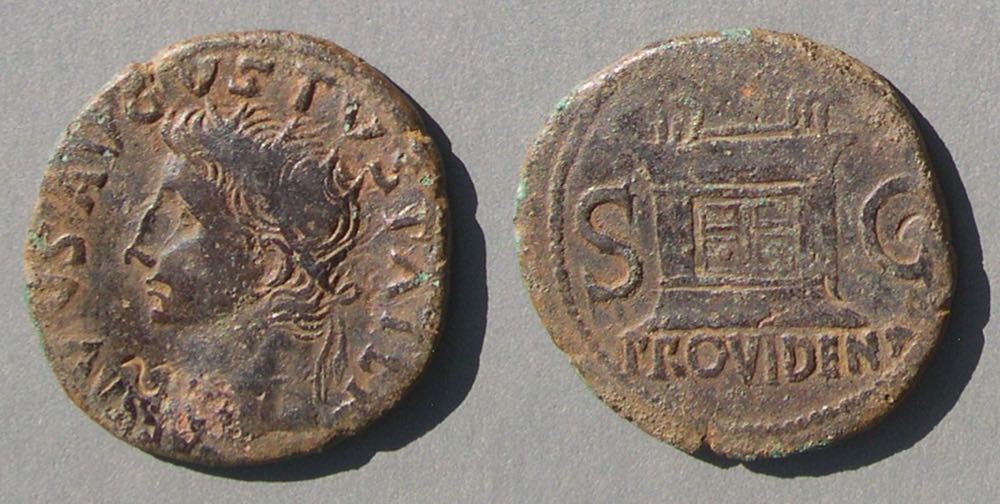 Augustus, DIVVS, struck under Tiberius, c. 22/3 - 30 AD.
29 mm. 8.59 grams. (A little light.)
Small backwards S countermark at 7:00 on the obverse.
DIVVS AVGVSTVS PATER (PATER = father)
PROVIDENT below altar with paneled door, above flames(?)
RIC Tiberius 81. BMC Tiberius 147.
Overstruck on a coin with something like "AESA" close together at 7:00 on the obverse.
Could this be a very well done ancient imitation? If so, it is much better than the 13 illustrated in Banti and Simonetti.
I like the surfaces. Nice. [$125]
ex Vecchi [London] auction 12, lot 1092 (June 5, 1998)
Claudius, 41-54 AD.
Roman Alexandria.
26-25 mm.
Good portrait/eagle
[$95]

Nero (54-68)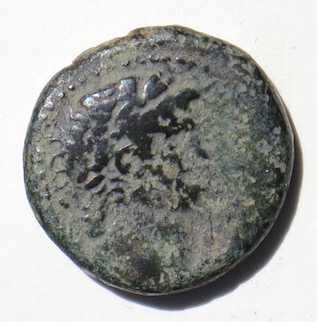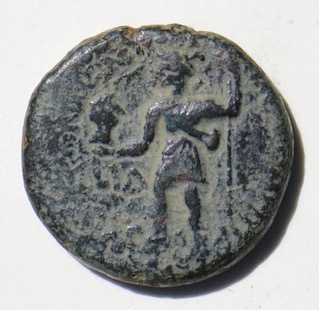 [$49] Nero, 54-68 AD, at Caesarea Maritima (now in Israel)
Struck 68 AD, his last year.
23 mm. Head of Nero right/ Figure standing left holding human head and standard
PRC 4862 plate 176, Hendin 4th ed. 834 plate 34. See Acts 18:22. [$85, reduced to $49 SOLD]
This coin is provincial, not imperial.
LIΔ gives the year.
[SOLD]
Titus (79-81)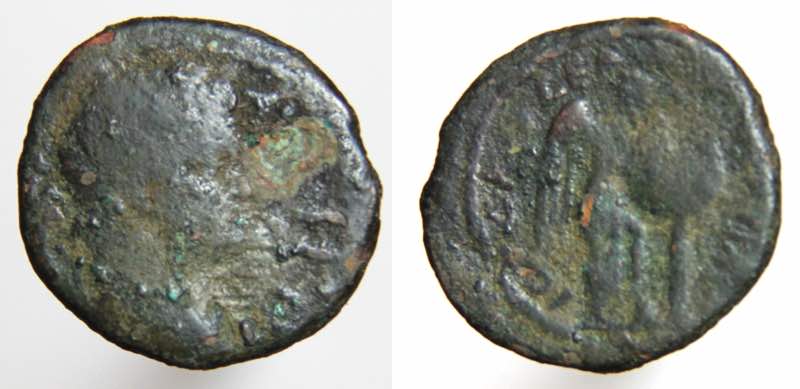 Titus, IVDAEA CAPTA provincial type
IOVΔA IAΣ EAΛWKYIAΣ
Hendin 4th edition 743. AJC II 288,2
Struck at Caesarea
[$29] A historical type.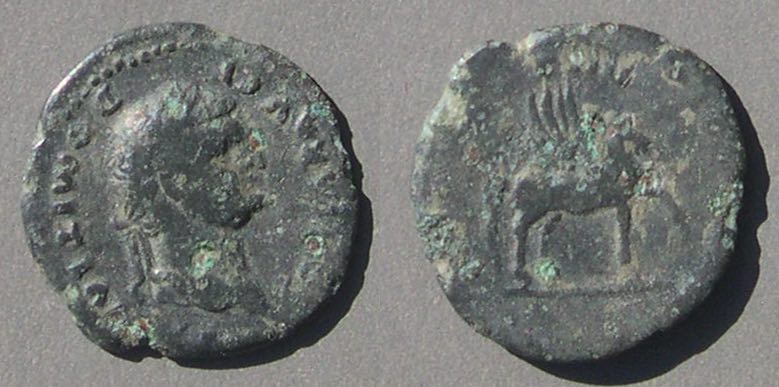 Domitian, 81-96. Prototype struck 76.
Limes denarius. 19 mm. 2.56 grams.
Pegasus, COS IIII above.
A desirable type, but this one is in base metal-- a "limes" denarius.
Sear I 2637. BMC (Vespasian) 193.
An ancient imitation from the borderlands. [$39]
Links: Caracalla, Elagablal, Severus Alexander, Gordian III, Philip, Valerian, Gallienus, Gallo-Roman, Claudius II, Aurelian, Probus, Tacitus, Carus and Family
---
Trajan (98-117)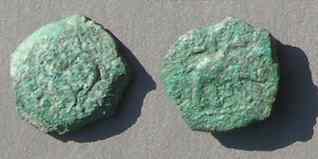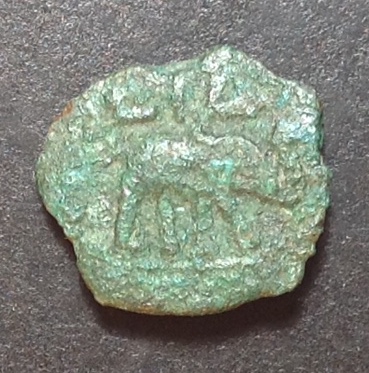 Trajan, 98-117 AD
small dichalcon. 11 mm.
Roman Alexandria, Egypt
poor obverse/elephant reverse, LI Δ above
Emmet 701 "R5".
Very rare, but terrible obverse. The reverse (the interesting part) is visible. If it were nice all around, it would cost far more. [$25]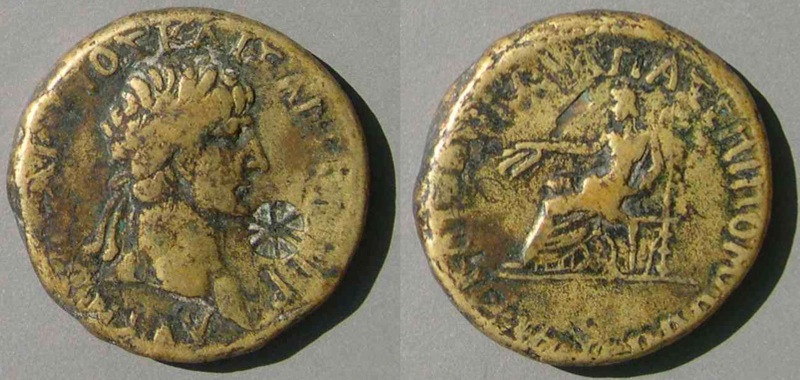 [$125] Trajan, 98-117
AE31-30 mm. 23.91 grams.
Large provincial from a rare region.
Koinon of Galatia.
Countermark with star in circle.
Zeus seated left.
BMC Greek Galatia 1.
Struck at Ancyra.
A search of "Trajan Galatia" produces none on vcoins or MA-Shops as I write.
Rare. Nice orichalcum color. [$125]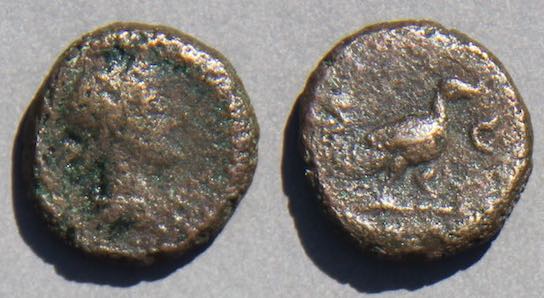 Quadrans
. Anonymous. early 2nd century AD
13 mm (small). 3.07 grams.
Bust of Venus right
Dove standing right, S C
Sear I 2924
[$19]
---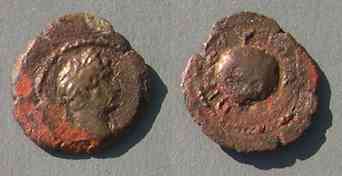 Hadrian, 117-138 AD.
dichalcon. 14 mm. Tiny!
Roman
Alexandria
, Egypt
his head right/pomegranate
struck for the
Pelusium nome
.
Good portrait. Some letters, which is about as good as they come. Emmett 1321
Nome coins are
rare
[$65]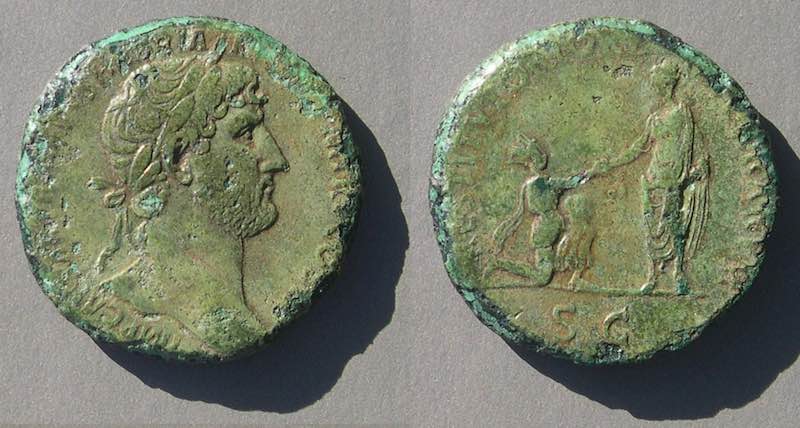 [$119, reduced to $95] Here is a Hadrian sestertius of a good type:
RESTVTITVTORI ORBIS TERRARVM
Hadrian raising the restored world.The picture captures the coin well. The patina is mostly lovely but flaking around the rim so the much of the legend is only partly there.
32 mm (a large coin).
RIC 594a. Foss 21 [AD 118] [$149 + $5 in the US, reduced to $119+$5]
Please compare this sestertius and its price with others of Hadrian on your favorite sites. This one has a good type, good portrait, and good color.
Antoninus Pius (138-161)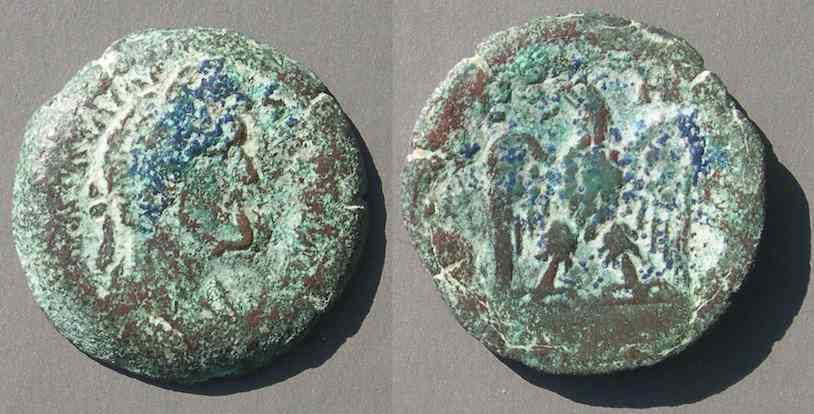 Antoninus Pius. 138-161.
Large AE34. Milne 2293 var. year 18.
eagle standing front, wings half spread, head left LI H
Ex. Berk, August 2000. [$55]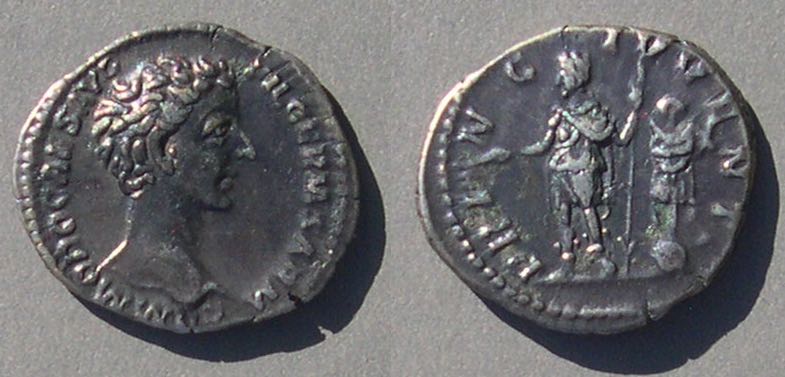 Denarius. 19 mm. Young Commodus. Struck as Caesar 175-6.
PRINC IVVENT (Prince of Youth)
Standing left beside trophy, holding branch and scepter.
Dark toning. Nice style youthful portrait.
ex Empire Coins, list 23, lot 116, July 11, 1984.
[$95]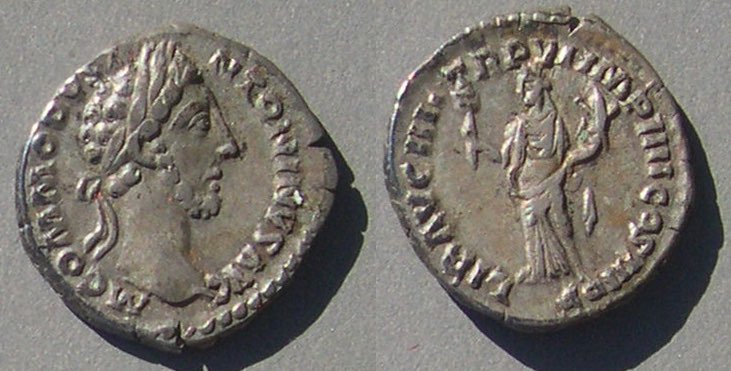 [$149, reduced to $129] Commodus 190-193
Liberalitas type
LIB AVG IIII TRP VI IMP IIII COS II
databable to a single year -- 181.
BMC 53, Sear --, but close to 5655.
RIC 22, page 368.
Light beard. Outstanding surfaces. Looks just like the photo.
Excellent type with lots of references--to his Liberality (IIII), victories (IMP IIII) Tribune power (TRP VI) consulship (II). [$129]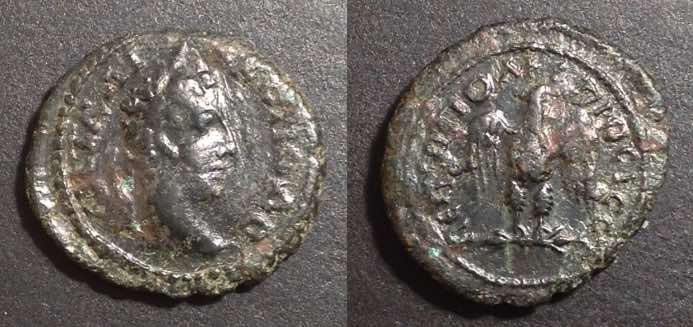 Commodus, 180-193
19-18 mm.
Roman provincial from Nikopolis ad Istrum.
eagle, wings half spread
Moushmov 895
Glossy dark patina [$33, reduced to $29]
---
Skip to Republican, 1st C, 2nd C, or 3rd C
(Links: Caracalla, Elagablal, Severus Alexander, Gordian III, Philip, Valerian, Gallienus, Gallo-Roman, Claudius II, Tacitus)
---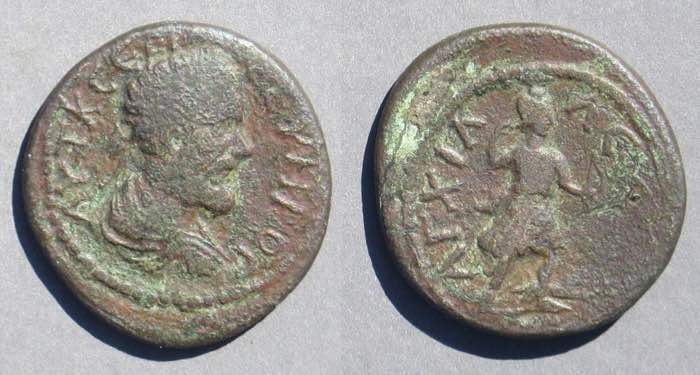 Septimius Severus
Roman Provincial
at Anchialus, Thrace
23 mm.
Artemis right with bow
AΓXIAΛЄΩN
[$25]
Geta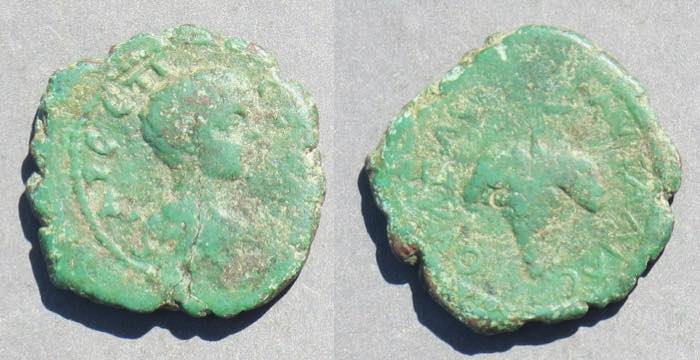 Geta, Roman provincial, ancient Thrace
City of Pautalia
21-19 mm.
Grapes.
Lovely green patina. CEΠ for Septimius clear [$19]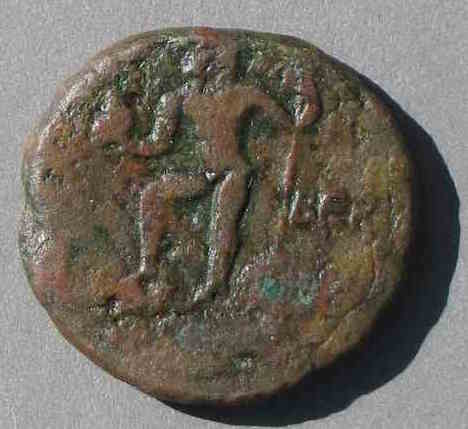 [$59, reduced to $45]
Septimius Severus (on right) and Caracalla
(on left) at
Beruit
(Berytus).
Two heads!
AE23-22, 8.16 grams. SGI city and obverse of 2301, different reverse.
L&K 2264. BMC Berytus 130. SNG Copenhagen Phoenicia 107. [$59, reduced to $45]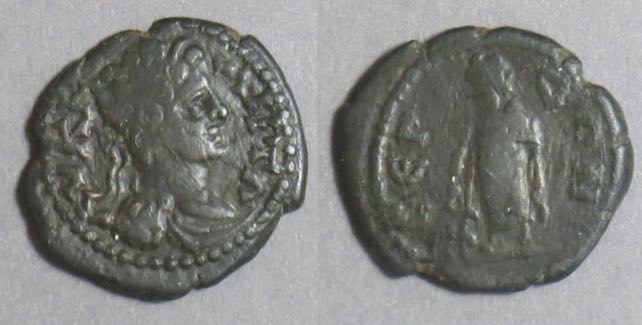 Geta, Serdica. 19 mm.
His bust right/CEP ΔON (for "of Serdica")
Asclepius standing left with attribute snake-coiled staff.
BMC --. Good lettering and centering. [$23]
---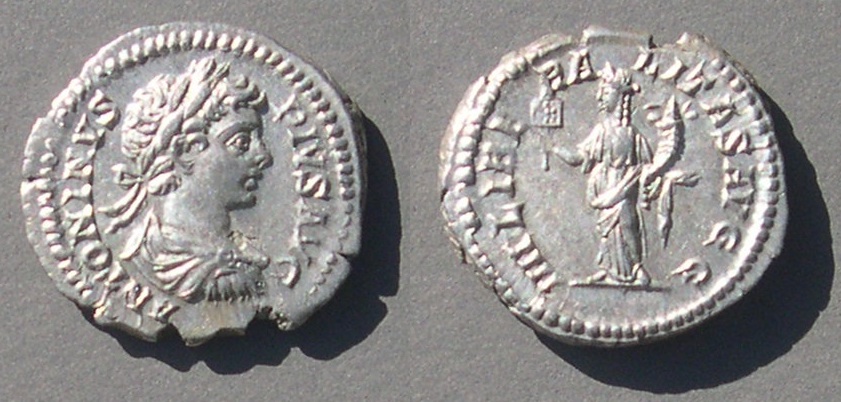 Caracalla, 196-198-217
20 mm.
beautiful young bust
IIII LIBERALITAS AVGG (4th Liberlity)
Liberalitas standing left holding up counting board with coins (to count the coins handed out to each citizen)
RIC Caracalla 135 "Scarce"
Sear II 6814 variety (different year) Good metal. Very high grade. A specific historical occasion. Look at the detail and style! Nearly perfect. Letters bold. Portrait great. Stunning! [$145]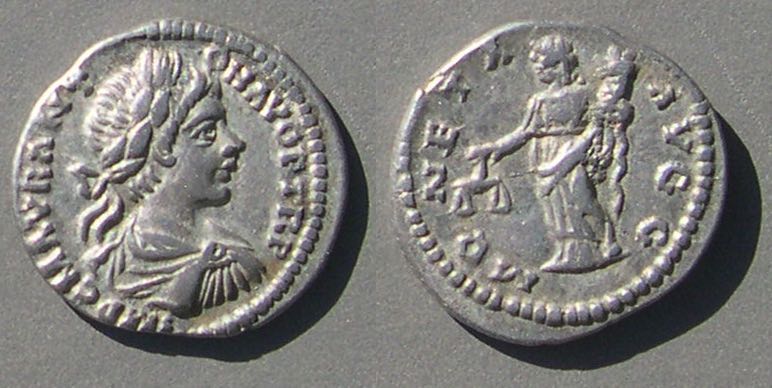 Caracalla, 196-198-217
19 mm. 2.78 grams.
Mint at Ladoicea ad Mare
MONETA AVGG
Struck 198 as Augustus
RIC Caracalla 337d "Scarce"
Uncommon mint. Neat type. [$95]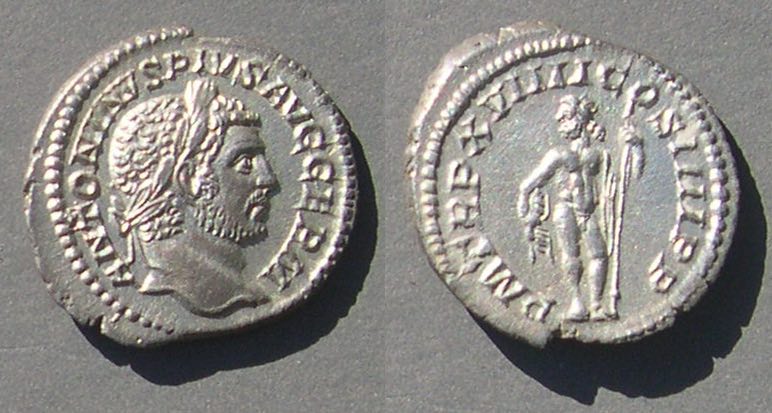 Caracalla, 196-198-217
19 mm. 3.08 grams
Struck 216
PM TRP XVIIII COS III PP
Jupiter standing right, head left, holding thunderbolt and long scepter
EF+ from fresh dies. Super detail. Every letter bold. Hair and mustache detail is all there. Jupiter's face has detail! A great coin! [$155]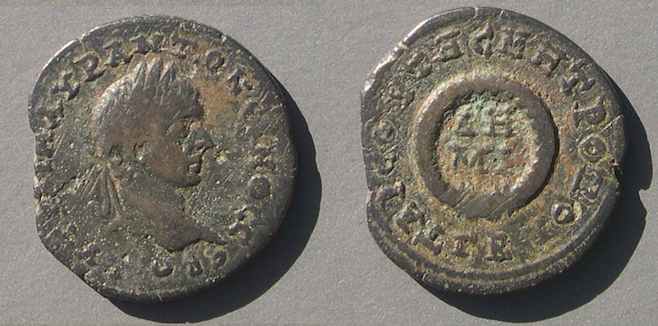 [$69, reduced to $45] Caracalla, Tarsos mint
26 mm. 8.70 grams
AH / MI in wreath
Sear Greek Imperial --, SNG Danish Tarsos 369. SNG France 2:1560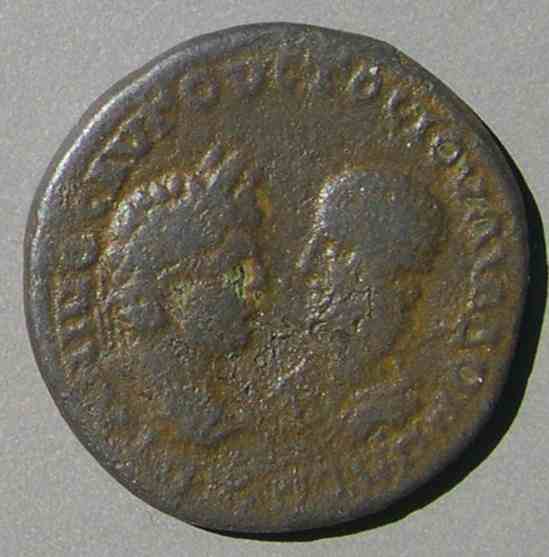 [$23] Caracalla and Julia Domna/ Serapis head reverse
Marcinopolis 6.19.6.5
Moushmov 47b
AE27-26 [$29, reduced to $25]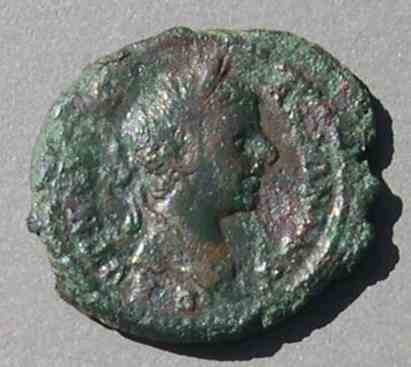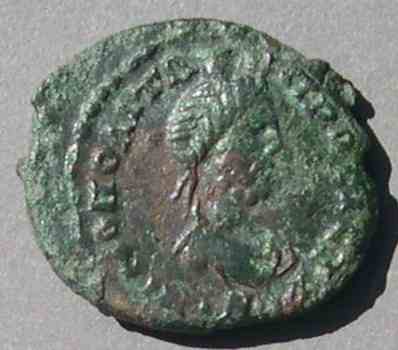 [$19] Caracalla, 196-198-217
at Nicopolis ad Istrum, Moushmov 1077
Serapis head reverse. Good detail.
AE19-16. 2.67 grams
Head of Serapis [$19]
Macrinus, 217-218
Macrinus, 217-218
19 mm.
VOTA PVBL PM TRP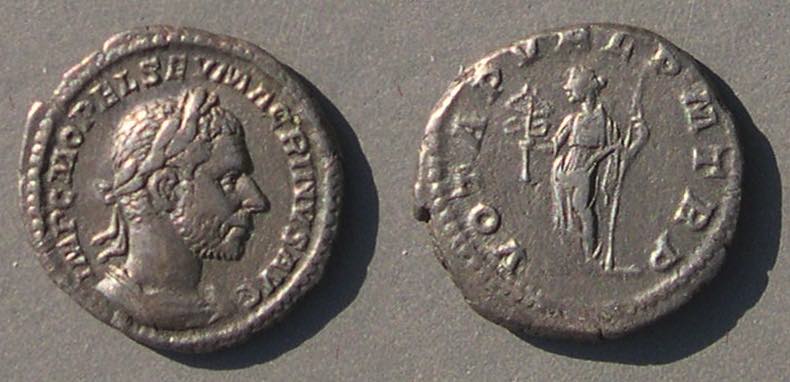 Excellent portrait of the short-beard varietyRIC 6. Rare. More so than other types according to Clay in NZ 93 (1979) page 21.
ex Argos, list 27 lot 29, July 16, 1984. [$169 SOLD]
Links: Caracalla, Elagablal, Severus Alexander, Gordian III, Philip, Valerian, Gallienus, Gallo-Roman, Claudius II, Aurelian, Probus, Tacitus, Carus and Family
---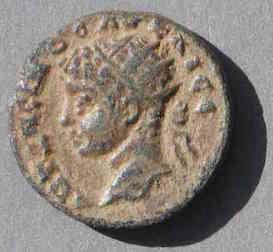 Elagabal at Antioch on Orontes. 19 mm. 4.53 grams. Sear GI --. Butcher, CRS 470 but bust left, page 385, plate 14. High grade [$27]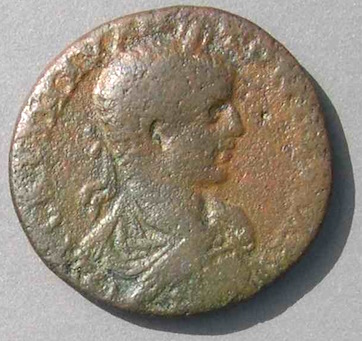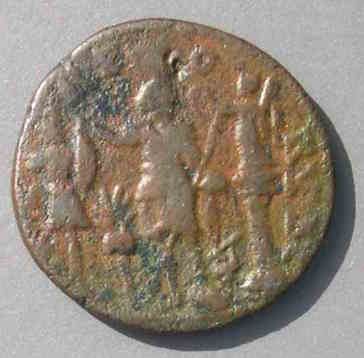 Elagabalus at Tyre, Phoenicia. large: 30 mm. Astarte standing left, placing her hand on trophy, holds transvers scepter, crowned by Nike on column right, palm to left SEPT IM TYRO SGI 3117 BMC Phoenicia, Tyre, 389. rev. illustrated plate XXXIII.1. small figure "Marysas of the forum" to the right. Large and quite clear. [$49]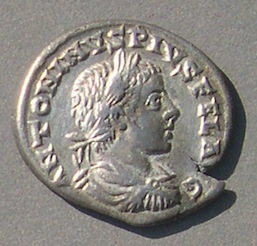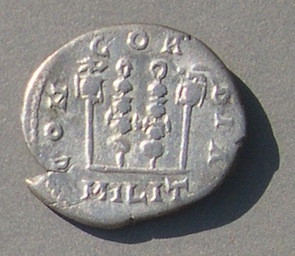 Elagabalus, 218-222.
CONCORDIA MILIT, two standards and two eagles.
18-16 mm.
Sear 7505. RIC IV-2 187. Antioch mint, A.D. 218-219. High grade portrait and interesting military connection with four standards.
[$85]
---

Severus Alexander (222-235)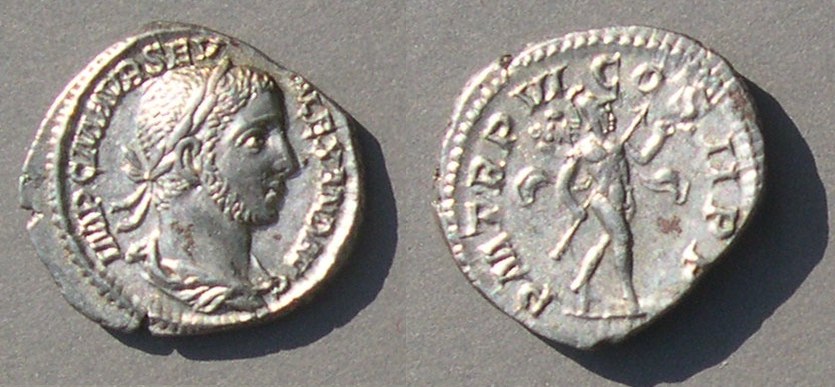 Severus Alexander, 222-235
Denarius. 20-18 mm.
Mars walking right
PM TRP VI COS II PP
Dated to 227 by the TRP number.
Gorgeous Very high grade. [$89]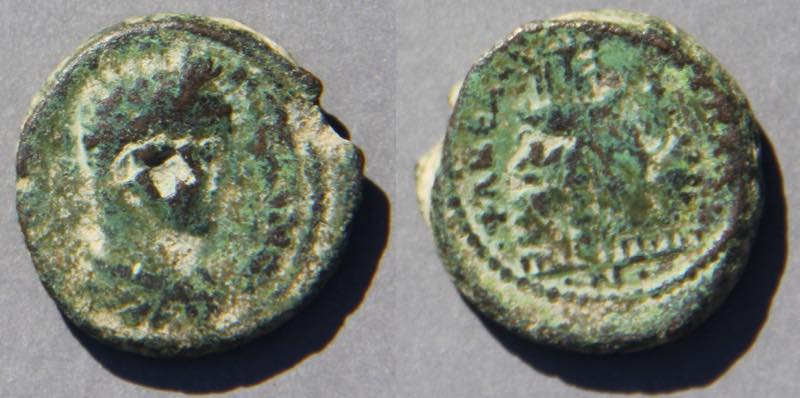 Samaria, Neapolis. Holy Land coin.
Mt. Gerizim with a temple on top, columnade across the bottom, steps up it.
Severus Alexander, 222-235
23 mm. 12.88 grams.
BMC 113 is similar without the c/m.
Sear Greek Imperial 3375.
[$22]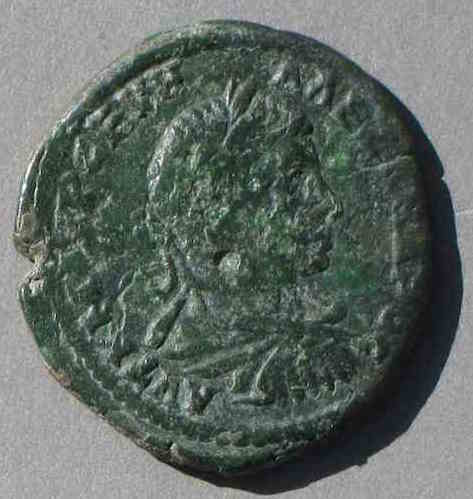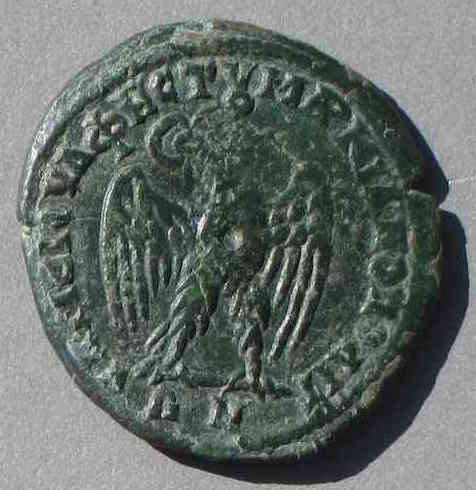 Severus Alexander AE26-24 at Marcianopolis. Governor Julius Fetus named.
eagle with half-spread wings. Sear GI obverse of 3269, same reverse legend. Moushmov 714 photo on the web (that one is slightly worse and was $85) [$35, reduced to $27]
---
Maximus, son of Maximinus Thrax, the Giant.
[sold]
---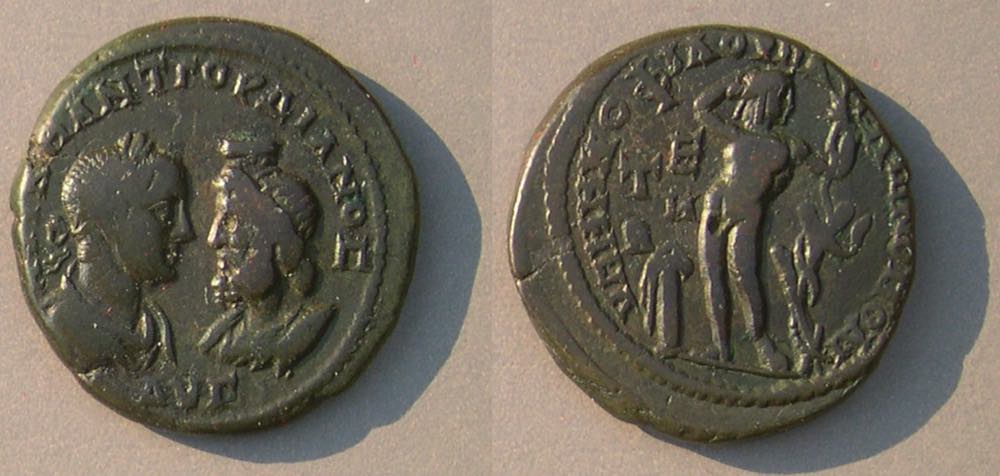 Gordian III and Serapis, 238-244
27 mm. 14.06 grams.
Struck at Marcianopolis, Lower Moesia.
legate Tullius Menophilus
Naked Apollo standing, facing, head right, grasping a tree, around which a serpent coils, & holding his right arm over his head; to left, cloak on quiver.
Sear GI --, SNG Cop II 255, Marcianopolis 6.37.7.4 (obv legend variety) None on vcoins. [$119]
Nice surface. Nice even very dark patina. [$125, reduced to $95]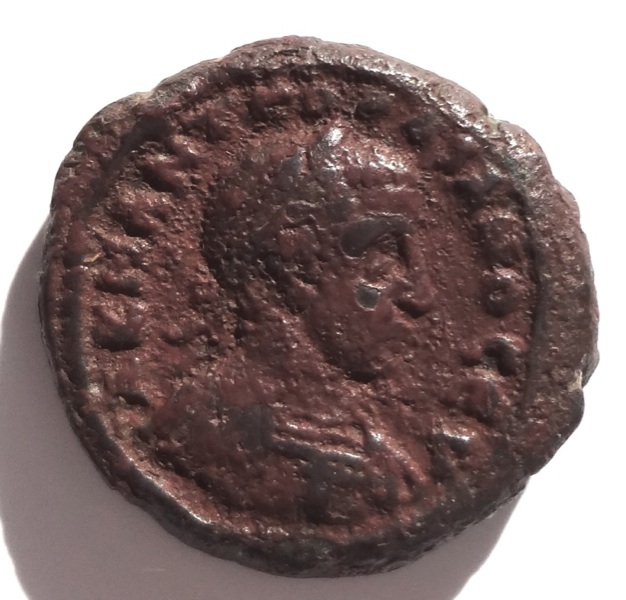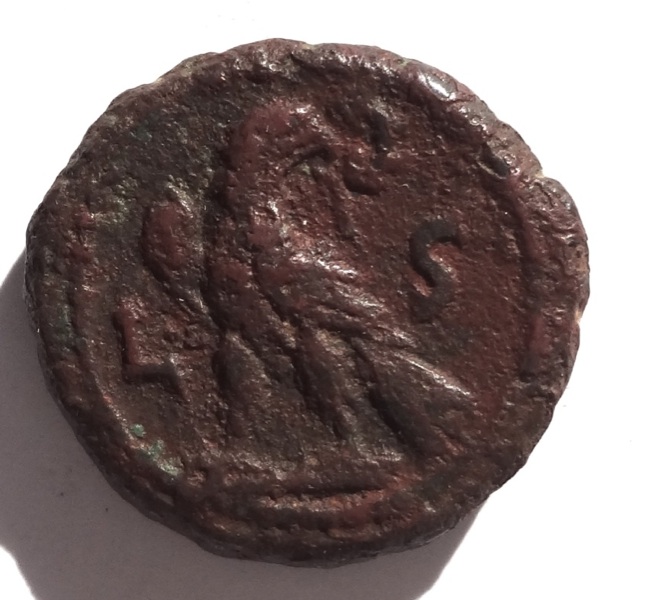 Gordian III, 238-244, of Roman Alexandria, Egypt
Emmett 3401 (rarity 1) page 170
eagle standing left, head right
Sear 3.8832 variety with year S for B.
Unusual lovely reddish surface color [$39, reduced to $29]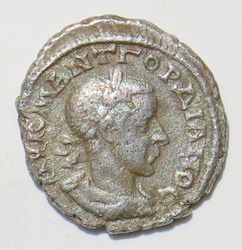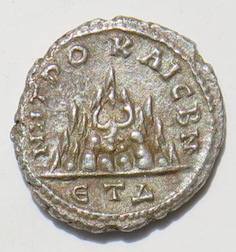 Gordian III, 238-244. Silver drachm of Caesarea, Cappadocia. 18 mm.
Much like a denarius, but from the East and with Greek lettering.
Supplement your Gordian III group with something different!
Mt. Argeaus, well-centered. ETΔ = year 4 [$59]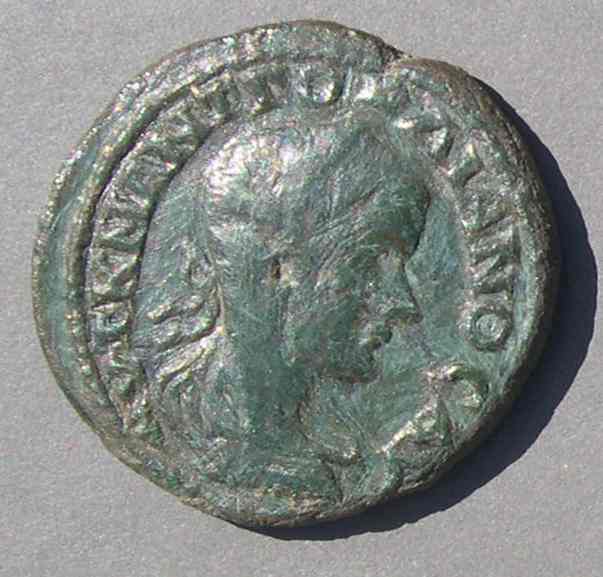 Gordian III, 238-244. AE 27. Hadrianopolis. Fortuna = Tyche with rudder. smoothing. Fully legible legends. [$25]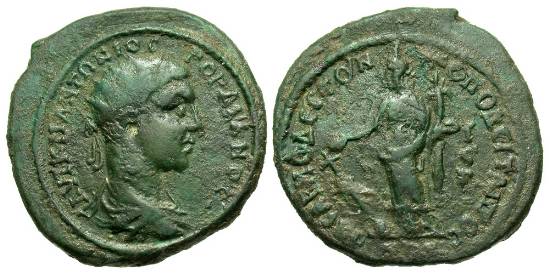 [$65] Moesia Inferior, Nicopolis ad Istrum. Gordian III. A.D. 238-244. Æ (28 mm, 14.20 g, 1 h). A.D. 241-244. Sabinus Modestus, consular legate. AVT K M ANTΩNIOC ΓOPΔIANOC · (sic), radiate, draped and cuirassed bust of Gordian III right / [VΠ] CAB MOΔЄCT(OV) N-IKOΠOΛЄIT(ΩN) (ΠΡ)OC I/C/T, Tyche standing facing, head left, holding rudder and cornucopiae. Hristova & Jekov -, but cf. 8.36.38.1-8; cf. Varbanov 4244 (rev. legend). Nice green patina with moderate earthen deposits. Very fine. [$65]
---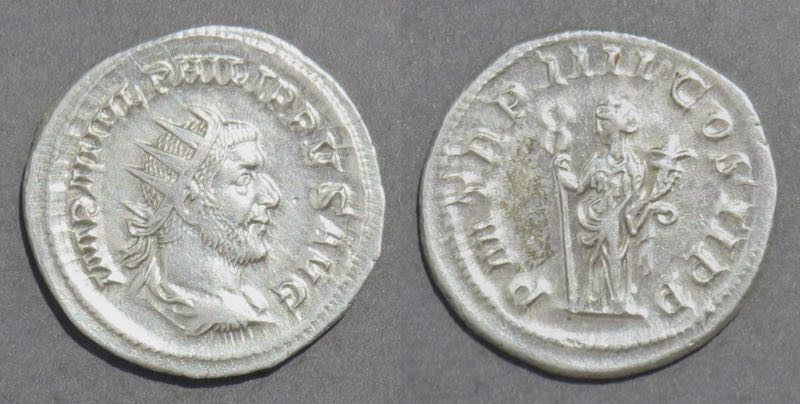 Philip, 244-249
Wonderful large flan, fully centered.
PM TRP IIII COS II PP
Felicitas standing holding caduceus and cornucopia
Sear III 8946. RIC 4, AD 247
Look at the detail on Felicitas! An excellent portrait!
[$65, reduced to $55]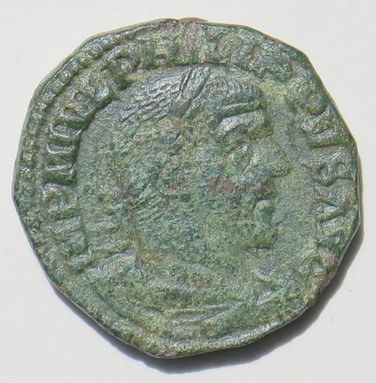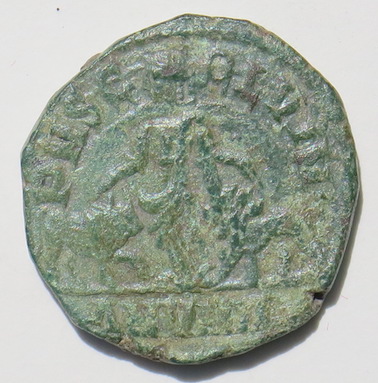 Philip, 244-249
28 mm.
Struck at Viminacium, Moesian Superior
Sear GI 3874
28 mm. 15.30 grams. Large
The bull and the lion were the emblems of legions VII and IV which were quartered in the province.
Even dark green patina. [$49, reduced to $36]

[$55 SOLD] Syria, Seleucis and Pieria. Antiochia ad Orontem. Philip I. A.D. 244-249. BI tetradrachm (26 mm, 10.92 g, 7 h). Cos. III (A.D. 247). AVTOK K M IOVΛI ΦIΛIΠΠOC CЄB, radiate and cuirassed bust of Philip I left, gorgoneion on breastplate / ΔHMAΡX ЄΞOVCIAC VΠA TO Γ, eagle, wings displayed, standing right, holding wreath in beak; in exergue, ANTIOXIA/S C in two lines. McAlee 919a; Prieur 354. Surface porosity, green deposits on reverse.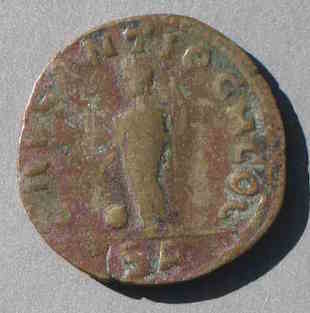 Philip II at Antioch in Pisidia, AE27. 970 grams. SGI --, McClean 8964. BNC Pisidia Antioch 120 (no photo) [$27]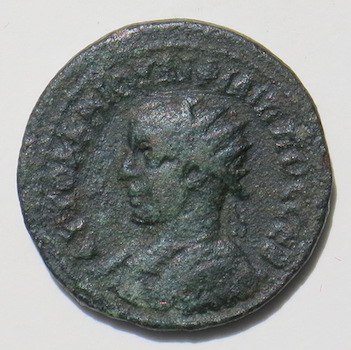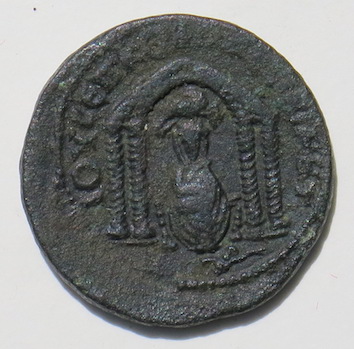 Philip II, 244-249
Struck at Nisibis, Mesopotamia, the easternmost city of the Roman empire, and much in the history books as a city under siege by Sasanians or Romans.
Sear GI 4157. BMC Mesopotamia Nesibi [sic] 23
City goddess seated facing, ram running right bove, head back, in temple with four colums with spiral fluting, city god swimming right below.
Bust left
ex CCE Sept. 1981 lot 159. The city is mentioned in Acts 7:2. Nice dark green patina. [$59]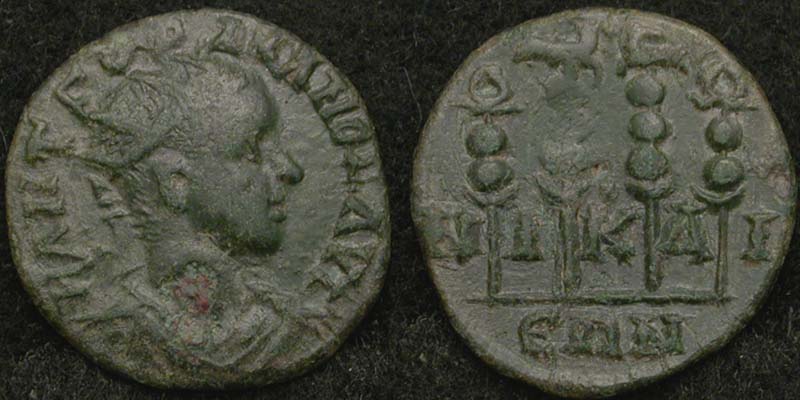 Gordian III, 238-244
Provincial, struck at Nicaea (City of the Christian Nicaean Creed)
19 mm.
Lots of good detail.
All legible. Well-centered.
[$25]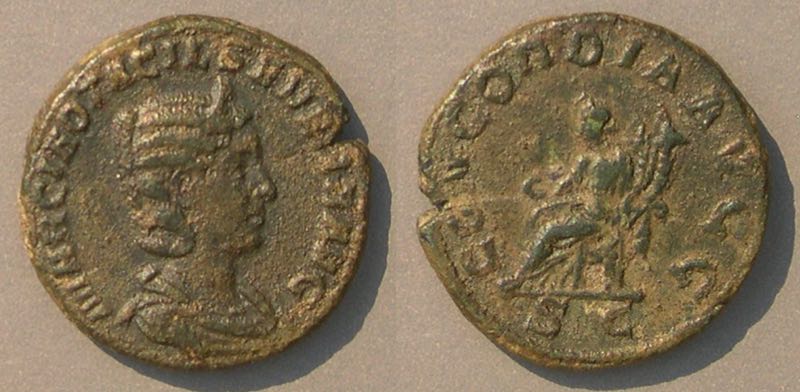 Rare middle bronze of Otacilia Severa, wife of Philip I (244-249)
25-24 mm. as. 9.55 grams.
Denarii and sestertii of her are common--asses are not.
MARCIA OTACIL SEVERA AVG
CONCORDIA AVGG
SC in exergue.
Sear III 9172. RIC 203b.
A clear example of an unusual denomination. [$129]
---

Trajan Decius (249-251)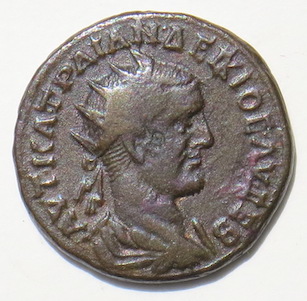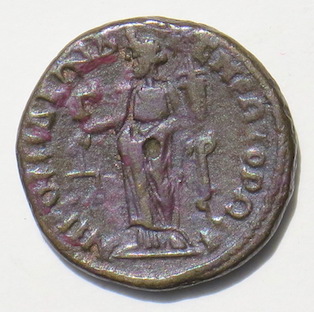 Trajan Decius, 249-251
23 mm. Struck at Nikomedia in Bithynia
SNG von Aulock 7128 Sear GI --, SNG Copenhagen --
Equitas, Gamma (3) in left field.
Fully legible, well-centered. [$55]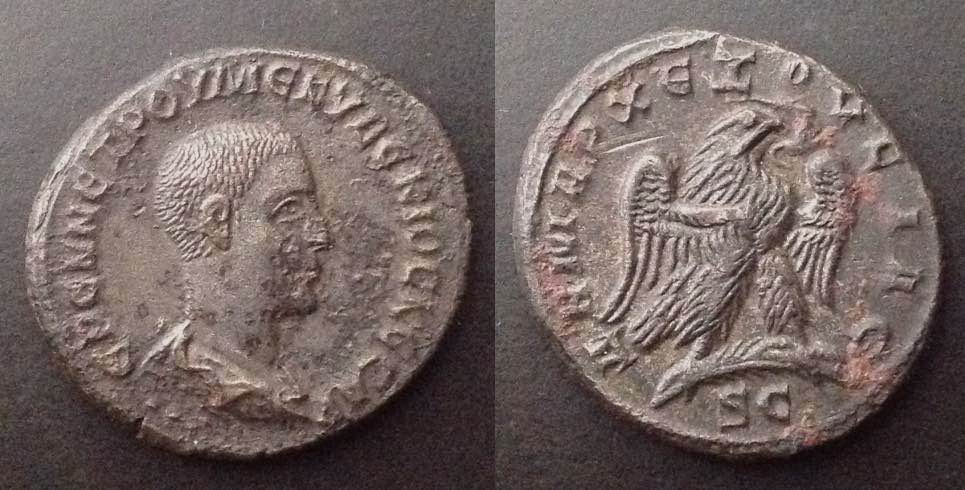 Herennius Etruscus, 250-251
tetradrachm of Antioch
27-24 mm. 12.13 grams.
Three dots below the bust for 3rd officina. Dark toning. Some corrosion. High grade. Well-centered. All his hair. Powerful eagle. Prier 633 [$65]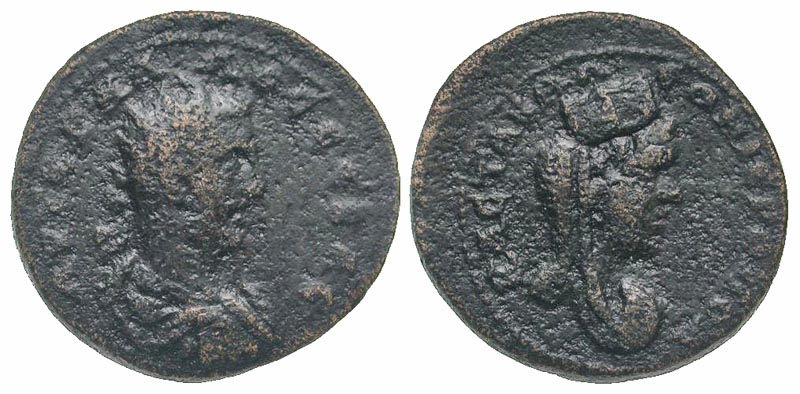 Cilicia, Hierapolis-Castabala.
Trebonianus Gallus. A.D. 251-253. Large AE 30 (29.8 mm, 13.82 g, 5 h). AVT K ΓAΛΛOC CEBAC, radiate, draped, and cuirassed bust right, seen from behind / KACTABAΛEΩN IEPOΠOΛEI, turreted and draped bust of Tyche right. SNG France -; SNG Levante 1596 var (obv and rev legends); BMC -; SNG von Aulock -. Fine, rough surfaces. Rare variety. [$39]
---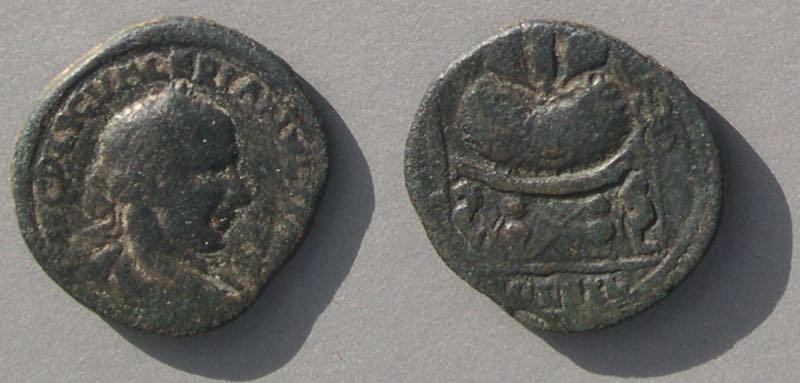 [$65] Valerian (253-260)
Struck at Heliopolis, Coele-Syria
253)-23 mm, thick, 11.70 grams.
agnostic urn on table with ornamental legs
COL HEL
Sear Greek Imperial --
L&K --, Lindgren III 1283variety (legend), Weber --, McClean 9440 variety, BMC Syria --
SNG Copenhagen Syria -- (439 has urn with no table, SNG Righetti --
[$65] Ex Colosseum Coin Exchange, list of April 1988, lot 106.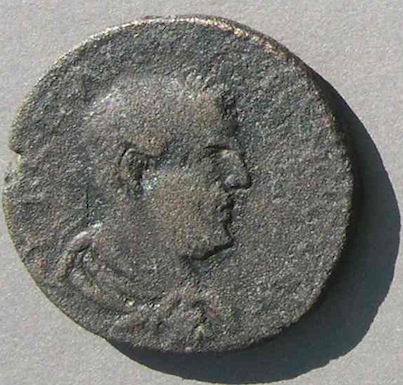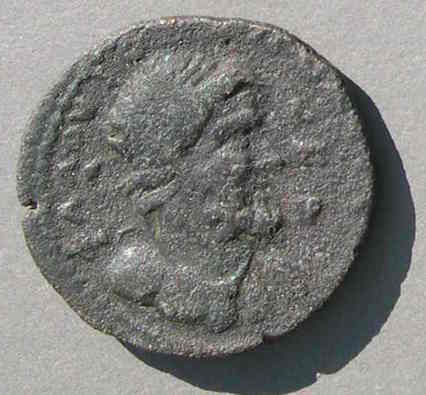 Valerian at Flaviopolis, Cilicia. 253-260 AD. AE27-26. 11.99 grams. bust right/bust of Zeus right (not the usual Serapis w. slightly larger flan). Sear GI --, SNG France --, SNG Cop--, SNG von Aulock --, Lindgren & Kovacs --, L III --, SNG Righetti 1558, very similar. Note how few collections have this type. Rare [$35] (This reverse type is sometimes on Maximinus I.)
---
Gallienus (253-268)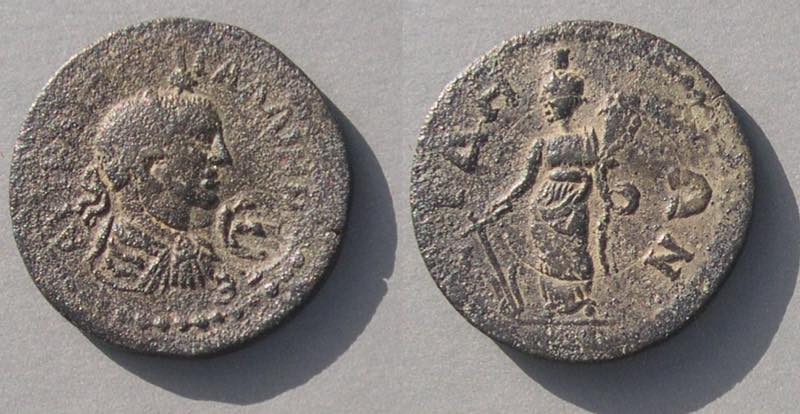 [$95, reduced to $79] Gallienus, 30 mm.
Struck at Side in Pamphylia
E countermark over the original "IA" at the neck.
E = 5 assaria. Howgego Countermark 805
Sear Greek Imperial --,
von Aulock -- cf, plate 158, volume II for Valerian
L&K 1174 for obverse
SNG Copenhagen VI Pamphlia -- Supplement 523
Weber III --, SNG Righetti 1309 variety
ex Cederlind at $100, his #345 (list date uncertain, maybe 1990s?)
[$75]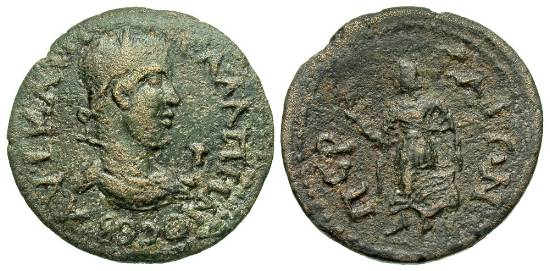 [$59] Pamphylia, Perga. Gallienus. A.D. 253-268.
Æ decassarion (32 mm, 17.18 g, 1 h). AVT KAI [ΠΟ Λ] ΓAΛΛΠHNO CЄB (sic), laureate, draped and cuirassed bust of Gallienus right, before, I / ΠЄΡ-ΓΑΙΩΝ, Elpis advancing left, holding flower and raising hem of skirt. SNG BN 579 (same obv. die); SNG von Aulock 4728 (same obv. die). Dark brown patina, some porosity. Very fine Large provincial at 32 mm. [$69]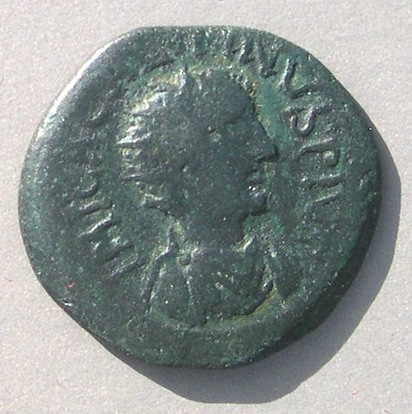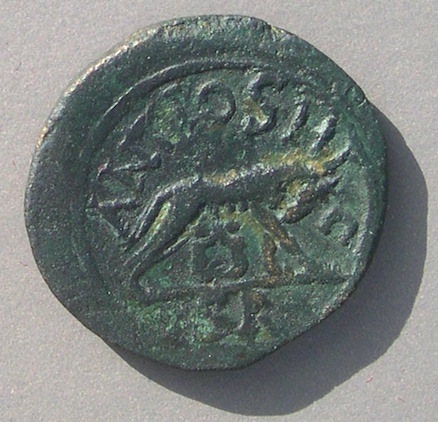 Gallienus, Antioch in Pisidia.
29 mm. 13.02 grams.
It is less green than the image and more black.
Roman wolf and twins right.
SGI 4601. SNG France 3, 1326 (This one is slightly better than theirs) [$69]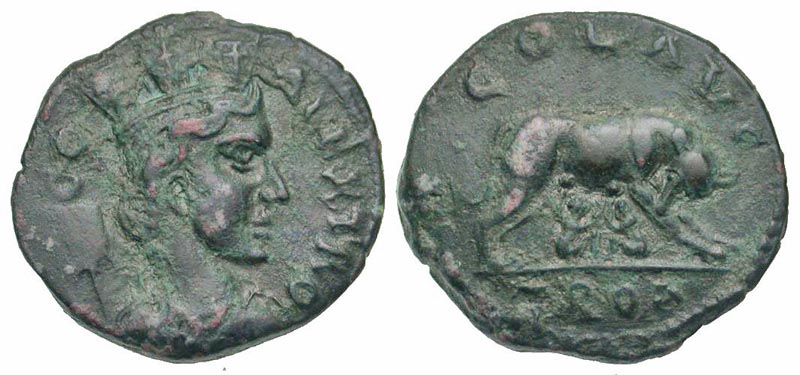 Troas, Alexandria Troas. Civic issue. Mid-late 3rd century A.D. AE 23 (23.0 mm, 5.85 g, 7 h). CO ALEX TRO, turreted and draped bust of Tyche right; vexillum behind / COL AVG TROA, she-wolf right, head left, suckling the twins Remus and Romulus. cf. Bellinger A495; SNG Copenhagen 104-7. VF. [$39]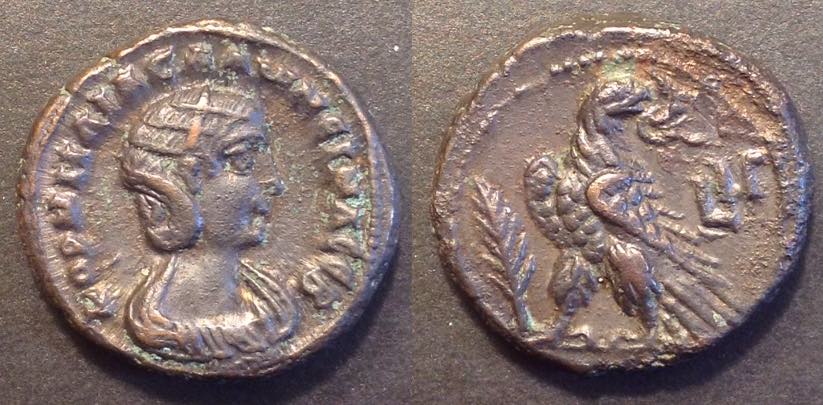 [$69] Salonina, wife of Gallienus
Struck at Roman Alexandria, Egypt
22-21 mm. 10.35 grams
Year 13 = 265/6
Sear 10713, no photo.
Emmett 3853
Nice details. [$69 SOLD]
With Pegasi ticket at $275!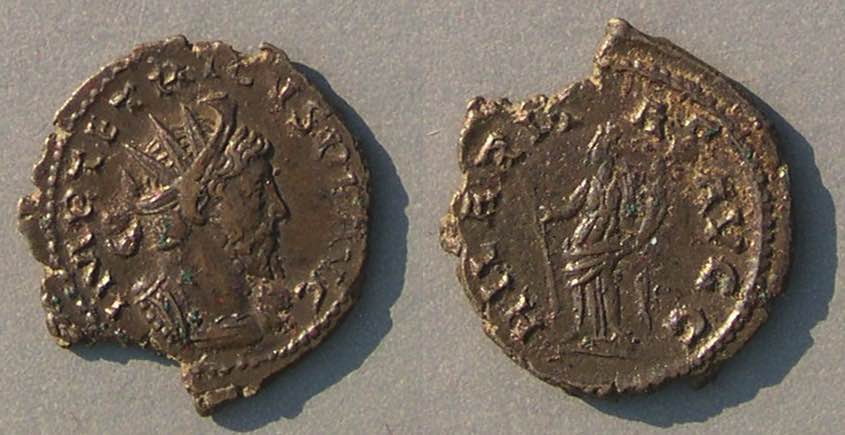 Tetricus I, 270-273.
Larger and heavier than usual at 22-20 mm and 3.29 grams.
HILARITAS AVGG
RIC 80, page 408.
Sear III 11237
[$19]

Barbarous Radiates from the Gallo-Roman Empire: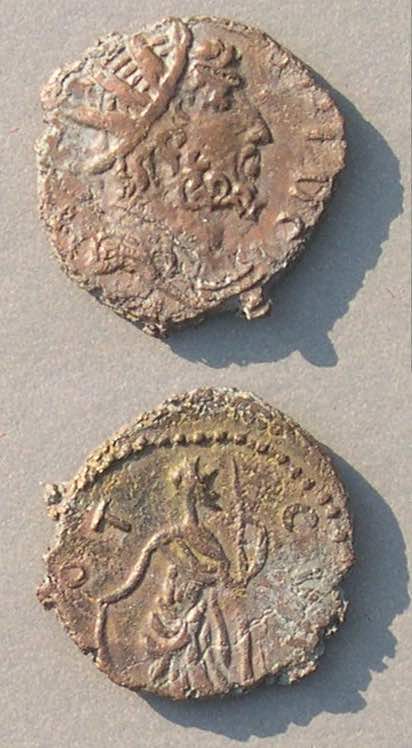 Victorinus, (but the legend is not there to prove it)
18 mm.
O T C V
Nice portrait with the curved nose with distinguishes Victorinus
and some other pieces from the hoard did have the name and the good size
is typical for his barbarous radiates
[$9]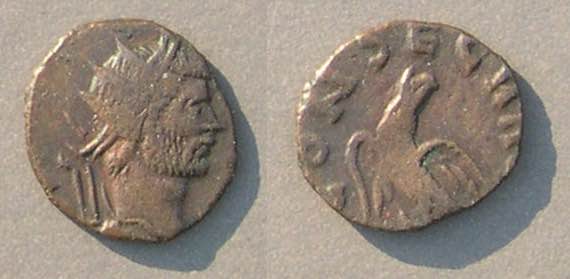 Claudius II, 268-270, postumus barbarous radiate
CONSECRATIO, eagle
Remarkably good style for this small 13-11 mm coin.
[$15]
Central Empire, Claudius II (268-270) and later: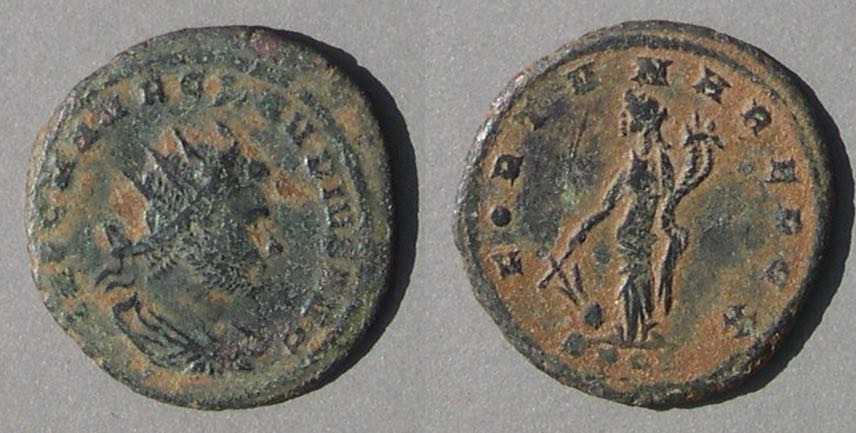 Claudius II, 268-270.
SPQR mint. (Many say it is Cyzicus, but I have not seen the proof.)
22 mm. 3.79 grams.
FORTVNA REDVX
Fortuna standing left holding rudder and cornucopia
RIC V.I 233.
Nice rust color on the surfaces and the unusual "SPQR" mintmark.
[$45 SOLD]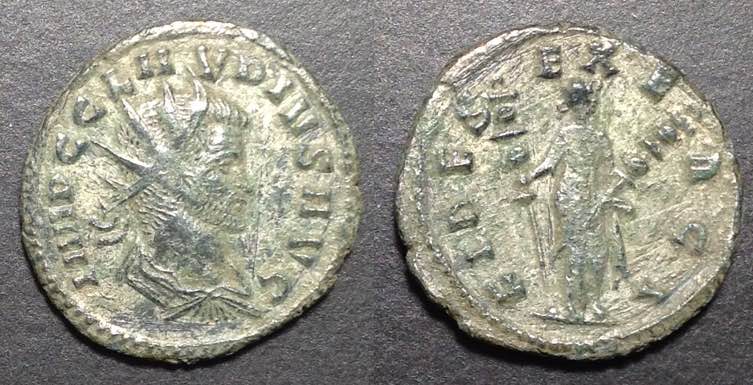 Claudius II, 268-270
21 mm.
FIDES EXERCITVS
Sear 11334
Lovely light green with some silvering
[$45, reduced to $35]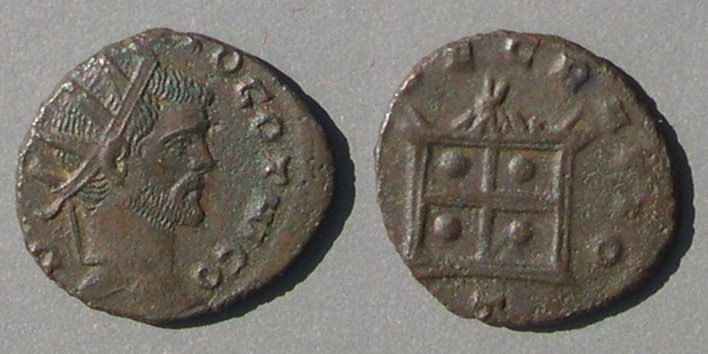 [$79] Claudius II, Gothicus
268-270
17 mm. 2.66 grams
DIVO CLAVDIO GOTHICO
altar
CONSECRATIO
ex Empire list 23 lot C198 July 1984 at $50
The best obverse legend with his famous "GOTHICO" title.
RIC 264, Foss Quintillus 2
Good portrait and strong GOTHICO. Don't expect to find one full flan. This one is nice for having the rare title GOTHICO on the flan.
[$79]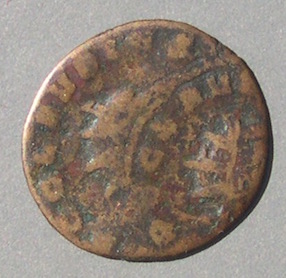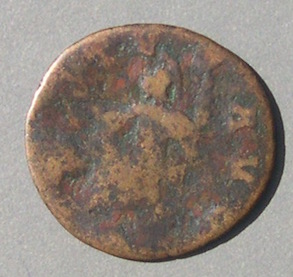 Claudius II, 268-270.
Double strike minting oddity.
19 mm. 1.95 grams.
VIRTVS AVG
One strike 50% off-center. A clear example of the striking process.
Sear 11383. [$23]
For a page of ancient imitations from the third century, see here.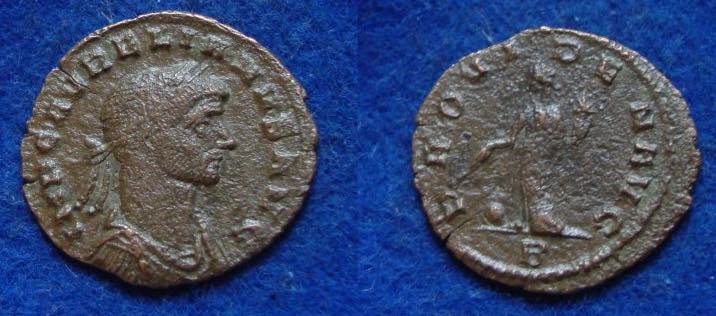 Aurelian usually comes as a radiate, either pre-reform or post reform. He also comes as a scarcer "denarius"--however almost always VICTORIA AVG. Far rarer, offered less than once a year, I think, is this PROVIDEN AVG denarius type.
None on vcoins. None at MA-Shops.
Roma had one, not better, in e-sale 27 for $143 including fees + shipping. CNG had one in 2010 for $185 + 12% + shipping. Elsen had one in 2011 for $207 + fees + shipping.
IMP C AVRELIANVS AVG laureate bust right
PROVIDEN AVG
Providentia standing left holding wand over globe.
RIC 68 very rare type of an unusual denomination [$85 +$4 in the US]
[sold]
[sold]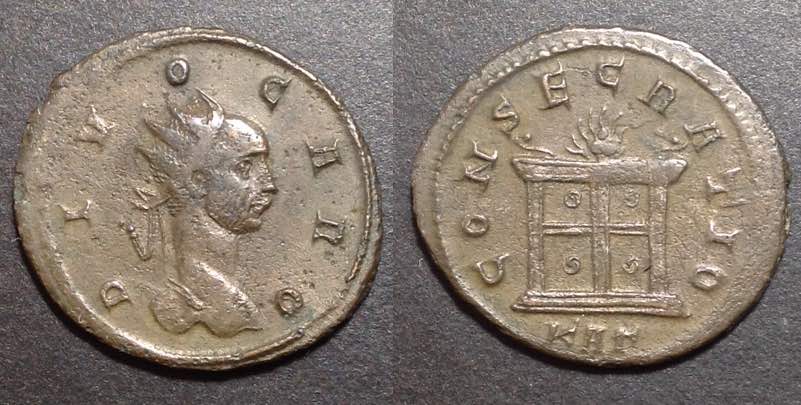 DIVO CARO
Carus, 282-283
22-20 mm.
CONSECRATIO
RIC 49
A balding emperor, as you can see before the radiate crown.
Struck by lightning and commemorated by his sons [$55]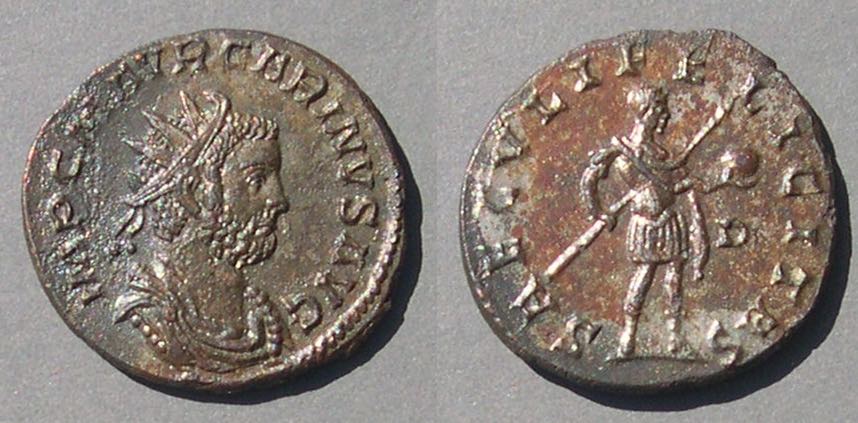 Carinus, 282-285, as Augustus
21 mm.
SAECVLI FELICITAS
RIC V.II 214 page 166.
Excellent portrait detail. [$69]
---
Go to, on this page, Republican, 1st C, 2nd C, or 3rd C
Caracalla, Elagablal, Severus Alexander, Gordian III, Philip, Valerian, Gallienus, Gallo-Roman, Claudius II, Aurelian, Probus, Tacitus, Carus and Family
---

Continue on another page with:
Roman: Diocletian through Licinius (the tetrarchy) or
with Constantinian coins,
Return to the top of this page.

To order, or simply to ask me questions, write me, Warren, at


.


---
Want to buy or sell ancient coins? Join the ACM, a free email list!

---