Interesting ancient coins, offered by Augustus Coins.

If you want to buy ancient coins, you are beginning at the right page. If you want to learn more about them, visit my educational ancient-coin website (begun in 1997 and expanded very many times since then). If you like to learn from books, visit my page of ancient-coin literature. For more about me, see see here.

Contents: This is the main page with Roman coins and some of newest listings from other series too, at the top. For late Roman, Byzantine, or Greek coins, or books about them, use the links to the left.

Skip down to Republican, 1st C, 2nd C, or 3rd C
3rd C. more precisely: Septimius Severus, Caracalla, Elagablal, Severus Alexander,
Gordian III, Philip, Valerian, Gallienus, Gallo-Roman, Claudius II, Aurelian,
Probus, Tacitus, Carus and Family

Recent: 2021, Jan. 14: Four siliqua (of Julian II and Honorius, at the top).
2021, Jan. 9: Unlisted in RIC BONO GENIO of Maximinus II (at the top).
Jan. 6. Four special later Roman coins at the top. One in super condition and three remarkably unusual.
Jan 3: Happy New Year! Two coins of Constantine II at the top of this page.
2020, Dec. 29: Three excellent late Roman AE (at the top of this page).
Dec. 24: Severus II follis from Carthage (top of this page)
Leo V and Constantine, 813-820 (at the top of the Byzantine page).
Dec. 21: Oriental Greek and a Thasos nude satyr obol at the top of the Greek page. A few added to the inexpensive page. Arcadius and Theodosius AE2s on the late Roman page. Sold coins removed entirely.
Dec. 7; Hatra (now in Iraq). Vetranio AE2 with great chi-rhos. Two siliquae--Gratian and Theodosius. (At the top).
Dec. 6: Aurelian with SERD.
Dec. 3: Price of the Tribtue penny reduced.
2020, Nov. 26: Tiberius "Tribute Penny" authenticated and graded by NGC (at the top).
2020, Nov. 19: Five coins of Persis, at the top of the Greek page. Reduced most prices on the numismatic literature page. Take a look at some well-illustared books and catalogs.
Nov. 14: A possibly unique variety of the now-common first stater type of Aspendos on the Greek page. A quarter-follis on the inexpensive page.

Books. If you would like some literature to read, make me an offer. I think my prices are the lowest on the market, but I'd like to sell some of these to someone who would like to look at them. That might be you! Make me a (low) offer. I might well accept!


wwestyc wwestypage

Prices are in brackets: [$xx].

To order, or simply to ask me questions, write me, Warren, at

.
(I am on Pacific time, so if you are in the east and write me at 8:00 am it is only 5:00 am where I am.)
My page of terms, which are essentially repeated here:

Terms of Sale. When you write me, please tell me if you are not in the US (it changes shipping costs).
After I confirm I still have the coin,
from the US you can pay with Zelle (preferred) or PayPal to my e-mail address. (I also accept checks.) (Why I prefer Zelle.)
from abroad, you may pay with Transferwise (preferred) or PayPal to my e-mail address. (Why I prefer TransferWise.)

Shipping in the US is $2 for orders under $25, $3 up to $50, $4 up to $100, and an additional $2 for each hundred thereafter.
Shipping to other countries: Shipping is an additional $3 for orders under $200 and payment must be with TransferWise or PayPal. (Thick coins change an "envelope" into a "small parcel" which costs significantly more in postage. I can mail about three denarius-sized coins as an "envelope," but not large Byzantine bronze or sestertii.) When you order, please tell me which country you live in and I will get back to you about shipping before you confirm your order.
More detailed terms are here. All coins are guaranteed genuine.

Reminder: When you buy a coin you must add in the shipping cost. Don't think a coin offered at $20 elsewhere will cost you $20. It won't. Shipping could easily be $6 or more. In contrast, I charge only $2 for shipping a $20 coin (in the US).

Purple means "SOLD" and no longer available
Newest first (down to the second horizontal line.)
After that, Roman coins before the 4th century are in chronological order below. Later Roman coins are on other pages linked in the sidebar.
(Greek, Byzantine, and other coins are on their own pages with links at the top left.)
---

Newest next. Skip the newest coins and go down to Roman coins in chronological order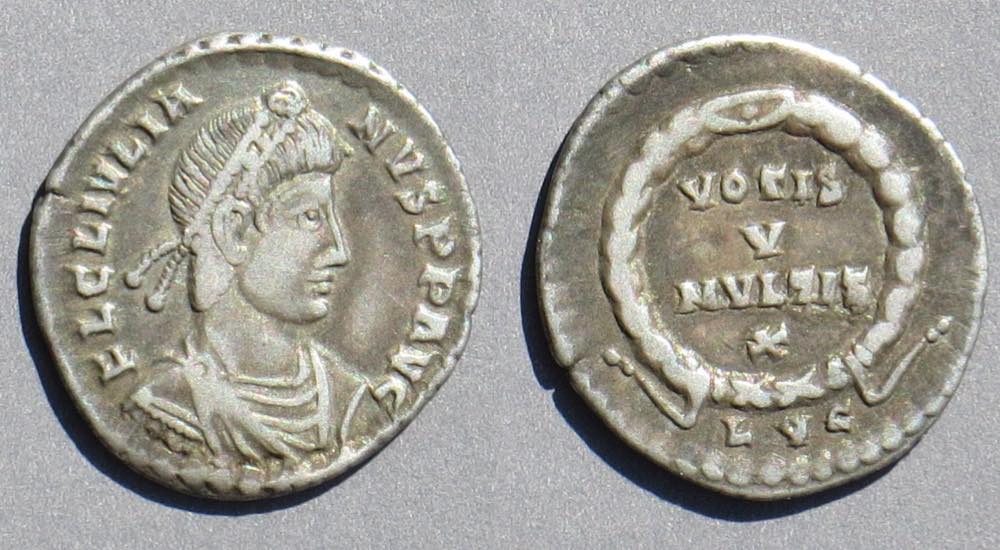 Julian II, 355-360-363
Siliqua. 17 mm. 2.05 grams.
VOTIS V MVLTIS X in wreath
LVG in exergue
RIC VIII Lugdunum 219
Struck "Spring 360-26 June 363" (i.e. as Augustus)
Very nice flan, even strike, and toning. [$175 SOLD]


Julian II, 355-360-363
Siliqua. 16 mm. 2.11 grams.
VOTIS V MVLTIS X
PCON (for Arelate as Constantina) in exergue
RIC VIII Arles 295
Struck "Spring 360-26 June 363" (i.e. as Augustus)
Remarkably strong strike with virtually no wear and good metal.
One of the best. [$275 SOLD]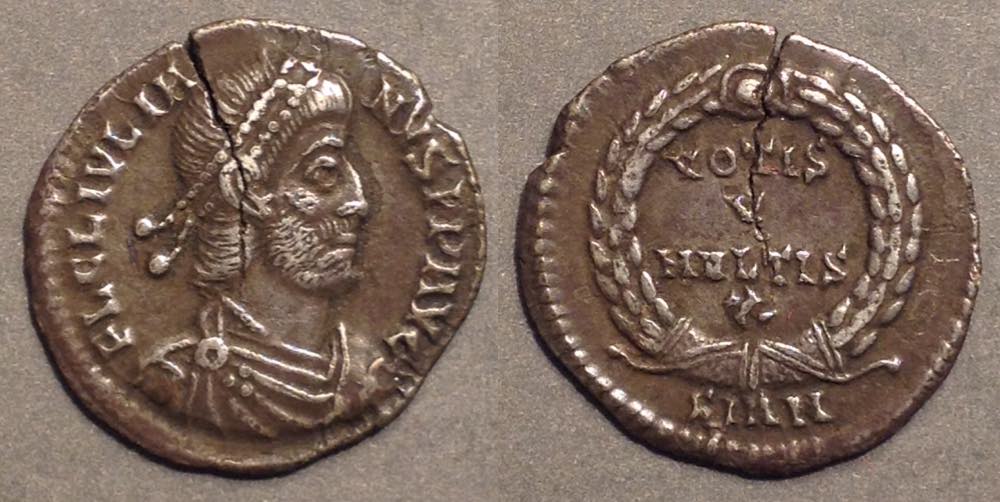 Julian II, 355-360-363
Siliqua. 18 mm. 1.95 grams.
VOTIS V MVLTIS X
SIRM in exergue
RIC Sirmium 102
Nice full flan with good strike and lots of toning. Very bad flan crack. The coin is not broken, but be careful with it. I'll pack it very well. [$95 SOLD]
ex Antiquity Imports (Steve Rubringer) fixed-price list 2, Summer 1976, lot 434, at $50, with ticket.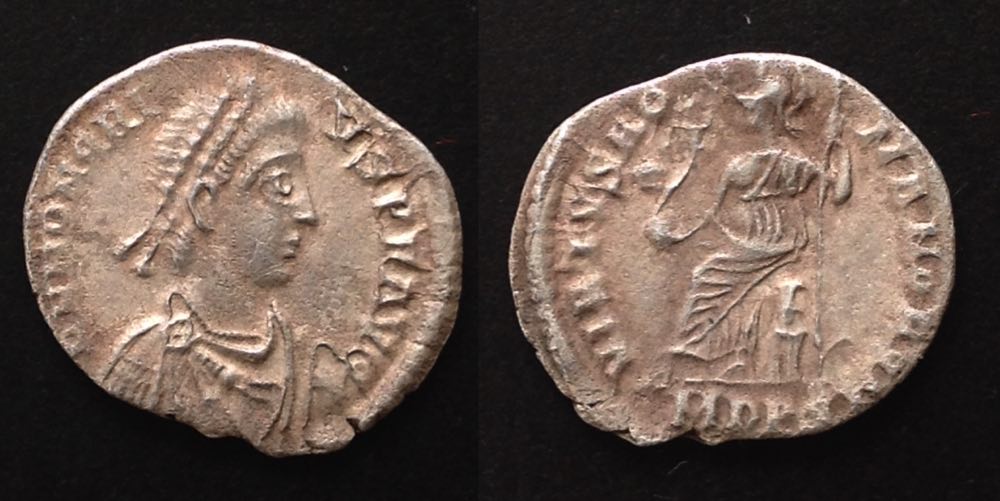 Honorius, 393-423
Siliqua. 17-15 mm. 1.25 grams.
VIRTVS ROMANORVM
MDPS (Mediolanum = Milan)
RIC X 1228 Struck "395-402"
Siliqua of Honorius are scarce, with none on MA-Shops.
Siliquae from this era are thin and fragile. I'll pack it well.

[$125 SOLD]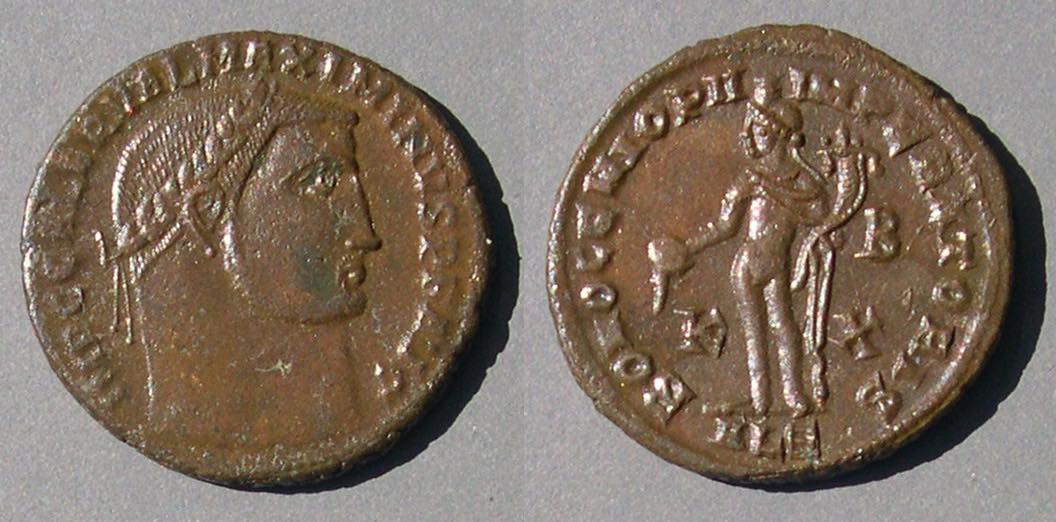 Unlisted in RIC.
Maximinus II, Caesar 305-310 and Augustus 310-313
Struck 311-312
IMP C GALER VAL MAXIMINVS PF AVG
BONO GENIO PII IMPERATORIS
The genius type with "BONO" is only from Alexandria.
B
K X in fields
ALE in exergue
RIC VI Alexandria --, close to 144b, however that whole group has an upward facing crecent in the upper left field. None of the types in RIC have this combination of field marks. Therefore
RIC VI Alexandria unlisted.
ex Empire Coins "Encore list" May 14, 1993, lot 386.
Nice rust color. Excellent reverse with good glossy patina. [$145]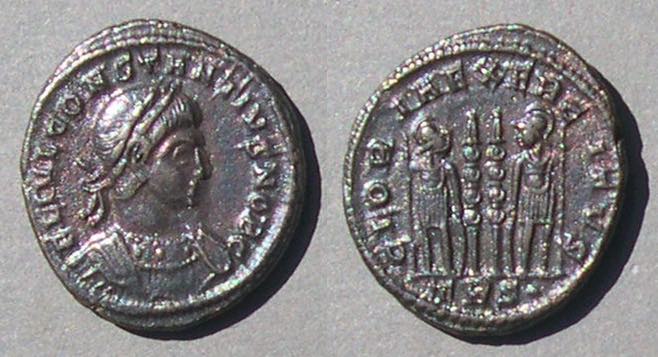 Constantius II
17-15 mm. 2.26 grams.
FL IVL CONSTANTIVS NOB C
Struck 330-331
RIC Trier 528
Super surfaces and condition. Remarkably full flan.
This is a very common type, but rarely in such great shape. If you want one under $20, you can get a fairly nice one. If you want one of the very best, this one is
[$59] Slightly wine-colored patina. Splendid!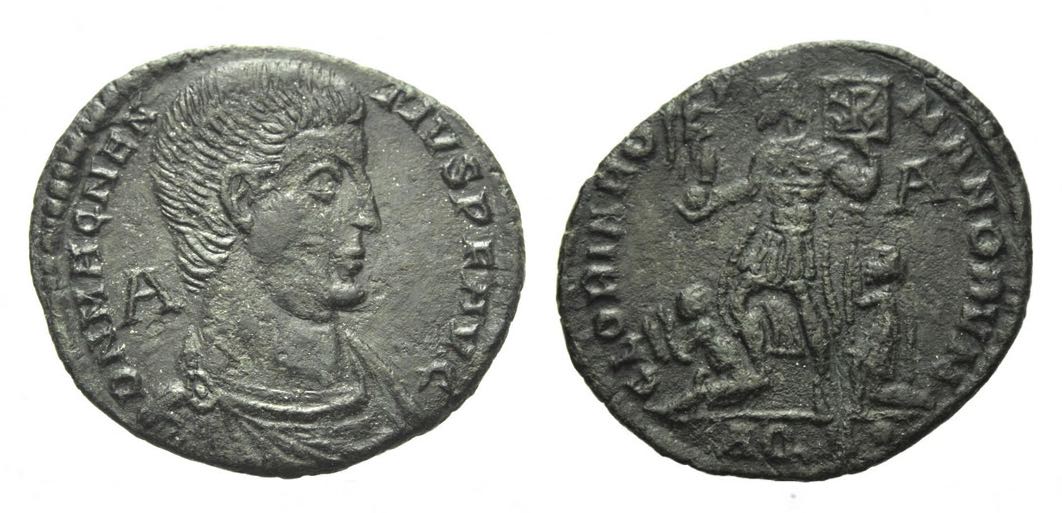 Magnentius, 350353
Rare type.
24-23 mm. 3.92 grams.
GLORIA ROMANORVM
Emperor holding Victory on globe and labarum with chi-rho
Two captives below.
RIC
Aquileia 148. Failmezger 430 (the coin offered here is better)
[$145 SOLD]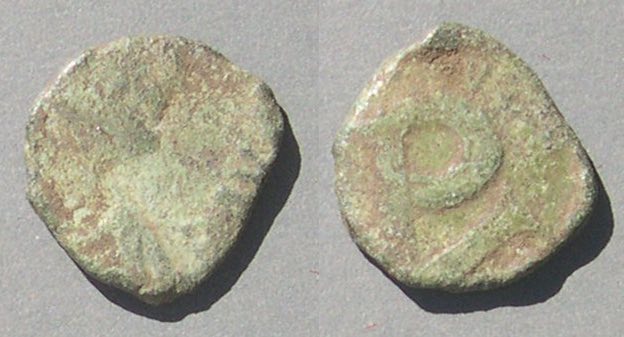 Late 4th C. or 5th C. cut down piece of Magnentius.
15 mm. 1.77 grams.
When AE4s were became the usual denomination and larger coins were no longer issued, earlier large coins were cut down to make currency that conformed to the current sizes. At coin shows in England you can find very many tiny coins, but very few of them can be identified like this one. The clear chi-rho is extremely exceptional, making it Magnentius or Decentius and the AVG (obverse 3:30-5:00)makes it Magnentius. What luck to have just the right parts left to identify it!
Very unsual and informative about the (re)use of late Roman coins [$25 SOLD]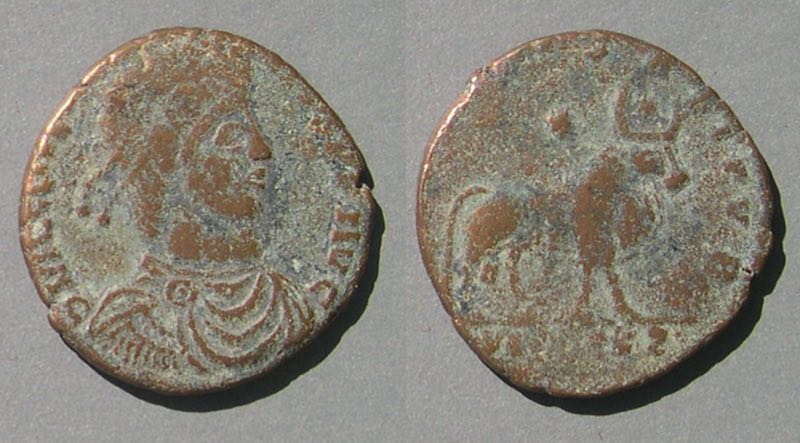 Julian II (355-361-363), ancient imitation.
24 mm. 6.49 grams. Somewhat less than full size.
His famous "bull" type imitated.
Mintmark probably
LVGDOFFS badly blundered and weak.
Bastien ANSMN 1985 #51, plate 44, is like this and he calls bull imitations "relatively rare".
[$45 SOLD] If you want a "bull" coin of Julian II, buy an official one. However, if you think anicent imiations are interesting, this is an unusual one of an important proptotype.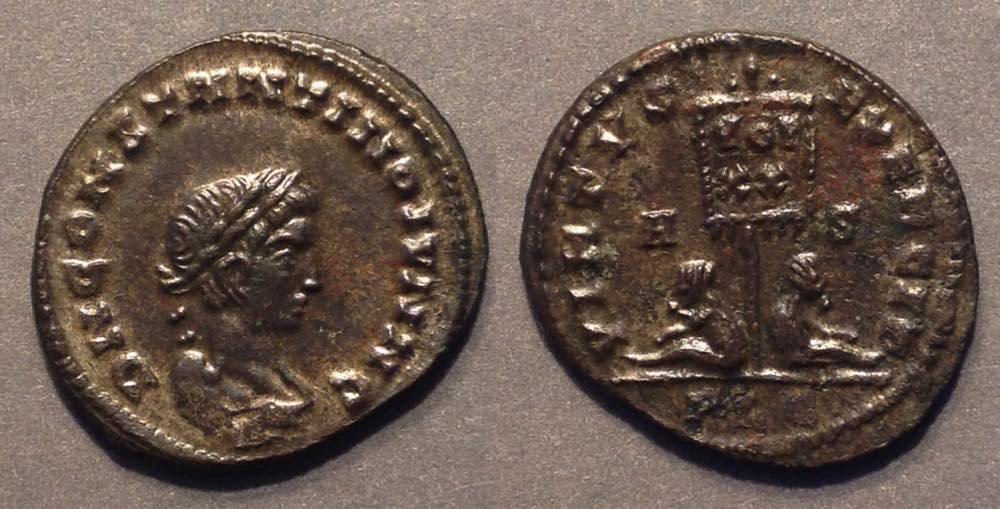 Constantine II, 317-337-340
20 mm. 3.53 grams.
DN CONSTANTINO IVN NC
VIRTVS EXERCIT
VOT
XX
on standard, two captives eated at base
PLG in exergue.
RIC Lyons 111 "r3" (but there are other similar varieties)

Virtually no wear. Glossy surface patina with faint traces of silvering. An excellent coin [$75]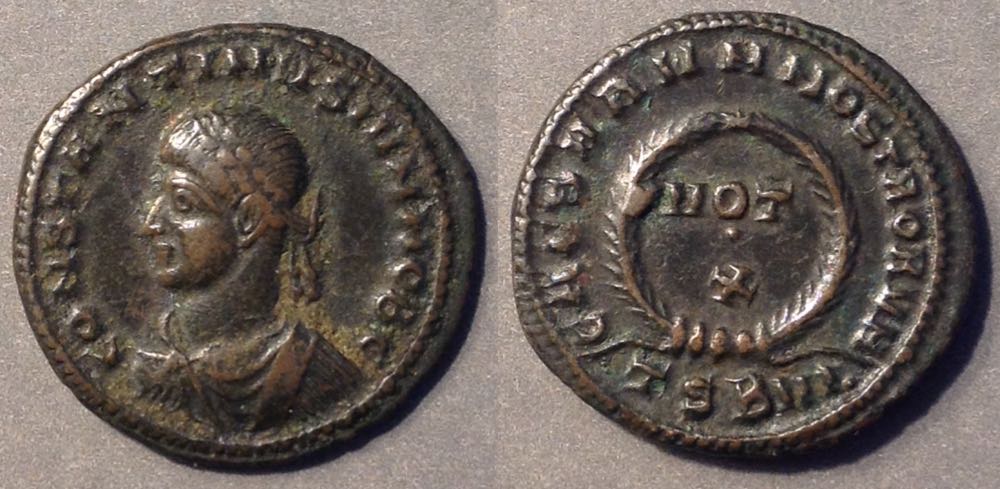 Constantine II, 317-337-340
Bust left. CONSTANTINVS IVN NOB C
VOT
X in wreath
CAESARVM NOSTRORVM
(Our Caesars)
TSBVI
RIC Thessalonica 128, page 513
Struck as Caesar 324.
Bust left. [$27]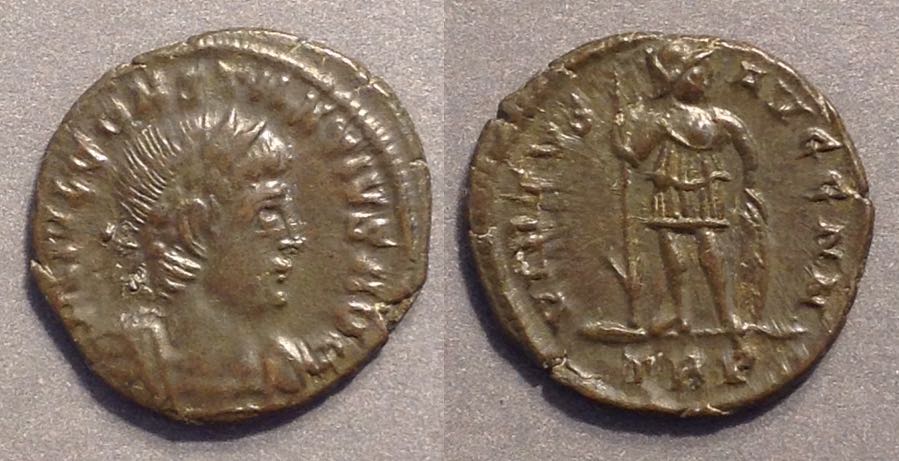 Constantius II, 324-337-361
15 mm.
Struck 337-340 at Trier
VIRTVS AVGG NN
RIC Trier 74
ex Malloy auction LX, "The Aiello Collection" 2001, lot 981, at $134 (twenty years ago). I knew it was rare and that auction had one of the best selections of late Roman AE ever offered in an auction catalog and other knowledgeable collectors wanted it too. (The auction was poorly printed on newpaper-quality paper, but it had many rare coins!)
Very rare. None on vcoins as I write. [$165]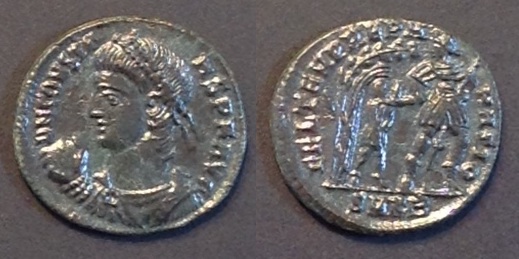 Constans, struck 348-350
21 mm. 3.14 grams,
FEL TEMP REPARATIO
"Hut" type
Glossy near-black dark gray patina. Little or no wear.
Excellent! [$55 SOLD]
RIC VIII Cyzicus 72. Sear V 18699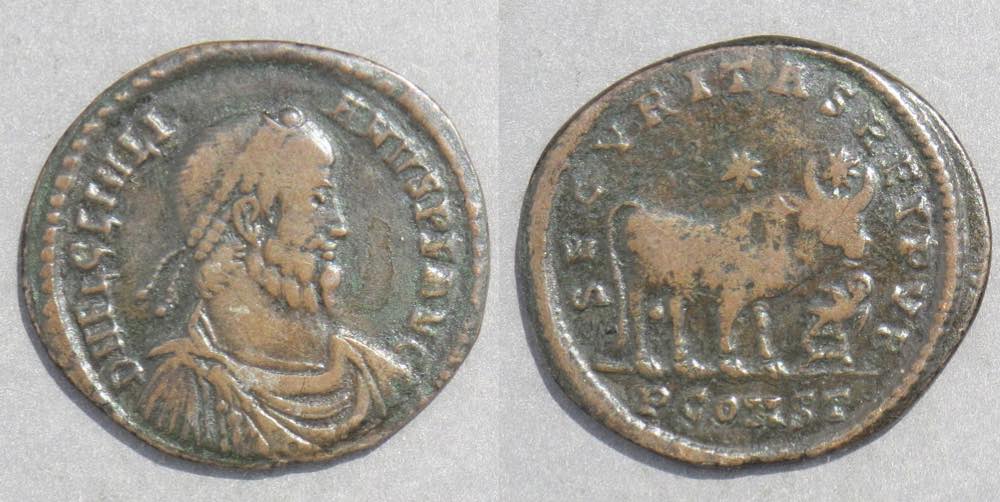 Julian II, 355-360-363
30-28 mm. 9.92 grams. Large.
His famous "bull" coinage.
From Arelate, renamed at the time "Constantina" (for Constantine II)
hence the PCONST mintmark.
This is the only mint to supplement the bull with an eagle.
RIC VIII Arles 319 (not quite listed; it has a minor legend break varient: IVLI-ANVS)
Lovely warm brown surfaces. Excellent centering on a big flan.
[$115 SOLD]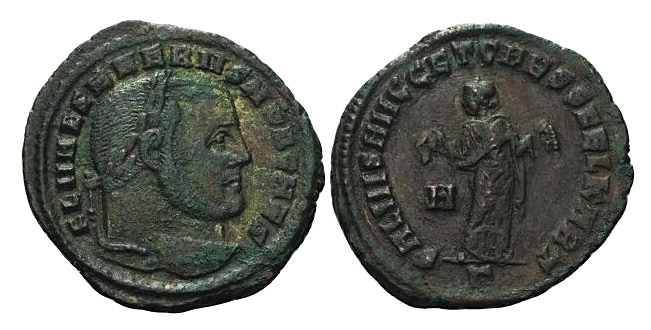 Severus II, as Caesar under the second tetrarchy
305-306
Struck at Carthage
FL VAL SEVERVS NOB CAES
SALVIS AVGG ET CAESS FEL KART
H in field left and Γ in exergue.
RIC Carthage 40a "1 May 305 - 25 July 306"
Scarcer ruler from a scarcer mint with "KART" for "Carthage in the reverse legend. [$125 SOLD]



Hatra, a famous desert city in Iraq, second.-early third C. A.D. (wikipedia article)
13-12 mm. The small type, much less common, but small. 2.61 grams.
Radiate, unbearded head of Shamash, the sun god
Eagle with spread wings, palm branch up to right.
ANSMN 22 Slocum 18 "series 2" p. 41. p.44 suggests a date later than 138 and before 241.
SNG Copenhagen -- and supplement --.
Rare, from an interesting city. Small. [$75]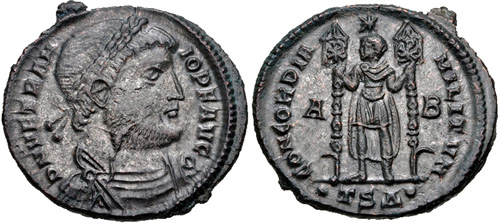 Vetranio, 25 March - 25 Dec. 350 (less than 1 year!)
AE2. 25-23 mm. 6.28 grams.
Die-break on the beard.
CONCORDIA MILITVM with bold chi-rhos on the standards.
Thessalonica mint
RIC VIII Thessaloncia 132 p. 414 "S" plate 19.
ex CNG e-auction 356 lot 605.
A B
• TSΔ •
Superb reverse. [$165]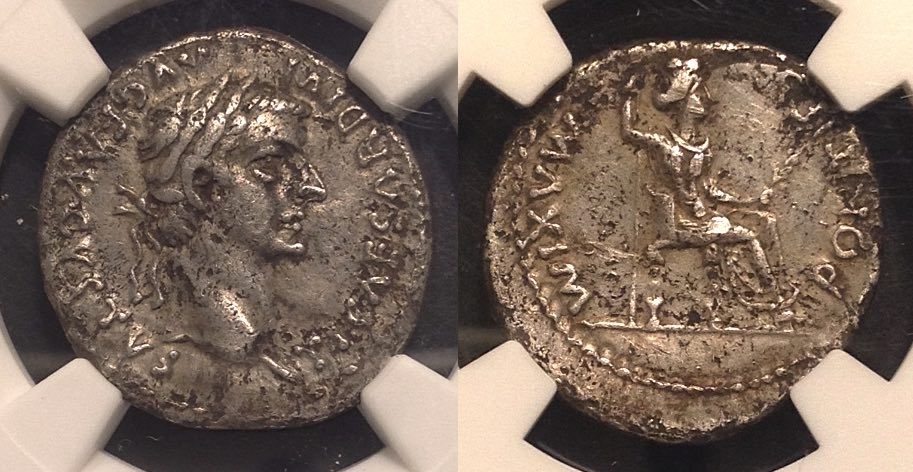 Tiberius, 14-37
The famous so-called "Tribute Penny"
"XF" according to NGC
The surface shows corrosion on the upper and right part of the rim on the reverse
Nice portrait of Tiberius.
The relief is a tiny bit higher (better) in real life than I captured in the photo.
It is almost Christmas. If any Roman emperor is most-closely associated with Christ, it is Constantine or Tiberius.
NGC slabbed as XF. [$449, reduced to $395 + $10 shipping]
Compare to the one in the latest (as I write) CNG e-auction:
https://cngcoins.com/Lot.aspx?LOT_ID=24043
at $475 + 18% = $560. Why pay $560 when you can pay $395?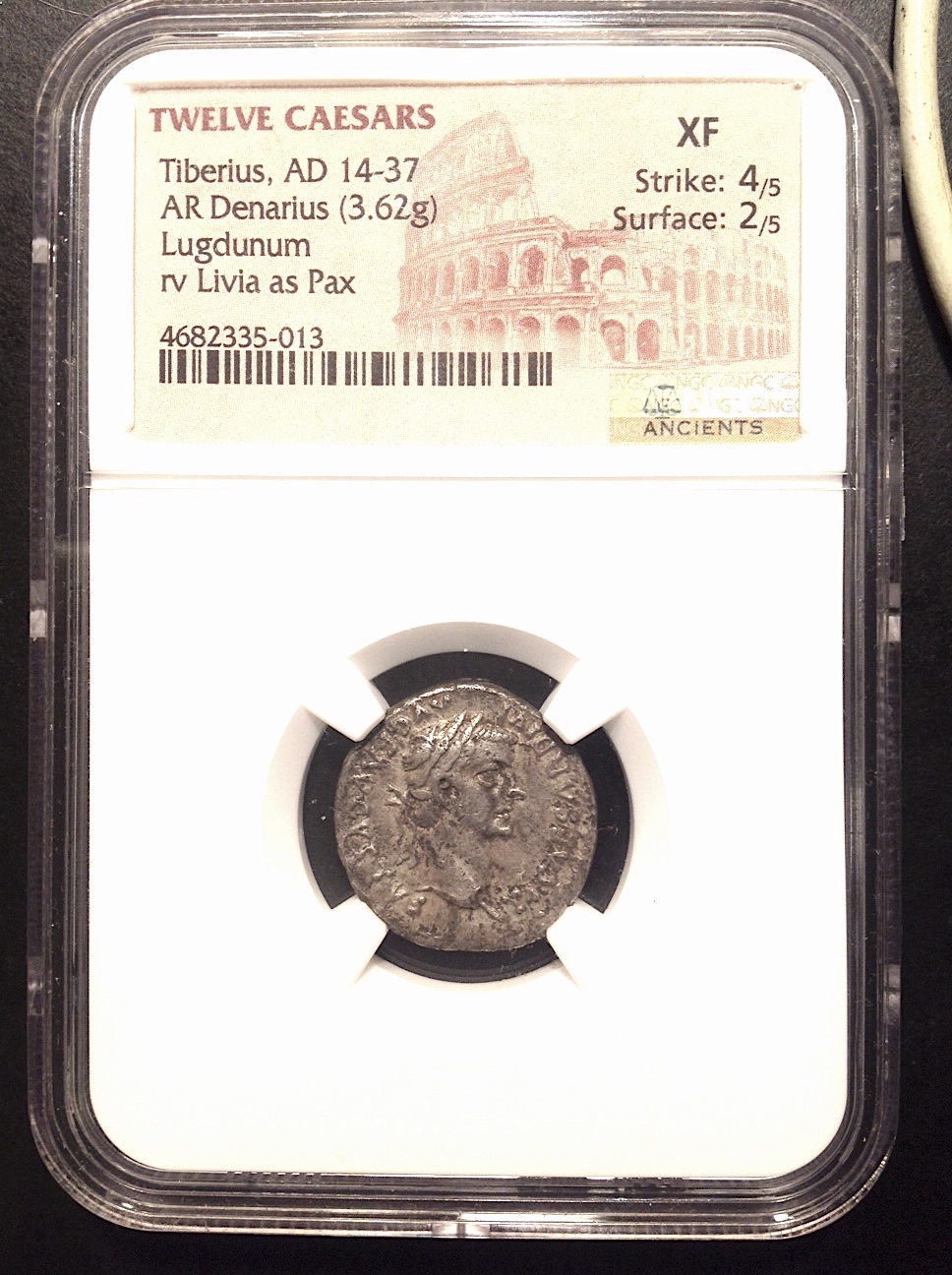 Galerius as Augustus, 3-5-310-313
GENIO AVGVSTI CMH monogram
Nicomedia mint.
Less green than the photo. Nice obverse legend [$25 SOLD]

---
Please compare prices with those on acsearch and vcoins and any other sites you use. I intend my prices to be below the prices for comparable coins anywhere else.
---
Links:
Caracalla, Elagablal, Severus Alexander, Gordian III, Philip, Valerian, Gallienus, Gallo-Roman, Claudius II, Aurelian, Probus, Tacitus, Carus and Family
---

Roman Republican
core of a fourree denarius, with all the silver plate gone.
Prototype, L. Torquatus, 113-112 BC
18-17 mm. 2.54 grams
Roma
horseman charging left with big circular shield
Sear 172. Crawford 295/1.
Unusual. Ex Baldwin's in London, March 9, 1988 (no ticket)
[$16, reduced to $14]
---

***** I also have a page of numismatic literature (ancient-coin auction catalogs, books) for sale.
---
Roman Imperial Silver and AE

Early Imperial Fourree
A fourree with an especially remarkable reverse. The original would be a very expensive coin, and finding an imitation of it is extremely unusual and the imitation may well be unique of its type.
Search vcoins under "fouree" and "fourree" to see what dull reverse types are offered for. You will probably never see this good type again.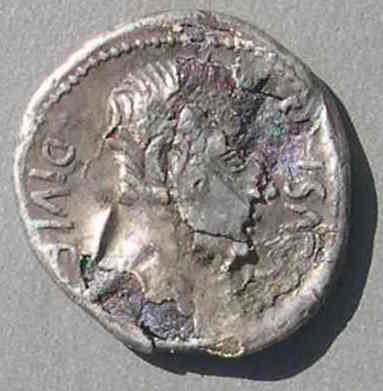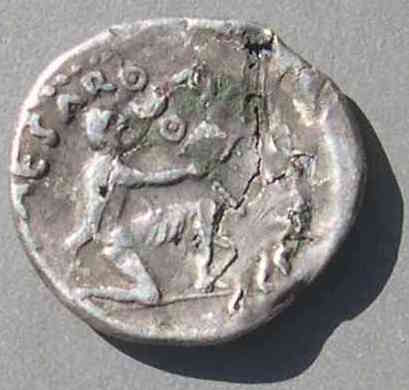 Fourree (counterfeit plated with silver in ancient times) Augustus/receiving standards back from the Parthians "Signus Receptus" CAESAR AVGVSTVS SIGN RECE hybrid.
This reverse does not normally have a portrait obverse. BMC 71 plate 3.1 for obverse legend and portrait. BMC plates 1.7-9, 2.2, 2.11-12 for obverse. Reverse of RIC 288, plate 5.
[$59, extremely rare (unique?) and hisorical type as an ancient counterfeit]
Augustus (27 BC - 14 AD)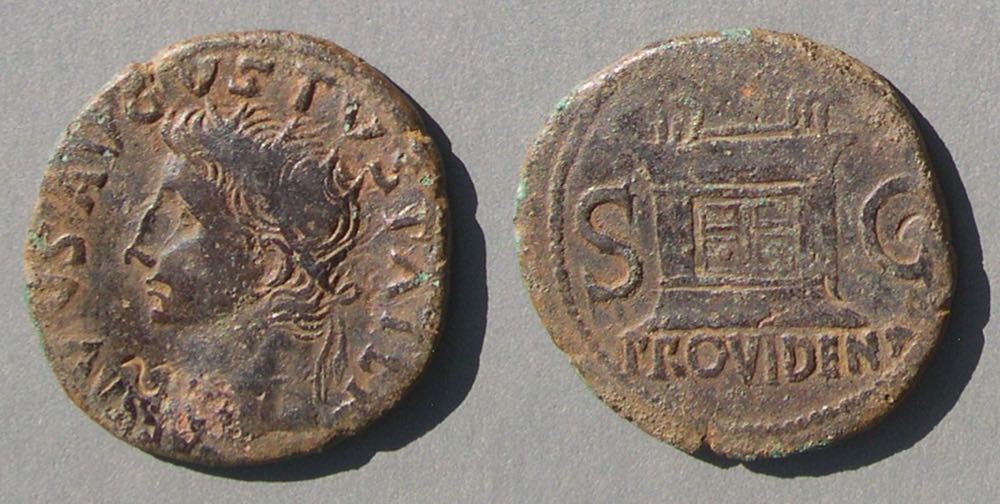 Augustus, DIVVS, struck under Tiberius, c. 22/3 - 30 AD.
29 mm. 8.59 grams. (A little light.)
Small backwards S incuse mark at 7:00 on the obverse.
DIVVS AVGVSTVS PATER (PATER = father)
PROVIDENT below altar with paneled door, above flames(?)
RIC Tiberius 81. BMC Tiberius 147.
Overstruck on a coin with something like "AESA" close together at 7:00 on the obverse.
Could this be a very well done ancient imitation? If so, it is much better than the 13 illustrated in Banti and Simonetti.
I like the surfaces. Nice. [$125]
ex Vecchi [London] auction 12, lot 1092 (June 5, 1998)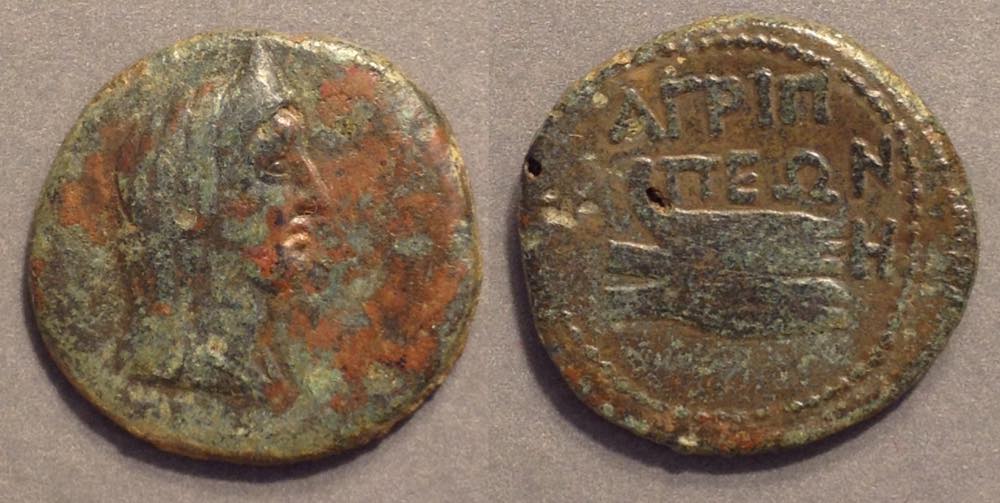 North Black Sea area
Phanagoria in the name of Agrippia, 14-12 BC
Honorific name for the city adopted 14-12 BC because Agrippa under Augustus intervened in support of Polemo I.
late 1st C. BC.
21 mm. 5.79 grams.
Veiled female head right (Aphrodite Aptura, according to MacDonald)
AΓPIΠ-ΠEΩN
prow left
H (H indicates value 8)
MacDonald 275/1 (is slightly worse). RPC I 1935 (is equal quality).
[$95]
Not an imperial portrait, but issued in the time of Augustus.
Tiberius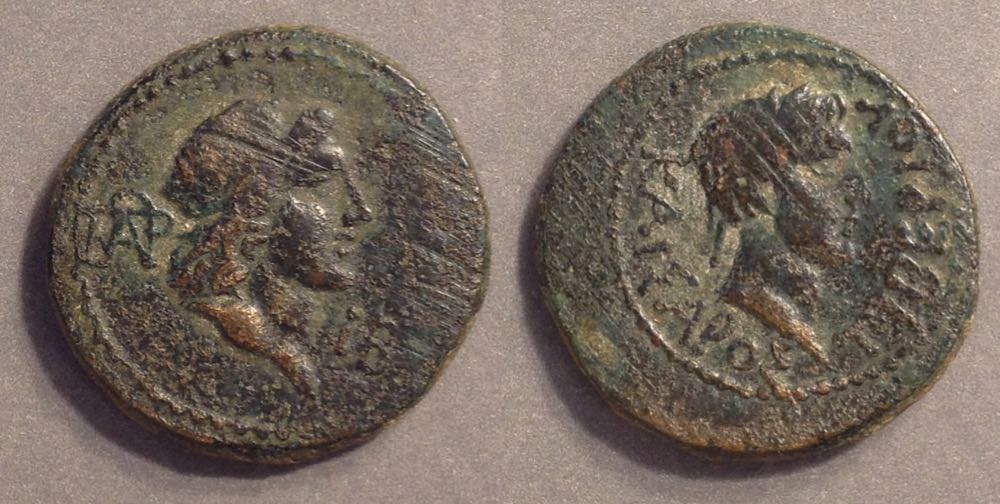 Kingdom of the Bosporus
(Northern Black Sea area)
Aspurgus/Tiberius c. 35-37 AD
Aspurgus right
Bust of Tiberius right, TIBEPIΩY KAΣIAPOΣ legible
22 mm. 9.75 grams.
MacDonald Bosporus 300
[$169]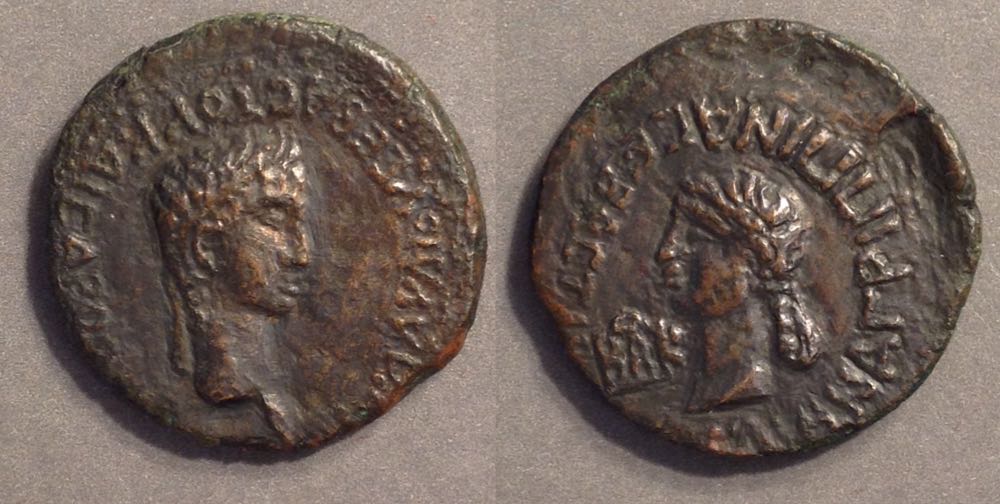 Kingdom of the Bosporus
(Northern Black Sea area)
Under Kotys I, 45-63 AD.
22 mm. 5.96 grams.
TI KLAVΔIOY CEBACTOY KAICAPOC
Βust of
Claudius
right
IOVIAN AΓPIΠΠIAN CEBCTHN
Bust of
Agrippina II
left, monogram before neck
MacDonald 327 (photo has shorter obv. legend variety, quality about the same)
Anokhin 349 (worse)
Stancomb 970 (worse)
Smoothed and tooled. (Look on acsearch and you will see almost all are smoothed and tooled) There are not any on vcoins.
Rare and two imperial portraits. [$149]

Claudius, 41-54 AD.
Roman Alexandria.
26-25 mm.
Good portrait/eagle
[$95, reduced to $69]

Nero (54-68)
[SOLD]
[SOLD]
Titus (79-81)
[SOLD]
Three excellent Domitian imitations are next.
Three
unlisted
Domitian denarii: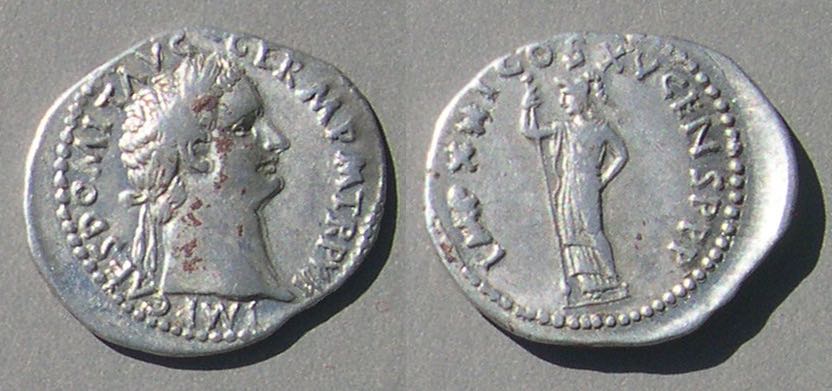 Domitian, 81-96.
22-18 mm. 2.61 grams. Light weight.
IMP CAE DOMIT AVG GERM PM TRP VII
IMP XXI COS XV CENS P PP
Minerva standing left
BMC reverse of 168, plate 65.2, page 333 "AD 90", but the normal obverse ends TRP VIIII not VII, which is from AD 88.
TRP VII is on obverses of 87 and 88, e.g. RIC 521, but IMP XXI COS XV does not appear there until Sept. 90, page 315, e.g. 692

Extremely rare. Possibly an ancient imitation, but awfully nice for an imitation. [$149, reduced to $129].
ex CNG 61 lot 1774 (part)
Domitian, 81-96.
18 mm. 3.28 grams.
IMP CAES DOMITIAN AVG GERM V
IMP SV COS XIIII CENS ...
Minerva fighting right, owl at feet.

BMC -- for this obverse legend. IMP XV COS XIIII is "second issue" AD 88, page 326, types 129 only, but not with this obverse.
RIC II.1 cf. 592 page 305 for the reverse, but this obverse legend is shorter.

Extremely rare. Possibly an ancient imitation, but awfully nice for an imitation. [$149, reduced to $129].
ex CNG 61 lot 1774 (part)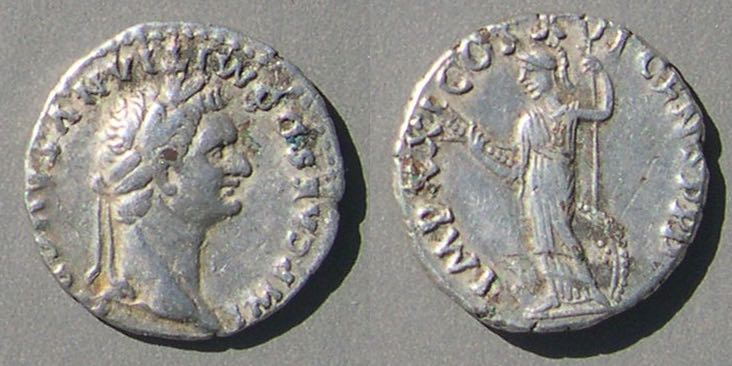 Domitian, 81-96
18 mm. 3.10 grams.
IMP CAES DOMITIAN AVG PM counterclockwise
IMP XX COS XVI CENS PPP
Minerva standing left with thunderbolt in right and spear in left with shield below.
Cf. BMC 181, page 335, plate 65.9 which has this reverse, but obverse clockwise. The reveres is of 90-91. RIC II.1 Domitian --, reverse as 726 but obverse legend lacks their ending "TRP XI" and reads outwards, a legend of 91, 14 Sept. to 31 Dec.
Extremely rare. Possibly an ancient imitation, but awfully nice for an imitation. [$149, reduced to $129]
ex CNG 61 lot 1774 (part)
Links: Caracalla, Elagablal, Severus Alexander, Gordian III, Philip, Valerian, Gallienus, Gallo-Roman, Claudius II, Aurelian, Probus, Tacitus, Carus and Family
---
Trajan (98-117)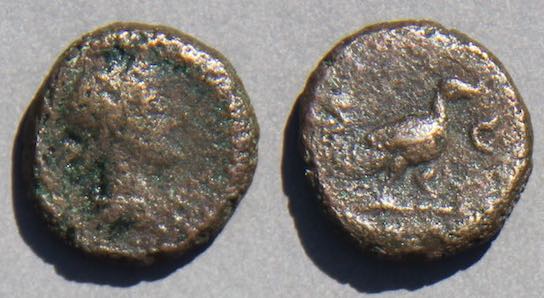 Quadrans
. Anonymous. early 2nd century AD
13 mm (small). 3.07 grams.
Bust of Venus right
Dove standing right, S C
Sear I 2924
[$19, reduced to $16]
---
Hadrian (117-138)
Antoninus Pius (138-161)
[SOLD]
Faustina II, Diva
as. 28 - 26 mm.
crescent moon and stars.
SC below
RIC III 1714, struck after 176
Nicer than many (compare to vcoins) but notice the pit on the forehead.
[$89, reduced to $55 SOLD]
---

Third Century:

Septimius Severus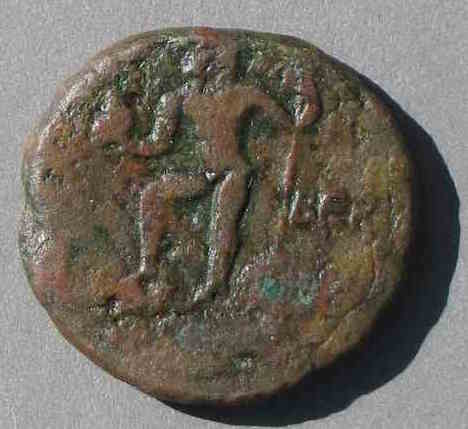 [$59, reduced to $39] Septimius Severus (on right) and Caracalla (on left) at Beruit (Berytus). Two heads!
AE23-22, 8.16 grams. SGI city and obverse of 2301, different reverse.
Poseidon (Neptune) holds dolphin and trident. BER to right.
L&K 2264. BMC Berytus 130. SNG Copenhagen Phoenicia 107. [$59, reduced to $39]
ex Joel Malter XXXIV lot 587 Decemeber 1986 with ticket.
Geta
[sold]
---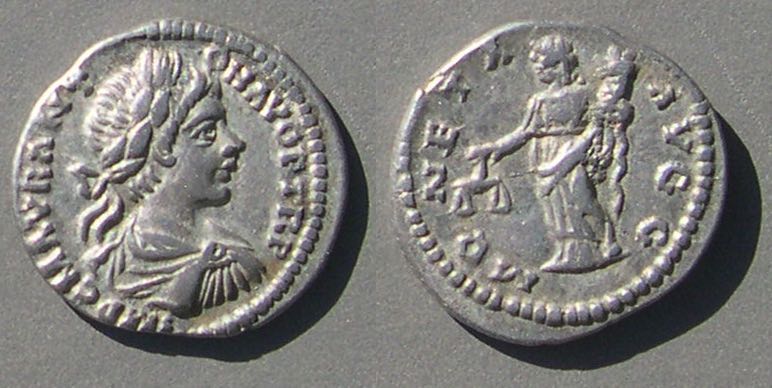 Caracalla 196-198-217
19 mm. 2.78 grams.
Mint at Laodicea ad Mare
MONETA AVGG
Struck 198 as Augustus
RIC Caracalla 337d "Scarce"
Uncommon mint. Neat type. [$95, reduced to $79 SOLD]
Macrinus, 217-218
[sold]

---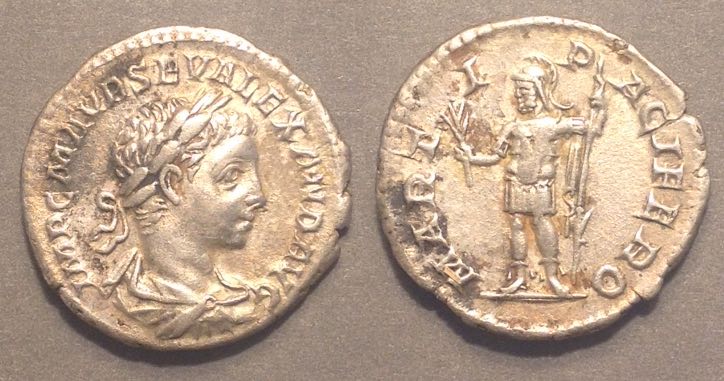 Severus Alexander, 222-235
Struck late 222 in his first year.
Denarius. 18 mm. 2.66 grams.
MARTI PACIFERO
Mars holding branch and reversed (point down) spear.
Mars brings and ensures peace.
He was a young man when he came to the throne and this portrait shows it well.
Nice young portrait. Well-centered and well-struck. You can see the beard on Mars. Interesting version of Mars (It reminds me of President Regan's "Peacemaker" nuclear missiles.)
[$85 SOLD]
---
---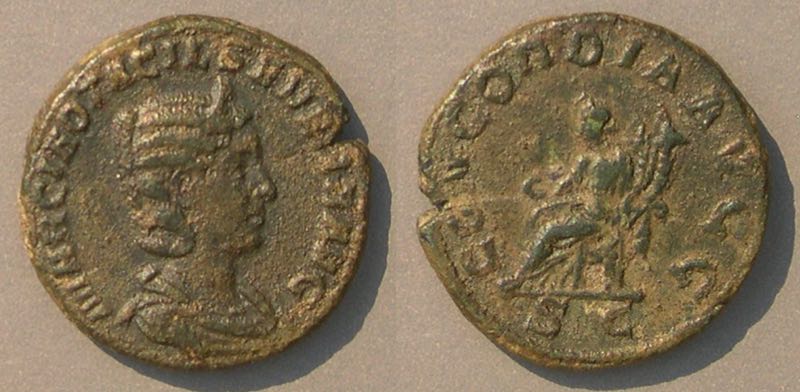 Rare
middle bronze
of
Otacilia Severa
, wife of Philip I (244-249)
25-24 mm.
as
. 9.55 grams.
Denarii and sestertii of her are common--asses are not.
MARCIA OTACIL SEVERA AVG
CONCORDIA AVGG
SC in exergue.
Sear III 9172. RIC 203b.
A clear, well-centered, example of an unusual denomination. [$129, reduced to $99]
---
[sold]
Herennius Etruscus, 250-251 under Trajan Decius

[sold]
Trebonianus Gallus. A.D. 251-253

[SOLD]
---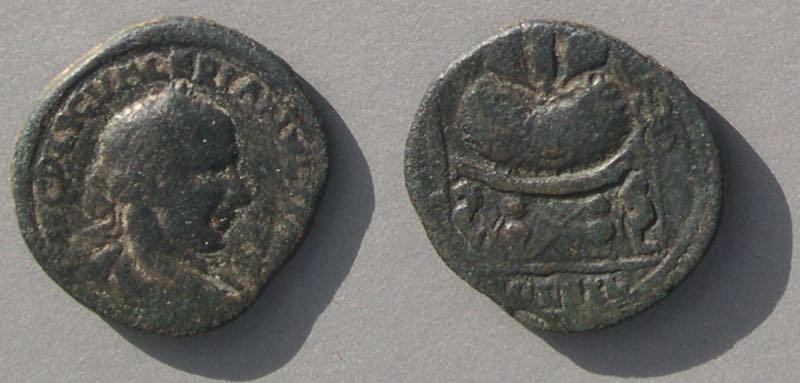 [Rare. $65, reduced to $45] Valerian (253-260)
Struck at Heliopolis, Coele-Syria
25-23 mm, thick, 11.70 grams.
agnostic urn on table with ornamental legs
COL HEL
Sear Greek Imperial --
L&K --, Lindgren III 1283variety (legend), Weber --, McClean 9440 variety, BMC Syria --
SNG Copenhagen Syria -- (439 has urn with no table, SNG Righetti --
[$65, reduced to $43] Ex Colosseum Coin Exchange, list of April 1988, lot 106, with ticket.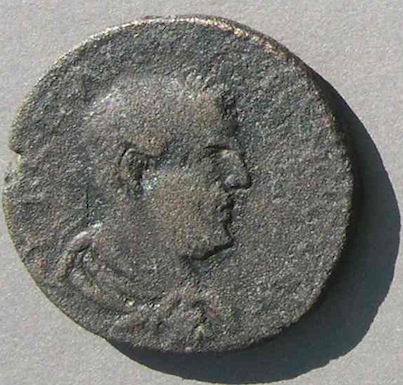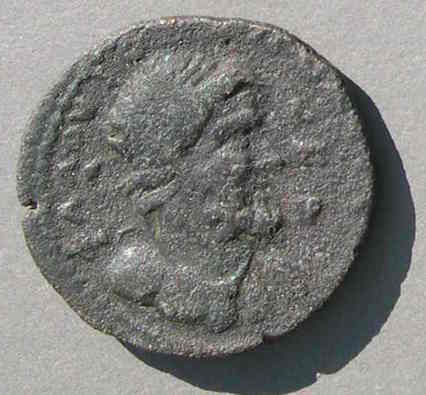 Rare
Valerian at
Flaviopolis, Cilicia
. 253-260 AD.
AE27-26
. 11.99 grams. bust right/bust of Zeus right (not the usual Serapis w. slightly larger flan). Sear GI --, SNG France --, SNG Cop--, SNG von Aulock --, Lindgren & Kovacs --, L III --, SNG Righetti 1558, very similar. Note how
few collections have this type
.
Rare
[$35, reduced to $29] (This reverse type is sometimes on Maximinus I.)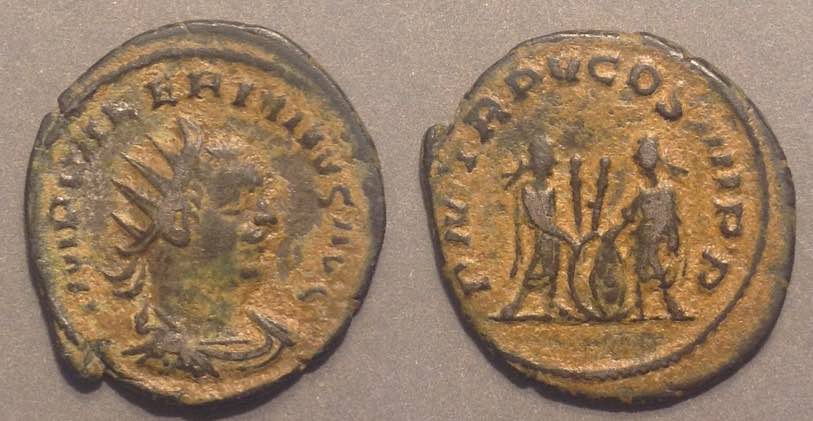 Valerian, 253-260
Antoninianus. 22-21 mm.
PM TRP V COS III PP
Two emperors (Valerian and his son Gallienus)
Explicitly dated to 257 AD by "TRP V".
[$25 SOLD]
---
[$95, reduced to $69] Gallienus, 30 mm.
Struck at Side in Pamphylia
E countermark over the original "IA" at the neck.
E = 5 assaria. Howgego Countermark 805
Sear Greek Imperial --,
von Aulock -- cf, plate 158, volume II for Valerian
L&K 1174 for obverse
SNG Copenhagen VI Pamphlia -- Supplement 523
Weber III --, SNG Righetti 1309 variety
ex Cederlind at $100, his #345 (list date uncertain, maybe 1990s?)
[$75, reduced to $65]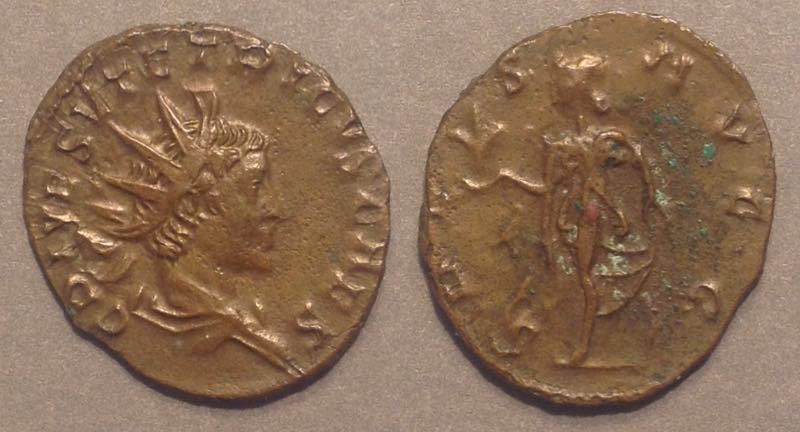 Tetricus II, 270-273
Gallo-Roman Empire.
20-18 mm.
SPES AVGG
RIC
270
Sear
Roman Coins
11292
[$29]
Central Empire, Claudius II (268-270) and later: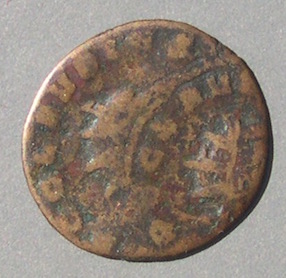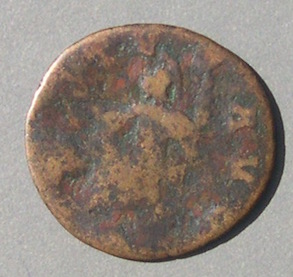 Claudius II, 268-270.
Double strike minting oddity.
19 mm. 1.95 grams.
VIRTVS AVG
One strike 50% off-center.
A clear example of the striking process
.
Sear 11383. [$25]
For a page of ancient imitations from the third century, see here.

---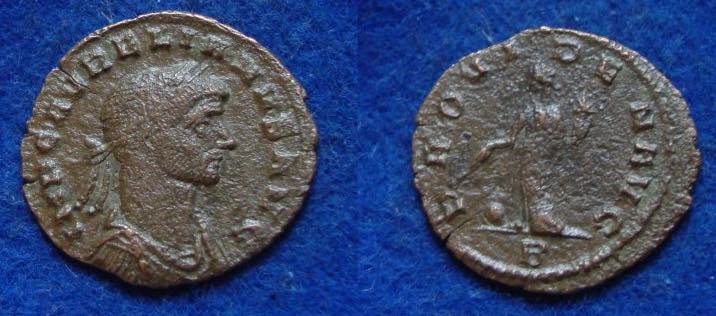 Aurelian usually comes as a radiate, either pre-reform or post reform. He also comes as a scarcer "denarius"--however almost always VICTORIA AVG. Far rarer, offered less than once a year, I think, is this PROVIDEN AVG denarius type.
None on vcoins. None at MA-Shops.
Roma had one, not better, in e-sale 27 for $143 including fees + shipping. CNG had one in 2010 for $185 + 12% + shipping. Elsen had one in 2011 for $207 + fees + shipping.
IMP C AVRELIANVS AVG laureate bust right
PROVIDEN AVG
Providentia standing left holding wand over globe.
RIC 68 very rare type of an unusual denomination. You have seen his "Victory" reverse denarius, but likely not this type [$85]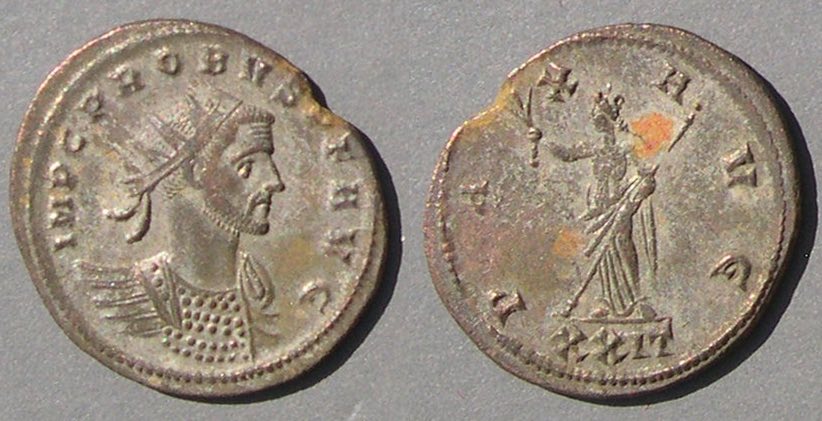 Probus, 276-282
22-20 mm.
PAX AVG
RIC 706 Siscia. Sear III 12000 [$39] ex Berk in 1994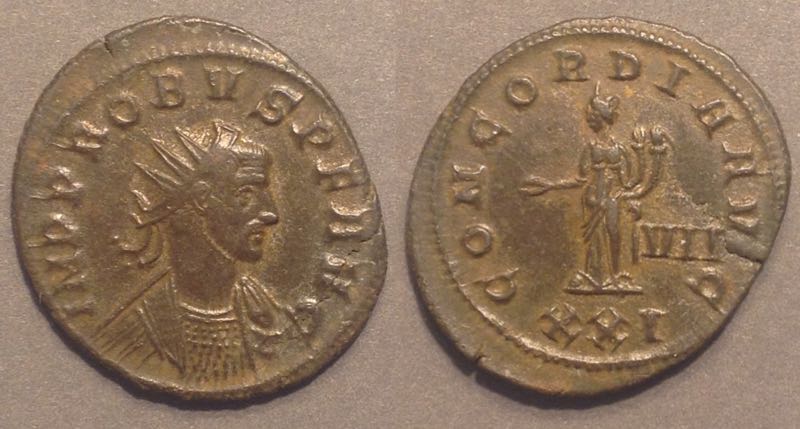 Probus, 276-282
CONCORDIA AVG
XXI in exergue and VII in the right field
RIC Siscia 661
Sear Roman Coins 11966
[$45]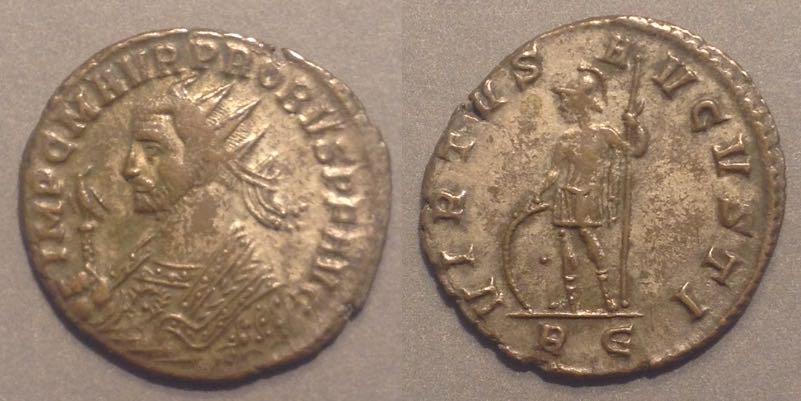 Probus, 276-282
Antoninianus. 21-20 mm.
Probus in consular robes left, hlding eagle-tipped scepter.
VIRTVS AVGVSTI
RIC
234
Sear
Roman Coins
12063
Struck 277-8 (The robes indicate it was a year he was Consul)
Beautiful detail in the robes. [$75]
[sold]
[sold]
---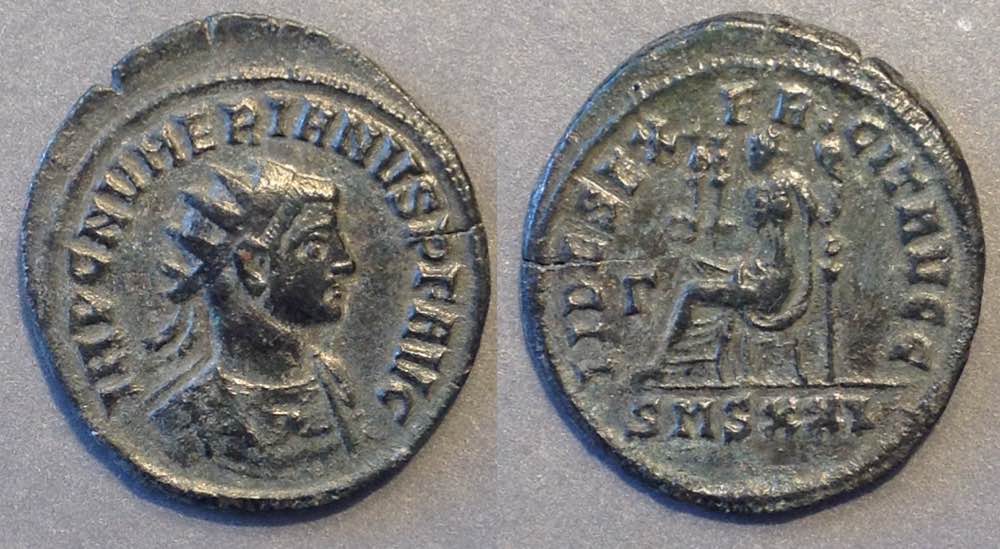 Numerian, 283-4 as Augustus.
22-21 mm. 3.83 grams.
IMP C NVMERIANVS PF AVG
FIDES EXERCIT AVGG
Fides seated left holding standards
SMSXXI in exergue
RIC
V.II Siscia 460
Attractive. Lovely patina. Good portrait. Long mintmark. [$79]
---
Go to, on this page, Republican, 1st C, 2nd C, or 3rd C
Caracalla, Elagablal, Severus Alexander, Gordian III, Philip, Valerian, Gallienus, Gallo-Roman, Claudius II, Aurelian, Probus, Tacitus, Carus and Family
---

Continue on another page with:
Roman: Diocletian through Licinius (the tetrarchy) or
with Constantinian coins,
Return to the top of this page.

To order, or simply to ask me questions, write me, Warren, at


.

---