Interesting ancient coins, offered by Augustus Coins.

If you want to buy ancient coins, you are beginning at the right page. My coins are inexpensive; all cost much less than $1000. If you want to learn more about ancient coins, visit my educational ancient-coin website (begun in 1997 and expanded very many times since then). If you like to learn from books, visit my page of ancient-coin literature. For more about me, see see here.

Contents: This is the main page with Roman coins and some of newest listings from other series too, at the top. For late Roman, Byzantine, or Greek coins, or books about them, use the links to the left.

Skip down to Republican, 1st C, 2nd C, or 3rd C
3rd C. more precisely: Septimius Severus, Caracalla, Elagablal, Severus Alexander,
Gordian III, Philip, Valerian, Gallienus, Gallo-Roman, Claudius II, Aurelian,
Probus, Tacitus, Carus and Family

Recent: 2022, Jan. 18: Constantine (top of this page).
Jan. 12: A rare fraction of Constantine (top of this page).
2022, Jan. 10: Diocletian follis from Serdica, a scarce mint.
2022, Jan. 8: Spectacular Caracalla denarius, Severus Alexander denarius. Alexius I follis on the Byzantine page.
2021, Dec. 29: CONSTANTINOPOLIS and Fausta, on this page.
Dec. 24: Fausta, wife of Constantine, on the Constantinian page. Many sold coins removed entirely. A few prices revised. Some coins moved from this page to the Tetrarchy page where they belong.
Dec. 9: Byzantine of Constantine VII and Zoe (this page at the top. SOLD)
Nov. 28: Many sold coins removed entirely and many prices revised.
Nov. 9: Fourré ancient imitations moved to here under their emperors (away from the discontinued page formerly devoted to ancient imitations).
Oct. 23: Indo-Greek. Hatra (desert city) on the Greek page.
2021, Oct. 22: Large Panticapaeum Pan/bow beauty (this page, SOLD). Very rare Galerius aurelianus (the type, PRAESIDIA REIPVBLIC, was the subject of an article I will send along in pdf form). Two more Maximian aureliani (on that same Tetrarchy page).
2021, Oct. 14: Helena, mother of Constantine (this page at the top SOLD).
Oct. 13: Constantius "post-reform radiate". Lovely Licinius II campgate. Huge 47-45 mm Samanid multiple dirham SOLD. All on this page at the top.
Oct. 12: Justin I, rare Sear 79 on the Byzantine page. Les "Poulains" de Corinthe, Tomb II by Oscar E. Ravel on the literature page.


Books and sale catalogs. If you would like some literature to read, make me an offer. I think my prices are the lowest on the market, but I'd like to sell some of these to someone who would like to look at them. That might be you! Make me a offer. I might well accept!


wwestyc wwestypage

Prices are in brackets: [$xx].

To order, or simply to ask me questions, write me, Warren, at

.
(I am on Pacific time, so if you are in the east and write me at 8:00 am it is only 5:00 am where I am.)
My page of terms, which are essentially repeated here:

Terms of Sale. When you write me, please tell me if you are not in the US (it changes shipping costs).
After I confirm I still have the coin,
If you are in the US you can pay with Zelle (preferred) or PayPal to my e-mail address. (I also accept checks.) (Why I prefer Zelle.)
If you are outside the US, a VERY BIG CHANGE as of Jan. 21, 2021. Last time I mailed to an address outside the US the price jumped from the previous $3 to $17.25. Wow! The new Post Office software no longer allows me to mail an envelope as a letter if it has coins in it. See more here.

Shipping in the US is $2 for orders under $25, $3 up to $50, $4 up to $100, and an additional $2 for each hundred thereafter.
Shipping to other countries: See about new (Jan. 2021) very high shipping costs here.
All coins are guaranteed genuine.

Reminder: When you buy a coin you must add in the shipping cost. Don't think a coin offered at $20 elsewhere will cost you $20. It won't. Shipping could easily be $6 or more. In contrast, I charge only $2 for shipping a $20 coin in the US.

Purple means "SOLD" and no longer available
Newest first (down to the second horizontal line.)
After that, Roman coins before the 4th century are in chronological order below. Later Roman coins are on other pages linked in the sidebar.
(Greek, Byzantine, and other coins are on their own pages with links at the top left.)
---

Newest next. Skip the newest coins and go down to Roman coins in chronological order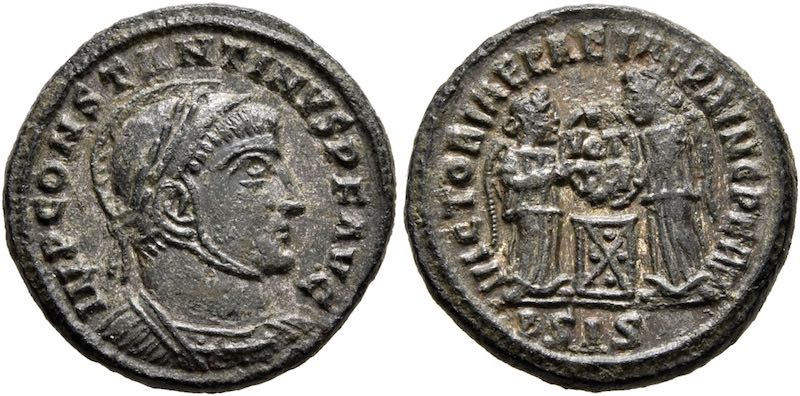 Constantine
18 mm. 3.15 grams.
Bust in close-fitting helmet with low crest, right.
VICTORIAE LAETAE PRINC PERP
around two Victories holding a shield inscribed VOT/PR over table
BSIS in exergue.
RIC Siscia 53. Struck "318-9" [$39]


Constantine, 306-307-337.
Rare 17-15 mm fraction. 2.14 grams.
Struck as Caesar Summer 307.
For some unclear reason Trier struck low-denomination coins harldy struck elsewhere.
FL VAL CONSTANTINVS N C
VO/TIS/X
Zschucke 7.13b, plate p. 48.
RIC VI Trier 750 "R" page 214.
Failmezger 218 "R"
ex Gert Boersema on vcoins, April 7, 2008, at $243.
Not your usual Constantine, but a rare, smaller, denomination [$275]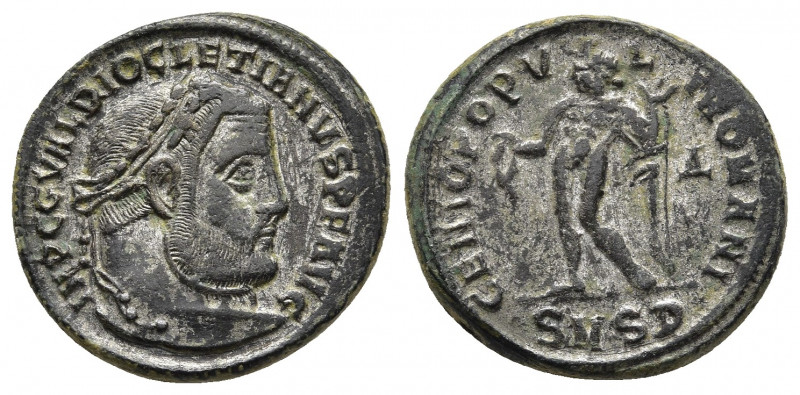 Diocletian
27 mm. 10.49 grams. Follis.
GENIO POPVLI ROMANI
SMSD
RIC Serdica 3a. "304-5"
This type is very common, but much less so from Serdica because the mint did not open until 303 (Thessalonica's mint was closed and its staff was moved to Serdica). The type began eslewhere c. 294, so it had much less time to be issued at Serdica.
Serdica has the most extreme depiction of Genius. It has very long legs and leans back.
Lots of silvering. [$85] Neither vcoins nor MA-Shops have any Diocletian folles from Serdica.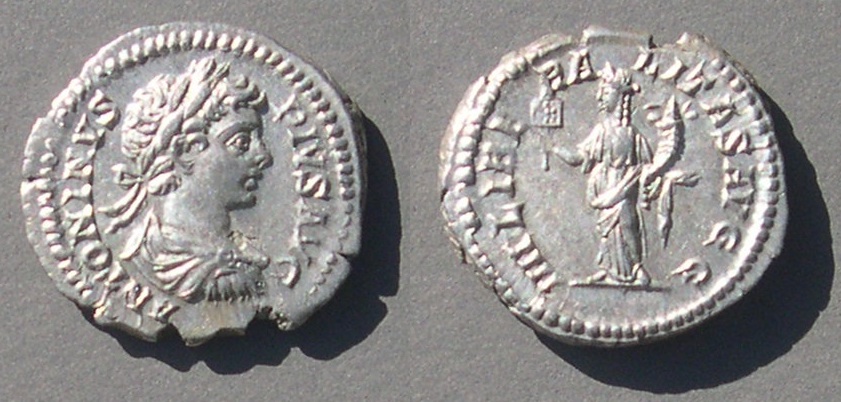 Caracalla, 196-198-217
Denarius. 20 mm. 3.34 grams.
Struck 204
IIII LIBERALITAS AVGG, fo the joint consulship of Caracall and Geta in 205, 250 denarii per man, probably 50 million total, accoridng to Carlson in SAN VI.4
RIC Caracalla 135 "S".
Excellent metal. Super grade. Spectacular young portrait. [$149]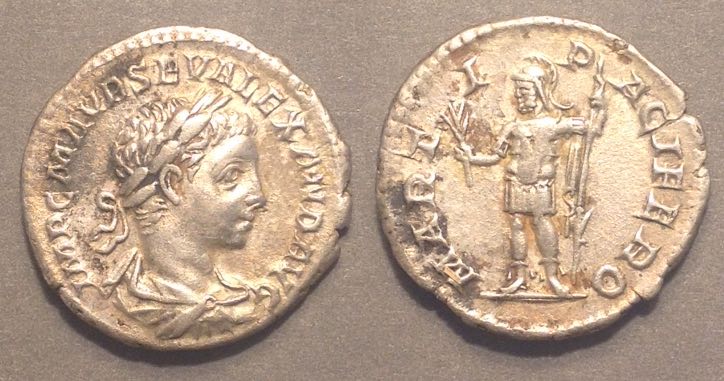 Severus Alexander, 222-235
18 mm. 2.66 grams.
MARTI PACIFERO
RIC 160 "issue 2, late 222"
ex Dan Clark 1977
[$135]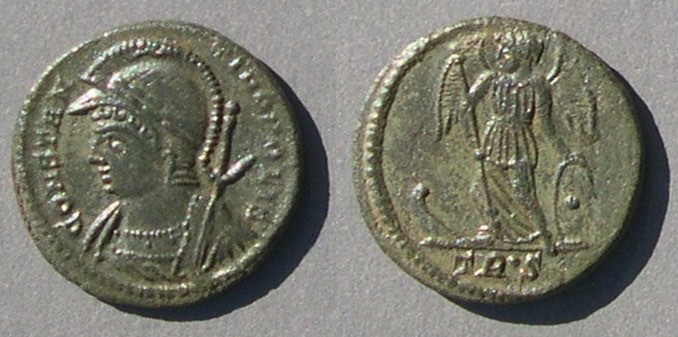 CONSTANTINOPOLIS
17 mm.
TR•S
RIC Trier 543, page 217 "332-3"
Sear IV 16445
High grade. Lovely even olive green patina. You can even see the face of Victory.
Wonderful! [$55]
ex Mike Vopser at the Paddington Coin Fair in London in Spring 1996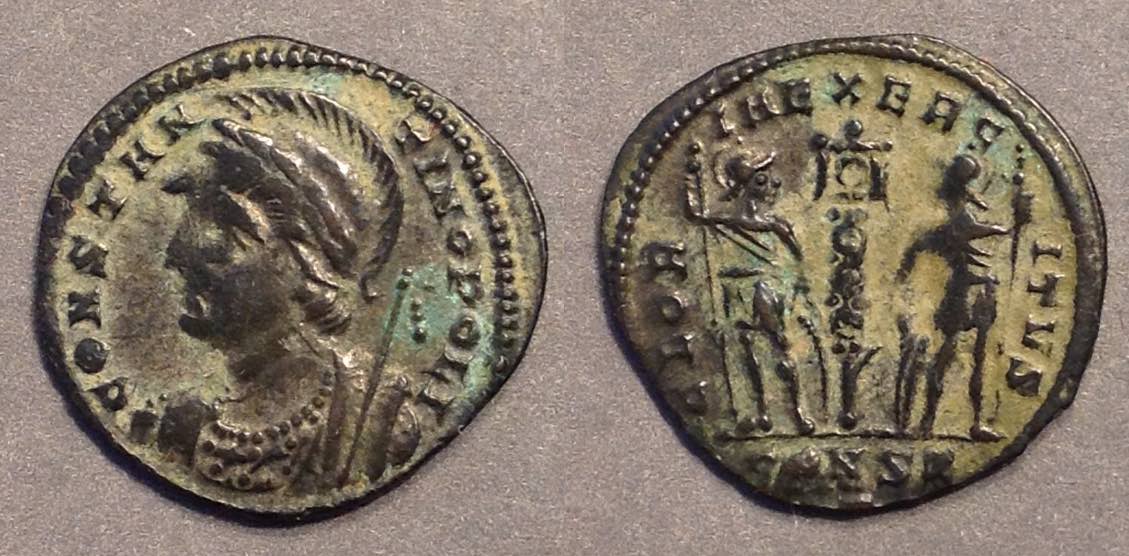 CONSTANTINOPOLIS
17-16 mm. 1. 35 grams.
GLORIA EXERCITVS
CONSZ
Two soldiers and one standard
RIC VII Constantinople 144, page 589 "r3" "336-7"
Sear IV 16484
Unusual reverse
[$65]
ex Wolf at the Chicago ANA August 15, 2013. No ticket.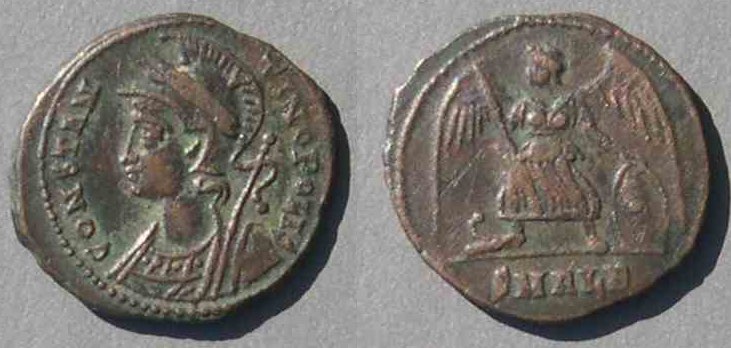 CONSTANTINOPOLIS
18 mm. 2.17 grams.
Victory with here right foot on prow
SMALB
RIC Alexandria 64 or 71 "337-337"
Sear IV 16481, page 502
Remarkably wide-spread wings. [$39]
ex. Vecchi Feb. 26, 1996, private sale in London (no ticket)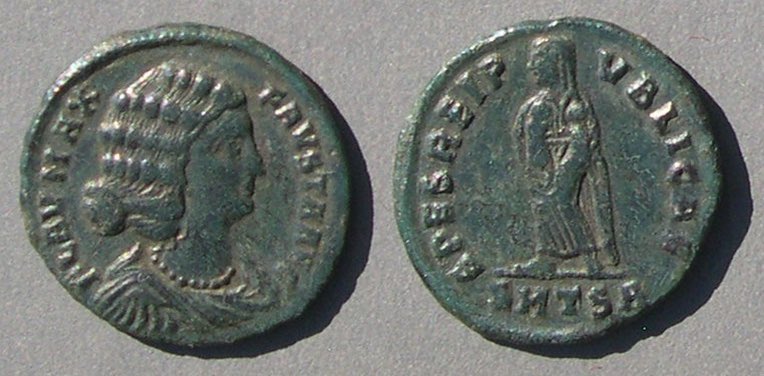 Fausta, wife of Constantine and mother of Constantine II, Constantius II, and Constans.
FLAV MAX FAVSTA AVG
19 mm. 2.81 grams.
SPES REIPVBLICAE
Empress standing with two children
SMTSE
RIC Thessalonica 161 "r3" page 519 "326" (The year of her execution.)
Sear IV 16571
Lovely even dark green patina. Look at the hairstyle! [$65 SOLD]
Spectacular!
Panticapaeum (Panticapaion) c. 314-310 BC.
In the north Black Sea region.
First note this coin is 25 mm or slightly more. 14.01 grams.
MacDonald 59. Anokhin 110.
Lovely near black color.
Very little wear. Nice centering. Full and clear legend. Search auction-results sites and you can see these in the 600-800-euro (+ fees) range.
Look at the portrait of Pan! Artwork worthy of Syracuse or a gold coin. [$285 SOLD] Wonderful!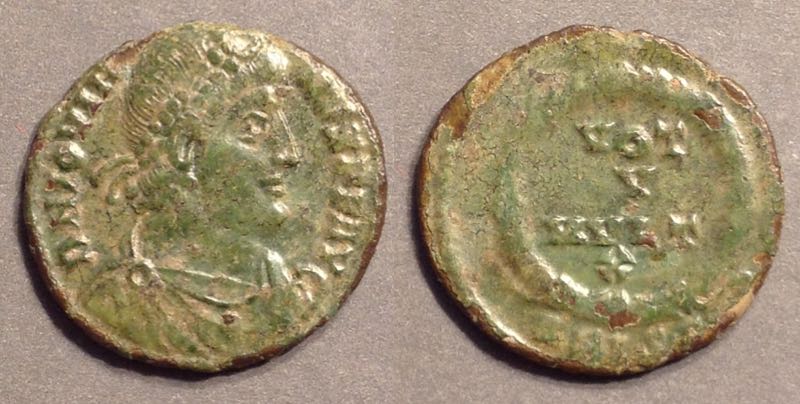 Jovian, 363-364
AE3. 19 mm.
DN IOVIANVS PF AVG
VOT/V/MVLT/X
BSISC in exergue
RIC VIII Siscia 426 "scarce"
Obverse with lovely even green patina and name fully on the flan. [$39, reduced to $31]
[Please compare to vcoins prices.]
---
Please compare prices with those on acsearch and vcoins and any other sites you use. I intend my prices to be below the prices for comparable coins anywhere else.
---
Links:
Caracalla, Elagablal, Severus Alexander, Gordian III, Philip, Valerian, Gallienus, Gallo-Roman, Claudius II, Aurelian, Probus, Tacitus, Carus and Family
---

Roman Republican
core of a fourree denarius, with all the silver plate gone.
Prototype, L. Torquatus, 113-112 BC
18-17 mm. 2.54 grams
Roma
horseman charging left with big circular shield
Sear 172. Crawford 295/1.
Unusual. Ex Baldwin's in London, March 9, 1988 (no ticket)
[$16]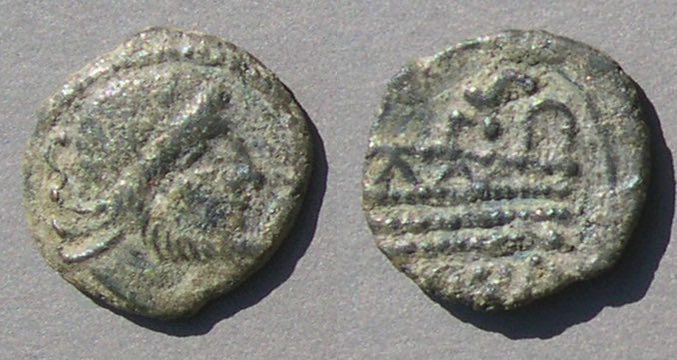 Roman Republican semis imitation from Spain
(which rarely had its own mint so locals issued imitations to supply the need for small change)
First century BC. c. 100-25 BC.
Small. 17-15 mm. 2.19 grams.
Head of Saturn right; S (mark of value) behind
Prow right; horizontal S (mark of value) above. Cf. Burgos R46.
cf CNG
https://cngcoins.com/Coin.aspx?CoinID=270492
for a very similar coin, not as nice, for $60 plus fees.
Crawford "Unoffical imitations and small change under the Roman Republic" AIIN 29 (1982) plate XI, 21. Also, plate II 19 (same dies!)
"Found almost always in the south of Spain, near Seville"
Better than the CNG piece. [$49]
This coin
cited in Rippolès and Witschonke, "The unofficial Roman Republican semisses struck in Spain" in
Studies in Ancient Coinage in Honor of Andrew Burnett
, 2015. #116h, not illustrated.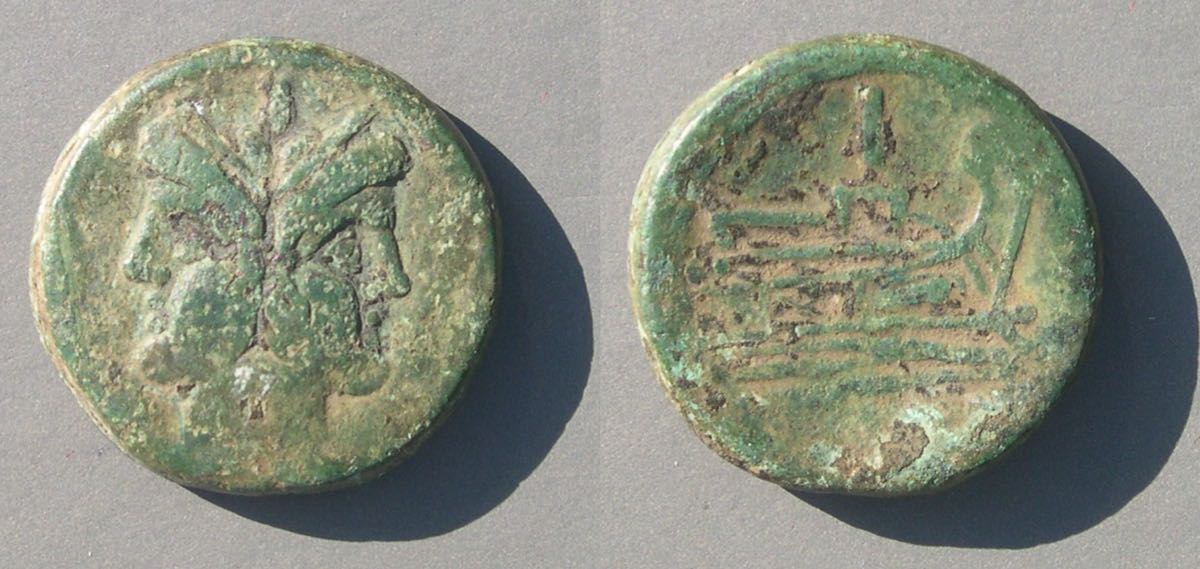 Roman Republican as
Massive 32 mm and 32.79 grams.
Strck (shortly) after 211 BC.
Janus/Prow, "I" above (for 1 as)
Crawford 56/2
Lovely green patina. [$195, reduced to $155]
---

***** I also have a page of numismatic literature (ancient-coin auction catalogs, books) for sale.
---
Augustus (27 BC - 14 AD)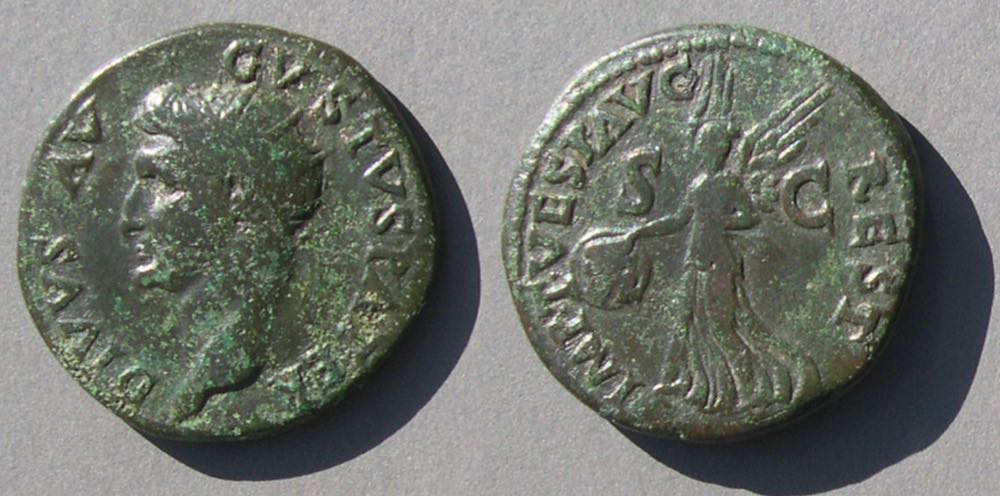 DIVVS AVGVSTVS
restored by Titus
27 mm. 12.36 grams.
DIVVS AVGVSTVS PATER
Radiate head left
Vicory left holding shield with SP/QR, SC high in fields
IMP T VESP AVG REST (restored)
BMC
Titus 265
RIC
II.1 Titus 446 dupondius, dated 80-81
ex Imperator Coins (Joe Mastrario) in 2006
ex Ancient Arts and Treasures (Winter Park, FL) before 2006, with their ticket
Hard dark green patina. [$245, reduced to $225]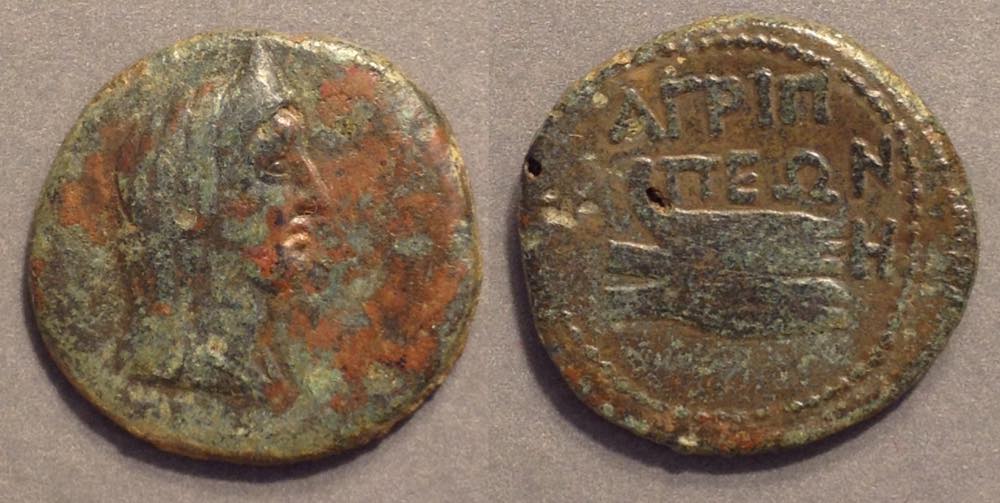 North Black Sea area
Phanagoria in the name of Agrippia, 14-12 BC
Honorific name for the city adopted 14-12 BC because Agrippa under Augustus intervened in support of Polemo I.
late 1st C. BC.
21 mm. 5.79 grams.
Veiled female head right (Aphrodite Aptura, according to MacDonald)
AΓPIΠ-ΠEΩN
prow left
H (H indicates value 8)
MacDonald 275/1 (is slightly worse). RPC I 1935 (is equal quality).
[$95, reduced to $83] Very nice quality. The published coins I found are not better.
Not an imperial portrait, but issued in the time of Augustus.

Claudius, 41-54 AD.
Roman Alexandria.
26-25 mm.
Good portrait/eagle
[$69]
Nero (54-68)
[SOLD]

Vespasian (69-79)

[SOLD]
Titus (79-81)
[SOLD]

[SOLD]

---
Trajan (98-117)
[SOLD]
Hadrian (117-138)

Second Century Imitations: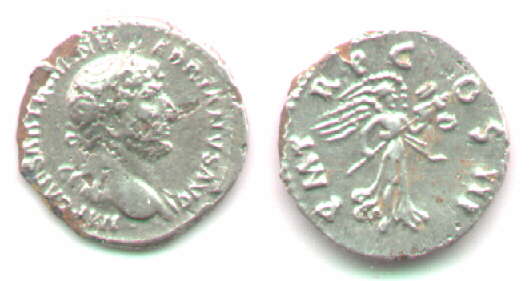 [$29]
19 mm fourré. (ancient imitation) 2.53 grams.
Hadrian, 117-138
IMP CAESAR TRAIAN HADRIANVS AVG
/PM TRP COS III, Victory right holding trophy forward
plated piece: 19 mm. 6:00. 2.53 grams
Remarkably nice reverse.
Prototype: RIC 101 "AD 119-122", BMC 212, plate 51.1. Hill 237 "AD 123"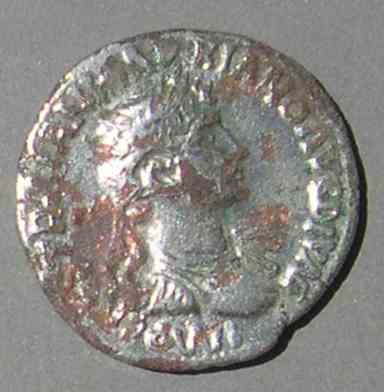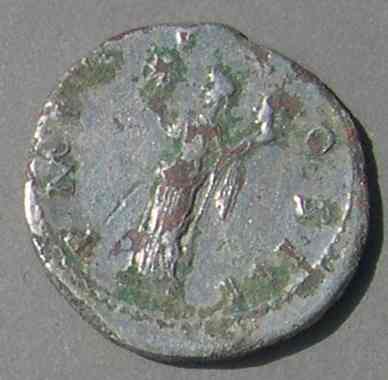 Hadrian, 117-138
20 mm fourré. (ancient imitation)2.95 grams.
BMC 163, page 261, plate 50.5 for reerse. Obverse legend unlisted except close to some on p. 378 of "barbarous" types illustrated on plate 68, especially 68.9, 68.11 "Eastern (Antioch) or semi-barbarous(?) -- Paris and Vienna" Hil 169 of AD 120 issue 7 "52" is the reverse. [$25, reduced to $15 SOLD]
Antoninus Pius (138-161)
[SOLD]
Commodus (177-193)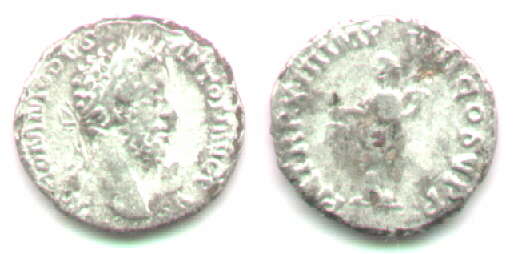 [$27, reduced to $23 SOLD] Commodus, 177-192
18-17 mm. 6:00. 2.33 grams
M COMMODVS ANTON AVG PIVS
/PM TRP XIII IMP VIII COS V PP
Aequitas standing, head left, holding scales and cornucopia
Hybrid: RIC -- but reverseof RIC 164, Dec. 187 - Dec. 188. Obverse of AD 183-185
BMC --. Obverse of Dec. 183 - Dec. 185/BMC 242, page 733, plate 97.1. For obverse legend see plate 93.11-19.
Commodus is uncommon as a fourré (ancient imitation)
---

Third Century:

Septimius Severus
Maximinus Thrax (235-238)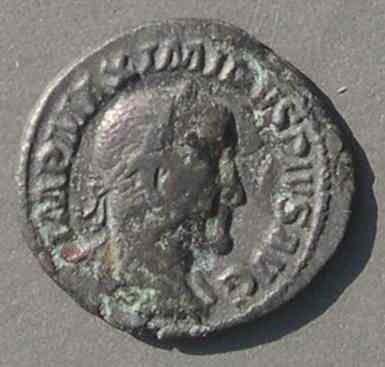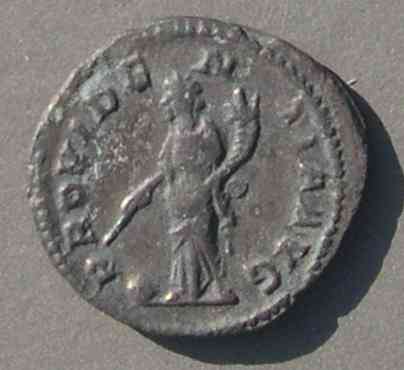 [$29] Maximinus I, Thrax. 235-238
18 mm. 2.00 grams. PROVIDENTIA AVG
prototype RIC 13, first legend, March 235 - Jan 236.
Glossy gray metal. Unusual and good condition for this type of metal. Limes denarius. That is, made near the borders and not of good metal like official Roman issues.


---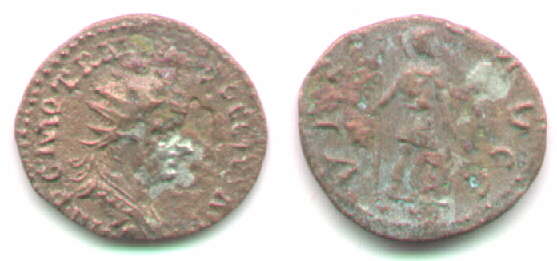 [$19 SOLD] Trajan Decius.
19-18 mm. 6:00. 2.16 grams
Hybrid. Distinctly small. Little silver remains, but clearly
fourré (ancient imitation)
IMP C M Q TRAIANVS DECIVS AVG
/VIRTVS AVGG, Virtus standing right holding vertical spear behind
Reverse type of Philip II or Trebonianus Gallus, but not Decius.
Prier IV (6/26/1998) lot 310 was from the same dies, and the same size. It was a very similar coin but for the weight.
Very late for a fourree.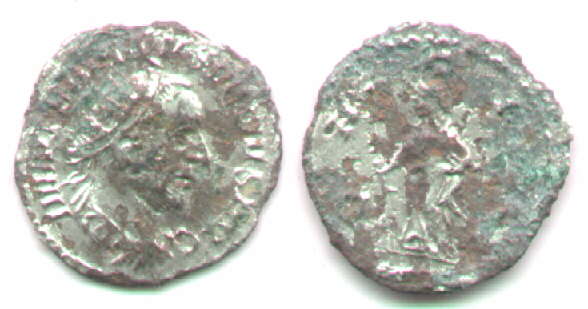 Trajan Decius. 21 mm. 12:00. 2.14 grams.
Remarkably thin fourré (ancient imitation) from very late. Rare.
IMP [C M Q TRAI]ANVS DECIVS AVG
/DACIA, Dacia standing holding staff with "draco" military standard.
Prototype: RIC 12b, page 121, "249-251". AR22. 6:00. [$17 SOLD]

Herennius Etruscus, 250-251 under Trajan Decius

[sold]
Trebonianus Gallus. A.D. 251-253

[SOLD]
---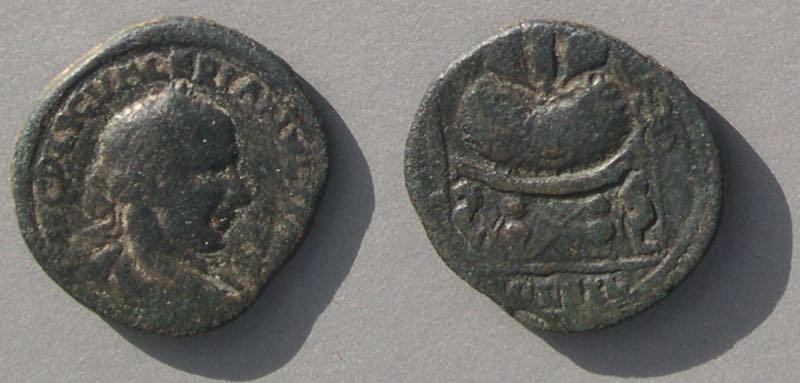 [Rare. $65, reduced to $43] Valerian (253-260)
Struck at Heliopolis, Coele-Syria
25-23 mm, thick, 11.70 grams.
agnostic urn on table with ornamental legs
COL HEL
Sear Greek Imperial --
L&K --, Lindgren III 1283variety (legend), Weber --, McClean 9440 variety, BMC Syria --
SNG Copenhagen Syria -- (439 has urn with no table, SNG Righetti --
[$65, reduced to $45 SOLD] Ex Colosseum Coin Exchange, list of April 1988, lot 106, with ticket.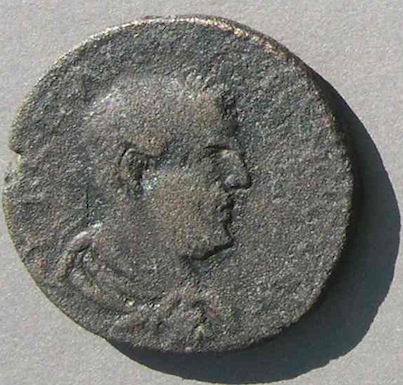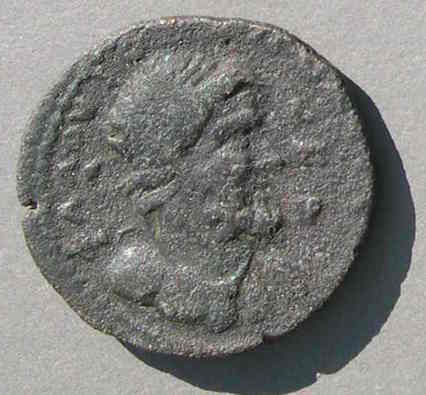 Rare Valerian at Flaviopolis, Cilicia. 253-260 AD. AE27-26. 11.99 grams. bust right/bust of Zeus right (not the usual Serapis w. slightly larger flan). Sear GI --, SNG France --, SNG Cop--, SNG von Aulock --, Lindgren & Kovacs --, L III --, SNG Righetti 1558, very similar. Note how few collections have this type. Rare [$35, reduced to $27 SOLD] (This reverse type is sometimes on Maximinus I.)
---
[$95, reduced to $69] Gallienus, 30 mm.
Struck at Side in Pamphylia
E countermark over the original "IA" at the neck.
E = 5 assaria. Howgego Countermark 805
Sear Greek Imperial --,
von Aulock -- cf, plate 158, volume II for Valerian
L&K 1174 for obverse
SNG Copenhagen VI Pamphlia -- Supplement 523
Weber III --, SNG Righetti 1309 variety
ex Cederlind at $100, his #345 (list date uncertain, maybe 1990s?)
[$75, reduced to $59 SOLD]
[SOLD]
Central Empire, Claudius II (268-270) and later:
For a page of ancient imitations from the third century, see here.

---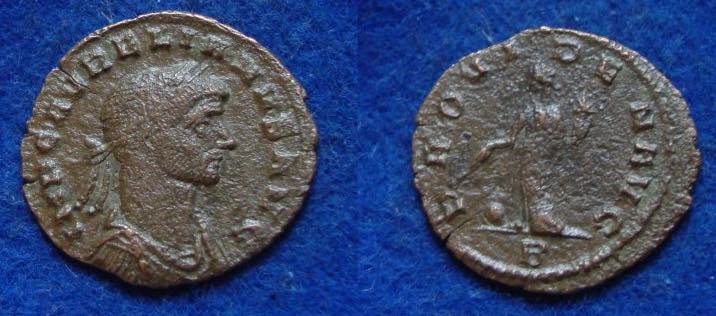 Aurelian usually comes as a radiate, either pre-reform or post reform. He also comes as a scarcer "denarius"--however almost always VICTORIA AVG. Far rarer, offered less than once a year, I think, is this PROVIDEN AVG denarius type.
18 mm. 1.36 grams.
As I write, none on vcoins and none at MA-Shops.
Roma had one, not better, in e-sale 27 for $143 including fees + shipping. CNG had one in 2010 for $185 + 12% + shipping. Elsen had one in 2011 for $207 + fees + shipping.
IMP C AVRELIANVS AVG laureate bust right
PROVIDEN AVG
Providentia standing left holding wand over globe.
RIC 68 very rare type of an unusual denomination. You have seen his "Victory" reverse denarius, but likely not this type [$95]
[sold]
[sold]
---
---
Go to, on this page, Republican, 1st C, 2nd C, or 3rd C
Caracalla, Elagablal, Severus Alexander, Gordian III, Philip, Valerian, Gallienus, Gallo-Roman, Claudius II, Aurelian, Probus, Tacitus, Carus and Family
---

Continue on another page with:
Roman: Diocletian through Licinius (the tetrarchy) or
with Constantinian coins,
Return to the top of this page.

To order, or simply to ask me questions, write me, Warren, at


.

---