GENIO POPVLI ROMANI coins of Domitius Domitianus, Severus II, Maximinus II, Constantine, and Licinius

(Go to the page of folles of Diocletian, Maximian, Constantius, or Galerius. First Tetarchy folles by mint.)

Roman coins ("folles") of the common GENIO POPVLI ROMANI type from various mints. Each has
Genius standing left with a (small) modius on his head and holding a patera and cornucopia, naked but for a cloak ("chlamys") over his left shoulder and hanging down behind the cornucopia. Rare late issues for Licinius and Constantine have Genius holding the head of Serapis.

What's new? 2023, August 15: Constantine from Lugdunum, Constantine from Rome.
2023, Aug. 7: Maximinus II from Lugdunum.
2022, Oct. 30: Maximinus II from Serdica.
2022, August 16: Maximinus II from Antioch.
July 15, 2022: Severus II as Augustus at Cyzicus.
April 14, 2022: Maximinus II from Nicomedia.

Mints active in this period were (in the usual west-to-east order):
London, Treveri (Trier), Lugdunum (Lyons), Ticinum, Aquileia, Rome, Siscia, Serdica, Thessalonica, Heraclea, Nicomedia, Cyzicus, Antioch, and Alexandria. [Carthage and Ostia are also in RIC volume VI, but neither minted this type.]
(Click the obverse image to go to a larger image of both sides and its description.)

Severus II:


Severus II
London
Severus II
Trier
Severus II
Lyon
Severus II
Heraclea
Severus II
Serdica
Severus II
Cyzicus, as Augustus
Severus II
Antioch
Domitius Domitianus, Maximinus II, Constantine, and Licinius:

Domitius Domitianus
Alexandria
Maximinus II as Caesar
London
Maximinus II as Caesar
Trier
Maximinus II as Augustus
Rome
Maximinus II as Caesar
Serdica

Maximinus II as Caesar
Heraclea
Maximinus II as Caesar
Nicomedia
Maximinus II as Caesar
Antioch

Constantine as Caesar
Trier
Constantine as Caesar
Lugdunum
Constantine as Caesar
Ticinum
Constantine as Augustus
Rome
Constantine as Caesar
Heraclea

Constantine as Augustus
Alexandria

Maximinus II as Caesar
Lugdunum
Licinius as Augustus
Alexandria
---
Domitius Domitianus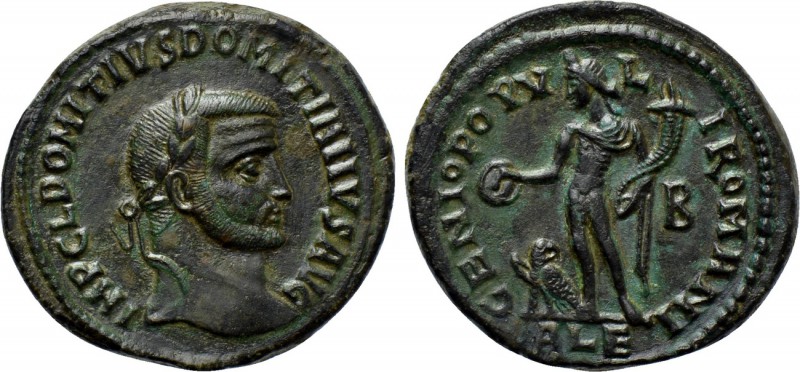 Domitius Domitianus
who revolted against Diocletian
at Alexandria
27-25 mm. 9.88 grams.
IMP C L DOMITIVS DOMITIANVS AVG
eagle at feet left, B in right field
ALE in exergue
RIC Alexandria 20 "c. 295-296"

During the revolt of Domitius Domitianus at Alexandria he issued this type in his own name and in the names of the four tetrarchs. They are distinguished by the eagle.
---
---
Severus II, as Caesar
London
28 mm. 9.80 grams.
nothing in exergue
RIC London 59a "May 305 - Autumn 307"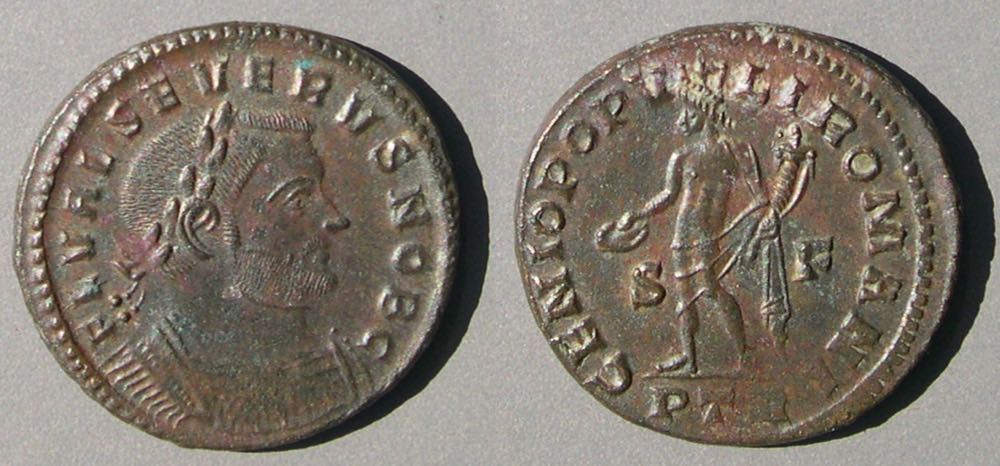 Severus II, as Caesar
Trier
FL VAL SEVERVS NOB C
27 mm.
S in left field, F in right field
PTR in exergue
RIC Trier 651 "1 May 305 - early 307"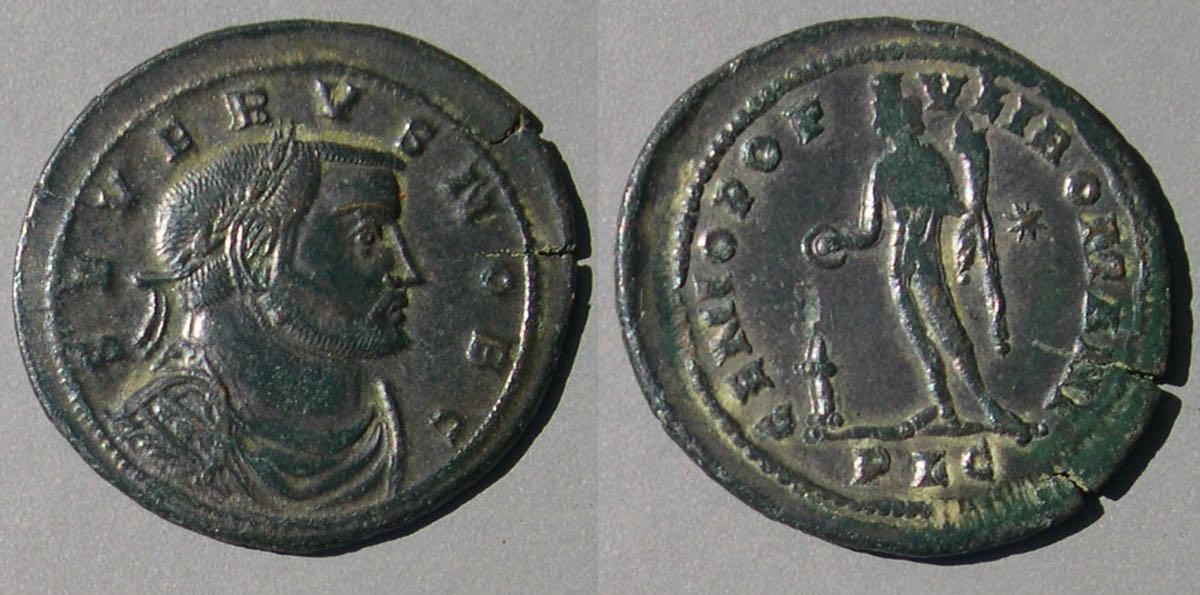 Severus II, as Caesar
Lugdunum
SEVERVS NOB C
33-30 mm. (Remarkably large flan)
altar left, ✳ in right field
PLG in exergue
RIC Lyons 199a "1 May 305 - July 306"
Severus II, as Caesar
Serdica
FL VAL SEVERVS NOB CAESAR
27 mm. 9.54 grams.
A in right field
•SM•SD•

RIC VI Serdica 13a, "1 May 305 - 25 July 306."
Severus II, as Caesar
Heraclea
FL VAL SEVERVS NOBIL CAES
27 mm. 9.86 grams.
HTΓ

RIC VI Heraclea 25, "1 May 305 - 25 July 306."
Sear IV 14634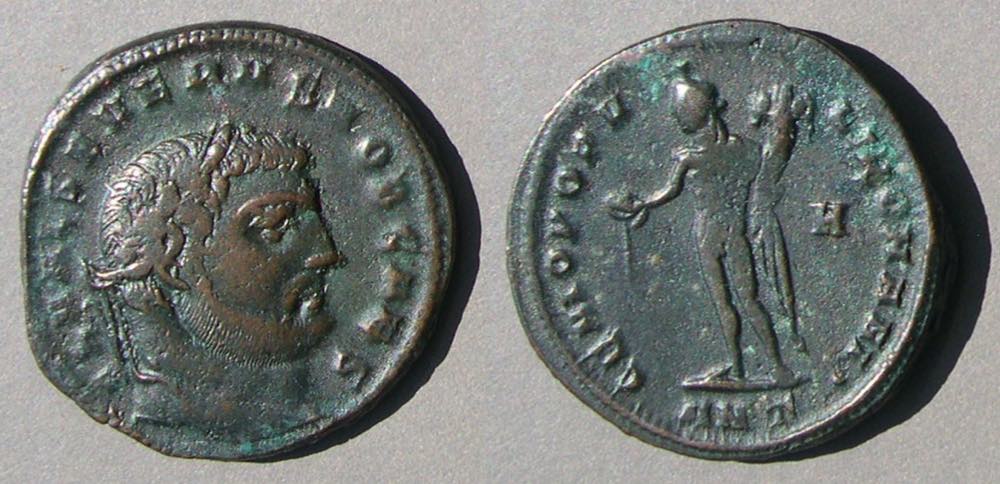 Severus II, as Caesar
Antioch
28 mm.
FL VAL SEVERVS NOB CAES
Head right, laureate
A in right field
ANT in exergue
RIC Antioch 71a "c. 305"