Fourrees: 2nd Century AD
(Continued from "Fourrees: The Twelve Caesars".) The first and second centuries AD produced a steady stream of silver-plated imitations. The motive was apparently profit, and many pieces are of good to excellent style. The style is often crude enough to alarm an experienced modern collector, but even those pieces were probably quite deceptive in their day as long as the original silver plate remained.
This page has coins of Nerva, Trajan, Hadrian, Antoninus Pius, Faustina Sr., Marcus, and Commodus. It has two in solid silver.
---
Nerva (AD 96-98)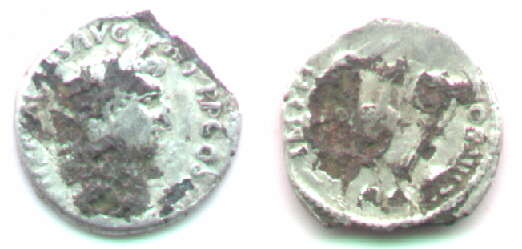 18 mm. 6:00. 1.83 grams (very light)
much silver missing, obscuring types
IMP NERVA CAES AVG PM TRP COS
/IMP II - COS IIII PP, priestly implements
simpulum, sprinker, ewer, and lituus
Hybrid: Obverse legned is first issue of 97, before Sept. 17, 97.
reverse is from 98 (COS IIII) to Jan. 25. BMC 72, p. 11, plate 3.3.
---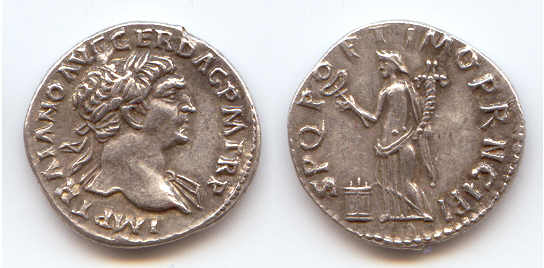 18 mm. 5:00. 3.03 grams.
Wonderful bold style, quite unlike official style. Outstanding preservation. No sign of copper, but at 1:00 the edge seems to fold over itself.
IMP TRAIANO AVG GER DAC PM TRP
/SPQR OPTIMO PRNCIPI [PRINCIPI misspelled]
woman (Felicitas?) holds up caduceus in right and cornucopiae in left, lighted altar at feet.
Reference: BMC 192 (page 59, plate 12.18) has the cadeuceus, #211 has the lighted altar (page 61, plate 13.3). obverse legend of "group V" (AD 107-111) with COS V PP SPQR OPTIMO PRINCIPI reverses (which is the next issue after this one)
ex CNG 61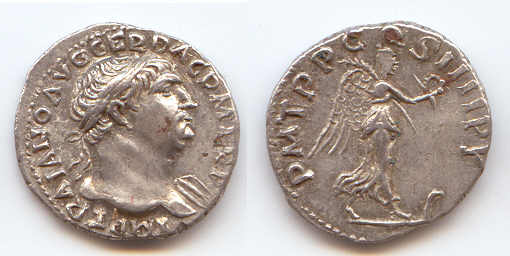 18 mm. 6:00. 3.05 grams.
Odd portrait with irregular letters. No break in the silver.
IMP TRAIANO AVG GER DAC PM TRP, somewhat irregular lettering. Portrait with pointed nose and puffy cheeks and jaw.
/PM TRP COS IIII PP, Victory right on prow. Slightly unusual lettering.
Reference: Hybrid. BMC reverse of 102 (page 44, plate 11.1) "AD 101-2" but obverse of group V (107-111), see plate 14.
ex CNG 61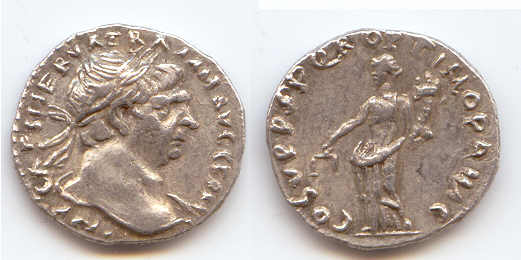 18 mm. 6:00. 3.05 grams.
No sign of copper even under 20x.
IMP CAES NERVA TRAIAN AVG GERM (first N backwards), marvelous wrinkly stern portrait, almost like a Republican portrait.
/COS V PP SPQR OPTIMO PRINC (usually ends PRINCIPI) Aequitas standing left with scales and cornucopiae.
Reference: reverse of BMC 285, page 71, plate 14.6 of AD 107-111, with obverse of 98-102.
ex CNG 61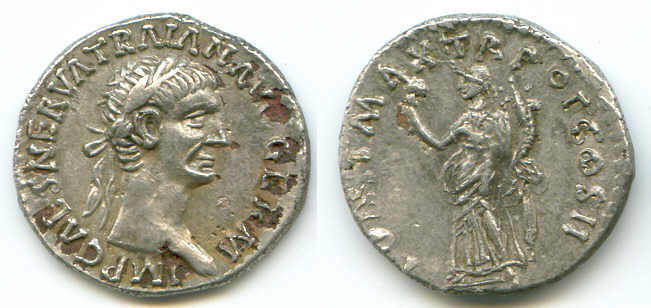 18 mm. 5:30. 2.77 grams.
Very sharp strike and nearly full silvering, but both the lettering and portrait are not of official style.
IMP CAES NERVA TRAIAN AVG GERM, laureate head right
/PONT MAX TR POT COS II, Pax standing left holding up branch in right and cornucopia in left
Prototype: Sear 2:3152. BMC 14, page 33, plate 9.7 "AD 98-99". RIC 17.

20-19 mm. 6:00. 2.43 grams
IMP TRAIANO AVG GER DAC PM TRP COS V P, unusual style
/SPQR OPTIMO PRINICPI, Pax seated left, tiny Dacian kneels to left
BMC 667ff are imitations, see plate 21.16-21. BMC 220, page 62, plate 13.6, AD 104-107.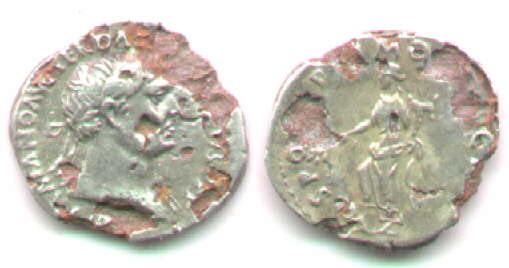 18 mm. 6:30. 2.06 grams
...TRAIANO AVG GER DAC ...
/SPQR OPRTIMO PRINCIPI, Pax standing left holding branch and cornucopiae
setting foot on Dacian captive
Sear --, RSC 405. BMC 212 page 61, plate 13.4, struck AD 104-107.
Excellent style and good silver where it remains, but much does not remain.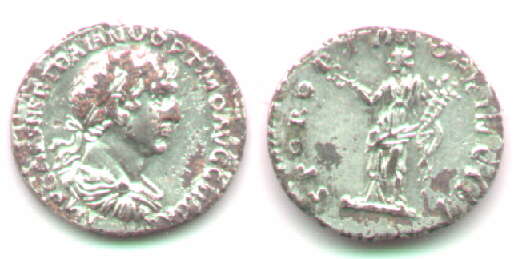 18 mm. 5:30.
IMP CAES NER TRAIANO OPTIMO AVG GER [DAC]
/SPQR OPTIMO PRINCIPI, Felicitas standing left with cadeuceus and cornucopiae (double?)
BMC p. lxii says thsi obverse legend is late 115/early 116, but reverse types and legend is 104-107
cf. bust style of plates 12.16, 13.3, 15.2, and others, mostly gold.
RSC -- (403ff have this reverse, but not with this obverse legend)
---
Hadrian (AD 117-138)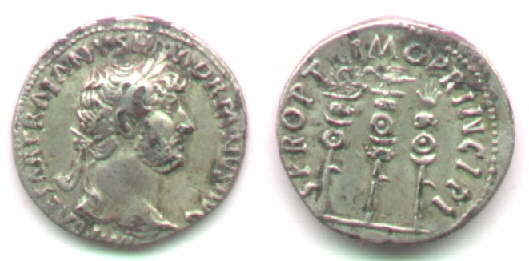 19 mm. 6:00.
A wonderful Hadrian/Trajan hybrid.
IMP CASEAR TRAIANVS HADRIANVS AVG, laureate head right
/SPQR OPTIMO PRINCIPI, legionary eagle between vexillum on left and standard on right
The reverse is a well-known legend and type of Trajan!
reverse BMC Trajan 458, plate 17.4 "112-117". Hill 580 "AD 113"
The obverse legend is, according to Hill, on AE only and of 122-3.
BMC has this obverse for AE only.
For numerous other Hadrian fourees, click on this link.
Including a DAC CAP Trajan reverse, ADOPTIO reverse, etc.

---
Antoninus Pius (AD 138-161)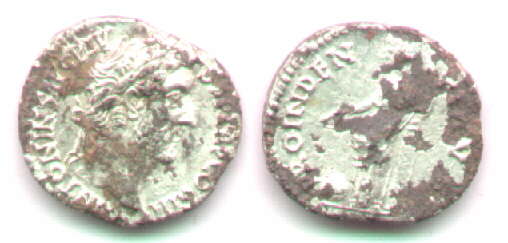 18 mm. 6:00
Excellent style
ANTONIN...PIV-S PP TRP COS III
(obverse legend seems recut near "VS AVG" and missing the "V")
/PROVIDEN - ....V
Providentia standing left, left elbow on column, holding sceptre in left and wand in right, globe at foot
Obv legend of 140-144. RSC and BMC do not have this reverse (PROVIDENTIA AVG) with Providentia standing. The reverse is recorded for Hadrian, BMC plate 60.14-16.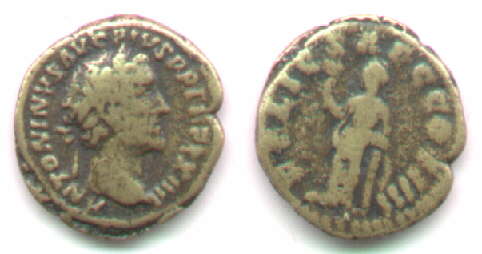 Antoninus Pius. 18-17 mm. 3.08 grams
Cast core, casting seam evident
ANTONINVS AVG PIVS PP TRP XXIIII, laureate head right
/FELIC SAEC COS IIII, Felicitas standing left, raising right and leaning on column
Prototype RIC 309, BMC 1006 plate 21.16
Sear --, C361.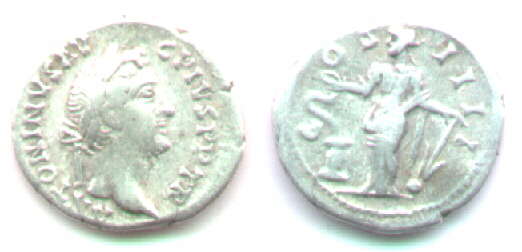 AR19-17. 7:00. 3.19 grams.
Good silver. Not plated.
ANTONINVS AV - C PIVS PP TR [sic]
/C - OS - IIII, Salus holding patera feeding snake, and rudder in left
Sear --. BMC 622 variety, plate 13.9 (obv. legend ends "TRP XI") AD 147/8, BMC 670, plate 14.10 is "TRP XII", page 96, AD 148/9.
Unusual style. I have seen one in similar style attributed to the north Black Sea region.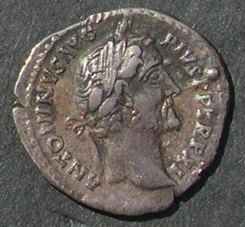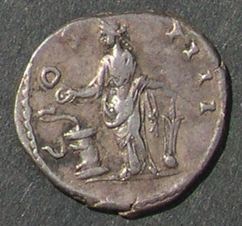 AR18, fully silvered, but possibly fourree. 12:00. 3.22 grams.


Note the bump at 3:00 on the rim of the obverse which looks like metal bubbling up above copper beneath.
Perhaps it is not a fourree, but I don't know how to explain the bump if it is not.
The prototype is Sear 2.4075. BMC 668 plate 14.9 (3.26 grams) page 96.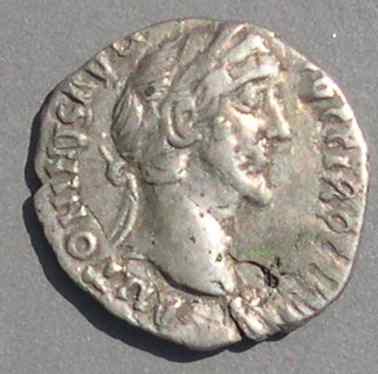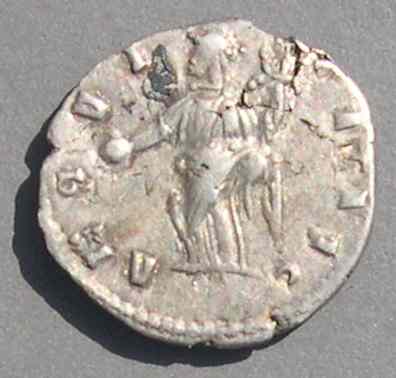 2.21 grams, which is light, but it does not show signs of copper.
Crude lettering. ANTONINVS AVG - ...
/AEQVI-TAS AVG
---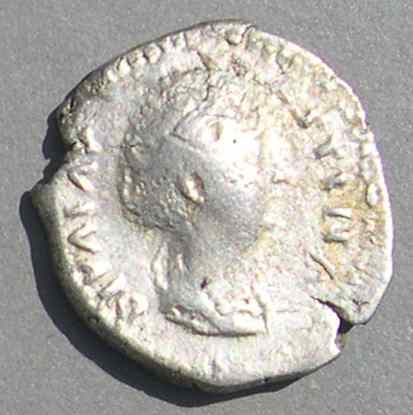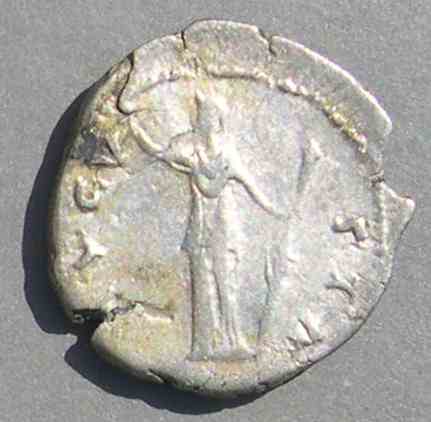 3.29 grams. Fairly good silver.
DIVA FAV - STINA/AVGV-STA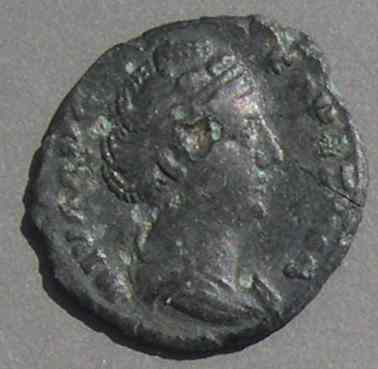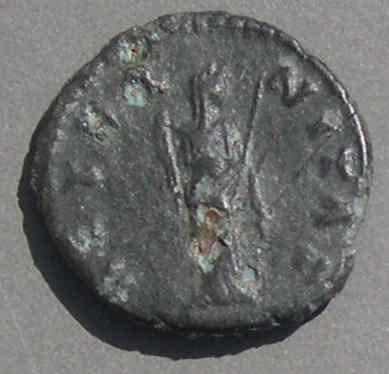 2.43 grams. AE17. Black surface. Probably No silver at all, but possibly tarnished to black.
DIVA AVG - FAVSTINA/AETER-NITAS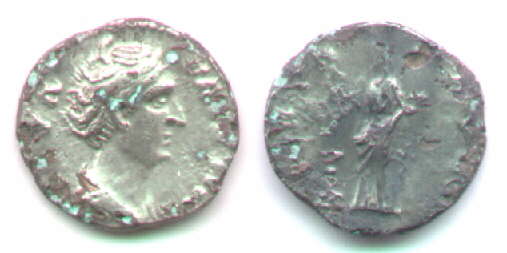 18 mm. 6:00.
DIVA FAVSTINA
/AETERNITAS, female figure standing
Sear 1348-9.
---
Antoninus Pius/Marcus Aurelius

17 mm. 12:30.
Poor condition. Excellent style.
ANTONINVS.....
/AVRELIVS CAES AVG P II F COS
/young head of Marcus
RIC 415a, page 78.
Marcus Aurelius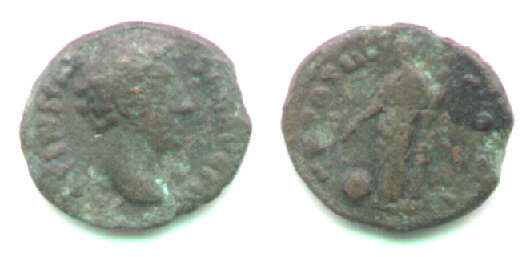 18-16 mm. 6:00.
No silver. Not many details Cast?
AVRELIVS CAE-SAR AVG [PI FIL]?, young bare head right
/TRPOT III COS [II] providentia standing left, pointing with right at globe at feet, resting left on column
RSC 628. BMC (A.P.) 696, page 100, plate 14.20. "AD 148/9"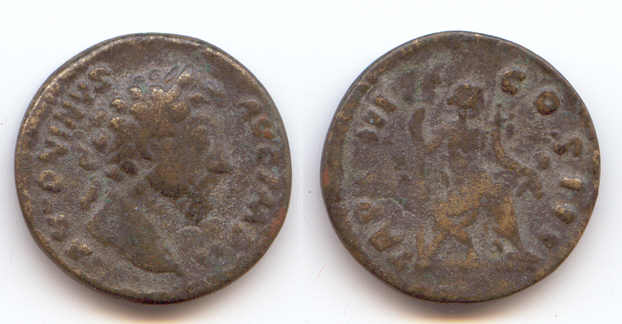 17mm. 12:00. 2.59 grams
Weakness typical of the cast it is, but it shows no seam at the edge.
M ANTONINVS AVG IMP II, laurete head right
TRP[XV]III COS III, Felicitas seated right on curule chair, holding long sceptre and conrucopiae, tip turned from body
Prototype: BMC 257, p. 417, plate 57.20 (Dec.163 - Dec. 164)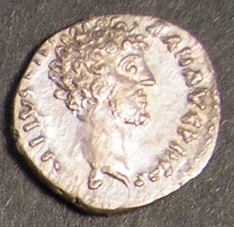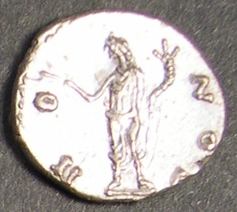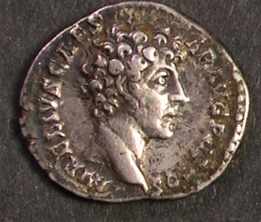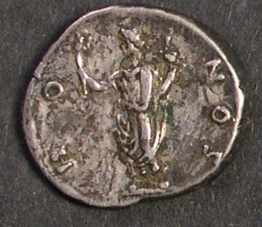 Marcus Aurelius. Good silver imitation from the region of Serbia. 18 mm. 6:30. 2.67 grams. And, its prototype, 19-17 mm. 12:00. 3.31 grams.
Prototype: AVRELIVS CAESAR AVG PM F COS / HONOS
Struck 140-144 with a young portrait.
The lettering of the imitation is very crude, although bold.
Good-silver imitations are very unusual. Perhaps they come from further outside the empire than fourrees and natives made them to have real value. [This is just speculation.]

---
Commodus (177 - 192)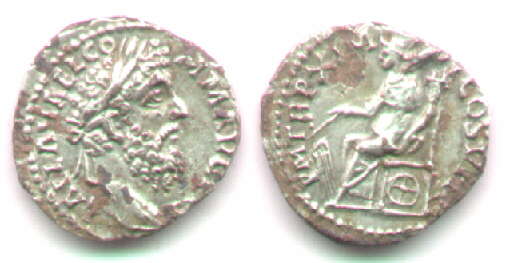 18 mm. 6:30. 2.87 grams
A wonderful and vigorous portrait of Commodus, excelling most "official" portraits.
L AEL AVREL CO-MM AVG
/PM TRP X I[MP]-COS VII[I]
Fortuna seated left, holding rudder and cornucopiae
Hybrid. Obverse legend of 192, reverse of 185-188.
BMC 22 plate 97.2 has a similar reverse legend PM TRP XIII IMP VIII with this type.
Several pieces have similar reverse but with with FORT RED in exergue. See plate 96.4 and 95.5 with close reverse legend PM TRP X IMP VII COS IIII PP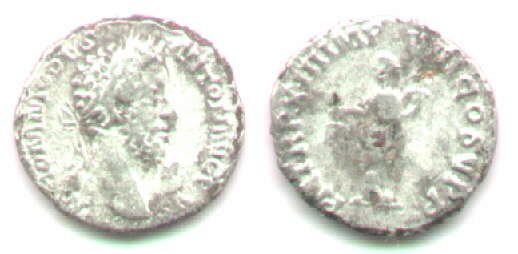 18-17 mm. 6:00. 2.33 grams
M COMMODVS ANTON AVG PIVS
/PM TRP XIII IMP VIII COS V PP
Aequitas standing, head left, holding scales and cornucopia
Hybrid: RIC -- but reverseof RIC 164, Dec. 187 - Dec. 188. Obverse of AD 183-185
BMC --. Obverse of Dec. 183 - Dec. 185/BMC 242, page 733, plate 97.1. For obverse legend see plate 93.11-19.
---
Continue with the next page, "Severan and Later fourres".
Return to the previous page, "Fourres: The Twelve Caesars".