Hadrian (117-138) Limesfalschungen and plated imitations of denarii (fourrees)

The term limesfalschung has taken on a new meaning since coins from the Balkans started begin sold on the internet. It used to mean, and still properly does, cast imitations of base metal issues, primarily asses. They were known from around the Danube and Rhine border, the limes. However, now that coins from behind the former iron curtain are so much more common we know that silver issues were commonly imitated with casts and such imitation silver coins in base metals are now often called limesfalschungen by sellers who may well be unaware of the meaning the term has only 20 years ago. Apparently the imitations of asses are much less common than fourrees and base metal casts of denarii. Here are two: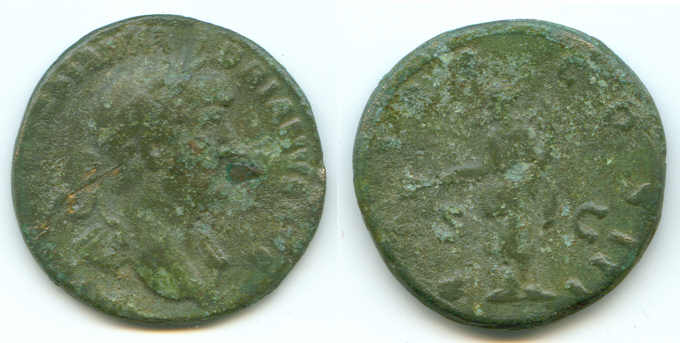 26 mm. 6:00. 8.71 grams
(significantly lighter than official asses)
Hadrian cast as.
IMP CAESAR TRAIAN HA-DRIANVS AVG
Laureate head right, drapery on far shoulder
/PM TRP COS III, S C in fields
Pax draped, standing left, holding branch and cornucopiae.
Prototype: BMC 1265, page 426, plate 80.7 "119 to 124 or 125"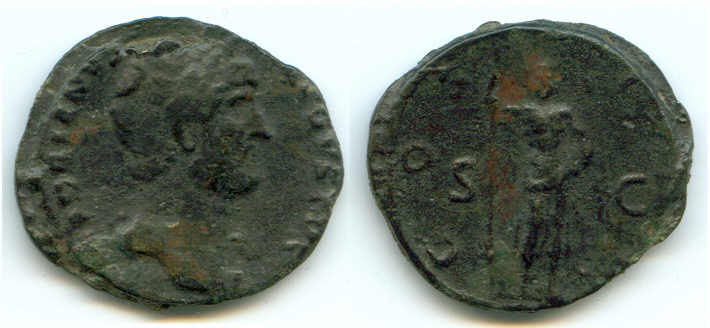 27-25 mm. 6:00. 5.71 grams
cast as, with casting seam extremely prominent
HADRIANVS AVGVSTVS
laureate head right
/COS III, S C in fields
Janus standing front, holding vertical sceptre, naked to waist
Prototype: BMC 1335, page 437, plate 82.10, "124 or 5 to 128"

---
Imitation denarii -- fourrees: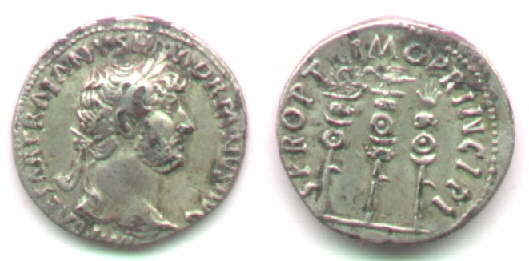 19 mm. 6:00.
A wonderful Hadrian/Trajan hybrid.
IMP CAESAR TRAIANVS HADRIANVS AVG, laureate head right
/SPQR OPTIMO PRINCIPI, legionary eagle between vexillum on left and standard on right
The reverse is a well-known legend and type of Trajan!
reverse BMC Trajan 458, plate 17.4 "112-117". Hill 580 "AD 113"
The obverse legend is, according to Hill, on AE only and of 122-3.
BMC has this obverse for AE only.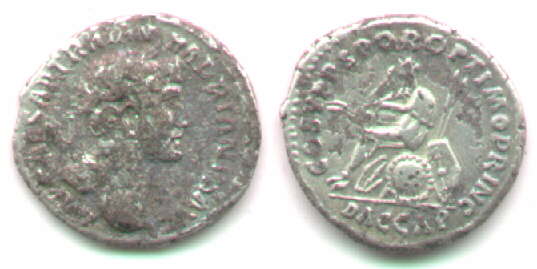 19 mm. 6:00. 3.07 grams
hybrid, with Trajan reverse
/DAC CAP in exergue, Dacian captive seated left on shields
/COS V PP SPQR OPTIMO PRINC
IMP CAESAR TRAIAN HADRIANVS AVG
Hill attribtes this reverse of Trajan to 109, at least 8 years prior to the obverse.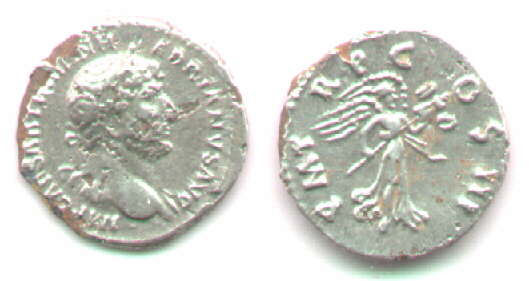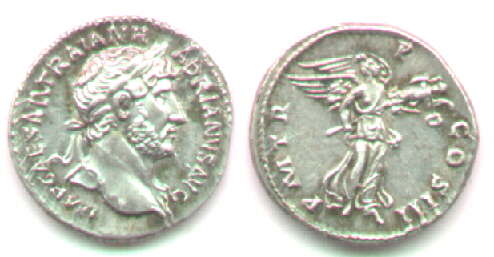 /Victory and its prototype
IMP CAESAR TRAIAN HADRIANVS AVG
/PM TRP COS III, Victory right holding trophy forward
plated piece: 19 mm. 6:00. 2.53 grams
Prototype: AR18. 6:30. 3.24 grams.
RIC 101 "AD 119-122", BMC 212, plate 51.1. Hill 237 "AD 123"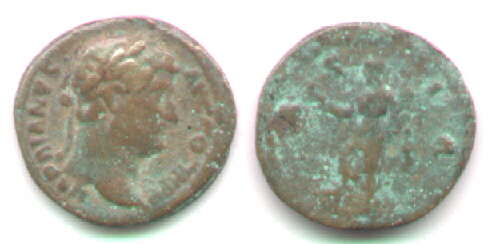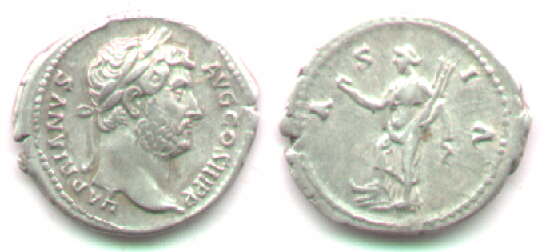 copper core. 17 mm. 7:00. 2.33 grams. and its prototype
ASIA imitation
HADRIANVS AVG COS III PP, laureate head right
/ASIA, Asia standing left, foot on prow
Prototype: AR19. 7:00. 3.18 grams.
Sear 1080. BMC 834, RIC 301. Stuck AD 134-138.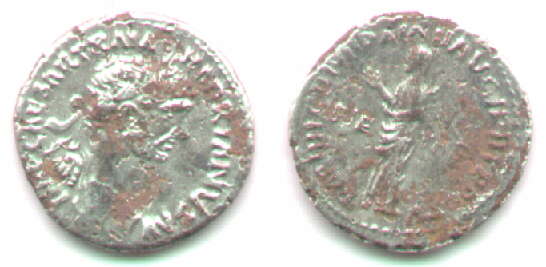 19 mm. 6:00. 3.03 grams
/PIE-TAS across field, [PARTHIC] DIVI TRAIAN AVG [...]TRP[..OS ..]
IMP CAESAR TRAIAN HADRIANVS AV [sic, ends without G]
Prototype: reverse of BMC 15 first issue, early AD 117. BMC p. 265 note says there exists in Paris a plated denarius with this obverse legend, exactly like this one. BMC plate 40.20 has this obverse/PIETAS with different reverse legend.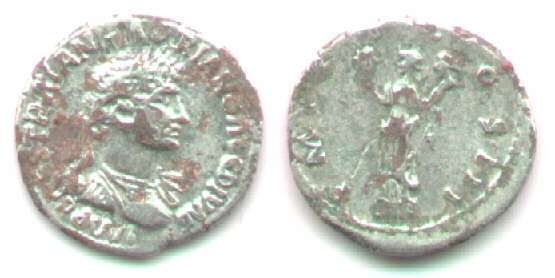 20 mm. 6:00. 2.95 grams
/Aeternita, PM TRP COS III
IMP CASE TRAIAN HADRIANO AVG DIVAG(?)
Prototype of AD 120. BMC 163, p. 261, plate 50.5 for reverse, but obverse legend not listed, but close to some on p. 378 or "barbarous" types illustrated on plate 68.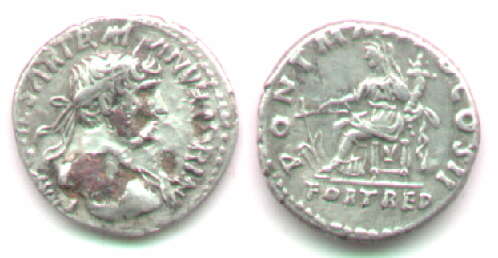 18 mm. 3:00.
/FORT RED, Fortuna seated left, holding rudder and cornucopiae
/PONT MAX ... COS II
IMP CAESAR TRAIANV HADRIAN (some letters crude)
Prototype: RIC --, cf. 41 of AD 118, similar obverse , that reverse with "PONT MAX"
BMC --, cf. plate 48.6 in gold. "PONT MAX" is on AE, not AR or AV.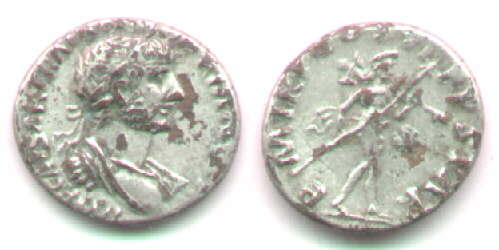 18 mm. 6:30.
/Mars walking right holding spear and trophy
/PM TRP COS [COS VI PP .....]
IMP CAESAR TRAIA...RIAN...
Prototype: early style obverse of 117-122. Reverse type of trajan, legend RSC 271, RIC 338 reverse, p. 268 under Trajan.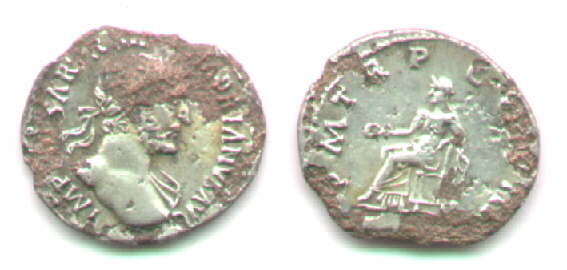 19 mm. 6:00. 2.19 grams (light)
IMP [CAE]SAR [T]R[AI] HADRIANVS AVG, long bust
/PM TRP COS III
/female seated left, holding patera and leaning left arm on back of chair
Prototype: BMC 165, plate 50.6, "119-124 or 125"

---
Return to the page on 2nd century fourrees.