Type 55: AE4. VICTORIA AVGG(G)
Victory advancing left with wreath and palm, sometimes with christogram in right field
410-423, 425-?c.430 [RIC, p.172, different dates for different emperors.]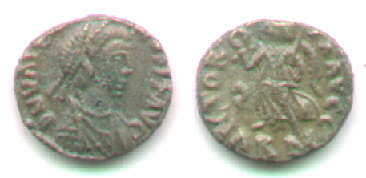 Valentinian III, Rome
All images on one page.
Primarily at Rome.
Struck for Honorius, Theodosius II, Johannes, and Valentinian III.

There is an similar, earlier, VICTORIA AVGG type (Type 44). Type 55 is usually of crude style compared to Type 12 (GGG) and Type 44 (GG).

RIC X:
H-1357 ("AE3, Rome, C") p. 338.
T2-1909 ("AE4, Rome, R4") p. 338.
J-1910 ("AE4, Rome, R4") J-1911 (Arles, R4) p. 361
V3-2105 "GGG" ("AE3, Rome, R4") page 375, plate 53, full flan AE14 in good style (much less crude) with "PL" in obverse legend (p. 172). Perhaps this larger and nicer "GGG" version should be considered a different type. Dated 425-?c. 430, page 172.
V3-2118-2122 "GG" ("AE4, Rome, R3, R5, R2, R, R"), page 377, 5 photos. Crude, as illustrated above. Also, p.380 with minor spelling variants.

DO: Honorius, 2 pieces, Table 39, "Western AE, 395-423," "410-423," page 207.
LRBC Rome H-828-830, V3-842, 843, 845. (Not listed for Johannes.)

Cayon V3-44 (1 correct photo, the one on the right. The one on the left is Valentinian II)

If there is a "PL" in the obverse legend, it makes the distinction between Victory left for Valentinian III and Valentinian II. Valentinian III had the name Placidus which appears as "PL" on some (not all) coins in the obverse legend.