Type 27: AE4. VICTORIA AVGG
Victory advancing left, holding wreath and palm.
383-388.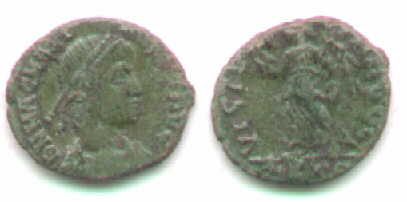 Magnus Maximus, Lugdunum, 15-13 mm. 1.19 grams. 6:00.
Only for Magnus Maximus. Only at Lugdunum. Rare.
Note the termination "GG" with two G's, not three.
RIC IX Lugdunum 34, R, plate IV.18. mm LVGP or LVGS.
This has the legend and type of Type 44, which is a different issue.
Cayon 21 (0). Hunter --.
---