Type 24 images: AE4. VOT XX MVLT XXX in wreath
378-383 (These are vows of Gratian)

Gratian: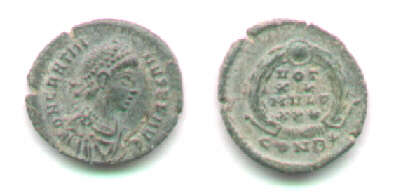 Gratian
AE14, 5:00, 0.91 grams.
CONB*
RIC Constantinople 64a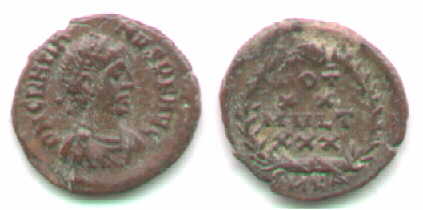 Gratian
AE15, 6:00, 1.86 grams.
SMKA
RIC Cyzicus 22a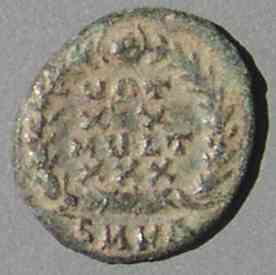 Gratian
AE14-12. 11:30. 1.17 grams.
SMKΔ (might be an A)
RIC Cyzicus 22a

---
Valentinian II: Cyzicus, Antioch.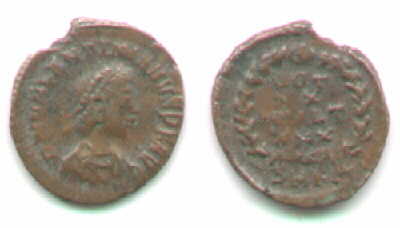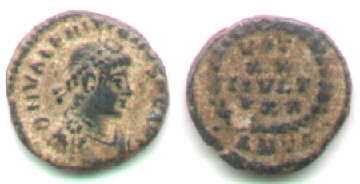 ---

Theodosius variant type 24A: VOT / X / MVLT / XXX in wreath. RIC IX, Ant 57, "R5."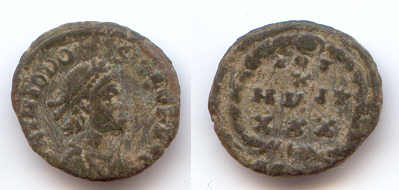 14-12mm. 12:00. 1.31 grams. Antioch 57

RIC IX, Antioch 57, "R5."
This type is in RIC only at Antioch and only this issue, recorded as unique. Because it was not issued at other mints, at first I thought this was simply an engraver's error for VOT / XX / MVLT / XXX, but this example has the "X" well-engraved right in the center -- it looks intentional. Cayon T-77 (0).

Return to the page on this type, Type 24.

---
Return to the main page.