Type 11: AE3. FELICITAS ROMANORVM
Victory advancing left with wreath and palm. [The type of SECVRITAS REPVBLICAE (Type 6) but with the legend FELICITAS ROMANORVM.]
"17 Nov. 375 - 9 Aug. 378," i.e. from the death of Valentinian to the death of Valens at Adrianople.

"Can we doubt that the rare AE3 FELICITAS ROMANORVM echos the 'felicitas publica' with which Symmachus (Ep. 1.13) tells Ansonius that Gratian's accession to supreme authority on the death of his father was hailed?" .... "The issue seems certainly to be medallic in purpose and may suggest a visit of Gratian to north Italy to consolidate his position as regent for his younger half-brother, Valentinian II." [RIC IX, page 86.] RIC (in 1933) notes it was first known and is most common for Gratian.




Valentinian II
17 mm. 1.87 grams.
RIC Aquileia 16a "R5, 375-378"
Sear V -- (would follow 20308)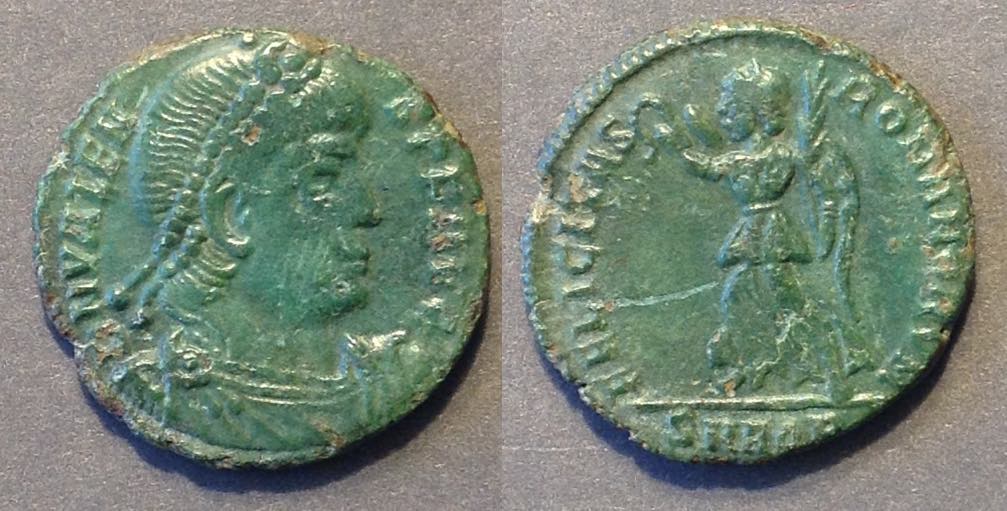 Valens
17 mm. 2.24 grams.
RIC Aquileia 16b "R5"
Sear V 19714
Extremely rare. Only from Aquileia.
| | | | | |
| --- | --- | --- | --- | --- |
| mint | RIC | Vn | G | V2 |
| Aq | 16 | 5 | 3,4 | 5 |
RIC photos: G-VII.11 (bust right), G-VII.10 (bust left).
RIC is unclear whether the single example they found with "DN VALENTINIANVS PF AVG" legend is of the first or second Valentinian. It is listed under a time period of the second, but with a special legend more appropriate for the first. It is "R5" and without a photo. The arrangement is not certain. The next photo of an example looks like Valentinian I.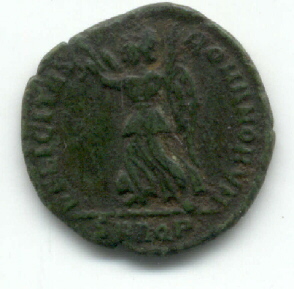 Image courtesy of John Matsusaka.
Valentinian II or I (see comments above).
[The bust left type is] "outside the mainstream of currency coinage and marks some special issue." RIC p. xxxiv
Cayon Vn 111 (0), G-68 (0), V2-60 (0).
Hunter 78.36 (the legend on the left is missing and on the right is very worn -- uncertain. Type 6 is issued from Aquileia so the mintmark alone is insufficient to tell.)
See also LRBC plate II.100
---