Theodosius II (402-459) and Valentinian III (425-455): [AE2's]
Images.
ES1
21
AE2 helmeted
bust right
DN THEO...
two emps stg on
either side of long cross
CONCORDIA AGV [sic]
A--
Sear V
21184
So--
RIC X
460 "R3"
"? 437" Con
Hahn 71
pl. 4
Con
DO LRC
435 Con
NC 1995
p. 271-5
ES2
21
the same
but
DN VAL...
same
A--
Sear V
21302
So--
RIC X
461 "R4"
Con
Hahn --
DO LRC
--
NC 1995
p. 271-5
pl. 48: 2-3

Note for collectors: The examples below of Theodosius II and Valentinian III are much better than most. When RIC X was published in 1994 scholars in western Europe knew very little about these types which are from behind the Iron Curtain. The RIC rarities "R3" and "R4" mean only a few examples were known to Kent. Now the number of known examples has exploded, but both types are still rare in conditions as good as these.
Theodosius II:


Theodosius II
Type ES1
21-20 mm. 6:30. #.94 grams.
Remarkably nice reverse legend which is almost legible.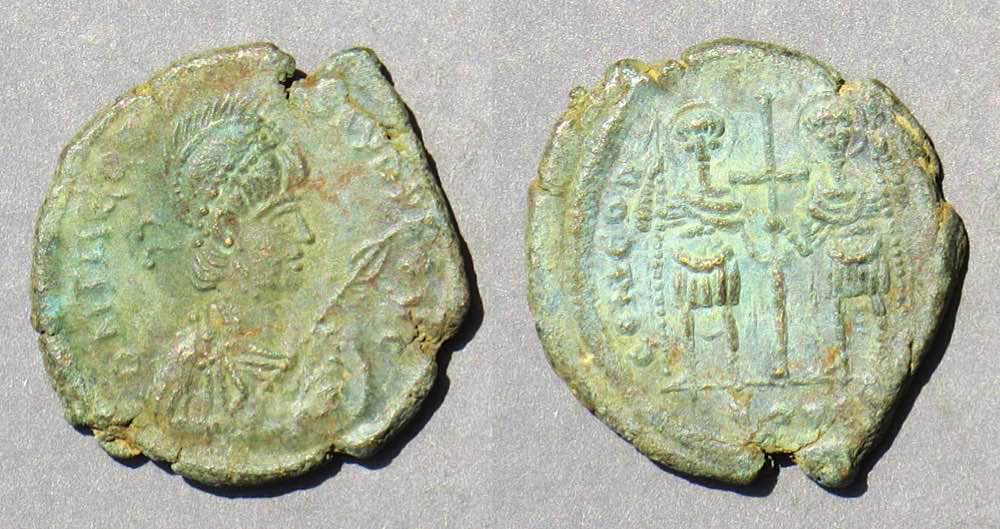 Theodosius II
Type ES1
23-22 mm. 6:00. 5.93 grams.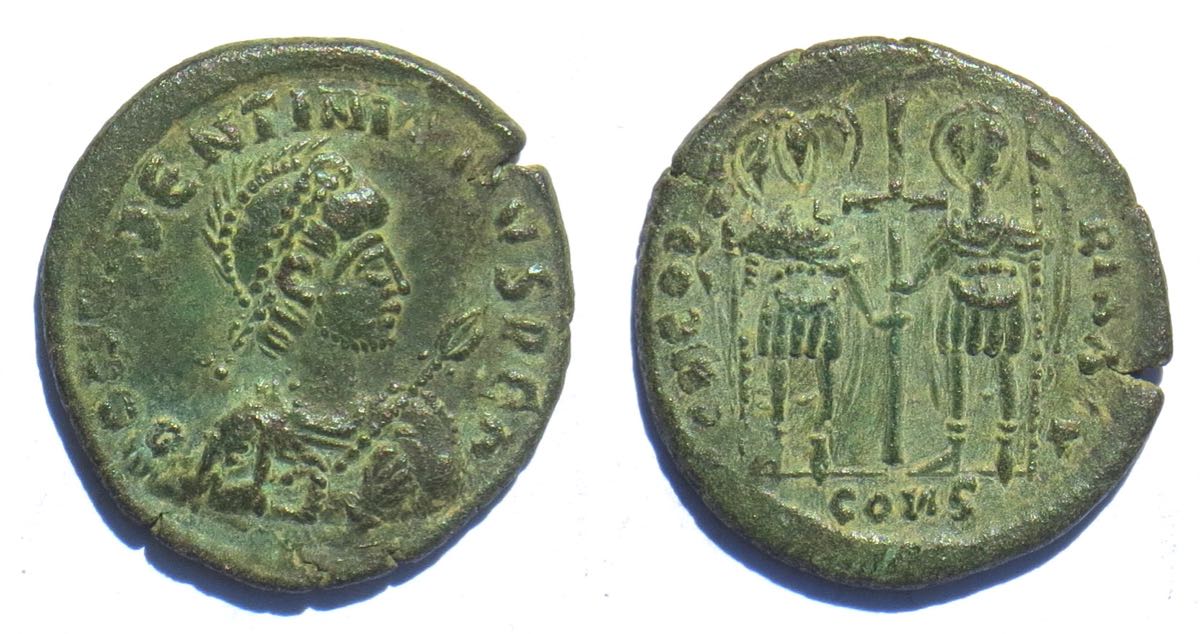 Valentinian III
Type ES2
22-21 mm. 6:30. 4.72 grams.
Reference: "The large bronze of Valentinian III," by A. Korshenko, I. Gorshkov and A.J. Holmes, in NC 1995, 271-275 and plate 48, 2&3.

---
Continue with images of Leo I and Verina.

Return to the main page on Byzantine coins of Cherson.