Free Ancient-history books (you pay shipping, in the US only)
Greek, Roman, Byzantine, and general ancient history, and even some fiction.
I have been buying ancient-history books for over 40 years. It is time to pass some along to the next generation.
Recently I have gone to book sales and bought all their ancient-history books to give away to ancient-coin collectors. I want people to enjoy ancient history and you can't do that without knowing some of it!
Recent: Added to the Greek, Fiction, and Other categories. Removed the ones that are gone.
How it works: Shipping, media-mail, in the US only. Small books are totally free (and will be marked as such) if you have already paid basic postage for an order from my page on ancient-coin books: http://augustuscoins.com/numislit.html (There the first book or catalog costs the basic postage of $3.50 to ship)
or if you paid basic postage for an ancient coin from: http://augustuscoins.com/index.html
For regular-sized books I want you to cover my cost of extra postage which is 75 cents each for most books. For some I want more postage because they are large, and the extra amount more is given at the book, for example, "$1 extra" means it will cost you $1.75 in addition to the rest of your order of coin-books or coins. Order as many as you want; I am trying to give them away!
To order, or to ask a question, contact me, Warren, at

. After I confirm your order and the total you may pay with PayPal or a check. Do not attempt to order if you are not in the US. If a book has been ordered already, it will be marked in purple "GONE".
If a book has underlining or other serious flaws, I will note the flaws (Almost all do not).
Return to the page on ancient-coin numismatic literature.

---
General Ancient History (not numismatics)
Aspects of Antiquity, by M. I. Finely. "Discoveries and Controversies". Penguin paperback. Second edition. 1977. 216 pages.
The Oxford Companion to Classical Literature, edited by Howatson and Chilvers, small format paperback, but thick at 575 pages. [50 cents extra]
The Ancient City, by Fustel de Coulanges. "A classic study of the religious and civil institutions of ancient Greece and Rome." Small format paperback. 396 pages. Reprinted many times. A very old work, translated in 1853. [No extra postage. Just free.]
Great Cities of the Ancient World, by L. Sprague de Camp. HC. 510 pages. 150 photographs, drawing, and maps. "From Thebes to Constantinople. [$1 extra. GONE]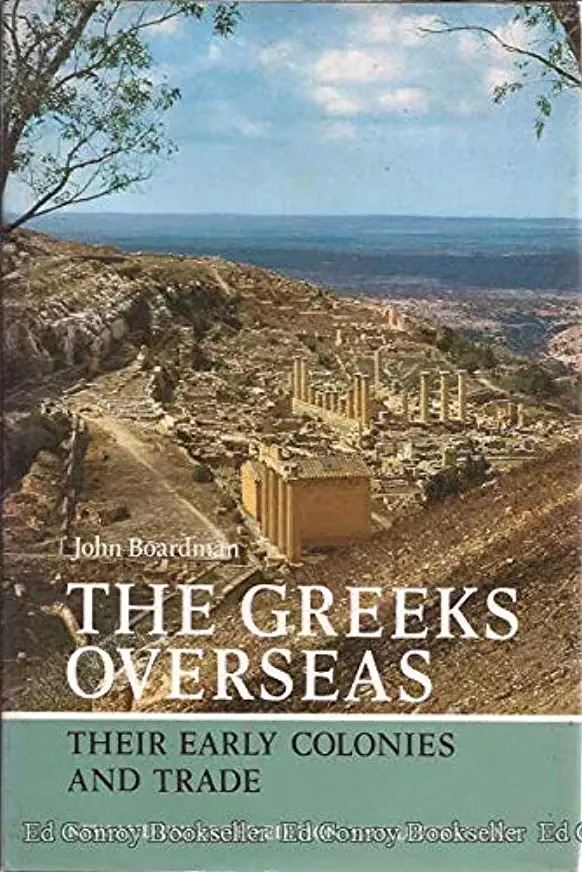 The Greeks Overseas: Their early Colonies and Trade, by John Boardman. 1980. HC. 319 illustrations. GONE

Mysteries of the Snake Goddess: Art, Desire, and the Forging of History, by Kenneth Lapatin. The story of artifacts we know from Crete that were assembled from pieces to become the famous images we know. However, there is evidence they were created by wishful archaeologists and not really those shapes originally. A tale of how archaeologists got what they wanted by creating it and how it was discovered they cheated.
Problems in Ancient History, Volume I, The Ancient Near East and Greece. Edited by Donald Kagan. 1966. Large paperback. 443 pages. A supplement to a college history narative text to provide "material for instructive, and hopefully, exciting discussions" on selected topics. Looks good but I have not read it. [$1 extra]
Graffiti in the Athenian Agora, American School of Classical Studies pamphlet. 1988. Cardcover. 32 pages of mostly illustrations. [No extra postage. Just free.]
The Oedipus Plays of Sophocles. Translated by Paul Roche. Thebian Plays. Mentor Classic. [free, no extra postage]
The Ancient World: Justice, Heroism, and Responsibility, edited by Zeph Stewart.
The Early Greeks, by R.J. Hopper. Hardcover. 257 pages. 1976. A few B&W plates.
The Pelican History of Greece, by A.R. Burn. 415 pages. Some underlining near the end. [Free. No extra postage]
Lucretius, On the Nature of the Universe, Penguin Classic.
Sophocles. The Theban Plays, translation by E. F. Watling. small format Penguin Classic. [No extra postage, just free]
Sophocles. The Three Theban Plays, translation by Robert Fagles. Larger format Penguin Classic. 5' x 7 3/4" some underlining by a teacher. [No extra postage, just free]
Caesar and Christ, by Will Durant. HC. HC 751 pages. 1944. 200 pages through Julius Caesar, the rest imperial. Was a very popular book. Very good. [GONE +$1 shipping--it is large]
Discovering Roman Britain, edited by David E. Johnston. 1983. A small-format book designed for tourists to take along to Roman sites to say what is there. [No extra postage, just free]
Roman Reader, edited by Basil Davenport. 1951. The Viking Portable Library. Very small format hardback. A source book. 565 pages. Ex library.
The World of Rome, by Michael Grant. Small-format Mentor book paperback. [GONE No extra postage, just free.]
Plutarch. Makers of Rome. Penguin Classic paperback. 365 pages.
Gibbon, The Portable Gibbon, The Decline and Fall of the Roman Empire, 691 pages, reduced by Editor Dero Saunders from the original.
[Be aware that Gibbon is mostly about the "Byzantine Empire" as among the six volumes only volume 1 is before Constantine.]
Justinian. The Digest of Roman Law. Penguin Classics.
Byzantium, Rene Guerdan. 228 page paperback
Byzantine Civilization, by Steven Runciman. 1956. 255 page Meridian paperback. [Table of contents loose, but there.]
Byzantine Studies Conference, Abstract of Papers, Cleveland 24-25 October 1975 [free, with no extra shipping, it is thin]
Archaeology
Hands on the Past, by C. W. Ceram. Hardback. 434 pages. Some photos. 1966. Fascinating stories of the early famous excavations. [$1 extra]
Time Detectives: How Archaeologists use Technology to Recapture the Past, by Brian Fagan. 1995. Note the date! Hardcover in great shape. 288 pages.
Other
King Alfred the Great, by Alfred P. Smyth. Large HC. 744 pages. [$2 extra GONE] After I looked it up on Amazon they sent me e-mail recommeding it and offering a copy at $250!
Barbarians to Angels: The Dark Ages Reconsidered, by Peter S. Wells. 2008. HC. 240 pages. Some maps and some, but not many, photos.
The Scythians, by Tamara Talbot Rice. Hardcover. 1957. 62 photos, 65 line drawings, 4 maps, 255 pages.
The Arabs, by Anthony Nutting. 1964. Small-format paperback by an Arabist who was the Minister of State for Foregin Affairs under Anthony Eden and was the author of Lawrence of Arabia. 416 pages.
The Greatness that was Babylon, by H. W. F. Saggs. Old hardcover., ex library book. 1962. 560 pages. Quite a few illustrations, but not a picture book. My wife and I both enjoyed this book and she used it as a source about Babylon when teaching ancient history.
The World of the Huns, by Otto J. Maenchen-Helfen. 1973. HC 601 pages. [+$1 GONE shipping, it is large]
Arthur, The King in the West, by R. J. Duning. HC. 1988. 164 pages. Pictures on almost every page. The complex story of "Did Arthur really exist?"
2002 Red Book. A Guide Book of United States Coins. R. S. Yeoman edited by Kenneth Bressett.
A Catalog of Modern World Coins, 1850-1950. 11th edition. 1974. By R. S. Yeoman.
Craig. Coins of the World, 1750-1850. Second Edition. 1971. [Large. $1 extra]
Berk catalogs: 201, 203, 204, 205 (all four as one book. GONE)
The Last Days of Pompeii, by Bulwer-Lytton. 1834. 1904 hardcover edition. 553 pages. 5 1/4" by 7 3/4" A very nice brown cloth copy. [$1 extra GONE]
Caesar, by Colleen McCullough. Large paperback. 6" x 9". 664 pages. [$1 extra] (She is famous for wrting the massive series beginning with "The First Man in Rome." GONE
---
Look here for ancient-coin books (not for free).
Look here for ancient coins (not for free!)