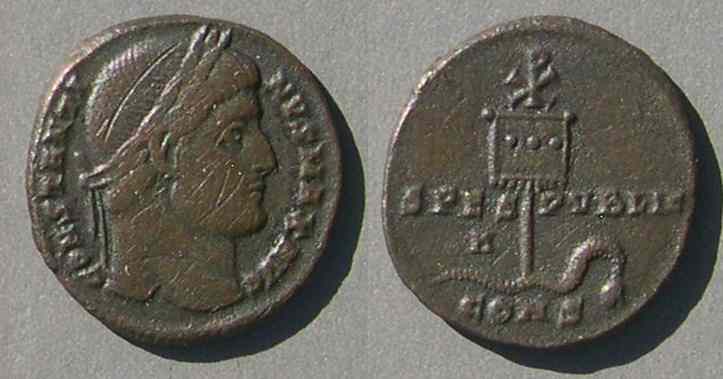 Constantine, 307-337.
18 mm. 2.99 grams.
CONSTANTINVS MAX AVG, laureate head right
SPES - PVBLIC across standard with banner with three dots and Christian chi-rho above. The standard pierces a snake with it head down.
CONS below A in left field.
RIC Constantinople 19. Struck "327".
This type has been discussed in articles many times. The chi-rho makes the allusion to Chritianity clear, but the dots on the standard and what the standard is doing to the snake and who or what the snake represents are not so clear.
"The only purely and overly Christian type [of Constantine]" Sutherland, Roman Coins, p. 297.
There are many websites that mention this type, including mine here:
http://augustuscoins.com/ed/Christian/ChristianSymbols.html
---
Return to the page with this reverse type.