Maximian's name

Coins of the Roman emperor Maximian, co-Augustus from 286 to 305 with Diocletian, often have the simple legend "IMP MAXIMIANVS PF AVG". After Maximian retired May 1, 305, Galerius, whose full name also included "MAXIMIANVS," began to use that exact same legend previously used by Maximian. So, when Maximian returned to power during his "second reign" (late 306-late 308) that legend referred to Galerius, no longer to Maximian. In order to distinguish Maximian from Galerius, Constantine minted for Maximian using a longer version of his name. The first coin shows the longer version and the rest of this page explains how this all happened.

(For an overview of the coins of this time period, see the beginning page "Introduction to Coins of the First Tetrarchy.")

What's new? 2021, Feb. 16. Most of this page, including coins 3, 4, and 6 through 11.

Maximian's full name was
Marcus Aurelius Valerius Maximianus.
His coin legends always include "MAXIMIANVS" and sometimes include "M A" for Marcus Aurelius or "M A VAL" or "M AVR VAL" for Marcus AVRelius VALerius (Coin 7). During his second reign (late 306 - late 308) Constantine minted for him with the remarkably long version "M AVREL VAL MAXIMIANVS."

Coin 1: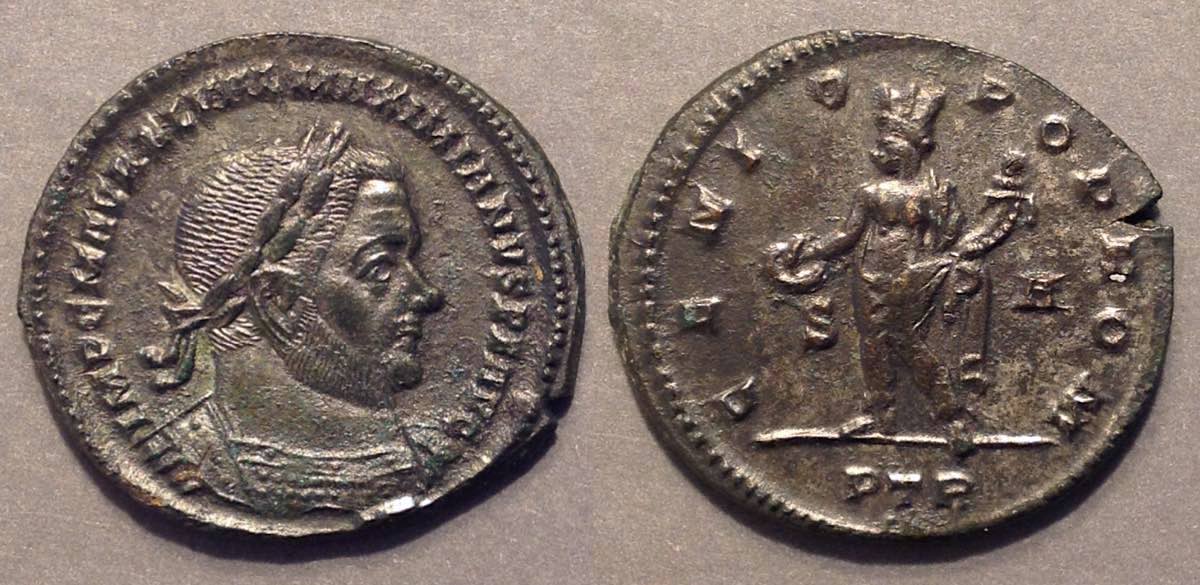 Maximian.
27-25 mm. 7.18 grams.
IMP C M AVREL VAL MAXIMIANVS P F AVG
Imperator Caesar Marcus Aurelius Valerius Maximianus Pius Felix Augustus
Genius standing with loins draped.
S A in fields
PTR in exergue
RIC Trier 766 "autumn 307 - end of 308."

This is a "second reign" coin from Trier, a mint of Constantine, after Constantine recognized Maximian as Augustus, which has a lot to do with why such a long version was used.
Full names
. The Roman emperors we call Maximian and Galerius had similar names, both of which include "MAXIMIANVS". Maximian was
Marcus Aurelius
Valerius Maximianus
(much of which can be seen on Coin 1 above). Galerius was
Gaius Galerius
Valerius Maximianus
.
We use "Maximian" or "Maximianus" for the first emperor, so modern scholars have chosen to use a different name, Galerius, for the second. (Maybe we could call him Maximianus II, but we do not. Maximian is sometimes distinguished as "Maximianus Herculius")
Maximian became Augustus in 286, long before Galerius was elevated to Caesar in 293, so Maximian had first dibs on the name "Maximianus" (
Coin 6
). To distinguish them, legends of Galerius as Caesar say Caesar (
Coin 8
) and often also include "GAL". After Maximian retired in 305, the name MAXIMIANVS for an active emperor was freed up to be used by the new Augustus whom we call Galerius (but he called himself Maximianus,
Coin 9
). Here is an example:
Coin 2
: Here is the corresponding type for Galerius in the same issue from Trier with the same control marks (S A in the fields).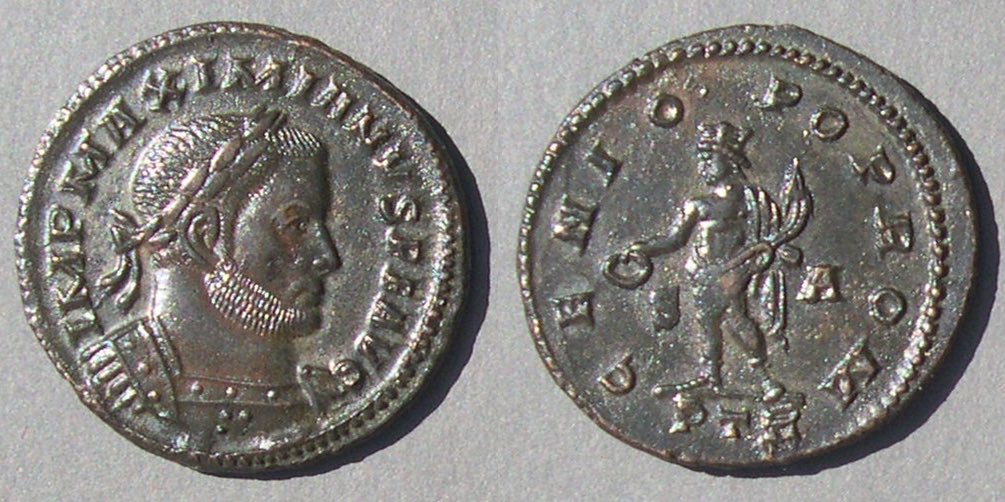 Galerius
as Augustus, autumn 307- end of 308.
26 mm. 6.63 grams
IMP MAXIMIANVS PF AVG
Same reverse and control marks as above.
RIC
VI Trier 714 "autumn 307- end 308"
How do we know this isn't also Maximian?
There are several contributing considerations. One is that it doesn't look like Maximian, who had a distinctive nose. Another is the depiction of Genius with
draped loins
, an innovation of Constantius as Augustus after Maximian's retirement. Galerius was Augustus at that time and had the titles "IMP" and "AVG". A third is that the next pair of coins (Coins 3 and 4) proves that an earlier issue has this legend for Galerius at a time when it could not be for Maximian because the coins for Maximian were all retirement types.


Coin 8: Galerius as Caesar with the name MAXIMIANVS. Maximian was never just Caesar on coins--he was already Augustus on his first coins--so this must be of Galerius.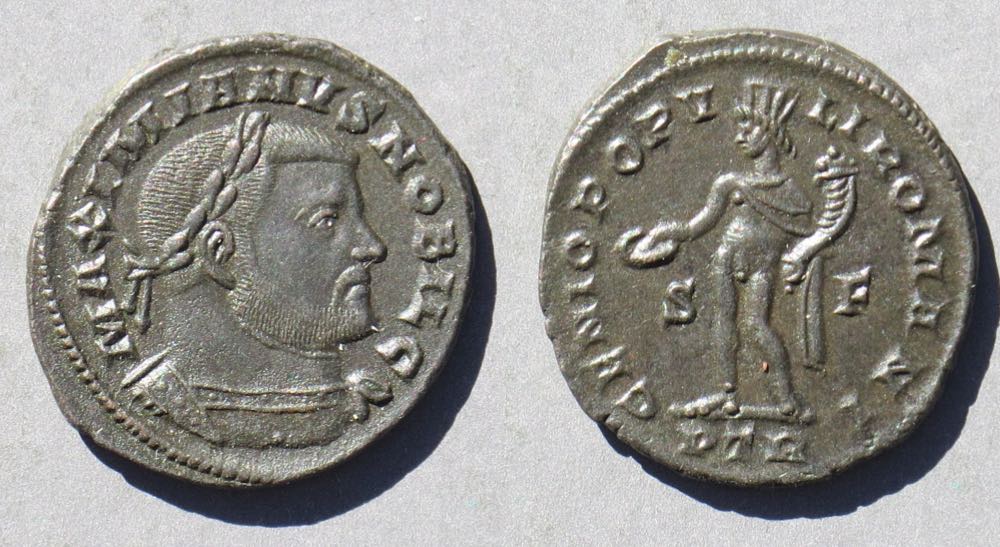 Galerius as Caesar
28-26 mm. 9.66 grams.
MAXIMIANVS NOBIL C (C for Caesar)
GENIO POPVLI ROMANI
S in left field, F in right field
PTR in exergue
RIC Trier 594b "c. 303- 1 May 305" (i.e. the last issue before becoming Augustus)


Coin 9:
After Galerius became Augustus some of his coins used a legend used previously by Maximian.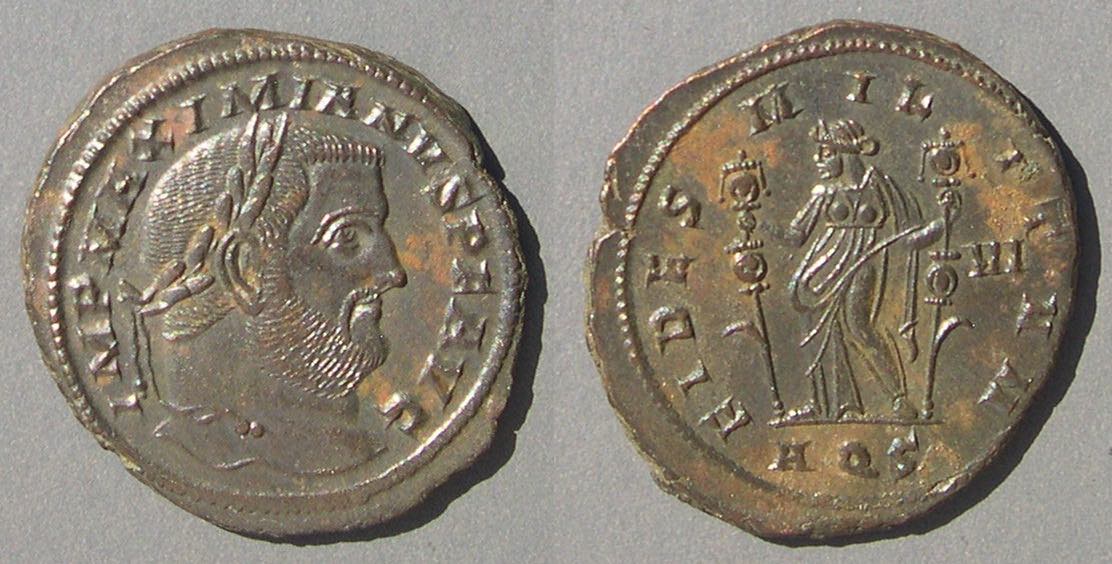 Galerius as Augustus
29 mm. 10.21 grams.
IMP MAXIMIANVS PF AVG
This obverse legend had been used by Maximian
FIDES MILITVM
VI in the right field
AQS in exergue
Not in
RIC
, but it would be Aquileia 56b. The issue is shared with Constantius as Augustus, that is, when Maximian was retired.
Coin 10
: A coin minted by Maxentius for Maximian as Senior Augustus.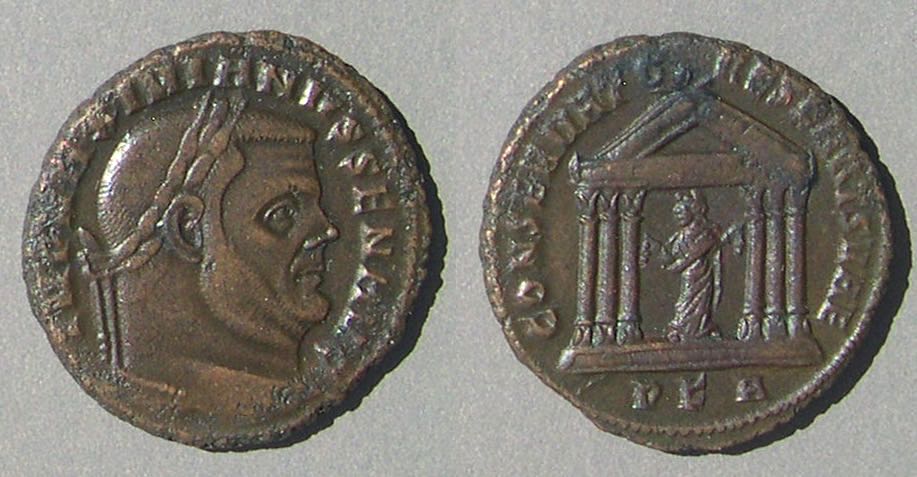 Maximian
24 mm. 7.48 grams.
IMP MAXIMIANVS
SEN AVG
CONSERVATORES KART SVAE
Six-column temple, Carthage standing within holding fruits.
PKA in exergue
RIC
VI Carthage 59 "summer 307".


Coin 11. Rare "third reign" coins of Maximian are only from eastern mints.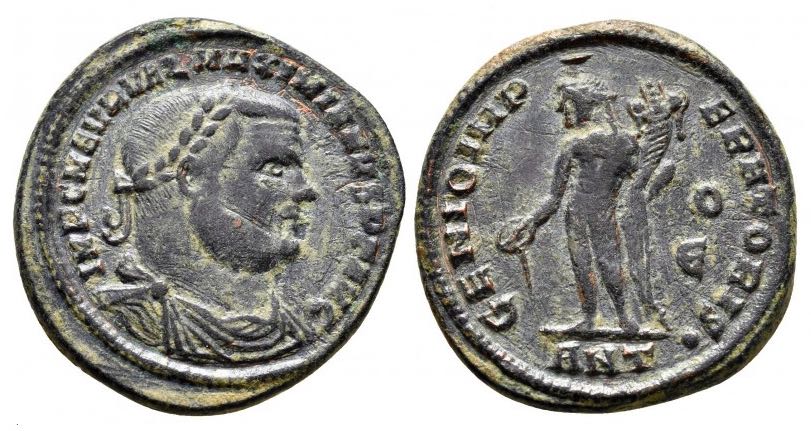 Maximian
25-24 mm. 7.21 grams.
IMP C M AVR VAL MAXIMIANVS PF AVG
GENIO IMPERATORIS
O
Є
ANT •
RIC VI Antioch 112c. "Early to later 309".