Type 75: AE2. CONCORDIA AGV [sic, it is a misspelling]
Two emperors, each holding vertical spear on outside and a long cross between.
CONS in exergue, with the "N" often retrograde.
Obv: Emperor right in plumed helmet and holding forward-pointing spear.
? 437 [RIC, p. 276]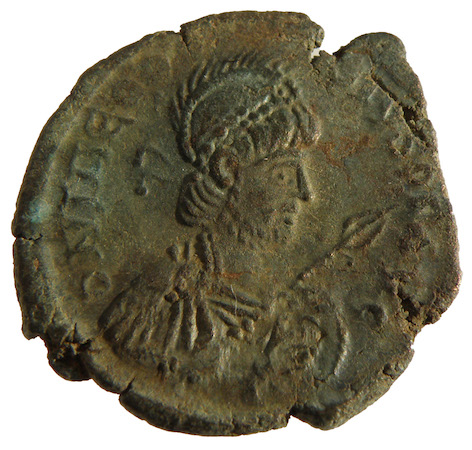 Theodosius II, AE 22

All examples together on one page.
Struck for Theodosius II and Valentinian III.


RIC 460 (Theodosius II, R3) and 461 (Valentinian III, R4), no photo in RIC, p. 276.

"The large bronze of Valentinian III," by Korshenko, Gorshkov, and Holmes, in NC 1995, p.271-275, and plate 48 (two photos and two line drawings).
"most of these coins were in bad and very bad condition. Usually only a few characters and a part of the type were visible." "There are more than 150 specimens ... known to us from Cherson." Constantinople mint mark, but all of known provenence were found near Cherson.


As the RIC rarities demonstrate, this type was very rare outside of Ukraine at the time RIC X was written. Many have appeared since then. However, the observation that most are in "bad and very bad condition" is still valid.