Type 62: AE3. CONCORDIA AVG
Empress seated facing on throne
423-425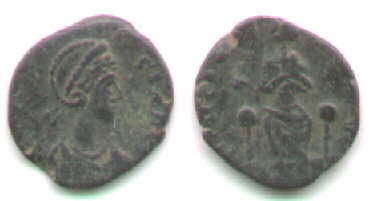 Eudocia
RIC X, page 273, only Constantinople..
Pulcheria 425, 427 (R4, R4); LRBC 2228
Placidia 426 (R4); LRBC 2229
Eudocia 428 (R4); LRBC 2230
All dated 423-425 in both works

Note the "C" in the spelling of Eudocia. In the past she has been confused with "Eudoxia" the wife of Arcadius.

Cayon Ec-11 (0). Cayon Ec-12 (1) is Eudoxia, in error.
Cayon Pu-14 (1).