Type 62: AE3. CONCORDIA AVG
Empress seated facing on throne
423-425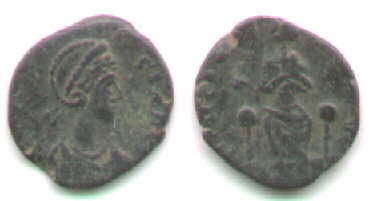 Eudocia. Note the "C" in the spelling of Eudocia. In the past she has been confused with "Eudoxia" the wife of Arcadius.
RIC X, page 273, only Constantinople..
Pulcheria 425, 427 (R4, R4); LRBC 2228
Placidia 426 (R4); LRBC 2229
Eudocia 428 (R4); LRBC 2230
All dated 423-425 in both worksCayon Ec-11 (0). Cayon Ec-12 (1) is Eudoxia, in error.
Cayon Pu-14 (1).
---