Type 61: AE3. GLOR ORVIS TERRAR
Emperor standing facing, head right, holding spear and Victory on globe. Star in field left.
423-425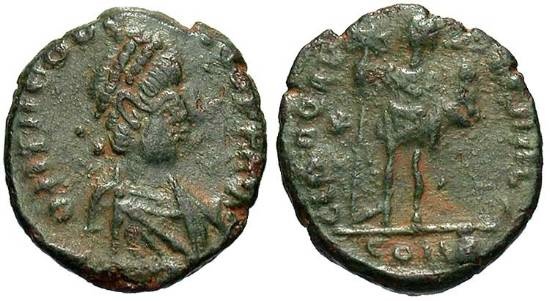 15-13 mm. 1.72 grams. RIC X, 421, at Constantinople. [This one much excels their plate coin.]
Extremely rare.
In many years of looking and thousands of catalogs I have seen only three for sale, the third much worse than either of these two.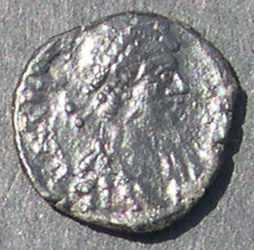 13 mm. 6:00. 1.72 grams. DN THEO legible, the rest not. / GLOR ORVIS legible, the rest not. Mintmark mostly off flan and therefore uncertain.
Only for Theodosius II.
| | | | |
| --- | --- | --- | --- |
| mint | RIC | T2 | plate |
| Con | 421 | 4 | 18.421 |
| Nic | 422 | 4 | |
| Cyz | 423 | 4 | |
RIC

X

, p. 273.

[DO LRC --. Cf. T2-363 plate 14 (AE13, 1.06g) which is this design with VICTORIA AG legend.]
Hahn 5th C. Theodosius II, 78, plates 4 (life size) and 5 (enlarged) (This is a BM specimen). [The first one on this page is a better on the reverse.]