Type 49: AE3. VRBS ROMA FELIX
Roma standing, holding trophy and Victory.
404-408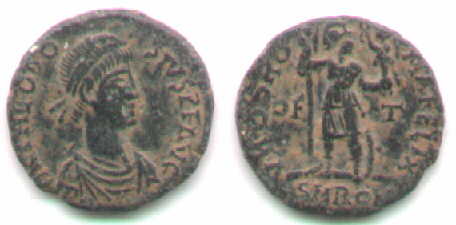 Theodosius II, Rome
All images on one page.
Struck for Arcadius, Honorius, and Theodosius II. Struck only at Rome, with a unique exception.

Overall this type is scarce, but almost all examples are very crowded and poorly struck. An example this nice is very rare. A full-flan and well-struck example with little wear would be extremely unusual.

For a wonderful, entertaining, and highly informative discussion of this type, see this CoinTalk thread:
https://www.cointalk.com/threads/the-most-ironic-lrb-or-how-to-represent-the-sack-of-rome-in-your-collection.353676/

This type was originally thought to have been issued by Arcadius and Honorius in conjunction with Theodosius I, but it came to be realized that "Theodosius" was really Theodosius II. Thus it is included in RIC IX under the earlier erroneous attribution with an erroneous early date (AD 394-395) and then again in RIC X with a corrected attribution and date (404-408, given on page 130).
mint
RIC
A
H
T2
RIC X, plates 37-38
Rome
IX.67-68
X.1271-1283
2,S,R,2,R,2
R,R,4,S,S,4
R,S,R,2
R,R,S,S,C
R,R
2,2
H-VIII.18
H1275, 1281, A1278, T2-1283
Aq
X.1243
5
36.1243

RIC X lists each reverse twice, with Roma "head right" and "head facing." RIC IX did also, with "head right" being number 67 and "head facing" being number 68.

RIC IX photos: H-VIII.18. RIC X, plates 37-38.
DO for Arcadius, 1 piece, Table 31, "Western, 394-408," page 131.
DO for Honorius, 3 pieces, Table 39, "Western AE, 395-423," page 207. The third piece is of "reduced module on a thick flan." See the last image for an example for Honorius.
RIC IX and Cayon erroneously think "Theodosius" is Theodosius I, so Cayon's T-63 (no photo "17mm") and T-67 (2 photos, "15mm") are both this type.
RIC X p. 333, suggests "(?)407-408" for the R5 Honorius example from Aquileia.
DO for Honorius: 815-817, 822-824.
Cayon A-49 (0), H-62 (0), T2 --, T-63 (0) and T-67 (2 photos).
Hunter H-88.10.
Ratto photos, Arcadius (5 full-sized) 120, 121, 122, 123, 124, and (1 reduced) 126.