Type 40: AE3. SPES REIPVBLICAE
Emperor standing left, holding standard and globe, spurning captive to left.
388-391 [DO] 388-393 [RIC]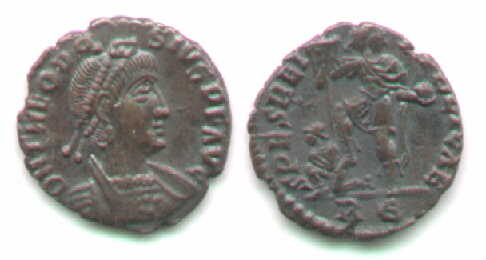 Theodosius, Rome
17 mm. 2.08 grams. 6:00.
RE mintmark.
RIC Rome 63b5, plate VIII.112
(their coin is not even Fine)

DN THEODO-SIVS PF AVG

| | | | | |
| --- | --- | --- | --- | --- |
| mint | RIC | V2 | T | A |
| Rome | 63 | 4 | 4 | 4 |
Only at Rome.
RIC photo: T-VIII.12. The above example far excells the RIC example.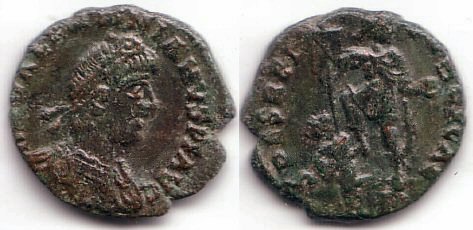 Valentinian II, Rome
17 mm. 2.85 grams. 12:00.
RP mintmark.
RIC Rome 63a1.
No photo in RIC.


DN VALENTINIANVS PF AVG (unbroken legend)

These two examples are the only two I've seen in all the major catalogs and over 20 years of paying attention. This type is extremely rare.


Cayon V2-65 (0), T-62 (0), A-48 (0).
Hunter --.

DO has none for Arcadius, Table 22, p. 114. "388-391".