Type 18: AE2. REPARATIO REIPVB
Emperor raises kneeling female rt., emperor holds Victory on Globe in left.
378-388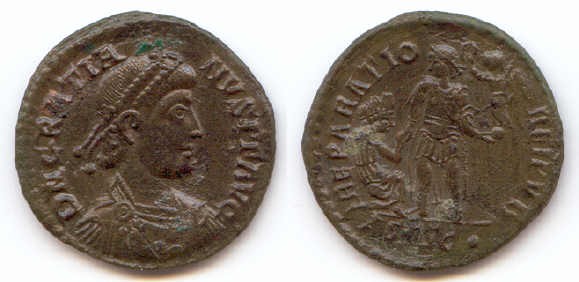 Gratian, Siscia
All images on one page.
This type is common and has many RIC numbers, not listed here.
It was issued for Gratian, Valentinian II, Theodosius, and Magnus Maximus.
This type is occasionally found in Spain cut in half. See the "all images" page for two such halved coins of Valentinian II.
RIC photos: MM-III.15 (Tr), T-IV.16 (Lug), V2-XIV.13 (Ant), V2-XVI.1 (Con [low grade])
Cayon G-64 (2 photos, Lug, Th), V2-52,53 (3 photos, Aq, Sis, Ant), T-56 (2 photos, both Sis), MM-16 (2 photos, Ar, xx).
Hunter G-82.16 (Lug), G-82.25 (Ar), V2-84.24 (Aq), V2-84.29,30 (Sis), T-85.14 (Rome), T-85.18 (Aq), T-85.26 (Sis), MM-87.10,11 (Lug), MM-87.15 (Ar).
---