Type 16: AE3. CONCORDIA AVGGG
Constantinopolis seated, helmeted head right, holding reversed spear and holding globe right, with her right foot on a tiny prow.
[a variety has no globe, with her left leg forward (as opposed to her right leg forward as illustrated first).]
378-383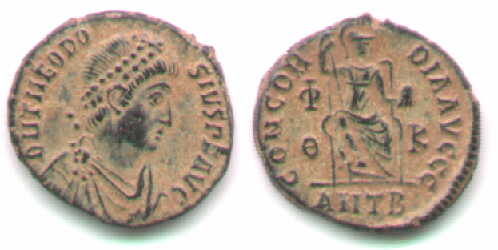 Theodosius, Antioch
Common for Gratian, Valentinian II, and Theodosius. Very rare for Arcadius. From 11 mints.
All images on one page
.
RIC photo T (Tr 66) III.13, T-V.13 (Ar), T-XIV.10 (Ant), A-XVI.6 (Nic).
Variety illustrated below:
RIC
Ant 44, plate T-XIV.9, and Nic 29 plate T-XVI.2, has the figure with no globe and her left hand on her knee, "turretted" or "head right." They call it Constantinopolis, so it is a variety of this type, type 16.
Type 16 is often not distinguished properly from Type 15, which has the same legend and general appearance, but head and globe left.
Cayon G-66 (no photo there, but the one from Antioch under 67, in error, is this type), V2 -- (but 3 Roma varieties!), T-58 (2, Con, Nic).
Hunter G--, V2-84.36 (Her), T-86.56 (Ant), 86.57 (Ant).

The variety with no globe, with her left leg forward:






Gratian, Aquileia