Roman VOTA coins of the third century
Here is a selection of vota coins from the third century, in chronological order. Some of the information is repeated from the main page or other pages.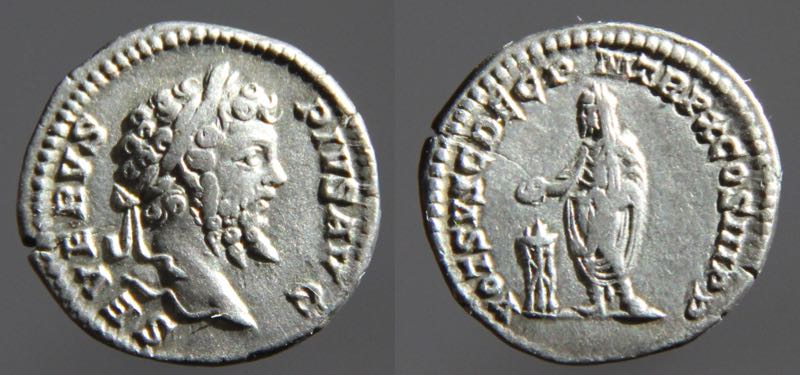 [Repeated from the main page]
Septimius Severus, 193-211.
This is the only dated VOTA type of Septimius Severus. It has legend
VOT SVSC DEC PM TRP X COS III PP.
The "TRP X" allows us to date it to his tenth TRP year.
Although the office of the tribune and thus the title TRP on coins changed December 10 in the early empire, under Septimius Severus it coincided with calendar years and he took TRP at the beginning of his reign, so (unlike Antoninus Pius) his regnal years are exactly the corresponding TRP years. TRP II began on January 1, 194. That makes TRP X begin on January 1, 202. (Also, he became "COS III" at the beginning of 202 and never was COS IIII.)
RIC 172. BMC 388. Sear II 6391. Struck AD 202.

So, how can this coin have "VOT SVSC X"? "Vota suscepta X". So this coin appears to be issued during the tenth year, not after the tenth year was completed. If it anticipates ten years being completed, wouldn't the ceremony be for vows soluta? Isn't the tenth year late to be mentioning vows taken (suscepta) for ten years? Is the depicted ceremony referring to the tenth year (about to be) completed and simultaneously vows renewed (suscepta) for more years, presumably twenty? Maybe vows for the tenth year were at the beginning of the regnal year and this coin suggests the year-10 vows were completed and new vows were suscepta for another ten.
On the second-century page there is a coin of Antoninus Pius issued with TRP XI whereas the one above has TRP X and "SVSC".


Septimius Severus, 193-211.
SEPT SEV AVG IMP XI PART MAX, laureate head right
VOTIS/DECEN/NALI/BVS in wreath
Denarius. 19-18 mm.
Sear 6396. RIC 520a. BMC 681 "Eastern mint, 198-202"

Year 11 suggest the coin commemorates the 10-year festival after its completion.
[Repeated from the main page]
Septimius Severus (AD 193-211).
Denarius. 19 mm.
VOTA SVSCEPTA XX, the emperor veiled and draped as a priest sacrificing, pouring from a patera over a flaming altar, with legend
RIC 308 "202-210". Sear 6393. BMC 375 "201-210".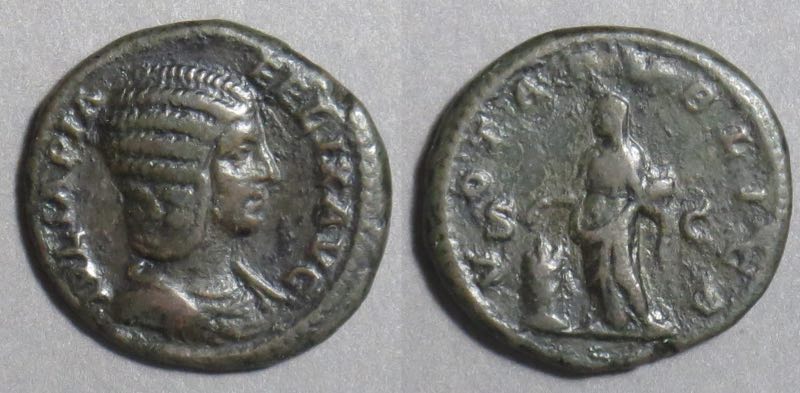 Julia Domna, wife of Septimius Severus
26-25 mm. An as.
VOTA PVBLICA around
Julia Domna, as Pietas, sacrificing at altar
S C either side
RIC 608 "S, c. 211-217"
Sear II 7138 "Rome, 211"
Hill "211"
[Repeated from the main page]

Caracalla, struck c. 207 AD.
VOTA SOLVT DEC (vows for ten years fullfilled) with COS II in exergue.
Caracalla standing right holding patera over tripod altar, flute (with two pipes) player facing behind the tripod altar, a sacrificial bull about to be slain by a victimarius with raised ax. A scene with action!

Sear II 6907 variety (Sear's has COS III).
RIC Caracalla 204 (COS II) page 240 "Scarce, 209-212" which must be wrong on both counts. (It is very rare and not later than 207.) Hill 946 is COS III "R4" (0 or 1 in all the hoards he studied) and COS II is omitted, so it must be very rare, both as a type and as COS II. He was made Caesar in 196 and promoted to Augustus in 198 by his father, Septimius Severus. He became COS II in 205 and became COS III in 208.

Caracalla issued in 217 several vota types for year XX that commemorate his Parthian victory. He became Augustus in 198, possibly early in the year, so 217 was regnal year 20, his last year.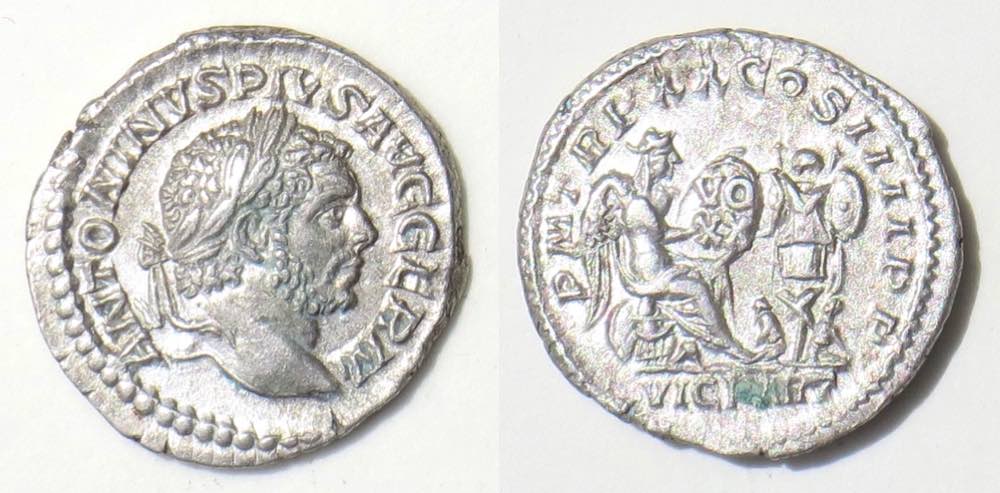 Caracalla, 196-198, 217
Denarius. 19 mm.
Victory seated, holding shield inscribed
VO/XX
trophy before with two captives at feet
PM TRP XX COS IIII PP
Dated to 217, his 20th regnal year (as Augustus)
RIC 297e "S, 217"
Hill 1601 "R3" (very rare in hoards)
Sear II 6892
The same type was issued as an antoninianus.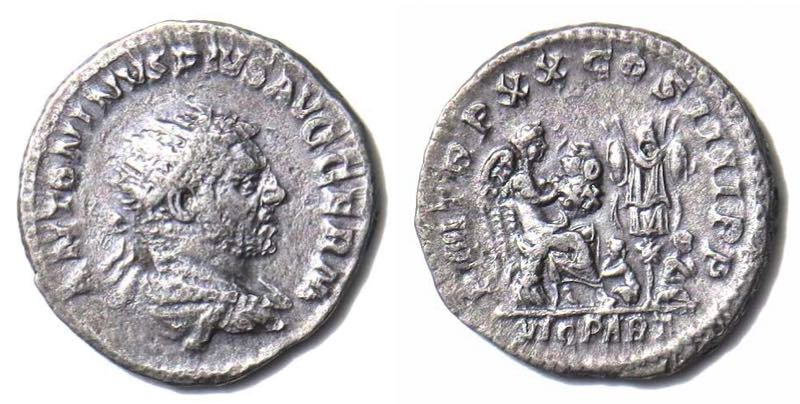 Caracalla
as above, but an antoninianius.
Antoninianus. 22 mm.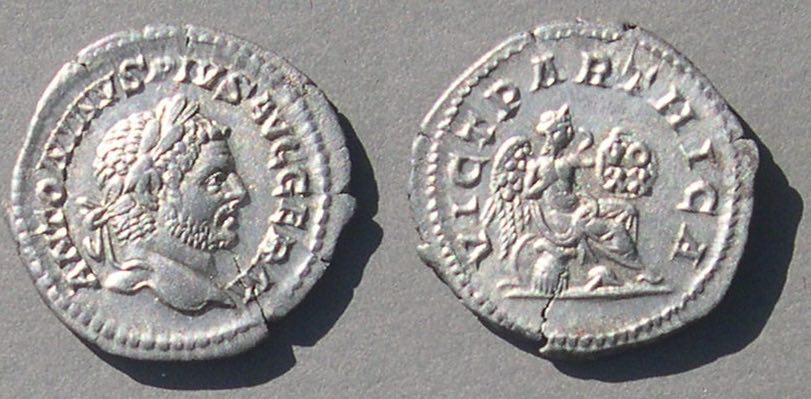 Caracalla
Denarius. 19 mm.
VICT PARTHICA around
Victory seated right holding shield with
VO/XX

Struck 217
RIC 314a
Hill 1603 "R3" (very rare in hoards)
Sear II 6896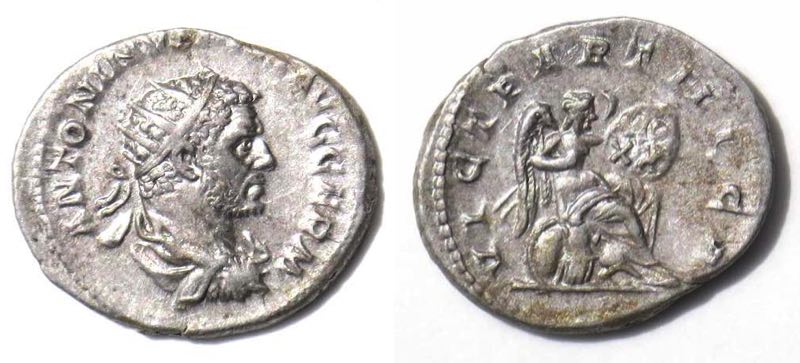 Caracalla
as above, but an antoninianius.
Antoninianus. 23-20 mm.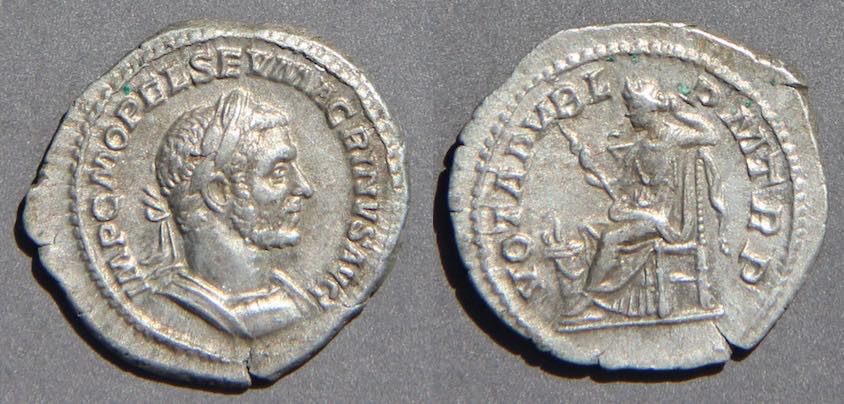 Macrinus, April 11, 217- June 8, 218
Denarius. 21-19 mm.
IMP C M OPEL SEV MACRINVS AVG
VOTA PVBL PM TRP
Securtias seated left holding scepter and supporting her head with left hand. Before her, a lighted altar.
Struck April 11-December 217 at Rome.
"Vota Publica" does not mention ten years.
These were vows taken at the beginning of his reign. The explicit date is "TRP" for his first year.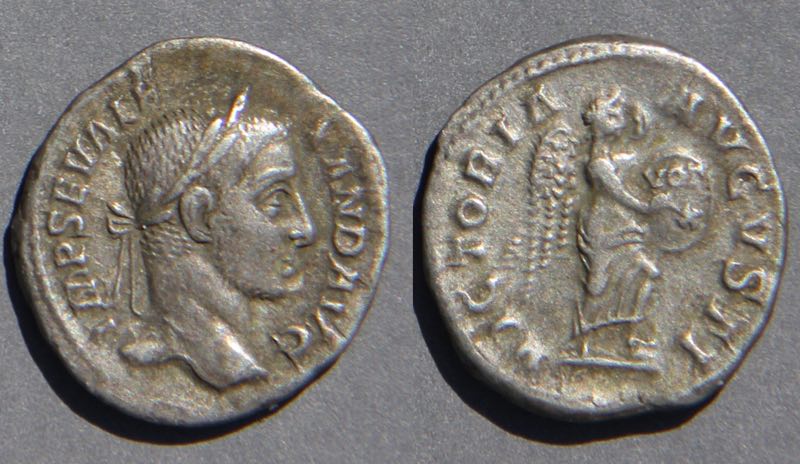 Severus Alexander, 222-235
Stuck 231 at Rome
VICTORIA AVGVSTI
Victory right inscribing shield VOT X
her foot on a helmet
Sear 7932 "230, Rome". RIC 219 "Scarce, 228-231."
BMC 638 "issue 11, AD 230"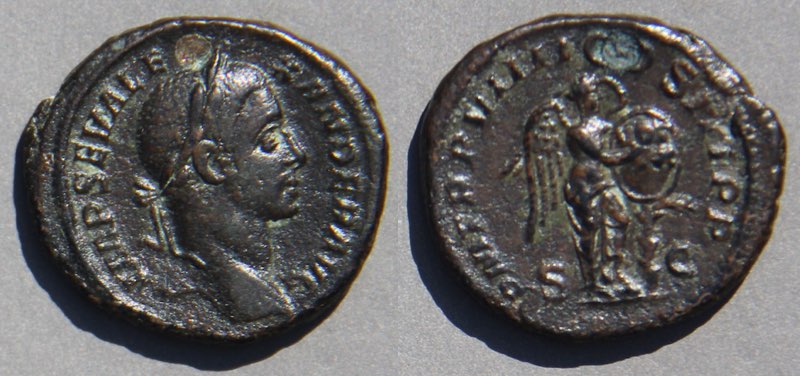 [Repeated from the main page]
Severus Alexander

Vows are sometimes recorded by a single Victory inscribing a shield.
An as of Severus Alexander (222-235). 26-24 mm. (Holed and plugged at 12:00.)
IMP SEV ALEXANDER AVG
PM TRP VIIII COS III PP
Victory inscribing VOT X on a shield.
TRP VIIII shows this coin was struck in regnal year 9, not year 10, but the situation is confused by his having been appointed Caesar in 221, the year before he became Augustus. Maybe the vows mentioned were vows taken when he became Caesar.
More about the Ceremony. A military calendar was uncovered at Dura Europos on the Euphrates river in Mesopotamia which records that January 3 was a holiday for "vows fulfilled and offered for the preservation of our lord Marcus Aurelius Severus Alexander Augustus and for the eternity of the Roman people" with sacrifices and prayers "to Jupiter, best and greatest, an ox; to Juno, a cow; to Minerva, a cow." [Wilken, p. 57]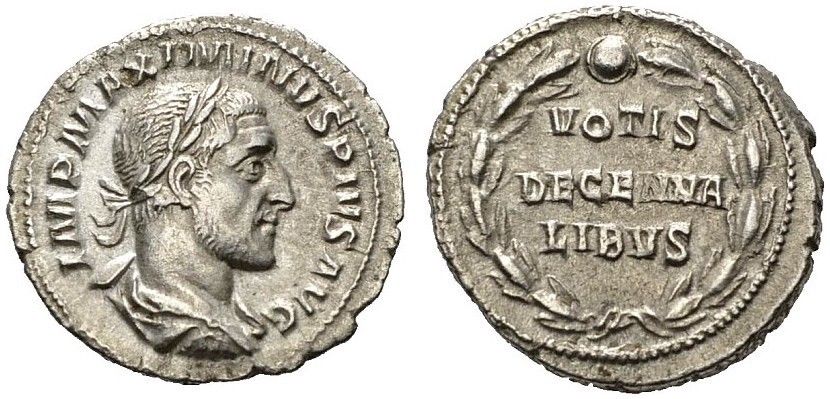 [Repeated from the main page]
IMP MAXIMINVS PIVS AVG
VOTIS/DECENNA/LIBVS (vows for ten years) in a wreath.
20-19 mm. RIC 17 (Rome mint). Sear 8319. BMC 39. Reka Devnia: Among 1721 coins of Maximian only 1 was of this type.
These vows for ten years must be suscepta because he did not last enough for them to be soluta.

This denarius of Maximinus Thrax (235-238), the Giant, was one of his first issues, probably within a few months of becoming emperor. We can date it by its "early" portrait which resembles that of the previous emperor, Severus Alexander. That portrait was soon superseded when Rome learned more about what he actually looked like. (For the dating of this early style, see Maximinus Thrax, the Giant.)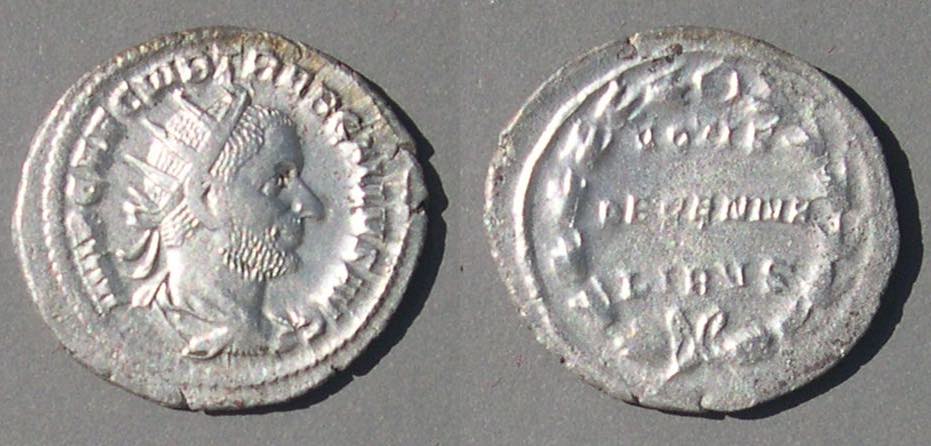 Trebonianus Gallus, 251-253.
24-22 mm.
IMP CAE C VIB TREB GALLVS AVG
VOTIS/DECENNA/LIBIS in wreath

Sear III 9659 "251". RIC 49 "R2" plate 13.14 same reverse die.
Very rare.

Once again we see a 10-year type that must have been issued at the beginning of the reign.
Vota coins with numbered years are rare from the middle of the third century until the first tetrarchy. The next vota coin is not numbered and the coins following it are rare.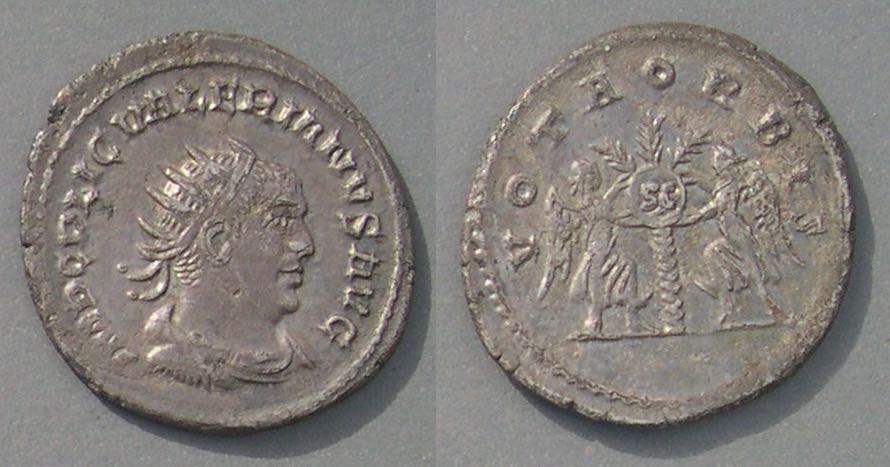 Valerian, 253-260
24-22 mm. 4.02 grams
VOTA ORBIS around
two Victories supporting shield with "SC" on a palm tree
RIC 295 "S, 255-256"
Sear III 9996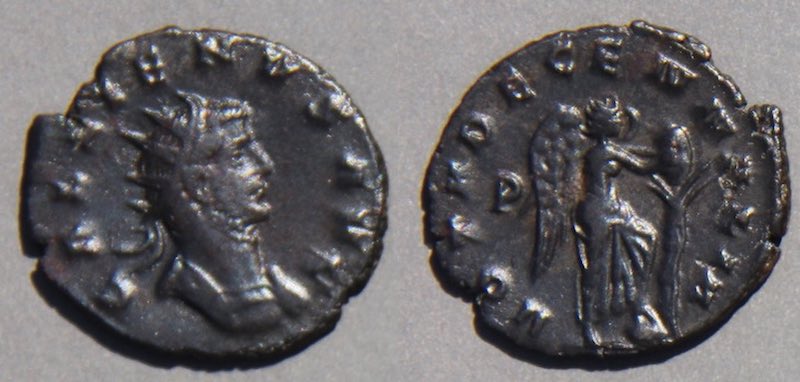 [Repeated from the main page]
Gallienus. 253-268.
22-21 mm. e
GALLIENVS AVG
VOTA DECENNALIA around
Victory inscribing shield on palm tree, P in field left

RIC V.I 540 Struck 262-263 at Mediolanum

Very rare.
Cunetio 1352-4 had 11 examples with this legend, none with the "P", among 14,429 coins of Gallienus and Salonina.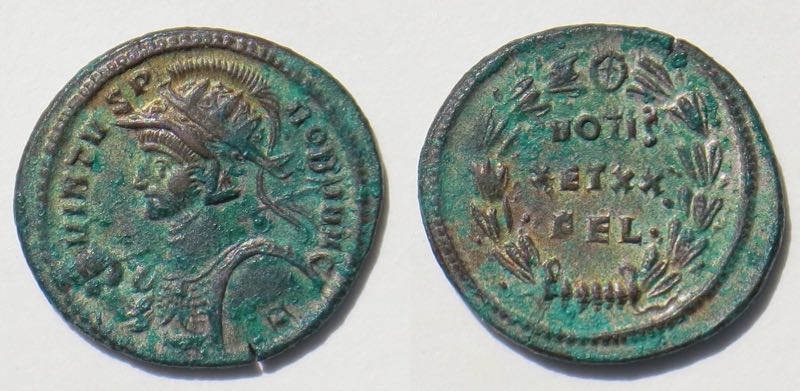 [Repeated from the main page]
Probus, 276-282
22-21 mm. 4.09 grams.
VIRTVS PROBI AVG, helmeted bust left with spear and shield
VOTIS/X ET XX/FEL in wreath

Sear III 12077, "AD 277".
RIC V.II 459 "Ticinum, 277." "R2." Very rare.

---

Return to the main page on vota types.

Leave the pages of vota types and go to the main Table of Contents page for this educational site.
---