Romanus III (1028-1034),
Other late issues attributed by Anokhin to Romanus IV (1067-1071),
and issues of the late 11th and early 12th centuries.
Images.

Romanus III (1028-1034). [24 mm]
E39
24
A449-452
So13.3-4
S1765v2
Romanus I
B934v2
G882
DO--
The top of the delta may vary:
E40
24
A453
So12.5-6
S1764v2
Romanus I
B933v2
G--
DO III,II,
pl.XL 32.b1
E41
24
blank
A--
So--
S1764v3
Romanus I
B--
C--
DO --
Usually attributed as A453 (S1764v2) with
a very weak reverse. Malloy LVI (3/00) lot 898
E42
24
A454
S--
B--
G--
DO--
Sokolova attributes all the

and
monogram pieces as "anonymous XI-XIII century" (p.143 and plates 12-13).
Anokhin cites conclusive hoard evidence to prove that these "rho-omega" types must be XIth century or later. The timing and monogram apparently fit Romanus III. He convinces me they can not be of an earlier Romanus (I or II). However, I see no reason to assume that the next, slightly different, monogram should be attributed to Romanus IV, skipping thirty years and several reigns. I prefer the caution of Sokolova.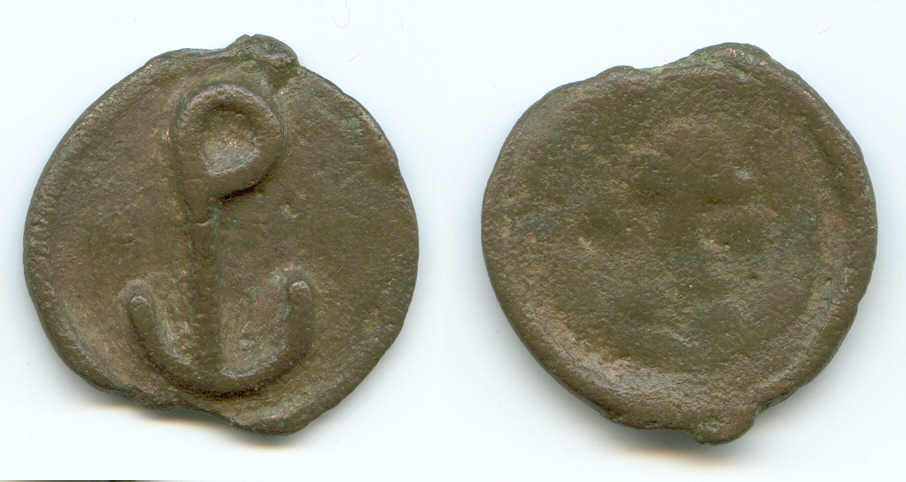 Type E40
25mm. 6:00. 7.96 grams.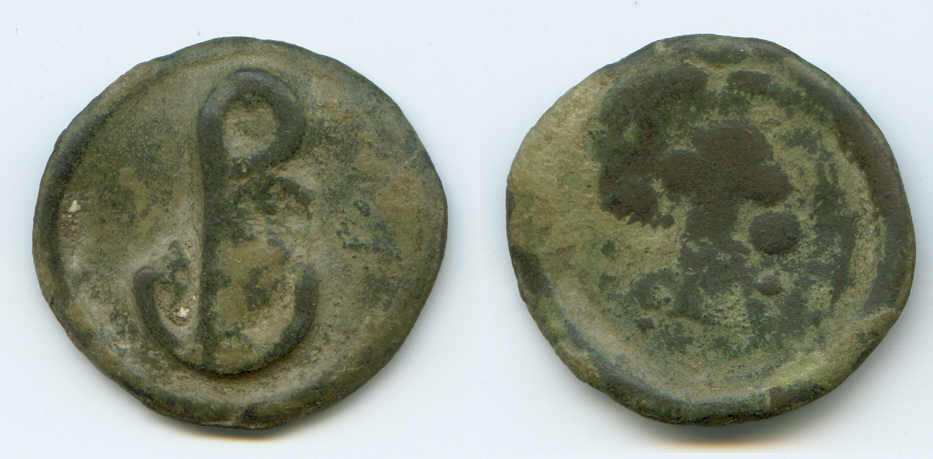 Type E40
25 mm. 6:00.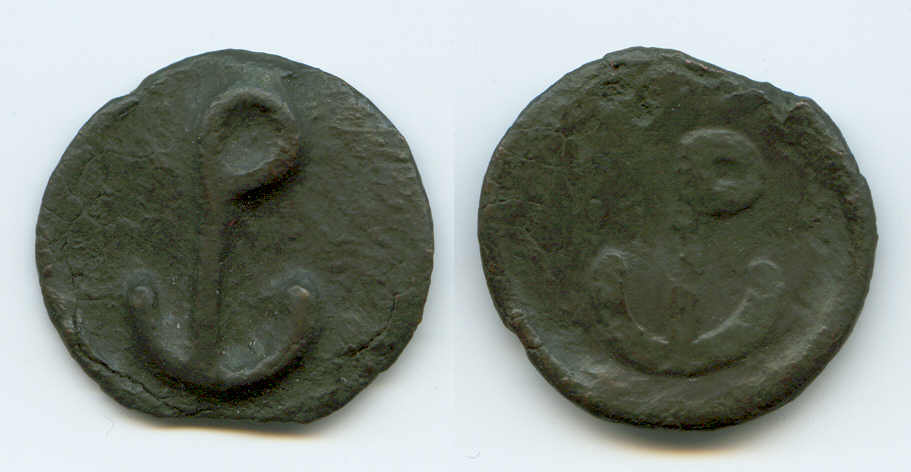 Type E42
25mm. 6:00. 6.20 grams.
Other late issues attributed by Anokhin to Romanus IV (1067-1071). [24 mm]
E43
24
A455
S1765v1
Romanus I
B934v1
G--
DO III,II
34.1-2 pl.XL
E44
24
A456-462
465-467
So12.1-4,7-8
S1764v1
Romanus I
B933v1
LD
G881
32.a1-2
The cross is usually weak. It may be that some pieces said to be "weak" are really blank, as A468-480 below. See E30 for a smaller piece
E45
24
A463-464
S--
B--
G--
DO--
Type E44
27mm. 12:00. xx
Remarkably nice cross


Type E44
26mm. 12:00. 8.09 grams.
Very faint traces of the cross.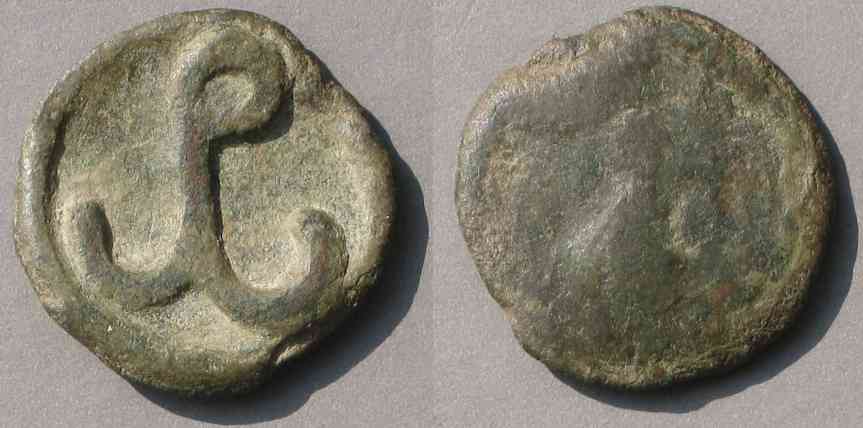 Type E44


25 mm. 7.45 grams
Faint traces of the cross






Issues of the late 11th and early 12th centuries.
[various smaller sizes]
E46
22
blank
A468-474
476-480
So12.10,13.1-2
S1764v3
Romanus I
B933v2
G---
DO III,II
XL: 33.2
A476-480 have somewhat reduced size. This type is usually attributed as A456-467 with a very weak reverse.
E47
20
other,
X
A475
So11.9
S--
B--
G--
DO--
Type 46
21 mm. No axis (imaged at 12:00), 3.25 grams.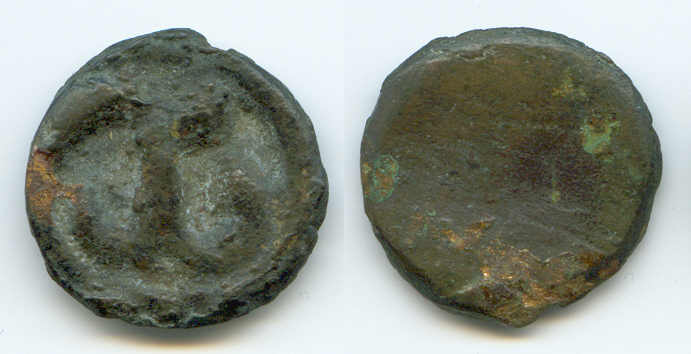 Type 46
19mm. No axis, scanned at 6:00. 3.36 grams.

---
This is the last page of images.
Return to the images from the previous page, Basil II (976-1025) and Constantine VIII (976-1028).
Return to the main page on coins of Byzantine Cherson.