Basil II (976-1025) and Constantine VIII (976-1028)
Images. [17 or 22 mm]
E37
17
A441-444
So10.6-7
S1814
LD
B947
G890
DO III,II, pl. XLVII
21a, 21b.1-2
A443: retrograde obverse
DO 21.b retrograde rev.
E38
22
A445-448
So7.10-11
S1717
Basil I
B910
G869
DO III,II Basil I
19.1 pl. XXXIII
large, AE23
So. Basil II
Sear does not attribute any coins to Cherson after Basil II, S1814.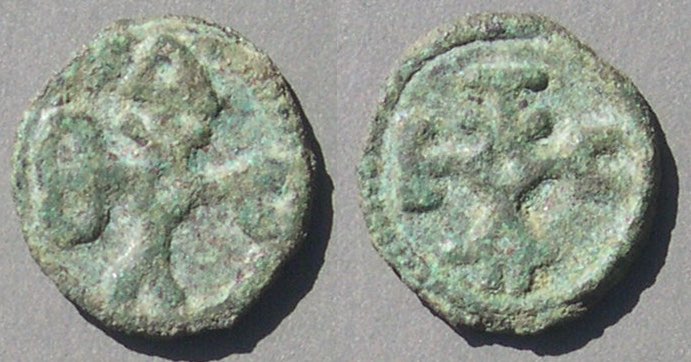 Type E37
18 mm. 12:00. 2.86 grams.
Anokhin 441-2
Sear 1814 (this one not retrograde)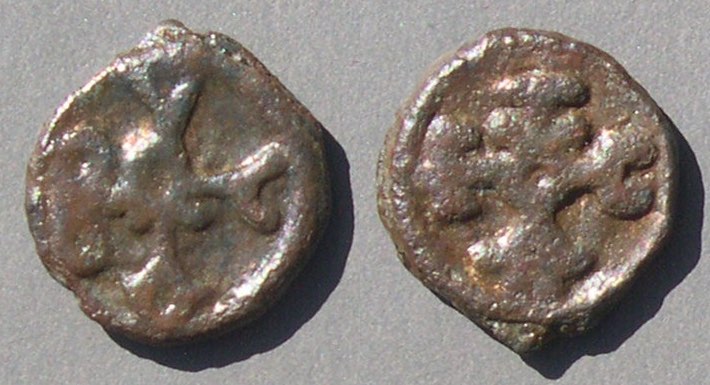 Type E37
Retrograde
obverse.
18mm. 12:00. 31.2 grams.
Anokhin 443 (retrograde variant of 441)
Sear 1814 "sometimes retrograde"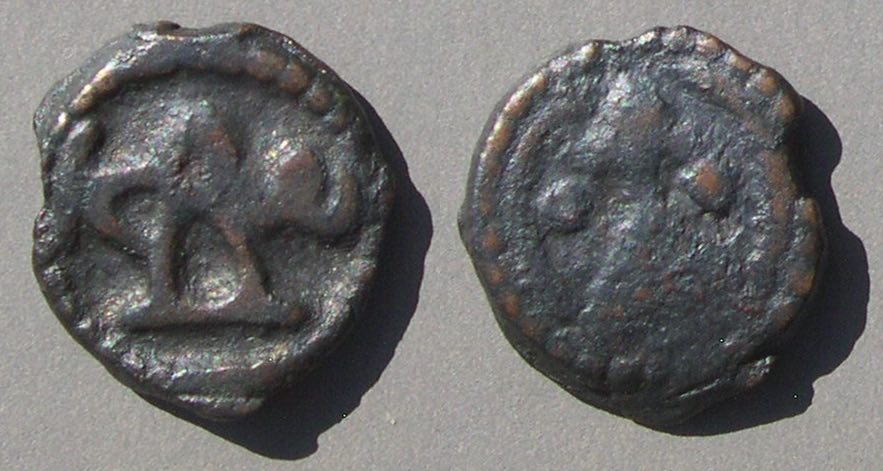 Type E38
Basil II
21mm. 12:00. 6.74 grams.
Anokhin 445-448
Sear 1717, attributed to Basil I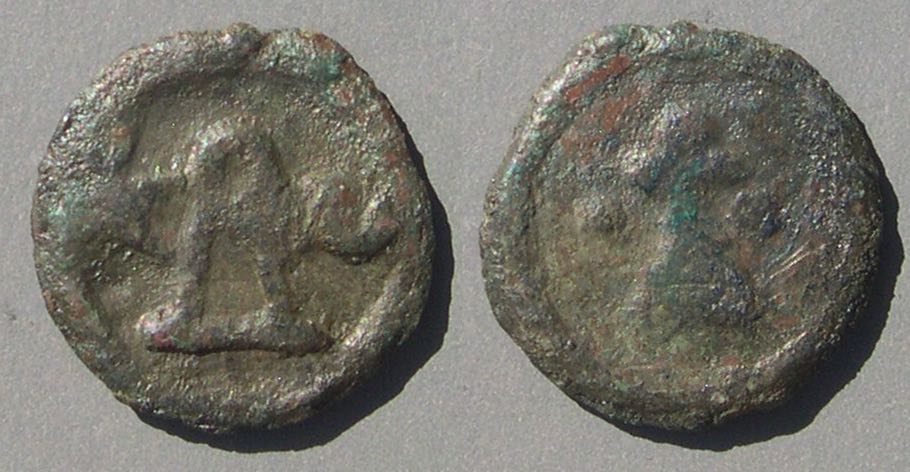 Type E38
Basil II
22mm. 12:00. 5.82 grams.
Anokhin 445-448
Sear 1717, attributed to Basil I
---

The next coin was not minted at Cherson, but to the east on the Taman peninusla, across the straits to the Sea of Azov from Kerch/Pantikipaion. This is one of the first Russian coins.




Tmutarakan Princedom on the Taman peninsula in Russia (just east of Ukraine), one of only three "Rus" regions (Kiev, Novgorod, and these guys) to issue coins before the Mongols took over. Very rare.
Base AR20-19. 1.22 grams. 10:30. Thin. Typical weight for these.
Imitation miliaresion with prototype one of Basil II and Constantine VIII (976-1025). Probably minted under Price Mstislav Vladimirovic until 1024. The reverse letters of the prototype have been reproduced as square dots.
There are few references to these. One is "Golonko 8" from "Die Tamaner Gruppe der Nachahmungen Byzantinische Miliarensia" in Dona Numismatica, 1965.
---
Continue with the images from the next page, Romanus III (1028-1034).
Return to the images from the previous page, Romanus II (959-963), Nicephorus II (963-969), and John (969-976).

Return to the main page on coins of Byzantine Cherson.