DIVVS AVGVSTVS Roman coin types.

Augustus, the founder of the Roman empire, was deified upon his death in AD 14 and honored by his successors with "DIVVS" types. Here are a few in chronological order.

What's new? 2022, April 12: Tiberius sestertius.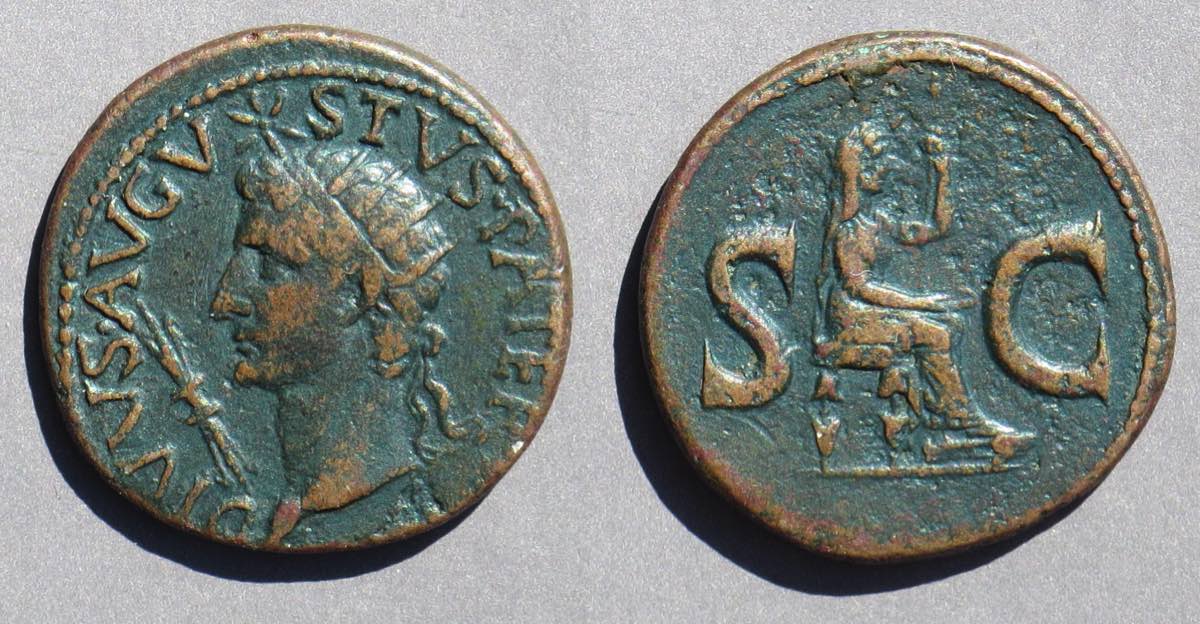 As. 27 mm. 10.97 grams.
Struck c. AD 15-16 under his immediate successor, Tiberius.
DIVVS AVGVSTVS PATER (PATER = father)
Radiate head of Augustus left, thunderbolt in left field, six-pointed star above head.
Large S C either side of draped female figure seated right
feet on stool, holding patera and long scepter.

RIC Tiberius 72, page 99.

As. 28 mm. 9.95 grams.
Struck c. 22/23 - 30 under Tiberius.
DIVVS AVGVSTVS PATER
Radiate head of Augustus left
Altar enclosure with double-paneled door,
large "S C" on either side.
PROVIDENT below.
Lovely red patina.

RIC page 99, 81 under Tiberius.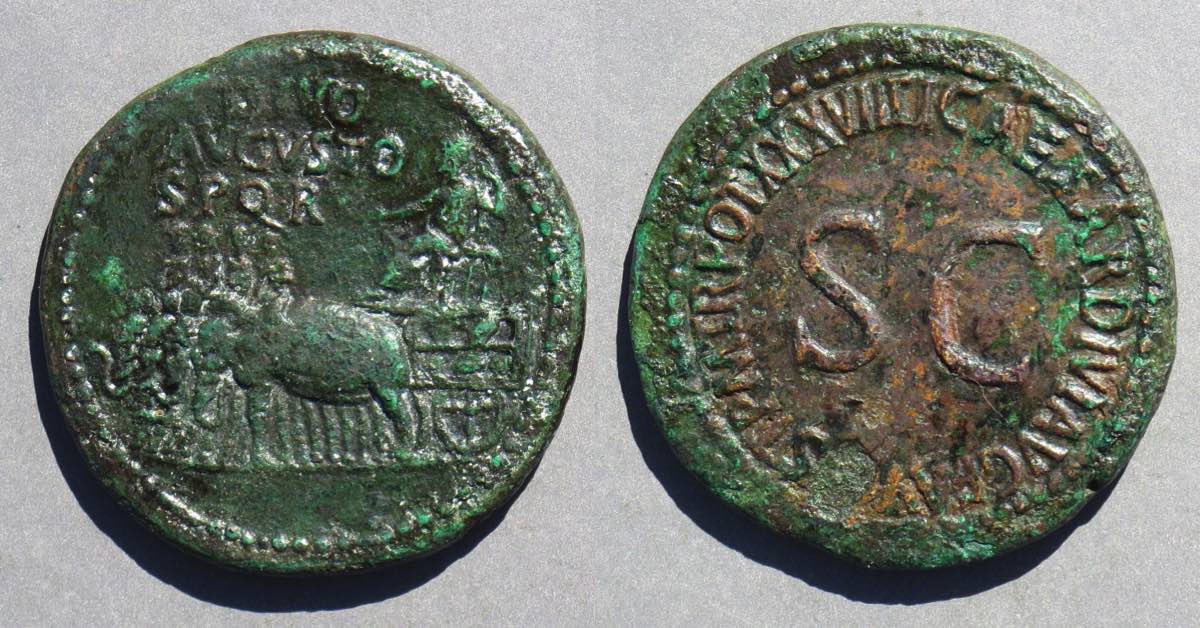 Sestertius. 35 mm. 26.00 grams.
AD 35-36. Struck under Tiberius.
DIVO AVGVSTO SPQR in three lines
above quadriga of elephants, each with its own mahout,
pulling ornate cart with Augustus seated on throne.
[Starting from 12:00] TI CAESAR DIVI AVG F AVGVST PM TRPOT XXXVII
around large S C."DIVI AVG F" means "son of the divine Augustus."

RIC I 62. Sear I 1784.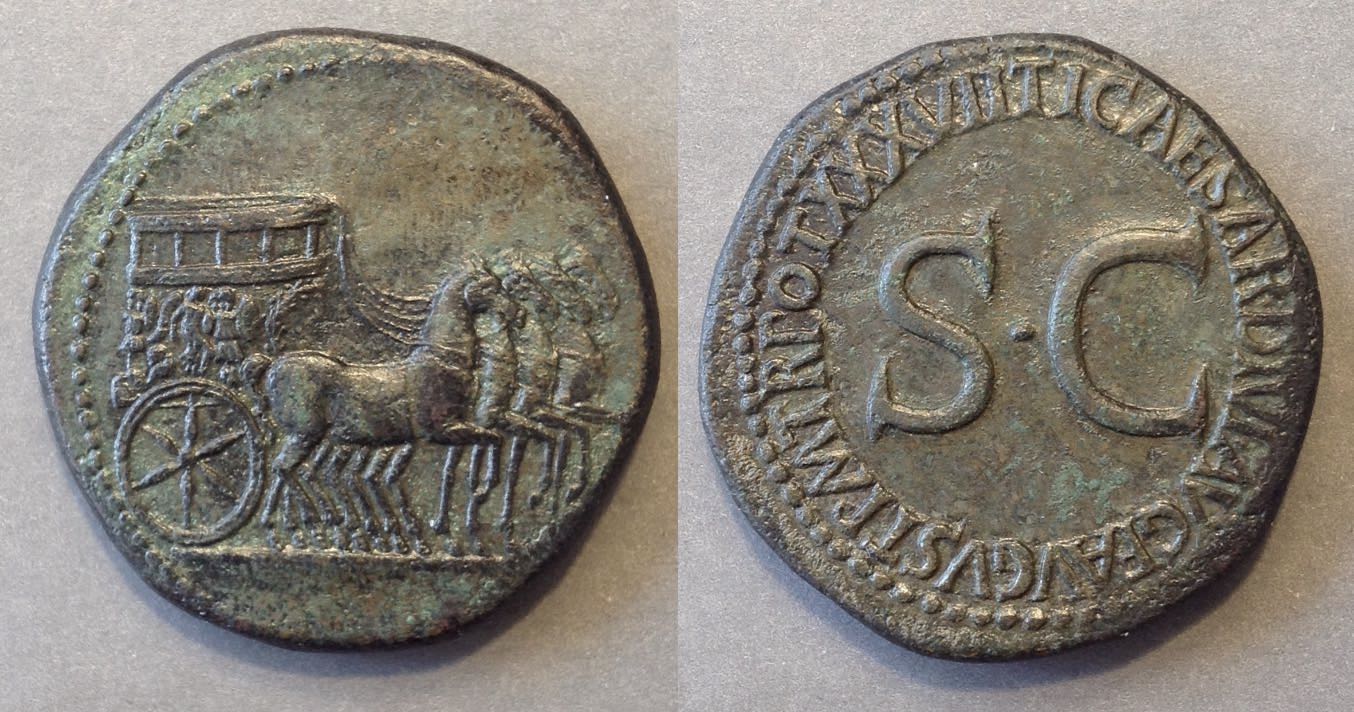 Sestertius. 34-33 mm. 26.10 grams.
AD 35-36. Struck under Tiberius.
Empty quadriga right.
[Reverse legend beginning at 12:00]
TI CAESAR DIVI AVG F AVGVST PM TR POT XXXVII
around large S C.
Struck for the twentieth anniversary of the death of Augustus (hence the empty quadriga).
Dated by the "TR POT XXXVII".
RIC
I Tiberius 60, page 98, "R".
BMC
113 page 136, plate 24.13.
Sear II 1765,
this coin
.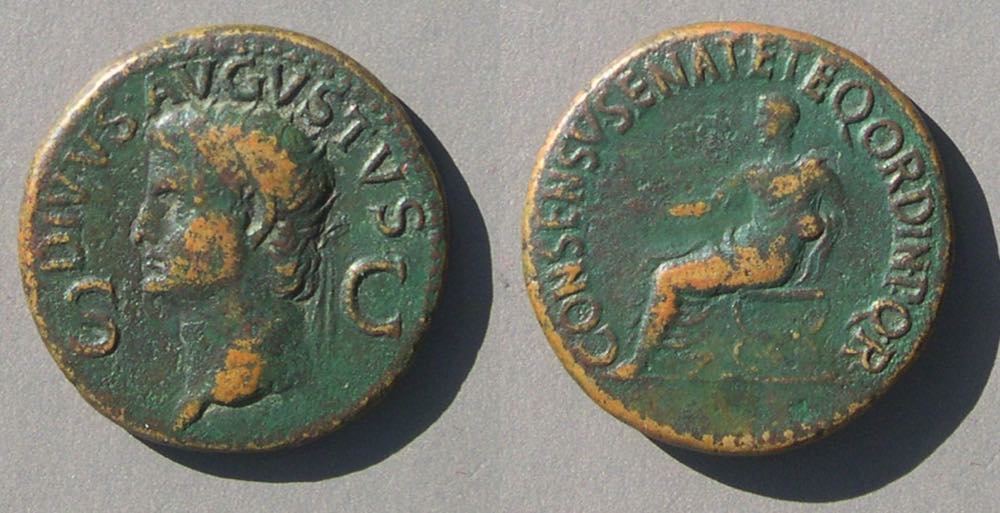 Dupondius. 29 mm. Struck under Gaius (Caligula),
March 17 - July 1, 37 [Szaivert]
DIVVS AVGVSTVS
Dupondius
His radiate head left
CONSENSV SENAT ET EQ ORDIN PQR
(Consensv Senatus et Equitum Ordinis Populi Que Romani)
Augustus (It is probably Augustus, but some have suggested the figure is Caligula) togate, seated left on curule chair, left arm extended holding branch (branch very weak on this example).
It is interesting that the usual "SPQR" has been expanded to mention the Equitum Ordinis separately after the Senate.
RIC (Gaius) 56, undated.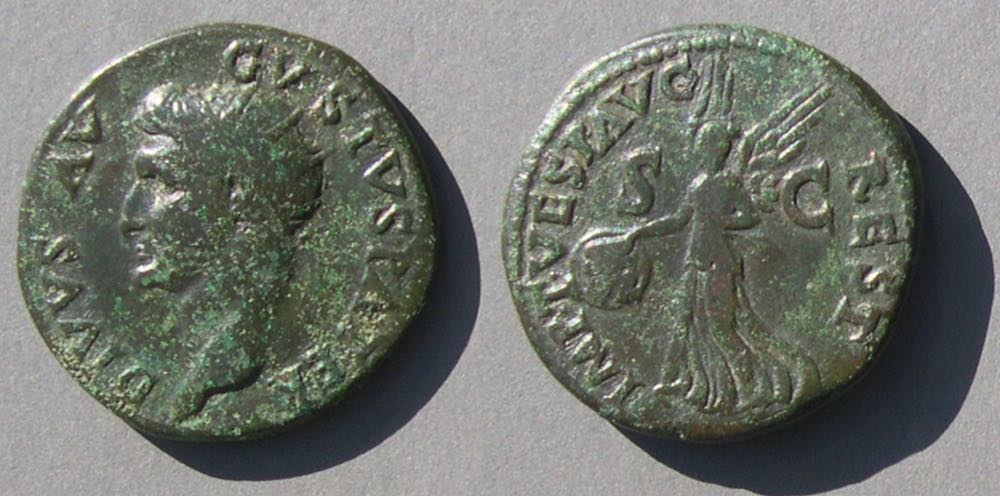 Dupondius, 27 mm. 12.36 grams.
Struck under Titus.
A "restoration" issue, restoring a type (
RIC
Tiberius 77) struck by Tiberius c. 22-23 (without the reverse legend of this coin, of course.)
DIVVS AVGVSTVS PATER
Radiate head of Augustus left
IMP T VESP AVG REST (explicitly stating this is a restoration)
Victory advancing left with shield inscribed SP/QR [weak on this example] and S C high in either field.
RIC
II.1 Titus 446 dated "80-81".
The next type honors Augustus more than two centuries after his death.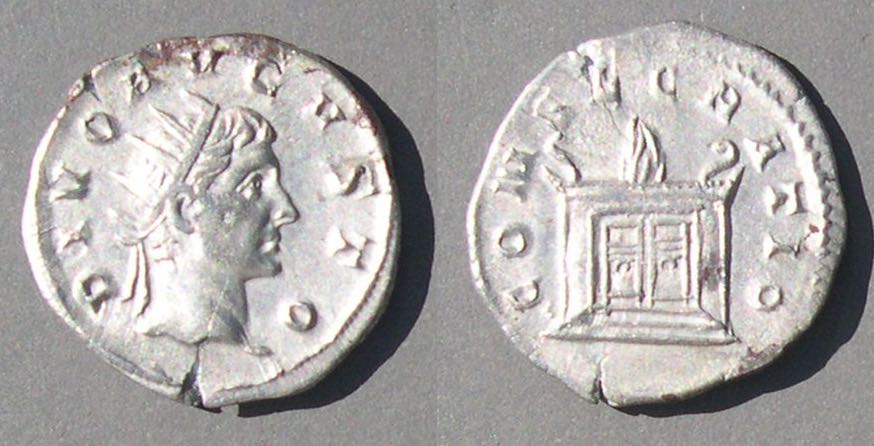 Antoninianus. 22 mm. 3.57 grams.
Struck in the period of Trajan Decius, c. 253.
DIVO AVGVSTO
Radiate head of Augustus right
CONSECRATIO around large flaming altar
with double doors much like the PROVIDENT coin above.

RIC (Decius) 78. Foss 15a.
This "CONSECRATIO" series has DIVO coins of eleven emperors from Augustus to Severus Alexander. Each comes in two types, this type with an altar and another with an eagle standing with wings half spread and the same legend.
There are many more DIVVS types for Augustus that are not illustrated here.
---