What was Volusian's name?

Volusian was Augustus under his father, the Roman emperor Trebonianus Gallus, 251-253 AD.
We call him "Volusian" or "Volusianus," but his full name was longer than that. Coins from the Rome mint tell us more.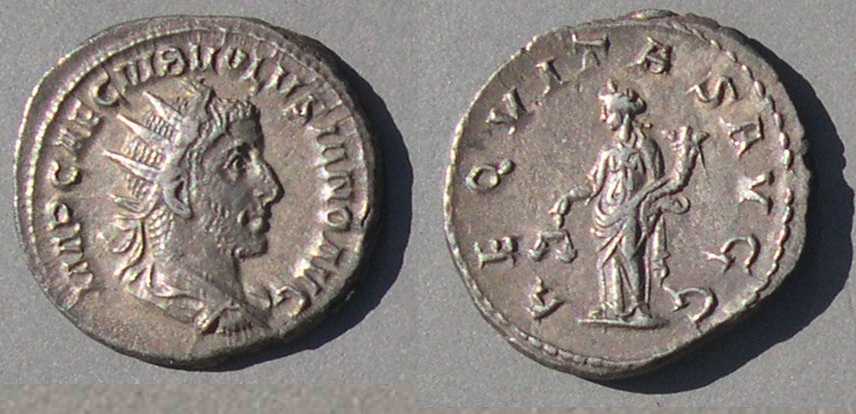 22 mm. 4.26 grams. 6:30 die axis.
RIC 166, page 178
Sear 9739

IMP CAE C VIB VOLUSIANO AVG
which tells us his name included "C. Vibius Volusianus".
"Vibius" is fully spelled out on some coins of Trebonianus Gallus, his father. ("C" is the Roman abbreviation for "Caius".)

Reverse: AEQVITAS AVGG, Aequitus (fair-dealing) standing left, holding scales and cornucopiae

But, that's not all. This next coin from the Antioch mint is more complex: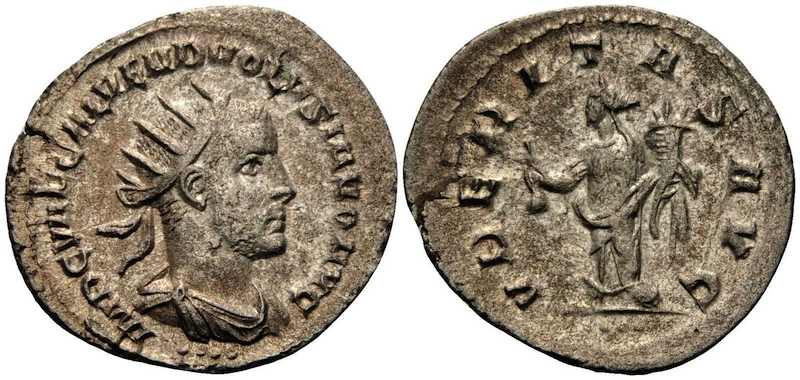 23-22 mm. 4.05 grams. 6;00 die axis.
RIC 237b, page 186 (under Treboninianus Gallus)
Sear 9772



IMP C V AF GAL VEND VOLUSIANO AVG
which RIC IV [page 158 in part 3] thinks might abbreviate
C. Vibius Af[inius] Gal[lus] Vend[umanianus] Volusianvs

I suppose the name "Vendumanianus" is attested elsewhere (It is not the expansion of VEND that leaps to mind!)

Four dots below the bust and reverse figure = officina 4.
VBERITAS AVG, Uberitas (Fertility) standing left, holding purse and cornucopia.

Note for collectors: The Rome varieties with the first legend above are common. This legend from Antioch is unusual. Nevertheless, Sear (Roman Coins and their Values, volume 3) does not list it as more valuable, although all types from Antioch are much rarer than types from Rome.

---
Return to the main Table of Contents page.