What was Hostilian's name?
Trajan Decius and Herennia Etruscilla had two sons pictured on Roman coins, Herennius Etruscus and Hostilian. Hostilian was on coins as Caesar from late 250 to June or July 251 when his brother and father were killed in battle against the Goths in the Balkans. The army proclaimed Trebonianus Gallus the new emperor after the battle and, surprisingly, he raised Hostilian to co-Augustus (instead of having him killed, as new emperors sometimes did). Hostilian was on coins as Augustus in 251, but after a few months he died of the plague in Rome.
The coins give his name in abbreviated form.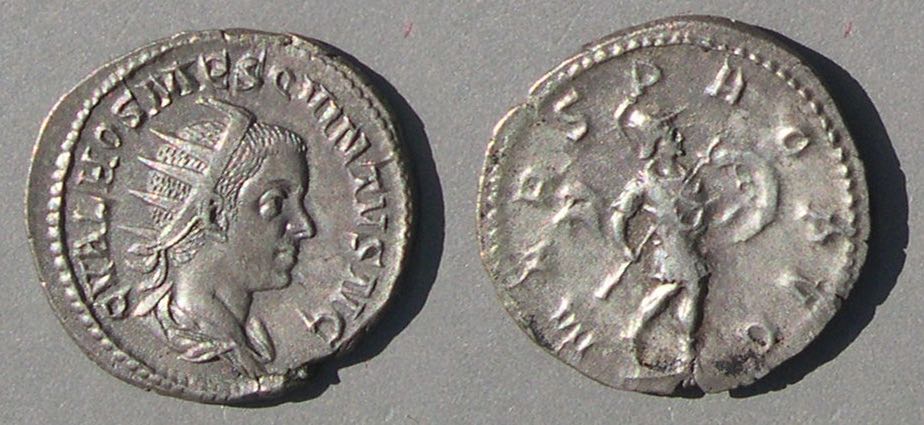 22 mm. 4.19 grams. Rome mint.
C VAL HOS MES QVINTVS N C
Gaius Valens Hostilianus Messius Quintus Noble Caesar

It is easy to see that the longer version might be abbreviated to the shorter version on the coin, but it not so obvious that, if we only knew, the shorter version, it should be expanded to the longer. Do other coins help with the expansion?

MARS PROPVG
RIC 175a. Sear III 9555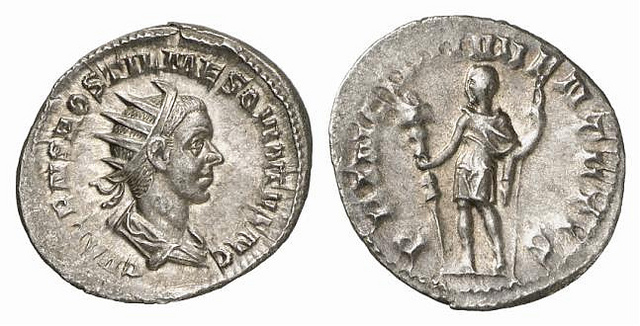 23-20 mm. 3.24 grams. Rome mint.
C VALENS HOSTIL MES QVINTVS N C
This coin crams in more letters and gives us the full "Valens" and more of "Hostilian".

QVINTVS = fifth, usually means the fifth son. See the end of this page for the explanation.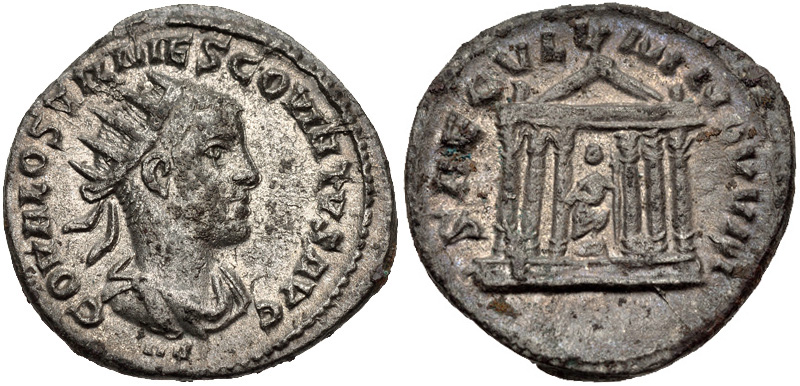 21 mm. 3.83 grams. Antioch mint.
C OVAL OSTIL MES COVINTVS AVG
This coin, struck at Antioch, has spelling influenced by Greek.
OVAL for VAL ("OV" is common in Greek for "V" in Latin)
OSTIL omits our "H" in Hostilian.
COVINTVS for QVINTVS
Look at the initial letter, "C". Does it look like a G?
RIC 199. Sear III 9566.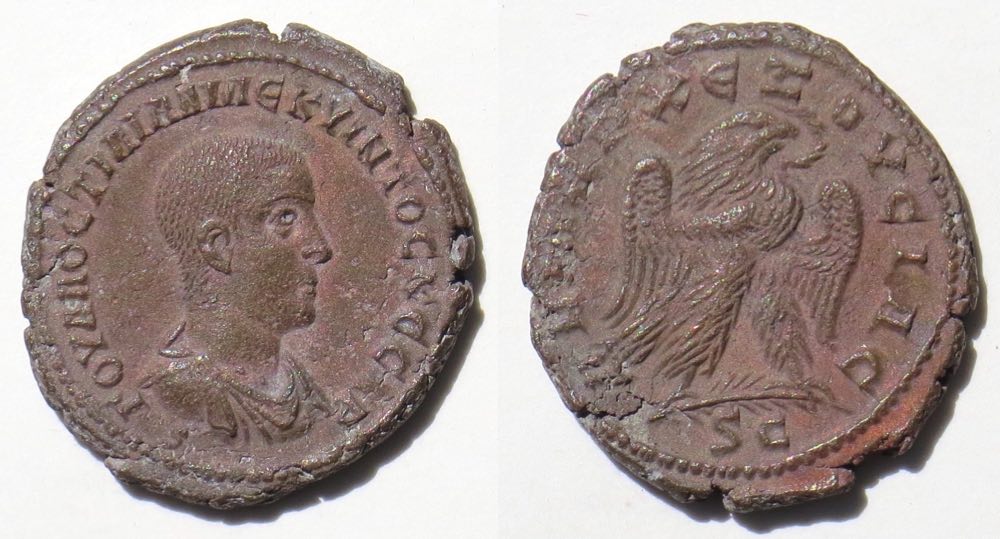 Silver tetradrachm. Antioch mint. 27 mm. 11.37 grams.
Γ OYAΛ OCTIΛIAN ME KVINTOC KECAP
Gaius Valens Hostilianus Messius Quintus Caesar
This coin has the Greek G for Gaius. Imperial coins often have "C" as the shape where we might expect a "G", but this legend in Greek makes it clear a G was intended.
OCTIΛIAN is closer to Hostilian than the other legends.
ME is shorter for Messius
KVINTOC is Quintus
KECAR has a lunate sigma for S in Caesar.
Prier 651 at Antioch.




His name was Gaius Valens Hostilianus Messius Quintus. The naming convention is not what modern readers might expect for a son of Trajan Decius and Herennia Etruscilla. However, Trajan Decius was originally Gaius Messius Quintus Decius, without "Trajan." It was after he became emperor that the senate gave him the illustrious name "Trajan." The "Messius Quintus" part of Hostilian's name is from the family. We can see some of it on this coin of Decius.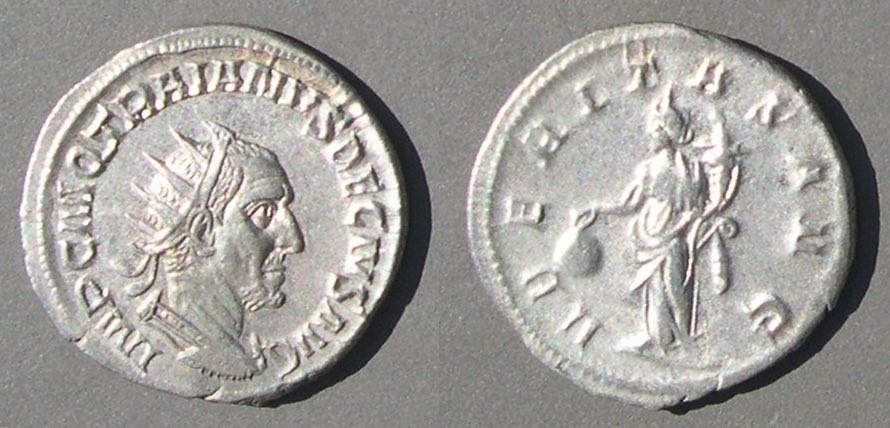 22 mm.
IMP C M Q TRAIANVS DECIVS AVG
The "M Q" part is for Messius Quintus, although we would not know that without other sources.

VBERITAS AVG, Uberitas standing left, holding purse and cornucopia.

RIC 29. Sear III 9384.

The next coin of Decius spells out a little more.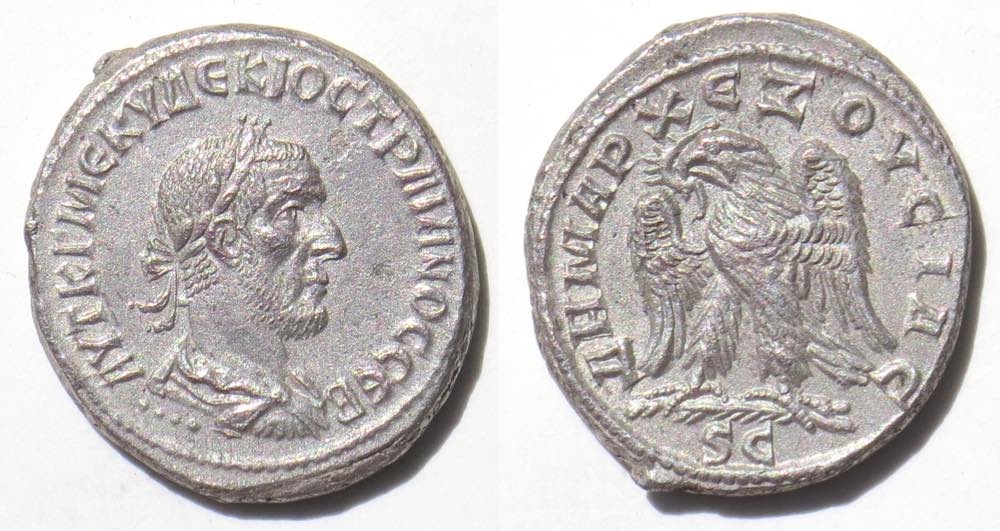 Tetradrachm of Antioch. 27-25 mm. 12.64 grams.

AVT K Γ ME KY ΔEKIOC TPAIANOC CEB
Autokrator Kaiser Gaius Messius Qunitus Decius Trajanus Sebastos
(Four dots below the bust indicate the fourth officina [workshop of the mint].)
ΔHMAPXE ΞOYCIAC, eagle standing left on branch, wreath in beak, SC below.
Prier 542. Sear Greek Imperial 4209v.
---
Sear, David. Roman Coins and Their Values III. HC 2005.
Prier, Michael and Karin.
The Syro-Phoenician Tetradrachms and their Fractions
. HC. 2000
---
Go to
the main Table of Contents
of this whole site.