Ancient imitations of Roman coins of
Caracalla (Caesar AD 196-198, Augustus AD 198 - 217) and his wife Plautilla
Return to the main index page on Severan imitations.
Return to the main page on ancient Roman imitations.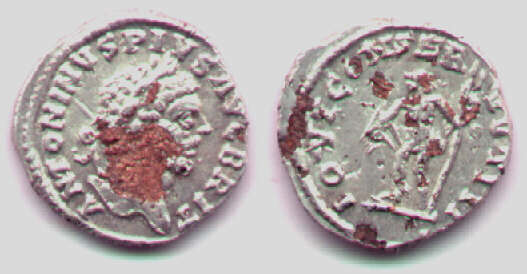 19 mm. 5:30. 3.50 grams

bold strike hybrid
ANTONINVS PIVS AVG BRIT
/IOVI CONSERVAT, crude Jupiter standing left holding (crooked) thunderbolt and long sceptre
RIC does not have this reverse for Caracalla or Septimius Severus. The reverse exists for Macrinus (AD 217-218). Elagabal has this reverse legend, but always has standards. Severus Alexander BMC 57 (of AD 222) is quite similar and is the probable prototype. The "BRIT" termination is attributed to AD 210-213.

20 mm. 6:30. 3.01 grams.

ANTONINVS PIVS AVG
/LIBERALITAS AVG VIII, Liberalitas standing with counter and cornucopiae
Prototype: RIC 219, p. 243 "AD 210-3"
BMC 79 (no photo)
BMC page 444, dagger (which means it is not in the BM) cites a Paris specimen as an ancient forgery. Ther reverse type is known for Elagabalus (BMC 111, page 547, plate 87.7)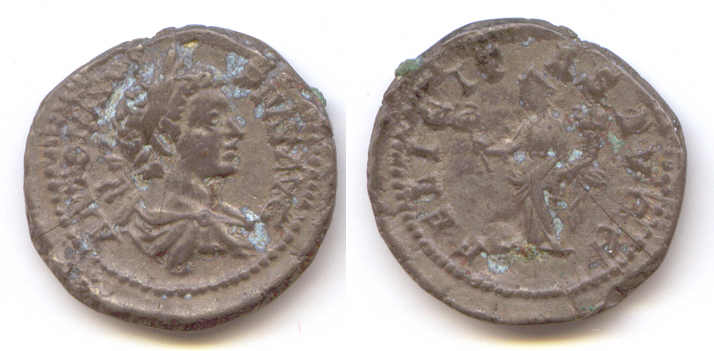 19mm. 11:30. 3.57 grams.
Cast in gray metal. Metal has flowed between some of the letters.
ANTONINVS PIVS AVG, laureate, draped, cuir. bust right
FELICITAS AVGG, Felicaitas standing left holding cadeuceus and cornucopiae
Sear 1916 var. RIC 127, page 231, "AD 201-206". Hill 734 (AD 205)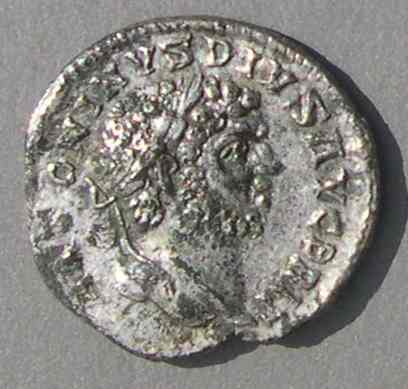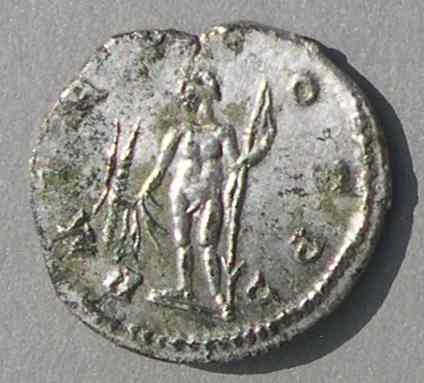 19 mm. 2.29 grams. 5:30.
Vigorous mean portrait.
ANTONINVS DIVS AVG BRIT
/PM TRP COS P<C>
Jupiter standing left, holding thunderbolt and reversed spear (thunderbolt not well connected to his hand)
This reerse type is not in RIC IV part I at all except as a footnote on page 255 to Caracalla 285 with this obverse legend and reverse legend PM TRP XX COS IIII PP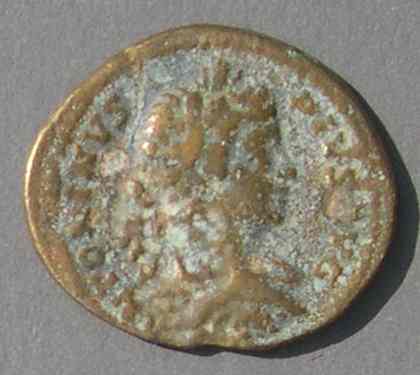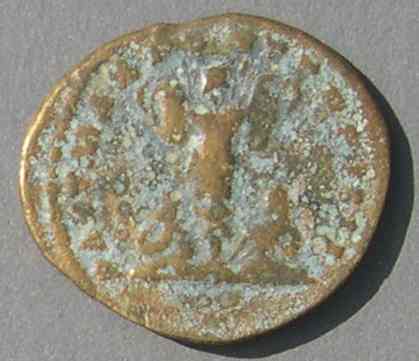 AE20-17. 2.18 grams. 6:30.
Fourree core with no silvering remaining.
ANTONINVS PIVS AVG
/PART MAX PONT TRP VIII
Trophy and two captives.
Prototype RIC 54a, of 201 AD. BMC 264, plate 33.10, of 201 AD.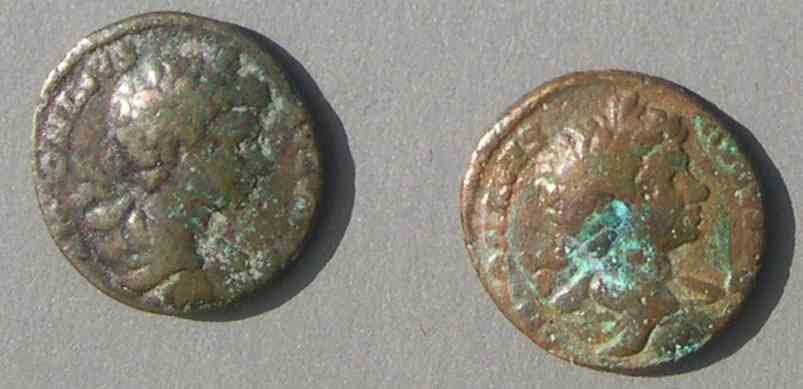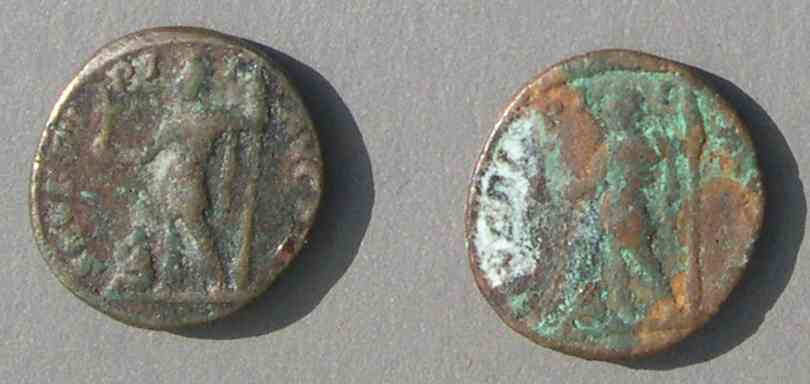 A pair of cast Caracalla imitations from the same seed coin, acquired from different sources six years apart!
Both 16 mm. 2.37 and 2.24 grams.
ANTONINVS AVGVSTVS
/SEVERII PII AVG FIL
The prototype is RIC 45.
cf. Boon #45 in the 1974 article.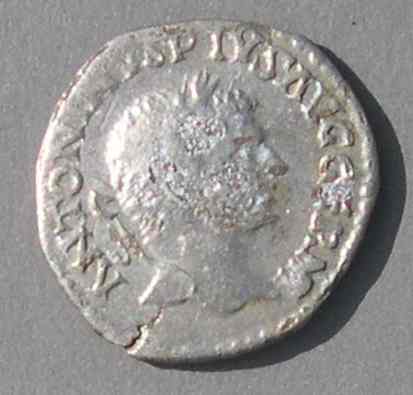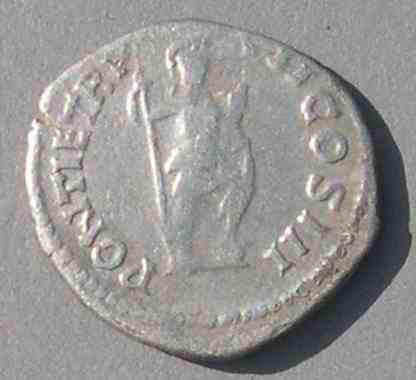 AR18-17. 2.70 grams. 6:30.

This piece is hard to understand. It looks unofficial, but nearly full silver for the period. How can that be? I don't know. I doubt it is modern, but I don't rule that possibility out entirely.
ANTONINVS PIVS AVG GERM
/PONTIE[sic] TRP XIII COS III [the "F" in "PONTIF" is clearly an "E".]
Mars standing right with reversed spear and parazonium.
Hybrid prototypes of 210/213.
BMC (S,C,&G) 32, plate 53.19 for obverse. TPR date is 210. "GERM" begins in 213.


Imitation antoniniani (radiates).
The new radiate denomination was first issued in 215 AD. It was immediately counterfeited. Here are some examples.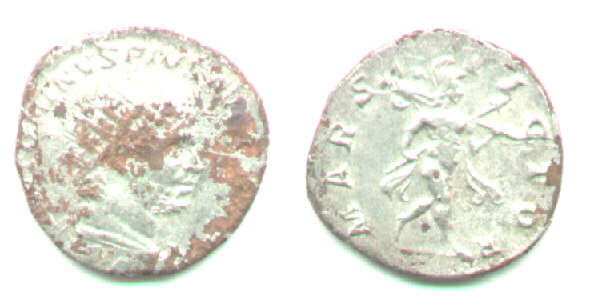 21 mm. 6:00. 3.58 grams.

A hybid of a Caracalla obverse of 2-5-217 with an Elagabal reverse.
ANTONINVS PIVS [AVG GERM]
/MARS VICTOR, Mars advancing right with spear and trophy over shoulder
Sear--. RIC 306 page 258 (is probably the Paris specimen identified as false in BMC).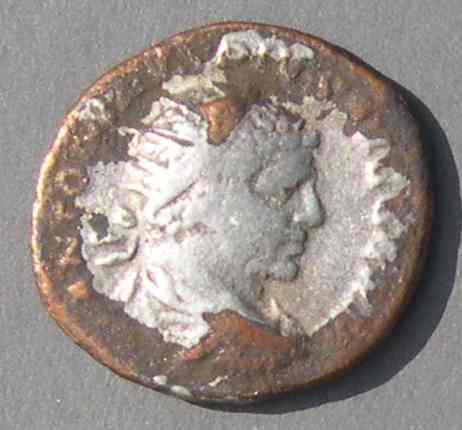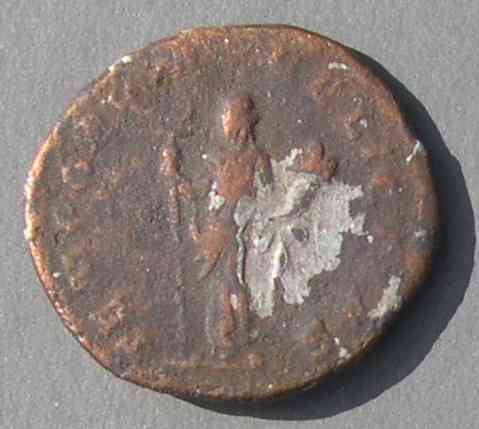 21 mm. 4.17 grams. 6:00.
ANTONINVS PIVS AVG GERM
/TEMPORVM FELICITAS
Felicitas standing left with caduceus and cornucopiae.
Prototype obverse of 215-217 AD, reverse of Macrinus or Elagabal, 217-219 AD.


Plautilla (married Caracalla AD 202, banished 205, died 211)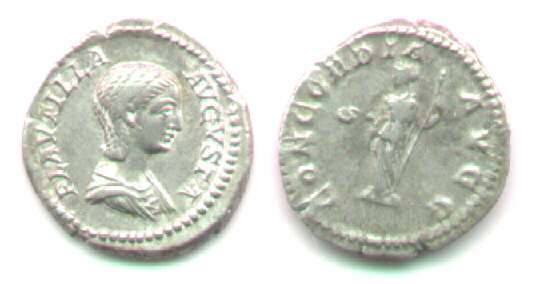 Imitations: 18 mm. 12:00. 1.74 grams (very light) Genuine prototype: AR19-18. 12:00. 3.20 grams.
An imitations with perfect official style. Is this cast from a genuine coin? Did it ever have deceptive silvering?
PLAVTILLA AVGVSTA
/CONCORDIA AVGG, Concordia left, holding patera and sceptre
Sear 1895. BMC (S&C) 411, page 236, plate 38.4 (3.33 grams) "second issue, 202-205"
Hill 583 "AD 202", Caracalla's marriage issue.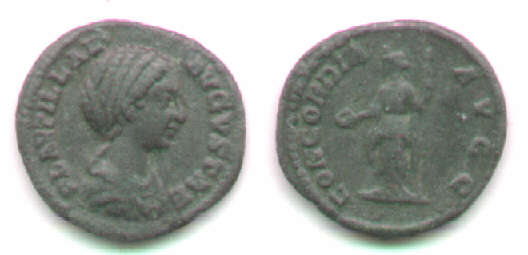 AE18. 12:00. 2.39 grams.

Another similar example, with a different portrait. Neither side is die-identical to the previous coin. There is no sign of an edge casting seam.
Same prototype.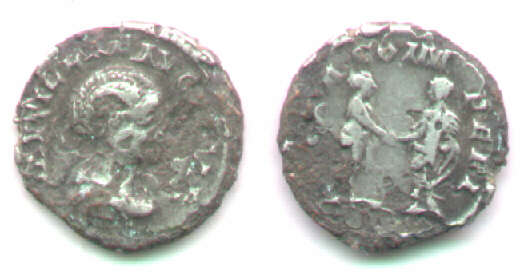 18 mm. 12:00

Thickly plated, with serious breaks in the plating.
PLAVTILLAE AVGVSTAE
/PROPAGO IMPERI, Plautilla clasping hands with Caracalla
Prototype: Sear 2002. RIC (Caracalla) 362 "S" p. 369. Hill 575B, "C, AD 202"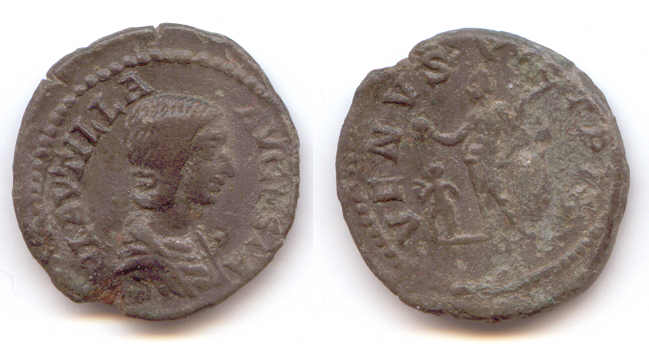 19mm. 6:00. 2.64 grams.
Base metal.
PLAVTILLA AVGVSTA
VENVS VICTRIX, Venus, bare to waist, holds apple, cupid at feet, lelf arm resting on shield.
Prototype: RIC 369, page 270, plate 13.14. Issue 2, Rome. Hill 661 (AD 204).

---
Continue with the next page of Severan imitations -- those of Macrinus and his son Diadumenian.


Return to the main index page on Severan imitations.


Return to the main page on ancient Roman imitations.