Imitations of the "two Victories" type of Constantine (c. 318 - 320)

Here are two "Two Victories" prototypes: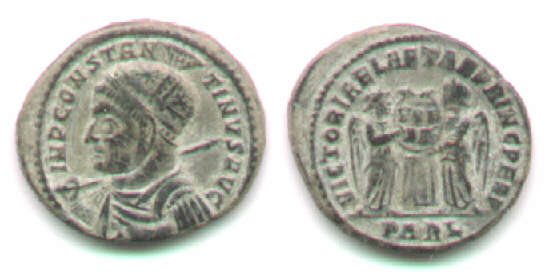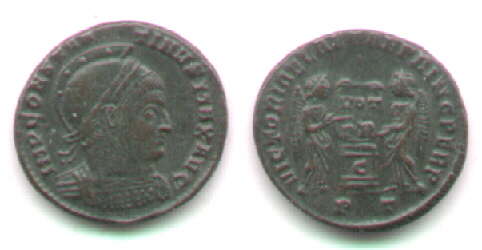 Reverse: Two Victories holding a shield inscribed VOT/PR over an altar, VICTORIAE LAETAE PRINC PERP around.
The first example is from Arles (Arelate), RIC 192, struck 319. 19mm. 6:00. 3.16 grams.
The second example is from Ticinum, RIC 90, of AD 319, 16 mm, 6:00, and 2.83 grams.
Prototype obverses have with busts with and without helmets, and with right-facing and left-facing busts.
This page has imitations of this type with bust right and bust left.
Although this type was issued for Constantine, Crispus, Constantine II, Licinius, and Licinius II, I give them all to Constantine here. None of the ones here have legends that clearly suggest Crispus, Licinius, or Licinius II, but I have seen one with a clear Crispus legend.

The type (like every other type) was apparently imitated in the western provinces as well as the Balkans. These western imitations range from excellent and deceptive to somewhat crude. In the west the imitations were by no means epidemic. However, in the Balkans it seems to have been a different story.
The imitations from the Balkans (and northward?) have helmeted obverses and are mostly of the right-facing variety. Unlike western imitations, most have very garbled legends, often most resembling nothing but a string of bold I's. An occasional O, reversed S, or backward N may intrude. Imitation mint marks may be nothing more than a short string of letter-like symbols with no pretense to resembling an official mint mark.When the imitation mint mark resembles an official mint mark, it may be of Siscia or Ticinum.
These Balkan imitations were rare in the trade until the recent flood of coins from the Balkans and countries formerly behind the Iron Curtain. I do not know the provenences of most of these pieces other than hearing from dealers that some came "from the Balkans" and "possibly from Slovakia." An article in Mittleilungen der Osterreichischen Numismatische Gesellschaft (41.2, 2001, pp. 27-41) by Matthias Pfisterer and Heinz Winter entitled "Eine Sammlung barbarisierter spatromischer Munzen aus Carnuntum," illustrates 37 pieces of this type in a collection of 54 imitations formed near Carnuntum, which strongly suggests at least some of them come from near Carnuntum -- not too far from Vienna.
Other references: RIC page 436f gives irregular types for Siscia.
See Bruck, Die Spatromische Kupferpragung, page 75 for the altar designs and page 76 for the portraits.


Constantine
[We begin with three fine imitations that may be western as opposed to "Balkan" imitations.]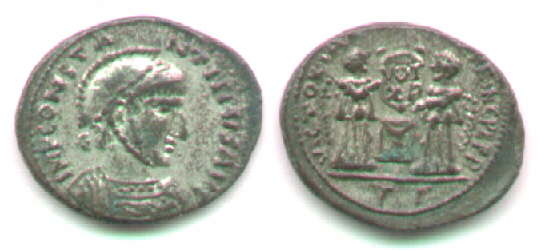 19-17 mm. 6:00
amazing silvered (!) imitation.
/VICTORIA .... PRINC PERP
/ crude mintmark, maybe T[gamma]?
silvered imitation: RIC Ticinum 82, 318-319.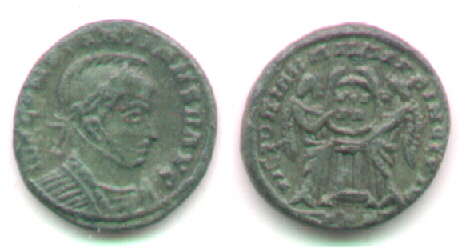 16 mm. 4:30. 3.07 grams
an imitation in fine style, with some legend mistakes.
for example "II AVG" for "PF AVG" on the obverse, and some ill-fromed letters on the reverse
/mintmark unclear, perhaps with a "T" n the middle.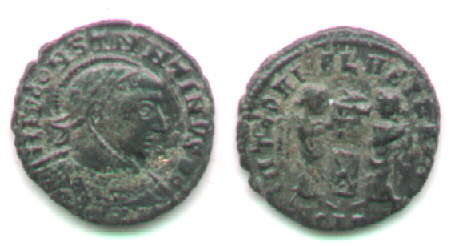 AE15 (smaller than most). 5:30.
Largely legible.
IIIVCONSTNNTINVS...,helmeted bust right
/...TORIA LAET...
/possibly SIS in exergue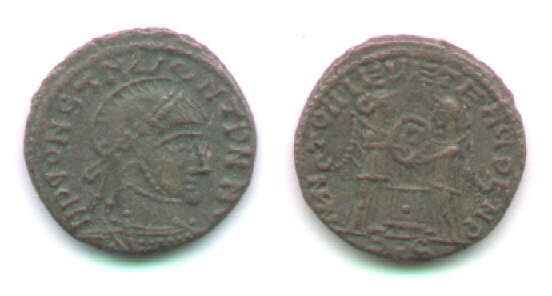 AE18. 10:00. 3.60 grams.
Bold imitation with some legible letters.
something like NP CONSTN...TDNN, helmeted curiassed bust right
/letters resembling ..TORIE....PEND

AE17, 4:30. 2.22 grams.
Glossy patina. Legend mostly I's, N's or H's and backward N's or H's.
well-centered.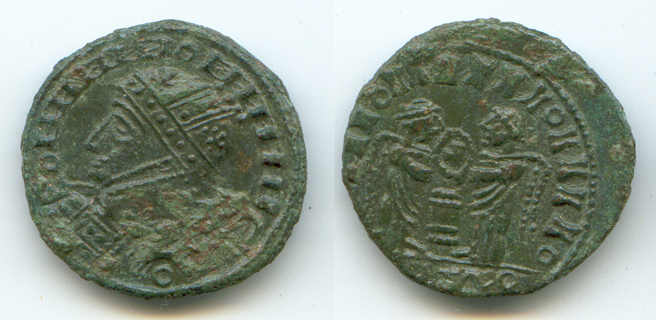 AE18. 6:00. 2.77 grams.
Very sharp strike, off-center on the reverse. Nice patina.
Bust left is somewhat unusual.
Stars on helmet, with three dots on the vertical central band.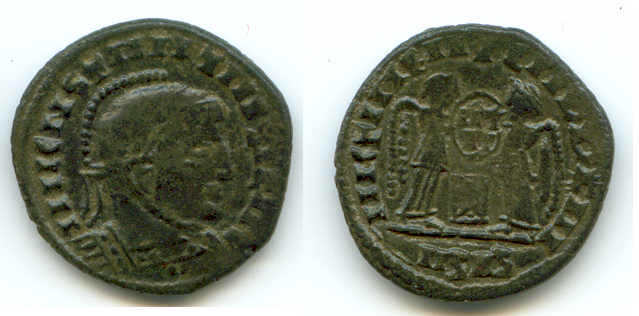 AE18. 6:30. 2.81 grams.
Glossy patina. Legends of mostly I's.
I I I I CNST I I I I T I I ..... (some of the I's are more complex with some width and may represent other letters)
I I I C T I I I I I I ......
Mintmark gerion: resembles IISIS, for the Siscia mint.
Fairly well-engraved and struck, but with little intnetion of getting the letters right.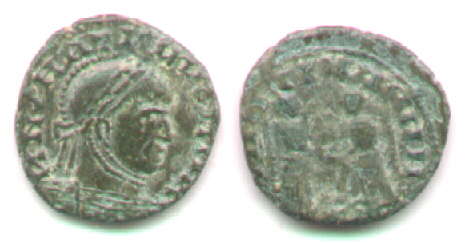 AE16. 2:30.

Good portrait.
Letter-like forms include I's and backwards N's.
/nothing legible, exergue off the flan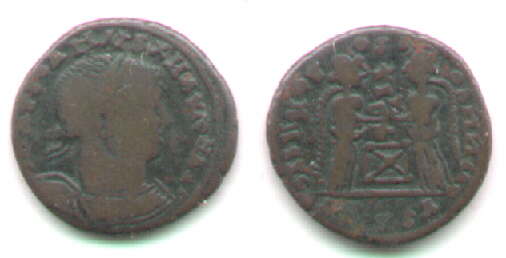 AE17. 11:30.

Warm brown. Worn as if well-used. Good style Victories.
The obverse reminds me of Constantine II, but I see nothing to convince me it is not just Constantine I.
Legend letter-forms are not quite letters.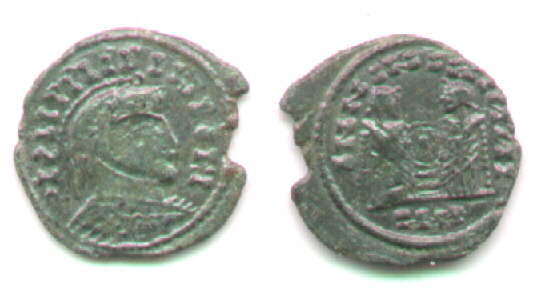 AE19. 12:30. 2.38 grams
Legend of letters that are similar to I's, sometimes boldly crossed. The region missing from the edge is a clip from tongs.
The reverse mintmark is IIII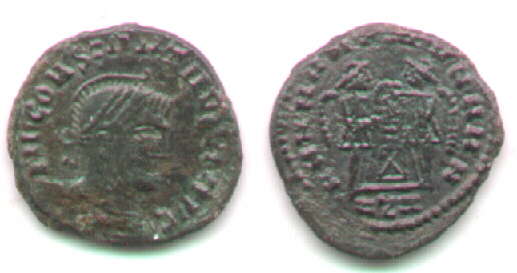 AE18-17. 2:30. 2.73 grams

Some Constantinian letters are properly formed: IIICOHSTIIIIT.....
/..NNNN.. more letters somewhat like N's
reversed "S" between "II" and "II" in exergue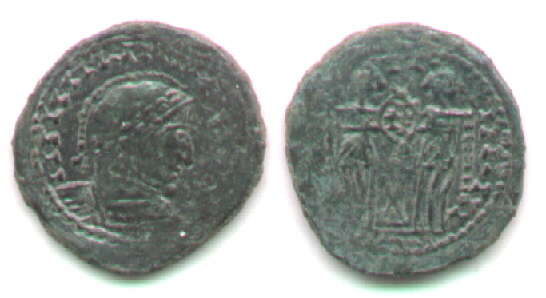 AE20. 12:00. 3.41 grams
large diameter. Legend of I's.
no visible exergural mark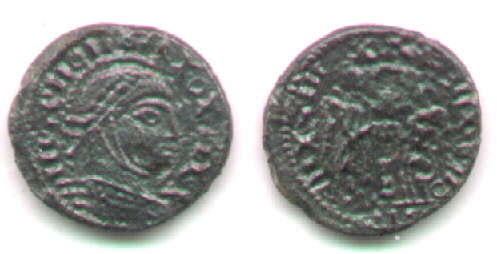 AE17. 7:00. 2.84 grams
Legend mostly I's, with Y's and O's too.
/Three dots in exergue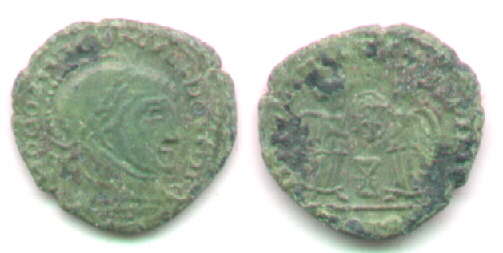 AE17. 12:00. 2.92 grams
Legend of O's, C, and weak N-like letters.
/legend much corroded. Victories very well engraved.
Possibly "SIS" in exergue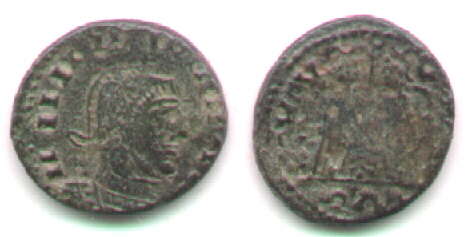 AE17-15. 9:00.
Legend of I I I I...
/exergue has pseudo mintmark with omega-like forms
Some have bust left.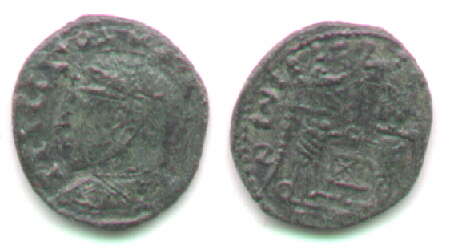 AE17. 6:00.
Bust left. Shield is only a tiny circle.
Legend have some letter-like forms including I's and N's.
/mint mark not legible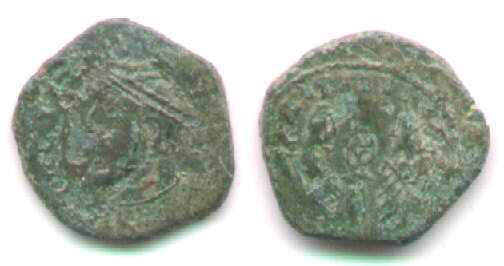 AE18. 5:00.

Bust left with beard? (or chin strap?). Weak strike.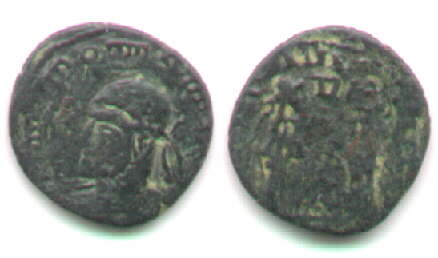 AE17. 1:00.
Bust left. Bearded? (or chin strap?) Weak strike.

---

Continue with imitations of Constantinian types of 330-340.
Jump to the pages on FEL TEMP REPARATIO imitations.
Return to the main page on imitations of Roman coins.