PRIMI DECENNALES and VOTIS DECENNALIBVS

Some vota coins spell out the occasion--DECENNALIBVS (the 10-year celebration)--expanding it to "first decennallian games" or "vows of the decennalia." All these types are recognizably different from the usual coins of the emperor and command a significant premium. This page illustrates examples of

PRIMI DECENNALES for Antoninus Pius and Marcus Aurelius, and
VOTIS DECENNALIBVS for Septimius Severus, Maximinus Thrax, Trebonianus Gallus, and Gallienus.
Some of the information is repeated from the main page.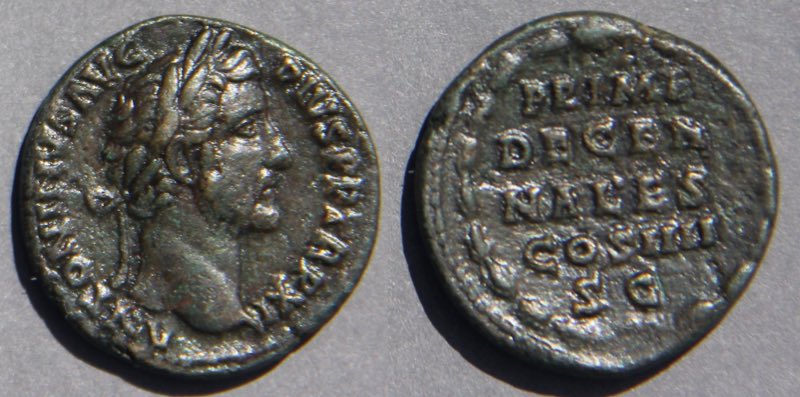 [Repeated from the main page.]
An as of Antoninus Pius (138-161). 26 mm and 10.05 grams.
ANTONINVS AVG PIVS PP TRP XI (11th year)
PRIMI
DECEN
NALES (The "first decennalian games")
COS IIII
SC, in wreath.
Sear 4310. RIC 853a "147-8". BMC 1817.
This type has a date (TRP XI) on it. This type refers to the games at the time the vows were paid (and, presumably, renewed for twenty years).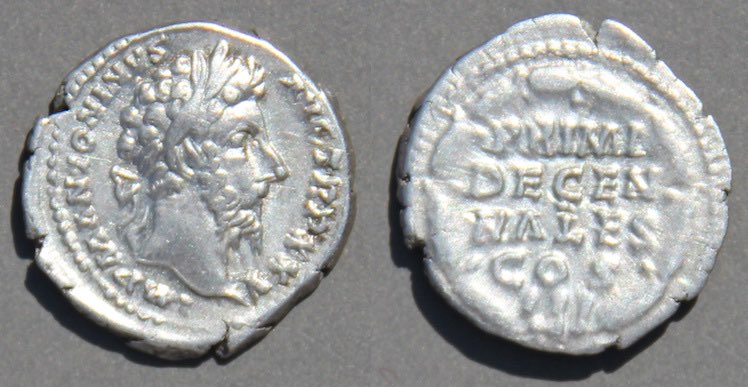 Marcus Aurelius, 141-161-180
Denarius. 19 mm. 3.35 grams.
IMP ANTONINVS AVG TRP XXV
(His year 25 is Dec. 170-Dec. 171)
PRIMI/DECEN/NALES/COS/III in wreath

This is for vows for ten years taken when he became Augustus upon the death of Antoninus Pius, March 7, 161, and paid with the first decennalian games.

RIC Marcus 245. Sear II 4924

In the same issue there were coins with legend
VOTA SVSCEP DECENN II COS III
At this same time a second (II) sets of vows for ten years was taken (suscepta).
Septimius Severus
Denarius. 19-18 mm. 2.87 grams.
VOTIS
DECEN
NALE
BVS in wreath

RIC 520a, "Laodicea, 198-202"
BMC 681 "Eastern mint, 198-202"
Sear 6396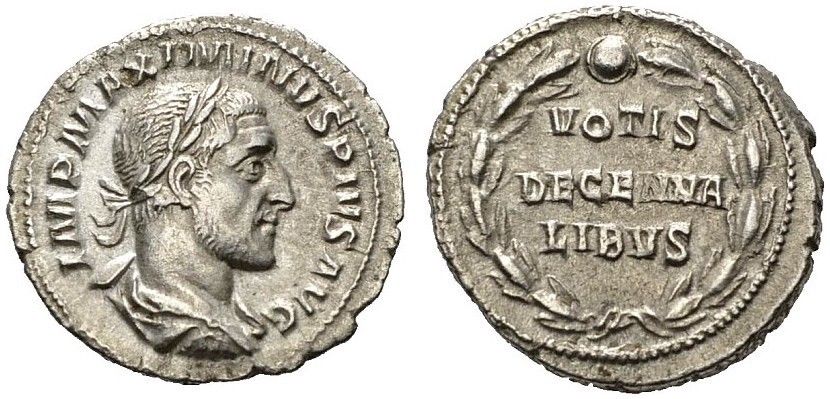 Maximinus Thrax, 235-238
Denarius. 20-19 mm.
Early style portrait.
VOTIS / DECENNA /LIBVS

BMC 17
BMC, page 90, comments that this reverse type is found with both the early and big chin portraits.
RIC 17
Sear 8319.
Struck in the first few months of his reign.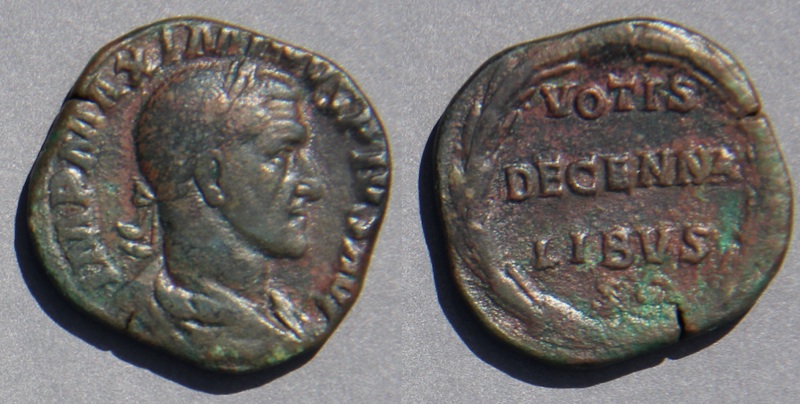 Maximinus, sestertius.
28-26 mm. 14.92 grams. 12:00.
IMP MAXIMINVS PIVS AVG
VOTIS/DECENNA/LIBVS/SC in wreath
Sear 8343. RIC 75. BMC 40.

The VOTIS types (denarius above, dupondius next) are early and usually have the early portrait style. This one, however, is much like the "big chin" style except the chin is not quite so big. Perhaps this die was engraved right at the time of style transition.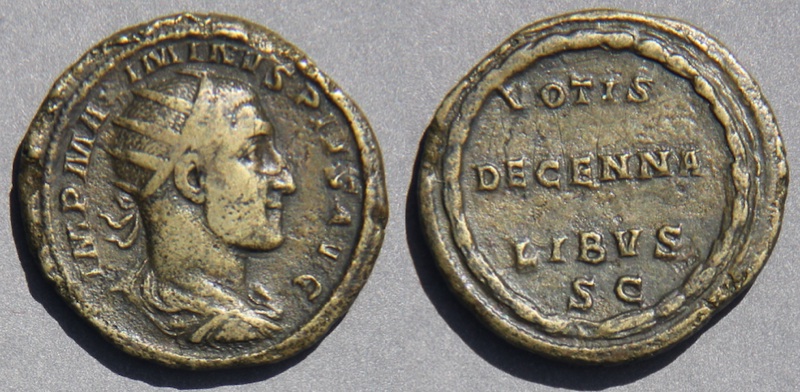 Maximinus, dupondius,
26 mm. 10.645 grams. 6:00.
IMP MAXIMINVS PIVS AVG
VOTIS/DECENNA/LIBVS/SC in wreath
Sear 8354. RIC 76. BMC 42.
Early portrait style.
---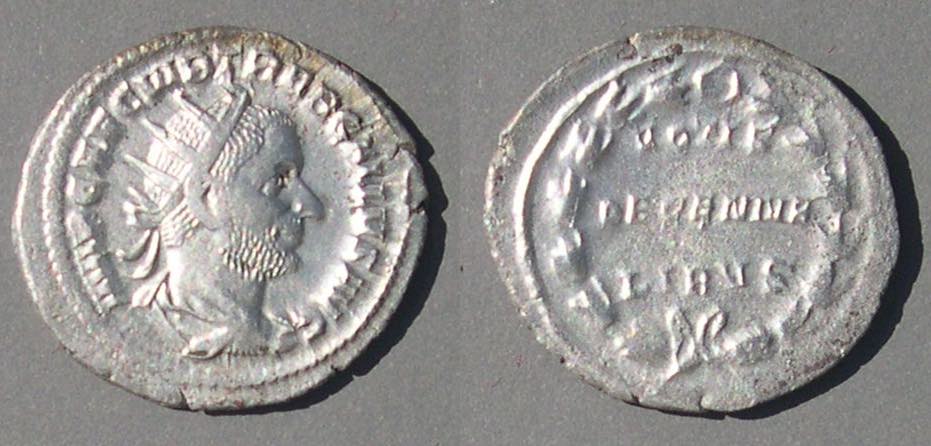 Trebonianus Gallus, 251-253
24-22 mm. 3.12 grams

VOTIS
DECENNA
LIBVS

RIC 49 "R2". Sear III 9659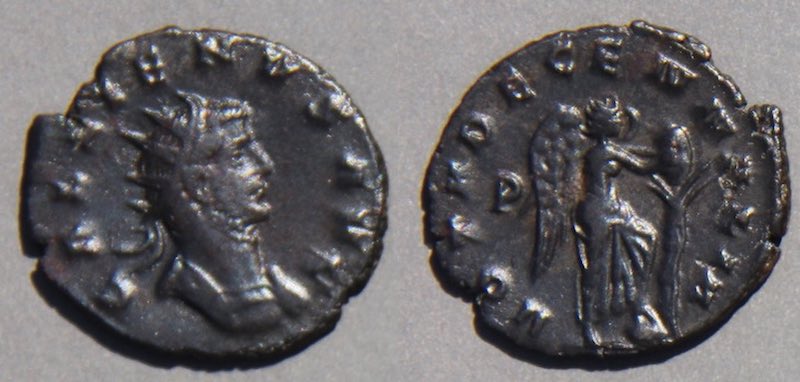 [repeated from the main page]
Gallienus. 253-268. 22-21 mm.
Struck 262-263 at Mediolanum
GALLIENVS AVG
VOTA DECENNALIA around
Victory inscribing shield on palm tree, P in field left
RIC V.I 540
Very rare.
Cunetio 1352-4 had 11 examples with this legend, none with the "P", among 14,429 coins of Gallienus and Salonina.
---
Return to the main page on vota types.
Leave the vota pages and go to the main Table of Contents page for this educational site.