The other Bosporus. Coins of Panticapaeum

The famous "Bosporus strait" is the narrow waterway between Constantinople/Istanbul and the Black Sea. The other "Bosporus" is the "Cimmerian" Bosporus, the narrow waterway between the Black Sea and the Sea of Azov. On its west side are the Crimean peninsula and Panticapaeum (also spelled "Panticipaion," now Kerch), the city which controlls the strait. In the 6th-2nd century BC Panticapaeum was a Greek city-state that issued highly artistic coins with Pan on the obverse and the city name "ΠANTI" or "ΠAN" on the reverse.

Coin to the right: 28 mm (4 mm larger than a US quarter) and 12.73 grams. Left-facing head of Pan, bearded, with ivy wreath with grapes, c. 340-325 BC (more about it below).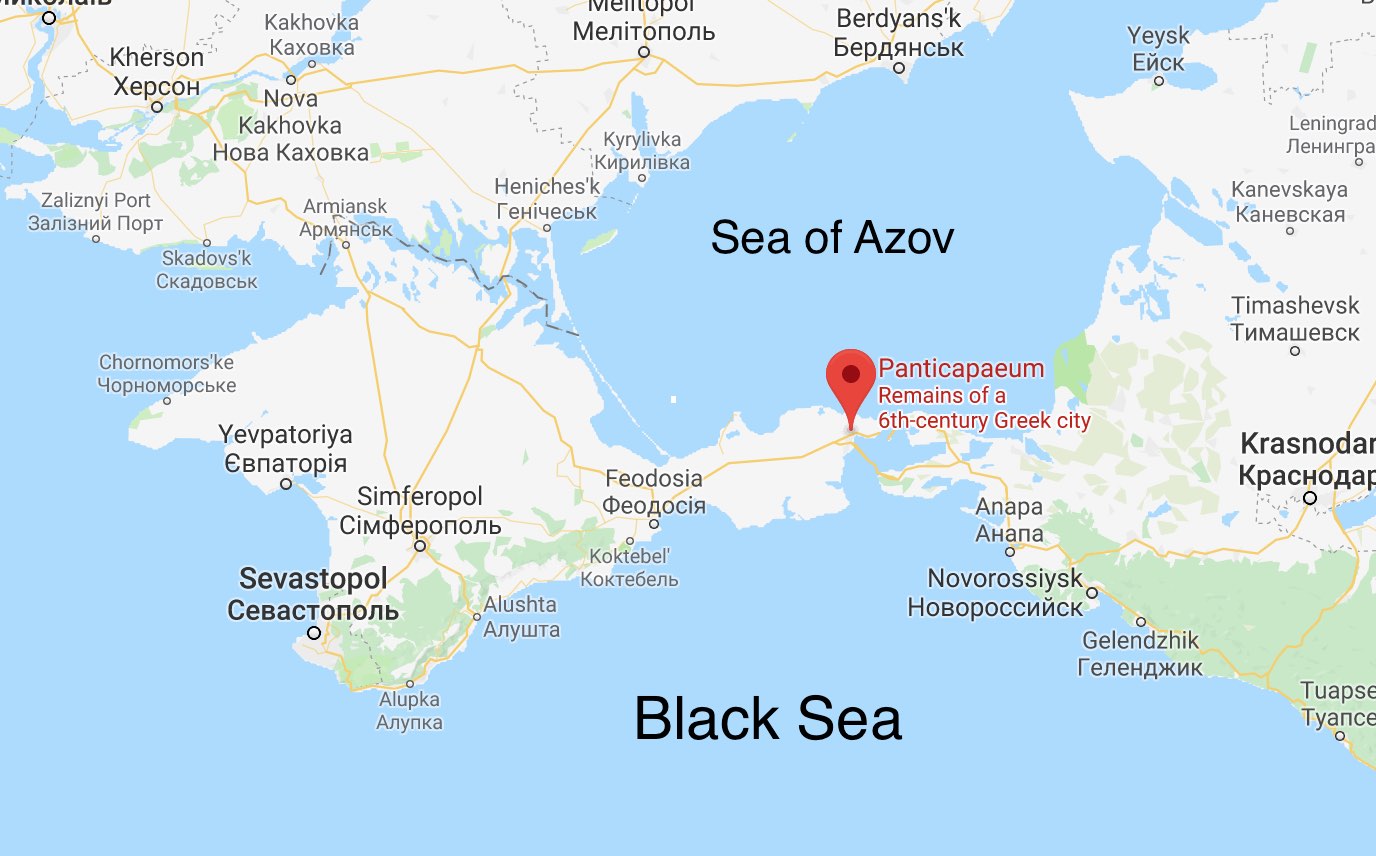 At the top of Crimea on the maps the dashed line is the political border of 2020 which divides Crimea from Ukraine. On the maps Crimea almost looks like it is an island with water all around the north, but Crimea is connected to the mainline by a land bridge 3 or 4 miles wide. The only outlet of the Sea of Azov is the narrow strait commanded by Panticapaeum. It and its modern bridge are on the next map.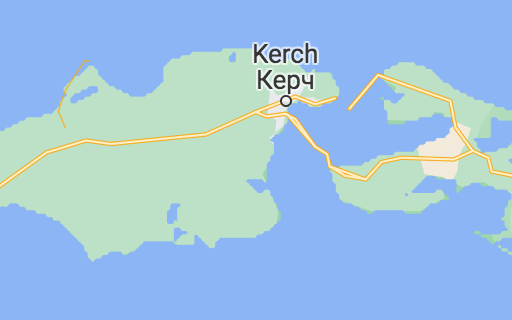 Miletos founded a colony there in the sixth century BC (but it had already been inhabited for a millenium). It became a depot for imports and exports from all the region to the north. Exports included grain and salted fish (note the
sturgeon on some coins
). Later, during Roman times, Panticapaeum (now Kerch) was the seat of the "Kingdom of the Bosporus," a client Kingdom of Rome (
Here are some of its coins
).
Early and rare silver issues of Panticapaeum begin c. 438 BC. By c. 380 it began to issue some of the most splendid ancient gold coins (one off site, another one 3/4 facing). The gold coins are extremely expensive. However, artistic bronze coins in much the same high style began to be issued c. 340 and are very collectable. Some common types are illustrated next. An annotated list of reference works is at the end, including a link to an web site with all the types.
---

Coins. About 60 different types were issued by Panticapaeum, most of which are rare or very rare. But, some beautiful types are quite common and readily available on the market. This page illustrates several collectable types that are all affordable. Nothing here is remarkably rare and some of the most attractive types here are remarkably common!

The largest bronze denomination is c. 26 mm with some examples up to 28 mm.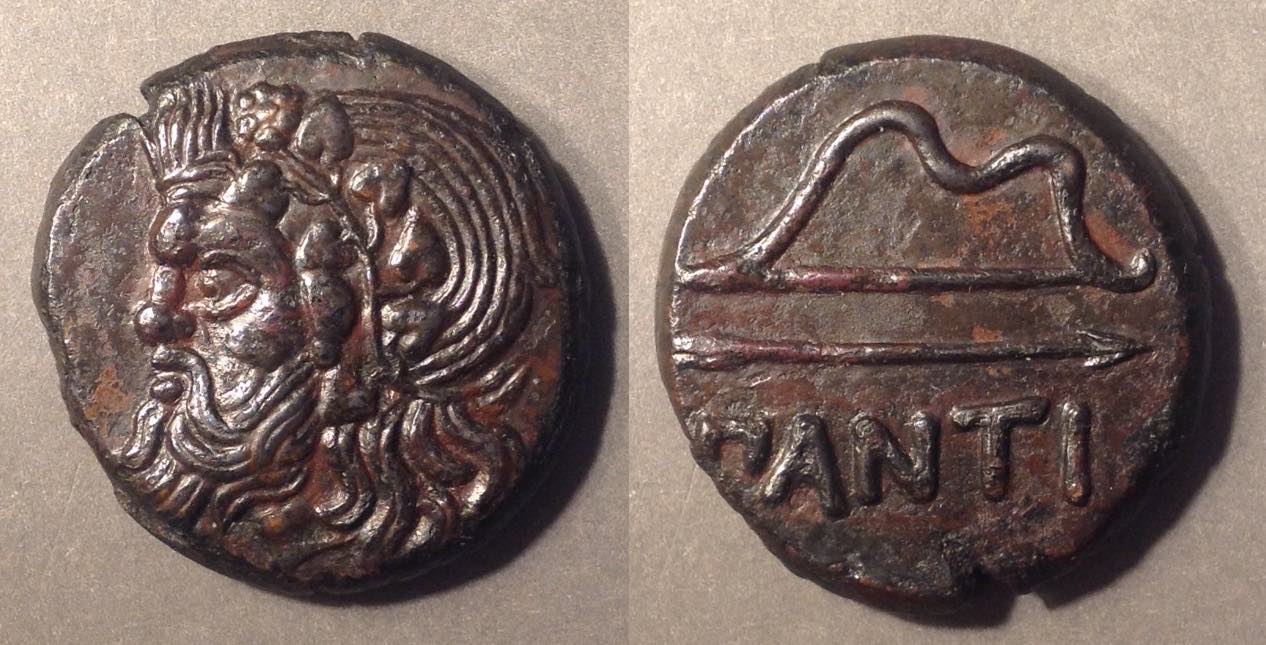 26-25 mm. 14.76 grams.
Bearded Pan/bow
i.e. Bearded head of Pan left with ivy wreath
Bow (over)
<arrow right> (over)
ΠANTI
MacDonald 59 "c. 340-325"
Anokhin 110
The bearded Pan is beautifully rendered. Splendid!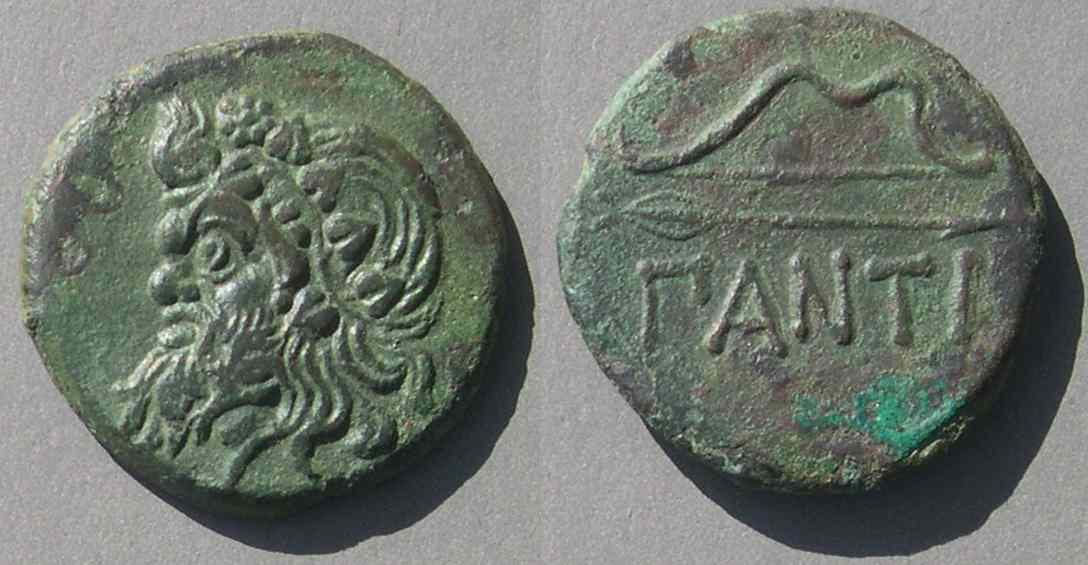 28 mm. 12.73 grams.
Pan/bow
As above, but 2 mm larger in diameter (however, 2 grams lighter in weight) with green patina.
The larger diameter gives a bit more room for the end of the beard and hair tumbling on the shoulder.

It has been argued that the head, bearded or unbearded, is not Pan, rather a general satyr. In my opinion, it is obvious that it is Pan.
The other type in this large denomination is "beardless Pan/ox":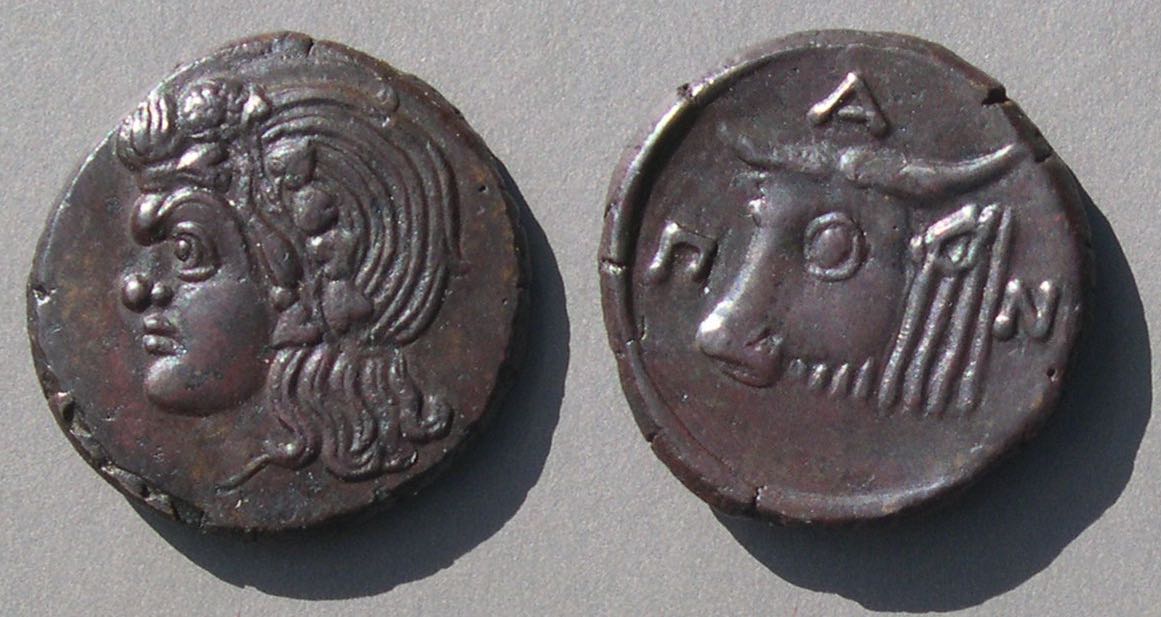 28 mm. 15.26 grams.
Young pan/ox (or bull)
Head of beardless Pan in ivy wreath
Head of ox left with ribbed neck and
ΠAN around.
MacDonald 65 "c. 325-310"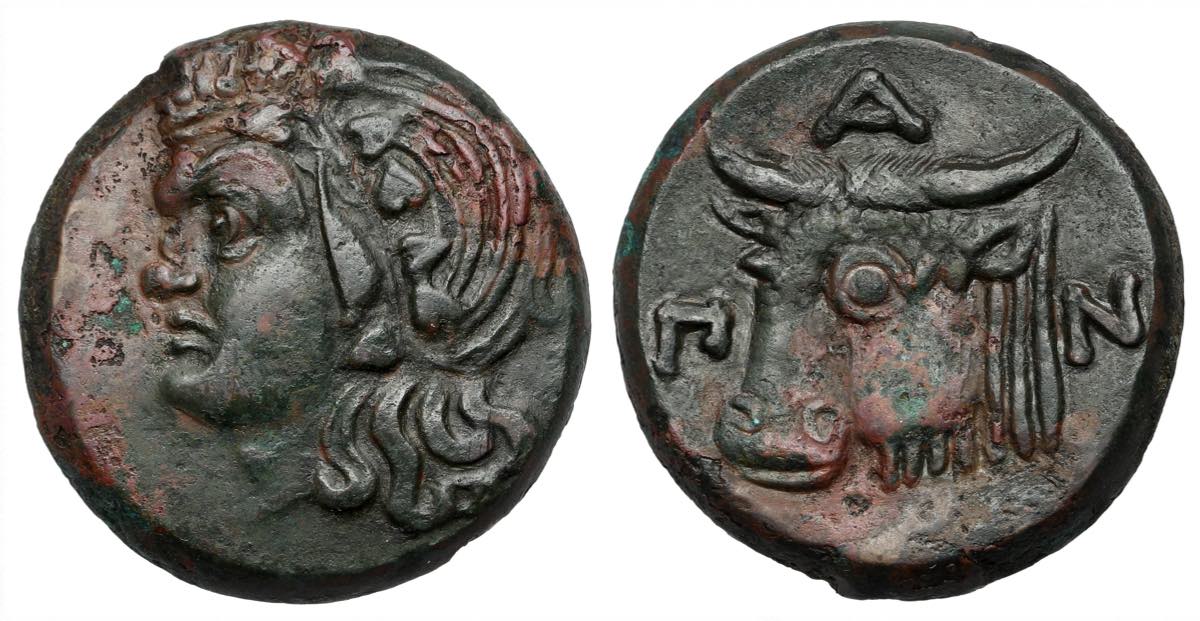 26 mm. 18.55 grams.
As above. Young Pan left/ox (or "bull")
MacDonald 65 "c. 325-310"
Later there is a much smaller denomination with a similar reverse design.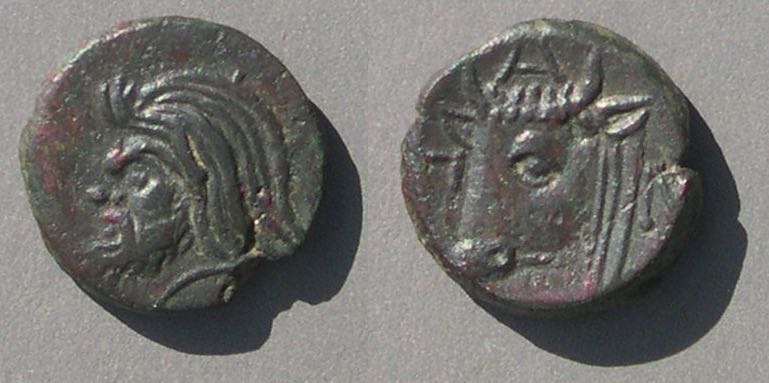 17 mm. 4.04 grams.
Bearded head of Pan left, no ivy wreath
Ox's head and neck, left
ΠAN around.
MacDonald 67 "284-275 BC"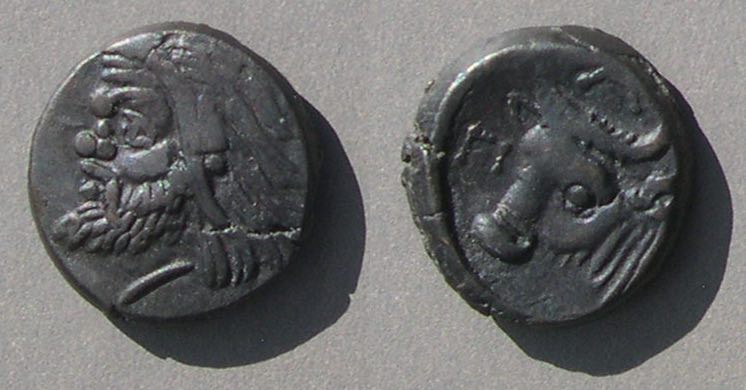 16 mm. 4.89 grams.
As above.
The most common type is "Pan/griffin".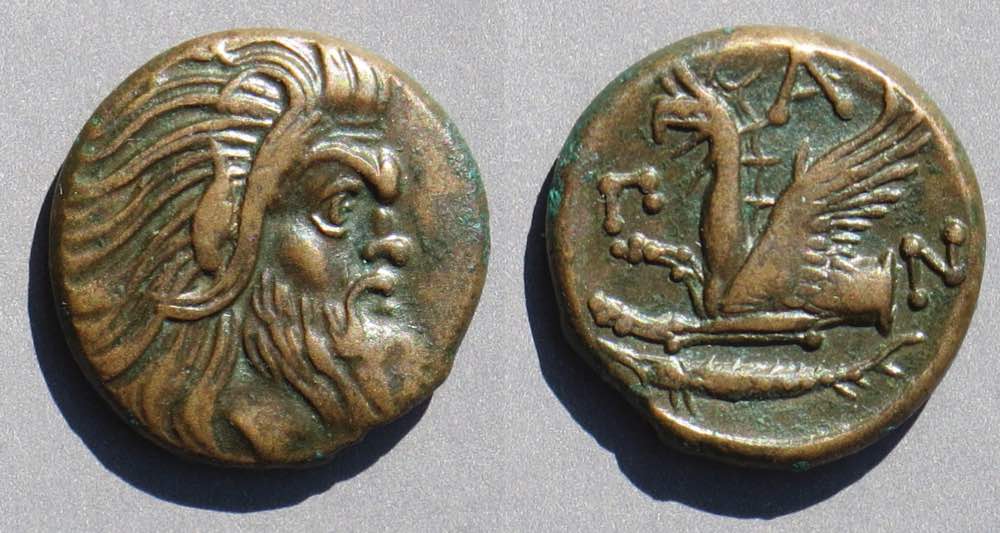 20 mm. 6.92 grams.
Bearded Pan right with narrow pointed ear
Forepart of griffin left with sturgeon left below and
ΠAN around.
The stern portrait of Pan is very artistic.
MacDonald 69 "c. 310 - 304/3 BC"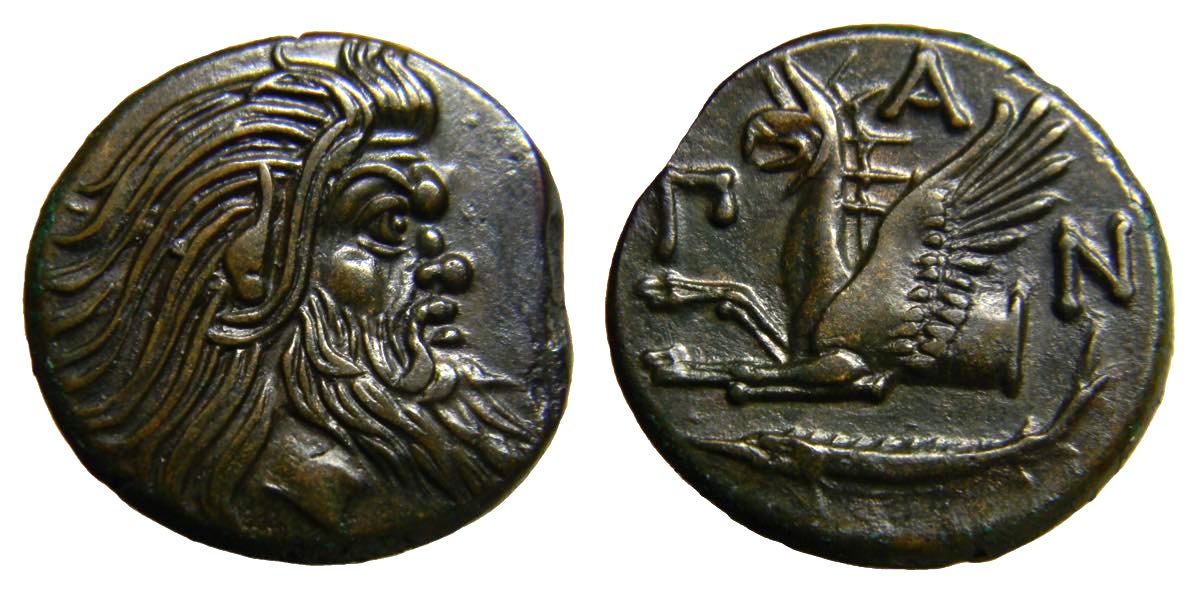 22 mm. 6.73 grams.

As above.

This type has splendid artwork. What a face! The griffin and sturgeon are wonderful!
This Pan/griffin type is common, especially since 2016 when a large hoard was discovered.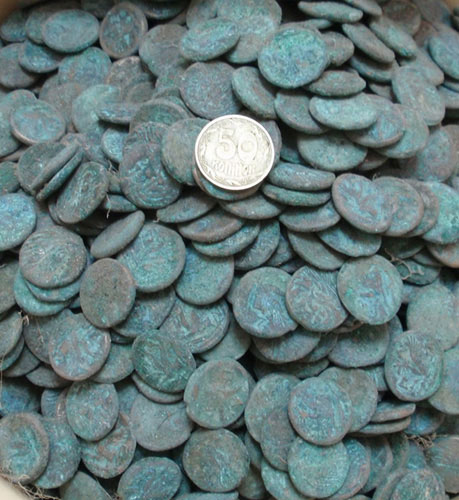 In Sept. 2016 I saved this photo of part of the hoard from a web site article, but, unfortunately, now I cannot find the original source.
Head of young Pan left with ivy wreath
Lion's head left with sturgeon left below
ΠAN around.
MacDonald 70 "c. 310 - 304/3"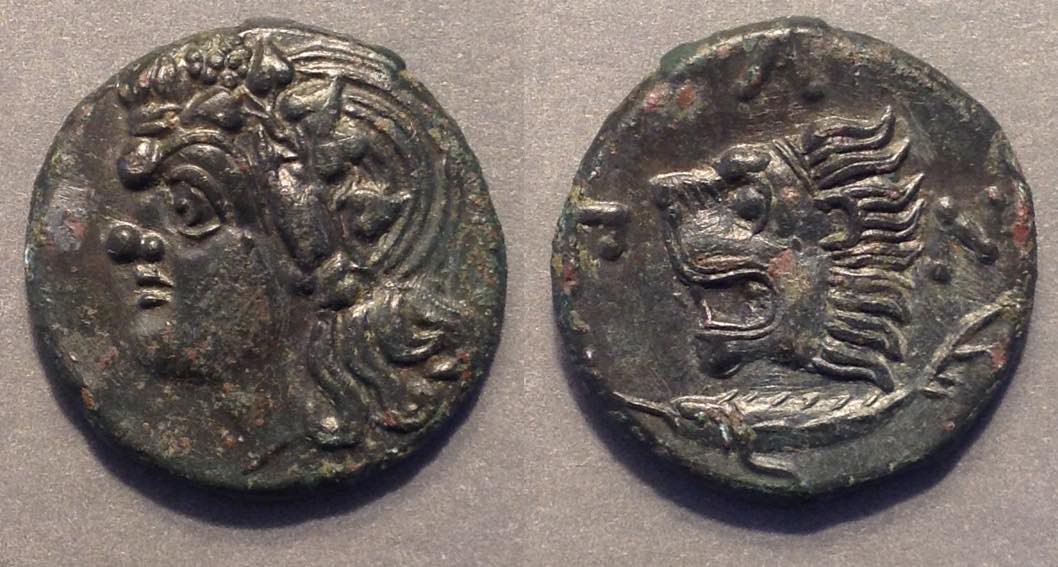 20 mm. 5.40 grams.

As above.

Later this type was countermarked.


The next three coins are much smaller.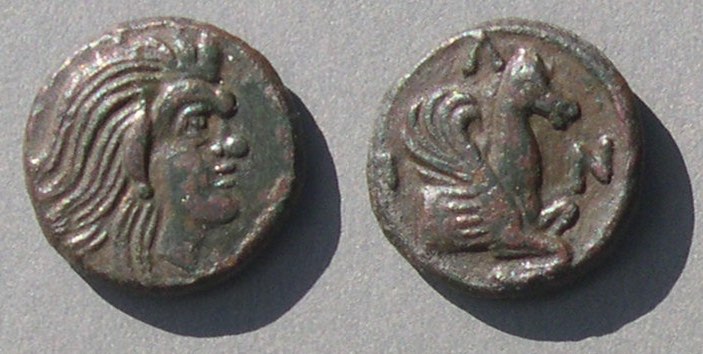 16 mm. 3.66 grams.
Head of young Pan, unbearded, right
Forepart of Pegasus
ΠAN around.

MacDonald 71 (His photo is, unintentionally, reduced in size to 14-13 mm.) "c. 310-304/3 BC"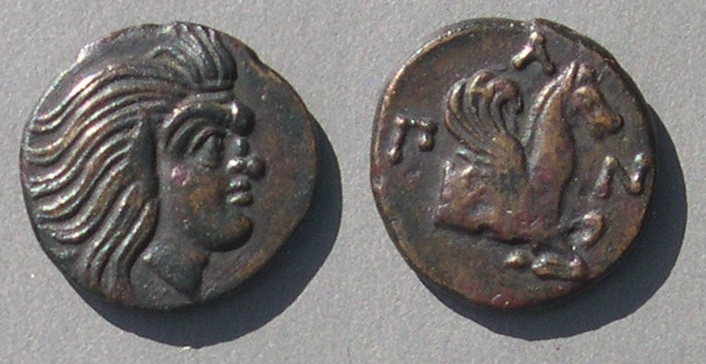 17 mm. 2.85 grams.
As above.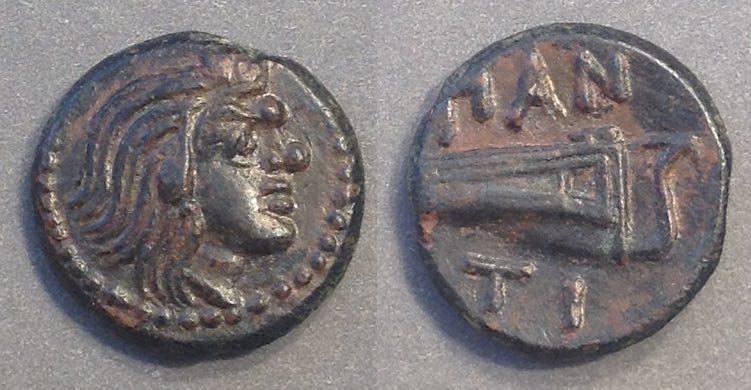 12 mm. 2.20 grams.
Head of young Pan, unbearded, right
Bow in bowcase
ΠAN above, TI below.
MacDonald 72 "c. 310-304/3 BC"
The Pan/lion type is often countermarked on both sides.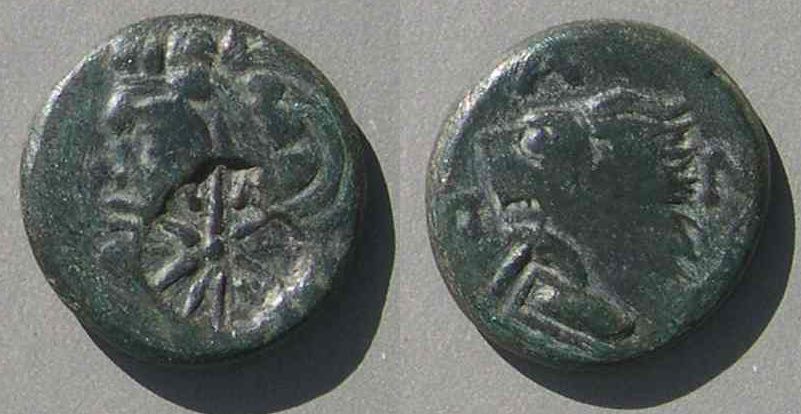 c. 284-275 Pan/lion coins of 310-304 were
countermarked with a large star and a bowcase.
20 mm. 6.66 grams.
This type is MacDonald 114, which is MacDonald 70 (
above
) overstruck at a later date and given this new later number. A very similar type, MacDonald 115, has the same design with the star and bowcase engraved into the dies!
The decline
. Coins after 275 BC have similar designs but the artistic quality declines and the weights and sizes decline over time.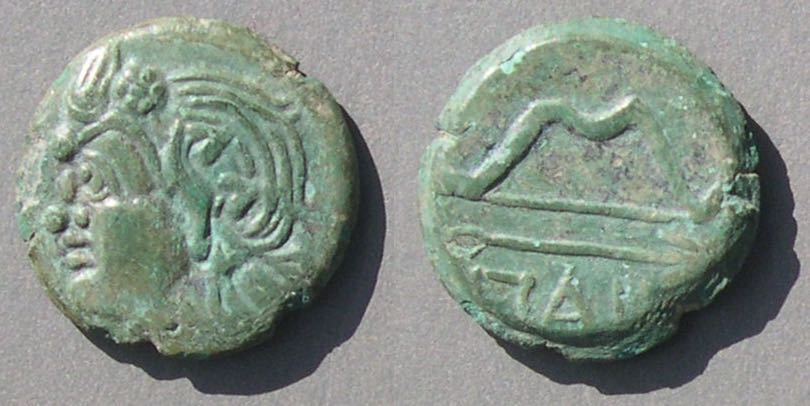 20 mm. 4.23 grams.
Head of young pan left, narrow pointed ear, ivy wreath.
Bow over arrow right over ΠAN
MacDonald 116/1 (His photo is very slightly reduced). "c. 304-250 BC"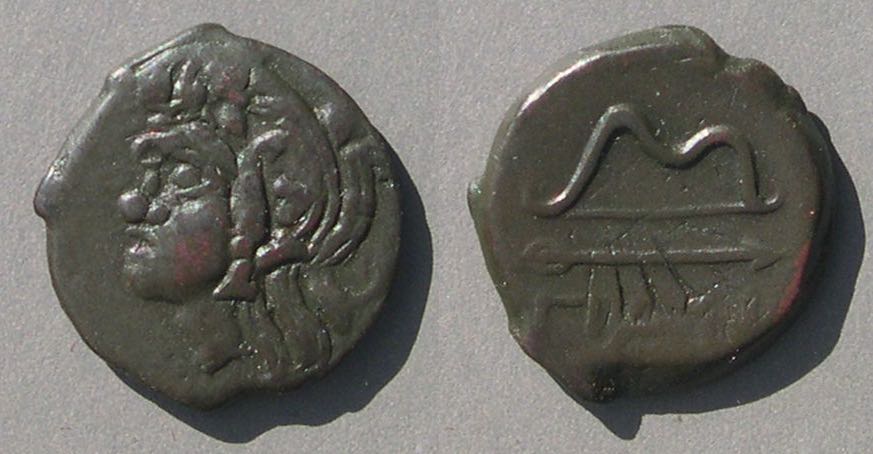 21 mm. 5.73 grams.
As above.
The same design continues for many years, declining in size, with no obvious discontinuity that suggests a new denomination. MacDonald gives it the same ID number even if it is smaller.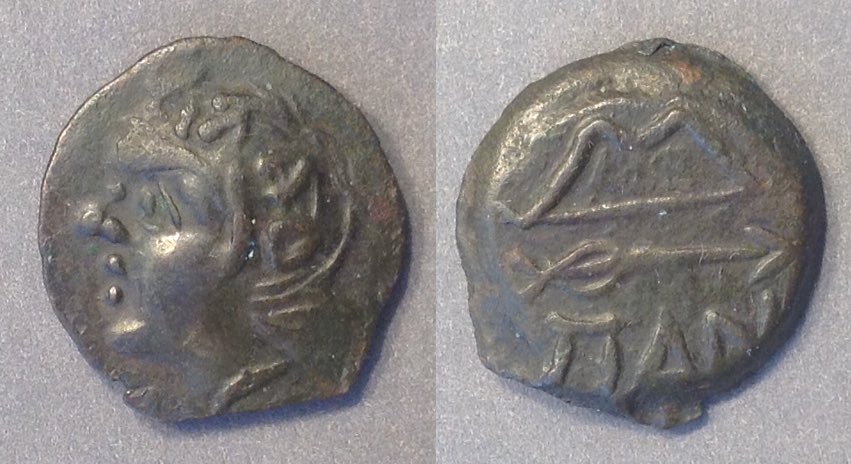 16-15 mm. 2.70 grams.
Bust of Pan left, unbearded, crude ivy wreath.
Bow over arrow right over ΠAN.
This coin, of the same design as above, but smaller, is (approximately) dated to 150-140 BC.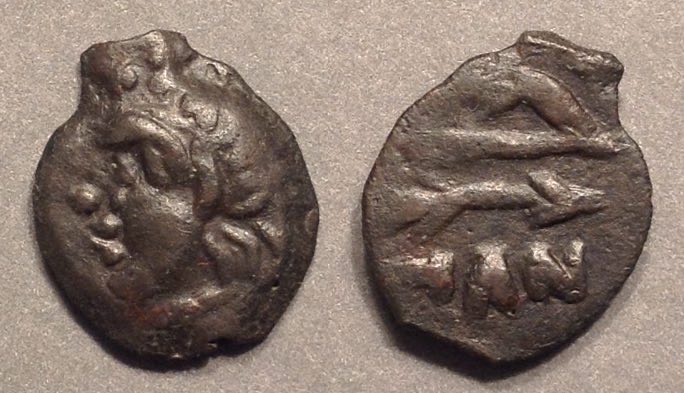 14-12 mm. 1.40 grams
The sprue of the cast flan is prominent.
Bust of Pan left, unbearded, crude ivy wreath.
Bow over arrow right over ΠAN.
This is another example of the same design, but distinctly smaller.
The later types are all cruder. The artistic excellence of the earlier coins is gone.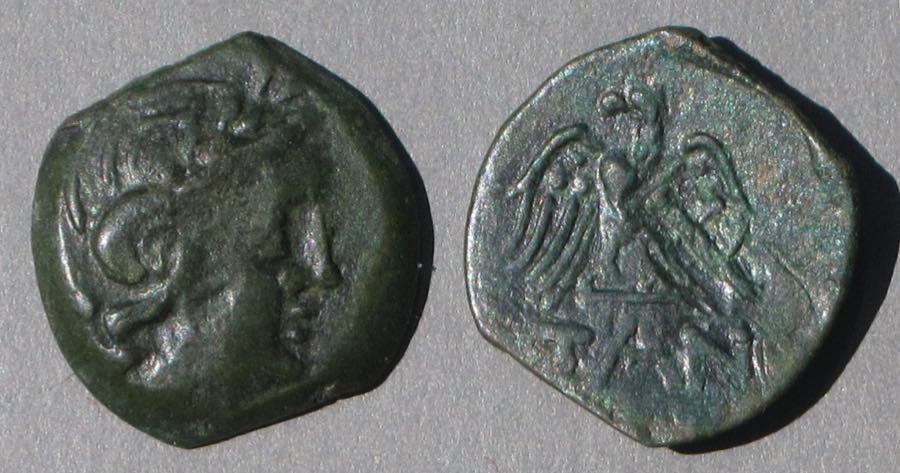 18 mm. 3.73 grams.
Head of Apollo(?) right
Eagle standing, wings partially spread
ΠAN below
MacDonald 118 "c. 250 - 200 BC"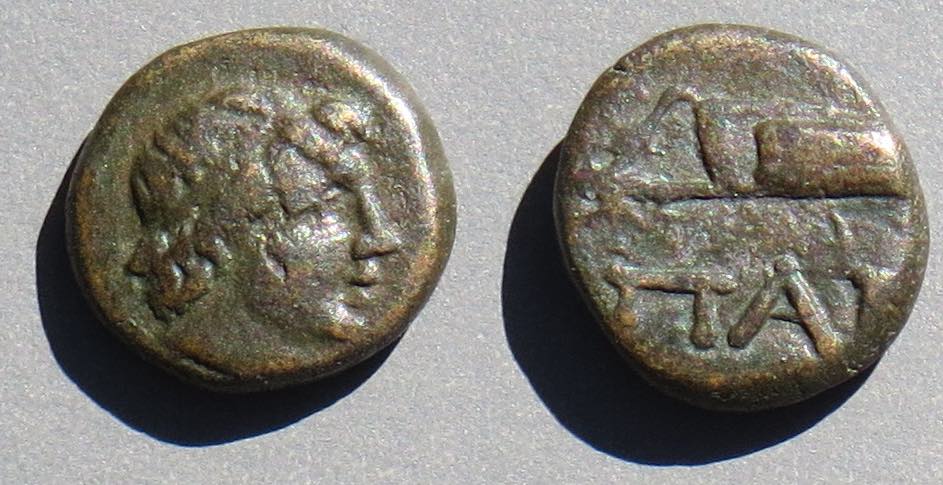 11 mm. 1.78 grams.
Apollo head right
Bow in case
ΠAN below
MacDonald 139 "c. 250-200 BC"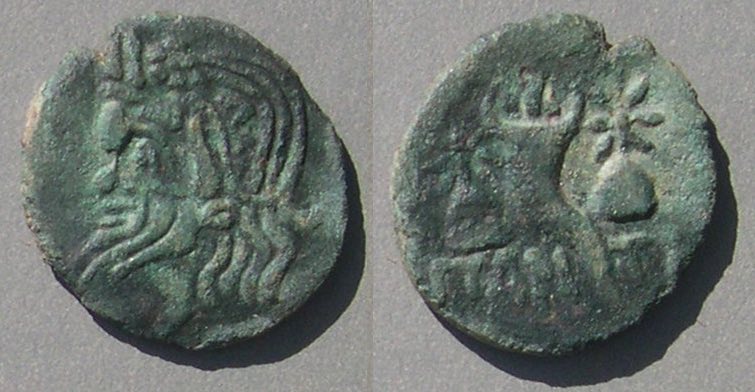 19-18 mm. 3.16 grams.
(Crude) Pan head left, bearded, with ivy wreath
Cornucopia between caps of Dioscuri topped by stars
ΠANTI below
MacDonald 145 "130-125 BC"
Comments for collectors
: Be aware that a high percentage of coins of the northern Black Sea region are tooled, strengthened, smoothed, or repatinated. Coins of the later Kingdom of the Bosporus are very often skillfully smoothed and often tooled. Many coins of Panticapaeum are not tooled, but a substantial number are tooled and you must be careful. Look at each coin closely for evidence of tooling. Smoothing is so common you should expect it. It is not to be desired but can be acceptable.
In my personal opinion some types (
MacDonald 59
and
69
) are among the most attractive Greek bronzes of all. Fortunately for collectors, MacDonald 59 is not rare and MacDonald 69 is common.
---
References:

MacDonald, David. An Introduction to the History and Coinage of the Kingdom of the Bosporus. 2005. 141 pages. The first 30 pages cover types like these from the city before the Kingdom of the Bosporus began.

Anokhin, B. A. MOΗETHOE ΔEΛO bOCΠOPA, 1986, in Russian. "Coins of the Bosporus." 179 pages and 40 plates, with the first 192 types from Panticapaeum among 777 types, most from "The Kingdom of the Bosporus." A 2011 version updated it and gave the types new ID numbers. Both old and new numbers are on this exhaustive website:
https://bosporan-kingdom.com/coins_catalog.html (Coins of the types on this page are about 25 pages in. The ID numbers there are hyphenated like "111-3141" which gives both the first edition and second edition Anokhin numbers.) With that website there is no need to have the Anokhin book. For example, the Pan/griffin type is here: https://bosporan-kingdom.com/111-3141/

Greek cities (including Panticapaeum) around the northern edge of the Black Sea are in the "Black Sea region." Several reference works emphasize coins from the region. Be aware that "SNG" abbreviates "Sylloge Numorum Graecorum," a series of books in a format in which the intent is to make the images available without more than the most minimal identification and with almost no discussion.

Stancomb, William. SNG XI: The William Stancomb Collection of Coins of the Black Sea Region. 2000. 1092 examples. An outstanding private collection.

Price, Martin. SNG IX: The British Museum: 1 The Black Sea. 1642 examples. An outstanding public collection.

Kovalenko, Sergei. SNG: State Pushkin Museum of Fine Arts: Coins of the Black Sea Region. 1870 examples, many in low quality and very many duplicates which I imagine are multiple examples from the same hoard. This book is not worth having unless you have the other two SNGs and are striving for reference-work completeness.

Shelov, D. B. Coinage of the Bosporus VI-II Centuries B.C. translated from the Russian by H. Bartlett Wells. BAR International Series (Supplementary) 46. 1978. 115 types illustrated and discussed at length. This book is very difficult to find.

Dittrich, K. with photos by Hrbas and Marco. Ancient Coins from Olbia and Panticapaeum. 168 pages, almost all of which are hugely oversize B&W photos of single sides of coins, with a small image below showing the actual size of the coin. In my opinion, images of half-inch coins enlarged to six inches across are too large. Some examples are extremely nice but many are not of the very high quality required to be enhanced by such enlargement. Only three pages of general discussion of coins of Panticapaeum.


---