Christian Symbolism on Roman Coins.

Table 7: Coins struck after 364 (that is, after the early period which is the subject of this site on early Christian symbols).

Christianity was well-established by the reign of Valentinian, 364-375, and from then on it is common to find Christian symbols on Roman coins. Unlike the previous pages, this page does not attempt to be comprehensive, rather it just illustrates some interesting examples.

Valentinian (364-375) and his brother Valens (365-378) issued two extremely common AE3 types:
1) GLORIA ROMANORVM, emperor right, head left, dragging captive and holding in left standard with chi-rho.
2) SECVRITAS REIPVBLICAE, Victory left holding wreath and palm.

Type 1, the GLORIA ROMANORVM type, always has a chi-rho on a standard.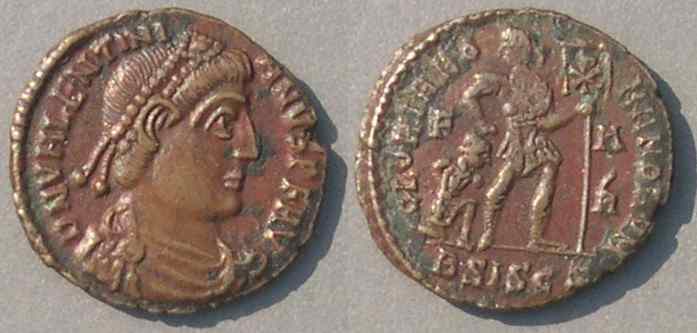 Valens. 364-378 AD.
GLORIA ROMANORVM
Struck 367-375 at
Siscia with mintmark BSISCS
and field marks
chi-rho on standard.
RIC Siscia 14a

This type is issued for Valentian, Valens, Gratian, Valentinian II, Theodosius, and Arcadius and is one of the most common Roman coins types of all.


Type 2, the SECVRITAS REIPVBLICAE type, features Victory without a Christian symbol, but sometimes has a Christian symbol as a control mark in the field.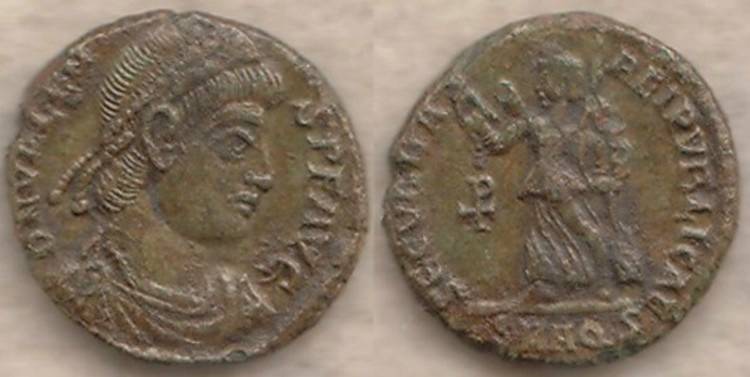 Valens. 365-378.
17 mm. 2.73 grams. 6:00.
SECVRITAS REIPVBLICAE
Victory holding wreath left
Cross-rho in left field. Rare thus.
Struck at Aquileia, 364-367
with mintmark SMAQS.
This extremely common type was issued for Valentinian, Valens, Gratian, and Valentinian II.
---

The "Hand of God," first seen on a deified Constantine type (Type 2.5), appears on the obverse under Arcadius and his wife Eudoxia.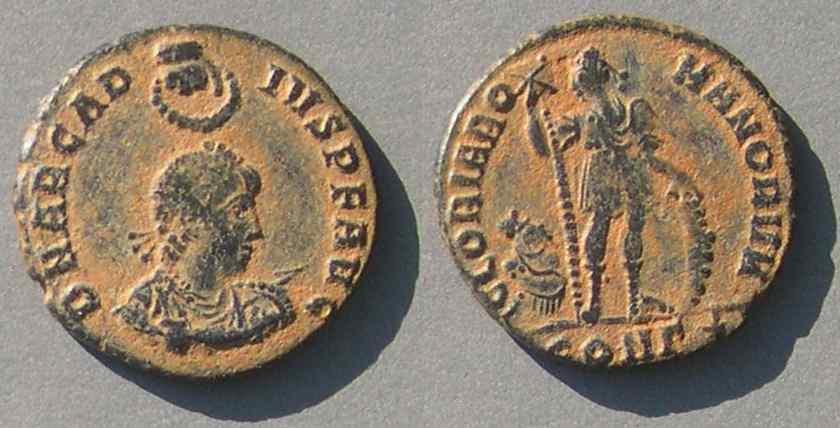 Arcadius. 383-408 AD.
20 mm. 4.52 grams.
His first issue, Jan. 19, 383 to August 25. 383.
DN ARCAD-IVS PF AVG
GLORIA RO-MANORVM
Minted at Constantinople with mintmark
CONΓ*
RIC IX, Constantinople 53a.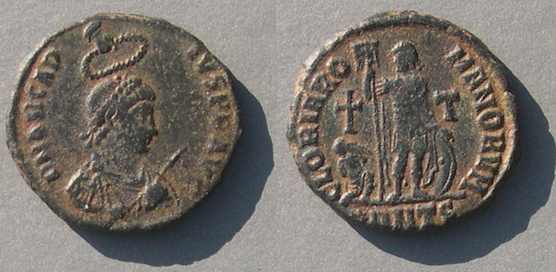 Arcadius
21 mm. 6.24 grams. 5:30.
As above, but with field marks (as are common on late Roman issues)
Cross in field left, T (a type of cross?) in field right.
Mintmark *ANTS
RIC IX Antioch 60.
Eudoxia: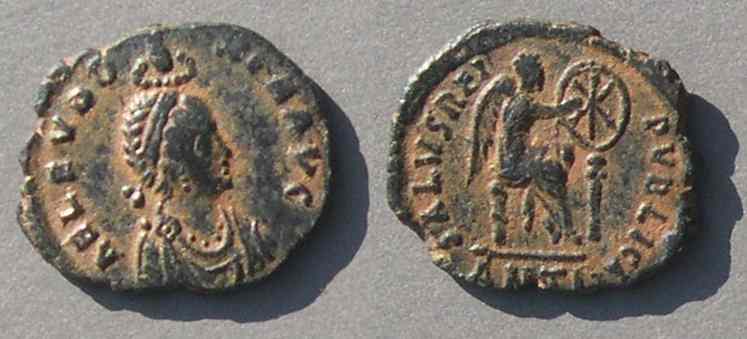 Eudoxia. Married Arcadius in 395.
Virtual eastern ruler 400-404 AD.
18 mm. 2.32 grams.
Hand of God on obverse
AEL EVDO-XIA AVG
SALVS REI-PVBLICAE
Victory inscribing a shield with a chi-rho.
Minted at Antioch with ANT mintmark
RIC X 104, struck 401-404.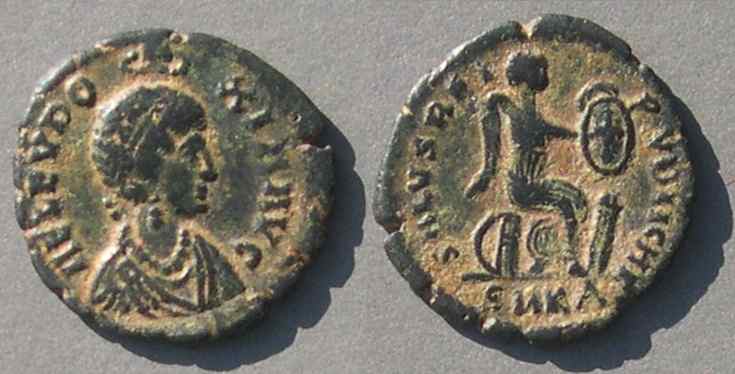 Another Eudoxia with the "hand of God."
This one has Victory inscribing a cross (instead of a chi-rho) on the shield.
18 mm. 2.14 grams.
SMKA mintmark for Cyzicus
RIC X 104 variety (with cross), struck 401-404.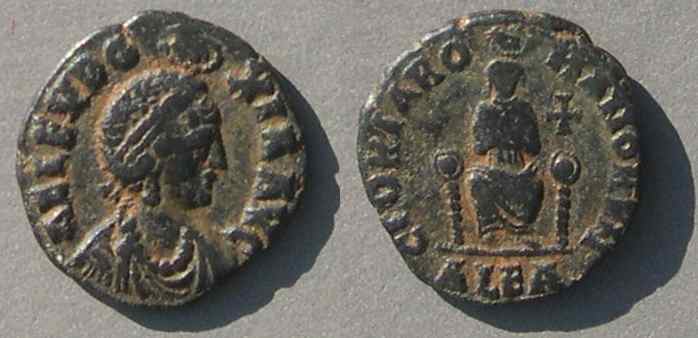 Still another Eudoxia with the Hand of God.
17 mm. 2.28 grams. 11:30.
GLORIA ROMANORVM
empress seated facing on throne, cross in right field
hand of God above
ALEA for Alexandria
RIC X 84, struck 401-403.




---

In the fifth century it is common to have a cross as the reverse type on small AE4 coins.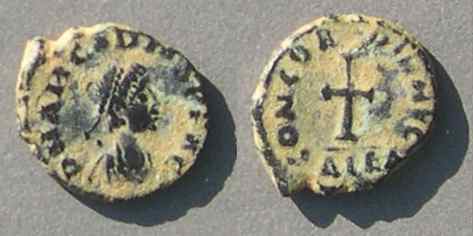 Arcadius. 383-408 AD.
11 mm. 0.82 grams. 6:30.
cross, CONCORDIA AVG around
ALEA in exergue.
RIC X 111, Arcadius at Alexandria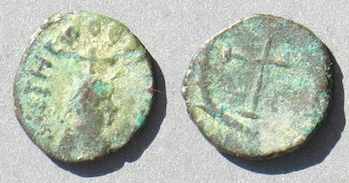 Theodosius II. 402-450 AD.
11-10 mm. 0.84 grams.
Cross in wreath, a very common type.
However, note the unusal cross above the head on this example.
Mintmark uncertain, but such cross-above-head varieties appear later
at Constantinople, Nicomedia, and Antioch only.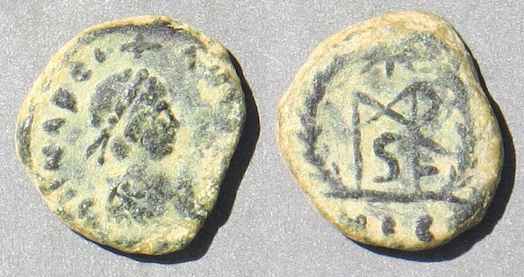 Marcian. 450-457.
12-11 mm. 1.71 grams.
DN MARCI + ANVS ...
Cross above head/monogram reverse, Nicomedia mint.
RIC X 551variety. 551 does not mention the cross above the head.



Crosses on coins after 364 AD are too common to document; this page illustrates only a few.
---
The End.

Return to the main page on Christian Symbols on Roman Coins.
Leave the Christian-Symbols pages and go to the Table of Contents for this whole educational site.