Additional Frequency Tables of Anonymous Folles.
The data in these tables was extracted by Kevin Parsons from academic publications listed below. It is used with his permission,

None of the * columns duplicate data included in the table on the main page. The "Asia Minor" column uses the same data as the "Exc" (Excavations) column in the frequency table on the main page.
The next table summarizes data from the Mardin hoard and from a major private collection (PC). The percentages in the Mardin Hoard are much different than from other sources. The data from the private collection are subject to the usual caveats about collectors seeking the rarer types, etc.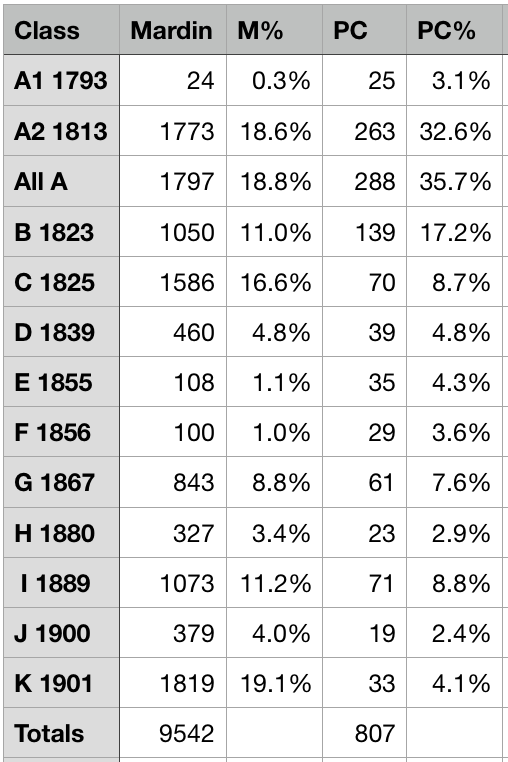 Single finds from Thessalonica, table by by Eleni Lianta: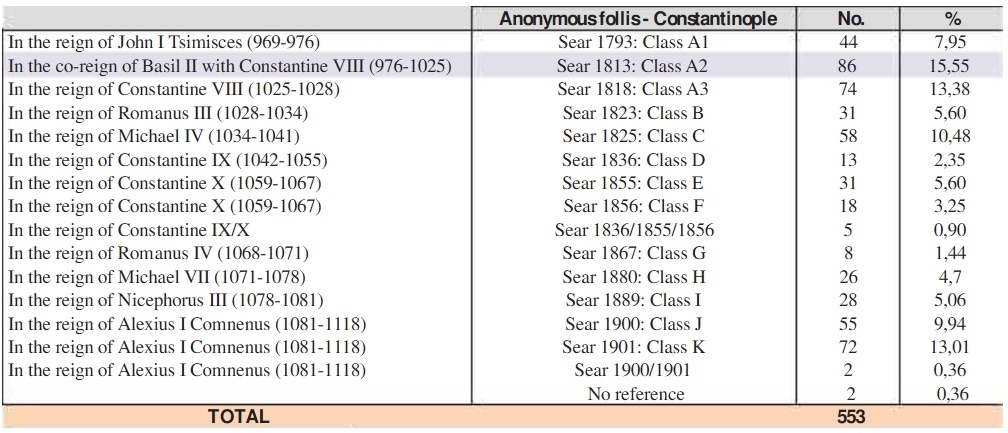 Return to the frequency table on the main page.



---
References:

Lianta, Eleni. "The Byzantine Numismatic single finds from the Thessalonica Metroarchaeological excavations: 2008-2015," in EGE DÜNYASI LİMAN KENTLERİSİKKE, MÜHÜR VE AĞIRLIKLARI PORT: Cities of the Aegean world, coins seals, and weights. 2018.
Lowicj, N.M., Bendall, S. and P.D. Whitting. The Mardin Hoard; Islamic Countermarks on Byzantine Folles. 1977. A small-format 79-page paperback.
Penna, Vasso. "Byzantine Monetary Affairs During the 8th, 9th, 10th and 11th Centuries," a PhD thesis of over 400 pages from Oxford University by Vassiliki Athanassopoulou-Pennas, available here at Oxford University's research archive: https://ora.ox.ac.uk/objects/uuid:02e4cf82-a638-4bd2-a45b-09c17c585dc8
Penna, Vasso. "Numismatic Circulation in Corinth from 976 to 1204" in The Economic History of Byzantium: From the Seventh through the Fifteenth Century, Angeliki E. Laiou, Editor-in-Chief, Dumbarton Oaks Studies number 39, 2002, pp. 655-658, available at Academia.edu here:
https://www.academia.edu/10868784/Numismatic_Circulation_in_Corinth_from_976_to_1204