Isaac Comnenus, Usurper in Cyprus, 1185-1191
Here is a coin of Isaac Comnenus. His story is below.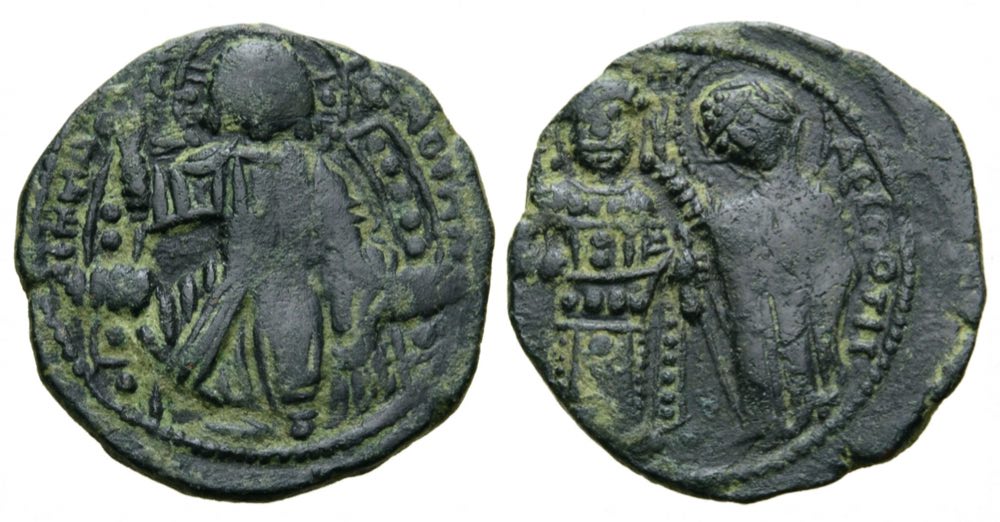 Tetarteron. 19 mm. 3.60 grams.
Christ pantocrator, enthroned. EMMA NOV...
Virgin, nimbate, crowning the emperor. ΙICAAKOC [off the flan to the left] DECPOTIC to right.

Sear 1998 "Extremely rare" although acsearch shows some have been found since Sear was published in 1987.
DOC 4.1, #10, page 363 and 4.2 plate XIX (images from coins in the ANS, not DO). Sear noted that it was not certain this type was not of Isaac II, but by 1999 when DO 4 was published Grierson was able to assert that find spots make it clear this was correctly attributed as a coin of the usurper Isaac Comnenus.

Here is the location of the island Cyprus from Google maps:


History
. This Isaac Comnenus (there are also two other Byzantines of that name) was a grandson of the brother of emperor Manuel (1143-1180). Near the end of the reign of Manuel he was appointed governor of Cilicia and was later captured in battle with the Armenians. After years in captivity, he was ransomed by the Knights Templar in 1185. Instead of returning to the capitol, he went to Cyprus and showed forged documents to make himself governor there and soon declared himself emperor in opposition to the regular Byzantine emperor Androncus (1183-1185) who was harsh and hated and soon replaced by Issac II (1185-1195). So there were two Isaacs at the same time. Isaac II attempted to retake the island from Isaac Comnenus, but failed.
In 1187 some of the ships of the Third Crusade of the fleet of Richard the Lionheart shipwrecked on the island. The survivors were treated poorly and when the rest of the fleet arrived, Richard demanded restitution (picking a fight, which seems to be what leaders did in those days) which was denied. Of course, battle resulted. Richard captured and then imprisoned Isaac Comnenus and conquered the island. Cyprus was never part of the Byzantine empire again. Richard left it to the Templars and then to Lusignan, the deposed King of Jerusalem.
Here is a map Europe in 1200:
https://www.euratlas.net/history/europe/1200/index.html
On that map Cyprus is in gray, not pink, which is the color of the Byzantine empire. The empire was much reduced in 1200 compared to hundreds of years earlier. You can use that map site to see a political map of Europe at any multiple of 100 years of our era. Click on the map to enlarge the regions.
---
Return to the page on coins of the Byzantine emperors.
Return to the main page of "Introduction to Byzantine Coins."