This page has coins of AD 284-324, coins of
Diocletian and the tetrarchy.

TERMS: Prices are in brackets: [$xx]. I accept PayPal and prefer Zelle. Postage in the US is $2 for orders up to $25, $3 for orders up to $50, $4 for orders up to $100, and an additional $2 for each hundred thereafter. Usually an extra $3 to other countries. (However, thick coins change an "envelope" to a "small parcel" which costs far more in postage to other countries. When you order, please tell me if you are in another country.) More-detailed terms of sale are here. Coins are guaranteed genuine.

After I confirm by e-mail that I still have the coin, you can pay by logging into your account and sending PayPal payment to my e-mail address.
To order, or if you have questions e-mail me, Warren, at:


Purple marks items that have sold and are no longer available.
Skip down the page to: Diocletian, Maximian, Constantius, Galerius, Severus II, Maximinus II, civic Pagan coins, Maxentius, Licinius, Licinius II

---

Recent: 2022, August 18: Licinius radiate.
2022, April 28: Sold coins removed entirely.
2021, Dec. 24: Tetrarchal coins moved from the main page to here, where they belong. Licinius II, Maximian.
Oct. 22: Very rare Galerius aurelianus (the type was the subject of an article I will send along in pdf form). Two more Maximian aureliani.
October 7: Six Maximian aureliani (antoniniani) including one rare bust type.
April 10: Sold coins removed entirely.
Feb. 22: Rare BONO GENIO of Maximinus II, unlisted, at the top.
2021, Feb. 15: Constantius quarter-follis, at the top.




Skip past the newest and down to the tetrarchy in chronological order.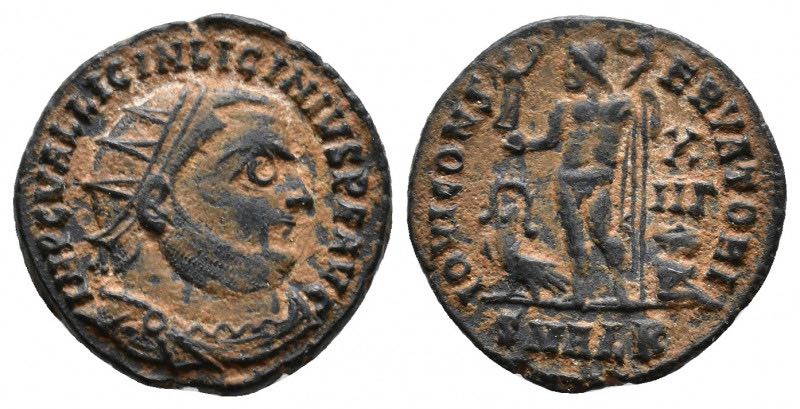 Licinius, 308-324
Radiate Fraction,
18 mm. 3.37 grams.
Alexandria, 321-324. IMP C VAL LICIN LICINIVS P F AVG Radiate, draped and cuirassed bust of Licinius I to right. Rev. IOVI CONSERVATORI AVGG / X / IIΓ / SMALB Jupiter standing front, head to left, holding Victory on globe in his right hand and long scepter in his left; at feet, eagle to left, holding wreath in beak; to right, captive seated right, his head turned back toward Jupiter. RIC Alexandria 28.
The X / IIΓ means 12 1/2, which is half of 25 and also 8 to 100, so it was probalbly an attemp to make a denomination the fit with the coins (whichever they were) valued at 100 (denarii?).
I love the earthen highlighting. [$25]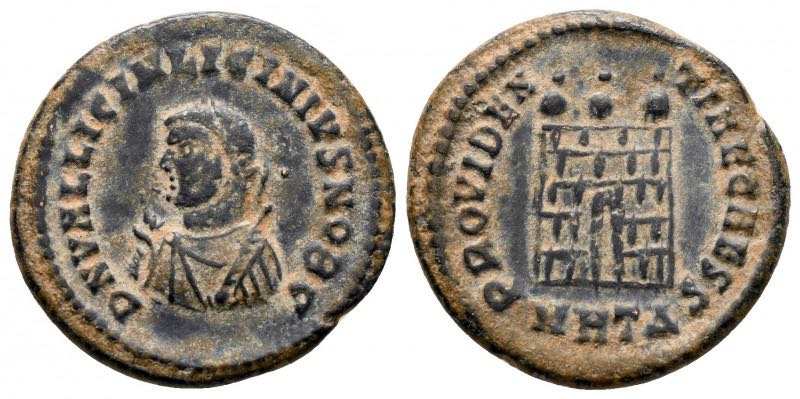 Licinius II, 317-324, as Caesar
19 mm. 3.06 grams.
DN VAL LICIN LICINIVS NOB C
PROVIDENTIAE CAESS
campgate
MHTΔ
Tiny bust left, holding mappa and scepter
One way (known to every kindergardner) to indicate a person is not as important as another is to make their picture smaller.
RIC VII Heraclea 19 "317" (His first issue)
Lovely light cover, perfect centering, nice grade, excellent bust [$49]
Please compare with vcoins prices. As I write, the closest one is $125 and not as nice.
---
Chronological order begins here!

Diocletian (284-305)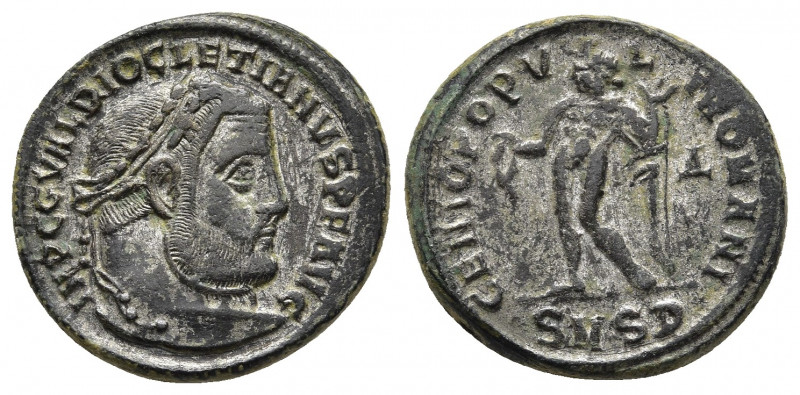 Diocletian
27 mm. 10.49 grams. Follis.
GENIO POPVLI ROMANI
SMSD
RIC Serdica 3a. "304-5"
This type is very common, but much less so from Serdica because the mint did not open until 303 (Thessalonica's mint was closed and its staff was moved to Serdica). The type began eslewhere c. 294, so it had much less time to be issued at Serdica.
Serdica has the most extreme depiction of Genius. It has very long legs and leans back.
Lots of silvering. [$85 SOLD] As I write, neither vcoins nor MA-Shops have any Diocletian folles from Serdica.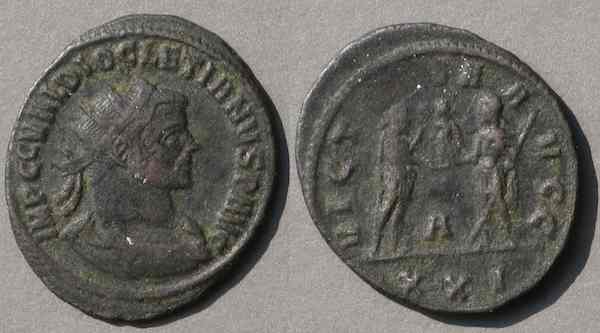 [$25] Diocletian
IMP C C VAL ​​​DIOCLETIANVS AVG
VICTORIA AVGG
RIC 277
---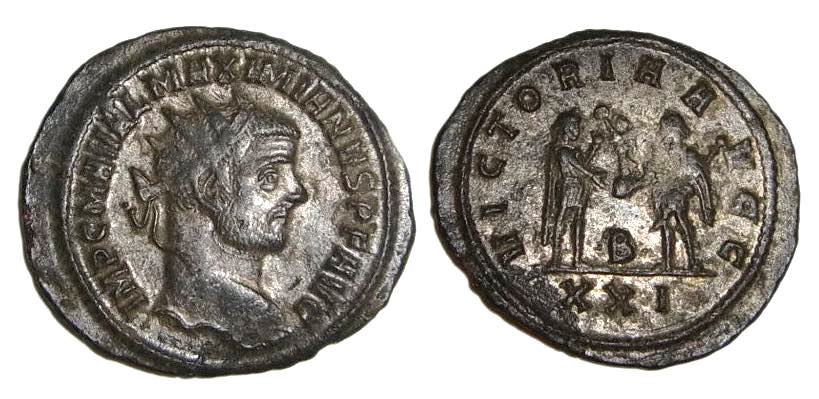 Maximian, aurelianus. 286-305.
25-23 mm. Very large for type.
IMP C M AV VAL MAXIMIANVS PF AVG
VICTORIA AVGG
Emperor on left holding baton in left (parazonium?) and receiving Victory on globe from Diocletian on right holding transverse scepter. B in field, XXI in exergue.
RIC V.II Maximian 585, page 288 "Siscia, 291."
Sear 13179.
Large, full, flan [$69, reduced to $59 SOLD]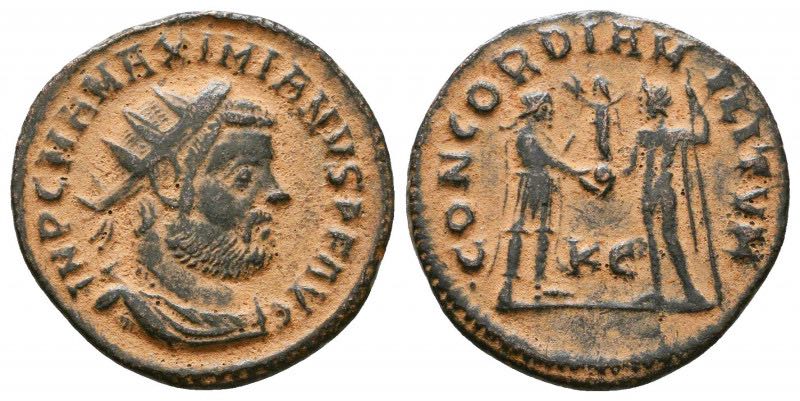 Maximian, 286-305
22 mm.
Post-refrom radiate
CONCORDIA MILITVM
RIC VI Cyzicus 15b "c.295-6"
Sear IV 13315
Lovely light earthern cover, full flan, good portrait [$29 SOLD] ($3 shipping. When you price a coin, be sure to include the cost of shipping.)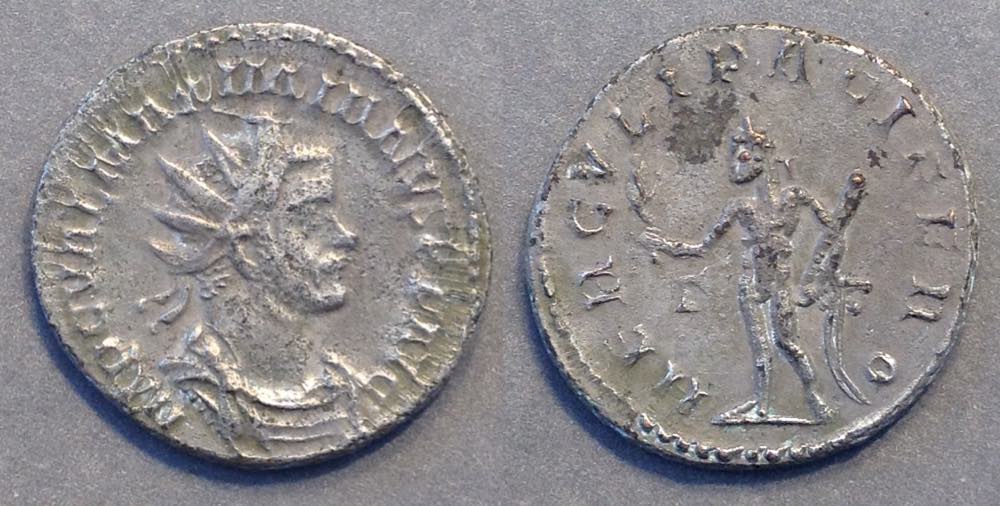 Maximian
21-20 mm. 4.21 grams.
HERCVLI PACIFERO
Hercules standing left holding olive branch in right and club and lion-skin in left
Γ in field left, nothing in exergue.
RIC
V.II Maximian 371, page 263 "Lugdunum, 288"
Bastien 95 p.134, 3rd emission, 4th officina (286 AD)
Sear 13131.
Good silver. Somewhat porous. Lots of reverse detail. [$35]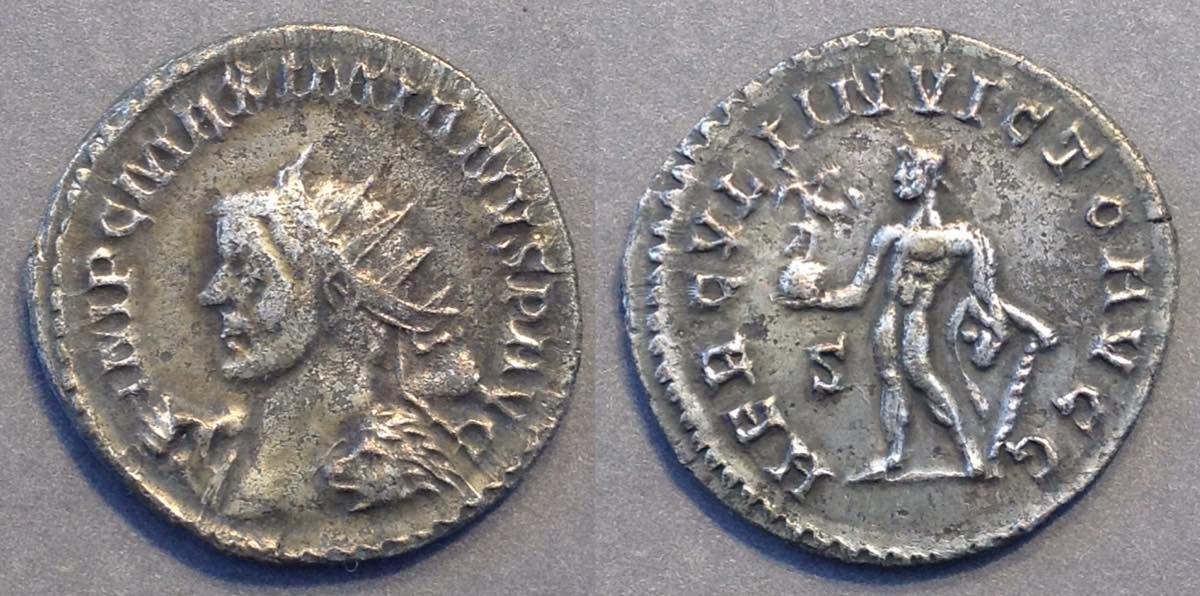 Maximian, 286-305.
22 mm. 4.23 grams. Heavy with better silver than typical.
IMP C MAXIMIANVS AVGHERCVLI INVICTO AVGG
Hercules standing left holding Victory on globe, lion-skin over left arm, leaning on club.
S in left field, nothing in exergue.
Obverse: radiate bust left holding club over far shoulder, lion skin over near (his left) shoulder.
RIC V.II Maximian 367, page 263, "Lugdunum, 289"
Bastien 190 p.152, 5th emission, 2nd officina (287-289 AD).
Sear 13132.
Rare bust type. Lots of silver. [$295, reduced to $265] Please compare with prices elsewhere.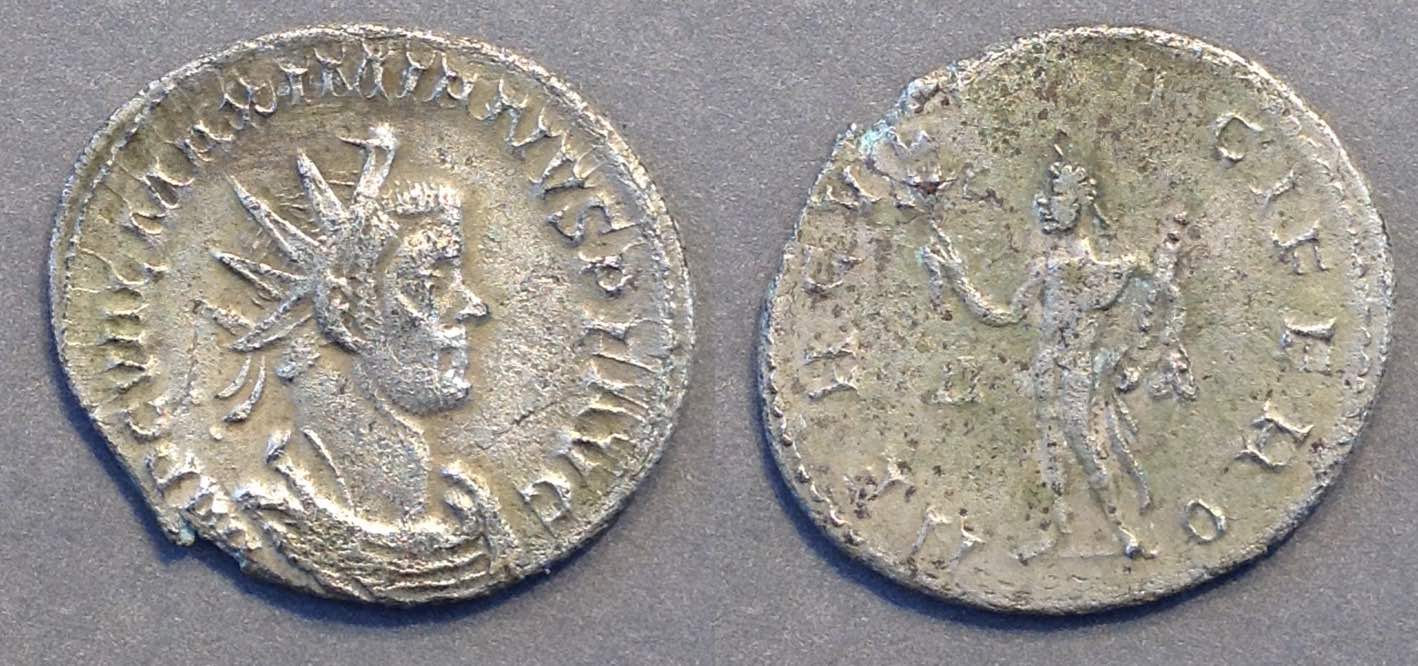 Maximian
21-20 mm. 3.02 grams.
HERCVLI PACIFERO
Hercules standing left holding olive branch in right and club and lion-skin in left
Δ in field left, nothing in exergue.
RIC
V.II Maximian 371, page 263 "Lugdunum, 288"
Bastien 95 p.134, 3rd emission, 4th officina (286 AD)
Sear 13131.
[$39]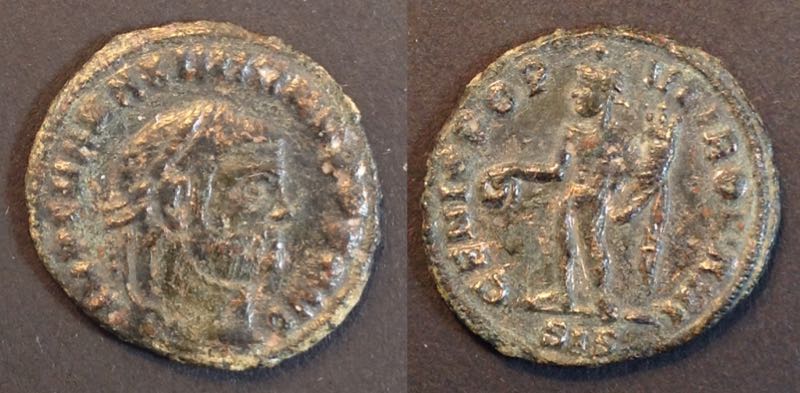 [$16] Quarter Follis of Siscia
19 mm.
Maximian
IMP C MA MAXIMIANVS PF AVG
GENIO POPVLI ROMANI
SIS
This is not the usual full-size follis, rarther the scarcer (but not rare) "quarter follis".
RIC Siscia 146, "R3" (RIC rarities are out of date.)
plate IX
Failmezger 29 [$16]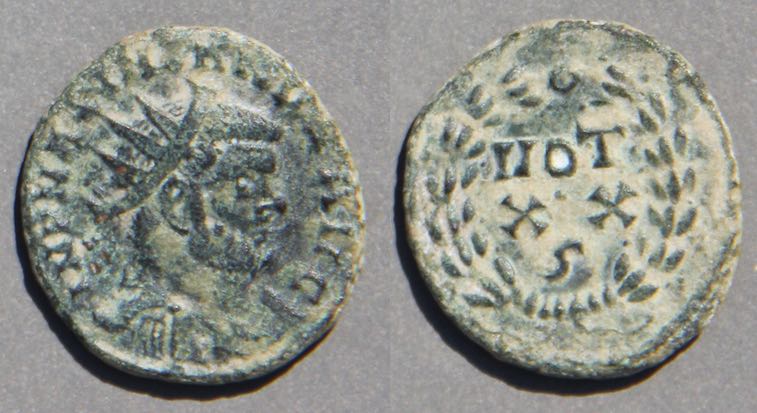 [$39] Maximian post-reform radiate. 20 mm.
VOT / XX in wreath, struck 297-8.
Vows for 20 years of reign (which is what Diocletian wanted and imposed)
RIC Rome 85b, "Scarce" and this officina is unlisted. (It is listed for nearby issues, but not this type.)
Should it be worth a lot more for being "not in RIC"? Maybe a little. If that appeals to you, and it does to most collectors somewhat, buy this one. Most collectors don't have any coins "not in RIC."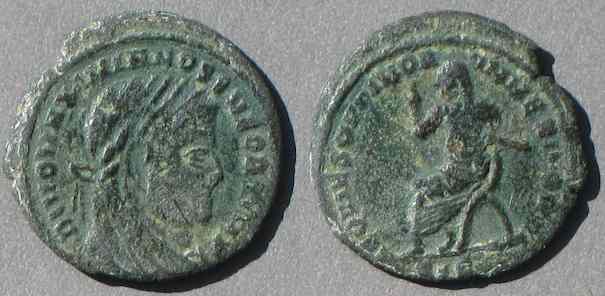 [$59, reduced to $32] Maximian, 286-305, struck posthumously, 317-318, by Constantine in his 3-emperor commemorative series.
AE 16. (small denomination) RIC Siscia 41, page 429, "r3" (extremely rare, but minor, variety).
---
Constantius I (293-305-306)
Constantius I, struck 305-306 as Augustus
19-17 mm. 2.09 grams.
IMP C CONSTANTIVS PF AVG
GENIO POPVLI ROMANI
SIS
RIC Siscia 167 "R"
A small version of the common follis, but 1/4 size.
Now commonly called a "quarter follis", and it used to be called a "denarius."
[$24 SOLD]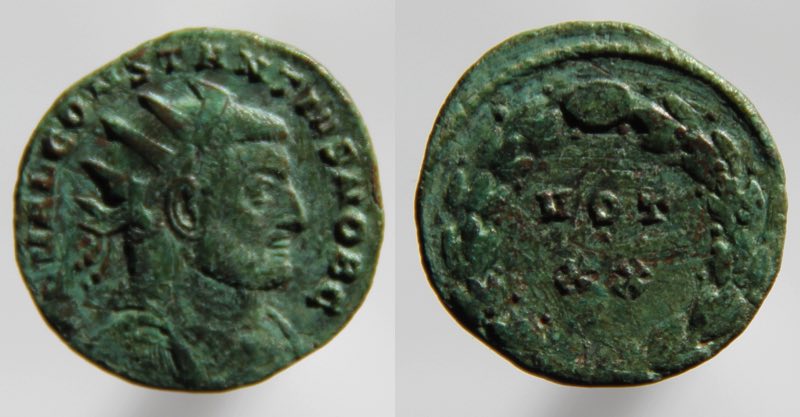 Constantius, 293-305-306
20-19 mm
Struck as Caesar
IMP VAL CONSTANTIVS NOB C
VOT XX in wreath
No visible officina number
RIC VI Rome 87e variety. "c.297-8." Footnote 2 says some apparently have no officina number. [$49, reduced to $35]
VOT XX is hard to explain for Constantius with this date. It might be the vows of Diocletian (not Constantius) reconfirmed at year 15 (as proposed by RIC). It might be the coin is really from c. 303 (as the Carthage coins above) and this is vows suscepta for Constantius on the occasion of his ten-year vows. Of, it might be really from c. 303 and the vow number belongs to Diocletian. It is certainly the case that vow numbers can belong to the senior ruler and not the ruler named on the coin.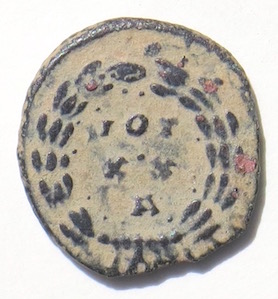 [$39, reduced to $25] Constantius I. Struck c. 297-8 at Rome. 19 mm. 3.14 grams.
VOT XX A in wreath.
RIC VI Rome 88a. page 360.
A reference to the "20 years" intended for the tetrarchy.
Rare. None on vcoins or MA-Shops as of this writing.
---
Galerius (293-305-311)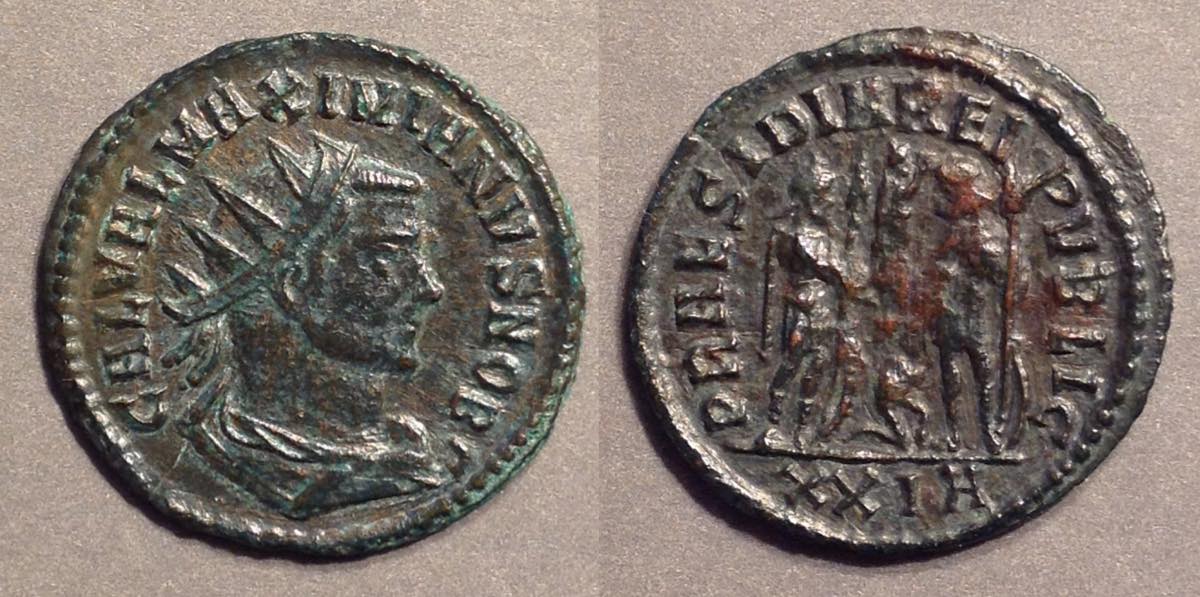 Galerius, 293-305-311
22-21 mm. 2.59 grams (light).
Struck 293-4
as the last issue of aureliani at Siscia.
Very rare.
PRAESIDIA REIPVBLIC (Protection of the Republic)
XXIA
emperors standing facing each other, captive right kneeling between, emp. on left presenting Victory on globe to emp, on right. Each has vertical spear and shield
RIC V.II 716, page 308 "Siscia" (no rarity given there)
This type is the subject of a 2012 article
PRAESIDIA REIPVBLIC AND THE LAST EMISSION OF ANTONINIANI AT THE MINT OF SISCIA by Davor Margetić. I can
This coin is illustrated as figure #4 in his article. He found three of this type for Galerius (this one included) and six for Constantius, one for Maximian, and none for Diocletian.
ex. Lanz 158 (June 5, 2014) lot 657. ex Leu Numismatik 17 lot 2932.
Smoothed. Very rare and interesting reverse legend. Very special. Published as a plate coin! [$375 SOLD]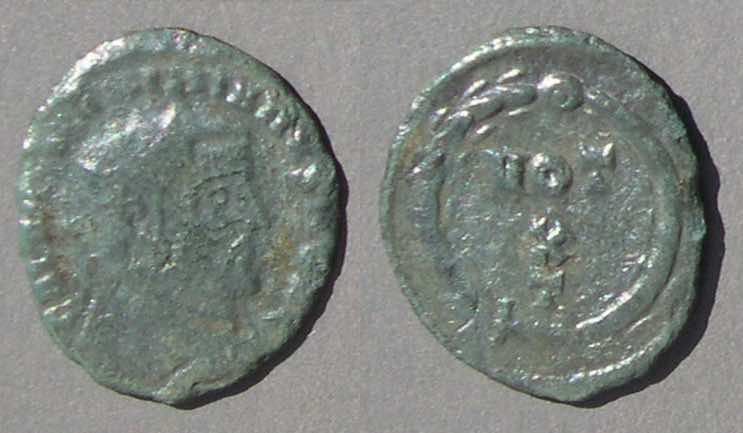 Galerius, 293-305-311
Struck at Ticinum
21-18 mm.
VOT X T
Vows for ten years of reign,
RIC Tic 39b "c. 299" Failmezger 22 "R" (rare)
[$12]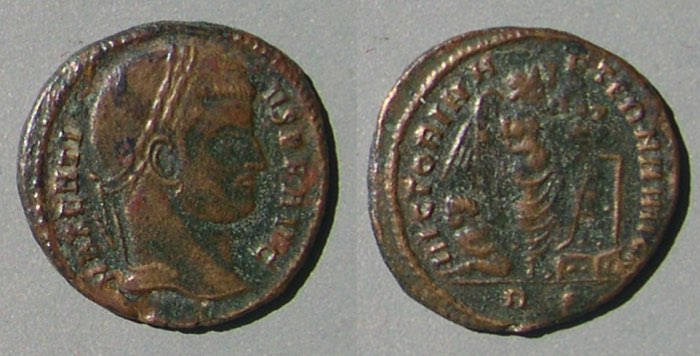 Maxentius. 306-312
half-follis. 20 mm. 3.13 grams.
VICTORIA AETERNA ANG N
Victory standing right inscribing shield with VOT X, captive below to left
R S
RIC Rome 227 "scarce" struck "c. 310"
[$59, reduced to $37]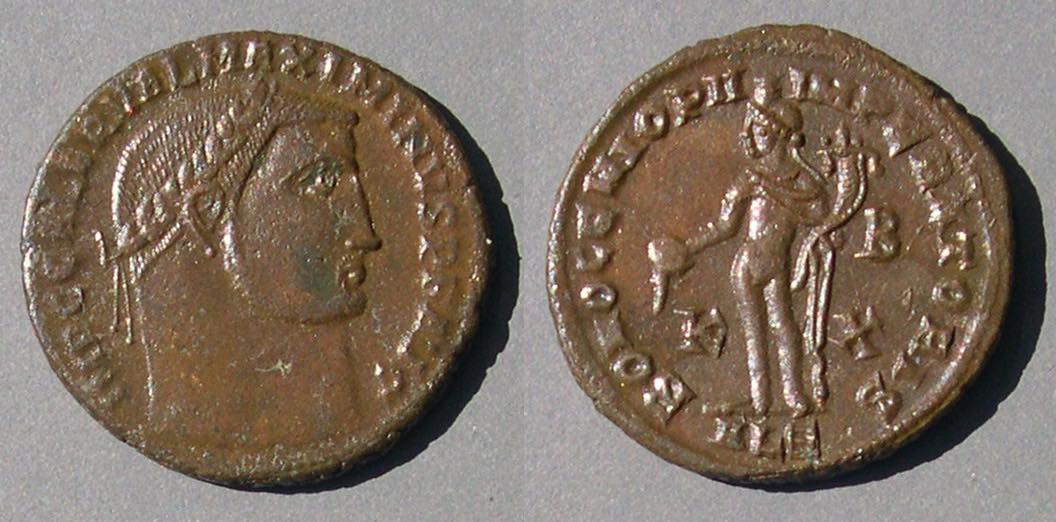 Unlisted in RIC
(for its combination of field marks)
Maximinus II, Caesar 305-310 and Augustus 310-313
Struck 311-312
IMP C GALER VAL MAXIMINVS PF AVG
BONO
GENIO PII IMPERATORIS
The genius type with "BONO" is only from Alexandria.
B
K X in fields
ALE in exergue
RIC VI Alexandria --, close to 144b, however that whole group has an upward facing crecent in the upper left field. None of the types in
RIC
have this combination of field marks. Therefore
RIC
VI Alexandria
unlisted
.
ex Empire Coins "Encore list" May 14, 1993, lot 386.
Nice rust color. Excellent reverse with good glossy patina. [$145]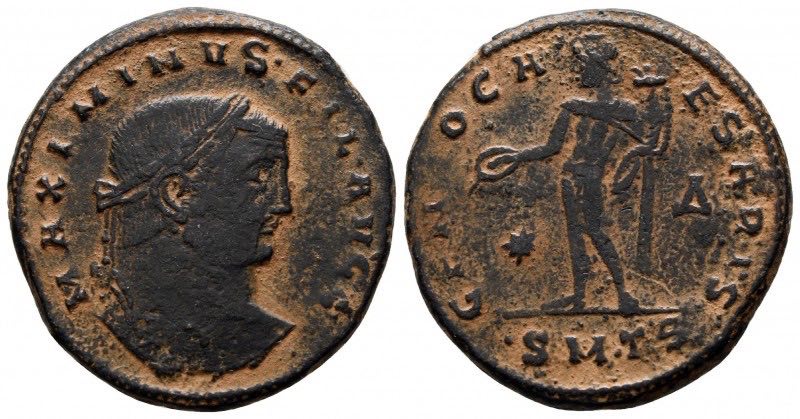 Maximinus II, 305-306-313
MAXIMINVS•FIL•AVGG

•SM•TS•
RIC VI Thesalonica 32a page 514 "Scarce, Dec. 308-May 310."

The unusual title "FIL AVGG"!
See here for the story:
http://augustuscoins.com/ed/FILAVGG/

[$65]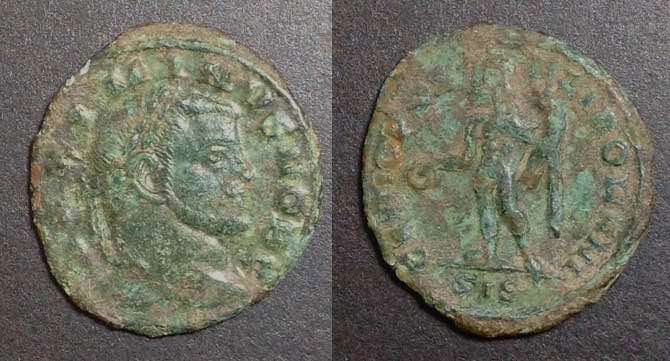 Maximinus II, 305-310-313
19 mm.
Struck 305-306
quarter follis
GENIO POPVLI ROMANI
SIS for Siscia
RIC Siscia 171b
The short version of his obverse legend
MAMIMINVS NOB C [$33, reduced to $19]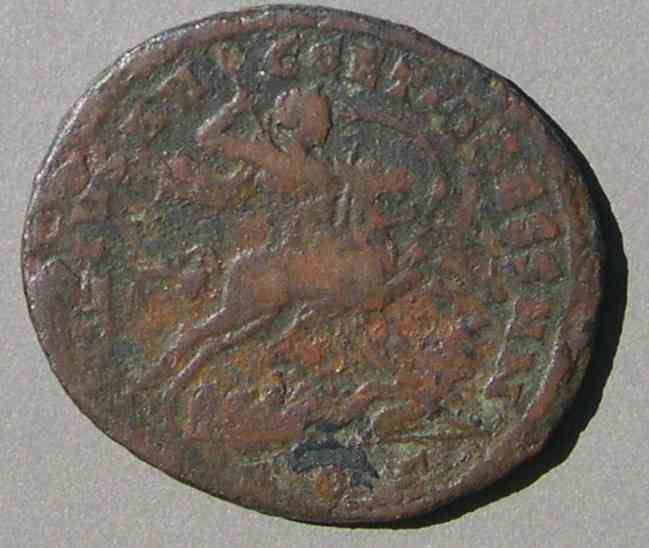 [$39] Maximinus II, Daza. 305-310-313 AD.
Struck as Caesar, c. 305-6 at Aquileia. RIC VI Aquileia 68b "scarce" (I'd say "rare")
Large AE30-26. Horseman spearing fallen foe.
VIRTVS AVGG ET CAESS NN
Helmeted bust left with spear over far shoulder. The coin is a little less red than the image on my screen. Rare type (both obverse and reverse are unusual)
Civic Pagan Coins of the time of Maximinus II (c. 310)
[SOLD]

---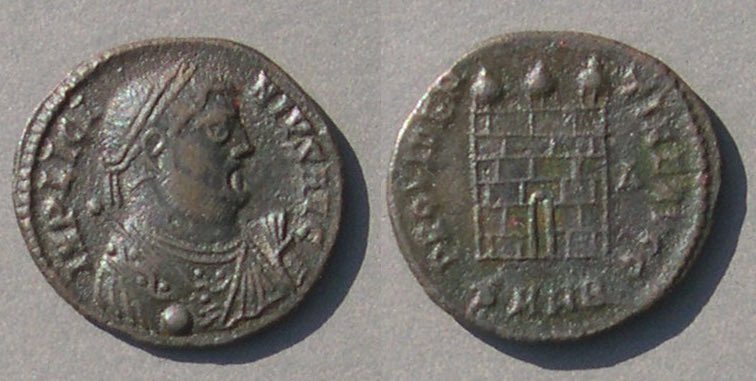 Licinius I, 308-324
consular bust right, holding mappa and globe
PROVIDENTIAE AVGG
SMHB
RIC Heraclea 48 but right, not left. (Error in RIC, according to Berk 111 lot 479 description)
Hunter 37.116 (also notes bust is right, not left)
[$29, reduced to $25 SOLD]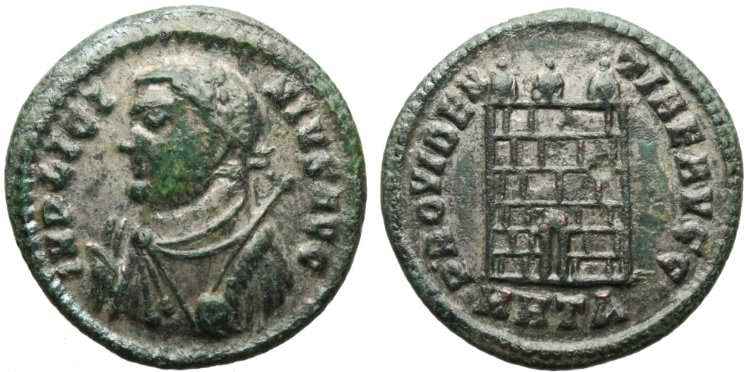 [$39, reduced to $29] Licinius
19 mm. 3.61 grams
Struck at Heraclea 317
RIC Heraclea 17. Silvering. High grade.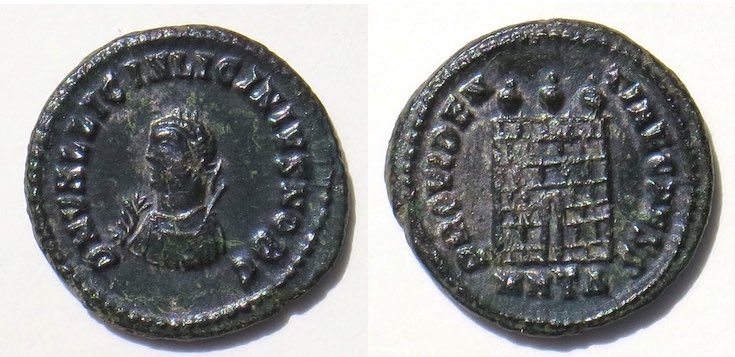 Licinius II, 317-324
19 mm. Tiny head left with scepter and mappa, struck 317
RIC VII Heraclea 19
"Camp gate" PROVIDENTIAE CAESS, MHTDelta
very little wear, silvering mostly tarnished to glossy black
A really cute tiny head! Splendid! [$59, reduced to $49]
---
Return to the top of this page.

Next Page: Constantinian (306-364)
Second next: Roman of Valentinian and later (364-491 AD)