This page has coins of AD 284-364, coins of
Diocletian and the tetrarchy.

TERMS: Prices are in brackets: [$xx]. I accept PayPal. Postage in the US is $2 for orders up to $25, $3 for orders up to $50, $4 for orders up to $100, and an additional $1 for each hundred thereafter. Usually an extra $3 to other countries. (However, thick coins change an "envelope" to a "small parcel" which costs significantly more in postage to other countries. When you order, please tell me if you are in another country.) More-detailed terms of sale are here. Coins are guaranteed genuine.
After we have agreed by e-mail that you have gotten the coin, you can pay by logging into your account and sending PayPal payment to my e-mail address.
To order, or if you have questions e-mail me, Warren, at:


Purple marks items that have sold and are no longer available.
Skip down the page to: Diocletian, Maximian, Constantius, Galerius, Severus II, Maximinus II, Maxentius, Licinius, Licinius II

---

Recent: Jan. 14, 2019: Maximian quarter follis of Siscia, at the top.
Nov. 8: Galeria Valeria and Galerius from London, at the top.
Oct. 30: Rare fractional follis of Maximian with vows for 30 years!
Oct. 28: Silver argenteus of Constantius and high-quality Maximian from London.
Oct. 25: High quality Maximian of his second reign (at the top).
Oct. 20, page reorganized. Sold coins removed.

Skip past the newest and down to the tetrarchy in chronological order.

Newest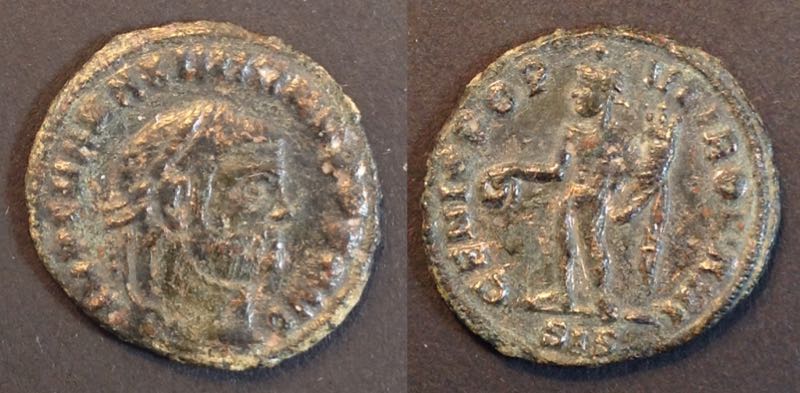 Quarter Follis of Siscia
19 mm.
Maximian
IMP C MA MAXIMIANVS PF AVG
GENIO POPVLI ROMANI
SIS
This is not the usual full-size follis, rarther the scarcer (but not rare) "quarter follis".
RIC Siscia 146, "R3" (RIC rarities are out of date.)
plate IX
Failmezger 29
[$14]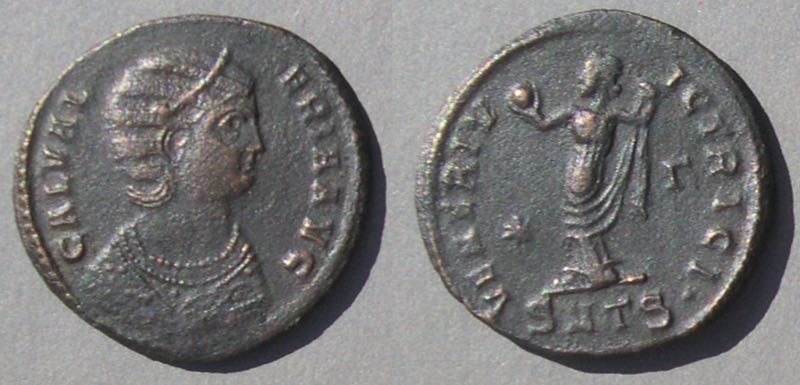 Galeria Valeria.
26 mm. 5.65 grams.
Second wife of Galerius
Struck Dec. 308 - May 310
at Thessalonica
* Γ
SMTS
wearing imperial mantle
[$79]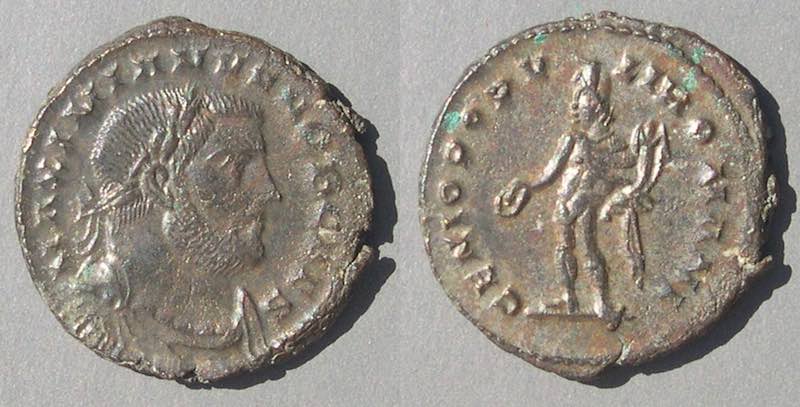 Galerius. 293-305-311
27 mm. 10.49 grams.
Follis struck at London
RIC VI London 21 "R"
London mint is popular. [$45 SOLD]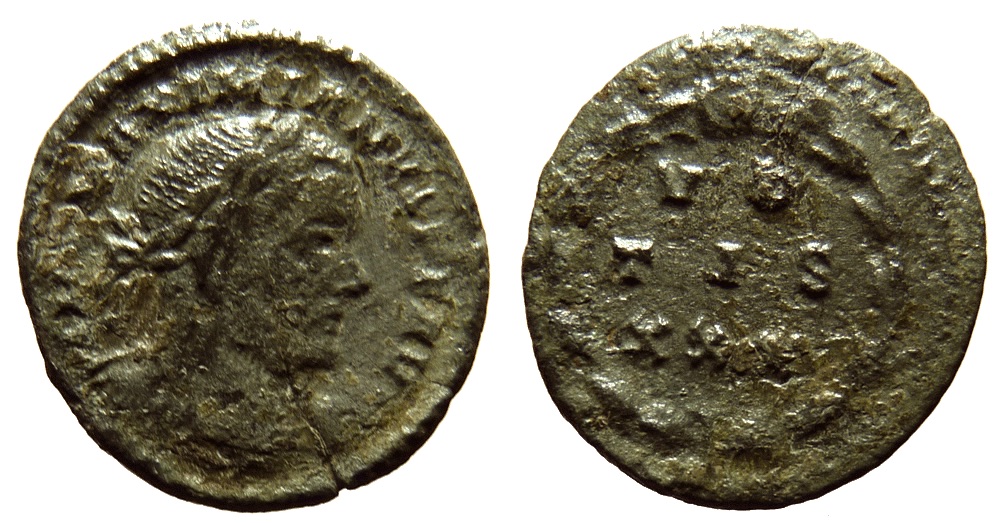 Maximian, 286-305 and 305-310
Struck second reign with vows for thirty years
Of course, he was forceably retired at twenty years, so he never should have aspired to thirty, but he did!
VO/TIS/XXX (Type only from Trier)
18-17 mm. 1.98 grams. A very rare denomination-- an AE fraction, sometimes thought to be a quarter follis.
RIC Trier 754 "Rare, c. summer 307"
Zschuche 7.14b "summer 307"
[$149]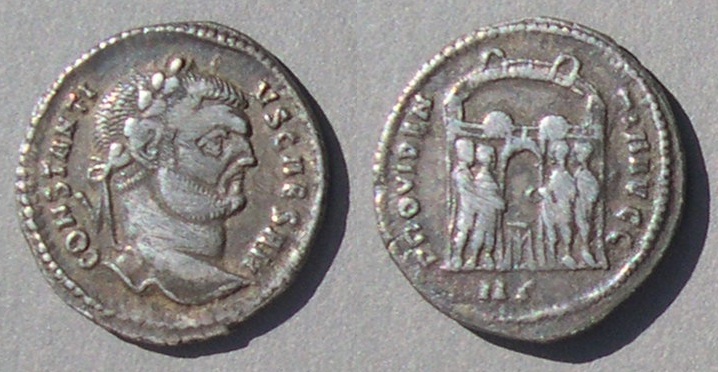 Constantius, silver argenteus
Struck c. 295
18 mm. 3.14 grams.
Light scratches, as well-illustrated in the photo.
RIC Heraclea 5, "r3", plate 12, page 529.
The four tetrarchs sacrificing in front of a camp with six towers, possibly the Pratetorian Camp.
Nice portrait scowl! [$219]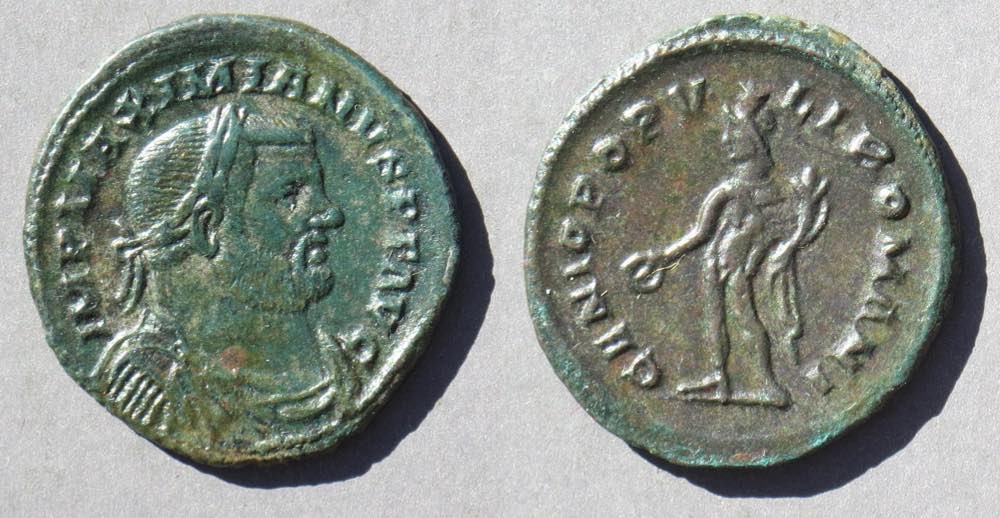 Maximian (286-305) at London mint
GENIO POPVLI ROMANI
Genius standing left
no mint mark, for London
RIC VI London 25
Lovely dark green English patina. An excellent example!
Look at the centering! Slightly better hair detail than the photo shows (especially in front of the wreath). A super coin [$95]
Maximian after retirement and in his second reign in high grade: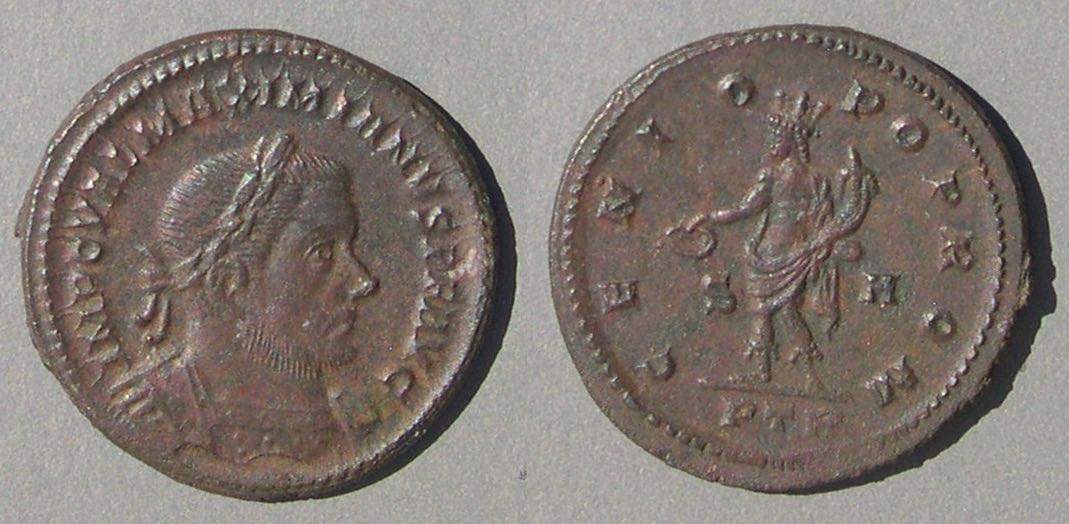 Maximian, second reign
Struck Autumn 307 - end of 308
IMP C VAL MAXIMIANVS PF AVG
GENIO POP ROM
Genius standing left
PTR in exergue, S A in field
RIC VI Trier 768
Lovely brown color with a hint of red. Look at the detail on the head of Genius! Almost no wear.
[$95]
ex Malloy auction XIV July 1979.

Maximian rarity: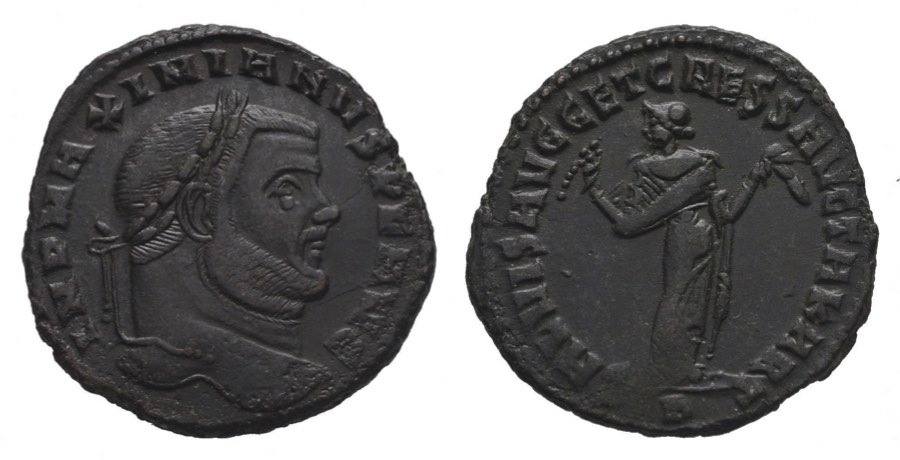 Maximian, 286-305. Struck 298-9 on his travels to Africa.
rare. Most Carthage coins resembling this one end
FEL KART
but this is a very rare legend ending
AVCTA KART (= enriched and improved Carthage, Stevenson, page 712)
Failmezger 8
IMP MAXIMIANVS PF AVG
SALVIS AVGG ET CAESS AVGTA KART, Carthage standing, head left, holding fruits in both hands. B in exergue.
RIC Carthage 27B
As I write there are none on vcoins or MA-Shops. Nice detailed portrait and clear AVCTA--the only type with this in the legend. Excellent portrait on a rare type that is seldom offered. [$145 SOLD]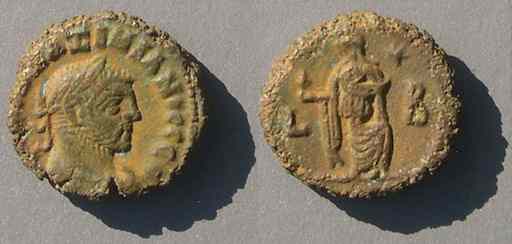 Maximian, 286-305. 17 mm. Elpis (Spes) standing left, holding flower. SGI --. BMC 2556.
Emmett 4114. rust color. small, but not light. 7.88 grams.
ex Terry July 1982, lot 150. [$18]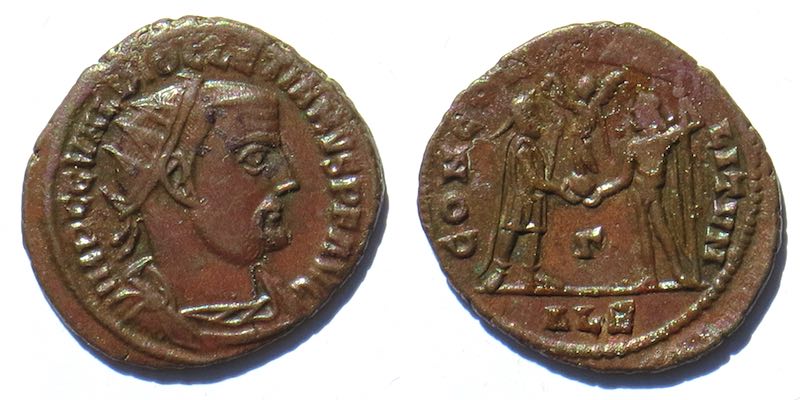 Diocletian, 284-305
21-20 mm. Struck 296-7
CONCORDIA MILITVM
from ALE[xandria]
Lovely surfaces. Radiate!
RIC VI Alexandria 46. [$33]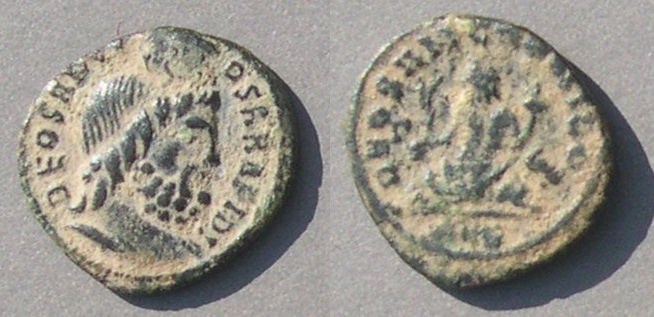 [$275] Compare with this $800 vcoins coin (which is not better!):
https://www.vcoins.com/en/stores/athena_numismatics/18/product/julian_ii_16_festival_of_isis_coinage_alexandria_4th_century_ad/967899/Default.aspx
Compare to this CNG piece: https://cngcoins.com/Coin.aspx?CoinID=367158 at $401.
anonymous pagan civic issue struck under
Maximinus II at the end of 310 AD.
16 mm. (There are smaller types that look somewhat the same. This is the larger version.)
DEO SANCTO SERAPIDI, head of Serapis right
DEO SANCTO NILO, Nilus recling left with reed and cornucopia
Ref: Vagi 2959
van Heesch NC 1995 pages 65-75 and plate 1, type 6.
rare and very interesting with lovely light-colored earthen cover.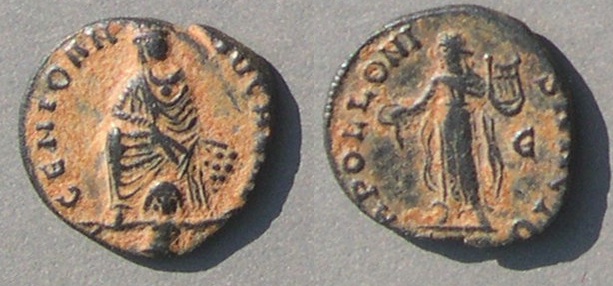 Autonomous Civic pagan coinage struck under Maximinss II
Struck c. end 310-June 311.
15-14 mm.
GENIO AN-TIOCNENI, Antioch seated facing, river god swimming below
APOLLONI-SANCTO, Apollo holding patera and lyre
E for the fifth officina) in the right field. SMA in exergue (Sacra Moneta Antioch).
Vagi 2954. van Heesch, type 3, plate 11.3.
Not in RIC, but common anyway. [$33]
ex Dan Clark in 1987 at $25.
---
---
Chronological order begins here!


Diocletian (284-305)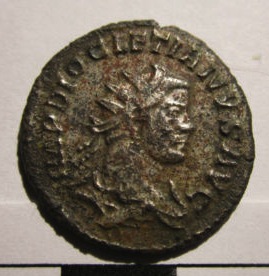 [$26, reduced to $21] Diocletian (284-305) radiate antonianus.
IOVI AVGG, Jupiter seated left . Surface roughness, but lots of detail.
A less-common type. Diocletian was the Iovian emperor, which this type emphasizes.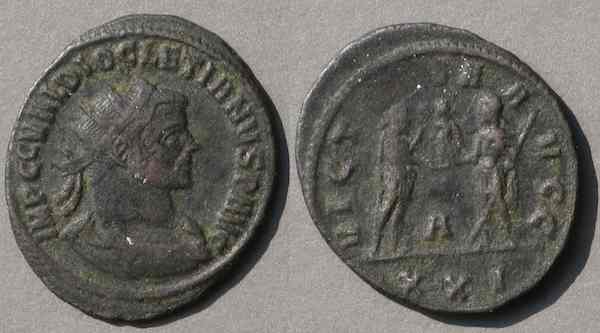 [$25, reduced to $23] Diocletian
VICTORIA AVGG
One of the less common reverses.
RIC 277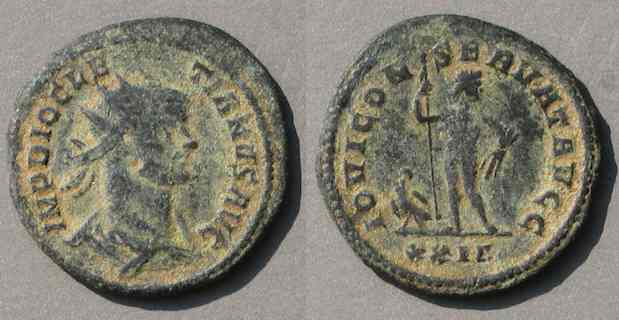 Diocletian
IOVI CONSERVAT AVGG
Jupiter with sceptre and thunderbolt, pleasing light cover.
[$25, reduced to $23]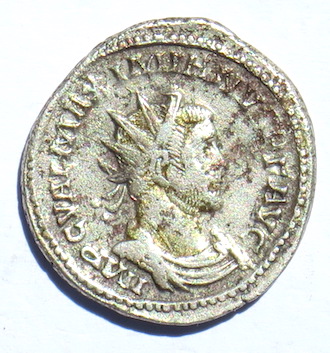 [$49, reduced to $45] Maximian, 286-305
VIRTVS AVGG
RIC V.II 432v (unlisted with no letter in field). Struck 285.
Heavy silvering.
(As I write, there are three on vcoins, all much more expensive.)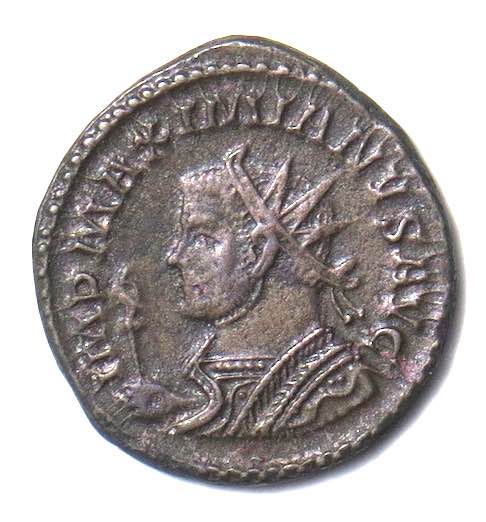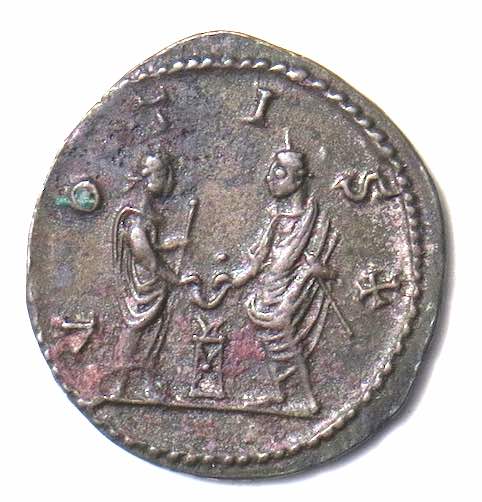 Maximianus 286-305. Aurelianus. 22-21 mm. 4.00 grams.
VOTIS X, Maximian and Diocletian sacrifcing over altar.
Maximian left in consular robes holding eagle-tipped scepter.
RIC 467. Mint of Lugdunum. Datable by the consular robes to a year when he had the consulship: 294.
ex Berk with ticket (not at auction, but fixed-price sale)
Rare and desirable. [$195, reduced to $175]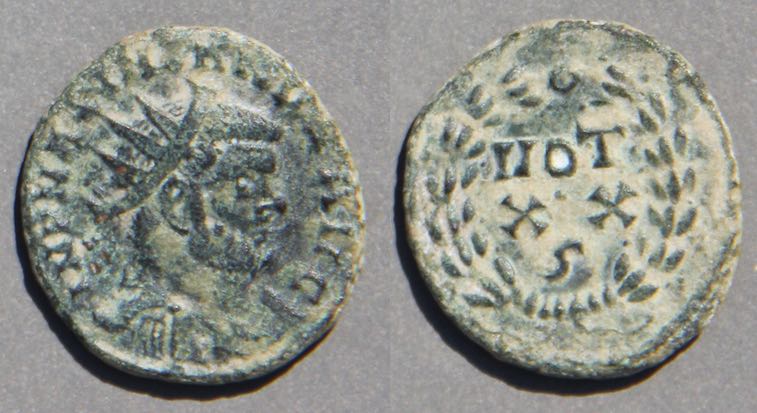 [$39] Maximian post-reform radiate. 20 mm.
VOT / XX in wreath, struck 297-8.
Vows for 20 years of reign (which is what Diocletian wanted and imposed)
RIC Rome 85b, "Scarce" and this officina is unlisted. (It is listed for nearby issues, but not this type.)
Should it be worth a lot more for being "not in RIC"? No. If that appeals to you, and it does to most collectors somewhat, buy this one. Most collectors don't have any coins "not in RIC."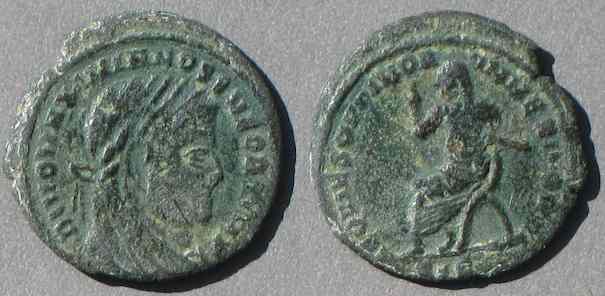 [$59, reduced to $32] Maximian, 286-305, struck posthumously, 317-318, by Constantine in his 3-emperor commemorative series.
AE 16. (small denomination) RIC Siscia 41, page 429, "r3" (extremely rare, but minor, variety).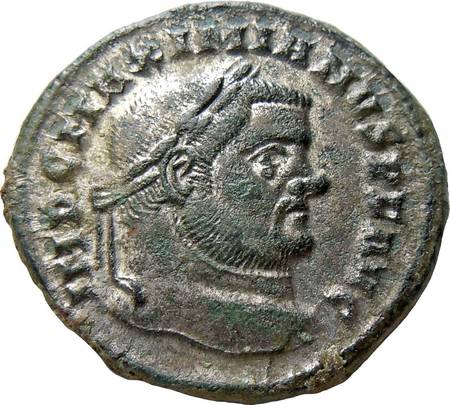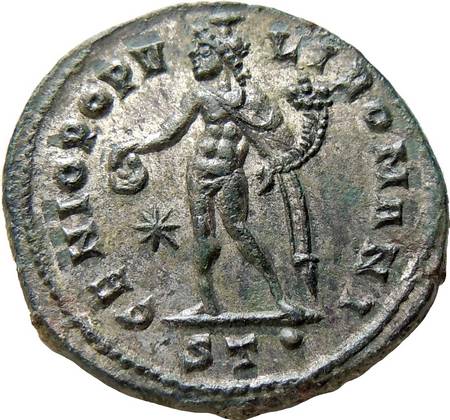 [$85 SOLD] Maximian, 286-305
28 mm. Much silvering. 9.99 grams.
IMP C MAXIMIANVS PF AVG
GENIO POPVLI ROMANI
* left, ST<dot> in ex.
RIC VI Ticinum 33b, page 284, "struck 298-9"
Look at the six-pack abs! The bold, fresh, mintmark! Look at the face of Genius--the eye is clear! Look at how bold it is! Maximian was known for his bulbous nose, and this one has it. Lots of silvering. A wonderful, high-grade, coin. In ancient-coin collecting the premium for wonderful coins is not nearly what it is for US coins, but you still have to pay significantly more for top coins.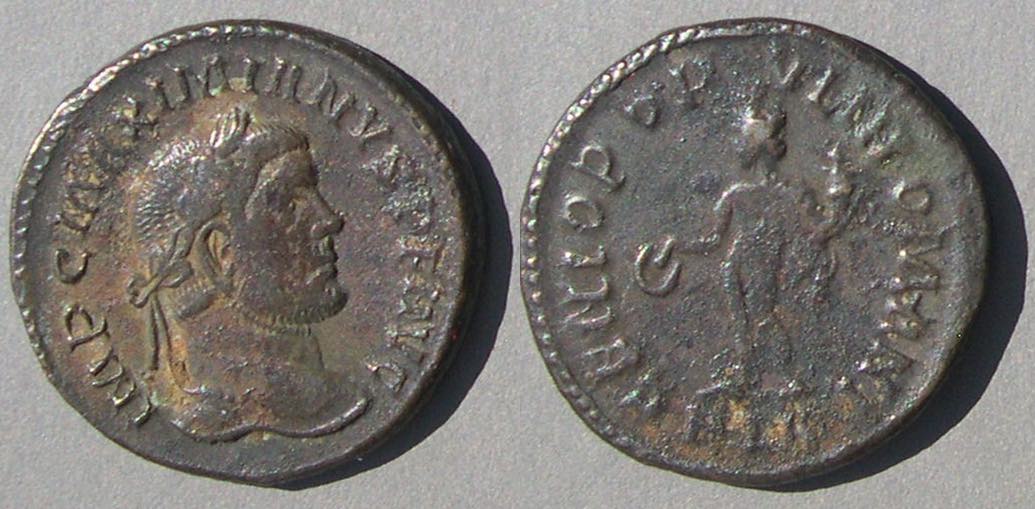 [$49, reduced to $39] Maximian, 286-305
Diocletian's reformed conage in Britain,
the very rare "PLA" group issued just before they minted witihut a mintmark (according to Sutherland in the ANA Centennial volume), which has crude lettering and barely decipherable mintmark.
RIC Lugdunum 11b "R2" page 242 (cf. plate 3, 1, 11a, 17b)
For the London mint specialist who can confirm its rarity and place in the sequence.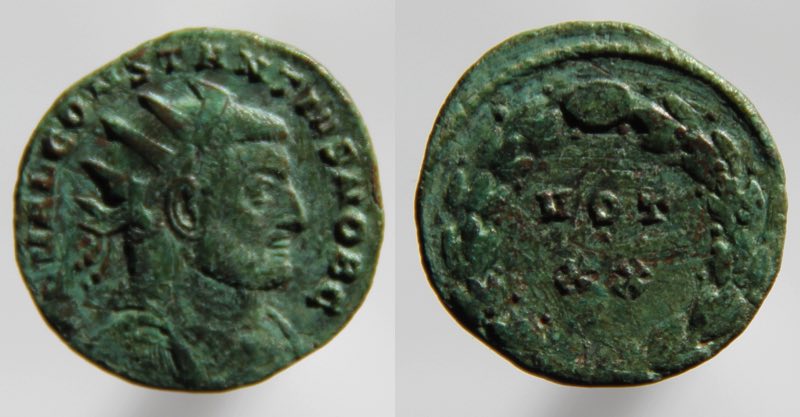 Constantius, 293-305-306
20-19 mm
Struck as Caesar
IMP VAL CONSTANTIVS NOB C
VOT XX in wreath
No visible officina number
RIC VI Rome 87e variety. "c.297-8." Footnote 2 says some apparently have no officina number. [$49]
VOT XX is hard to explain for Constantius with this date. It might be the vows of Diocletian (not Constantius) reconfirmed at year 15 (as proposed by RIC). It might be the coin is really from c. 303 (as the Carthage coins above) and this is vows suscepta for Constantius on the occasion of his ten-year vows. Of, it might be really from c. 303 and the vow number belongs to Diocletian. It is certainly the case that vow numbers can belong to the senior ruler and not the ruler named on the coin.
Constantius I, 293-305-306, struck c. 300-303 as Caesar.
CONSTANTIVS NOB CAES
SACRA MONET AVGG ET CAESS NOSTR
ST• for Ticinum mint.
RIC VI Ticinum 46a, page 286.

It has a deep cavity, nearly all the way through the flan, at the cheek. On the reverse you can see traces of it on the right arm of Moneta. An odd flan flaw. I think it had a glob of lead in the metal and the lead corroded (fell?) out.
Excellent hair and beard detail with bold name and lettering. Interesting! [$19]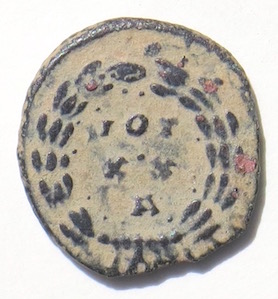 [$39, reduced to $27] Constantius I. Struck c. 297-8 at Rome. 19 mm. 3.14 grams.
VOT XX A in wreath.
RIC VI Rome 88a. page 360.
A reference to the "20 years" intended for the tetrarchy.
Rare. None on vcoins or MA-Shops as of this writing.
The quarter-follis denomination issued only at Sisica and for only a short while around AD 306. They have the usual follis GENIO POPVLI ROMANI type but in miniature (only 19 mm instead of 27 mm).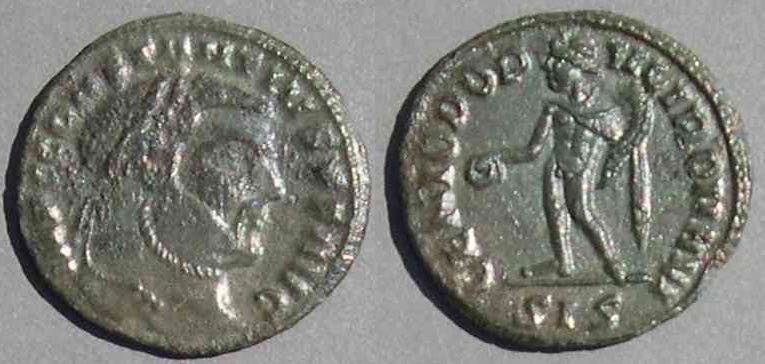 [$25, reduced to $21] Constantius I, struck 306
19 mm.
RIC Siscia 167 "R".
IMP C CONSTANTIVS PF AVG
#T628
---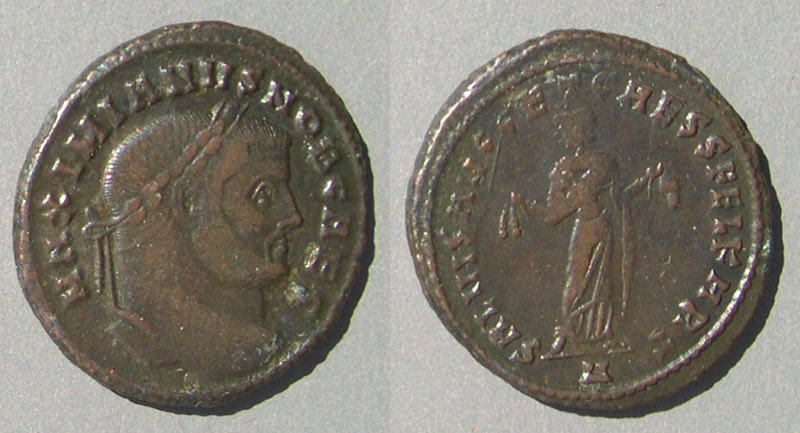 Galerius, 293-305-311
28-27 mm
Struck at Carthage as Caesar
SALVIS AVGG ET CAESS FEL KART
Carthage holds fruits on both hands
RIC VI Carthage 28b "c. 298-9" "Scarce" Warm brown [$49]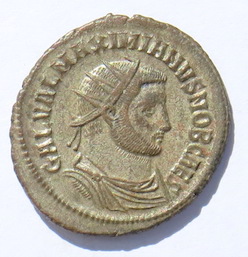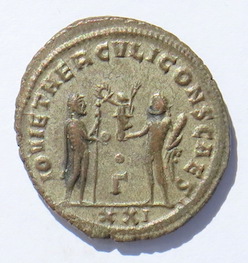 [$95] Galerius, an antoninianus! Ants of Diocletian and Maximian are common, but Galerius was made Caesar only shortly before the reform of 293-4 when this denomination was discontinued. There was not time enough to mint many of this denomination for Galerius and Constantinus I.
GAL VAL MAXIMIANVS NOB CAES is for Galerius as Caesar, not for Maximianus who had a similar name. IOVI ET HERCVLI CONS CAES mentions both Jupiter and Hercues, that patron deities of the eastern and western emperors under the tetrarchy.
23-22 mm. 4.36 grams. Excellent condition. Most silvering.
RIC V.II 719, Antoch mint, page 309. A real beauty.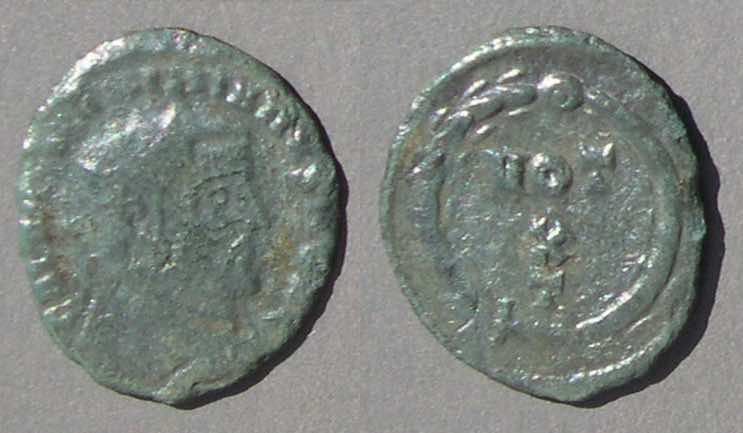 Galerius, 293-305-311
Struck at Ticinum
21-18 mm.
VOT X T
Vows for ten years of reign,
RIC Tic 39b "c. 299" Failmezger 22 "R" (rare)
[$12]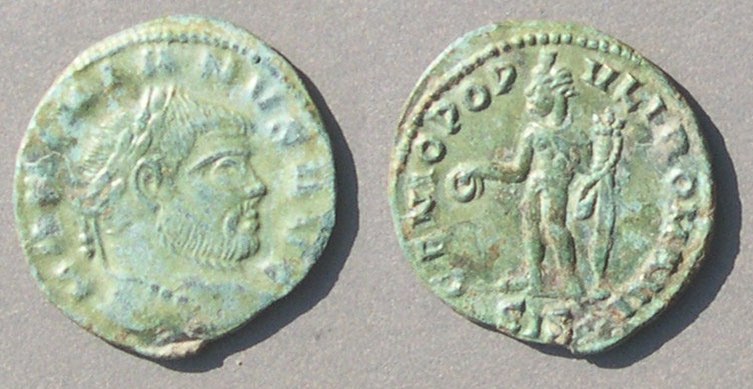 [$35, reduced to $29] Galerius as Augustus, struck 305-6
RIC Siscia 169b "R2"
Lovely light green patina
MAXIMIANVS AVG
#T629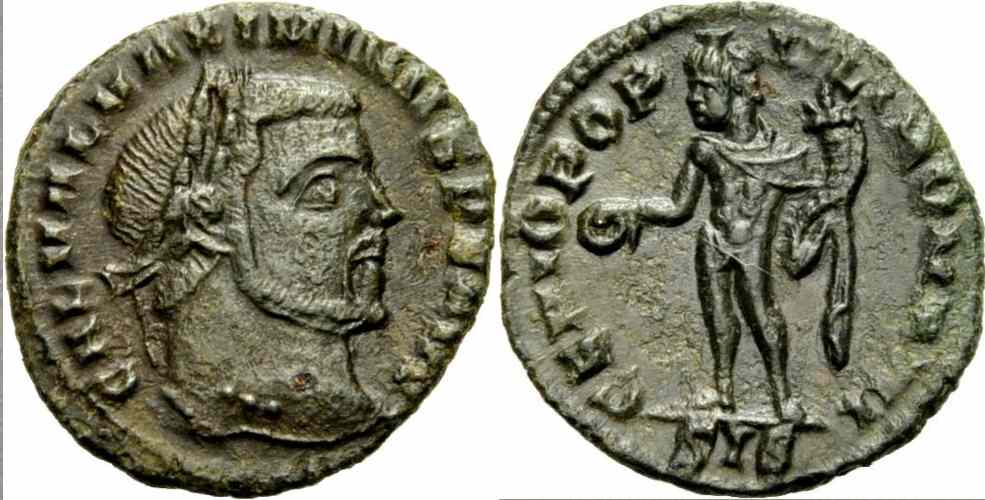 The rarest quarter follis, known from only one die.
Not listed in RIC and hard to explain.
GAL VAL MAXIMINVS PF AVG
with a legend appropriate to Maximinus II as Augustus, which is not likely the case because he did not become Augustus until November 308, much later.
Another possibility is that is is a spelling error for Galerius (who should be spelled with MAXIMIANVS)
Galerius is the only ruler for whom this type was issued without two varieties (longer and shorter legends). Maybe this one die is the missing longer variety, misspelled. Very rare. [$145, reduced to $129] #T630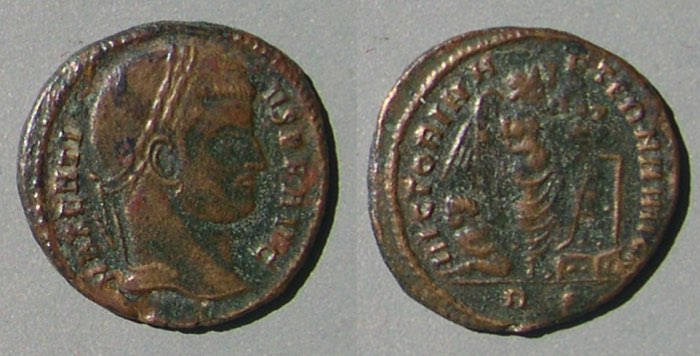 Maxentius. 306-312
half-follis. 20 mm. 3.13 grams.
VICTORIA AETERNA ANG N
Victory standing right inscribing shield with VOT X, captive below to left
R S
RIC Rome 227 "scarce" struck "c. 310"
[$59, reduced to $55]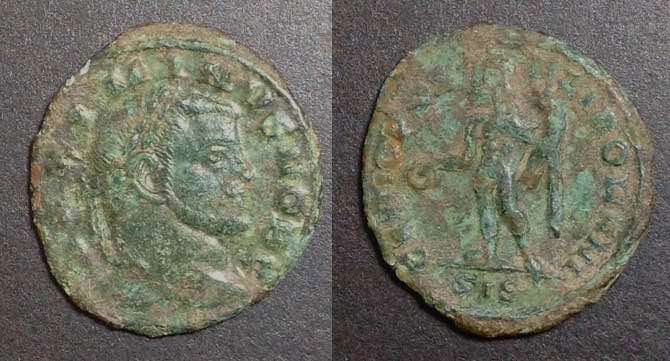 Maximinus II, 305-310-313
19 mm.
Struck 305-306
quarter follis
GENIO POPVLI ROMANI
SIS for Siscia
RIC Siscia 171b
The short version of his obverse legend
MAMIMINVS NOB C [$33, reduced to $29]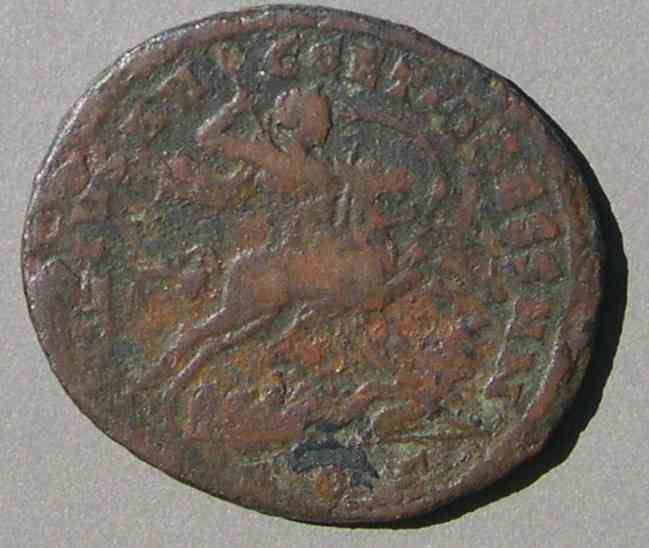 [$37] Maximinus II, Daza. 305-310-313 AD.
Struck as Caesar, c. 305-6 at Aquileia. RIC VI Aquileia 68b "scarce" (I'd say "rare")
Large AE30-26. Horseman spearing fallen foe.
VIRTVS AVGG ET CAESS NN
Helmeted bust left with spear over far shoulder. The coin is a little less red than the image on my screen. Rare type (both obverse and reverse are unusual)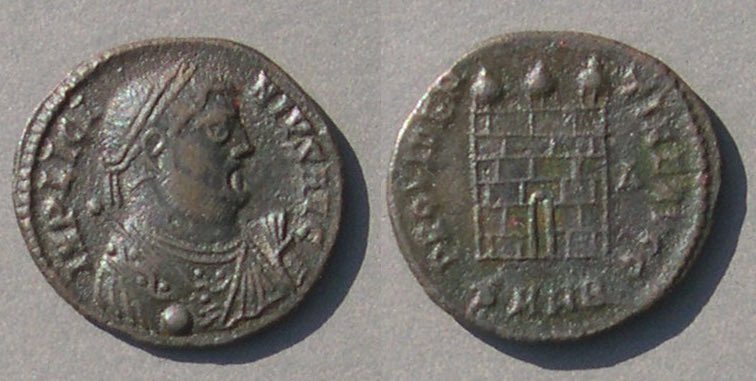 Licinius I, 308-324
consular bust right, holding mappa and globe
PROVIDENTIAE AVGG
SMHB
RIC Heraclea 48 but right, not left. (Error in RIC, according to Berk 111 lot 479 description)
Hunter 37.116 (also notes bust is right, not left)
[$29]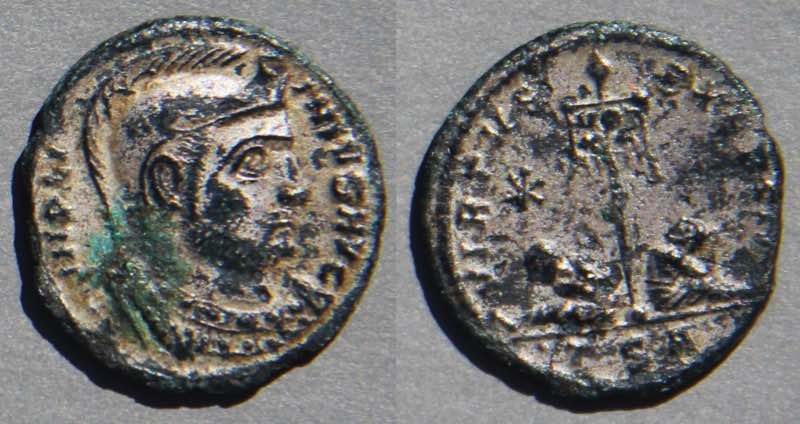 Licinius I, 308-324
18 mm.
VIRTVS EXERCITVS two captives below standard with VOT XX
and iota-chi in field left
•TS•A for Thessalonica
Helmeted bust right, IMPP LI-CINIVS AVG
RIC Thesssalonica 82 p.508 "r3" plate 16 (rare enough they need to picture it to confirm it)
much surface silvering [$69]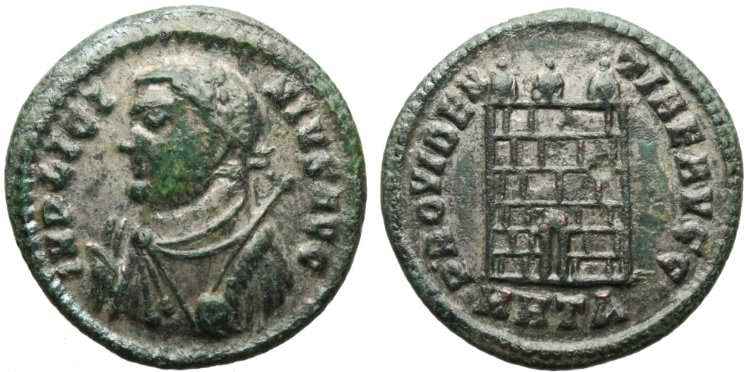 [$39, reduced to $35, reduced to $32] Licinius
19 mm. 3.61 grams
Struck at Heraclea 317
RIC Heraclea 17. Silvering. High grade.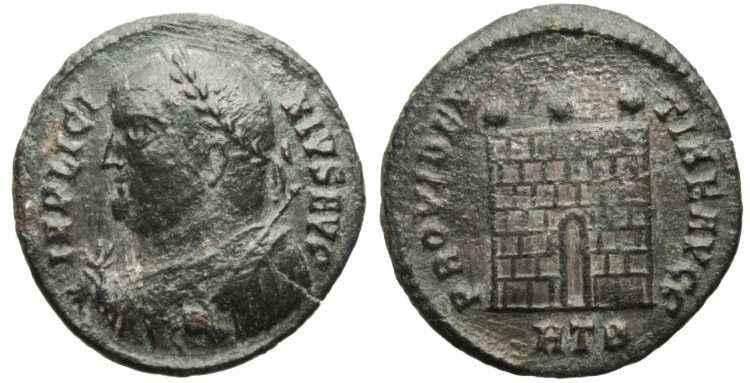 Licinius
19-18 mm. 2.79 grams
Struck at Heraclea 316-317
RIC Heraclea 15 Nice stern portrait. [$23, reduced to $21]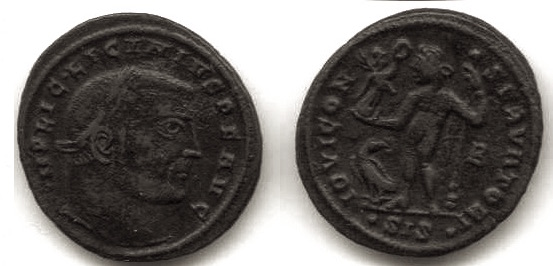 [$23, reduced to $14] Licinius (308-324) IOVI CONSERVATORI, Siscia B is field right. RIC VII Siscia 17 "r" page 424 The coin is blacker than the photo, which is brown. The image gives the details right, but the coin is close to black.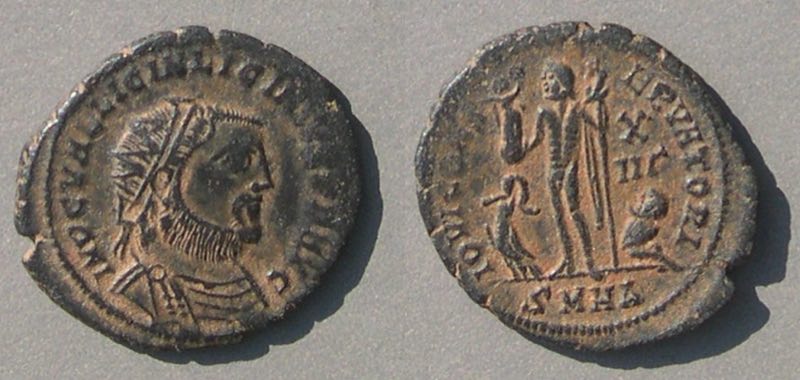 [$29] Licinius (308-324)
21-20 mm.
Bust radiate
IOVI CONSERVATORI
Jupiter standing holding Victory on globe
eagle left and captive right at feet
X
IIΓ (for 12 1/2, the denomination)
SMHA
RIC Heraclea 52, page 548.
Lovely highlights.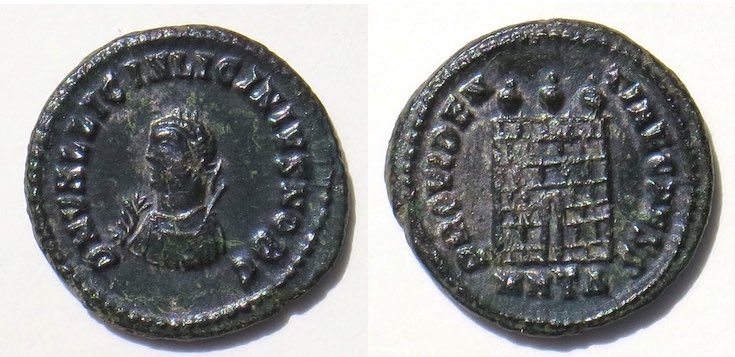 Licinius II, 317-324
19 mm. Tiny head left with scepter and mappa, struck 317
RIC VII Heraclea 19
"Camp gate" PROVIDENTIAE CAESS, MHTDelta
very little wear, silvering mostly tarnished to glossy black
A really cute tiny head! Splendid! [$59]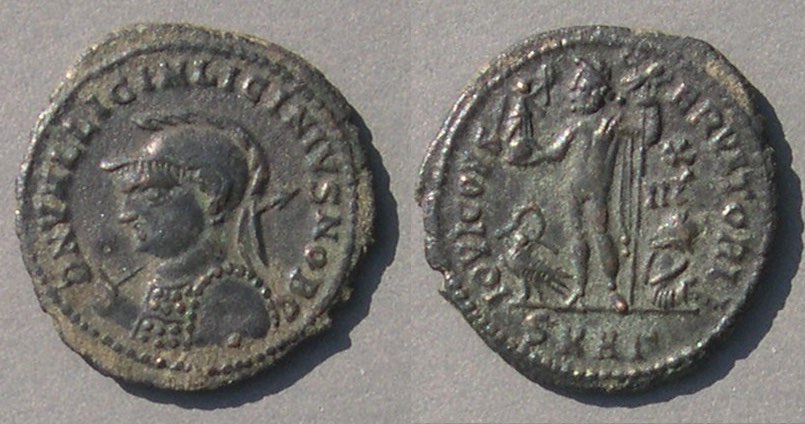 [$37] Licinius II, 317-324
20 mm.
Struck 321-324
IOVI CONSERVATORI
SMHΓ
Jupiter standing left, holding Victory on globe, with eagle and captive.
X
IIΓ (for 12 1/2, the denomination)
RIC Heraclea 54r "Scarce, 321-324"
Helmeted bust left, spear over shoulder-- pretty military for a child.
A lovely coin.
---
Return to the top of this page.

Next Page: Constantinian (306-364)
Second next: Roman of Valentinian and later (364-491 AD)